Round 24: Spring 2020
Principal
Tatiana Lachance
is 37, Pamela Gray is 35 and
Joanna Gottlieb
is 25.
Students:
Tessa Novak
and
Rebecca Kirby
are both 11,
Dominic Lachance
,
Susannah Carmody
,
Nathan Collins
and
Malcolm Novak
are all 10,
Hope Collins
and Julia Gray are both 9,
Jack
and
Charlie Benton
and
Audrey Lachance
are all 8,
Sophie Gottlieb
,
Connor Novak
and
Camilla
and
Lila Sitko
are all 7
,
Josh Royce-Nihill
and
Elspeth Romilly
are both 6,
Christopher Draper
, Lucy Gray and
Edward Lachance
are all 5 and Oliver and Sebastian Gentry are both 4.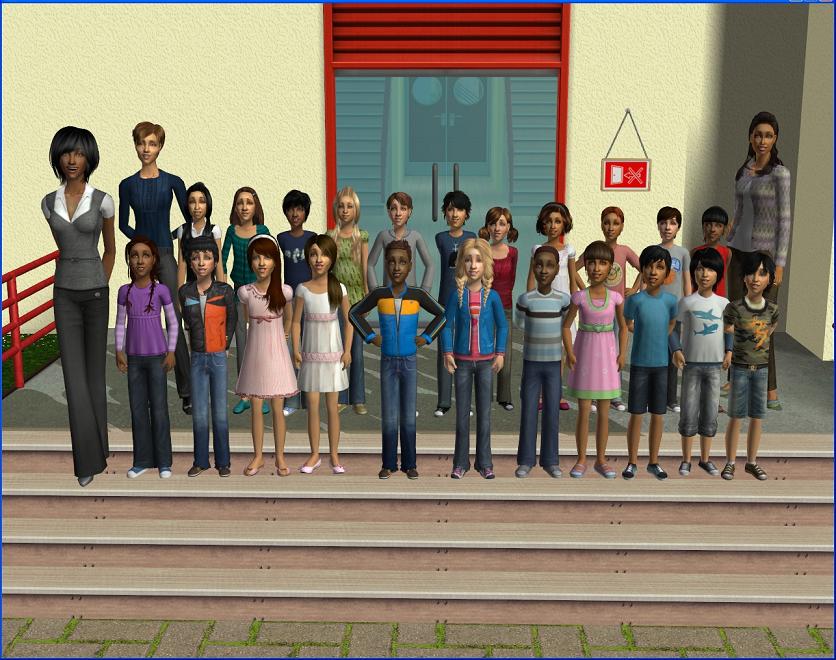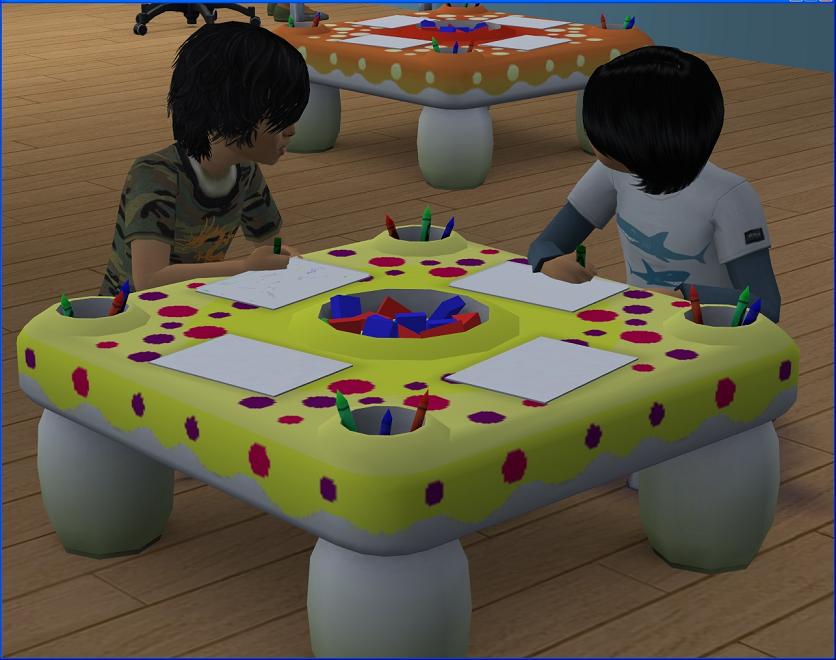 Oliver and Sebastian are the first kids into the school. They had a few months at pre-school in the
old
building but they're keen to check out the new school, where the pre-schoolers now have an entire room to themselves. Seeing Oliver and Sebastian are the only 4 year-olds at SPS this year, they have their pick of the toys.
Their teacher is Mrs Gray, who honestly, has a pretty easy job this year. Assessing two children is just not much work and Oliver and Sebastian are pretty well-behaved boys too, so no issues in that arena either!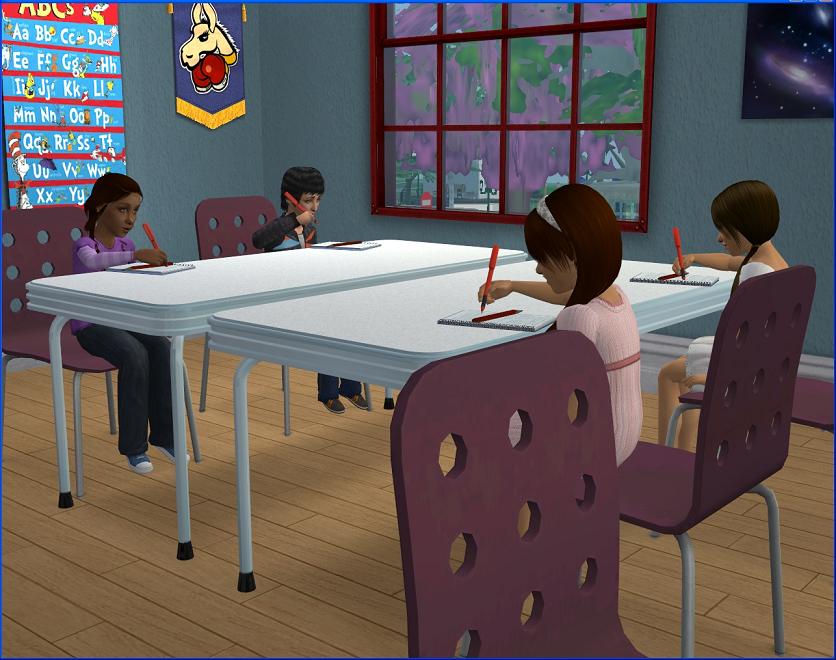 Upstairs, Tatiana has a much more difficult job with the K-2s - she has 9 students. The older kids already know what's expected of them at school.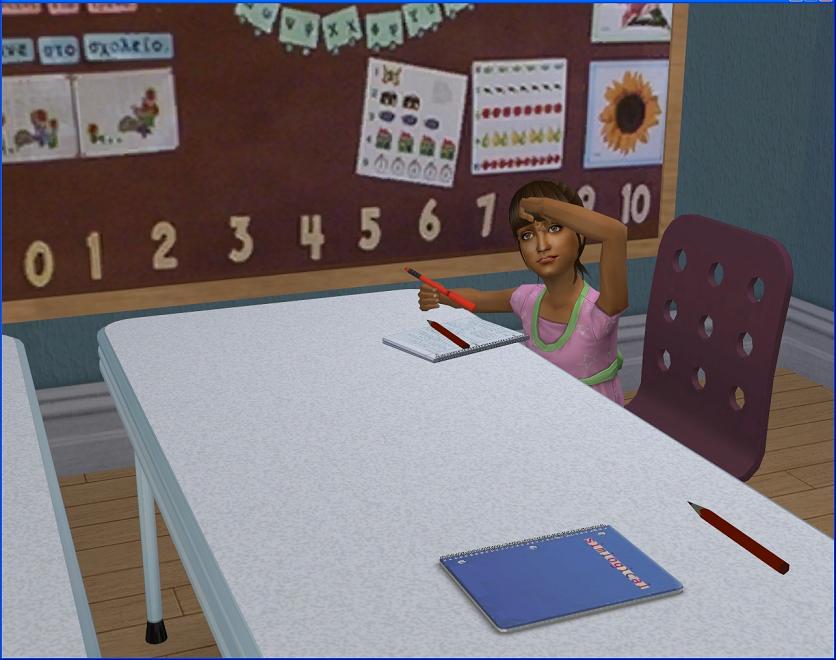 Lucy Gray kind of knows, but doesn't really
want
to. And the other young ones aren't even sitting at their desks.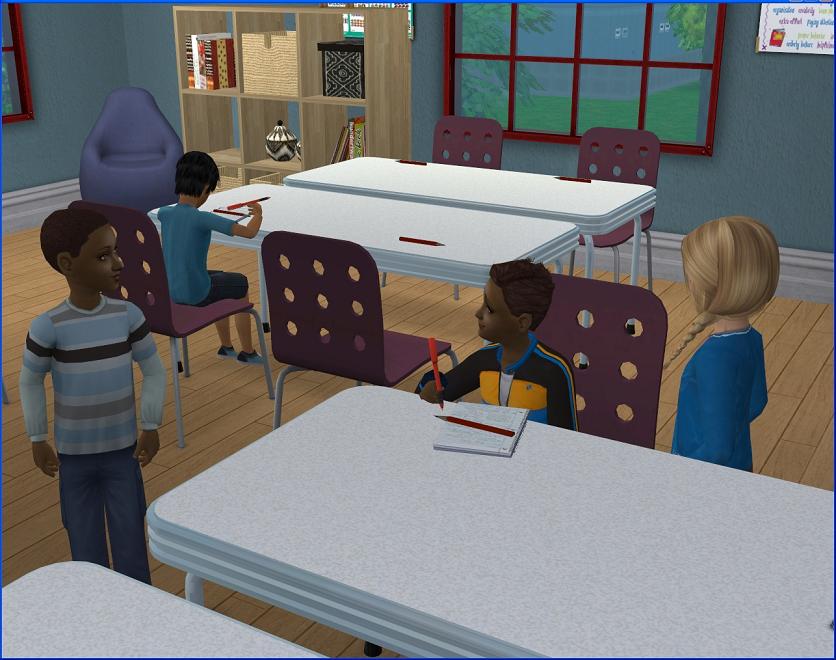 It seems like the second Tatiana gets one to sit down, two more are out of their chairs. They're supposed to be working on their phonics but that's just not as interesting as absolutely everything else in the room.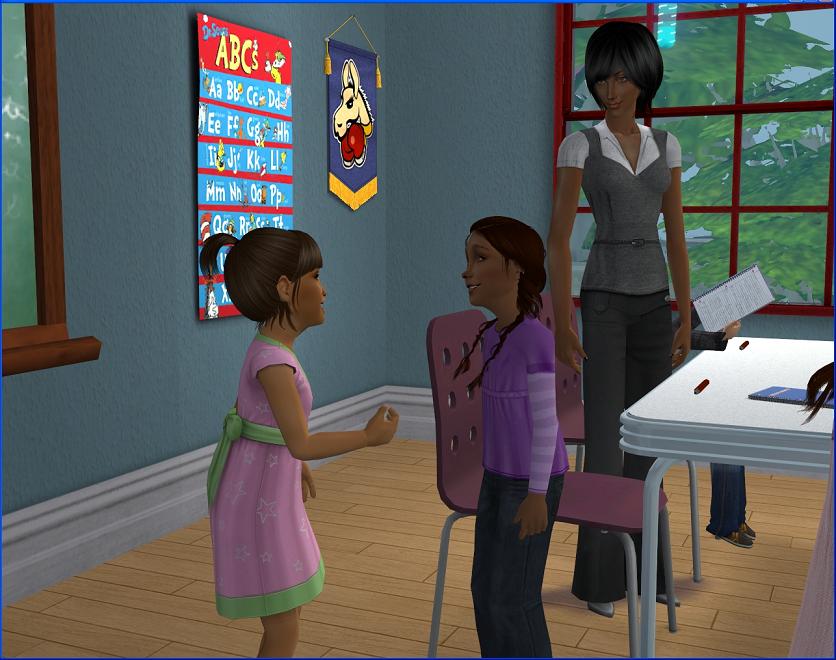 At least they're not getting up to bicker or fight. The older kids, especially Sophie, go out of their way to reach out to the littler ones and the whole class is mostly harmonious.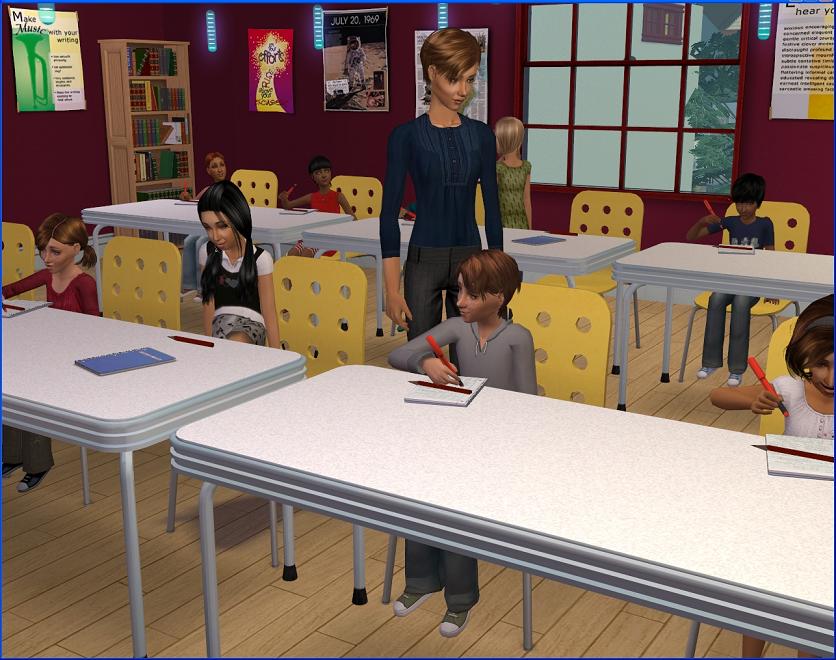 This year, Joanna's class is the biggest, with a whole 11 students!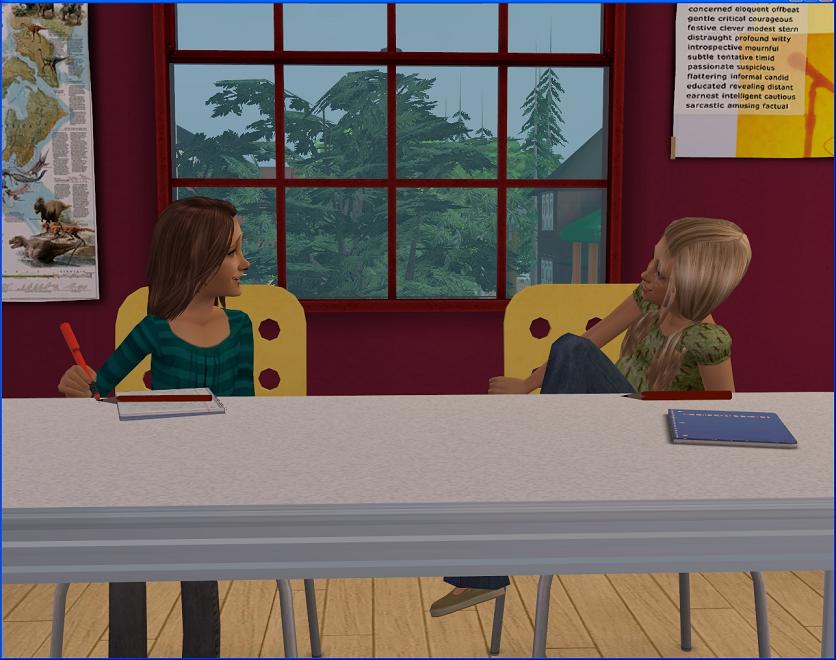 This is Rebecca Kirby's last year at SPS - next year, she'll move to SDHS with her best friend Tessa. Joanna has quite the task in making sure she's ready for high school.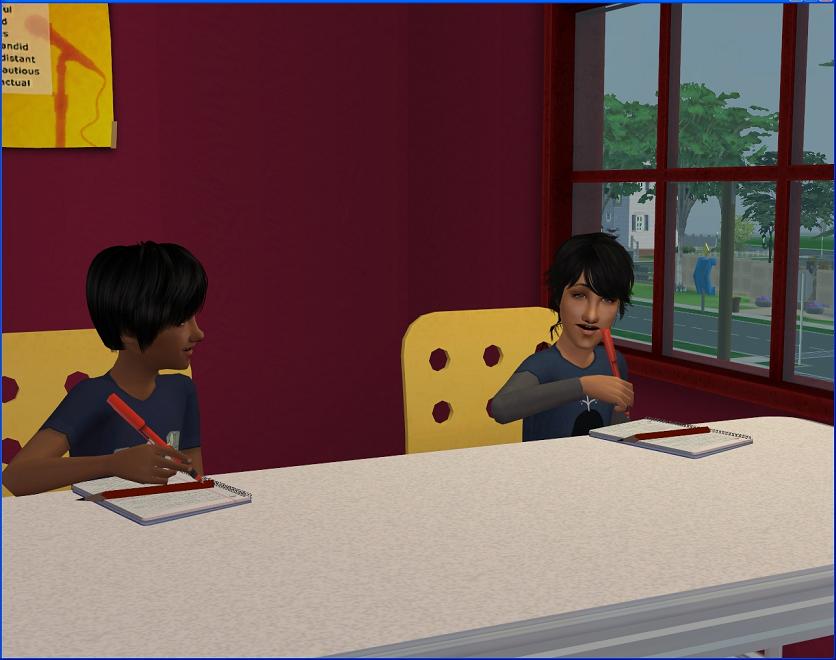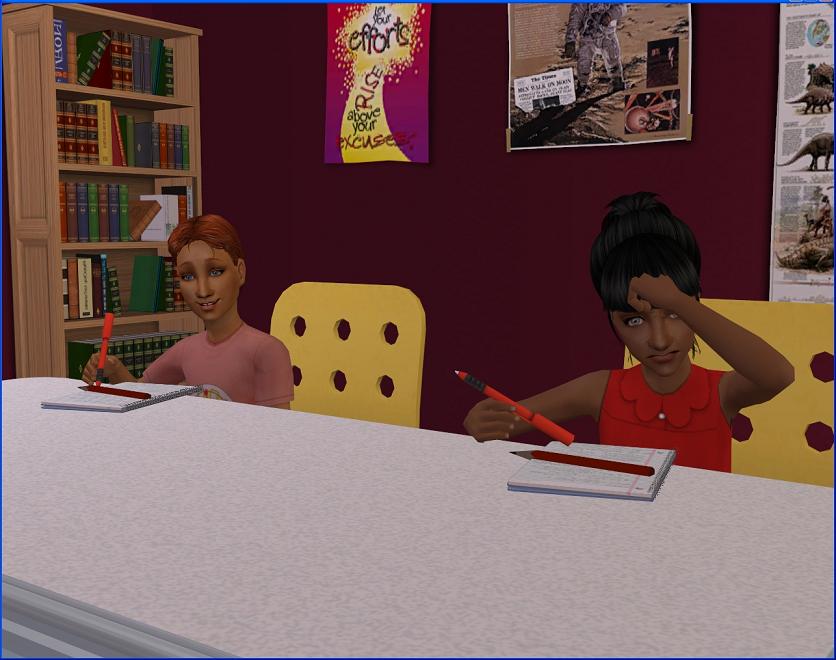 She has both Dominic and Audrey Lachance in her class too. Seeing their mother is also her boss, Joanna better be up to the task.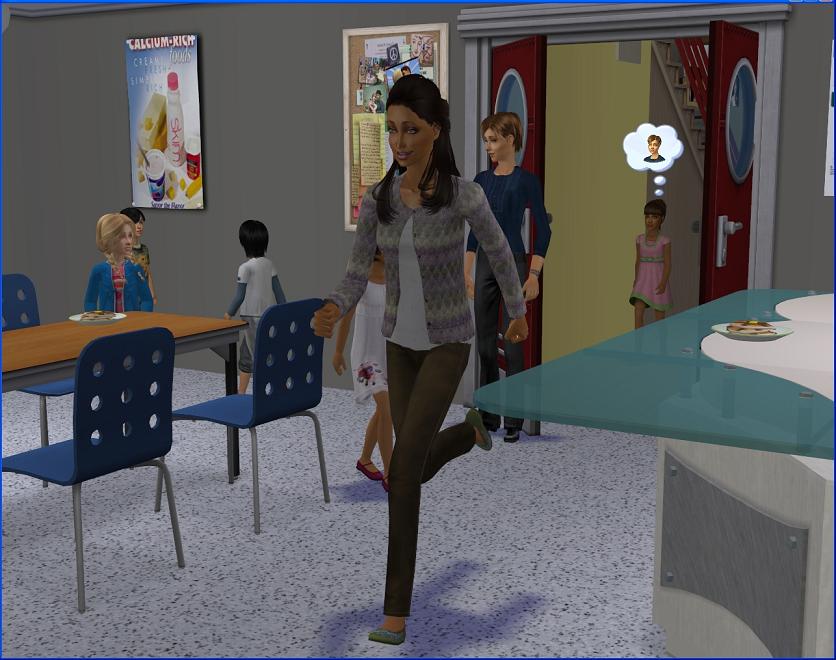 Lunch time in the brand new cafeteria and Pamela just can't wait! The pancakes today are
not
burnt, which is always a bonus.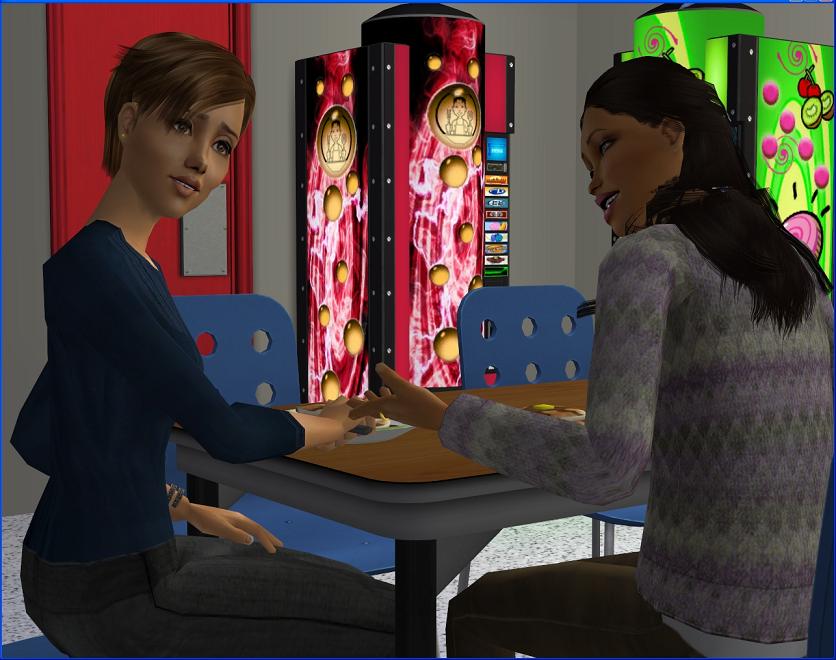 Thankfully, seeing they have to work together, Joanna and Pamela
are getting along a little better these days
.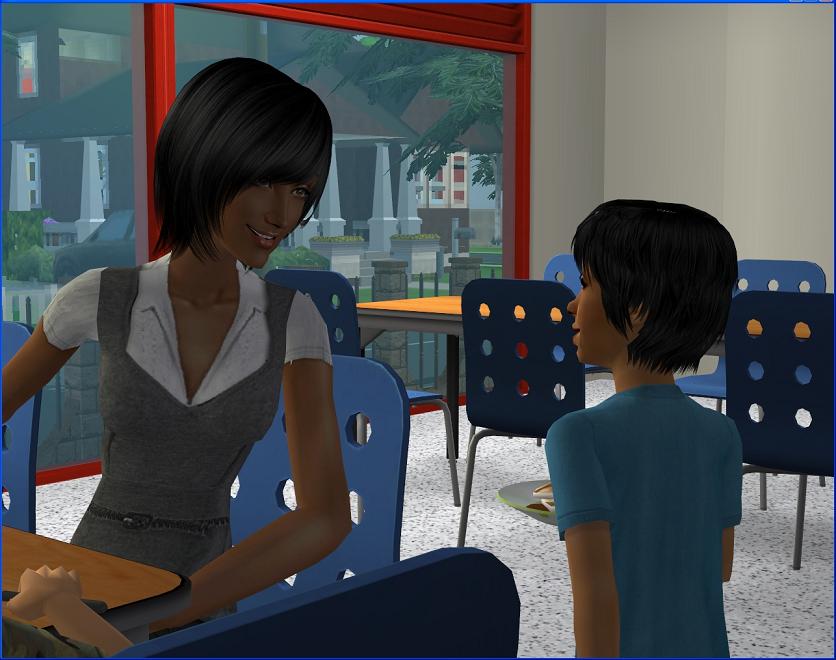 At a neighbouring table, Tatiana is about to be joined for lunch by her youngest son, Edward.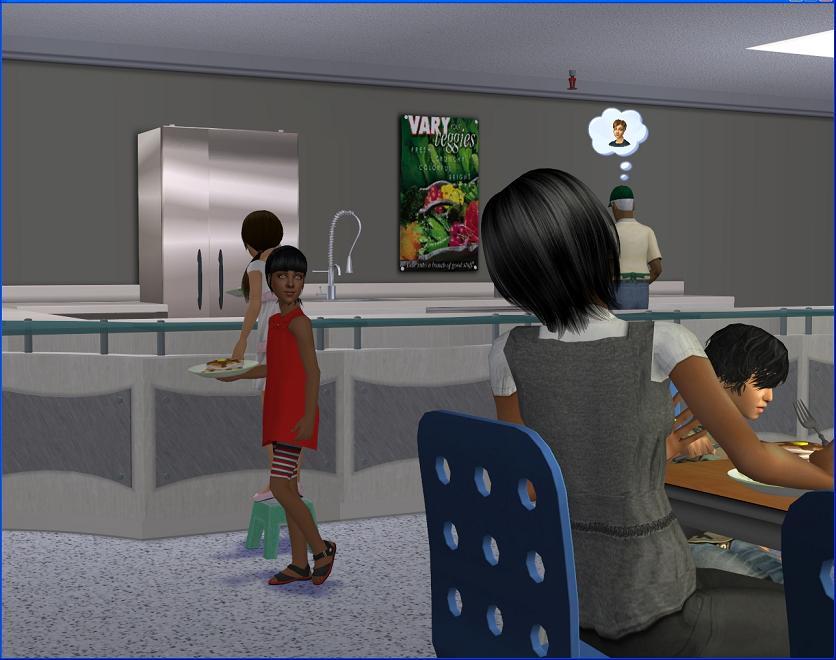 At least one of her kids isn't embarrassed to be seen with his mum in public! Audrey and Dominic are both at the age where they'd rather not have their mother at school with them, as much as they love her.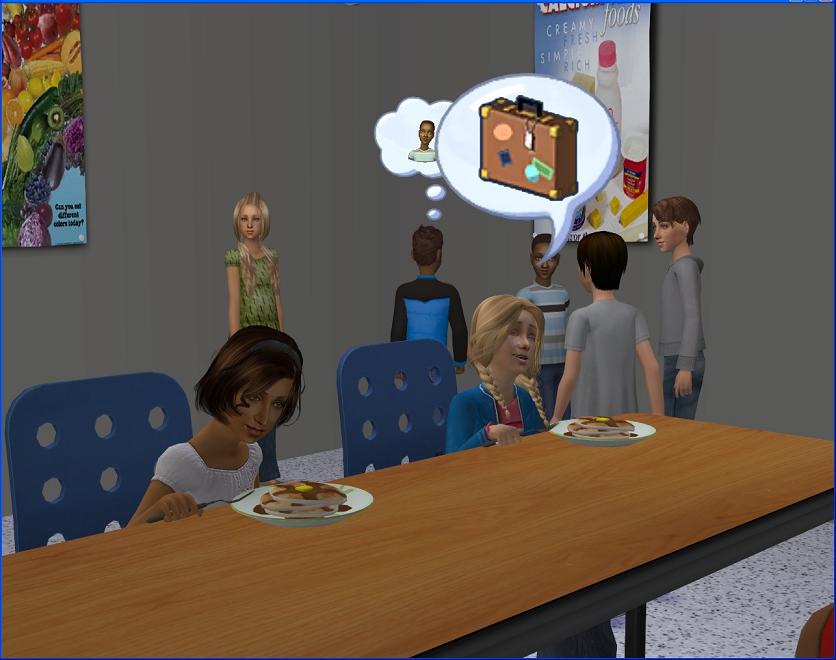 Elspeth is settled in with her pancakes and ready to regale the entire table with tales of the holidays she's never taken. Julia is wondering if there's somewhere else she can sit. Where's Hope?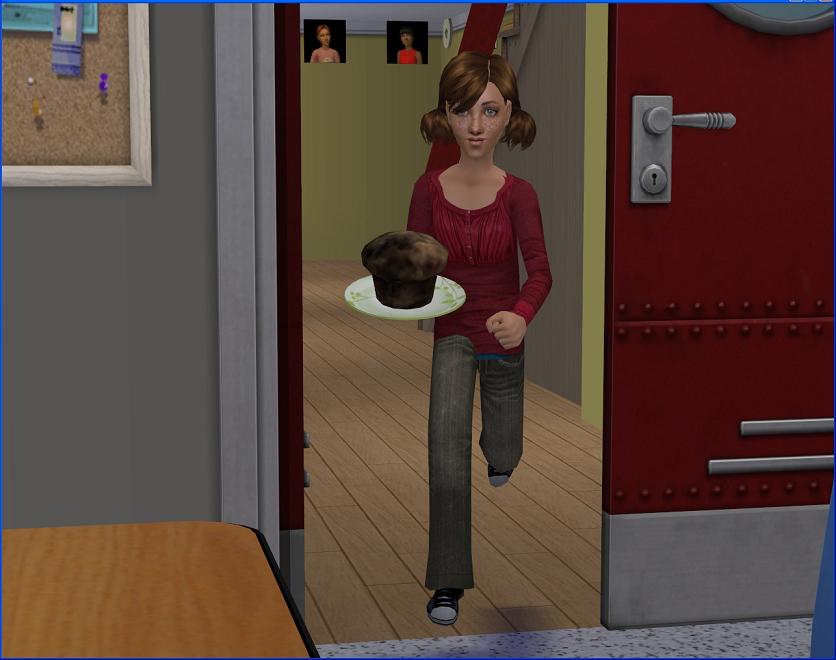 Ah. Hope's ducked into the pre-school room to whip herself up a revolting looking muffin on the toy oven. You know, Hope, they serve food in the cafeteria!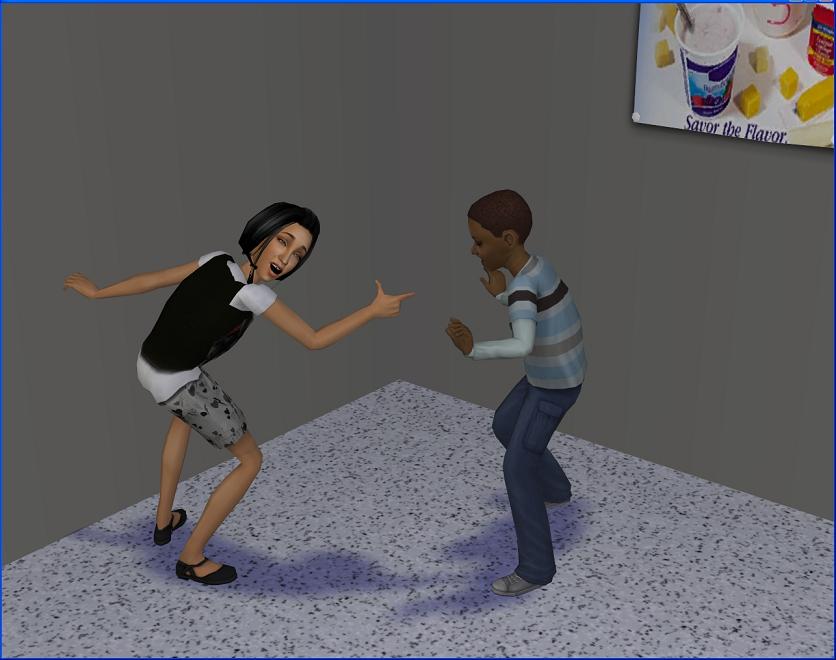 Hope isn't the only kid who needs a reminder of what the cafeteria is
actually
for.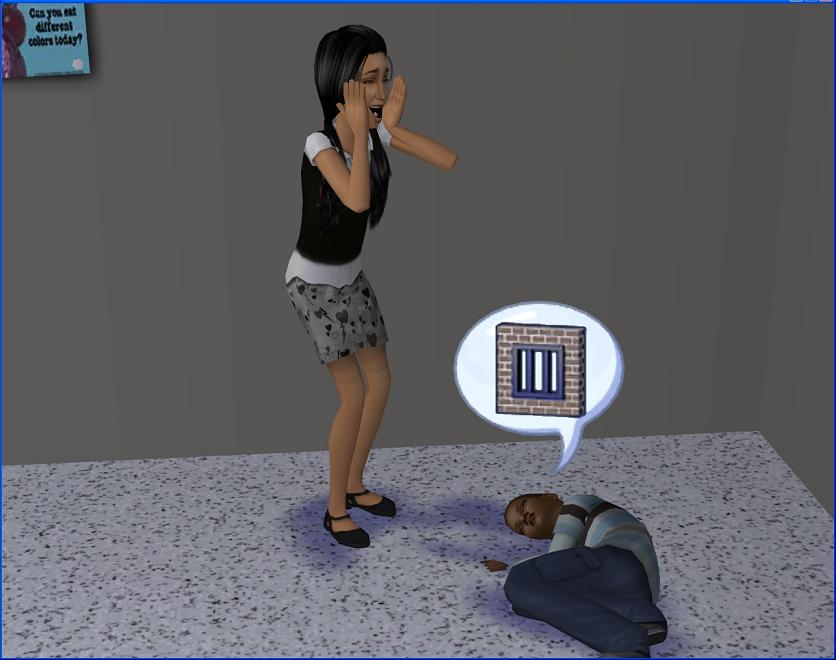 Poor Christopher. He never stood much hope in a game of cops and robbers with an 11 year-old! He's only 5!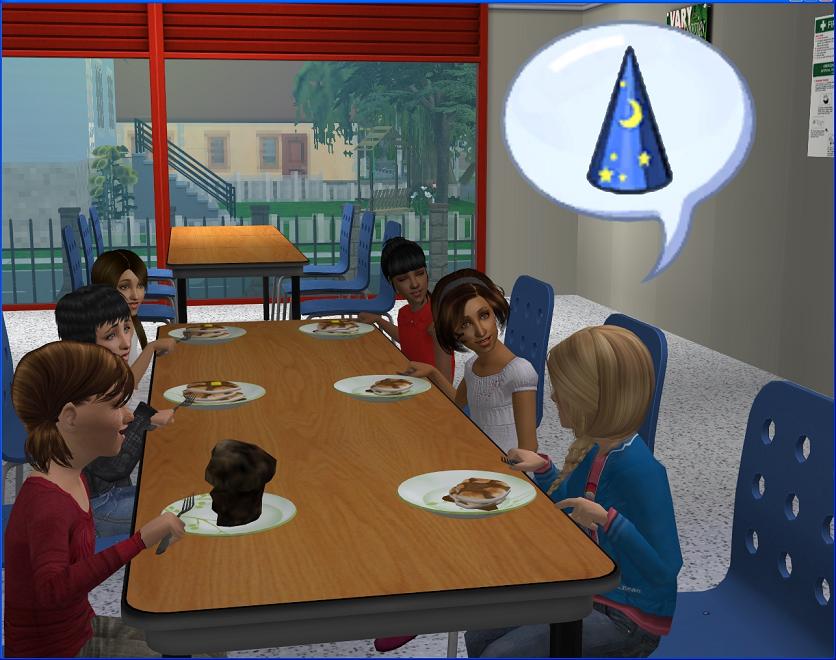 Having not gained anyone's interest talking about holidays, Elspeth has changed tack and now has a whole table of of captivated children. They're all older kids too, so she's feeling pretty popular right now.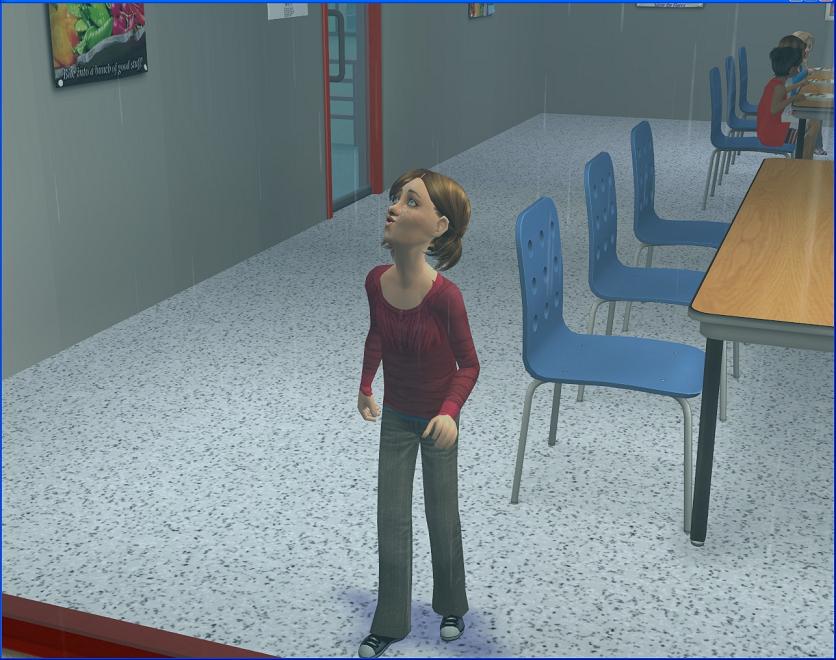 Yes, Hope, it's raining - no play equipment today!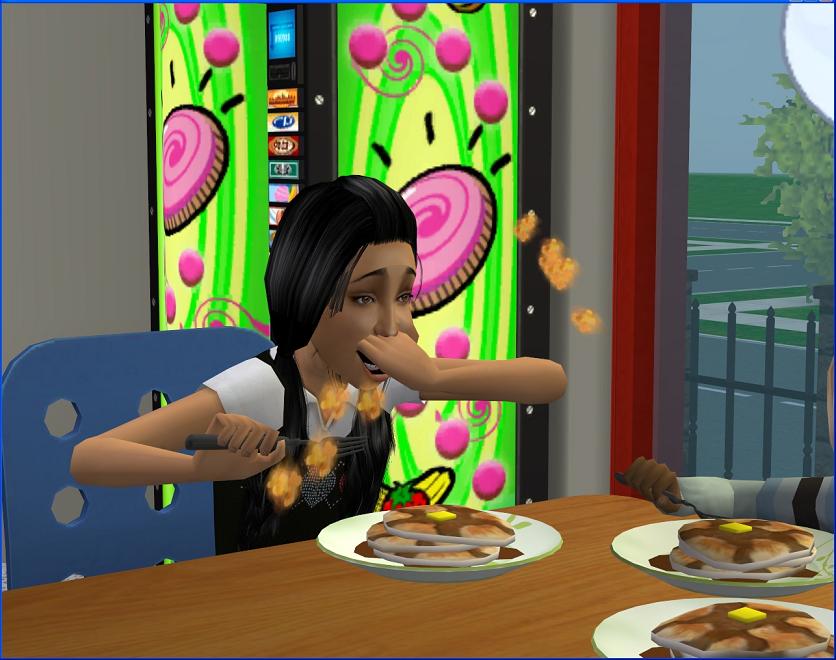 We might need some etiquette classes at SPS. Eating your own hand won't go over well at high school next year, Tessa.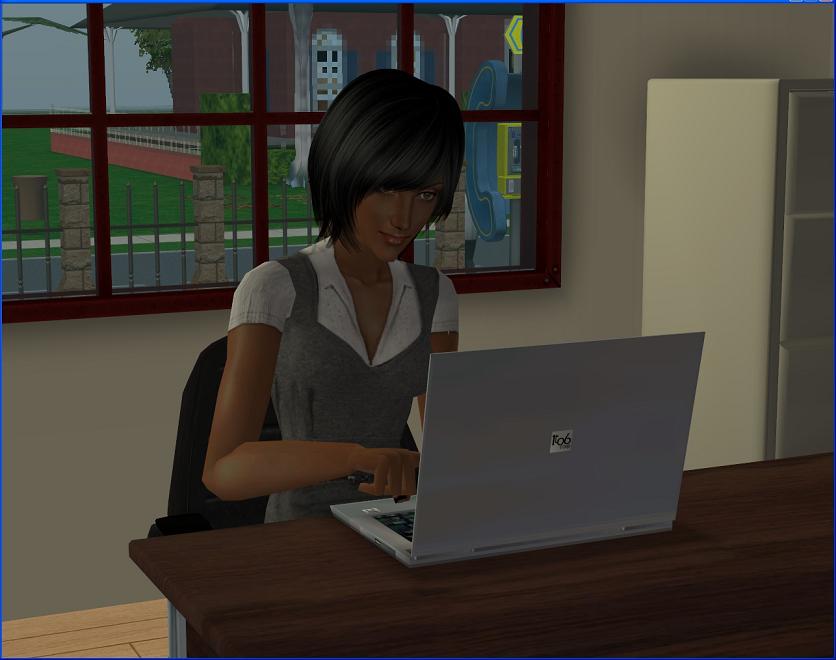 As principal, Tatiana doesn't have to do playground duty (or cafeteria duty, as it is today) but her lunches are usually cut short anyway. There's plenty of work to be done in her office. At least she
has
an office now.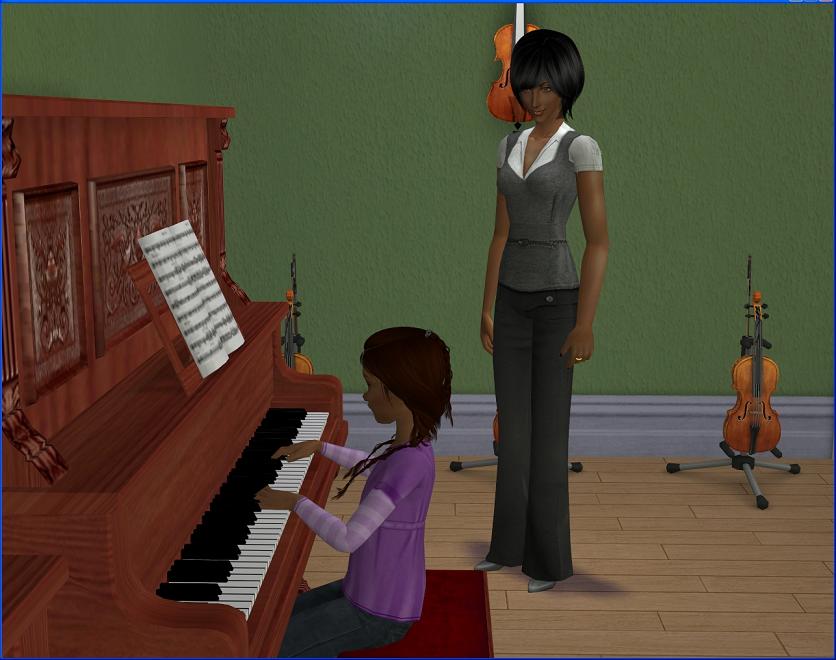 After lunch, it's K-2's turn in the music room. Sophie is quite talented, especially for a 7-year-old. But
Sophie's grandmother
is somewhat of a virtuoso, on top of being the governor, so perhaps it's genetic!
It doesn't take long for Connor to join her on the other piano.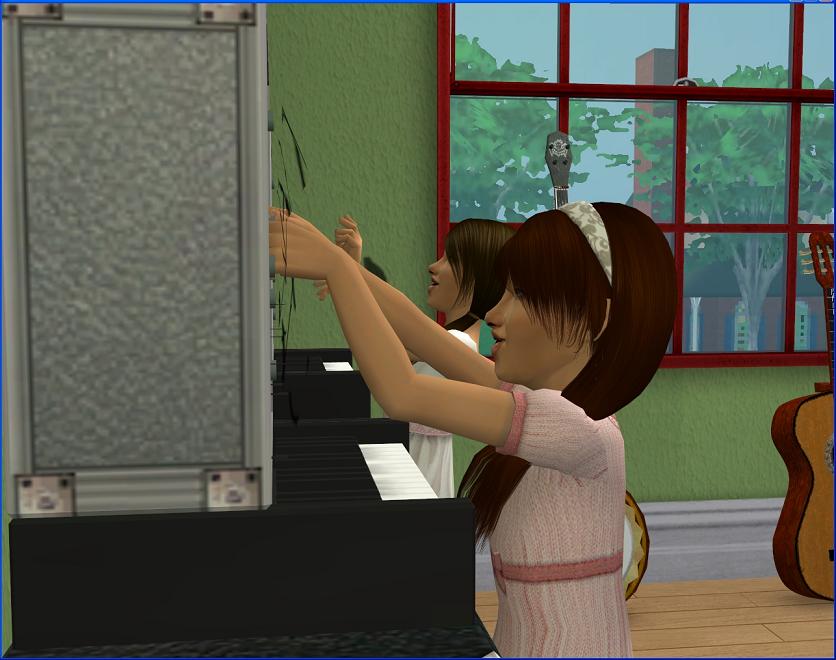 The Sitko twins are trying their hands at electronica.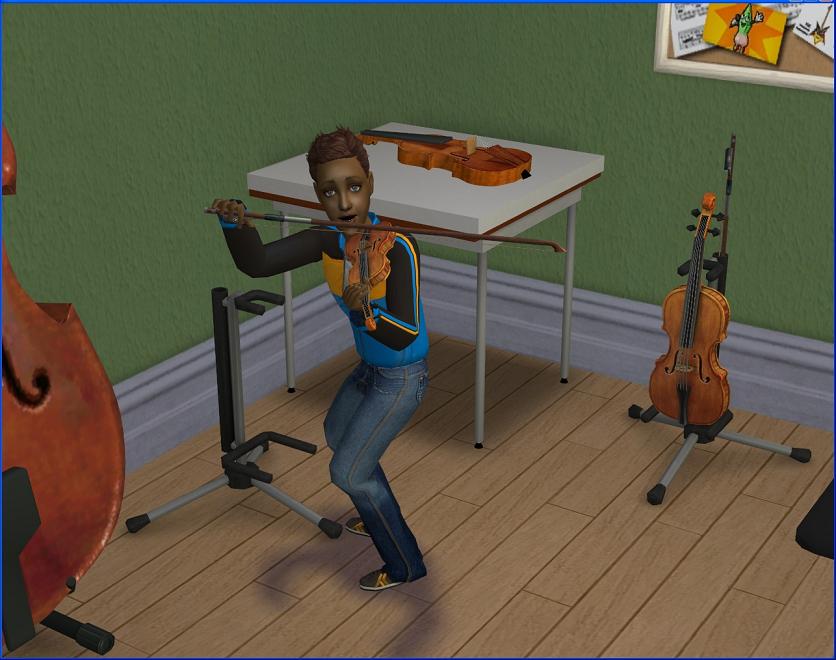 Josh is just
rocking out
on that violin!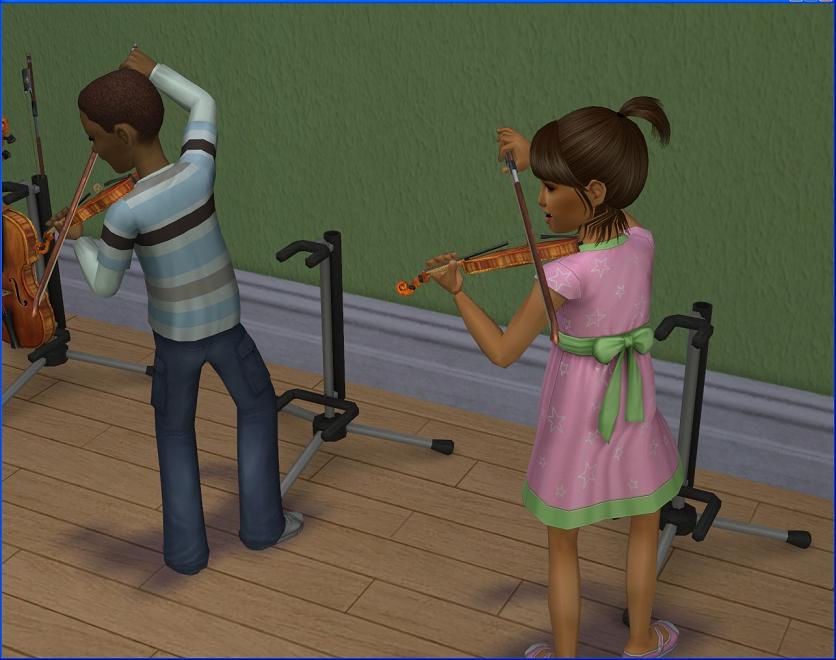 Can't you just
tell
they're awful, just by looking at them?
Elspeth, always desperate to be the centre of attention, decides that her contribution to the afternoon's music lesson will be her heavenly singing voice.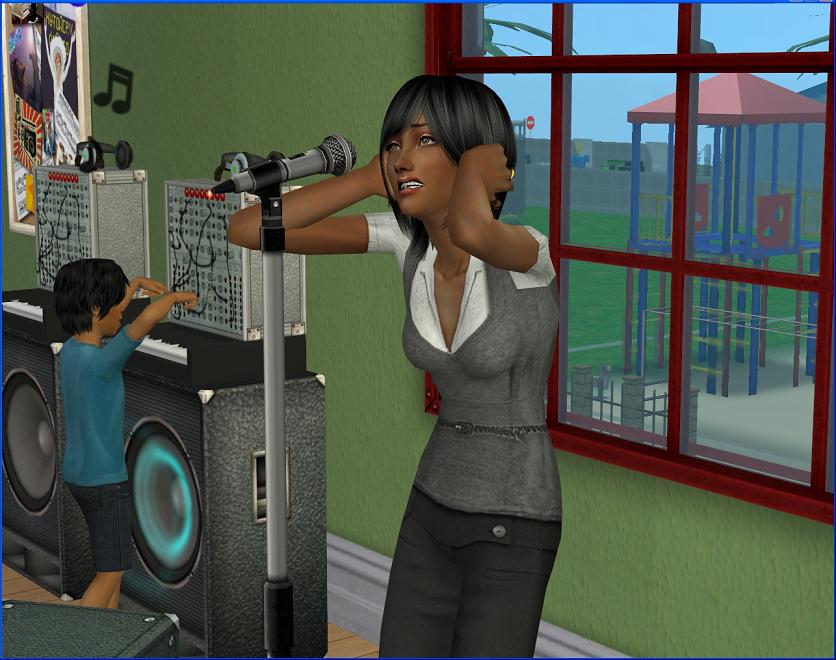 She's the only one who thinks it's heavenly.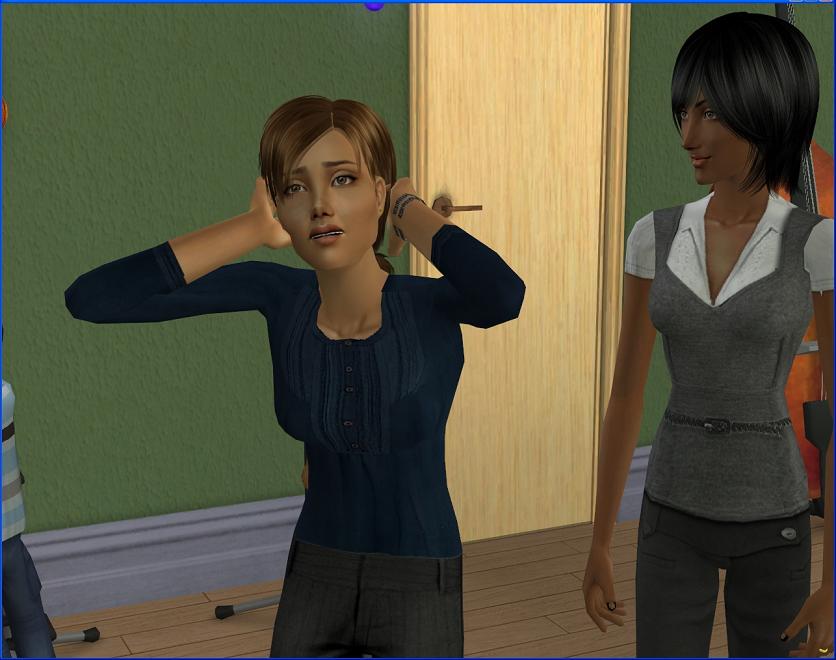 Tatiana's class are making such a racket that Joanna even comes in to complain.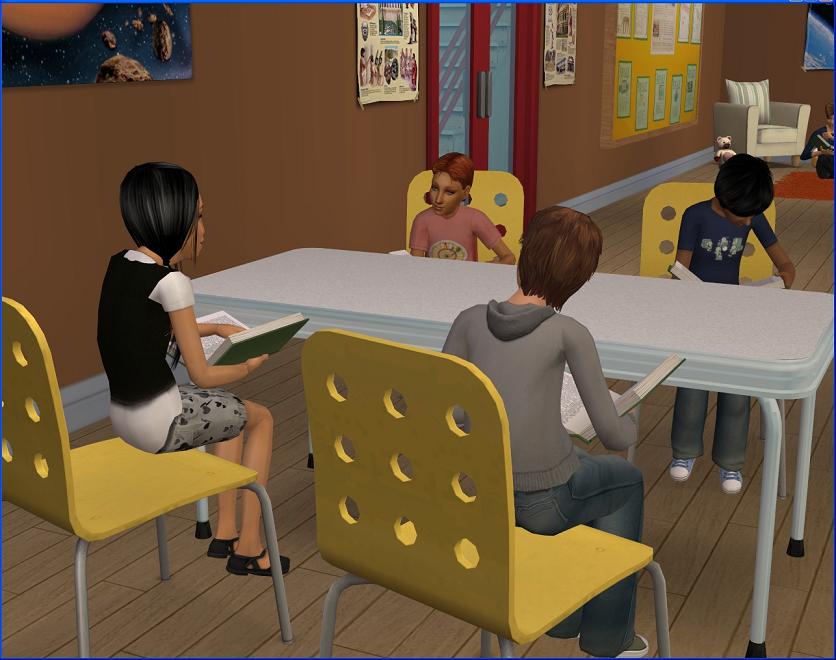 Joanna has her kids downstairs in the library, doing research for their Gold Rush project. They're having just the slightest bit of trouble concentrating.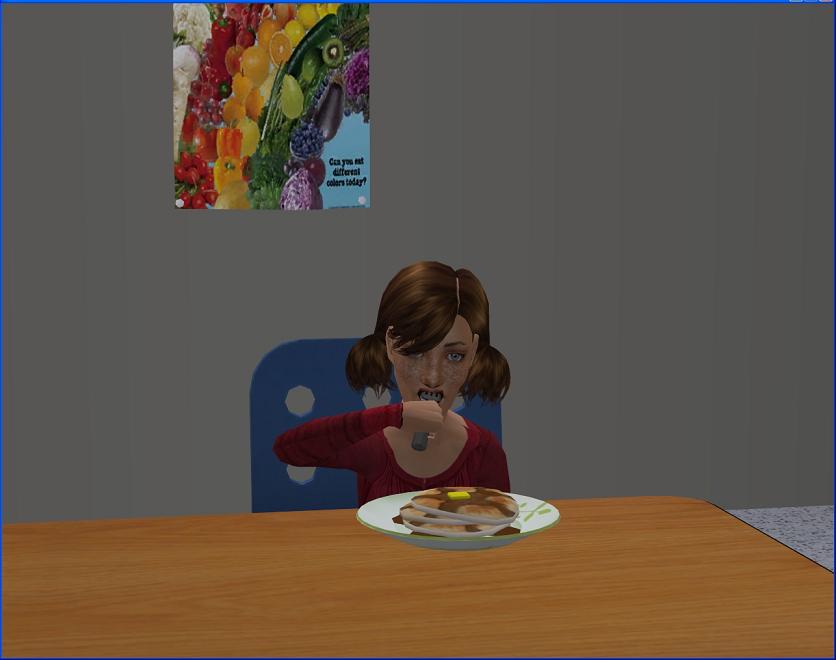 Hope is supposed to be in the library with the rest of 3-6 but she is just
so hungry
. Perhaps she's learnt her lesson about burnt muffins for lunch now!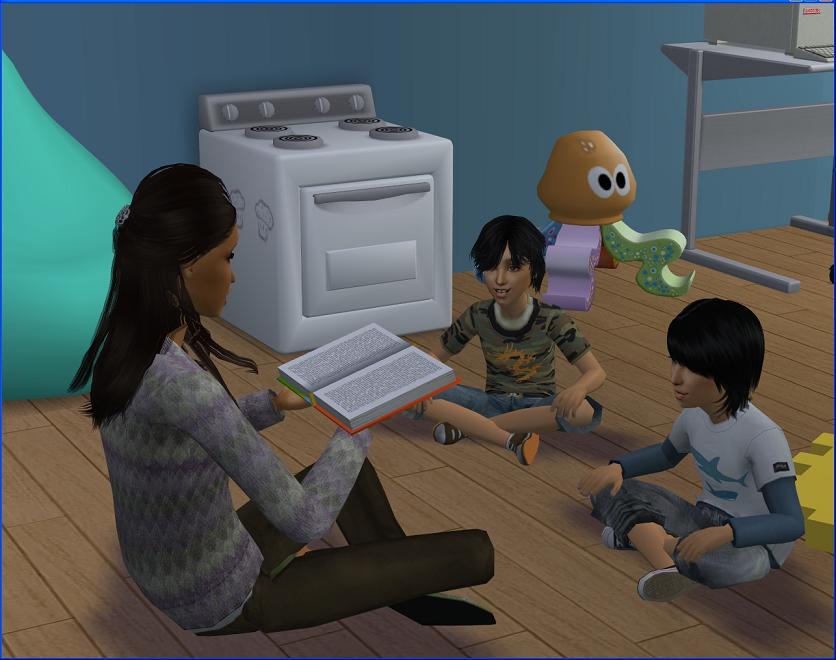 Apart from the noise from the music room upstairs, the pre-schoolers are having a pretty quiet afternoon.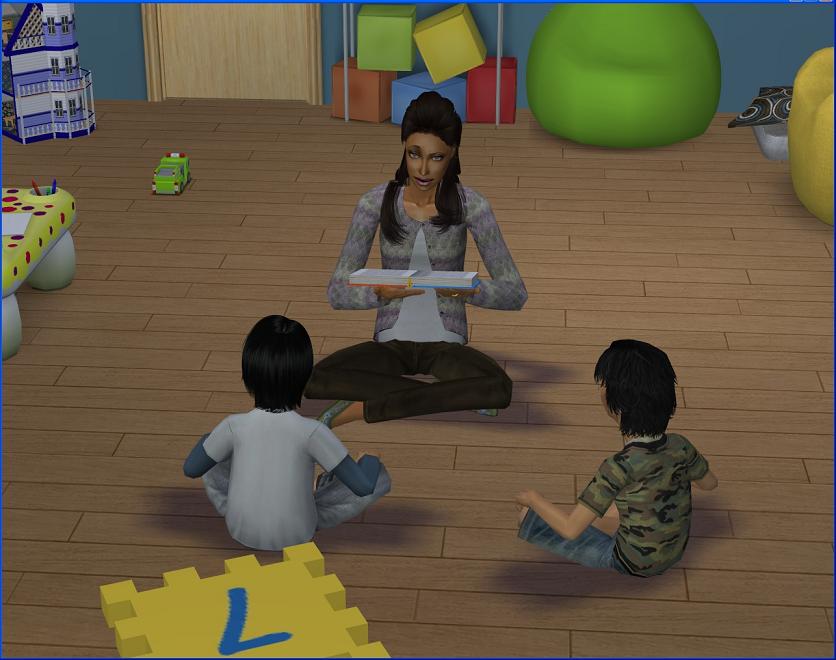 Story time is a nice, calm way to end the day but it looks like one of the boys might have asked Pamela a hairy question! Luckily, she's saved by the bell!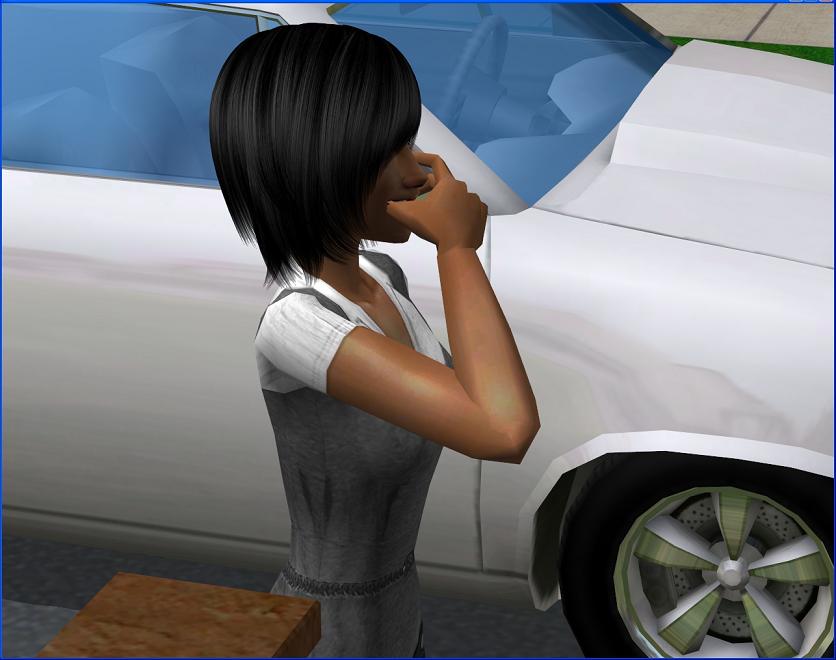 Or the whistle. SPS doesn't have a bell!
Extras: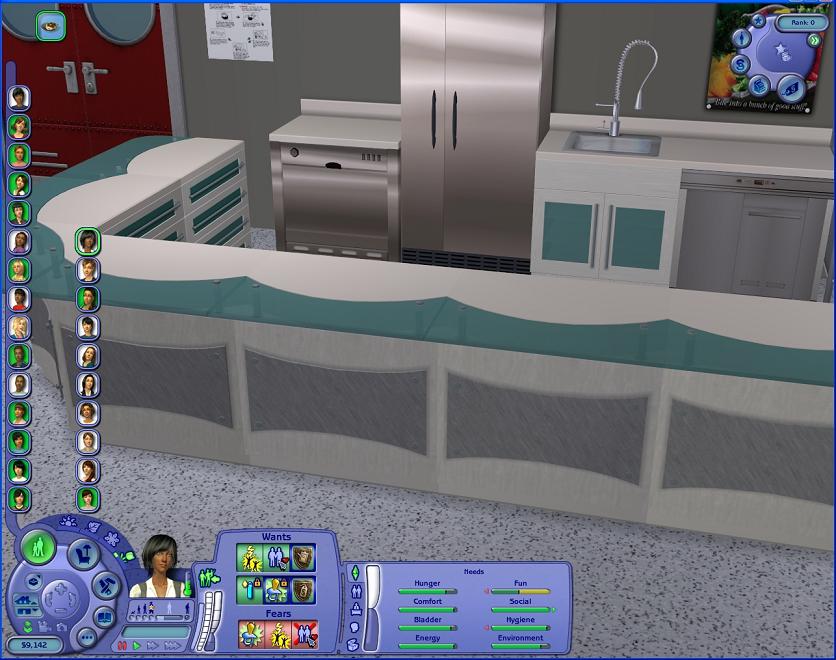 Just in case you felt like seeing what crazy looks like. And yes, Tatiana both wants and fears being struck by lightning and wants and fears having a baby. She's a conflicted woman. The baby fear was only there while she was at school, which made me laugh, especially since Tatiana has the naughtiest class. Sometimes teaching makes me doubt whether I ever want children too! LOL!
During my lot tours, I said I was planning on adding some personal touches to the teachers' desks. I have a few other ideas for things I'm going to add but right now, I've just got some framed photos.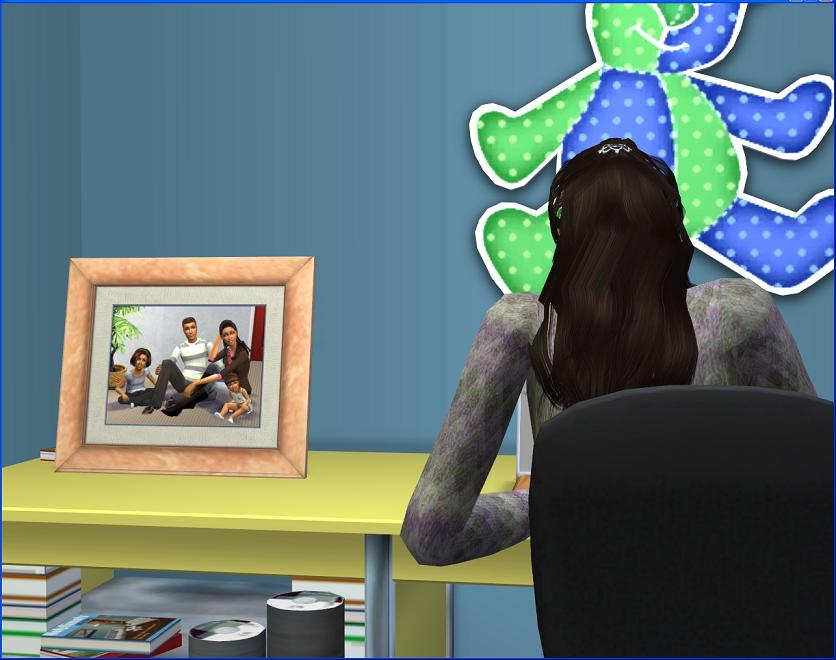 Pamela has her family portrait from a few rounds ago - Julia was 5 and Lucy was just a year old.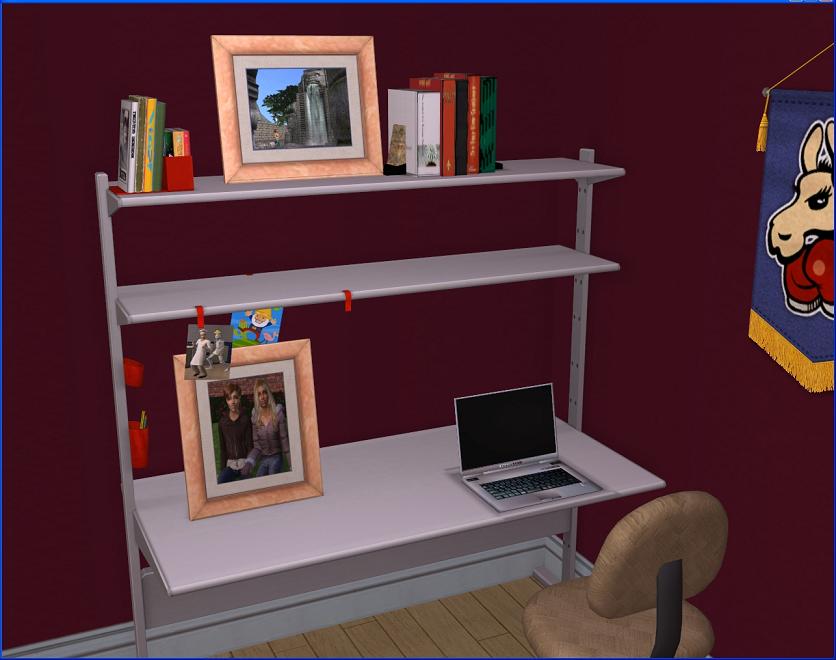 Joanna has a picture of herself with girlfriend
Rose
, as well as a scenic shot from her round the world trip. She's in the picture too, but she's very small and you probably can't see her very well, if at all. I meant to put a little souvenir from one of her trips on the desk too, but I forgot! Next time!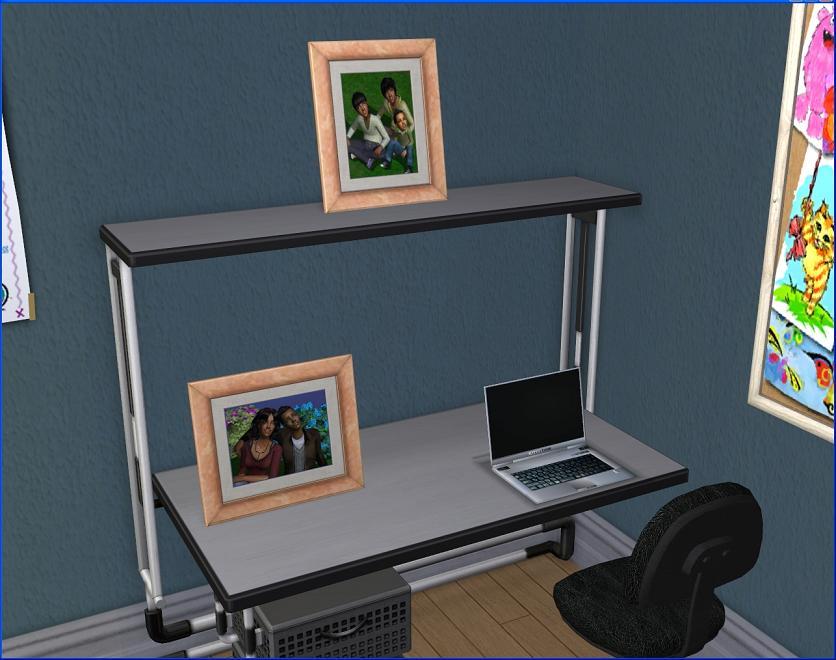 Tatiana has a picture of her and Jonas, and one of her kids from a couple of years ago.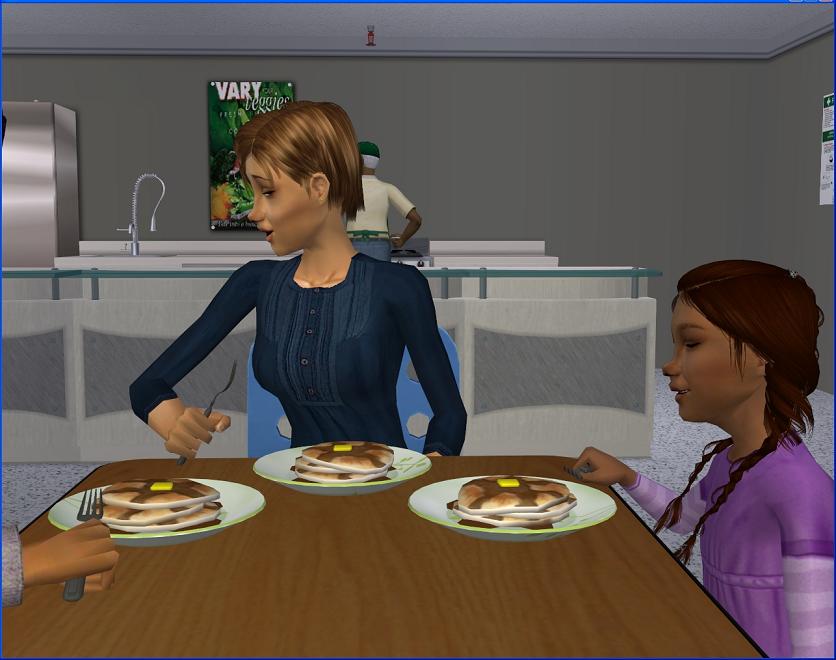 Those Gottlieb genes are
strong
, yo! I'm struck by it every time I see two Gottliebs together, especially in profile.
Notes:
Title is from

Mirror Kissers

by The Cribs.

So this was my first play session with the new school and I'm pretty happy with it. There's no traffic jam areas or anything like that, although you might have noticed that I added more desks! There was space for only 8 students in each of the general purpose classrooms and both classes were larger than that this round. Next round, both classes will be smaller though poor Joanna will still have more than 8!

One change I might make is adding an extra cafeteria worker. It was kind of a pain to wait for him to make enough food for everyone and maybe it'd be more efficient to have two. I'll test that out next time and see.