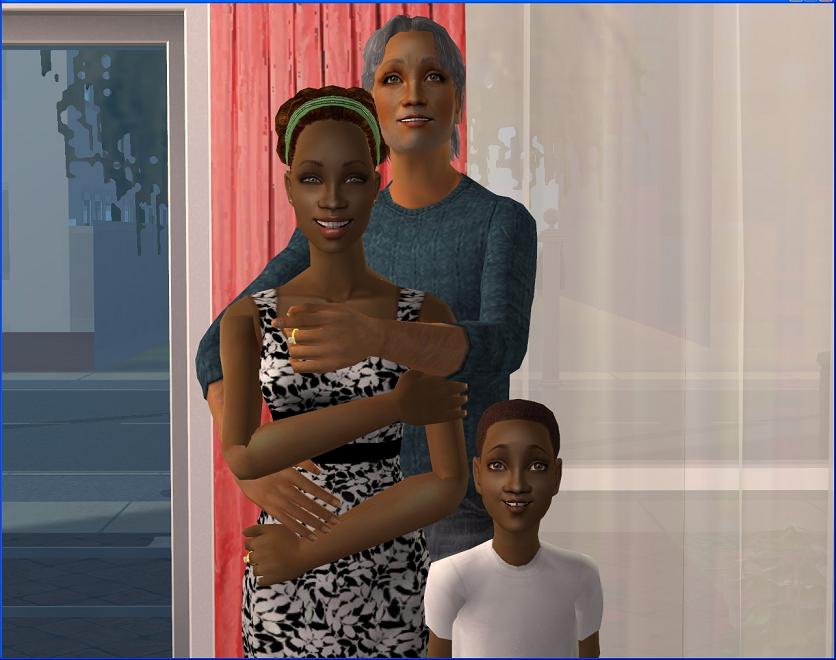 Narrated by Lake Draper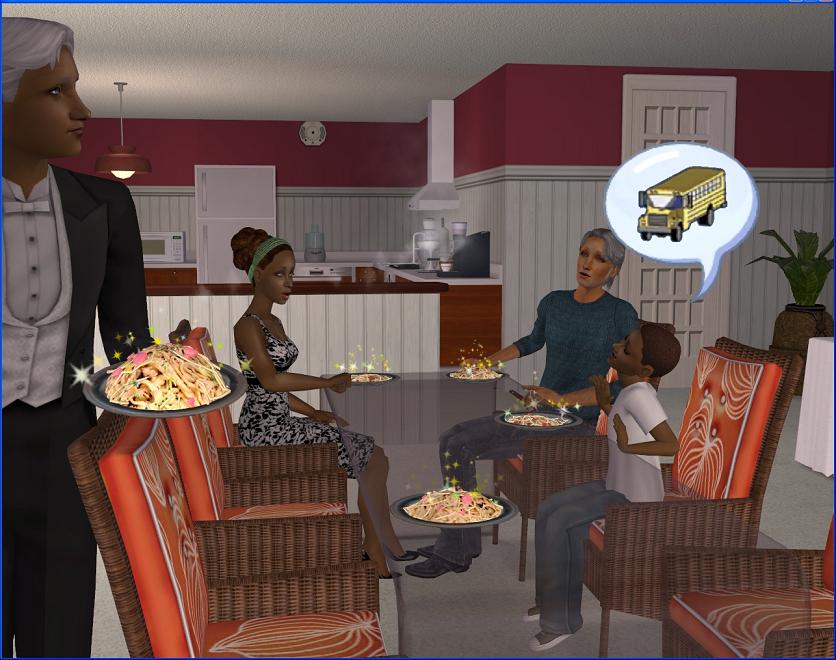 Since Patience, Calvin and Troy are all away at college, it's now just the three of us. It's almost eerily quiet and the house feels so empty.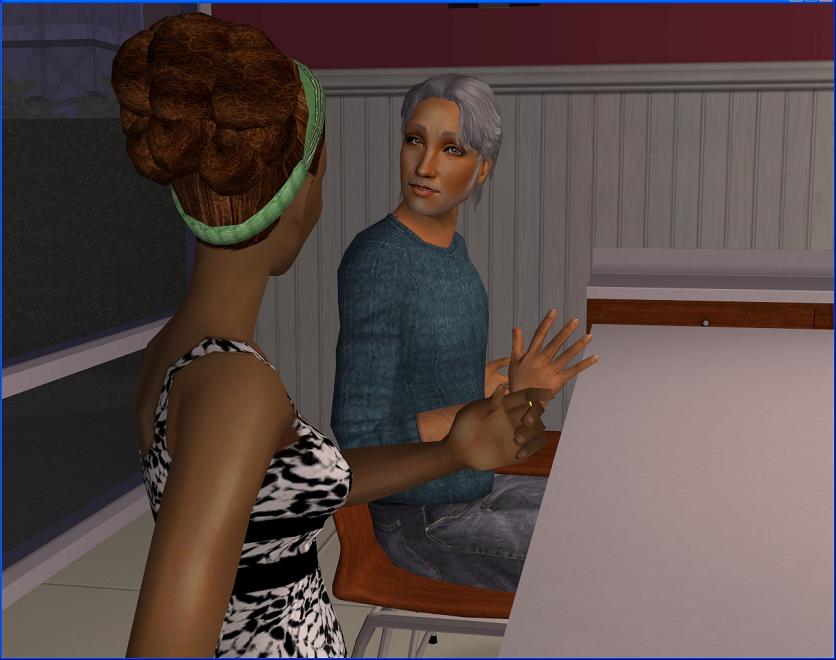 Kendal's solution to this problem (which I don't see as a problem) is to have another baby. As you might have guessed, I don't agree.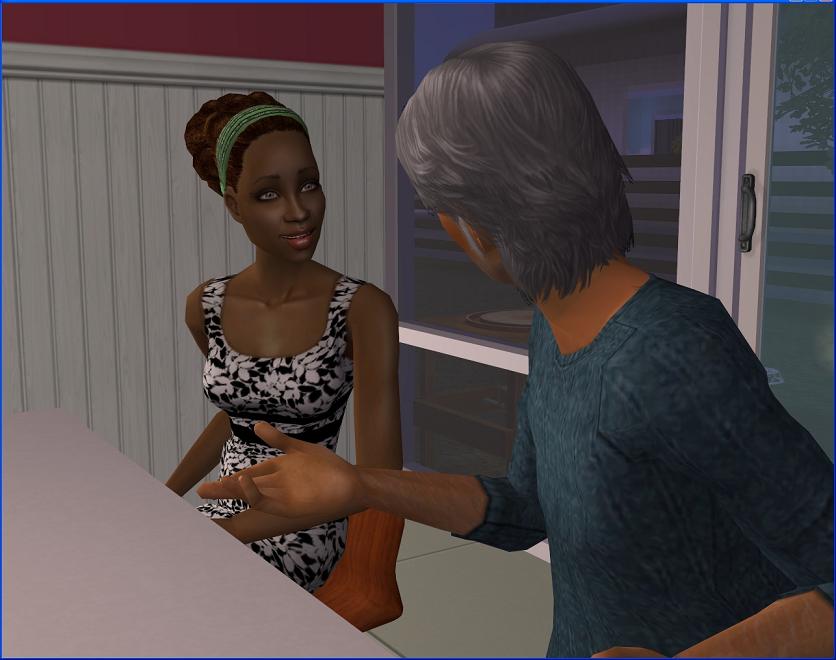 Even if Kendal were to get pregnant right away, which is unlikely at 45, I'd reach my 80s while the kid was still in his teens. I avoided saying "if I even live that long", although I was thinking it. Kendal doesn't like to think about the likelihood that I'll go before she does. I think that might be part of the reason she wants another child.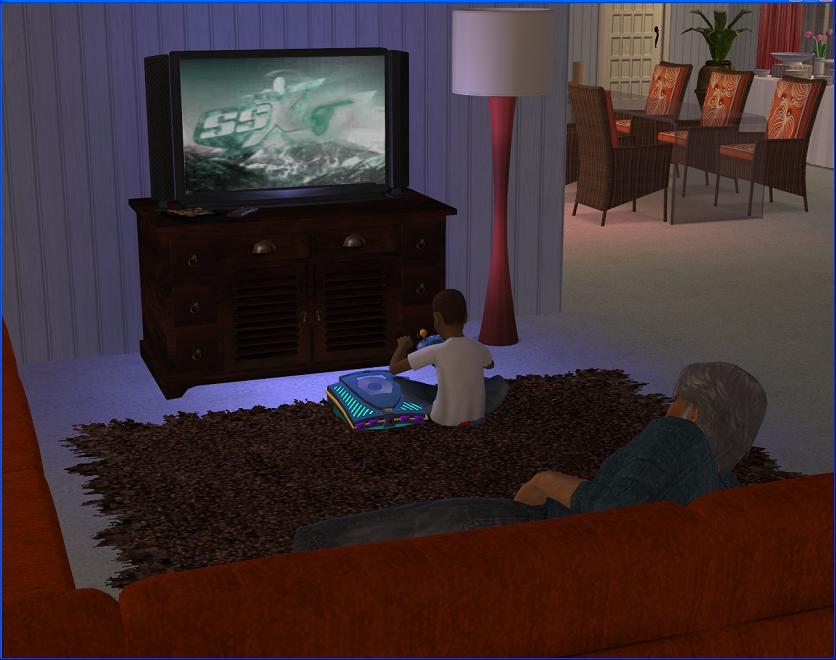 Dealing with a new baby in my late 50s was tough enough and even now, I'm exhausted at the end of the day with Chris. I don't think I could do it again.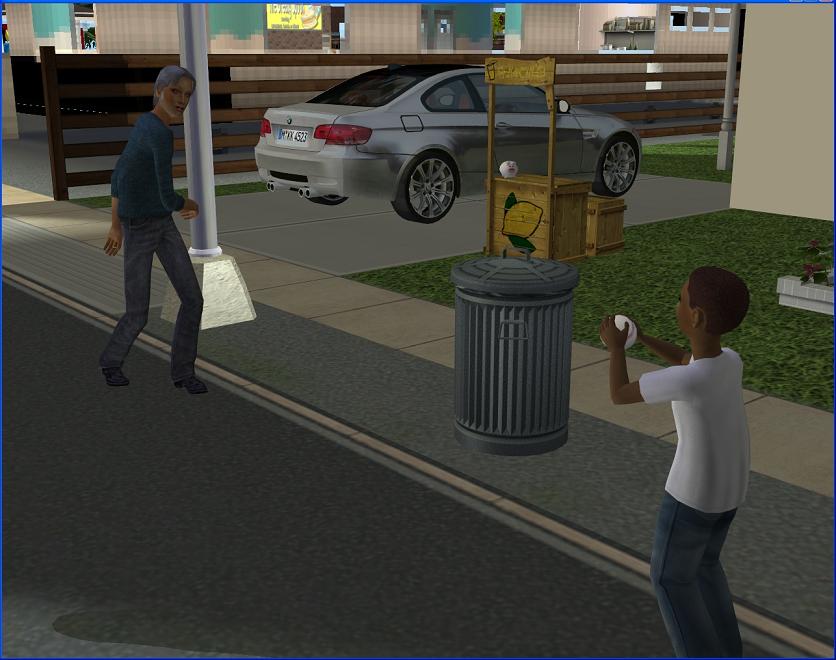 I'm really enjoying the age Chris is now anyway. He hasn't yet reached the age where he's shrugging us off or dealing with all that awful teenage stuff. This age is a lot of fun.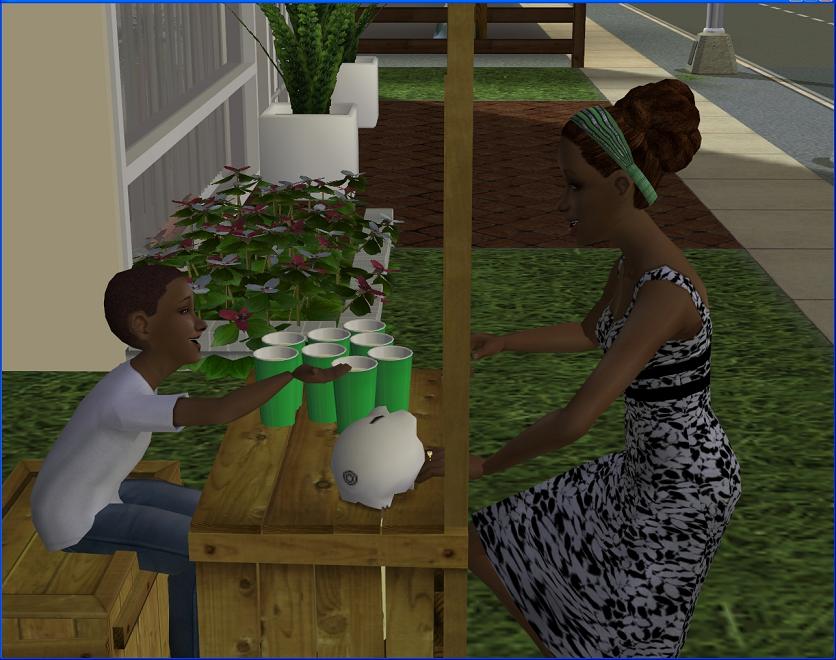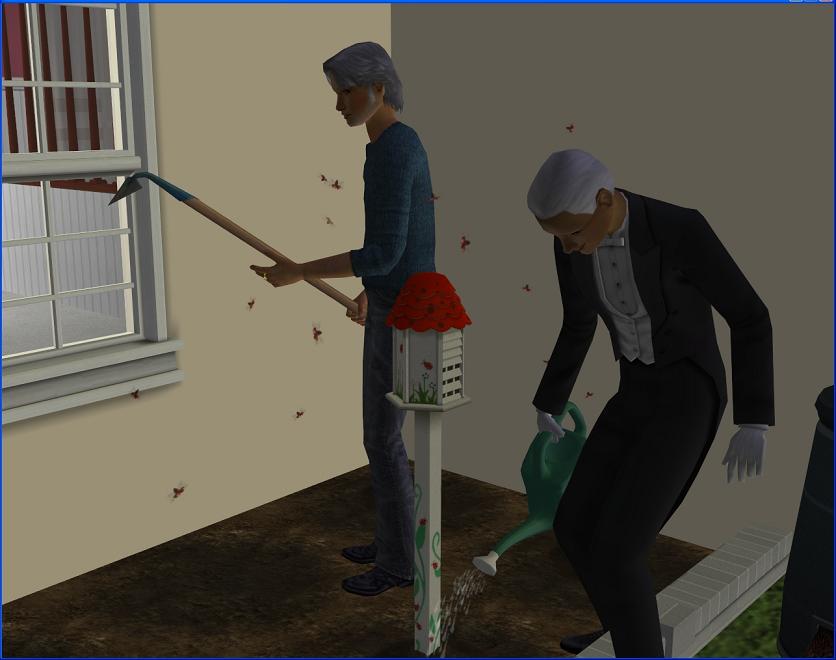 Chris is also independent enough to occupy himself for a couple of hours while I focus on my own interests for a little while, which is nice.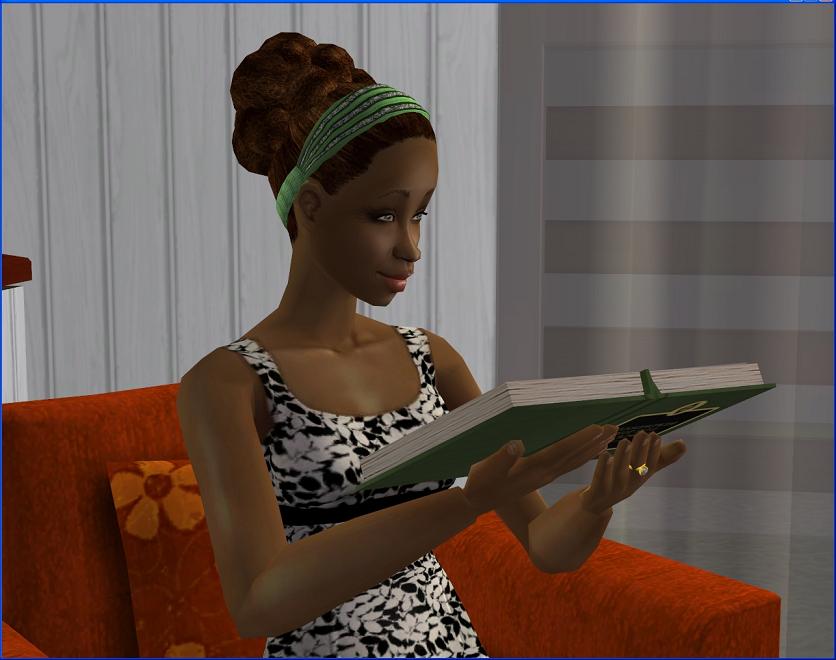 Kendal hasn't mentioned the baby thing again, since I said no, but I can tell she's still thinking about it.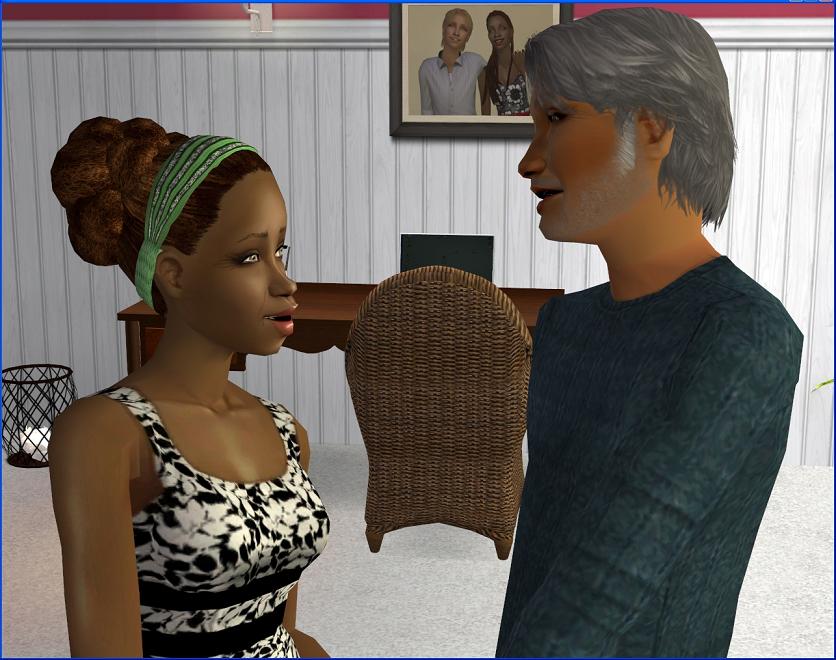 I'm hoping this is just a passing phase for Kendal and that she can come to appreciate that there are some really good reasons to let Chris be an only child.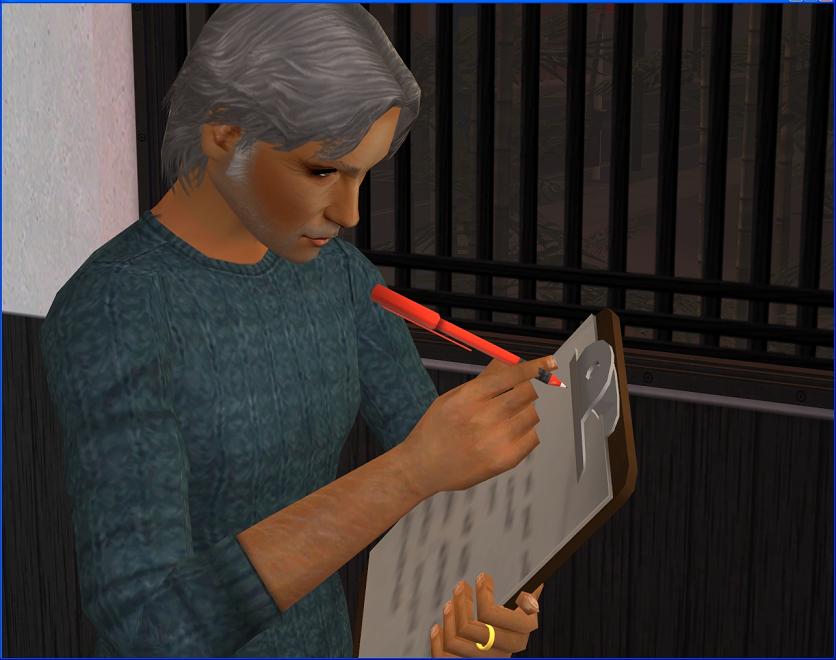 I'm still enjoying running the store. I never thought I would, had you asked me 20 years ago, but I do. It's a good thing too, because I don't know if any of the kids will want to take it over.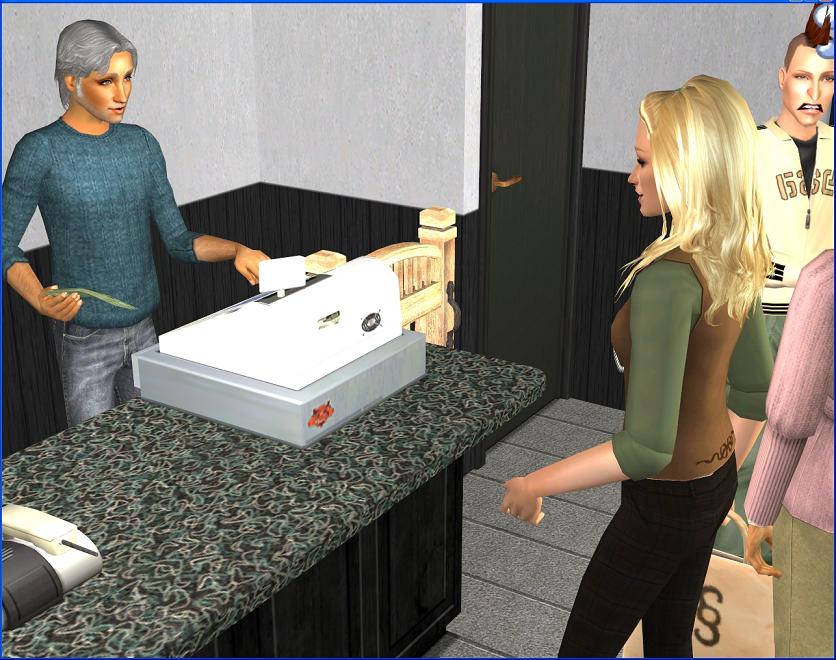 We even won our second Best of the Best award recently. I've come to recognise the reporter, so I always make sure to give her extra special treatment when she comes in. The store is now one of the most respected businesses in Exeter, so it must be working.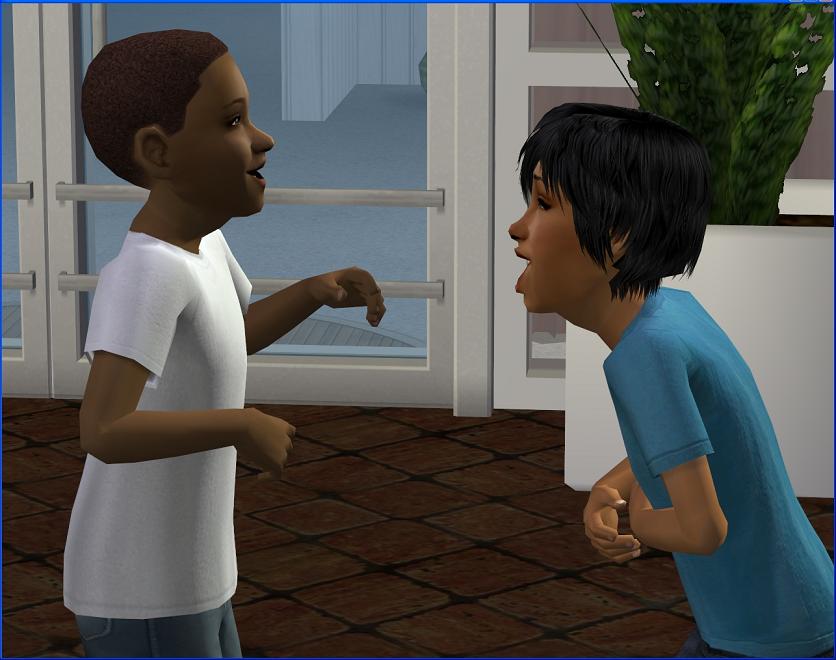 Chris is good friends with
Edward Lachance
, another boy in his class. If he has a friend over, it's almost always Edward. They're both very sporty boys, so they have that in common but I wonder if Chris is mostly friends with him because he's so easily led. I think he'd do just about anything Chris told him to and I hope Edward doesn't end up in trouble because of it!
So far, I think Chris has been behaving himself.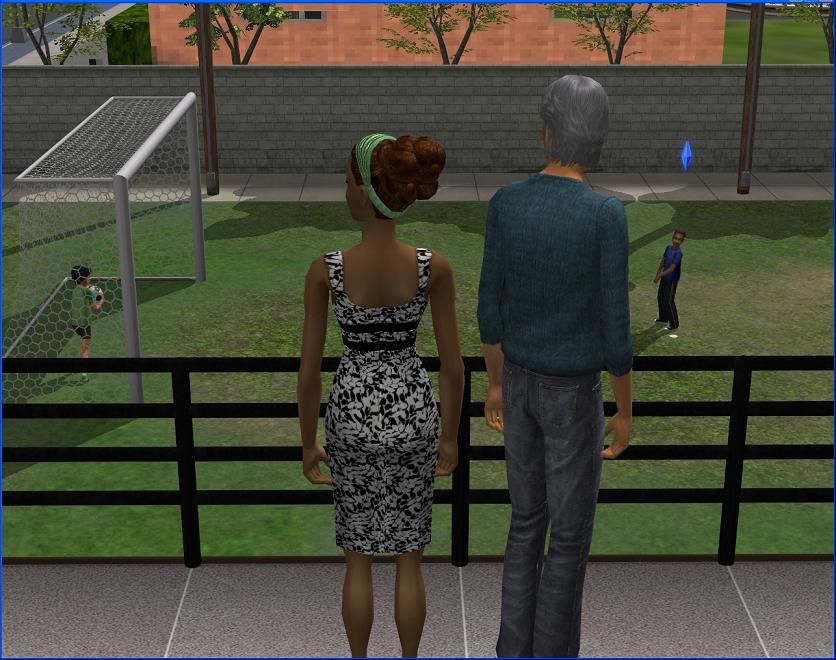 Kendal and I are careful to keep an eye on him, to make sure he doesn't get too rough. We're not sure where he gets it from, as neither of us are really like that. There's another good reason to stop with Chris - he's enough of a handful on his own.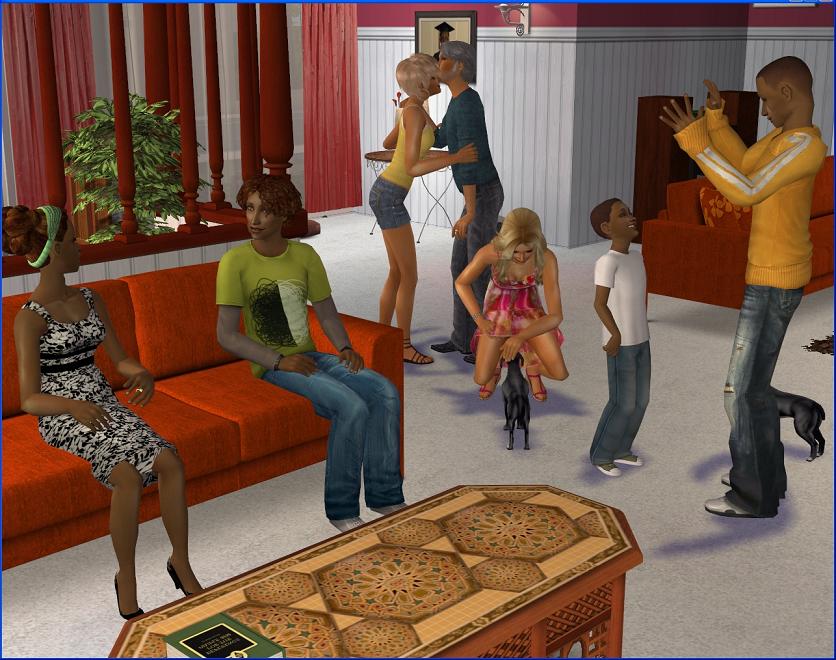 We ended the spring with a family get-together at our house. Patience, Troy and Calvin came home from campus and Rose drove over from her house in Sullivan.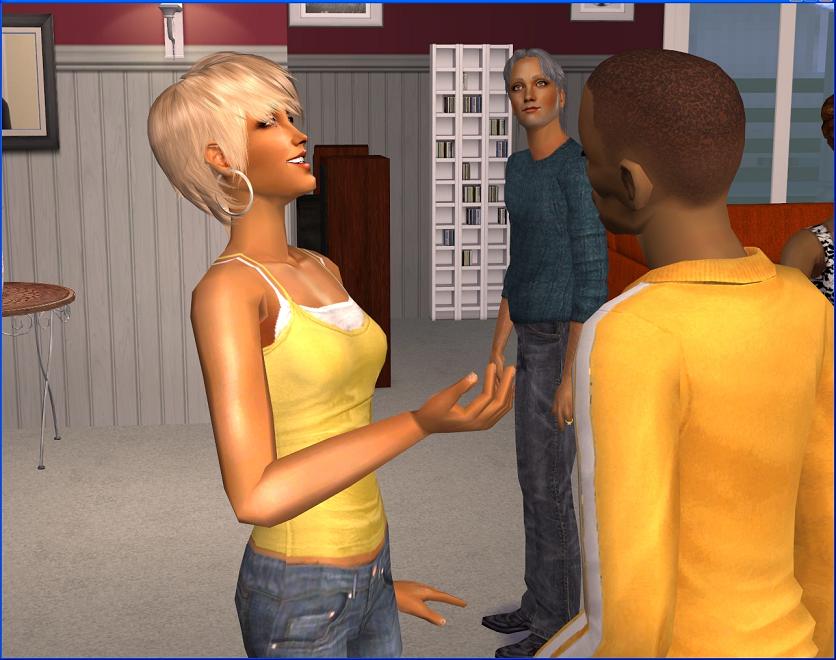 The get-together was meant as a farewell for Patience, before she embarked on her exchange trip to Cape Elizabeth.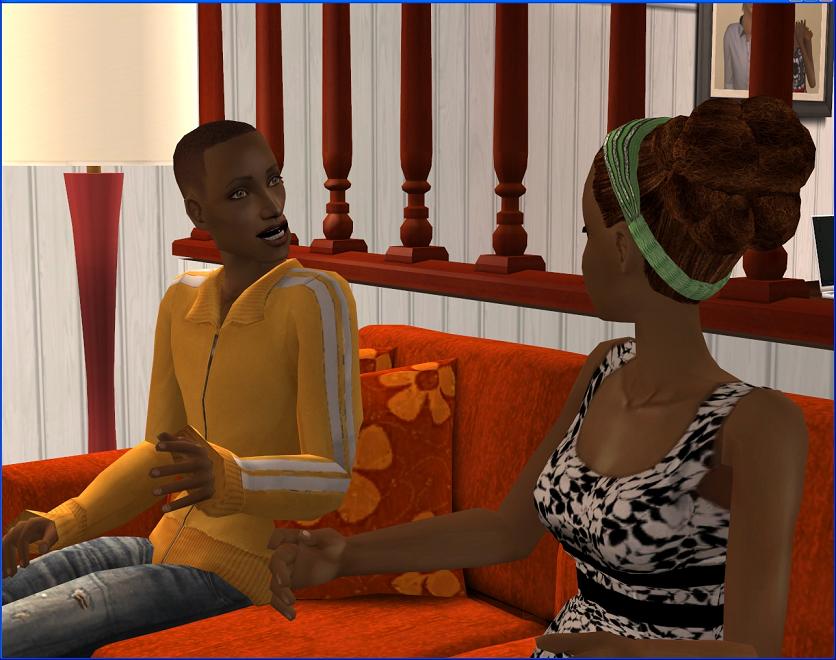 But of course, it was a good opportunity to catch up in general. Kendal had only spoken to Troy and Calvin on the phone since they left for college and she was pleased to hear that everything was still going well for Calvin and his boyfriend
Aaron
.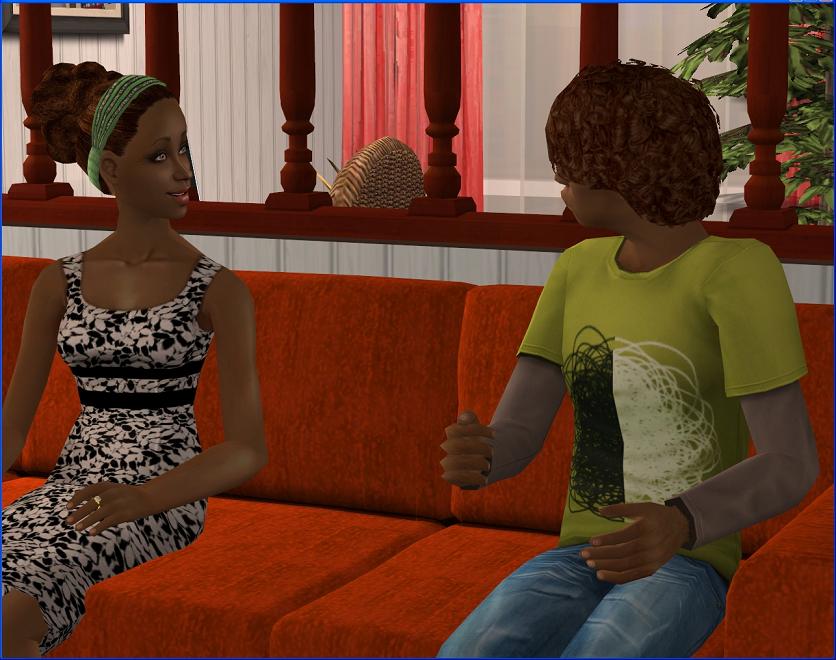 Troy isn't quite so settled though and Kendal's hoping he finds someone soon.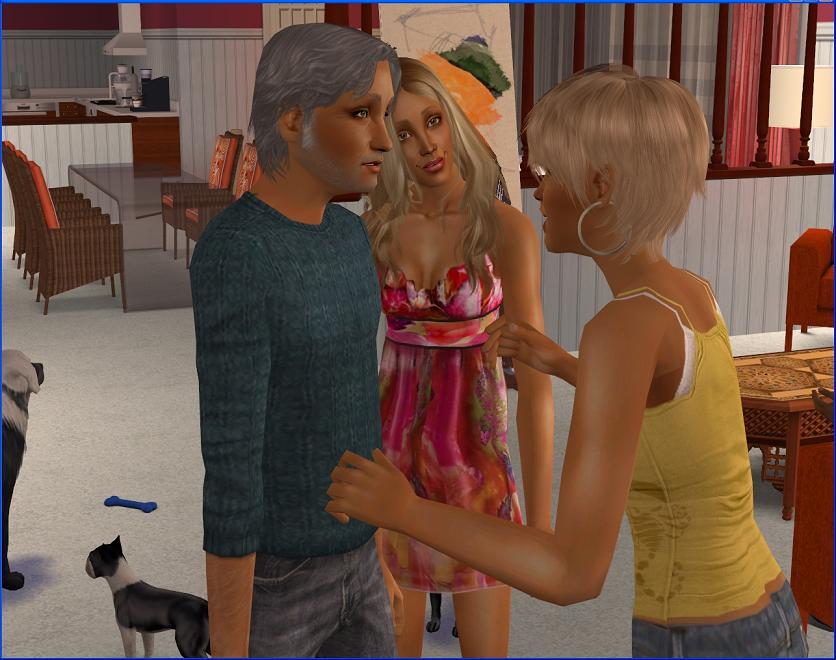 Thankfully, Rose has been happily with the same girl since high school, while Patience has been hung up on
Jacob
. It's only recently that she's stopped talking about him so much. I really would love her to find someone else, maybe even on this trip. Preferably not a Cape Elizabeth local who's going to take my little girl away from home though!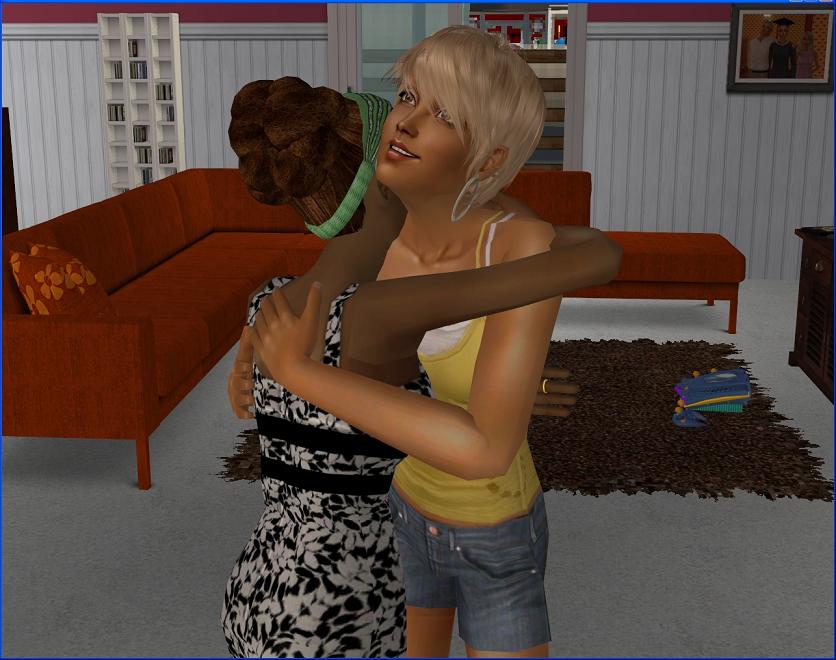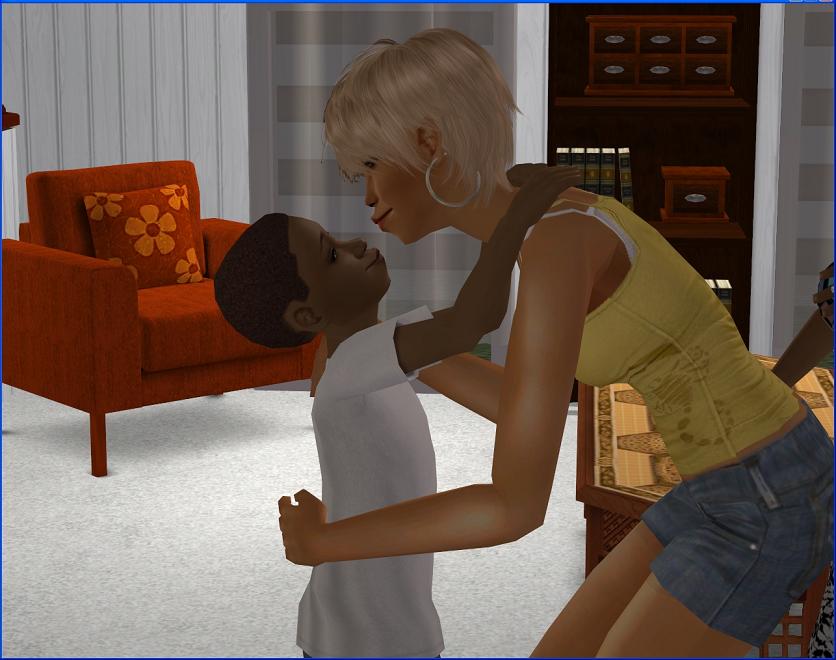 It was just going to be me and Rose taking Patience to the airport, so everyone else said their goodbyes at the house.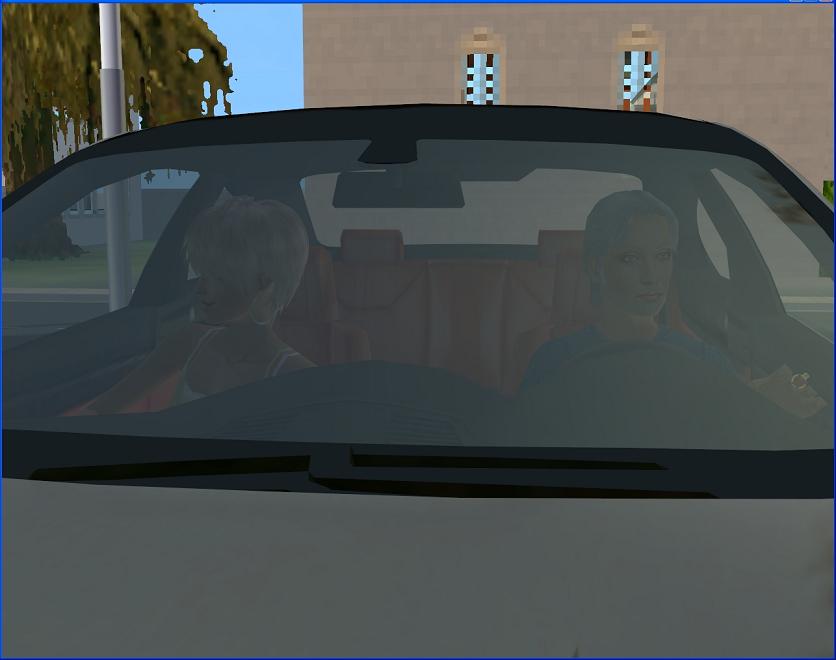 I was dreading the drive to the airport, much as I knew she could take care of herself. When Patience got into the car, she was grinning. She didn't seem worried at all.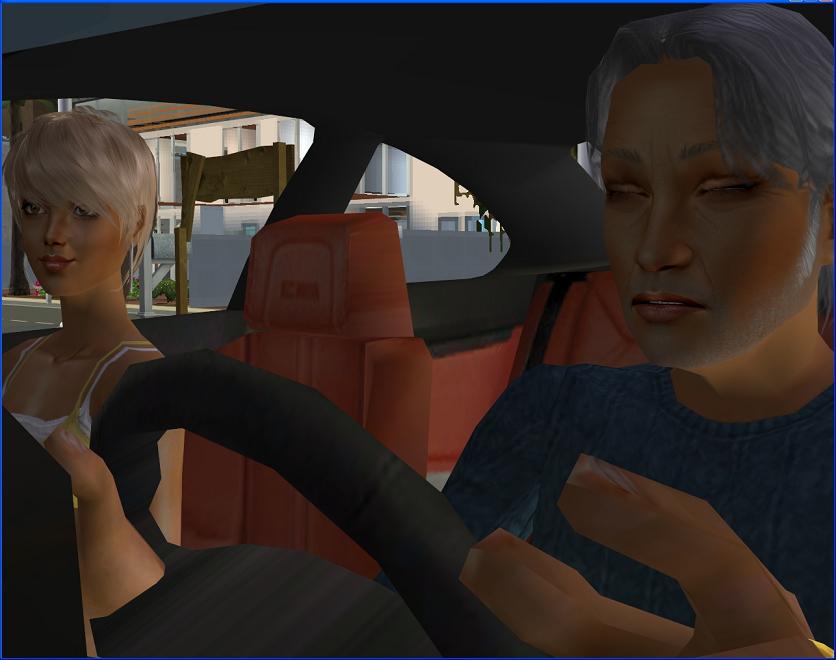 I guess this is just a father thing then. I was nervous enough for the both of us anyway.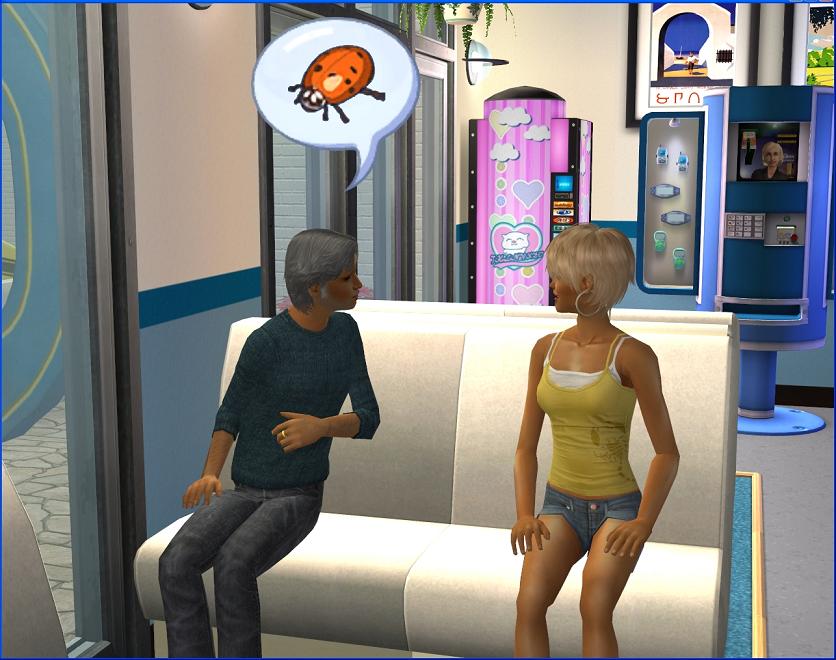 I spent the whole car ride pestering Patience to be careful about this and watch out for that and that didn't end at the airport. I'm sure it was driving her crazy but she humoured me.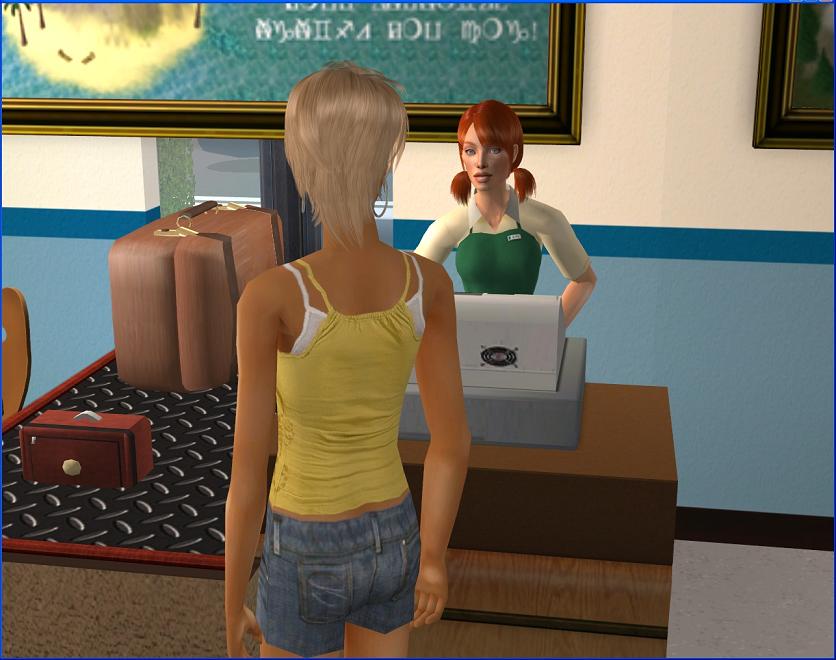 I had to let her go eventually, just so she could check in and get her boarding pass.
By the time she came back, Rose and I had done some shopping and put together a care package for Patience to take on the plane - magazines, a DS, some music.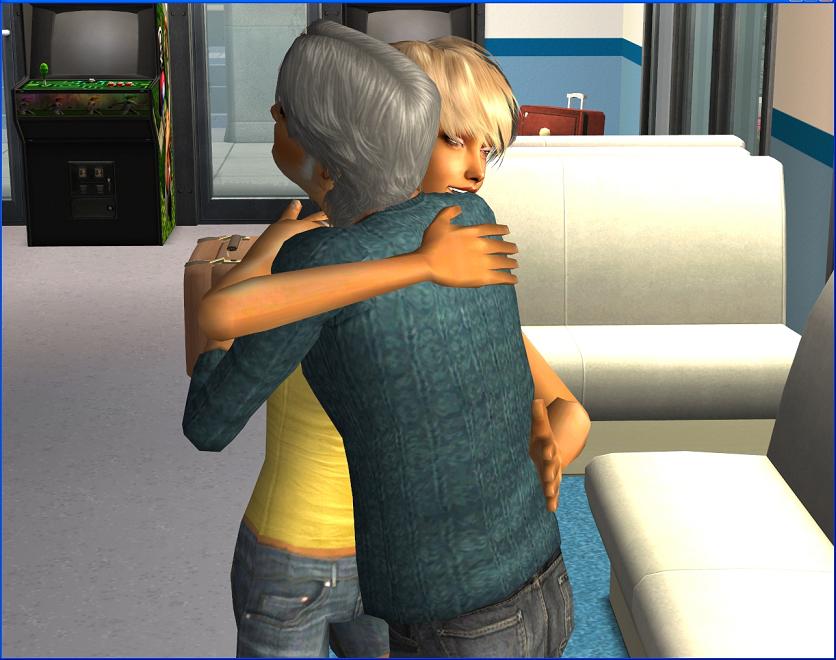 Over the PA, we heard Patience's flight was boarding and we couldn't delay it any longer.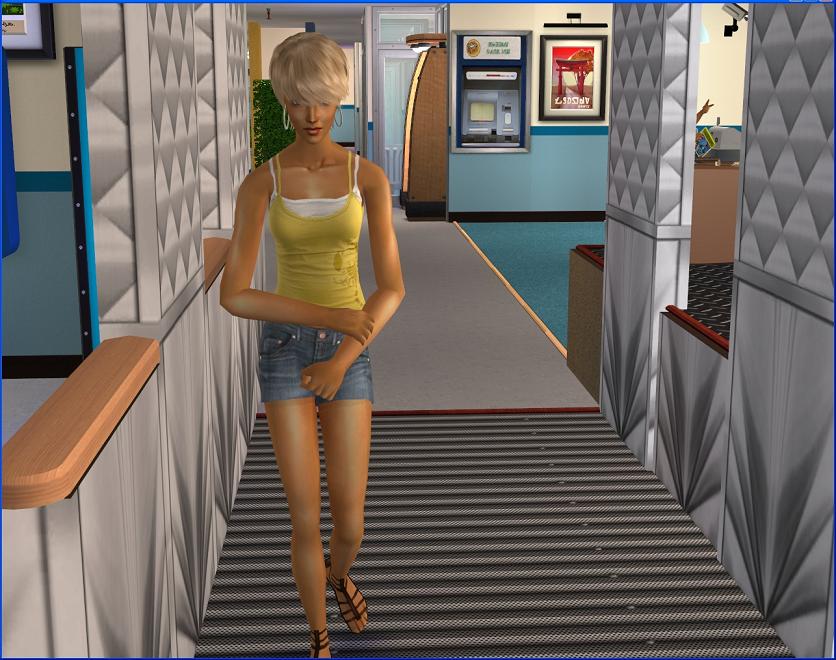 I know Patience hasn't lived at home with us for a couple of years now but being an hour away at university is completely different to being on the other side of the world. I already can't wait for her to come home but I have a feeling this year is going to pass very slowly.
Extra pic: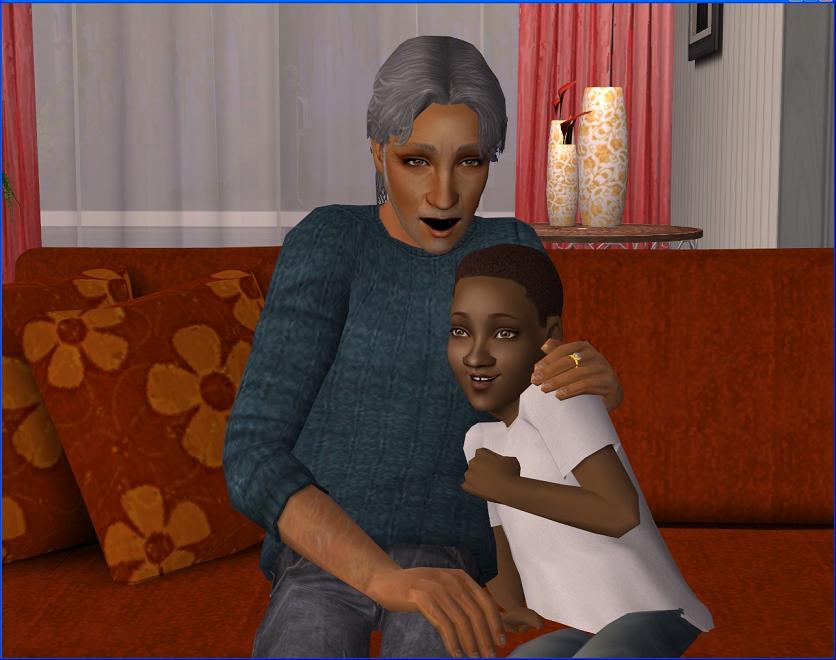 I hardly ever do the snuggle but it's really sweet. I still love Chris - he's a great mix of Kendal and Lake.
Notes:
Title is from

Caring is Creepy

by The Shins.

I'm actually quite sad myself at the thought of Kendal being widowed again! I really love these two together. They don't even need to be doing much, I just really like watching them.

This continues Patience's ROS for this round. I have, thankfully, finally figured out what I'm going to do for this trip. I've attached a second university to Sullivan and have used these lots. I stumbled across them when I was still unsure exactly how I was going to do this. It was very easy to move Patience out of her dorm and into one of the beach dorms at Cape Elizabeth University through the family bin. The only problem I've run into is that my playable students are showing up on the community lots but I can quite easily ban them (plus the more recognisable dormies) with Visitor Controller, so that's not a major issue. Patience better pass because this year abroad is costing Lake $8000!

Let's pretend that Lachance International has extremely lax security and non-passengers are allowed through to the gates! Sydney Airport was like that in 2006, at least for domestic flights (it's no longer like that), so it's not

totally

out of the realm of possibility!