I've talked a bit on here about my playable NPCs (which I sometimes refer to as non-playable playables). I originally got the idea from
Laura
and
Shana
and it's something I find really fun.
Playable NPCs are generally either a) ex-partners of my regular playable Sims, b) current partners who aren't quite serious enough yet to actually move in with whichever playable they're involved with or c) townies who have started a romance on their own, via ACR.
I don't write updates about them and I don't always play them. Sometimes I do but usually, I just pop in and age them up so they stay in sync with the rest of the hood. However, all offspring of playable NPCs attend school with my playables. Also, any of them can become regular playables if they happen to pair up with one of my Sims and either move in with them or get married.
I'm planning on including playable NPC age-ups in my birthday posts from now on though so I thought it might be fun to show you the families I have currently. This post is going to live in the side bar and be my catch-all post for any future playable NPCs too. If I add to it, I'll make a note of it in my regular updates so you'll know to check this thread, if you so desire.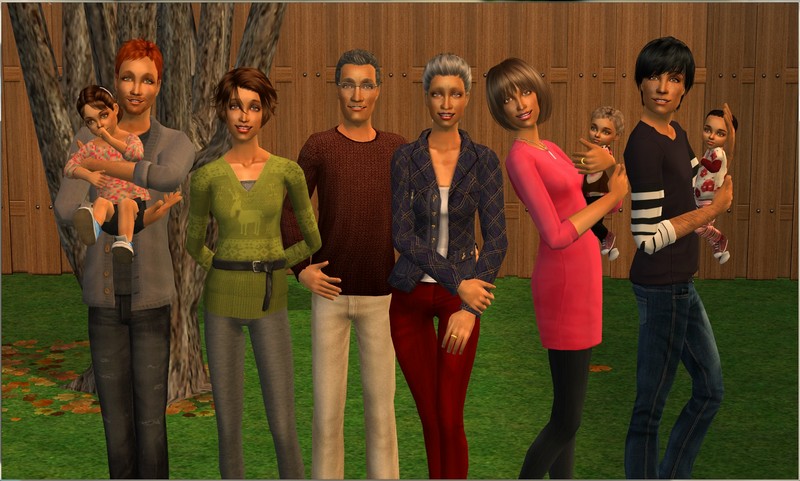 First, we have Corbin and Pamela Gray. Corbin works as a host at
Sophie Gentry
's restaurant The Claudette and Pamela is the early childhood teacher at Sullivan Primary School. They have two grown daughters;
Julia
is married to
Sam Whitney
and has a daughter Penny and
Lucy
(now playable) is married to
Edward Lachance
and has twins
Colin
and
Gwen
.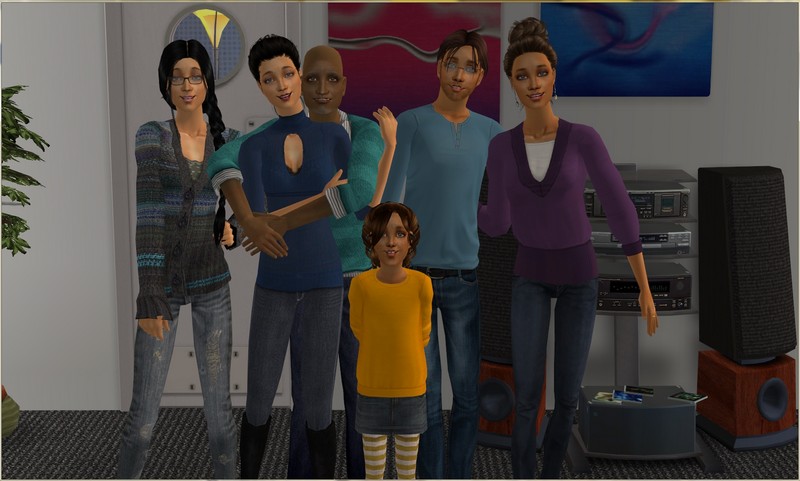 Next up is the Jacobson family, which consists of Claudio, his wife Virginia and their daughter Alice, who is now away at college. Claudio's daughter
Matilda
lives with her husband
Miles
and their daughter
Phoebe
.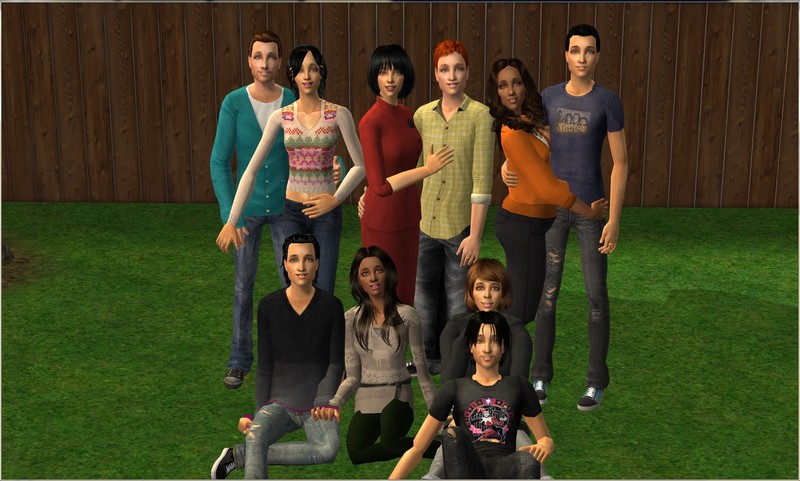 Here we have Jairus and Vanessa Gentry and their huge family. Jairus works in the gaming career and Vanessa is the hostess/manager at Tate's Grub Hub. They have four grown children;
Oliver
(now playable) is married to
Sophie
, his twin brother Sebastian is dating
Adelaide Sitko
,
Louisa
(also playable) lives with her boyfriend
Justin Moretti
and her twin brother Eddie is dating
Lauren Carmody
.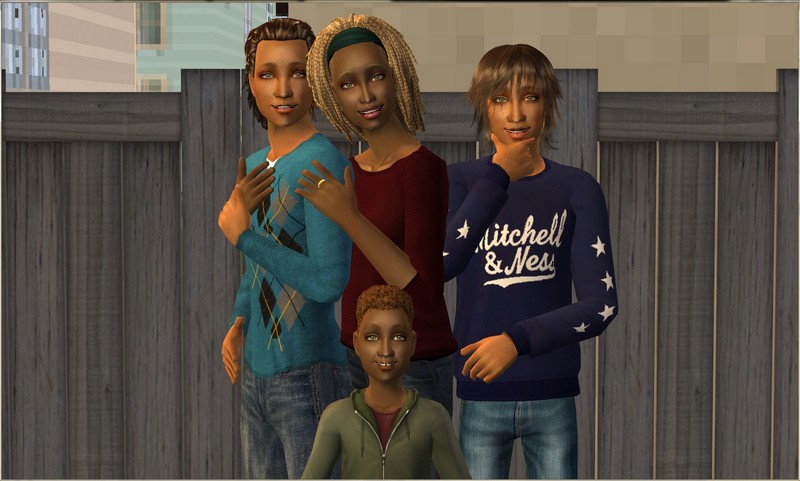 Former teen townies Amber Dawn and Elmer Miguel fell in love autonomously, so I moved them in together. They live in a small house in Sullivan, with their sons Joaquin and Matias.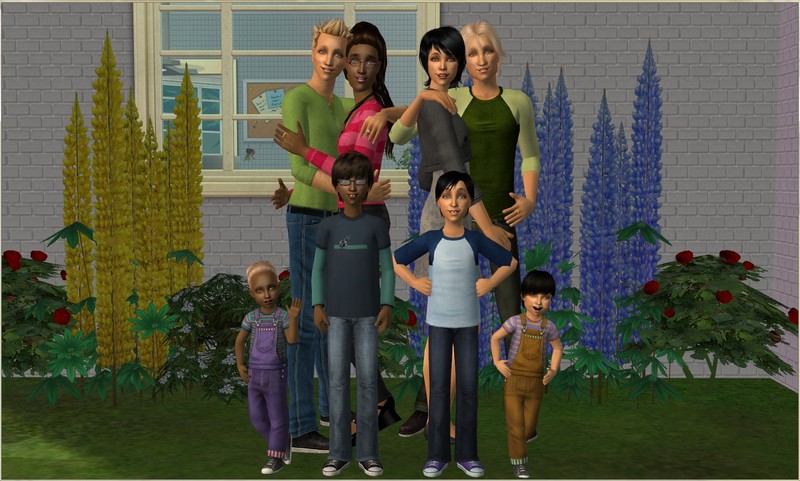 Zane Hamilton is
Amar Hamilton
's younger brother and currently works as an executive assistant. He lives with his wife, Chloe. Chloe works as a surveillance operator for the SCIA. In 2040, they welcomed their son Cole and second child Cary arrived in 2043.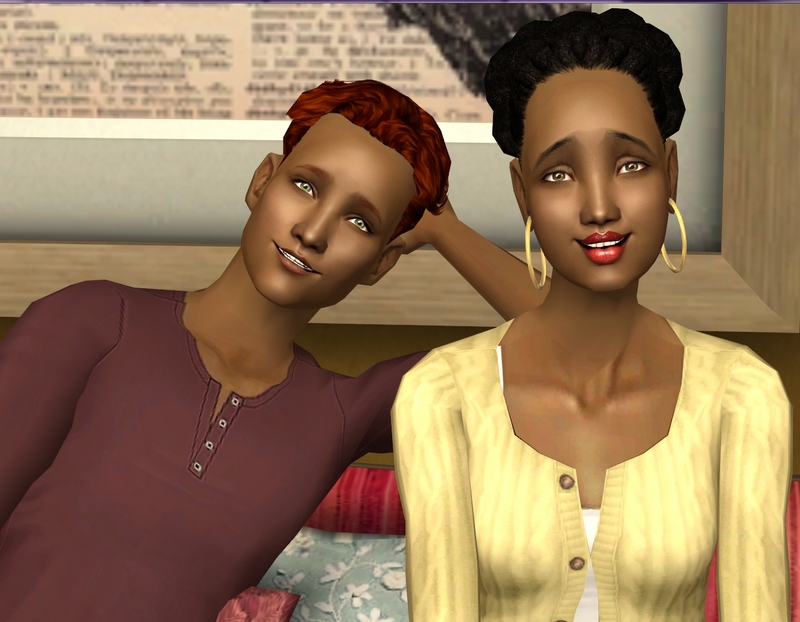 Jean-Paul Tang and Gisele Couderc are high school sweethearts and recently moved into a house in Sullivan. They are both freshmen, and commute to Suffolk University for their classes.
Melissa Hollmo (left) lives in Sullivan with her girlfriend Celeste Day. Melissa works as in the Oceanography career, while Celeste is a librarian. They don't have any kids but are thinking about starting a family in the future.