I guess this is somewhat of a sequel, so if you want the first part of this tutorial - ie., how do you get those Sims posed so nice anyway? - you'll be wanting to read
this
.
Another question that has come up at least once and probably will again is about the hanging portraits I do with the antique camera.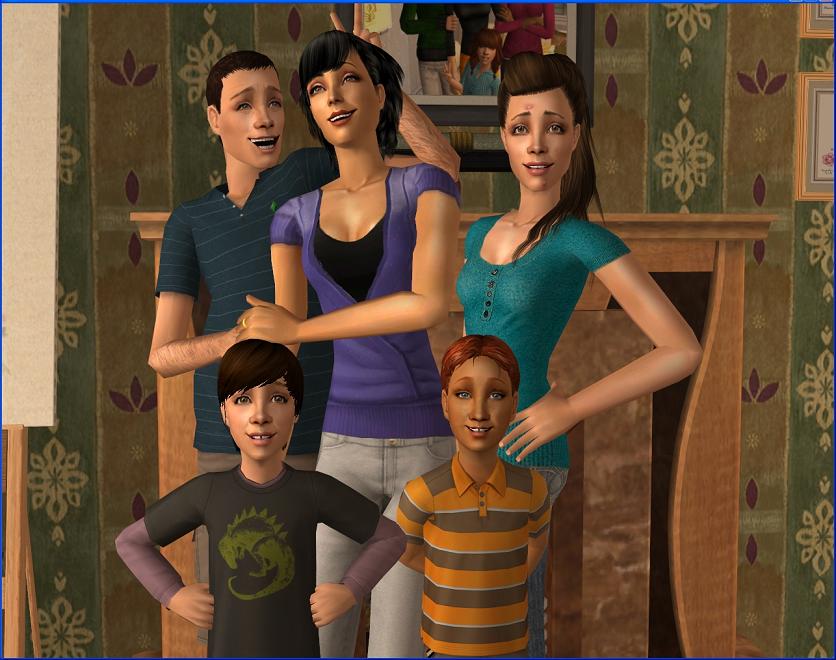 You can see here that the Bentons have an older family portrait (from before the boys came along and when
Xanthia
was still alive) hanging above their mantelpiece.
Now, you can take a picture like that by posing your Sims and then having another Sim take the picture with the camera. There are a few problems with that method though. The first is that the frame EA gives us is woefully small and it's hard to fit everyone in. The second is that if you want the whole family in the picture, you have to teleport another Sim in and make them selectable and have them use the camera. The third is that if you have a wedding on an unowned community lot, any picture you take with the antique camera will be lost. There's no way to access your inventory on a community lot, so you can't take the photo home with you.
What I do instead is very simple and I'm going to explain how you can do it too!
Take the picture you want. You can use the in-game camera and I did for a long time but I now use Gadwin. Alternatively, you might already have a picture in your Storytelling folder that you want to use.
Convert the picture to bitmap. You can do this even in Paint.
Rename the picture to

Snapshot.bmp

.
In game, have one of your Sims start to take a picture with the antique camera. When the frame comes up, pause your game and press C to take the picture. It doesn't matter what the picture is of because we're going to be overwriting that anyway! Don't unpause yet!
Get your

Snapshot.bmp

and drop it into the

EA Games/The Sims 2/Storytelling

folder and let them overwrite the files that are already there. It's very important that they go in this folder and not the Storytelling folder in your hood folder.

Now go back to your game and unpause. When your Sim finishes taking the photo, you'll see your own picture in the frame!
A couple more examples, so you can see this in action!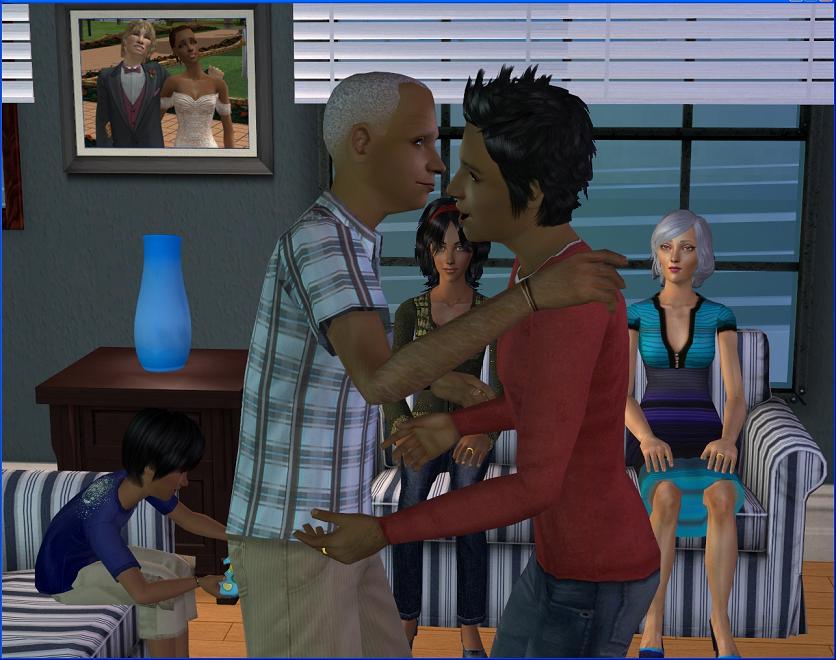 Jesse and Abigail have wedding portraits hanging up all over their house - this is just one of them.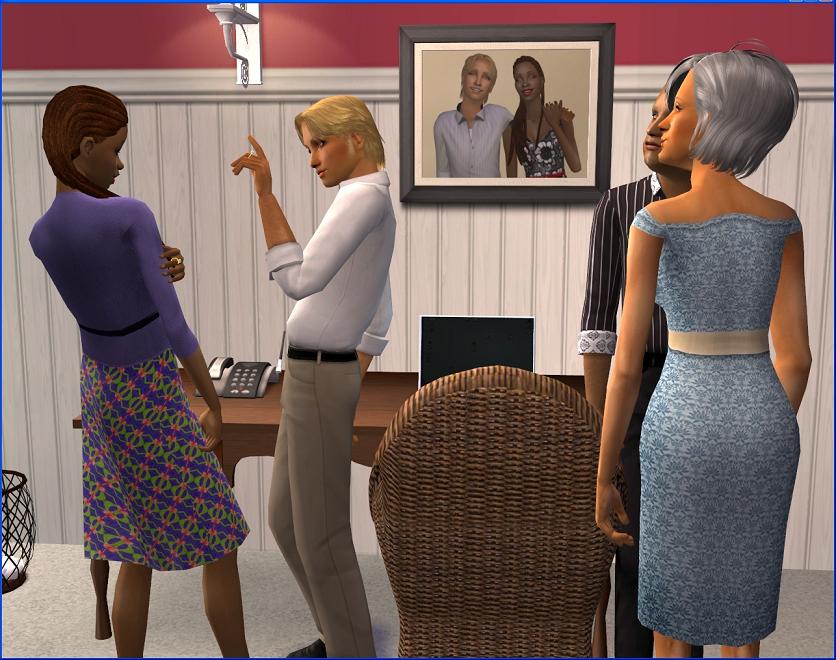 Kendal and Lake have their wedding photo hanging in their living room, which now faces Kendal's graduation pic on the opposite wall.
And the Bentons have a more recent family picture hanging above their couch too.
So that's that! I usually use posed shots for this but there's nothing to say you can't use candid shots too - I've got a few of those hanging in my Sims' houses too!
Edit 22/4/12:
This post is really old and I no longer use this method for family pics. I now use
these frames
and add my own pics to them. So if you're not afraid of SimPE (because I'm not writing a tutorial for that!) and would like family pics hanging on your wall but in a ton of different sizes, then give these frames a try.
I know many people would rather do this in game though (I was once one of them), so I'm going to leave this tutorial in the sidebar.