I've decided who I'm going to play in Sunset Valley. I've even turned aging and story progression on and am just focusing on two families.
The first is an EAxis family but the most awesome EAxis family ever created.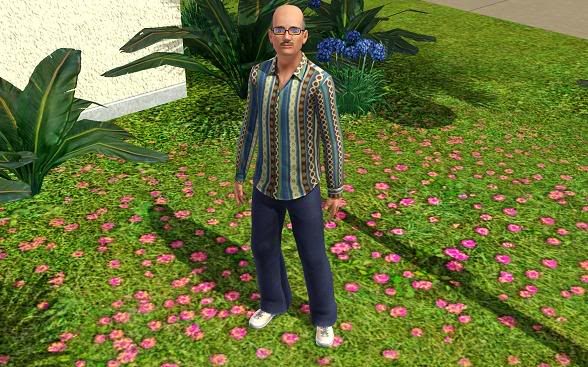 This is Gobias Koffi who, in my game, has changed his name to Tobias Funke. Because let's face it,
that's who he's supposed to be
and I've never met an Arrested Development reference I didn't like.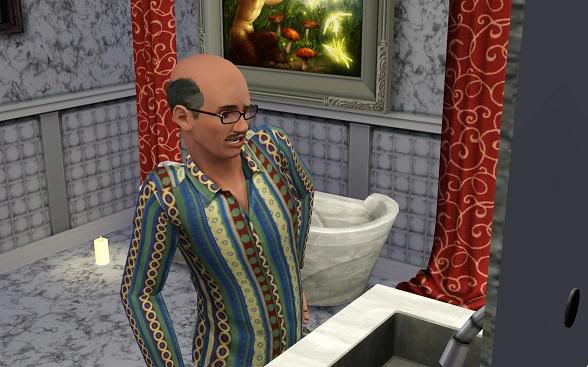 He's Childish, so he enjoys playing with the mirrors. I might have picked something other than Childish but I think the rest of his personality is pretty spot-on. He's also a Loser, Flirty, Over-Emotional...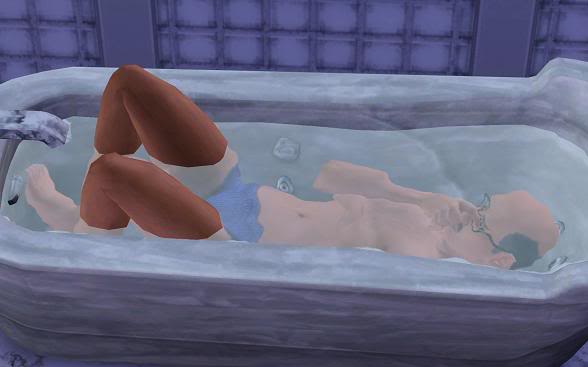 ...and of course, a Never Nude. EAxis did not see fit to include a pair of denim cut-offs for men so I had to restyle his swimming trunks as best as I could. There are not enough denim textures in the game. :\ There are plenty of jeans but the texture never looks the same once I apply it to something not denim.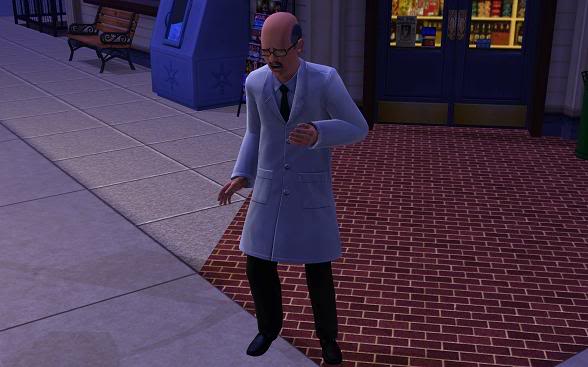 This is fairly dark but he's sobbing here, a side effect of being Over Emotional. I don't know what he's sobbing about but it's pretty funny. Over Emotional Sims don't sob in foetal position in the shower though, which is disappointing (I promise that's my last AD reference for this entry!).
But I have also been playing my own Sims, Eloise and Connor. I moved them onto a blank lot. I'm a glutton for punishment and figured
surely
I could build a nice house for under $18,000.
Well, no, I can't and Eloise and Connor are still quite poor. But here's what they got up to anyway.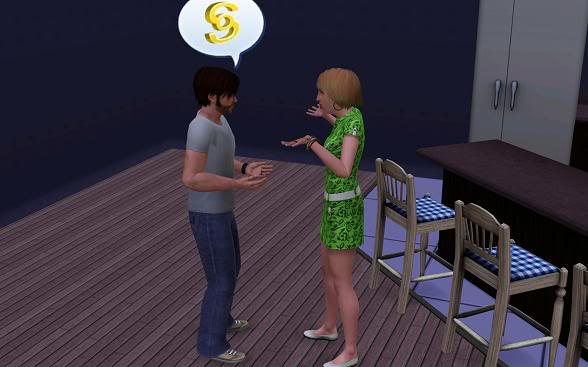 When they move into their windowless, lightless, fug house, the first thing Connor does is "Worry About Money". Eloise doesn't know what to tell him.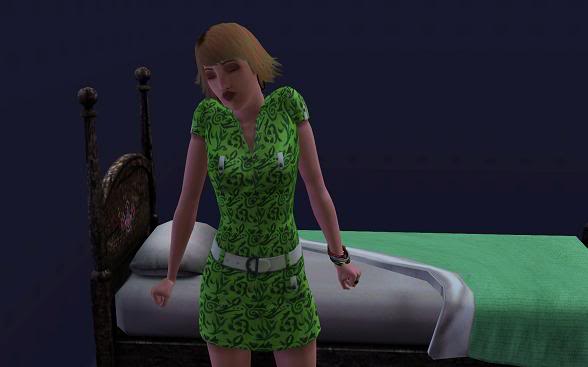 All they have to sleep in are two extremely crappy single beds. Eloise got a "Bad Night's Sleep" moodlet from sleeping in this one.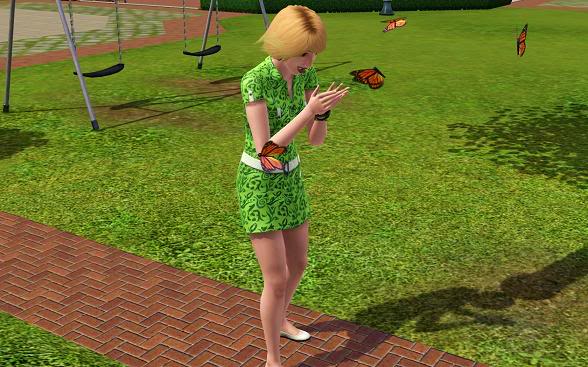 As you know, if you read
my previous post
, I'm playing these two with a view to getting them married. Well, they might actually need to spend some time together for this to happen! Connor works 9 to 3 in the Political career, which is when Eloise goes off to work in the Music career. So she is left to her own devices during the day. Because they're so short on money, I send her to the park to find some bugs to sell to the Science building.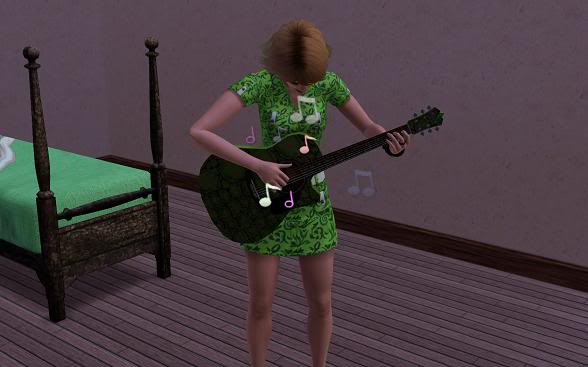 After what seems like forever but was probably only a few days, I finally scrape together $200 to buy them a guitar. Eloise and Connor both need it for their lifetime wishes. Eloise wants to be a Hit Movie Composer, while Connor wants to master both the Charisma and the Guitar skills.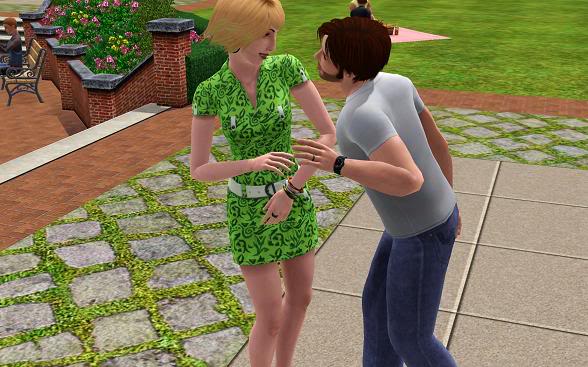 It's the weekend and I send these two to the park to hang out together. Connor decides to make his move on Eloise and he is denied! The little social interaction box in the upper left actually said "Eloise thinks Connor is being creepy". Ouch! Eloise, didn't you hear I gave him the Great Kisser trait? You don't know what you're missing out on, honey!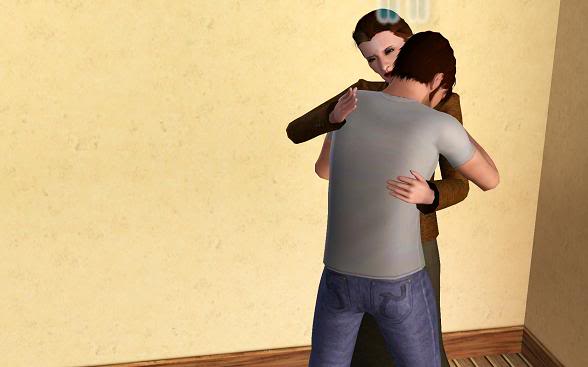 He's very embarrassed about it and has a cry on the shoulder of his good friend, Vita Alto. She doesn't really look like the type whose shoulder you'd cry on (I believe she has the evil trait) but I guess she makes an exception for close friends.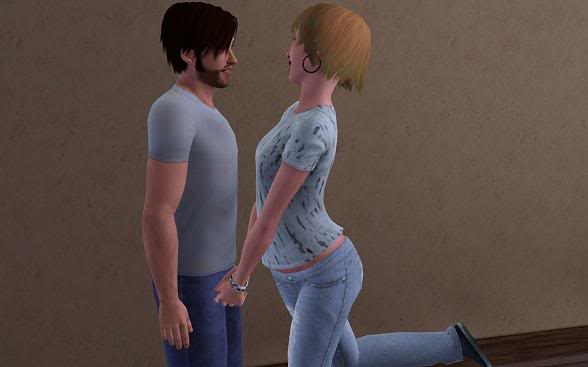 When she gets home from work, Eloise feels she's been a bit hasty in rejecting Connor and she gets on with the flirting.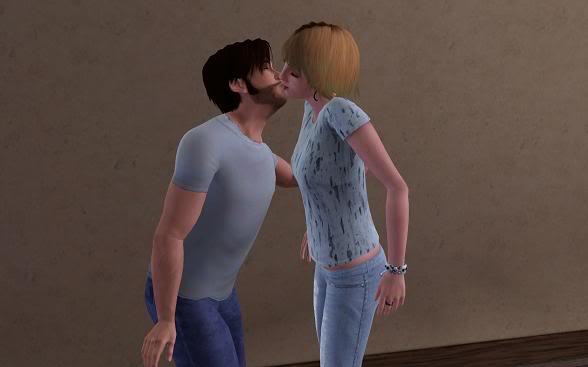 Aww!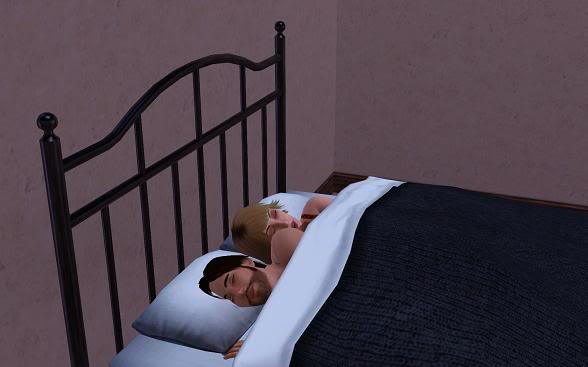 And from then on, they're inseparable and I get to sell Eloise's bed for some extra cash.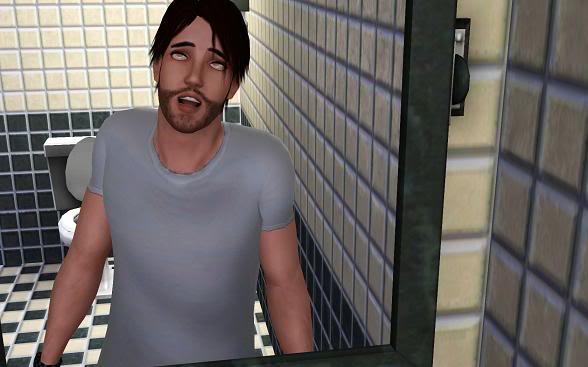 I use said cash to buy them a mirror, so Connor can get to work on that Charisma skill. This is him practising a speech. I really think he needs to work on his technique, so the mirror was probably a good idea.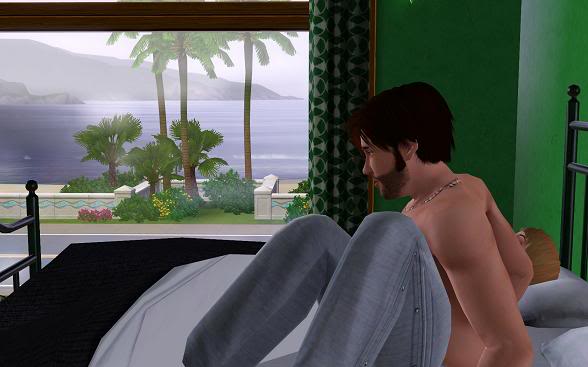 What a view to wake up to! Eloise and Connor, now that they have windows in their house, both constantly have the "Beautiful Vista" moodlet from living near the beach.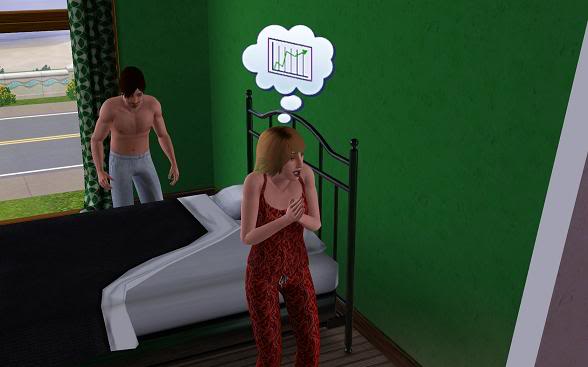 Eloise is Excitable, so she gets very enthusiastic about anything and everything. Sometimes she gets a moodlet letting me know what she's excited about but often she doesn't. One of the moodlets was "Excited (from Anticipation of Seeing Lover)". Seeing she lives with her "lover", it obviously doesn't take much.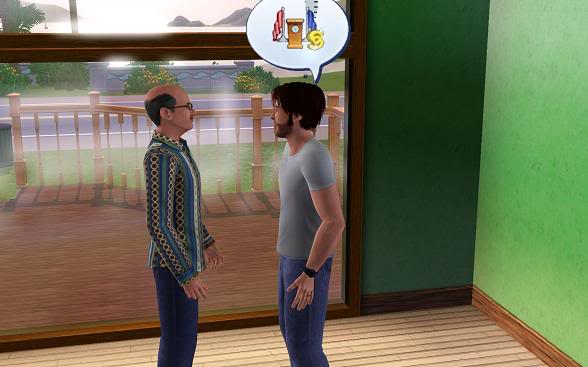 Once Sims get up to about Level 4 or 5 in the Political career, they can ask for campaign donations. Tobias is a total sucker because he gives thousands of dollars every time. I don't know if it comes out of his funds. I'm pretty sure I had a good idea of how much he had, so I should check that.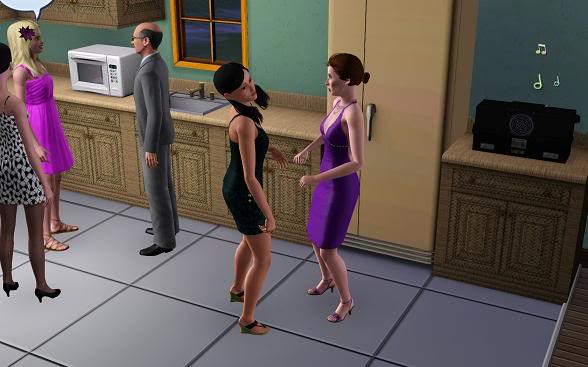 But the best way to raise funding is to hold a political fundraiser. To advance in the Political career, you need to do fundraising but it's not too hard if you have a good relationship and don't ask the Frugal Sims for donations!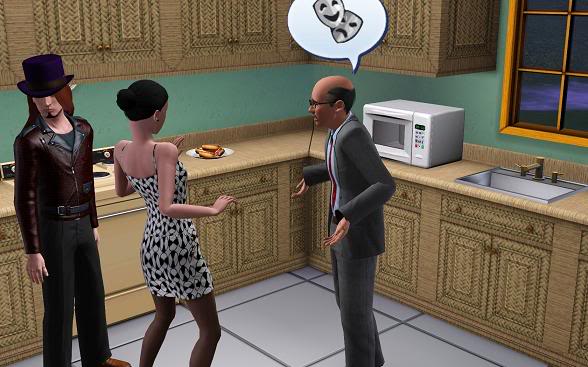 Poor Tobias. Tori has No Sense of Humour, so she's not interested in any of Tobias' Childish antics.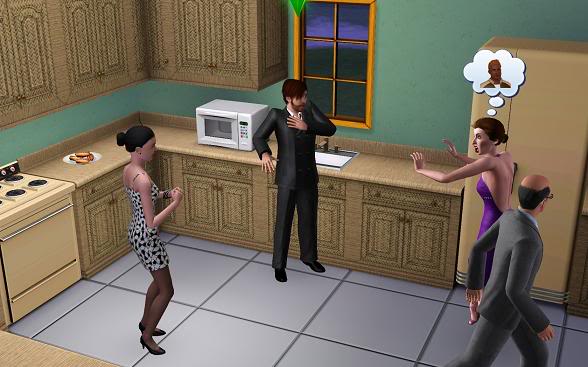 Vita Alto is a total cow. The interaction Connor had in his queue was "Be Scared".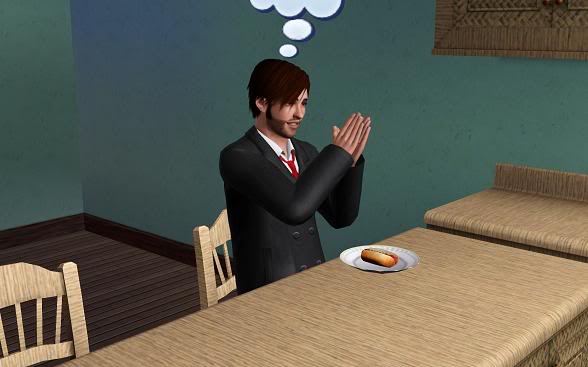 And Connor was such a great host. He pretty much just turned the stereo on and sat down to a tofu dog. It's his favourite food, so he gets very excited right before he eats it. He's a Vegetarian.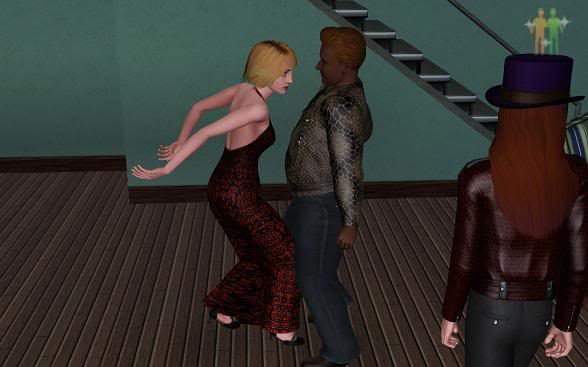 He'd better watch out for his girlfriend, who's "dancing wildly" with Ian Bowler.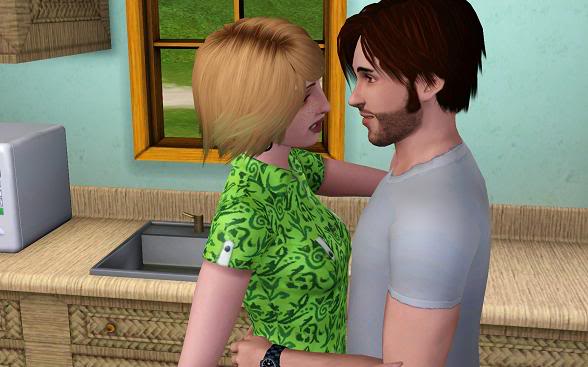 No, it turns out Eloise has eyes only for Connor. She's a Hopeless Romantic, so she goes in for all that sort of mushy stuff.
I didn't want to risk a rejection (I have no idea what criteria you'd have to meet for a rejection) so I waited until their relationship bar was close to all the way up before I had Connor propose.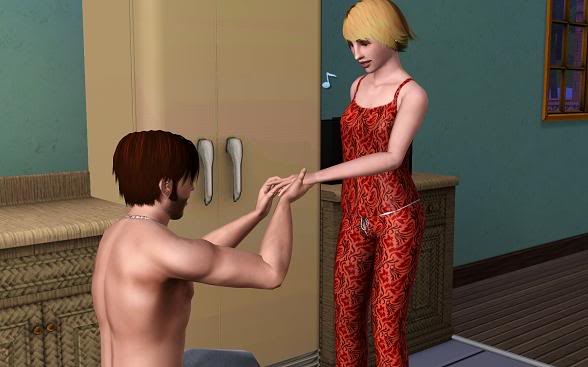 She accepts, of course.
Now, I'm pretty sure this was her getting excited either about being engaged or her impending wedding. They get a moodlet when they're Newly Engaged and another right after you plan their wedding. You can set parties to start at a specific time in TS3. Eloise had the day off and Connor finished work at 2:30pm, so I set the wedding for 4pm at Old Pier Beach.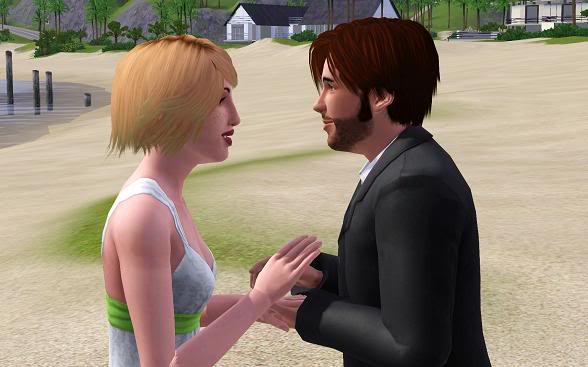 And what a gorgeous beach it is. They both got the Sweet Party Venue moodlet.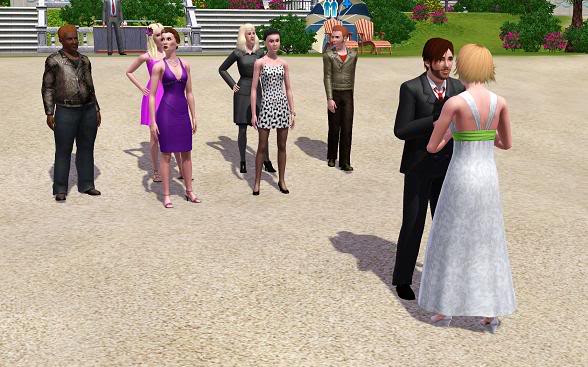 TS3 wedding ceremonies kind of suck though. First of all, there's no arch. I don't know why this bothers me but it really does. Secondly, the other guests watch but that's all they do. They don't clap and smile and everything like in TS2. Or maybe they do. Maybe my wedding was just like this because they're on a slope? I don't think so though. None of them look like they're having a route failure.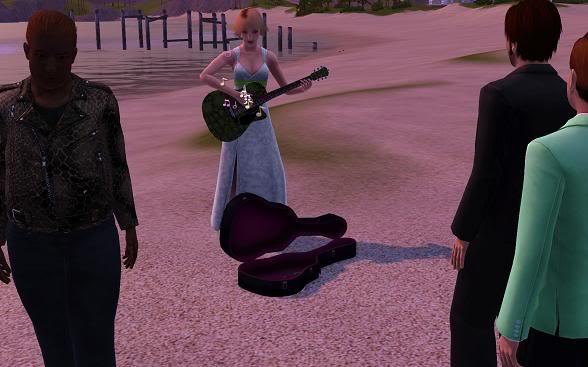 Anyway, back to the wedding. Eloise finally has enough Guitar skill to play for tips so she pulls out her guitar at her reception and hopes people are kind. She earns $47, which is nothing but every dollar counts in this family.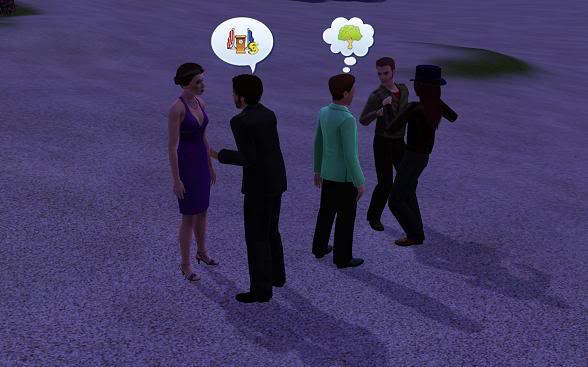 Connor tries a different way of getting money and starts canvassing for donations. He's been promoted to Mayor (Level 7) and he's got his eye on being elected to a higher position.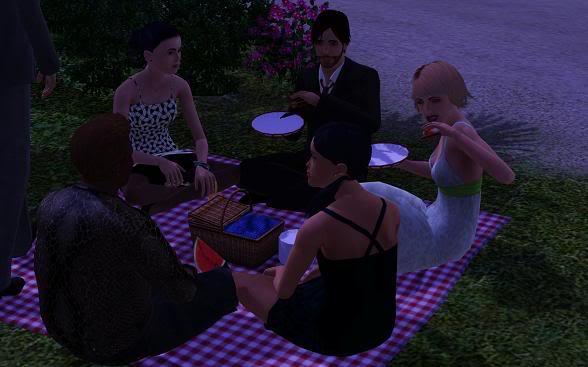 Well, I'm glad someone thought to cater this thing! One of the guests laid down a picnic blanket so Connor and Eloise's wedding feast consisted of a hamburger for Eloise and a grilled cheese sandwich for Connor.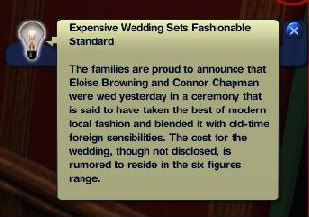 I don't know if you can read this but I had Connor read the paper the day after the wedding and there was a little announcement about it.
Since I turned Story Progression on, there have been two other weddings (I can't find either family on the hood screen though, so they might be townies who haven't moved in) and two babies. I've been reading the paper every day to keep up with events. Anyway, the Wainwrights had a baby boy named Gustavo.
Leighton and Dorothy (who I paired up
here
) had a baby girl named Katina. When I checked the hood screen, Dorothy had moved in with her daughter and another townie named Narcissa so I split the family and moved Dorothy in with Leighton. What I think is cool about TS3 is the different relations it recognises. Sam (Leighton's son) and Katina are labelled as half-siblings by the game which thrills me beyond words, for some reason. I've never liked how the TS2 relations are so vague. Spouse. Sibling. Parent. Child. Yawn. It'll be interesting to see if it recognises great-grandchildren as relations - TS2 doesn't.
But I do miss TS2 and my wonderful Sullivan Sims. Sigh. If I could combine the games and have all the features I love from TS3 in TS2, my life would be complete. But anyway, I think next week, I'll start alternating my play and get some Sullivan updates up here.
Random pics: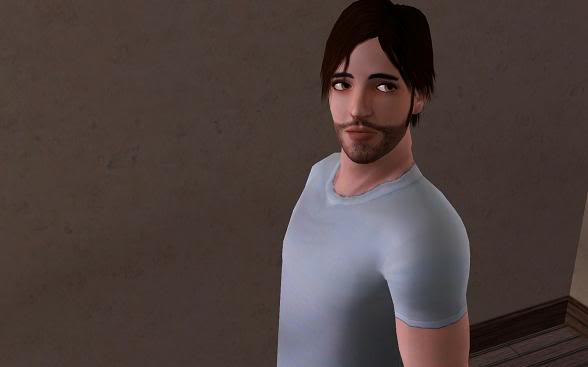 I just love this one. I forget what he was doing. Connor makes some cool faces.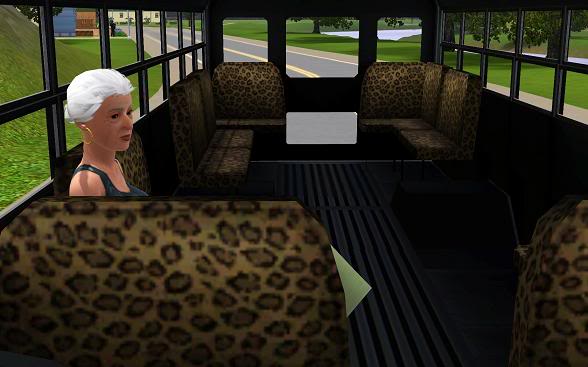 This is some old lady in Riverview. I forget her name but I think it's a Polish/Russian sounding one. Anyway, she's a retired Lyricist so she gets to ride around in this awesome bus instead of the taxi. It's certainly a step up from those creepy mannequin looking things on the sports career bus in TS2!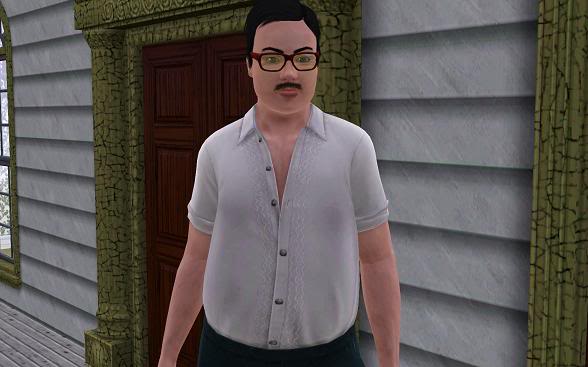 Check out this sexy maid I got in Riverview! He looks like
Milton
! I have to marry him into one of my families.