Round 29: March 2029 (Autumn)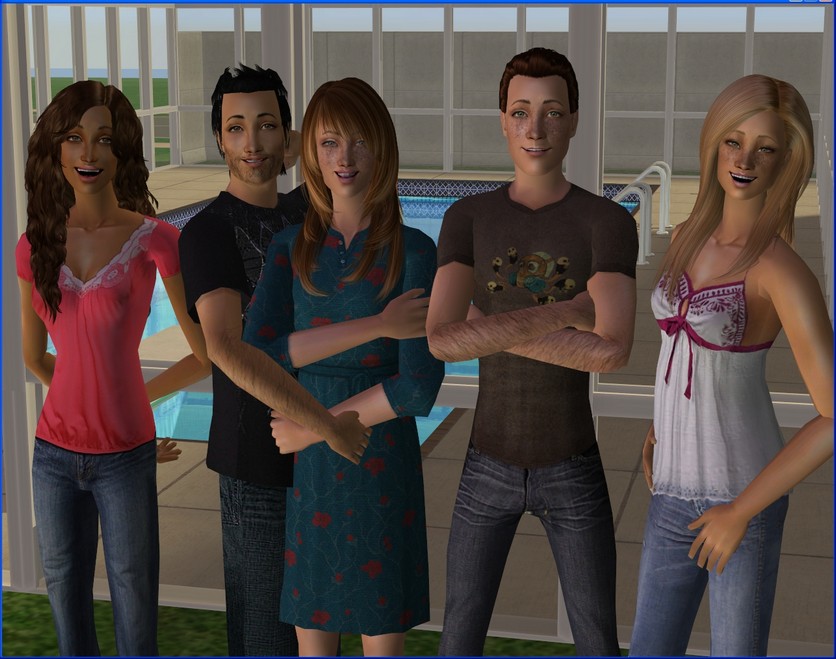 Narrated by Hope Collins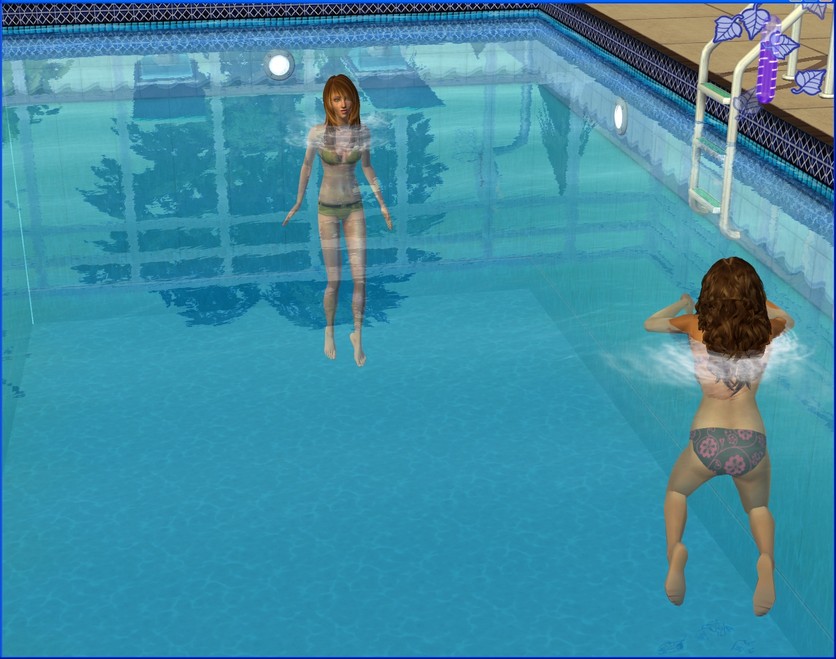 Classes just started here on campus and I'm having the best time. Well, the actual classes aren't that much fun but I'll take boring classes if it means I get to have a pool at home.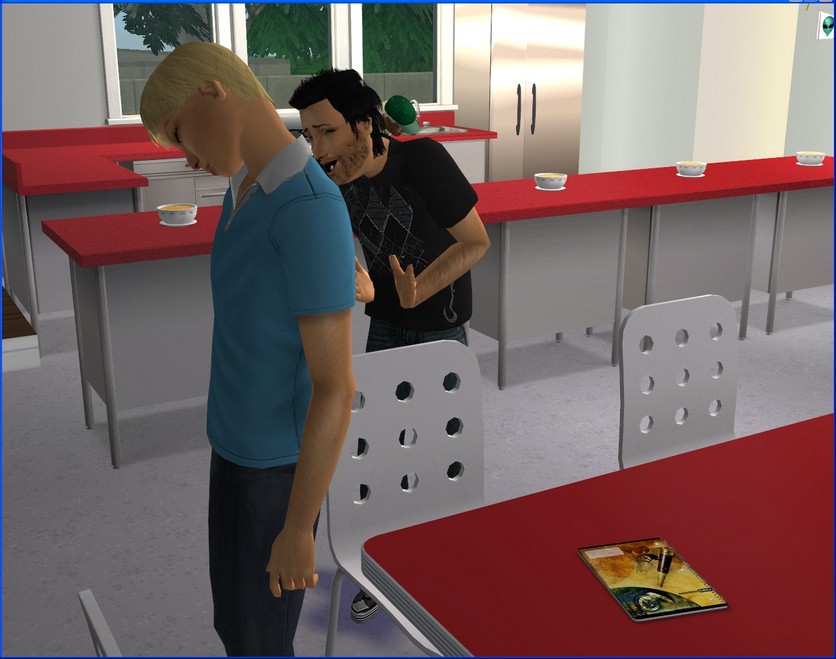 Where else could you see a guy fall asleep on his feet? Maybe there are other places but it definitely didn't happen at home!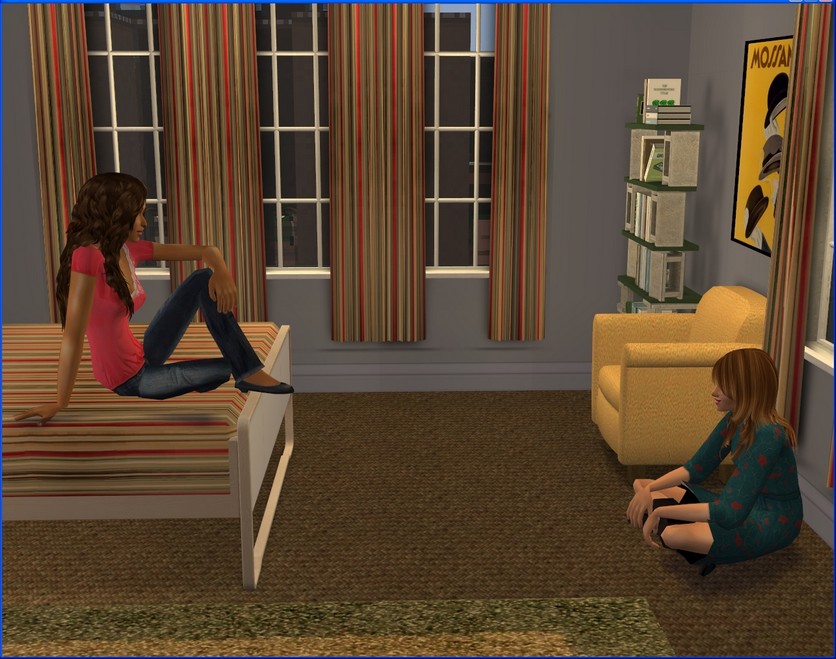 I live right across the hall from Julia now. It's so cool just being able to go and see her whenever I want to. We're often in and out of each other's rooms.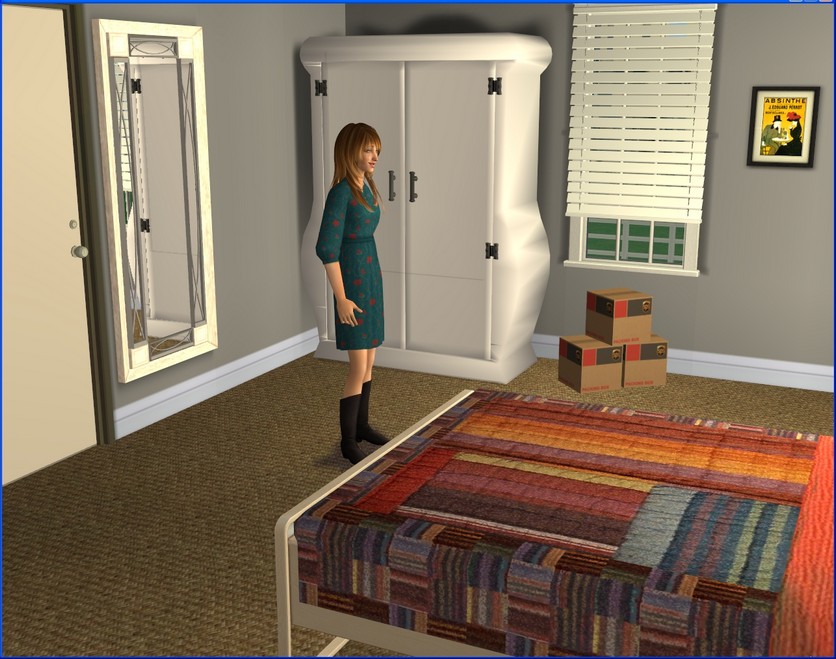 Speaking of, my room is awesome. I wasn't expecting a great room but I was pleasantly surprised.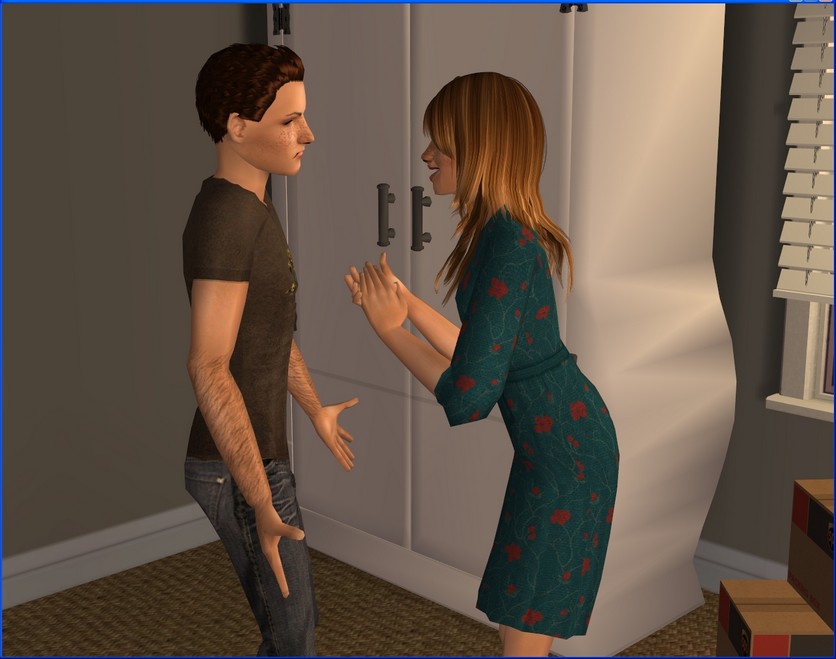 Nathan doesn't think freshmen should be allowed to have the big rooms. He's just jealous that he doesn't have one.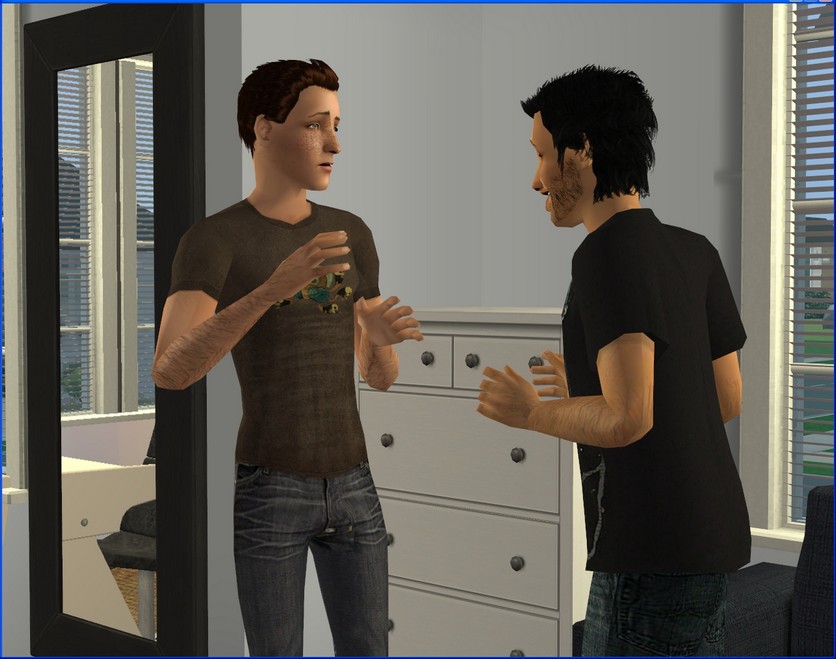 Nathan is still rooming with Malcolm and is still irritated by the situation.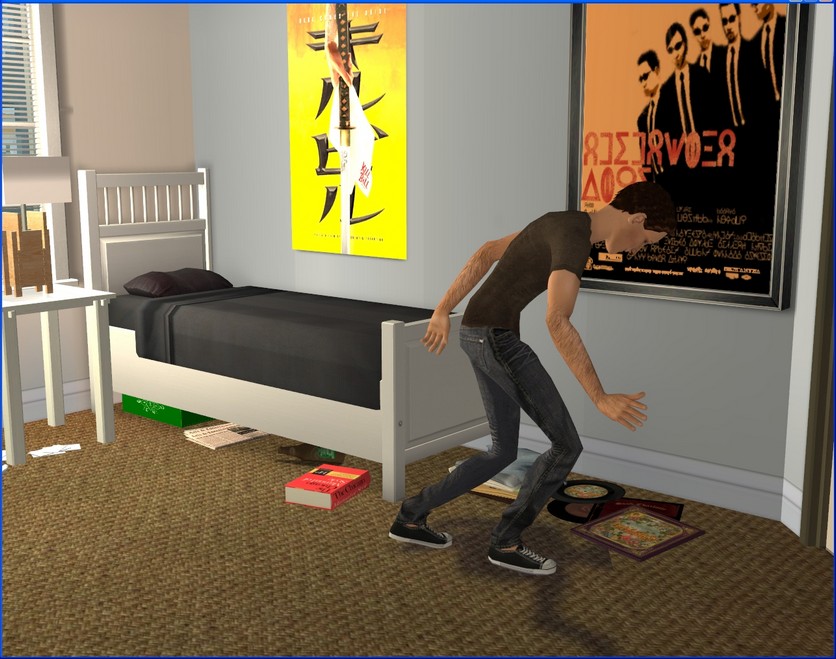 He spends most of his time picking up all the mess that Malcolm leaves behind.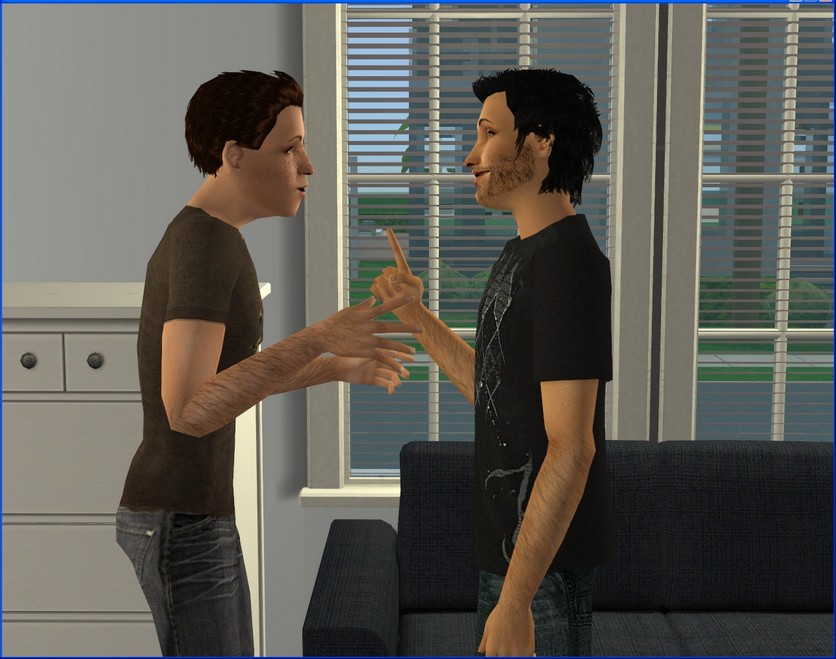 Malcolm actually says that he and Nathan are getting along a little bit better this year. Probably because Malcolm doesn't spend as much time in their room as he did before.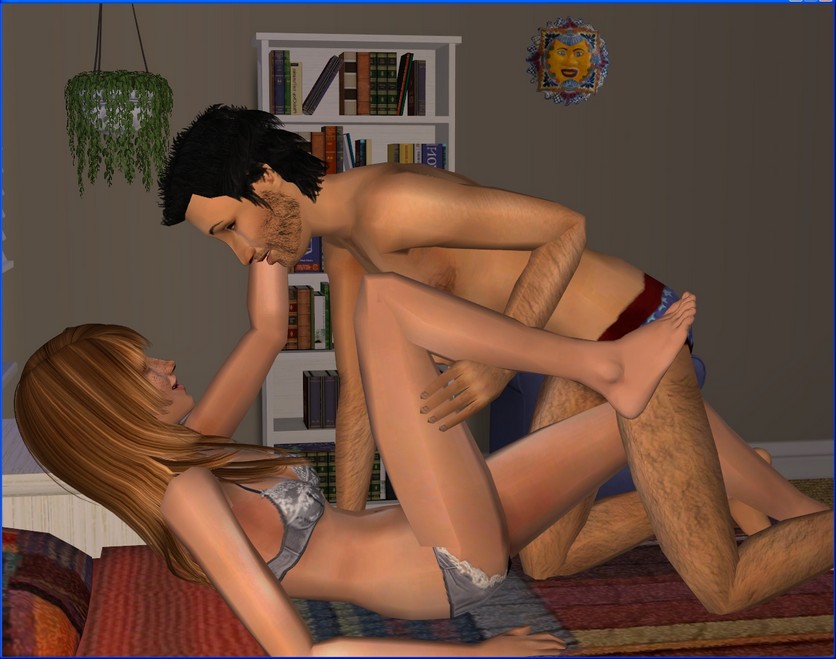 My room is a little more appealing and Malcolm's up there with me almost every night.
It means Nathan has the room to himself, which suits him just fine.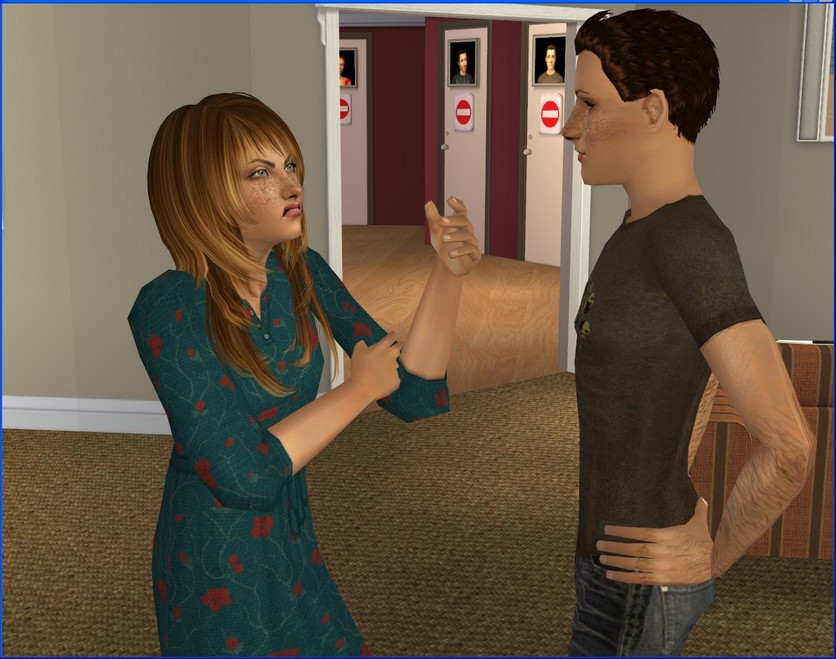 It still hasn't stopped Nathan bugging me about Malcolm whenever he has the opportunity. He just hates the idea of me dating Malcolm. I think
Dad
's got to him.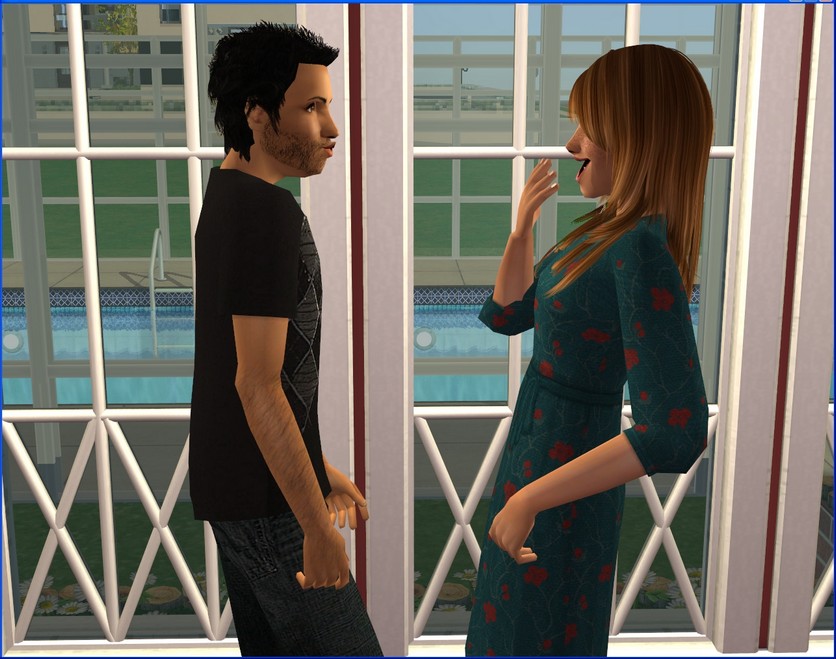 Malcolm's really not such a bad guy.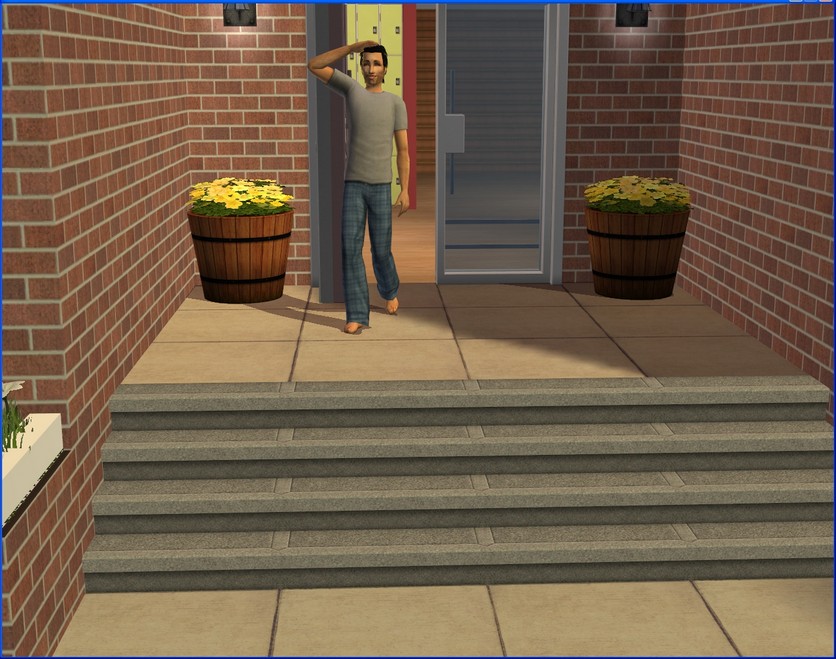 I mean, it would be nice if he'd actually get dressed, or at least put some shoes on before he goes to class.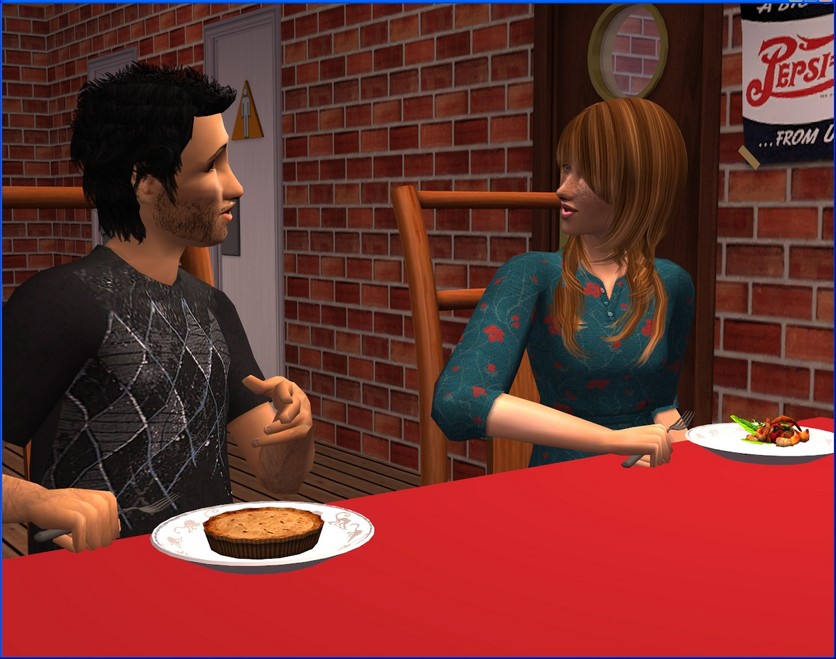 He's just kind of a slob, in general, I guess, even when he does get dressed.
But he treats me well and I'm happy with him, so I don't see why it should matter to Nathan. Or Dad, for that matter.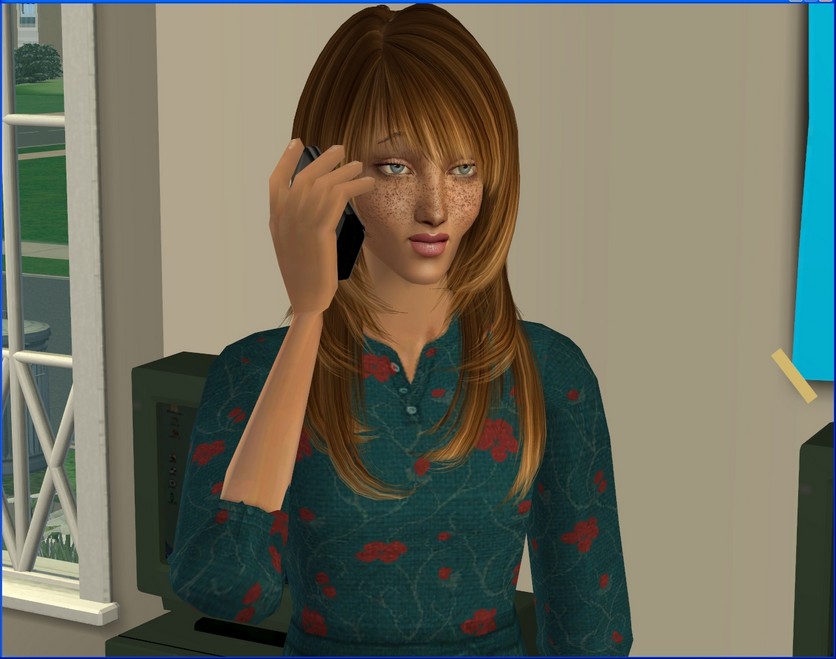 Mum
, on the other hand, adores Malcolm. Every time I talk to her on the phone, she asks about him. It gets a bit much.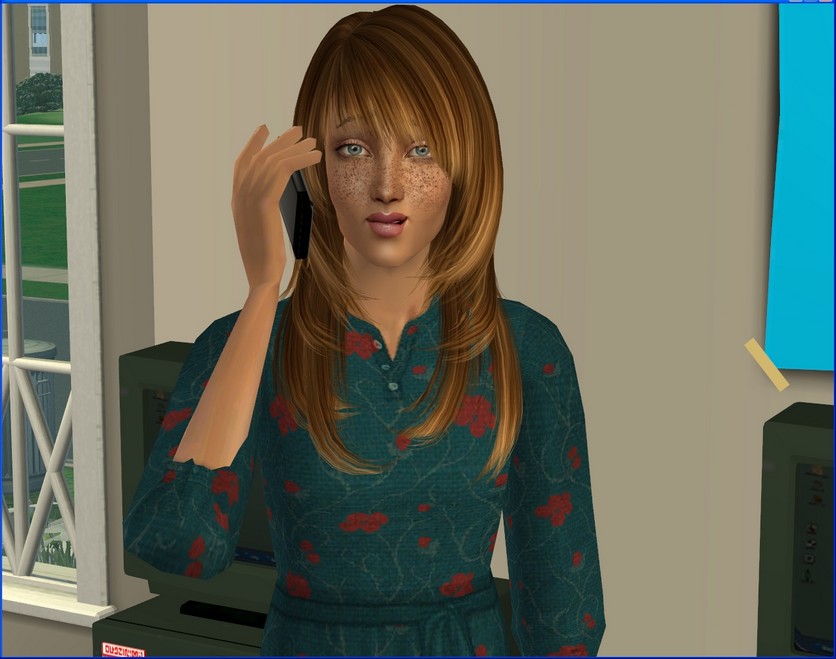 Mum has been calling a lot lately,
since Aunt Betsy died
. I don't think they were ever
very
close but she must be feeling a bit fragile. She's being a little clingy, which I'm not really used to.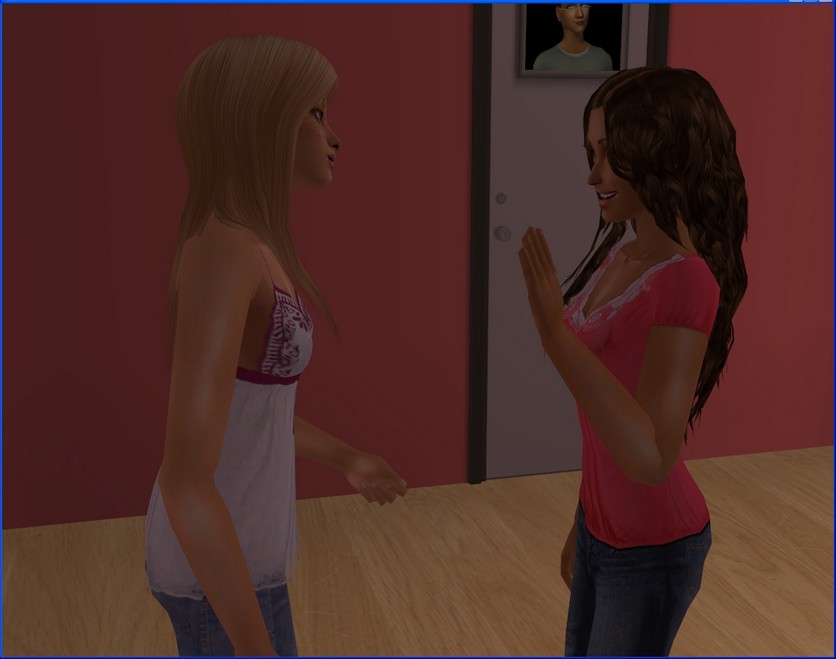 I wasn't sure how Susannah was doing until I arrived on campus. I saw her at the funeral and then she stayed in Sullivan and I came back here. But I guess she's doing okay.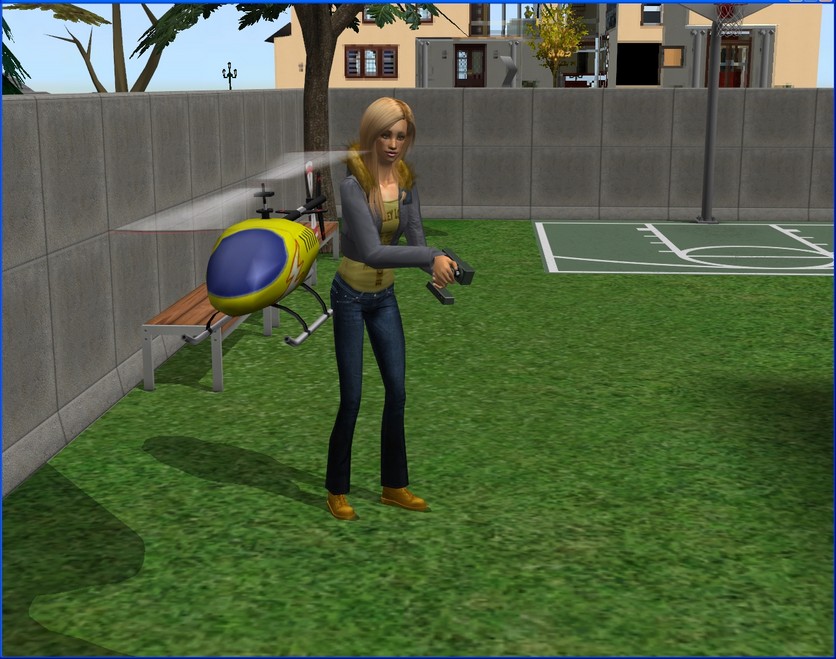 She spends a lot of time on her own but Nathan said she was like that last year too. She's always been quiet, at least compared to me.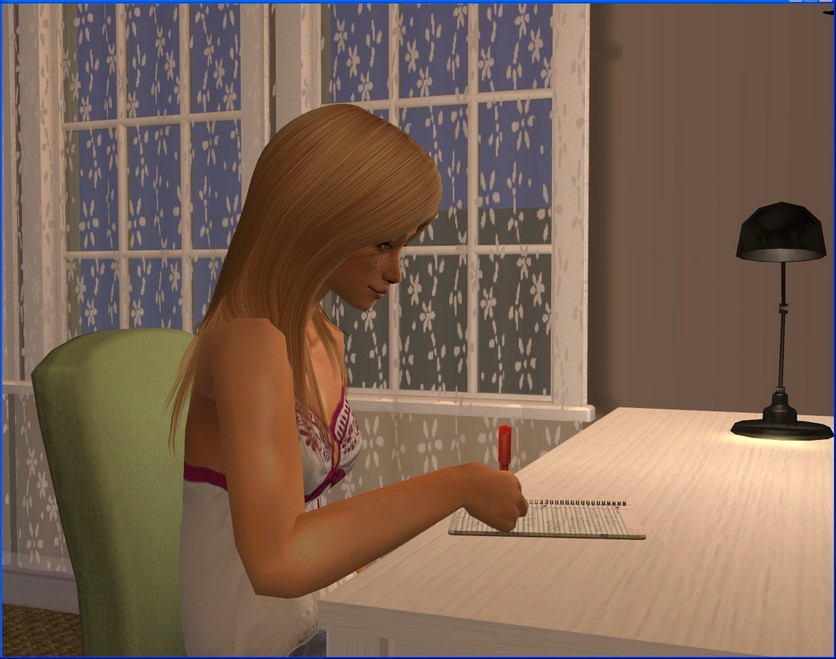 If I was her, I probably would have taken a semester off from classes but Susannah said she was grateful to have some kind of distraction.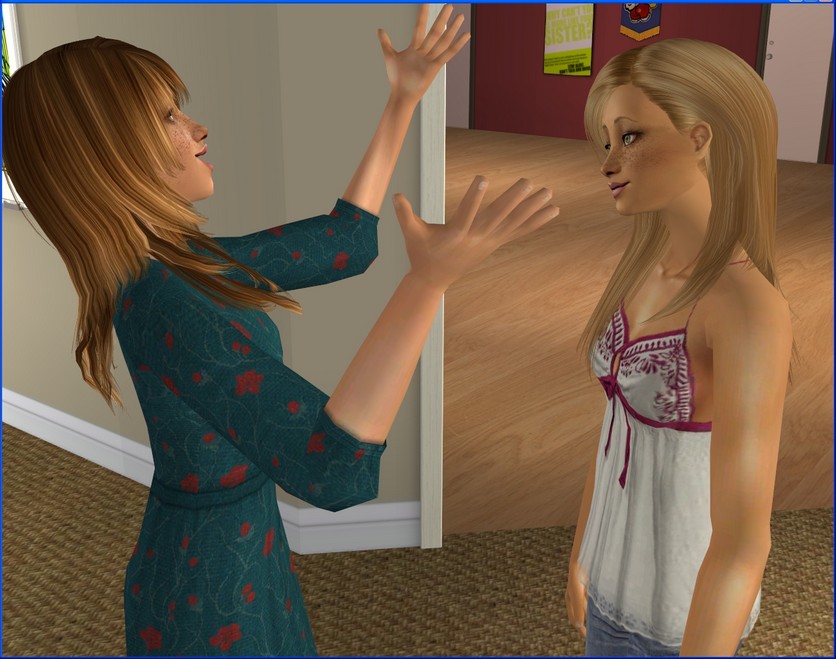 I decided Susannah was isolating herself too much and dragged her out to Exeter, just for a change of scenery.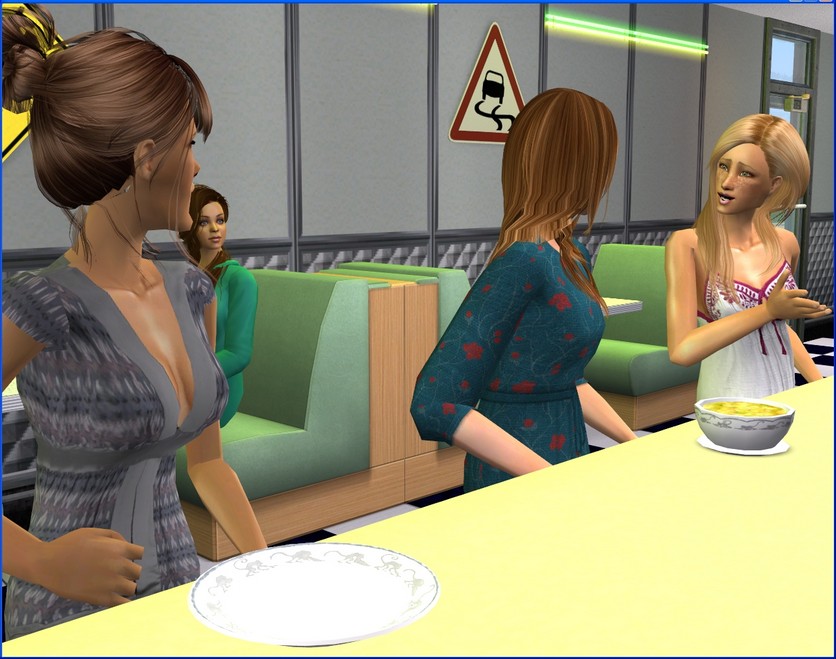 She was reluctant but I invited her friend Rebecca as well and I think it did Susannah a little good.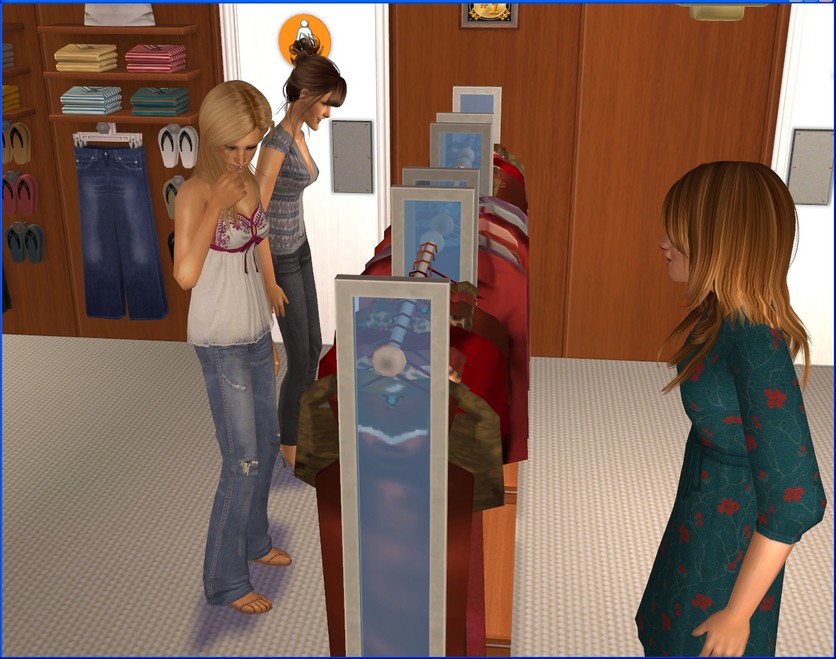 We ended up doing a little shopping too. There are clothing stores here on campus but they leave a lot to be desired!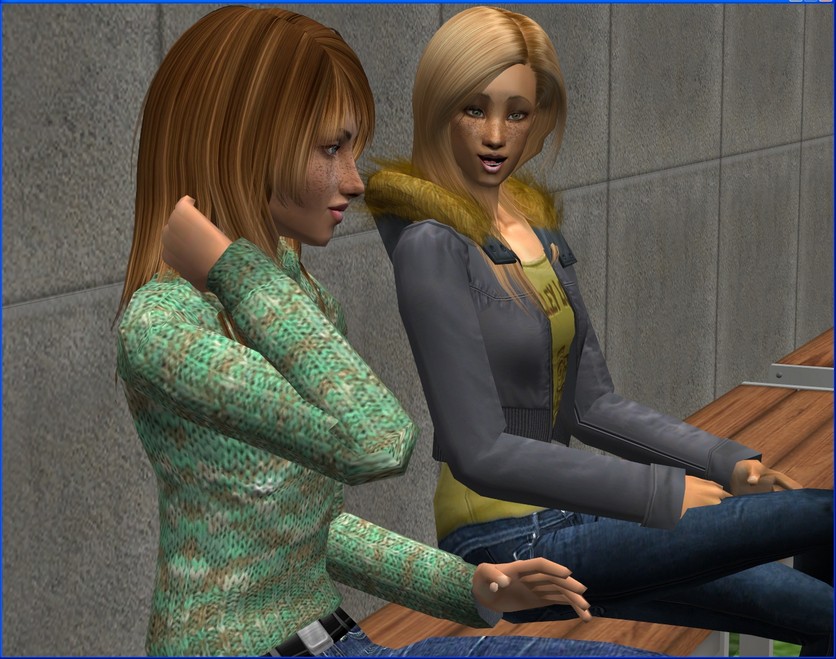 Susannah and I have ended up hanging out a lot together so far. Of everyone in the dorm, we're the least enthusiastic students.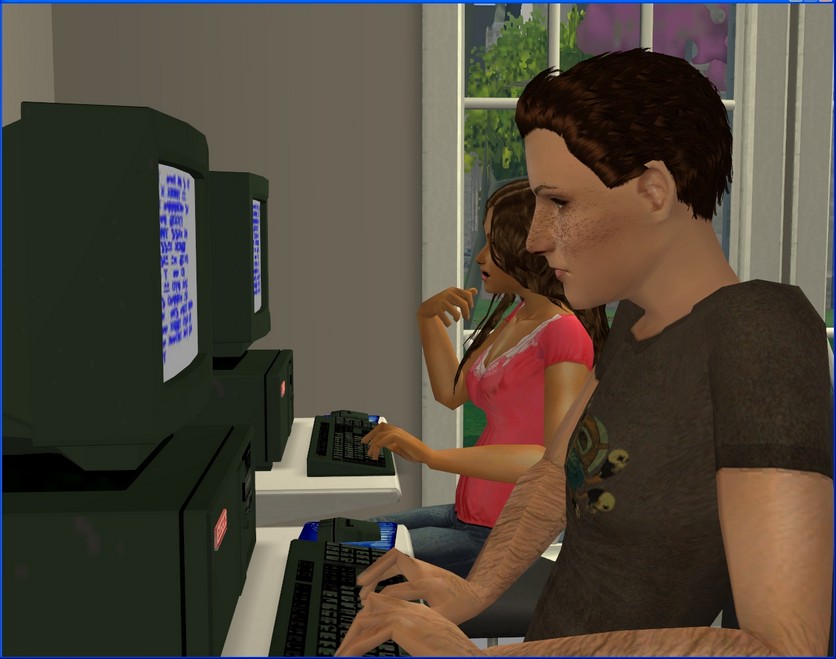 Nathan and Julia are total nerds. As soon as they get reading assignments or papers, they start them the second they get home from class.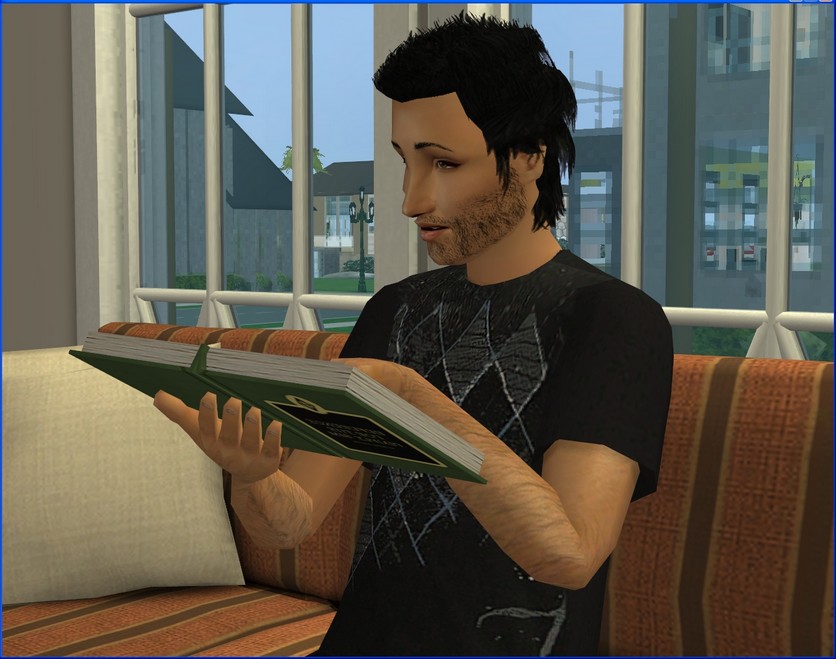 Even Malcolm has nerdy tendencies, which surprised me. He's always said he wants to go to med school but I didn't think he'd take it so seriously. He never really talked about studying when we were at high school, so I assumed he was more of a cramming-the-night-before type.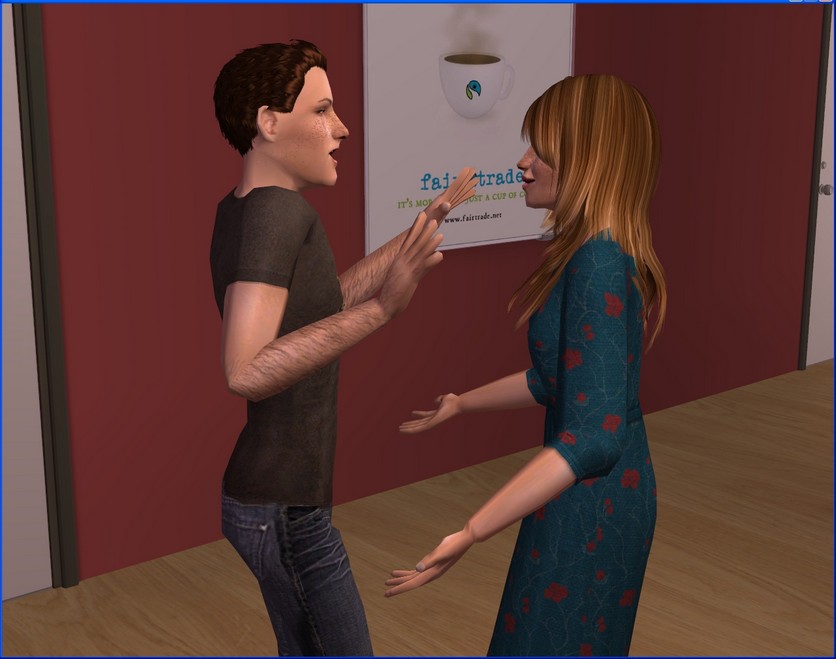 I'm trying to get Nathan to spread his wings a little and actually
do
something but he keeps telling me to mind my own business.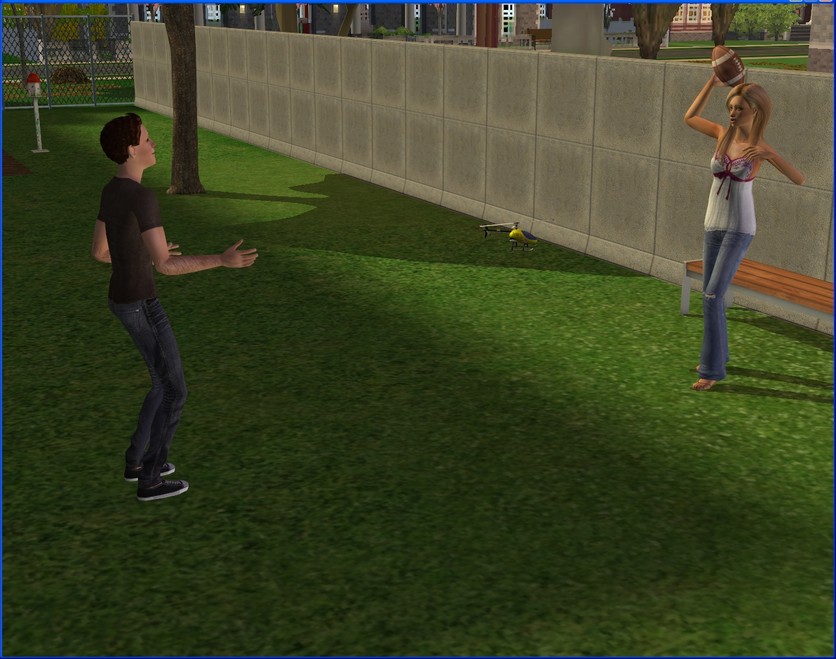 Nathan just needs a girlfriend, in the worst way possible. The only girl I ever see him with is Susannah and seeing she's our cousin, that won't work.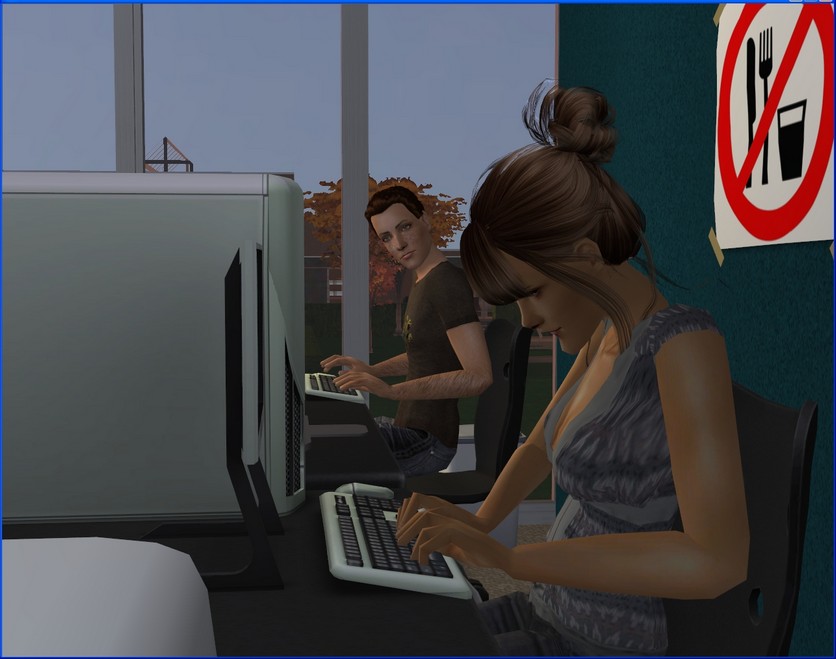 He has a huge crush on Rebecca. We have computers in the dorm, but Nathan sometimes goes to use the computers in the library, just in case he runs into her there.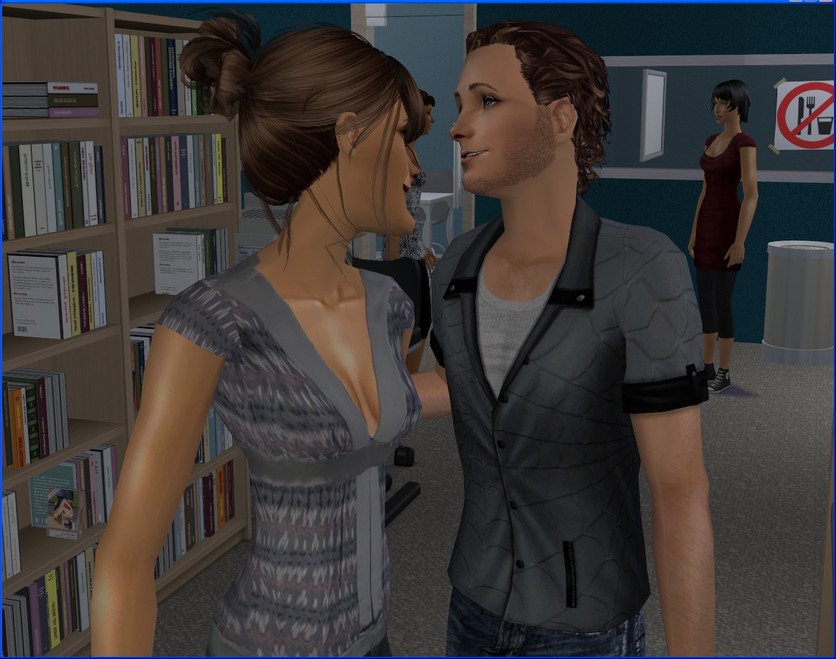 Rebecca is dating somebody else now and Nathan's just going to have to move on.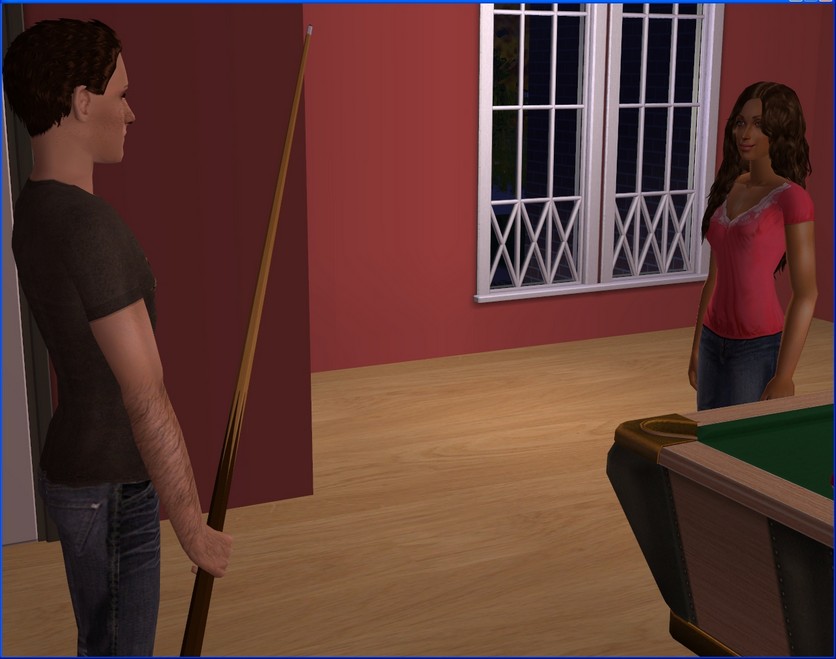 Personally, I think he should give Julia a chance.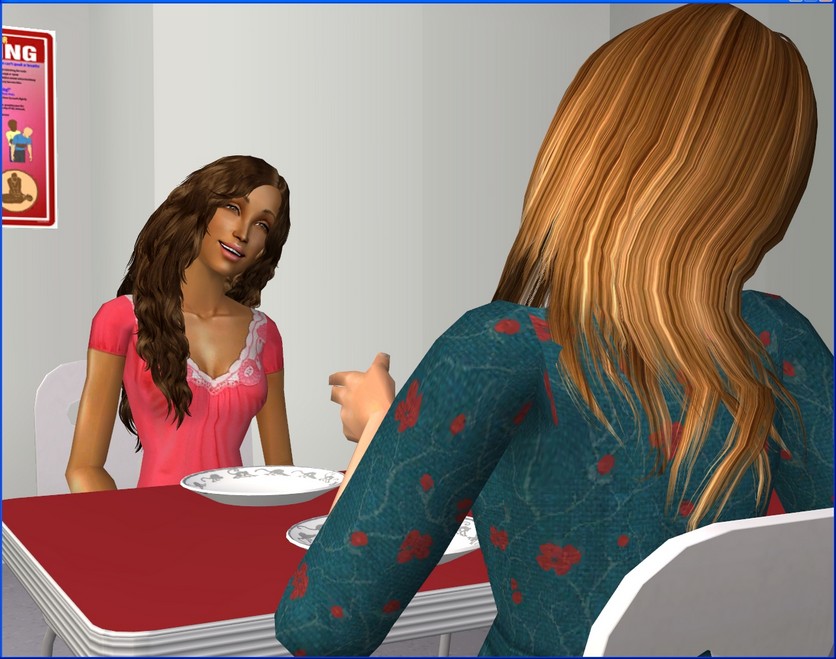 Ever since we got here, all Julia has talked about is Nathan. She used to like him when we were younger and then she got all wrapped up in
Jack
and now she's back liking Nathan again.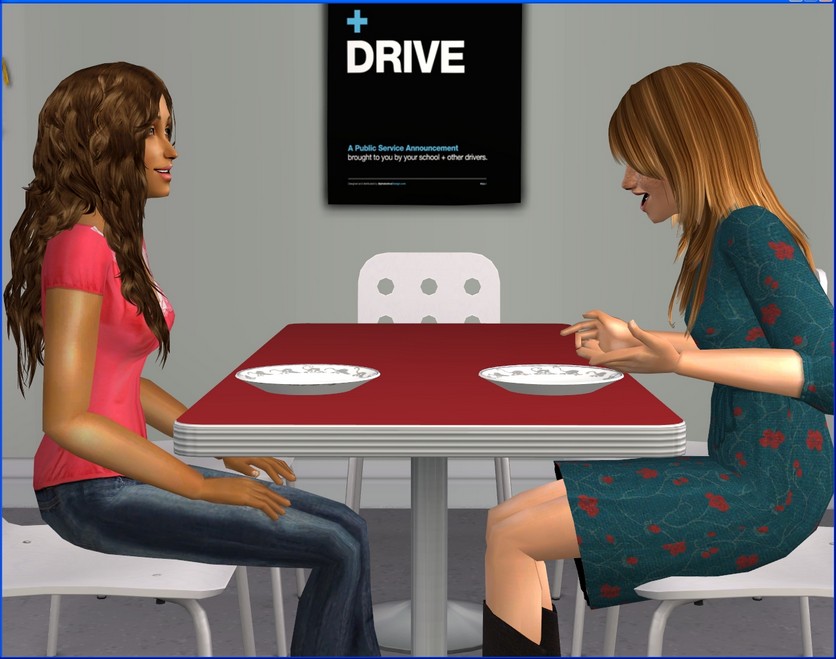 I don't get it, but I'm his sister, so I guess I'm not really supposed to.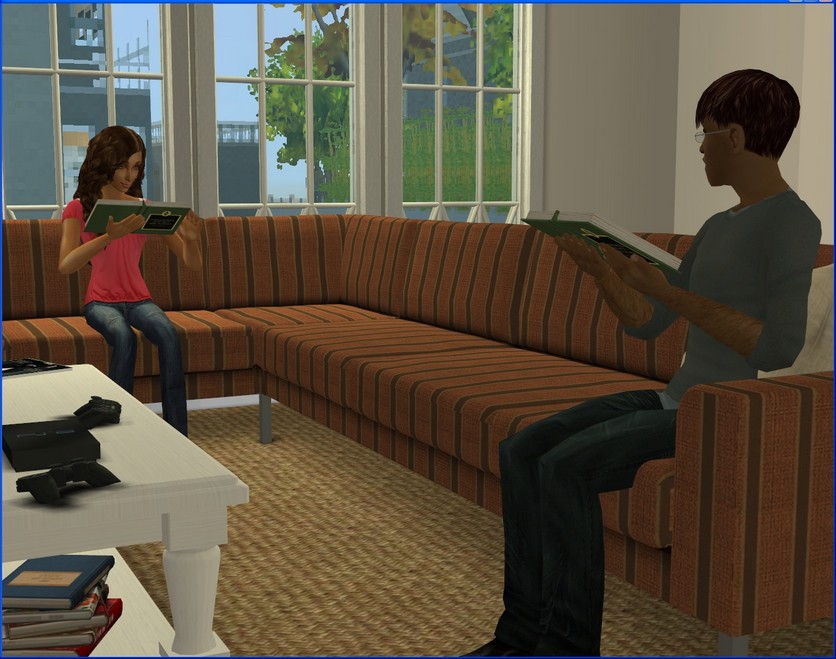 Julia is very keen though. She's has other guys show interest in her and she's just ignored them all.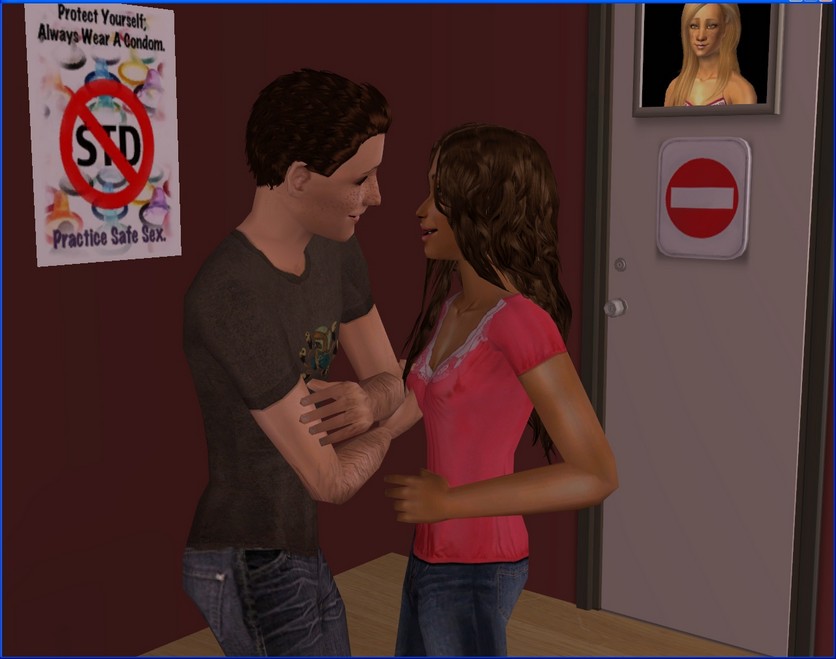 Julia has tried flirting with him, but Nathan can't take a hint.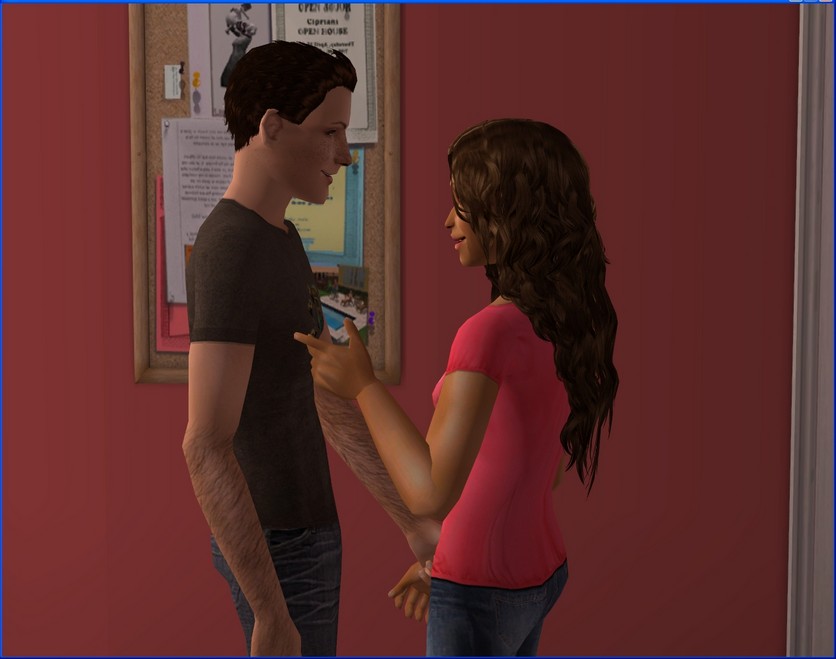 So Julia took things into her hands and asked him out herself.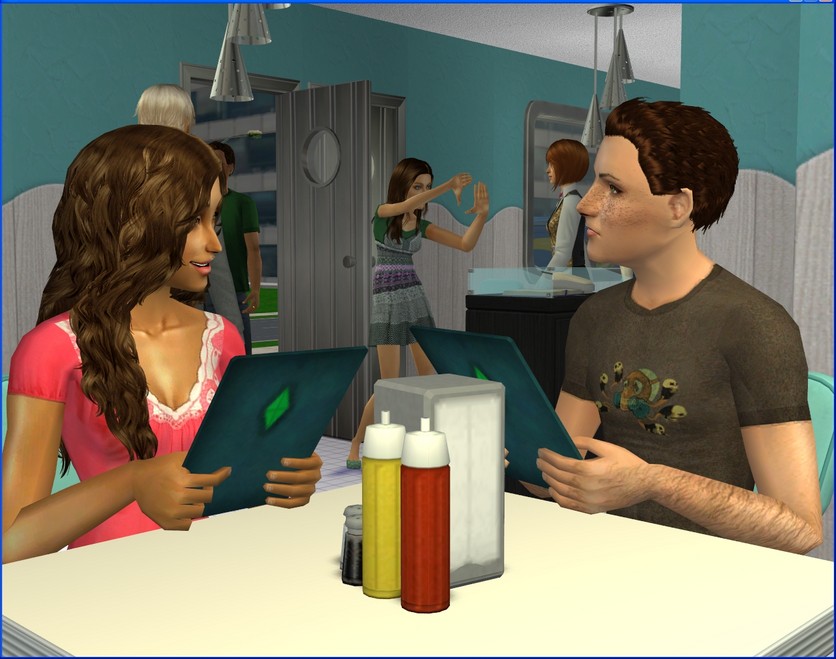 So they went out for lunch together at a diner in Exeter.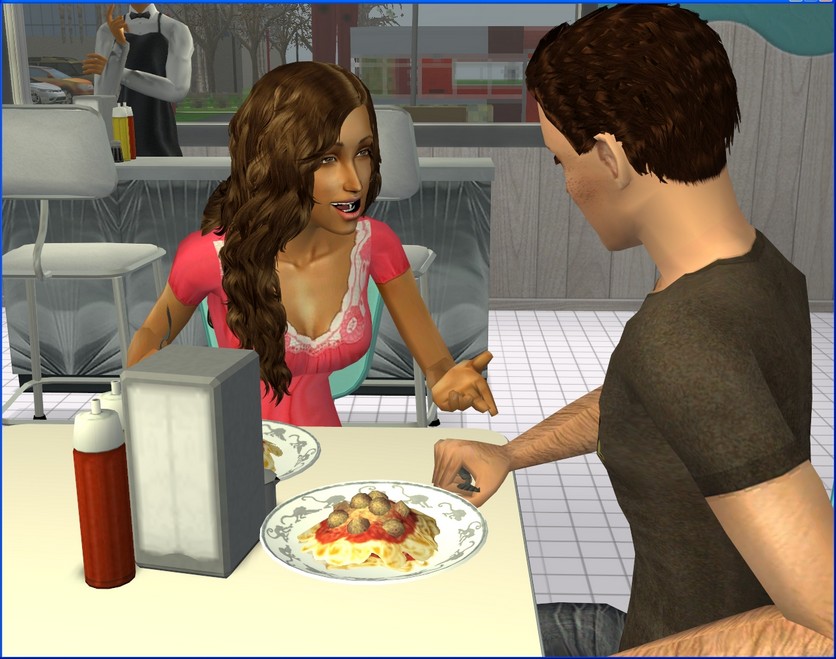 Julia said Nathan was really quiet at first and she had to almost beg him to actually talk.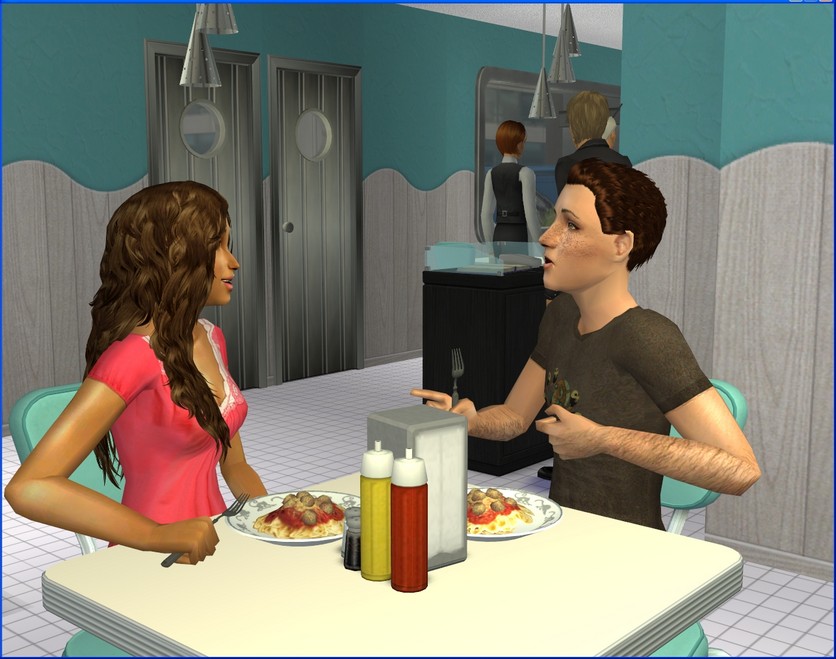 Julia's very persistent though and eventually, Nathan loosened up a little.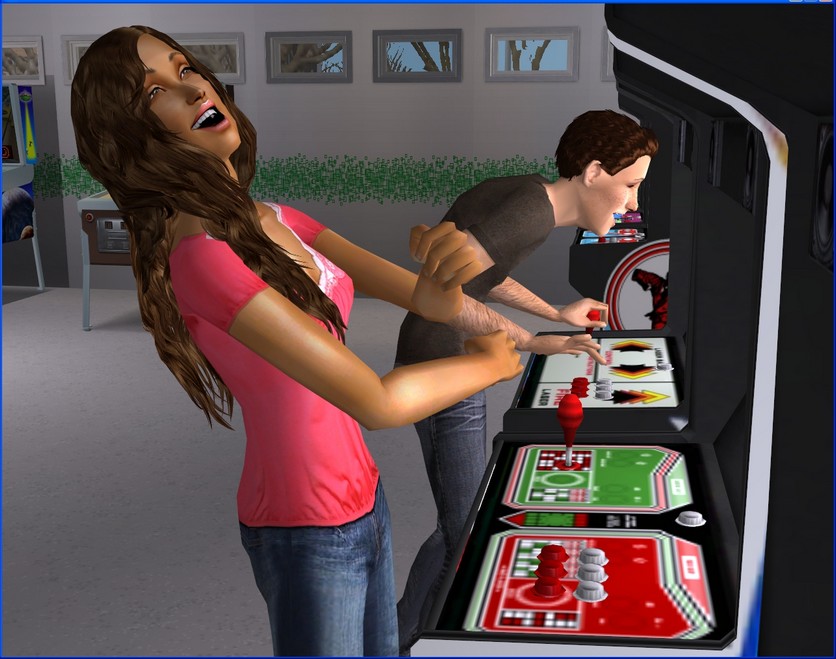 Only Nathan would take a girl to a video arcade on a date past the age of 14 but Julia actually had fun there.
I wasn't sure if their date would go that well, 'cause Nathan's such a wet blanket sometimes but they seemed to have a good time.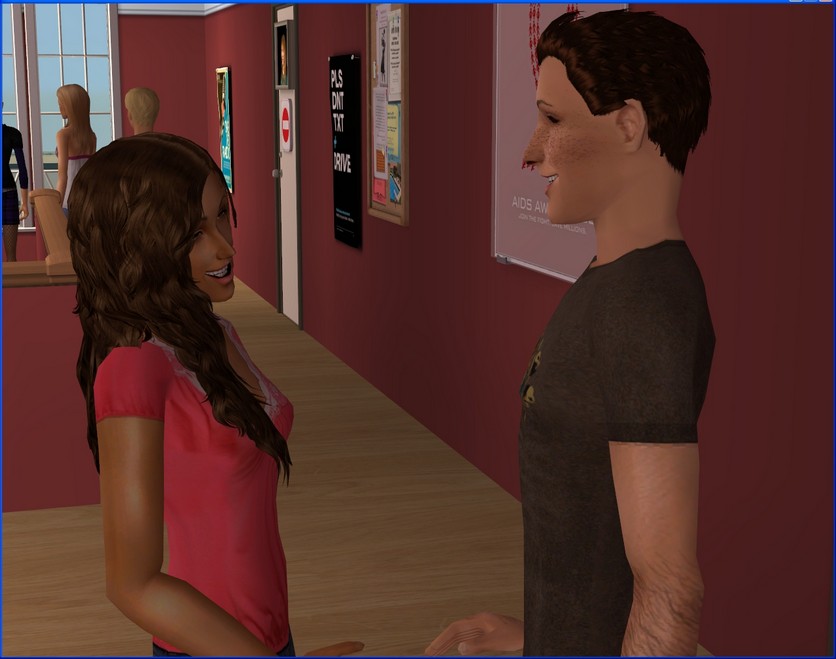 They're all over the dorm, now they're "officially" dating.
It's a little weird for me, I guess. My brother dating my best friend. I try to pretend not to see anything most of the time.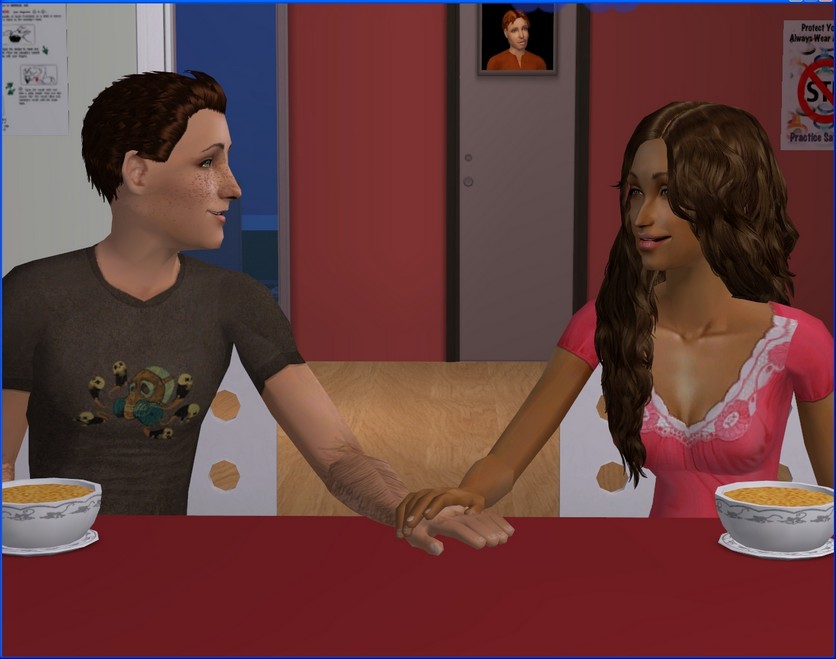 But Julia seems really happy with Nathan and he's stopped bugging me so much about Malcolm, so I'm not going to complain.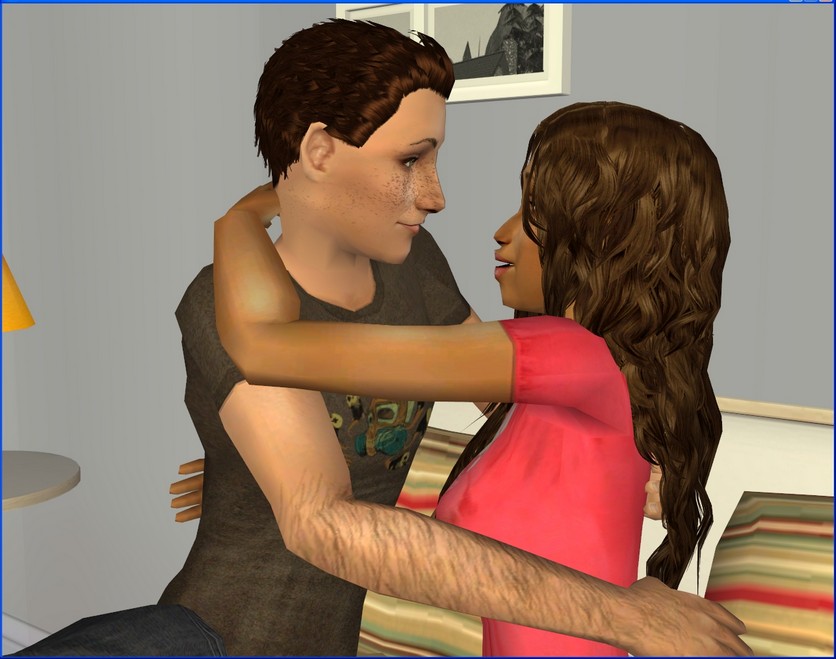 Just as long as they keep all the groping and making out confined to the bedroom!
Outtakes:
Dormie romance! There's something in the water in this building, because I have two dormie couples!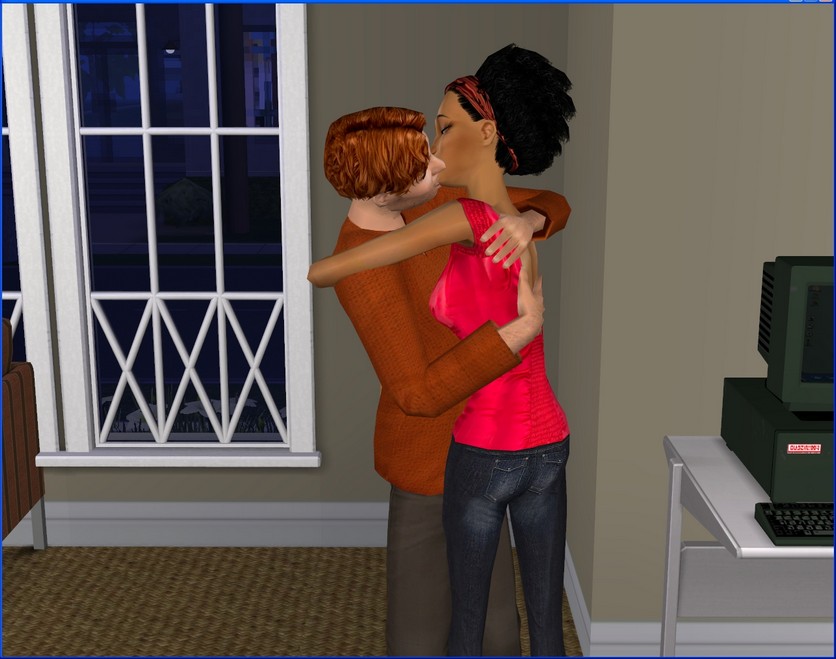 First, there's Bill (Susannah's date from last year) and Janette.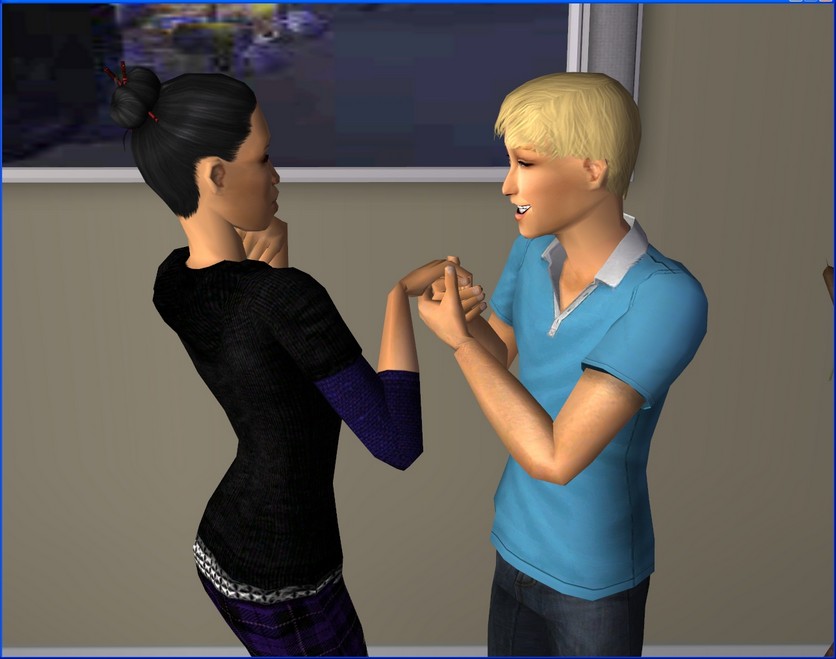 And then there's Colton and Sophie. I might graduate them and move them into together, if they keep this up next time I play the dorm.
Notes:
Title is from Strawberry by the Blackpanels.
All these kids are maintaining 4.0s. I'm thinking of downloading the Harder College Grades hack. Do any of you use that?

I'm hoping that rome_raven's advice at N99 to remove the "nouniprotect" hack has solved my narcolepsy problem for good! I almost want to speed through my next uni session now, just to play without Sims dropping like flies for once!

Malcolm actually really does treat Hope very well. I only sent them on one date this session but he almost always had at least one Hope-related want in his panel. It's quite cute!

Nathan and Julia started up on their own, initiated by her. They have two bolts. I could have sworn they had negative chemistry when they were teens. I get attraction weirdness like that sometimes. Nathan's rolled the want to woohoo but Julia hasn't and they haven't tried to ACR woohoo either. So I don't know if she's going for some kind of Lia-like goal or something but I'm not going to force it on her until she gets the want too. Nathan will have to (literally) keep his pants on. ;)

Anna was quite persistent with the phone calls to both Hope and Nathan (and Susannah, actually), which I wouldn't have expected of her. I think I'm going to have to move Anna up in the play schedule, so I can deal with her reaction to Betsy's death. I was a bad blogger and I didn't really consider it!