Round 25: Summer 2022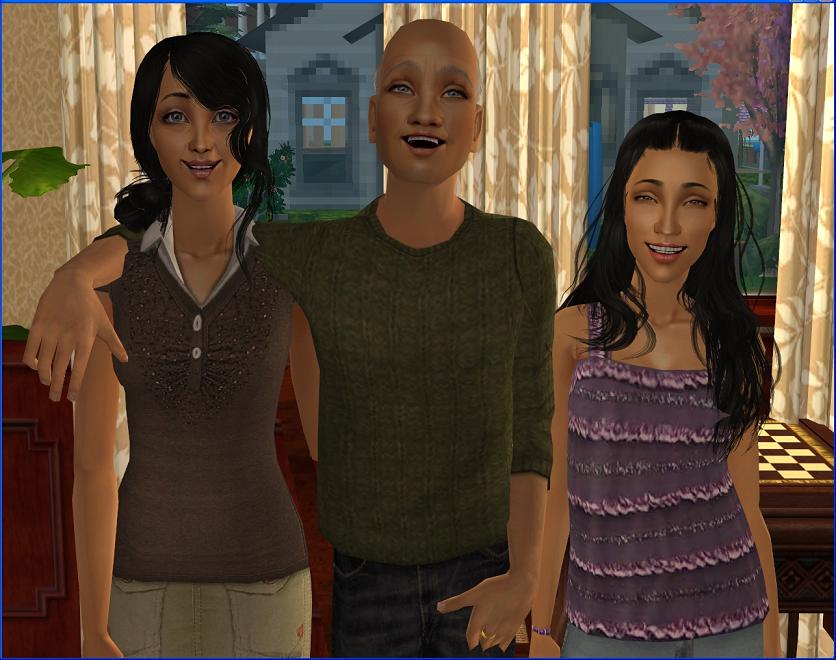 Narrated by Tessa Novak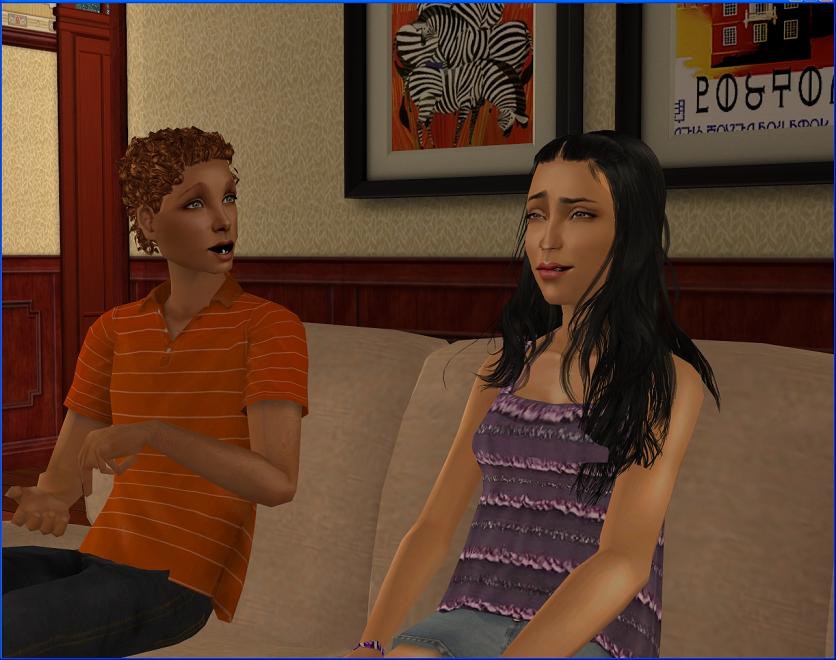 If I had it my way, I would have started dating by now. There aren't many good prospects around here though!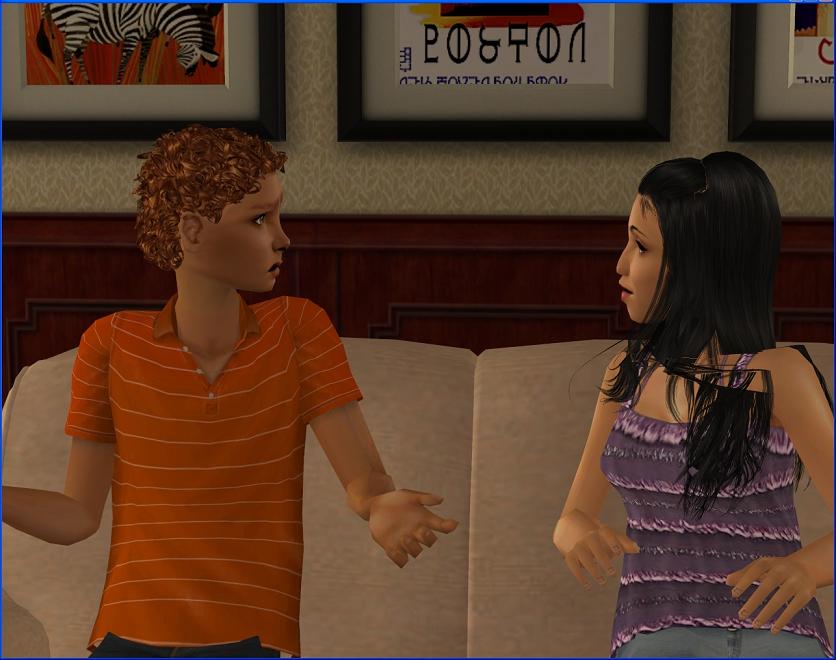 Gabriel is nice but he's not really that cute. He's more like a boy friend, than a boyfriend, you know?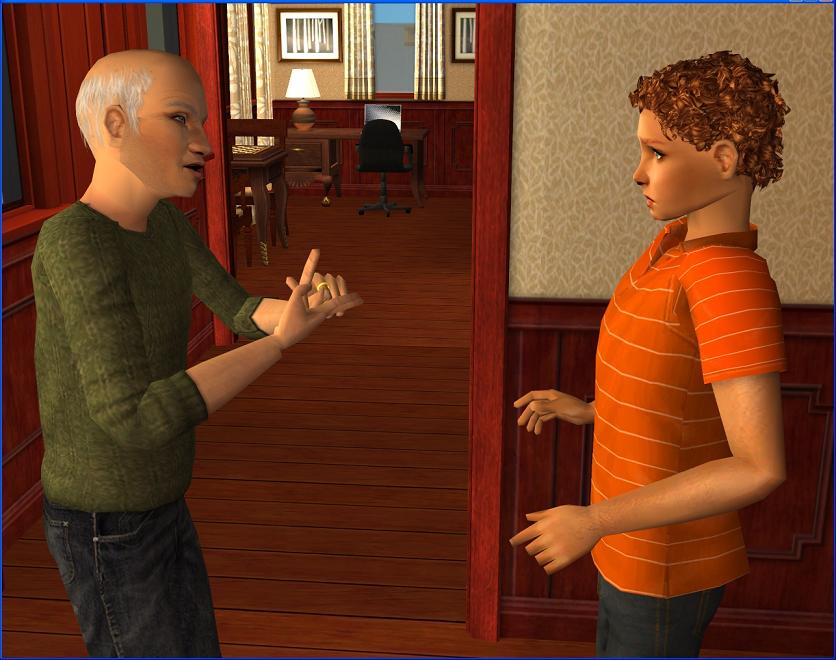 Besides, he's kind of banned from our house right now anyway. Dad caught him helping himself to some of our wine. He's convinced Gabriel is headed for juvenile delinquency.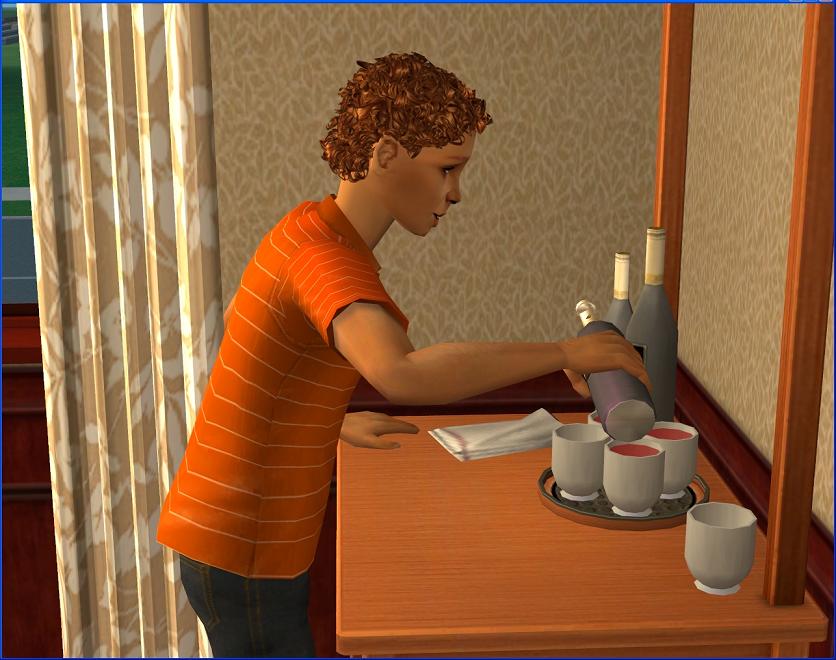 But seriously, who does that anyway? I told him Dad would be home any second but he insisted it'd be okay.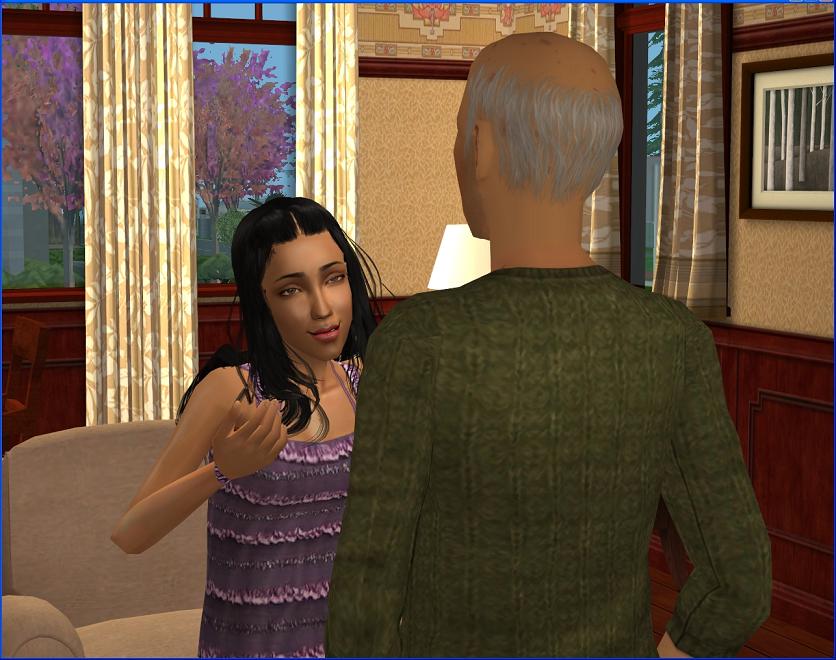 I asked Dad if I'd be allowed to date, if someone asked me. I'm only a year younger than Maia was when she started dating
Jacob
, so it seems fair to me.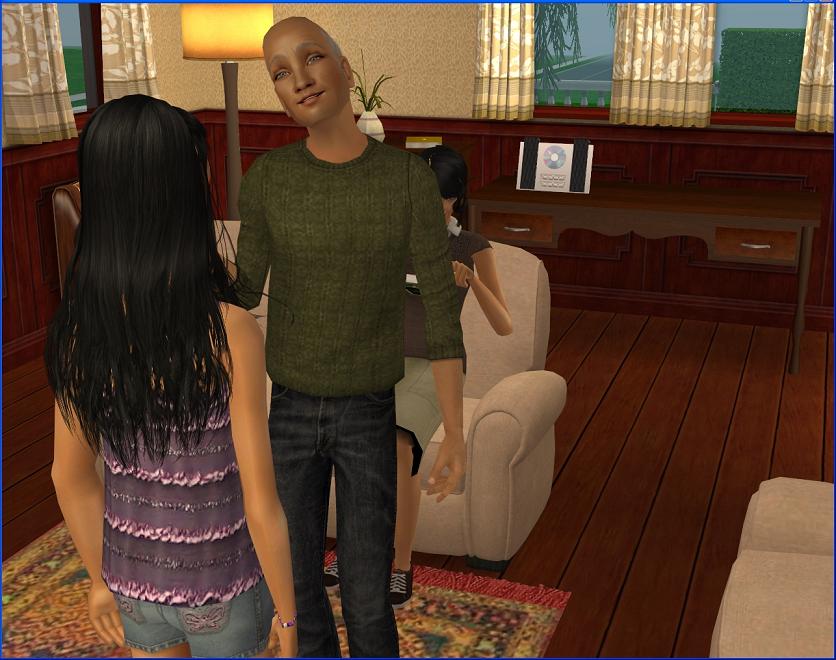 Dad seemed to find my reasoning hilarious. I can date when I'm 14 and not a day before.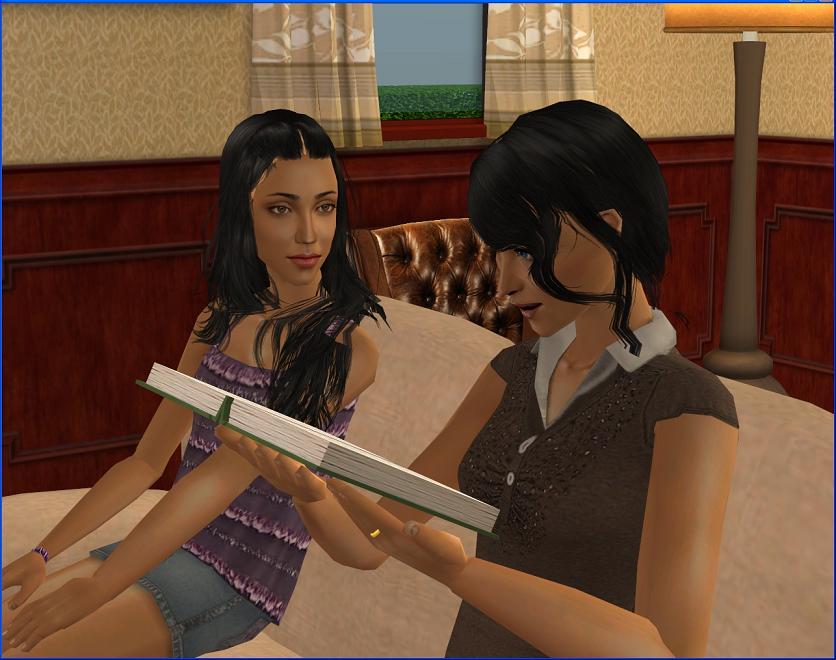 Mum is in complete agreement with Dad, unfortunately. It's not up for discussion. Honestly, I think they'd both be thrilled if I ended up not getting a boyfriend until college, like Lia. I
really
hope I don't have to wait that long!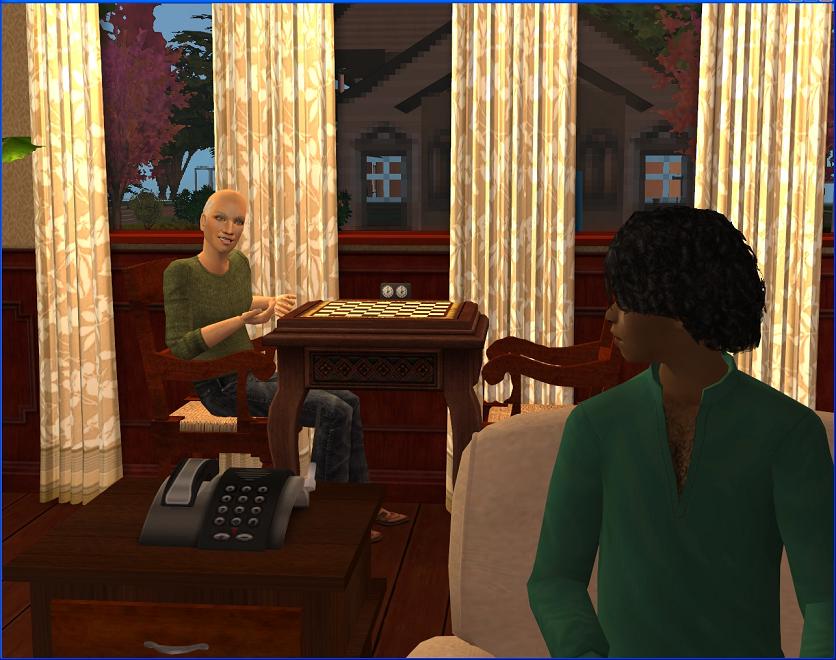 Speaking of Lia's boyfriend, Gordon has totally ruined Dad for any guy I ever try to bring home.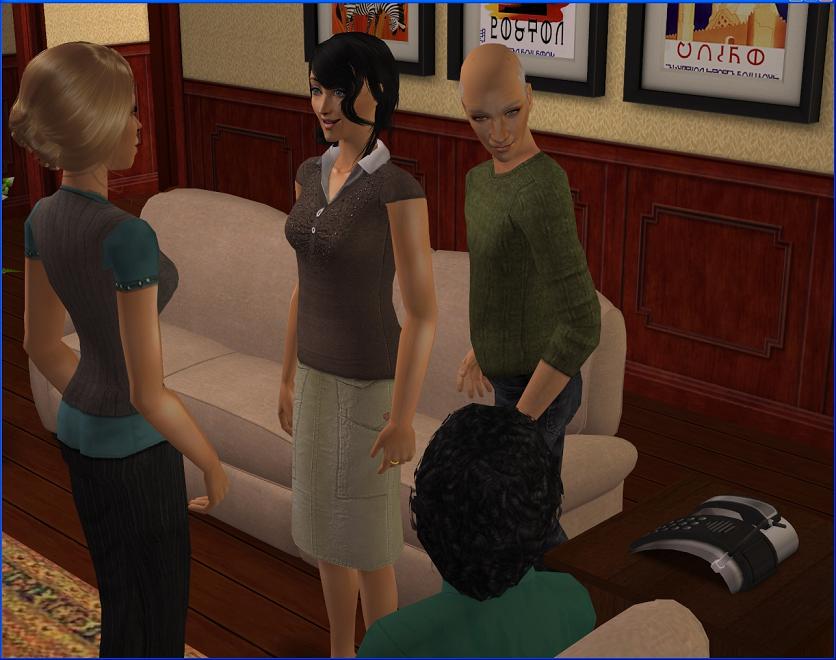 Dad just does
not
trust him and I'm amazed Gordon comes into the house at all, the way Dad looks at him sometimes!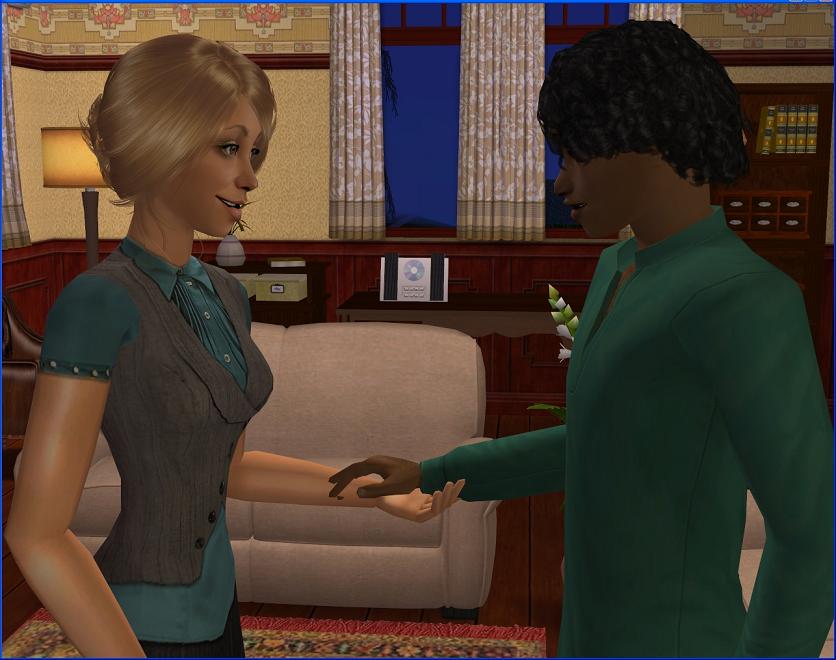 I think the only reason he's even
allowed
in the house is because Lia is happy with him.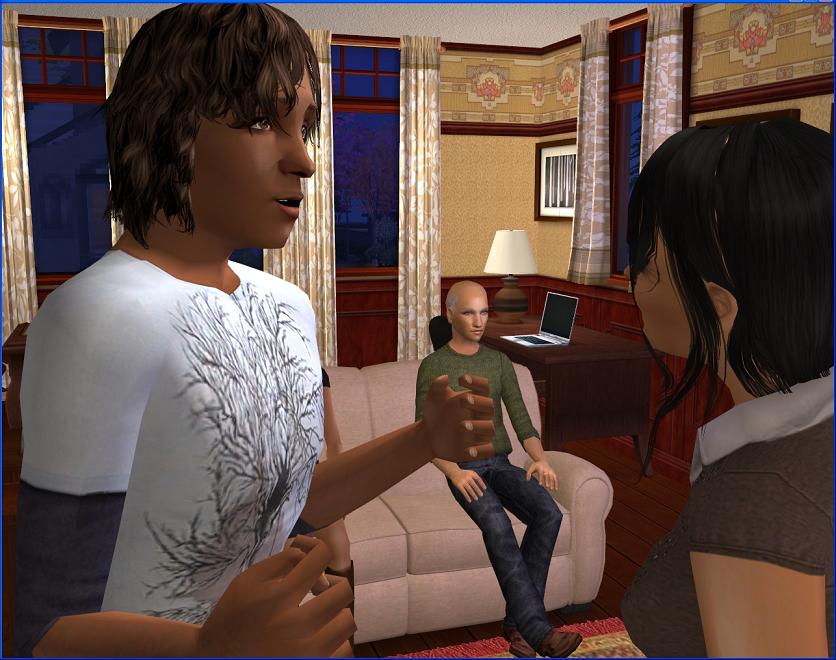 Dad's even still a little bit suspicious about Nick, Maia's boyfriend and he hasn't even done anything wrong!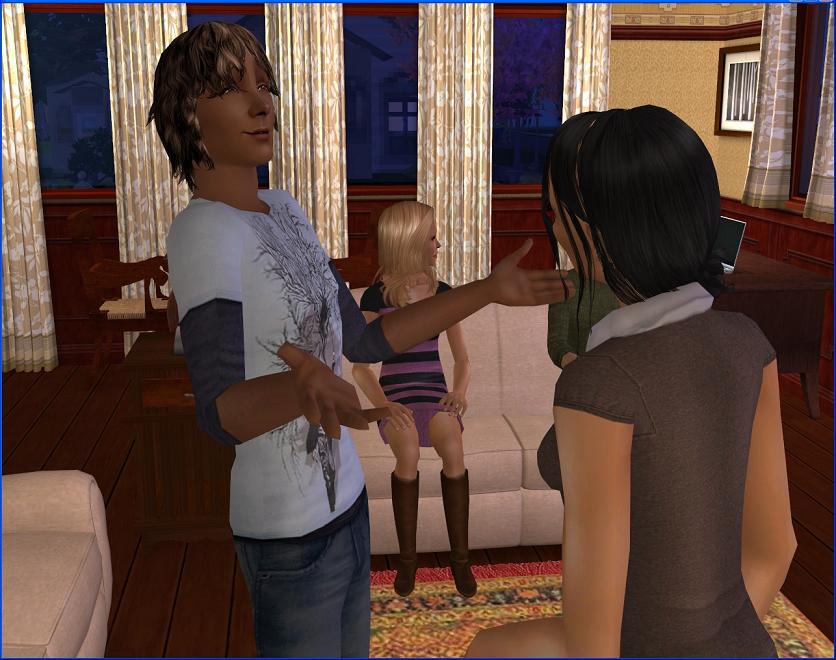 I really like him though and so does Mum. Mum says Dad will come around once he realises he doesn't need to worry about Maia and Nick.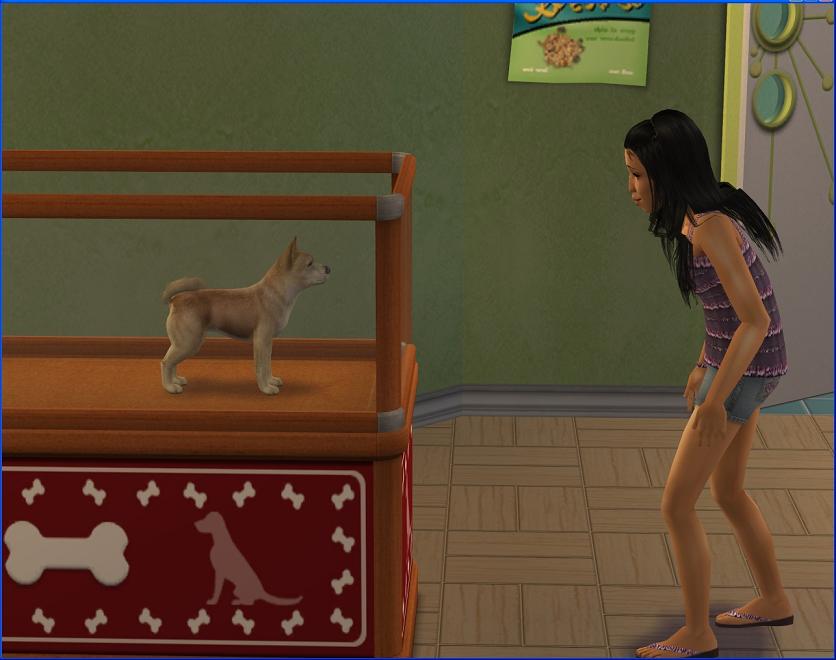 So Dad is a little over-protective of all of us, but he's pretty awesome too. He took me to the pet store the other day and told me I could pick out anything I wanted!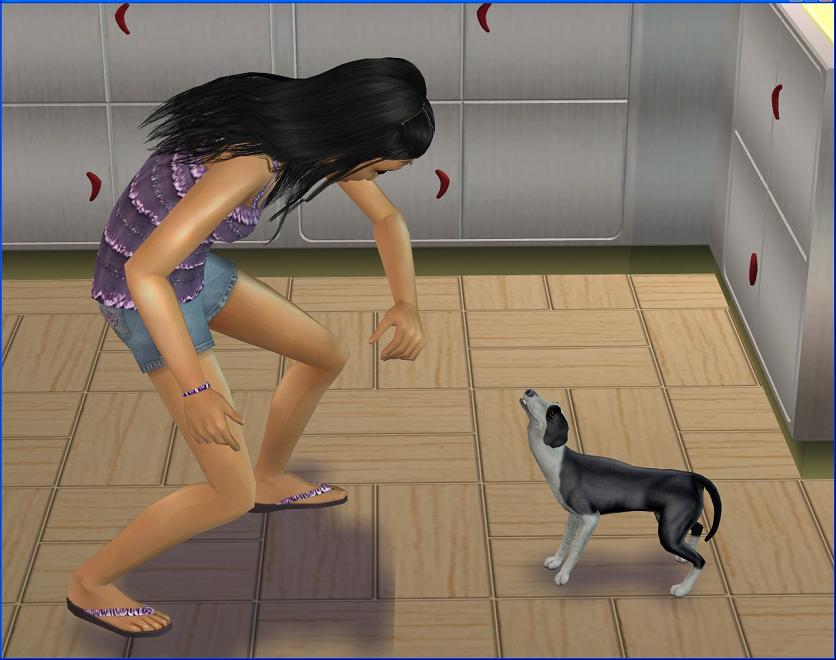 We ended up with an Italian greyhound, who I named Daisy. I've been given full responsibility for training and taking care of her, so she's pretty much my dog.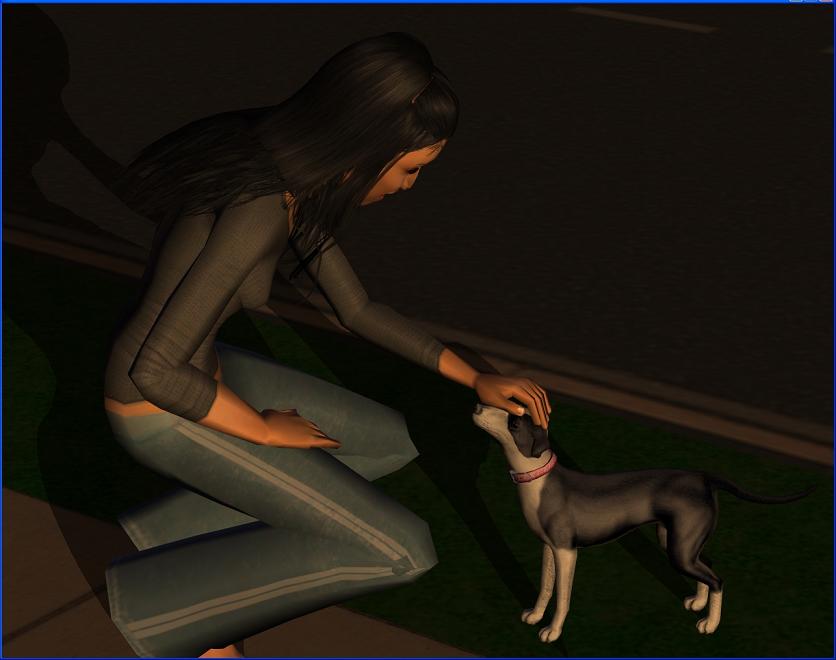 I don't particularly love getting up at the crack of dawn to take her out to do her business...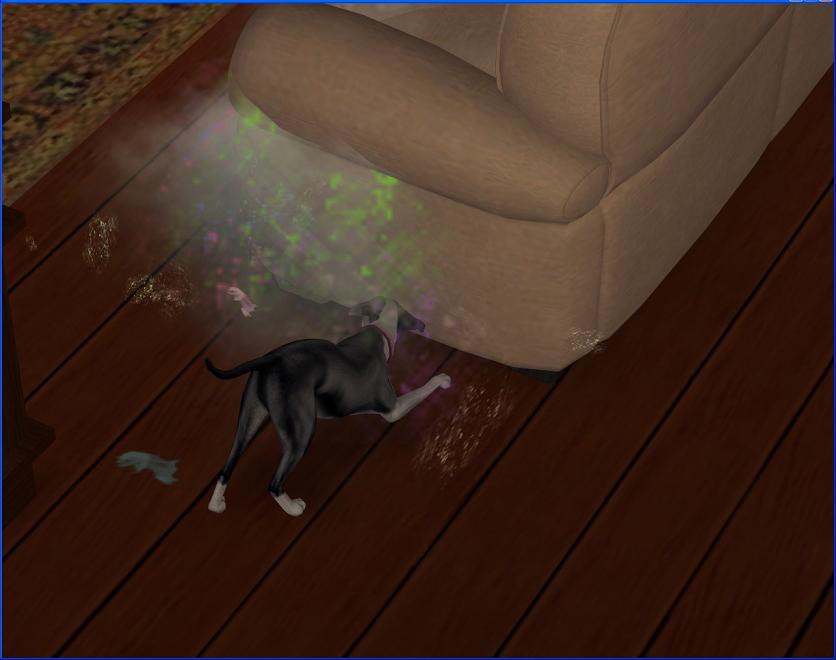 ...and I don't love chasing her around the house to stop her from destroying everything, but I do love Daisy! She's getting better every day.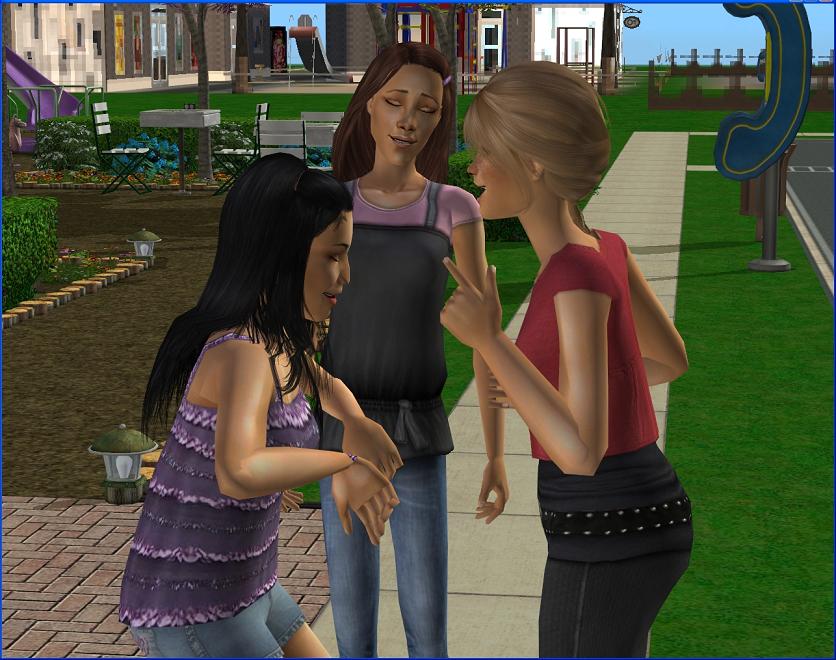 Seeing I can't date yet, when I'm not looking after Daisy, I hang out with my friends Rebecca and Susannah.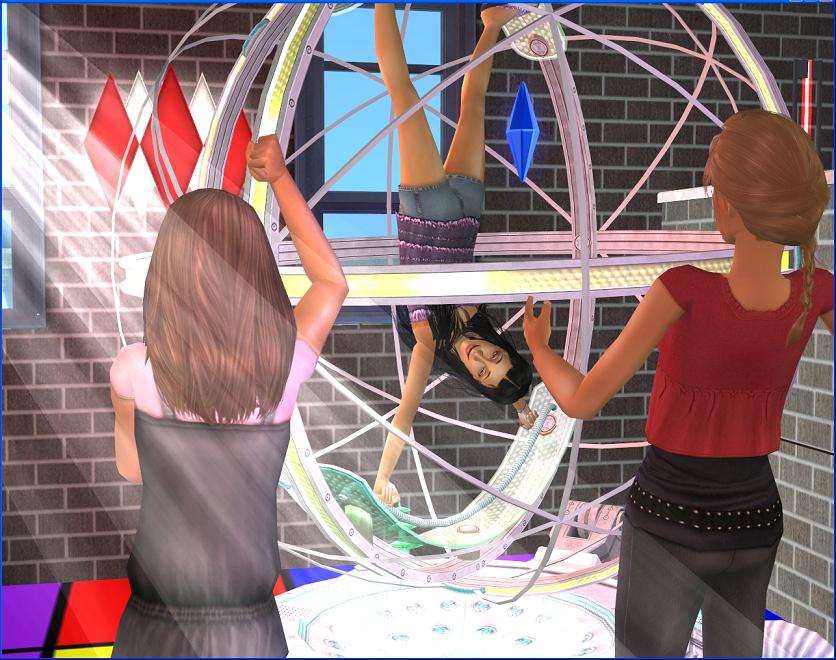 We try to do stuff that doesn't cost much money because well...we don't have much money!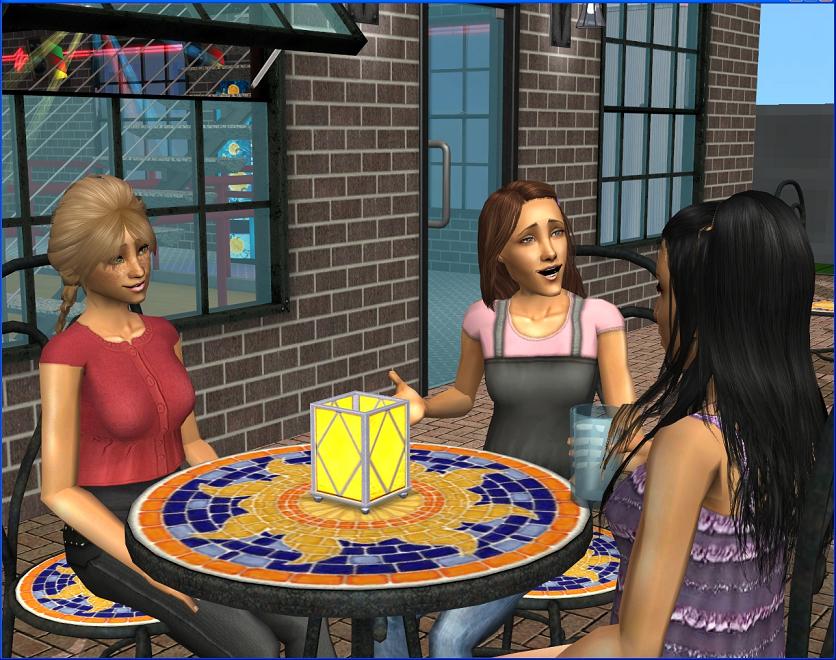 Rebecca and I
got into trouble
last year for running out of restaurants without paying, so we have to save our money for food when we're out.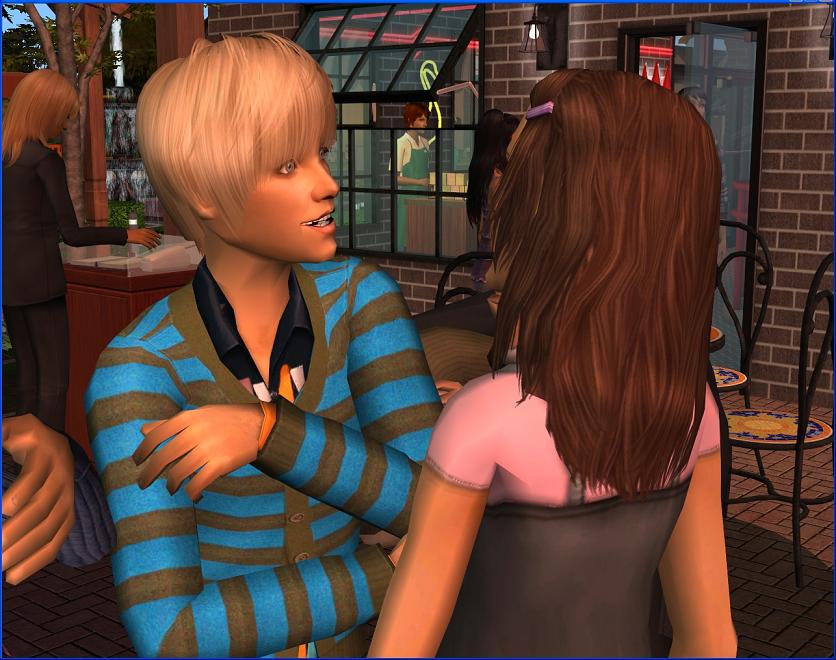 Rebecca and Susannah aren't allowed to date yet either, but Rebecca flirts with boys anyway. She just makes sure her parents don't find out about it.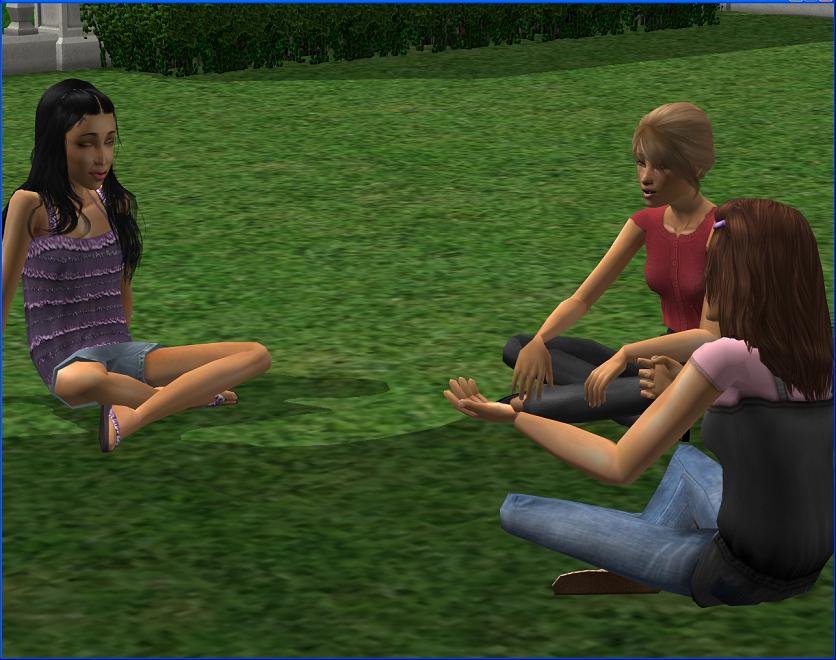 She thinks I should do the same thing. I can't lie to my parents though. I'm a terrible liar. I think that's why we ended up getting caught trying to skip out on our bill that time. I probably just looked guilty!
Extra: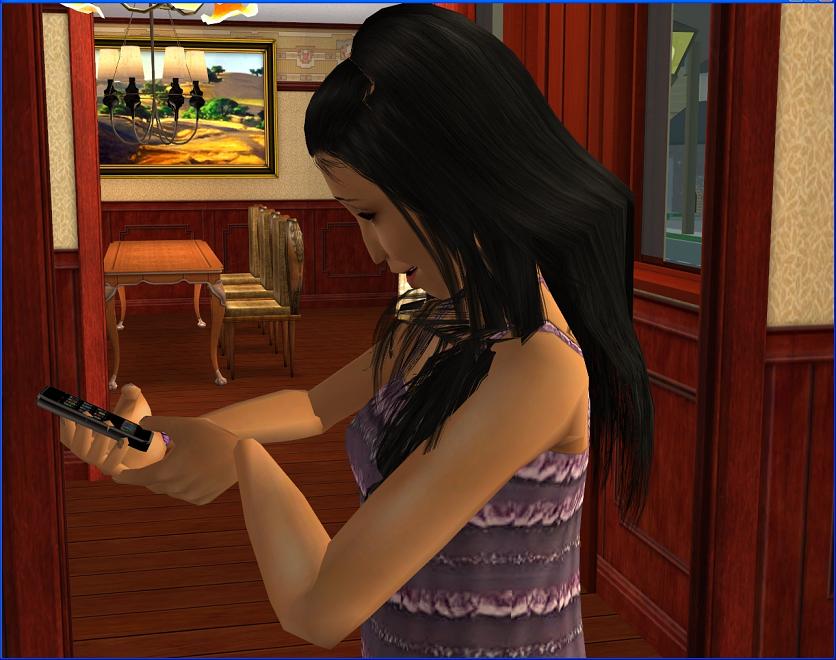 Whee! I got the Flirt.../Text Message option to work! This is one of the hidden interactions that's unlocked with the allmenus cheat and it always used to drop out of the queue for me. Well duh...obviously, both Sims need a phone in their inventory! I didn't notice any change in relationship (I was trying it out with Tessa and Gabriel) but I might try it with a couple who actually have some chemistry and see what happens!
Notes:
Title is from

Perfect

by Smashing Pumpkins.

Gabriel went to the "nectar bar" on his own. I didn't think visitors would use that unless there were drinks already served but I was wrong.

I checked Tessa and Rebecca's chemistry with the new teen playable boys (the ones who aged up this round) and got nada. Figures! I probably need to adjust turn ons a bit - I usually leave them as is until I start seriously looking for a match-up.

Stupid Gordon still hasn't rolled the want to get married and I think I figured out why - he's secondary Popularity! Lia's getting impatient!