Those of you who read the
last Sitko update
will know that
Collette
, out of the clear blue sky and with no record of any witches in Sullivan, rolled the want to become a witch. On the suggestion of
The Lunar Fox
, I used the lot debugger to make Collette an evil witch, InSimmed her magic skill to the maximum and took some pics. Yes, I cheated. I was short on time yesterday but I felt like playing a tiny bit!
I was going to save it for Outtakes at the end of the round but seeing today is Halloween, I thought it was appropriate to post now! Funnily enough, while I was playing, Jeff Buckley's
Witches' Rave
came up on my iPod, hence the title. It's probably one of the only (if not the only) witch-related song I have, so that was quite a stroke of luck! On with the pics!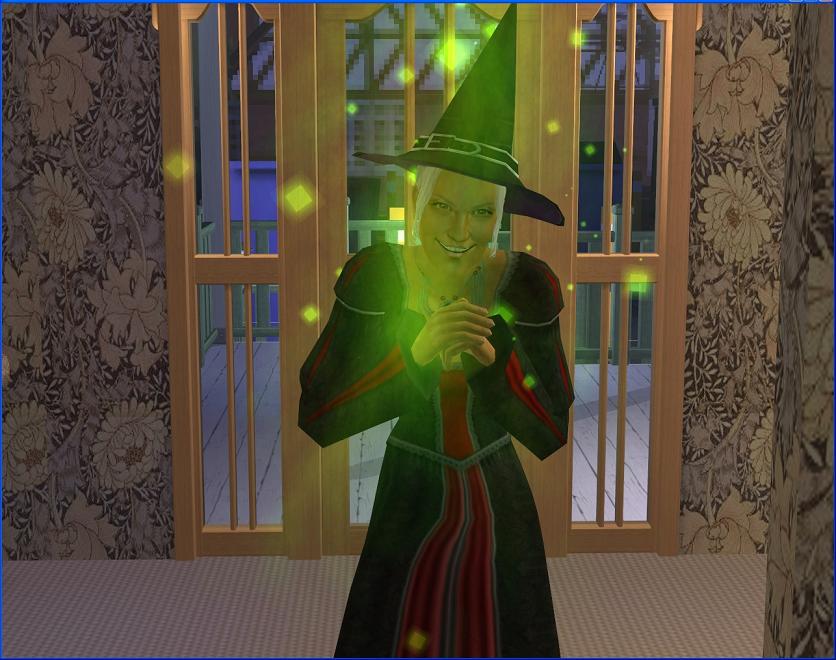 Well, if we're going to do this evil witch thing, we may as well go the whole hog and have Collette dressed appropriately too. The real witches' dress, for some reason, doesn't show up in my game. It used to but whatever. The vampire dress will have to do! Collette's skin did not turn green because even though I've never planned to play with witches, it would bother me immensely if the evil witch who won't stay away from my damn community lots (I really hope that SimWardrobe hack works for me!) had green skin.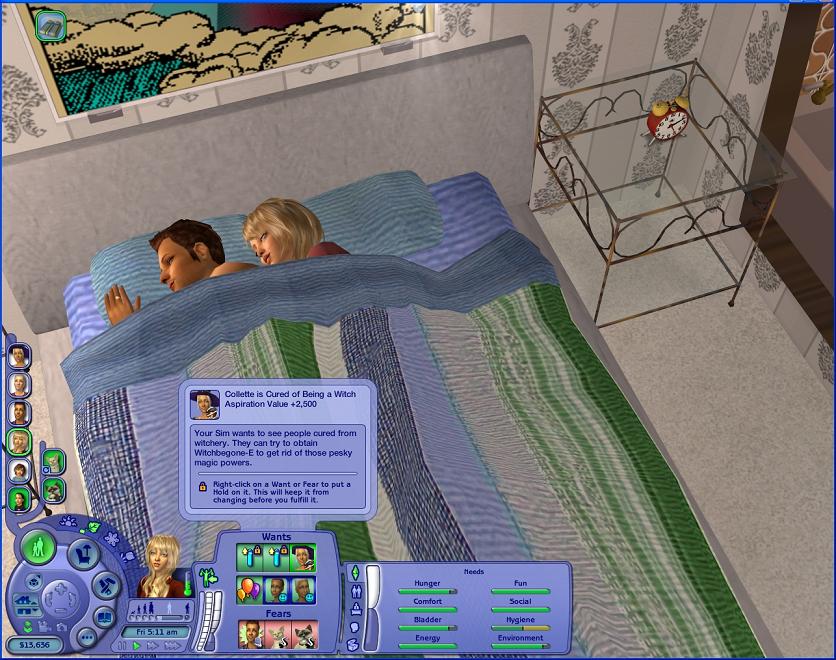 Even though
Kirstin
is asleep, she knows something's up and is not too thrilled about it. Probably because she knows Collette is bad enough without adding "evil witch" to her litany of issues.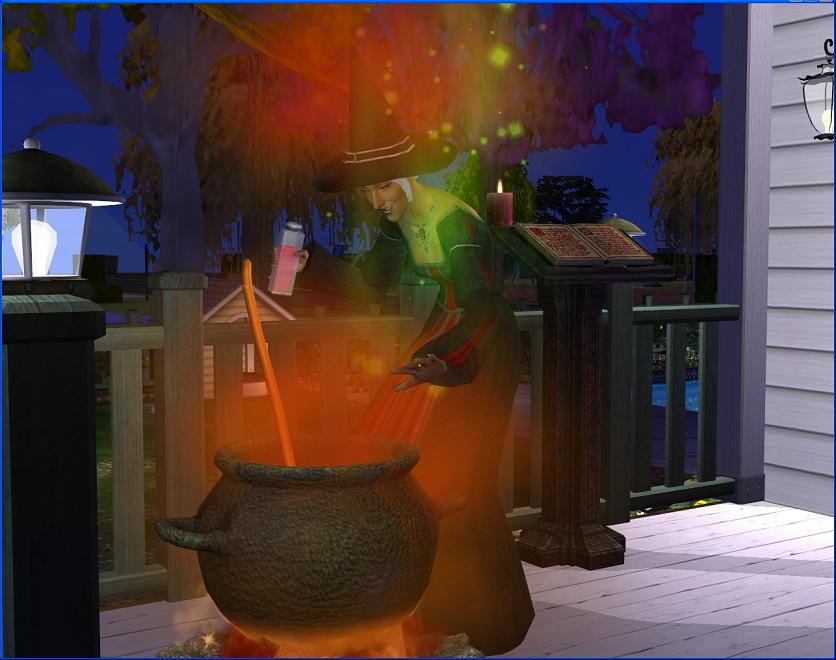 After becoming a witch, Collette gets a fairly nifty cauldron and spellbook and places them in one of the only places in the house where there's still space for furniture. Which made me think, if Kirstin gets knocked up again, a new house will be needed! I'm kind of sick of this one anyway.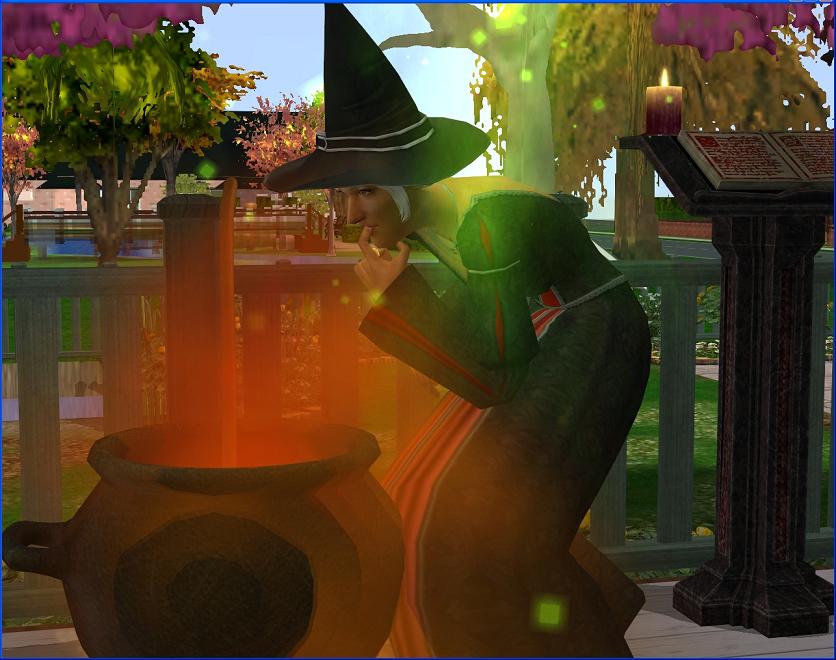 "Mmmm. Needs more newt!"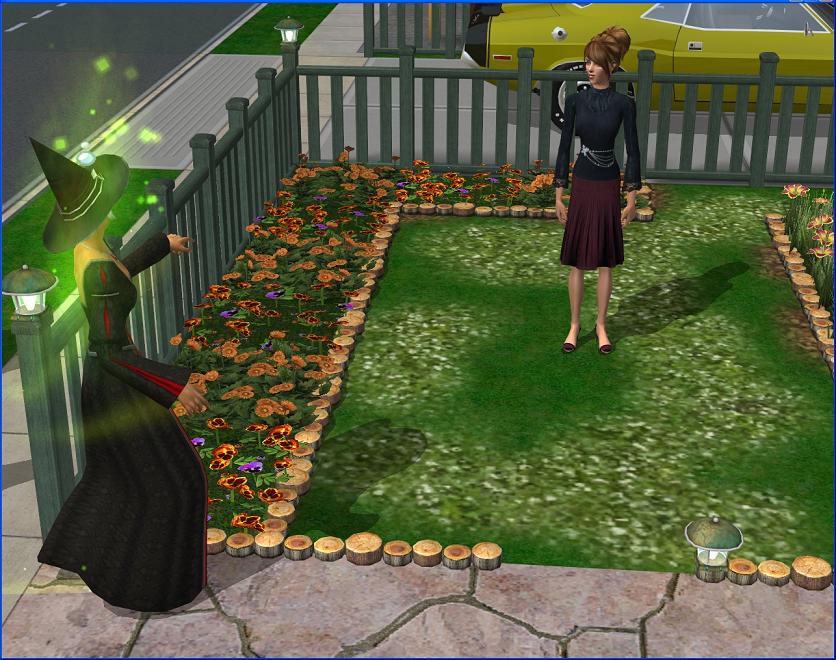 From the last Sitko update, you will also know that
Anna
and Collette had the want to win a fight with each other. Unfortunately for Anna, she happens to be the first visitor to wander onto the lot, so she becomes Collette's first victim.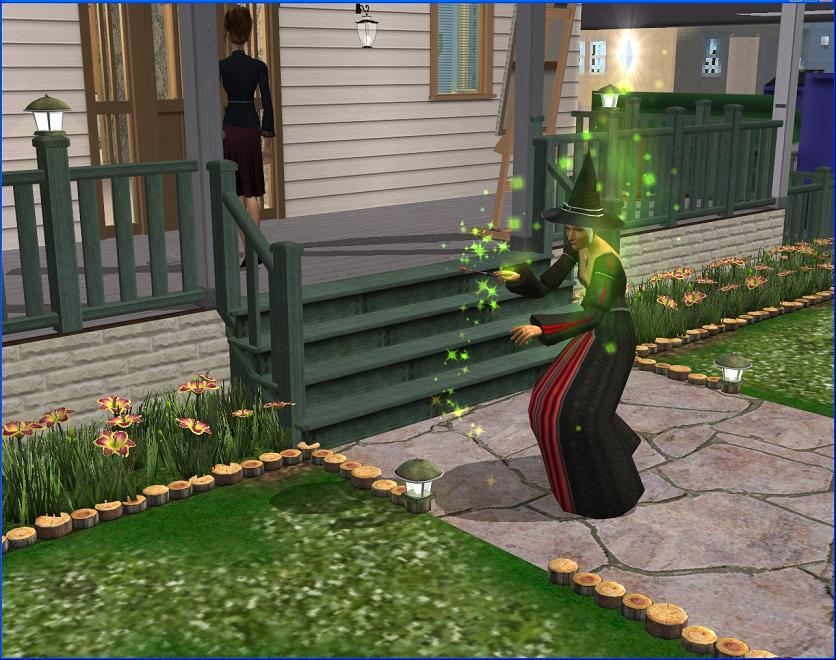 Anna heads into the house to say hello to her friend Kirstin but Collette has other plans for her.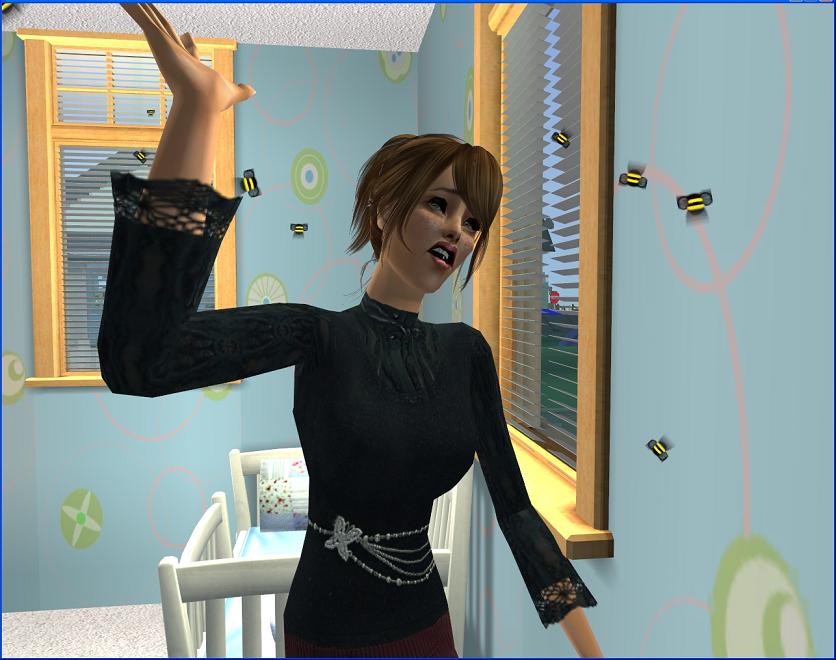 Bees! Anna is not happy, unsurprisingly.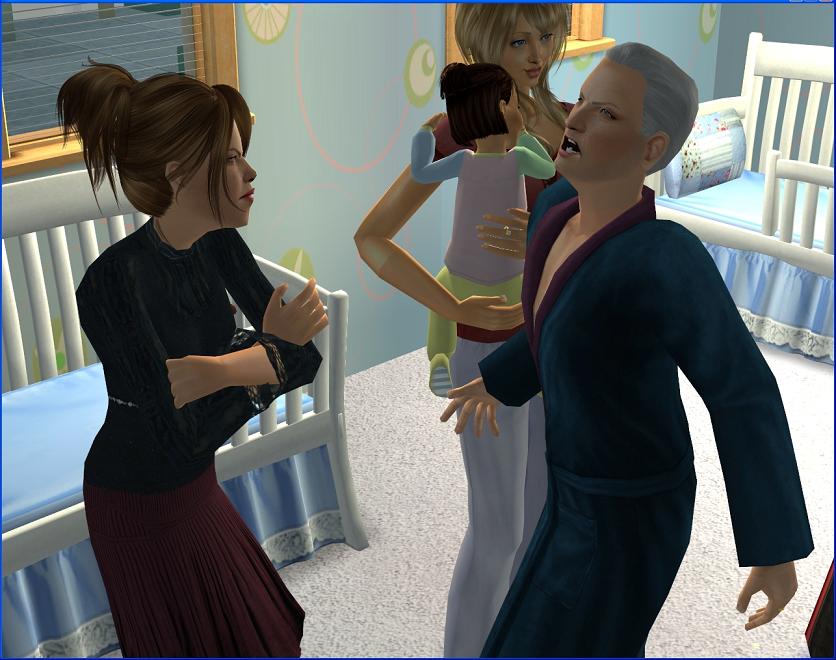 This hasn't got anything to do with the bees. This is just Anna being Anna.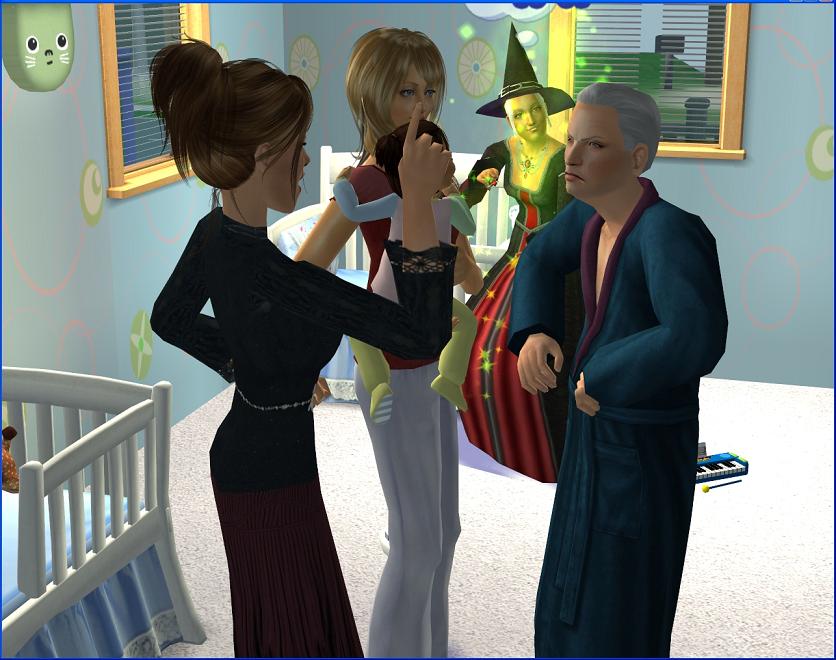 Which displeases Collette greatly.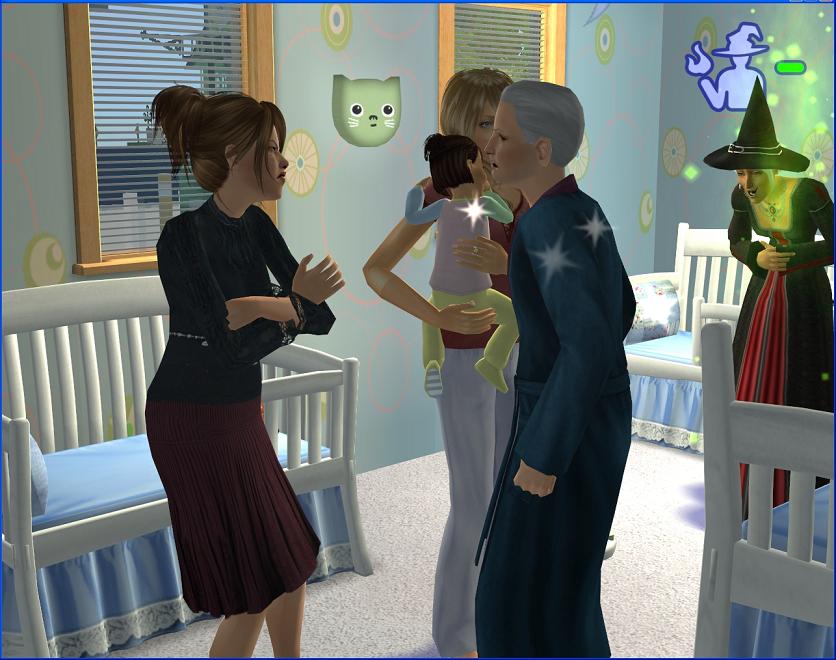 Anna doesn't realise it yet but she seems to have gained a few kilos! Collette has noticed though and is fairly pleased with her handiwork!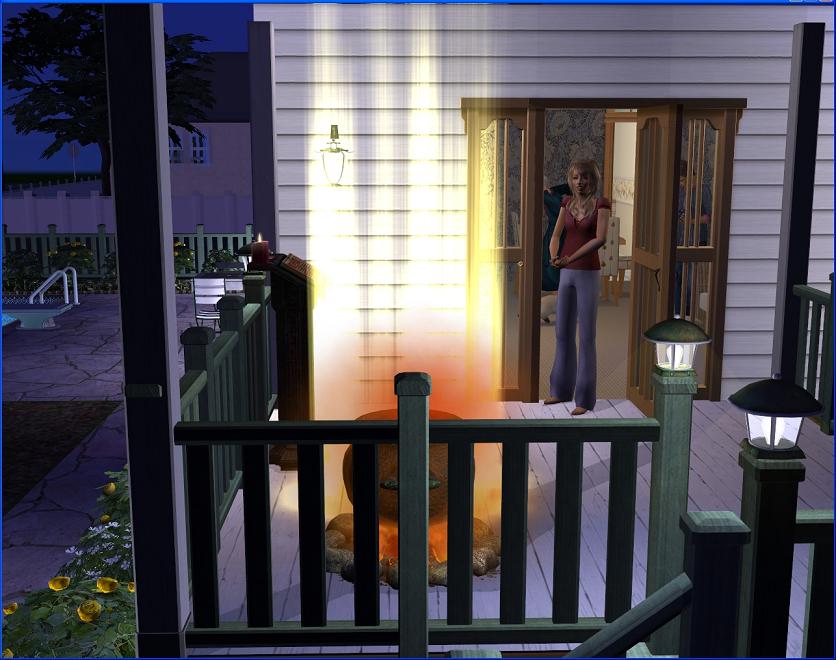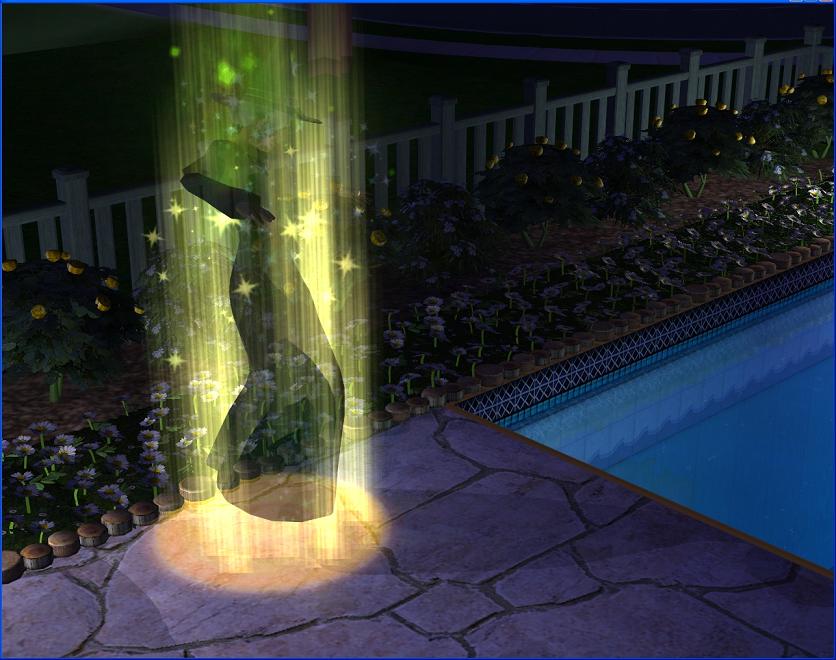 The teleportation spell, whatever it's called, is pretty cool but depending on how far you're going, you could probably walk faster. The visuals are nice though.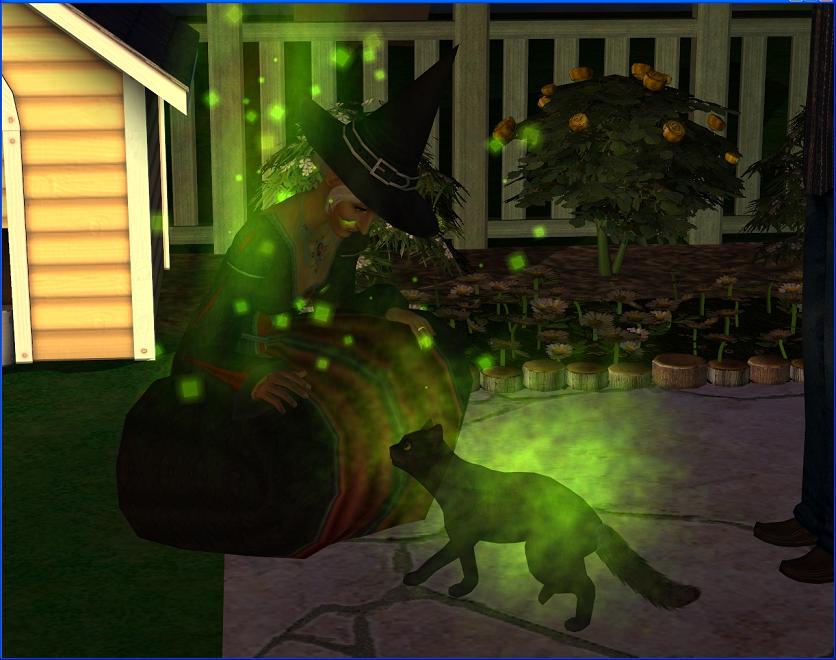 Collette's spectral cat was named Buckley, in honour of Jeff. If he was still alive, I'm sure he'd be touched.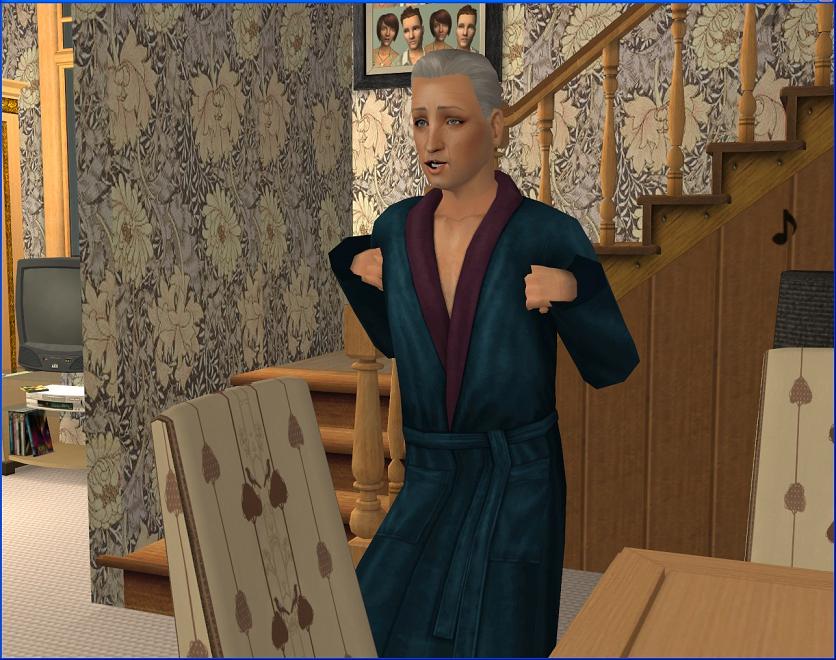 Collette's own family did not escape her evil.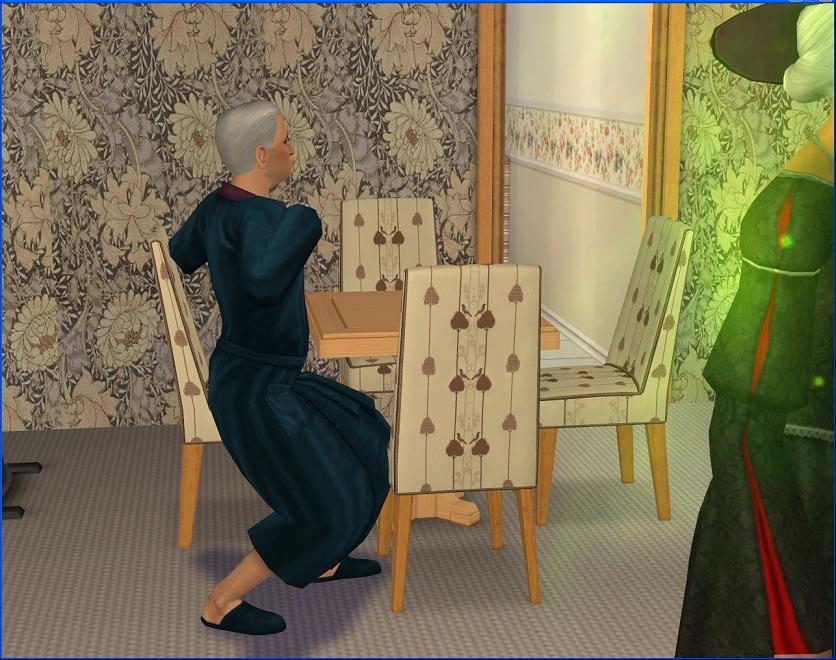 Poor
Julian
is turned into some kind of Sim/Chicken hybrid! To top it off, Collette is not even watching the indignity she's unleashed.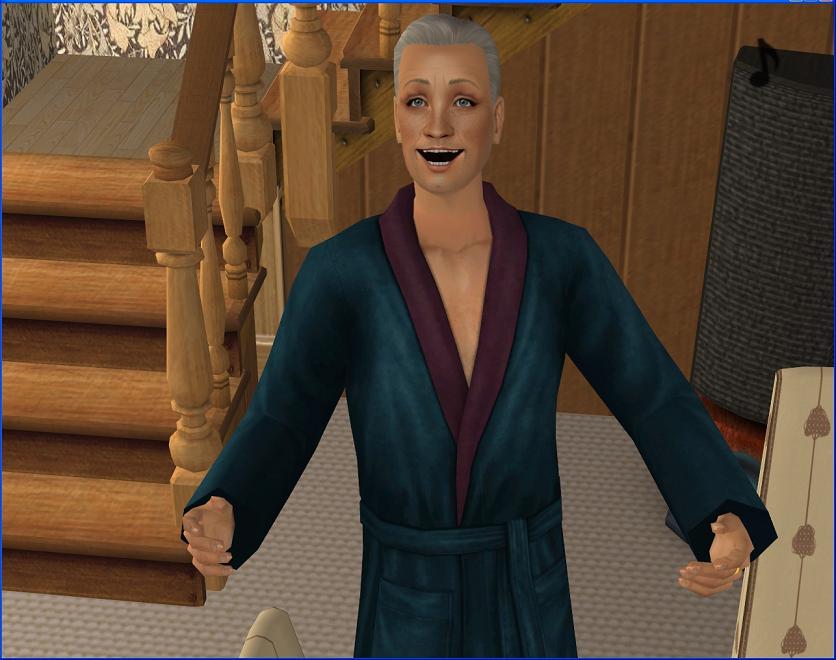 He's pretty happy when the spell wears off. For those who've never played with witches, the spells don't seem to last very long. I didn't notice if Anna snapped back to her old figure but the bees went away much faster than they do when the Sims get attacked by swarms of bees on vacation or while hiking and Julian clucking like a chicken didn't even last a minute.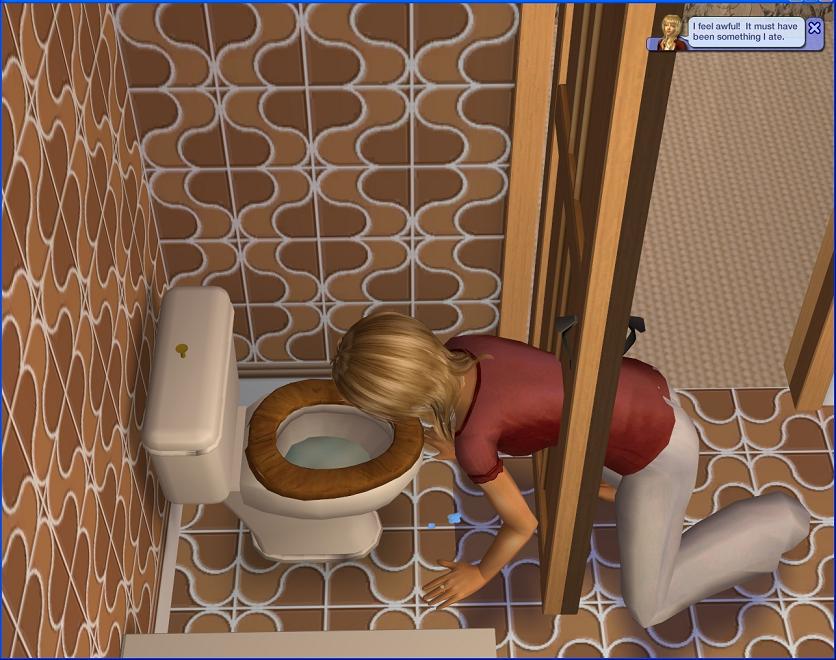 No, Kirstin, it wasn't something you ate. It was just your evil mother again.
By this point, I felt like I'd checked out everything I wanted to check out with the witches, so I exited the Sitko family without saving and went to visit the Collins-Moretti lot, for Lunar's first suggestion - a fight between Anna and Collette.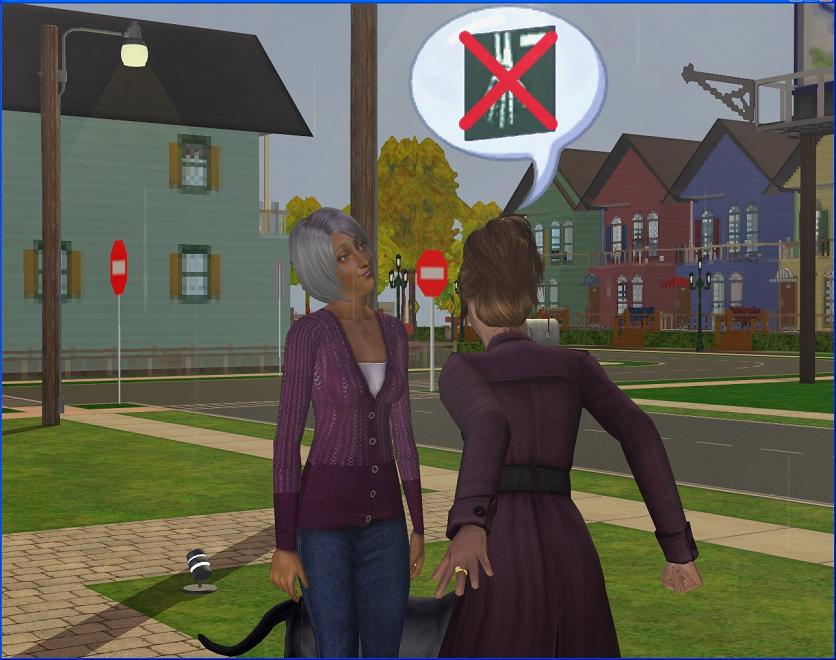 I had them start out with some arguing but being mean Sims, they enjoy that sort of thing.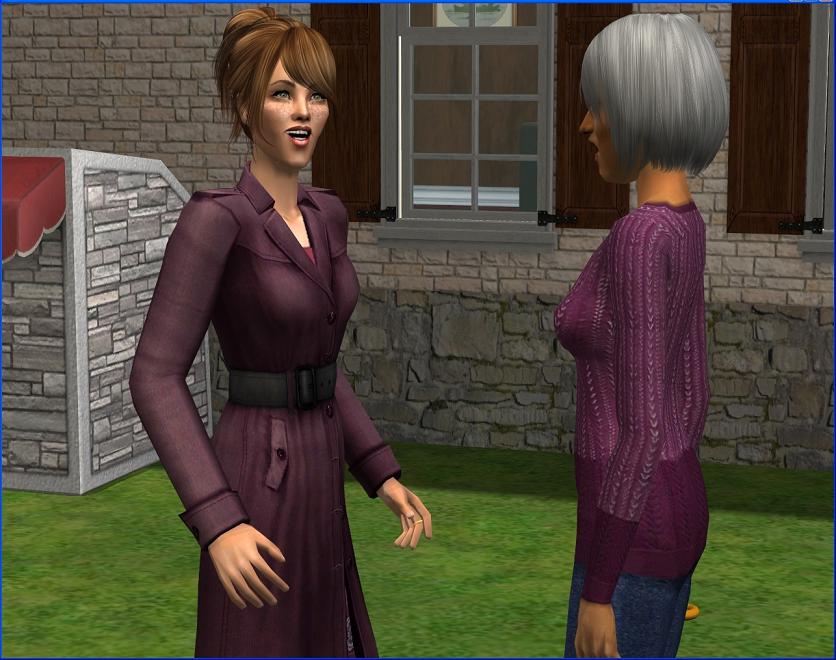 Anna's very excited when I tell her she can "Poke" Collette instead.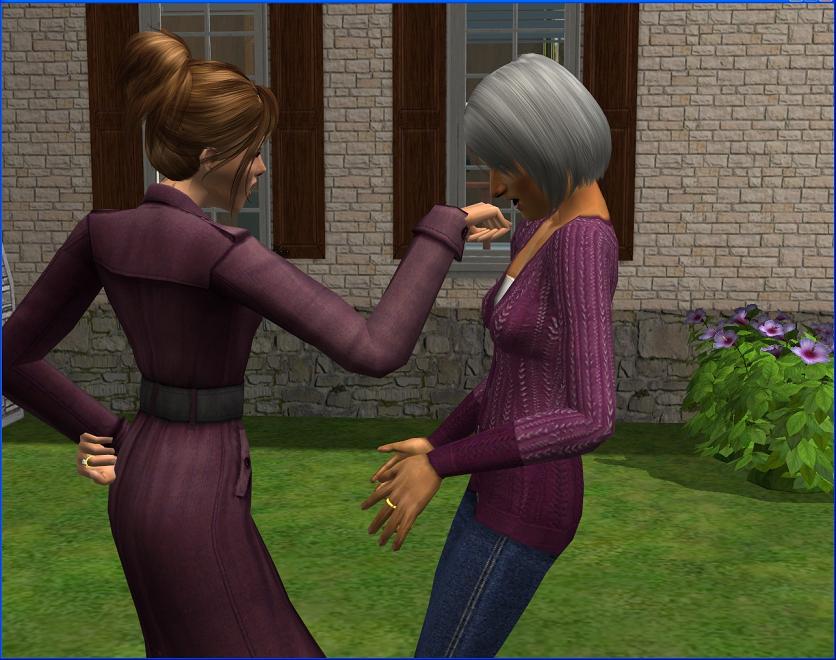 And so she does.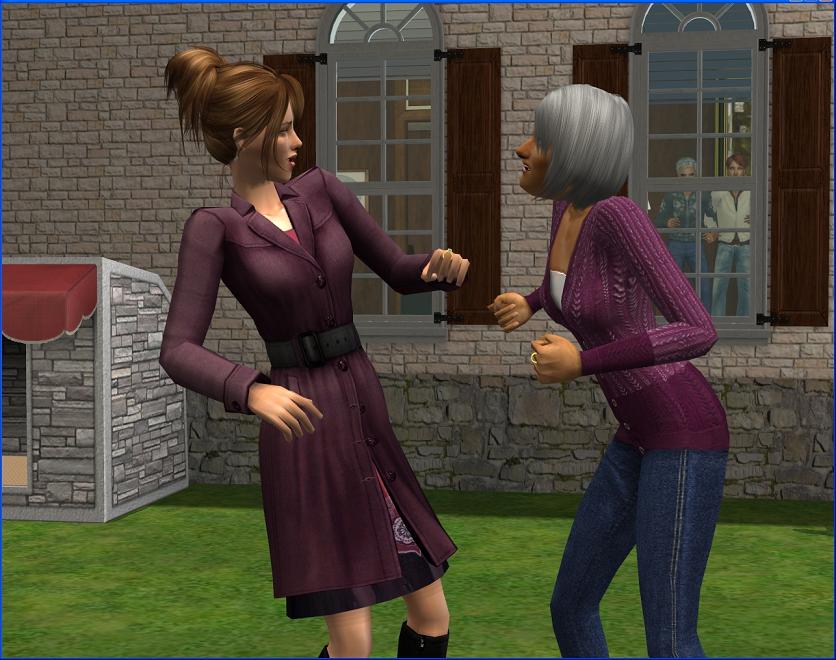 Collette's not going to take any crap from this young upstart though! There's only room for one Queen Bitch in Sullivan and Collette is going to prove that it's her!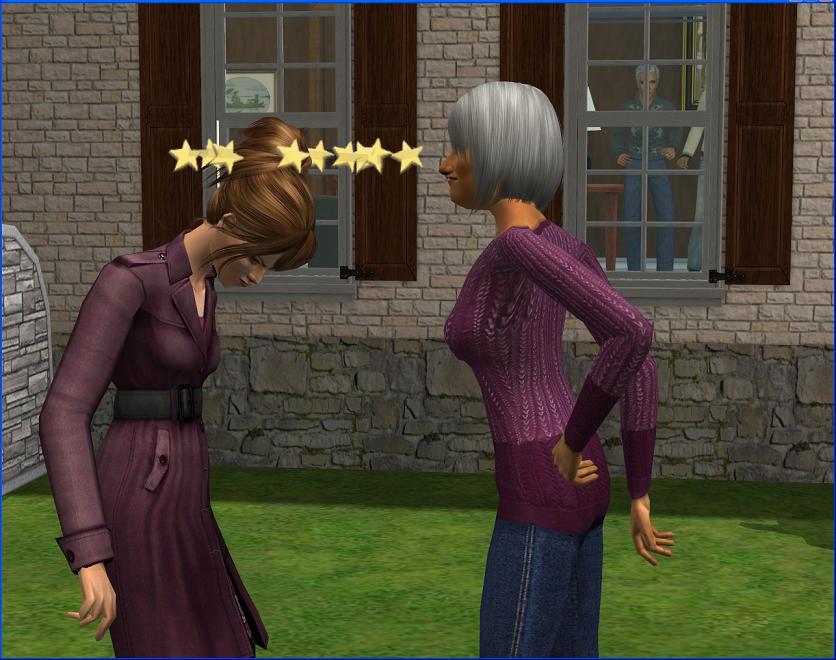 So she gives Collette a piece of her mind!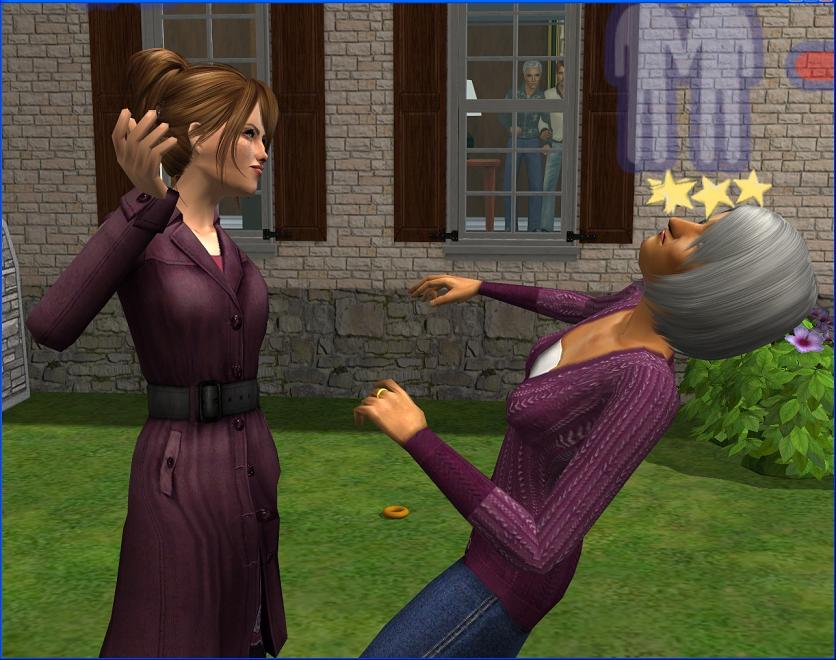 And Anna, unsurprisingly, responds in kind.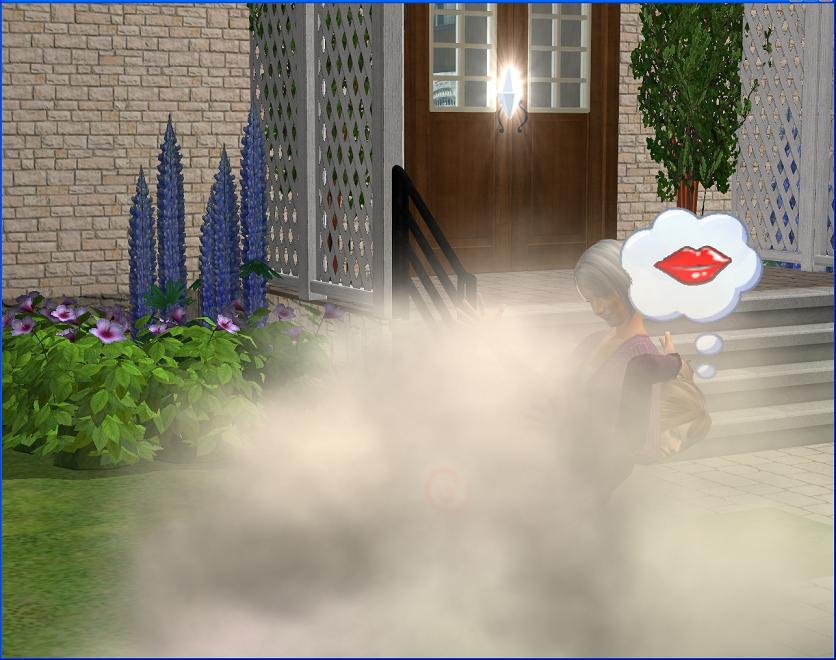 Collette has had enough of this girl stuff. Let's get down to some real fighting!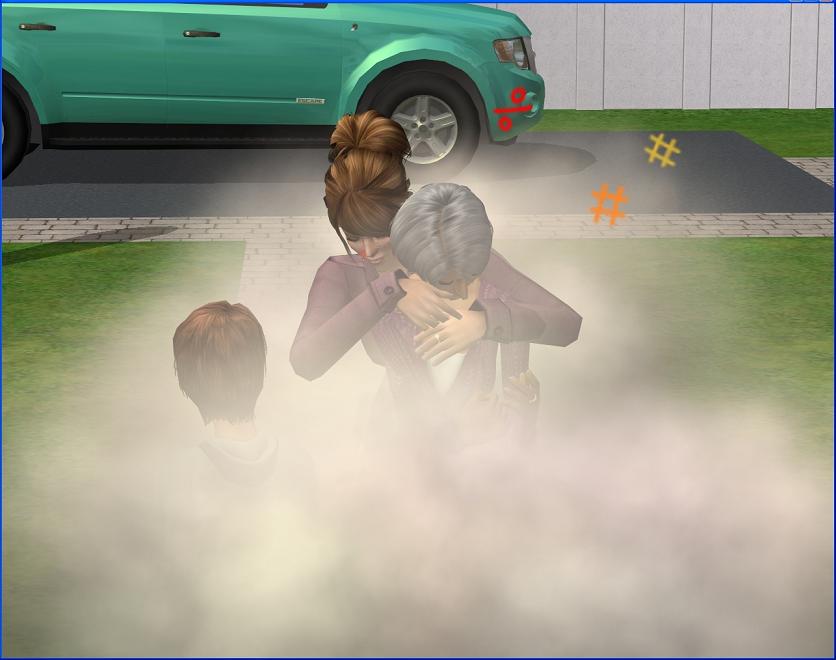 It's mostly a dustball, of course, but for a minute, it looks like Anna might have Collette beat.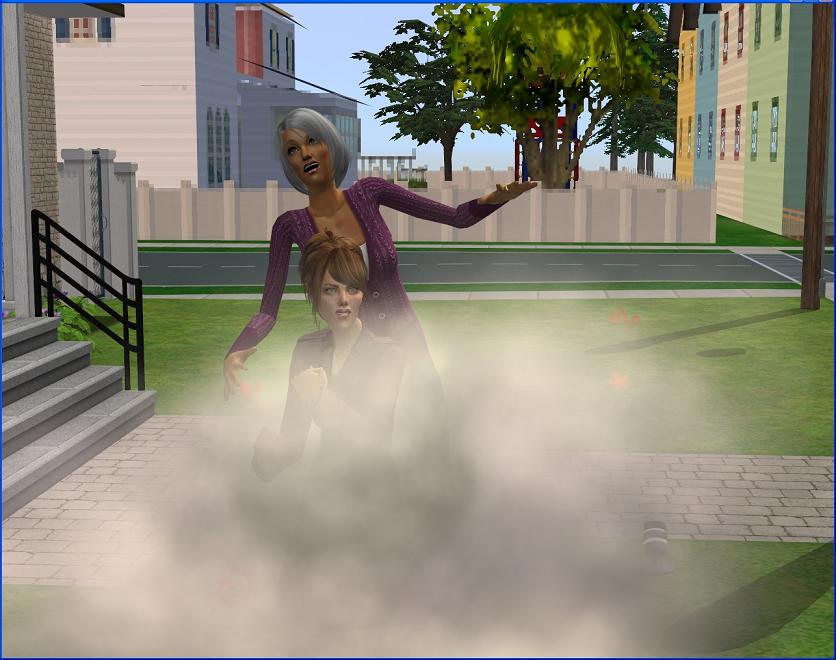 I actually think Collette might have this one though!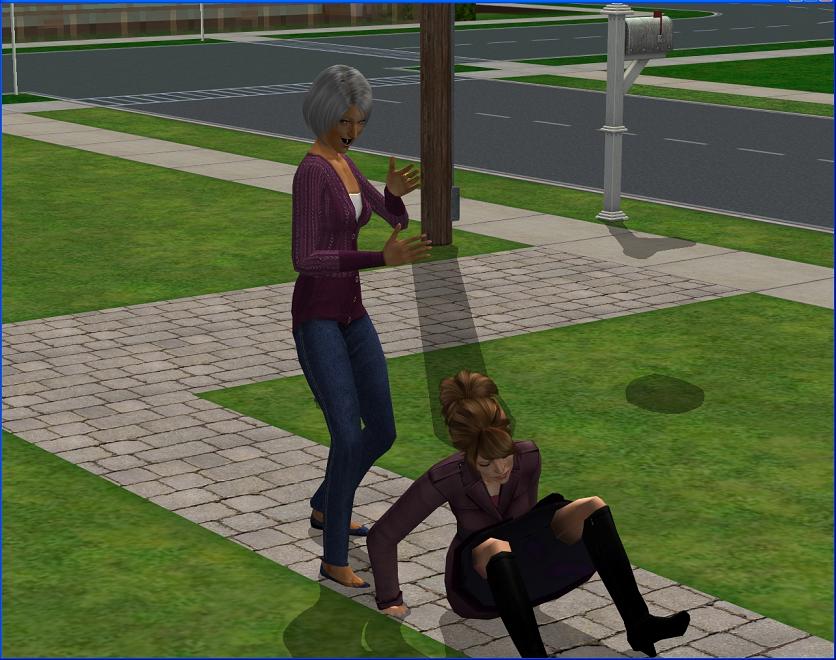 Yes, of course she does! Just as I predicted!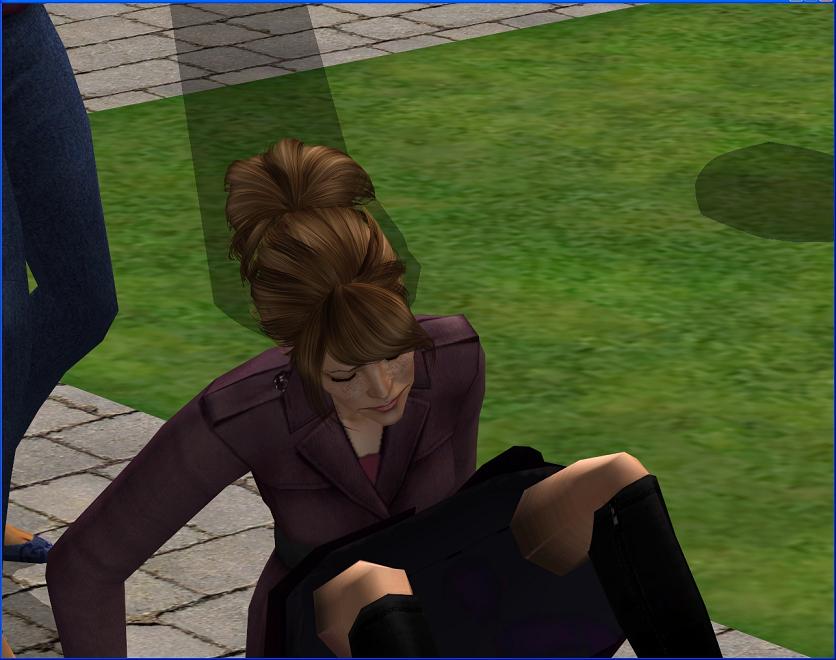 Anna is a bit emo about the whole thing.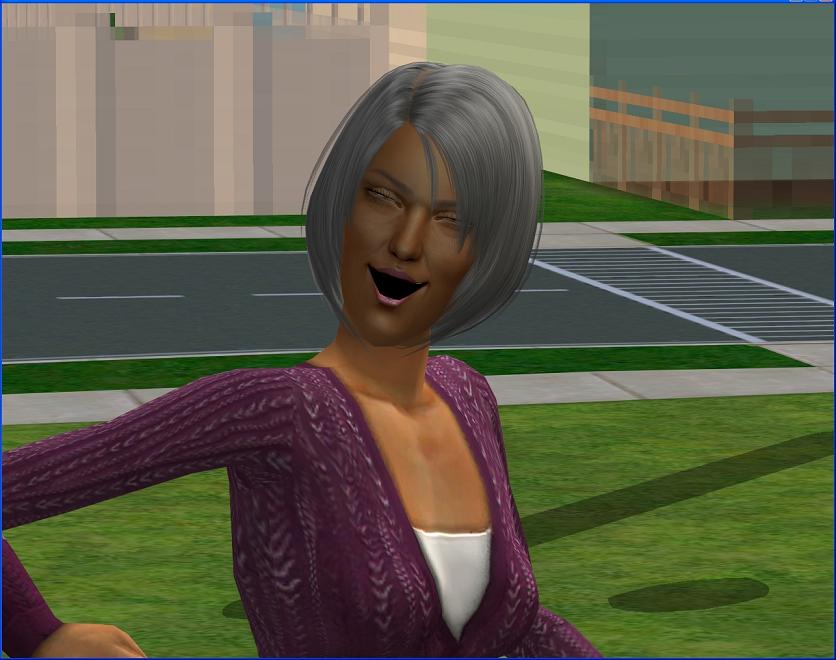 But the look on Collette's face had me wondering if I saved her lot with her as a witch without realising it!
Notes:
After playing witches, I'm positive I don't want them in my game. They just wouldn't hold my interest long term. I was planning on Collette unleashing some evil on David too but none of the other spells looked interesting enough for me. And making those reagents is a pain in the ass! Fun while it lasted though. :)

When I entered their lots, Anna and Collette no longer had the want to win a fight and Collette's want to be a witch had rolled away too. Oh well - it's not something I'm planning on carrying out for real in game anyway!