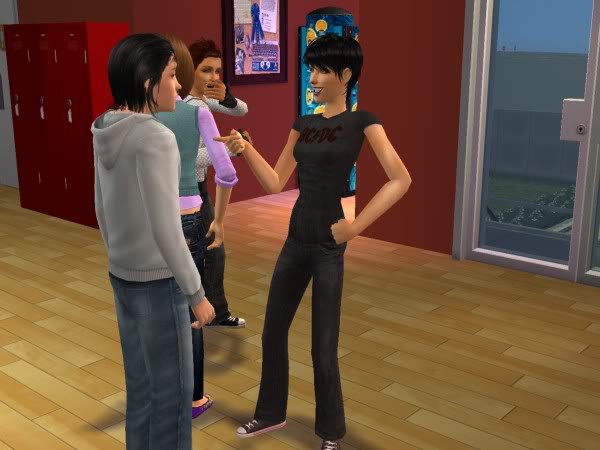 We've had a new influx of students at school this round and a lot of them seem rather feisty.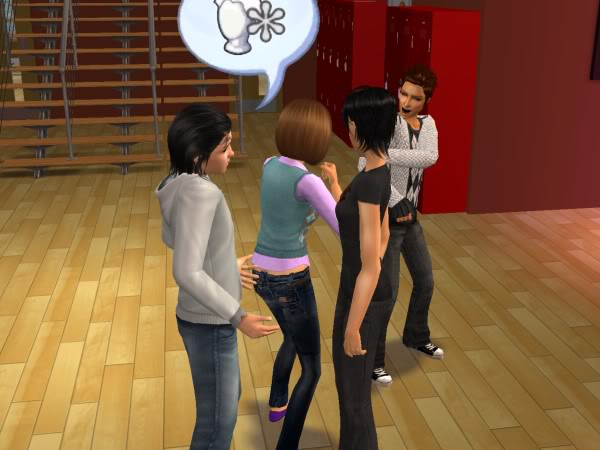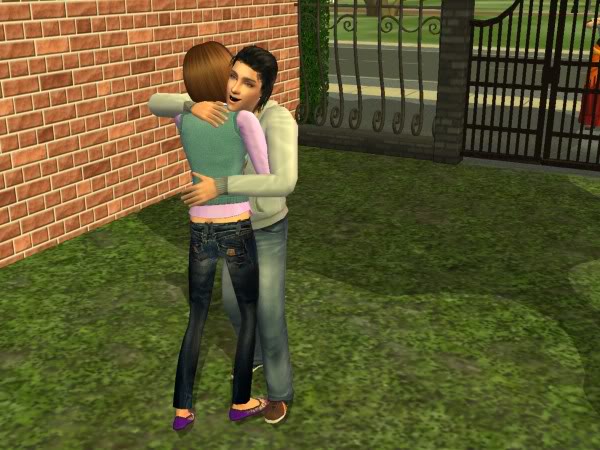 All sorts of rivalries and love triangles going on.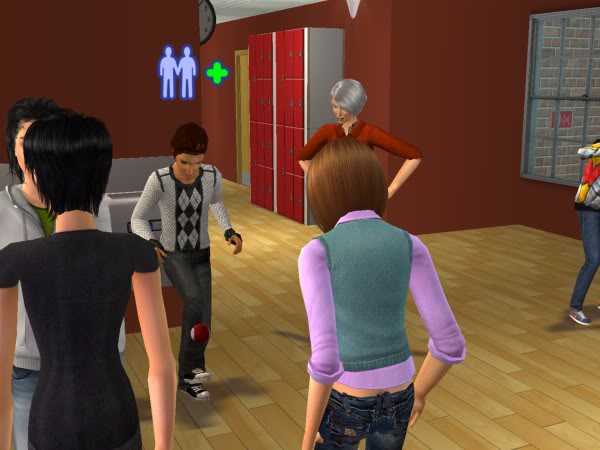 All that stops at 9am though, when I come out to make sure they're all on time for class.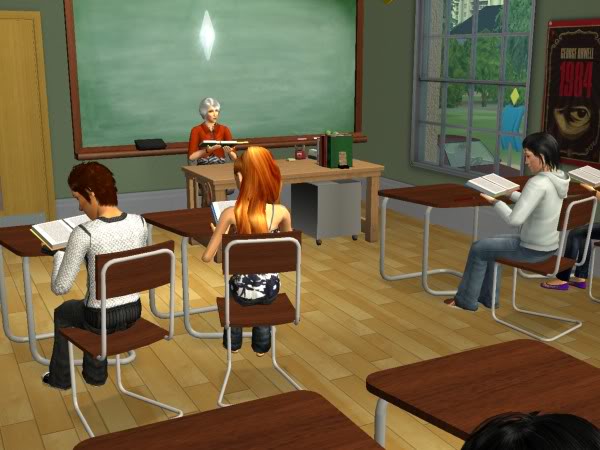 At 9am, it's time for English. We start out reading aloud from the book we're studying and then move on to writing tasks until lunch time.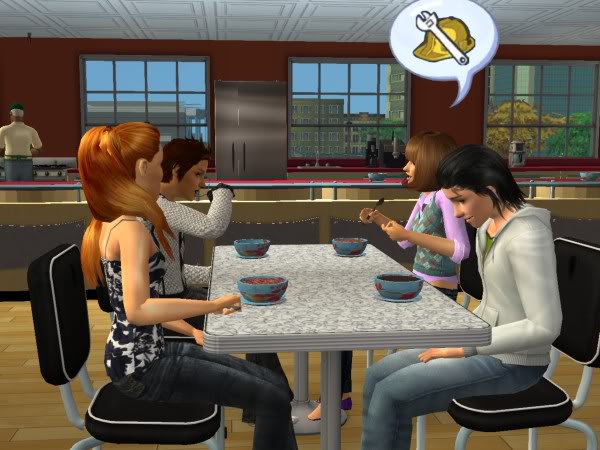 Lunch happens in the cafeteria. I go up to eat with my students, just to make sure nothing terrible happens.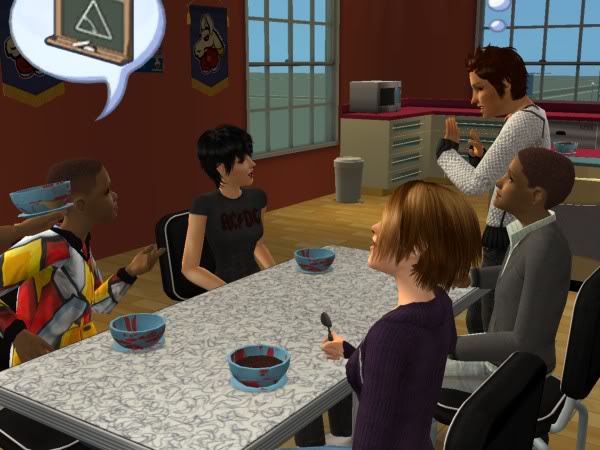 So far, they've just been chatting and gossiping, which I have no problem with. If they start fist fighting or smashing windows, then I'll have to step in!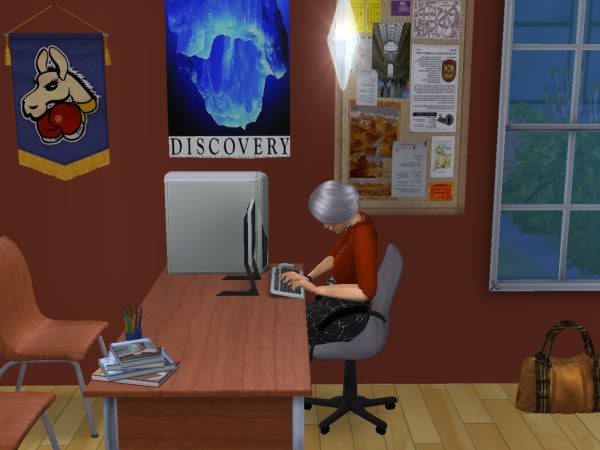 The kids keep me so busy during the day that I'm often at school until 6 or 7pm, keeping on top of all the administrative work that needs to be done.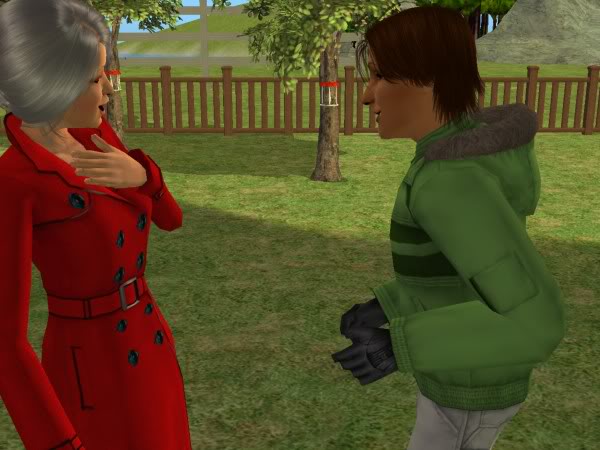 My youngest son
Filippo
paid me a visit yesterday. He didn't bring his boys with him but he did bring his wife
Maria
.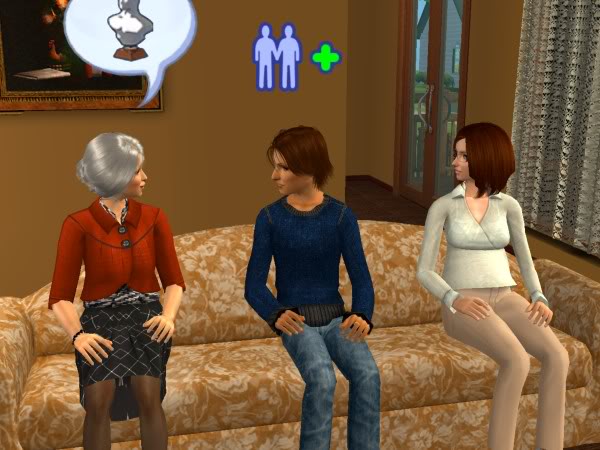 I'm trying to talk them into making a donation to the school so I can finally open the art room. We've run out of funds and are relying on donations for any further additions we need to make.
They said they didn't have the cash but it was nice to see
Arianna
and her brother together again, still getting along as well as ever.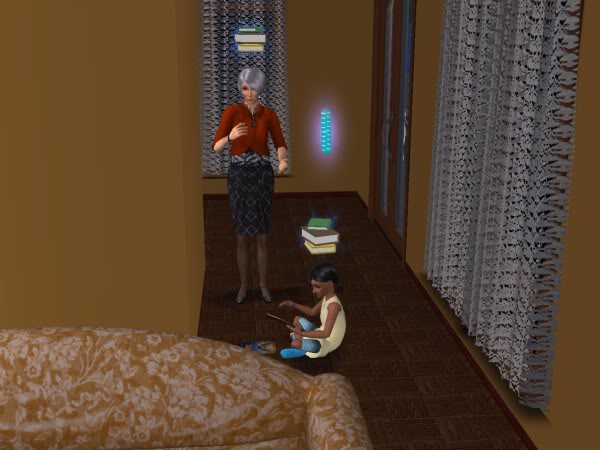 As much as I love my daughter, I think her parenting leaves something to be desired. Wednesday afternoon rolled around and I discovered that
Tatiana
had the whole week's worth of homework piled up, incomplete. I had to stand over her and watch her complete it. Arianna just hasn't installed any sort of work ethic in the poor child! I can't wait until it's time to enrol her in high school, so I can keep an eye on her!
Of course, things pass by me even at school.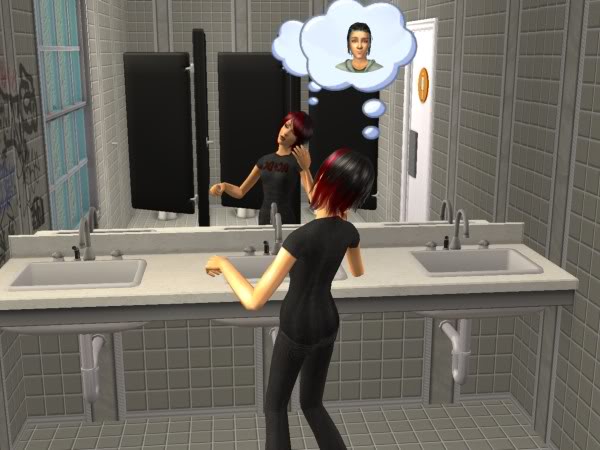 Like
Zelda Benton
dyeing her hair in the girls' toilets. When I asked her about it, she finally admitted it was to impress a boy.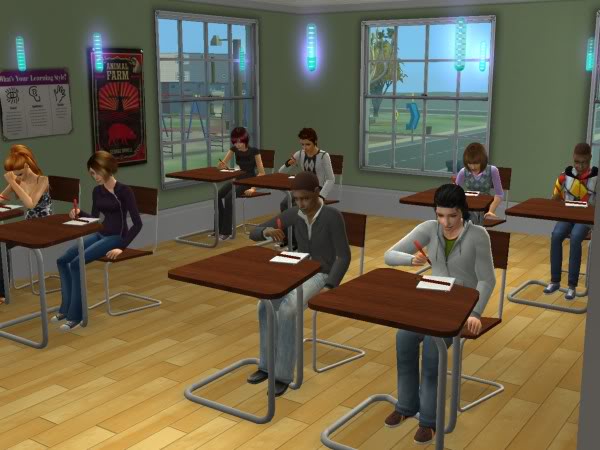 I guess I haven't introduced the rest of my class yet, have I? At the front, from the left, we have Opal,
Betsy
,
Samson
and
Emil
(Zelda's crush) and at the back, also from the left, is Zelda,
James
,
Naomi
(Naomi is who Zelda was trying to get the edge over, by the way) and Joe. They're a little more prone to distraction than last round's class, but all students are different. If there's one thing I've learnt in my years as a teacher, that's it.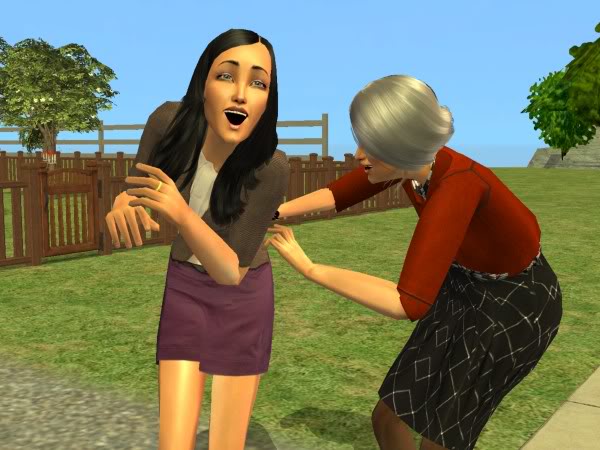 My lovely niece
Magdalena
visited me after school the other day. We get along so well, probably because she reminds me so much of
her mother
.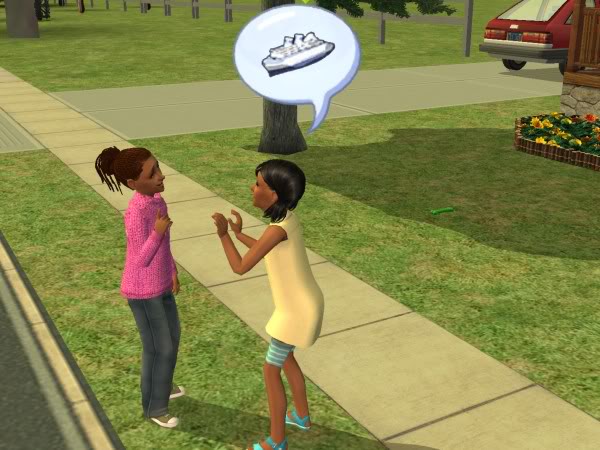 Tatiana had her own little friend over that day -
Abigail Lachance
. She wasn't making friends for a while there, so I'm glad she's found someone to spend her free time with.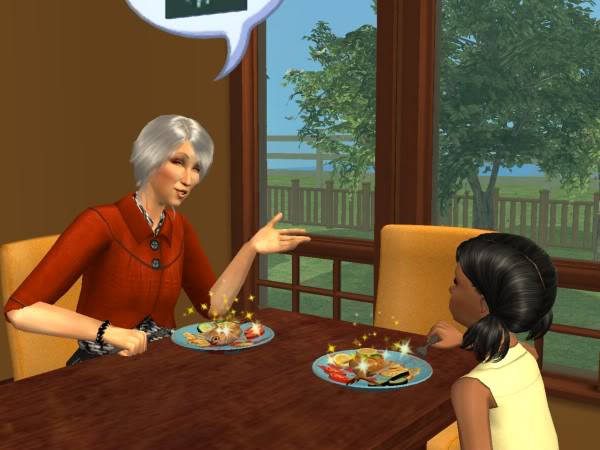 At the ripe old age of 38, Arianna is still completely hopeless in the kitchen. I cook all the family meals. I really hope that when I go, Tatiana is old enough to cook for herself. Maybe I should freeze some meals now, in the event that she takes after her mother!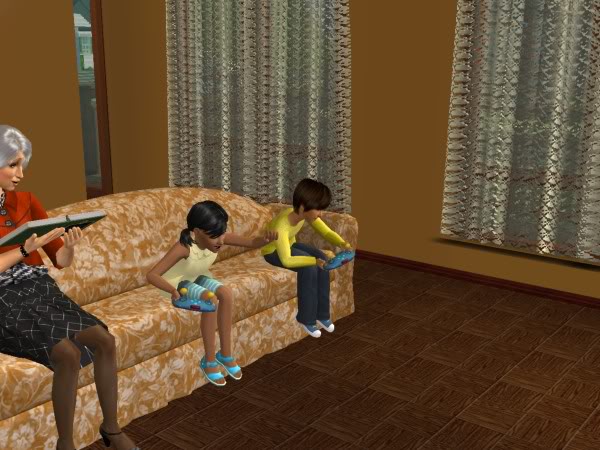 Filippo finally brought his sons over to visit. It's looking pretty likely that Tatiana will be an only child, so I'd like her to be close with her cousins. She's becoming good friends with
Caleb
already.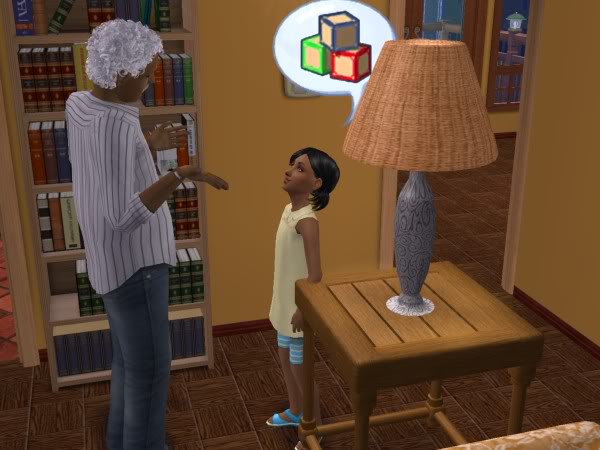 Still, I wish Arianna would consider settling down and giving Tatiana a sibling. It would be nice for her to have someone closer to her age around all the time.
Notes:
No family portrait for this entry or the next. I'm sick right now and just needed to take my mind off it for a while and didn't feel like fiddling with it. But now it's bugging me that I don't have one!

I thought it was hilarious how Simona came out with her hands on her hips. "No kicky bag in my hallway!"

The school is working! Thanks for the tip about the doors - that was totally the problem!

The cafeteria was my one concession to American-style schools. No Aussie school that I know of has a cafeteria. The kids eat outside, generally or in the classroom when it's raining.

I'm loving running the school. I never send my business owners to their lots more than once per round but I couldn't resist sending Simona down a second time, just to see how the Naomi/Emil/Zelda drama would play out. Nothing has happened but with her new hair, Zelda is in the lead.

The school has never been "open" (by OFB's definition) but it has somehow climbed to Rank 2 anyway! I'm going to use the points on the money, so I can buy some stuff for the art room. And I really should use the wholesale option, so it's cheaper.

I always forget to do that.

Arianna and Collette have become friends, without my knowledge! They'd have some Galen-related stories to swap, I'm sure!