Round 30: February 2032

Calvin Clarke and Aaron Novak are both 29.
Narrated by Aaron Novak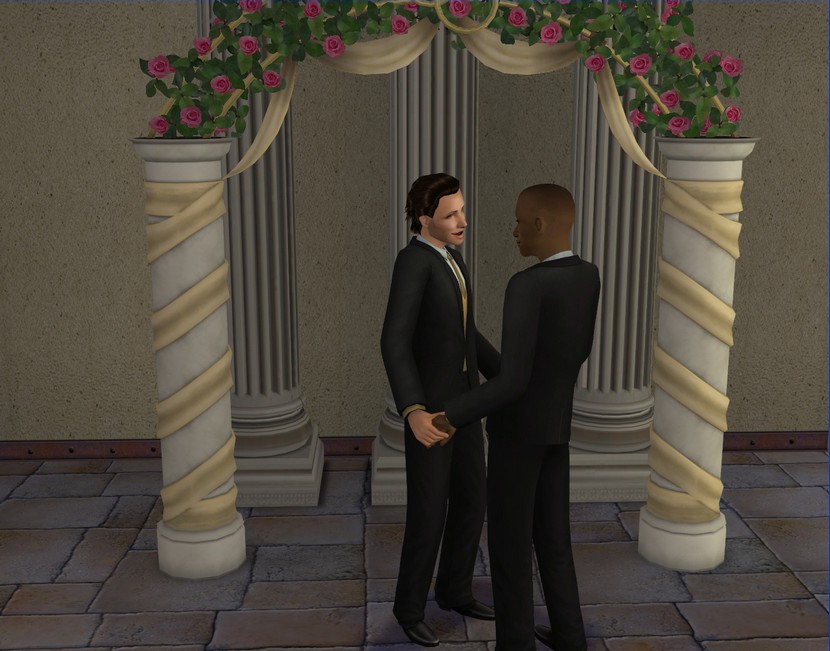 Calvin and I set our wedding date in February, knowing it would probably be extremely hot on the day, so we decided on an indoor, air-conditioned venue.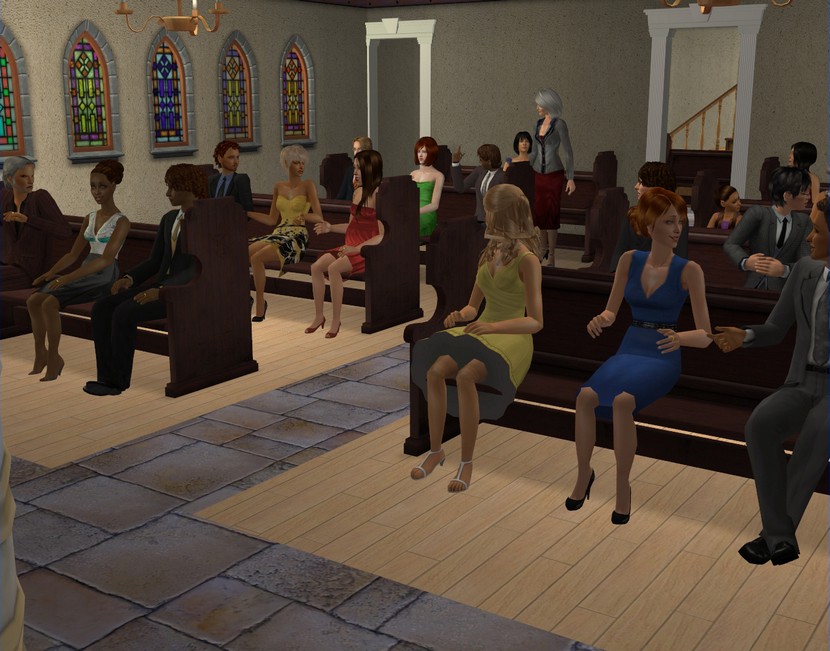 That was probably a wise decision. We had a lot of guests, which would have just made it hotter.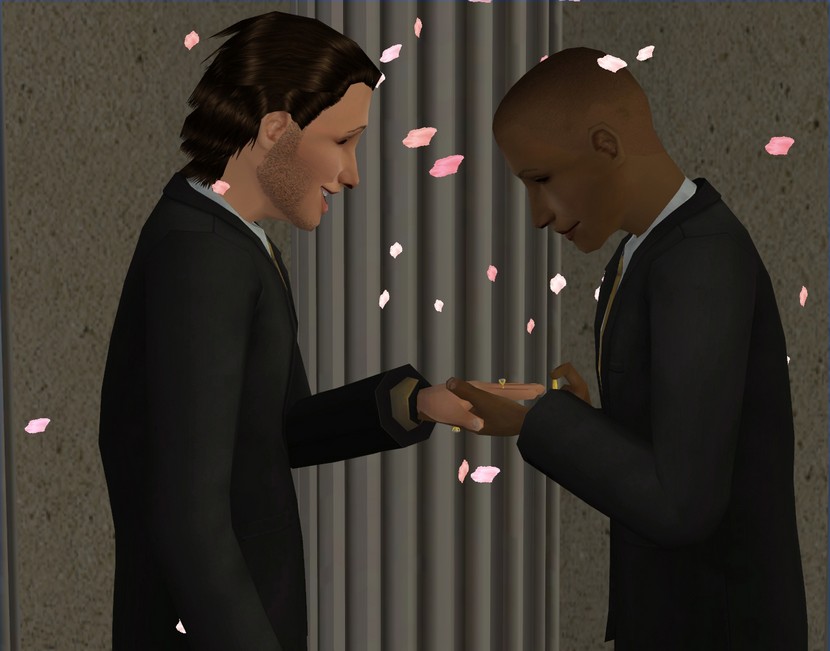 I don't think I would have cared. I was just so happy to finally be marrying Calvin.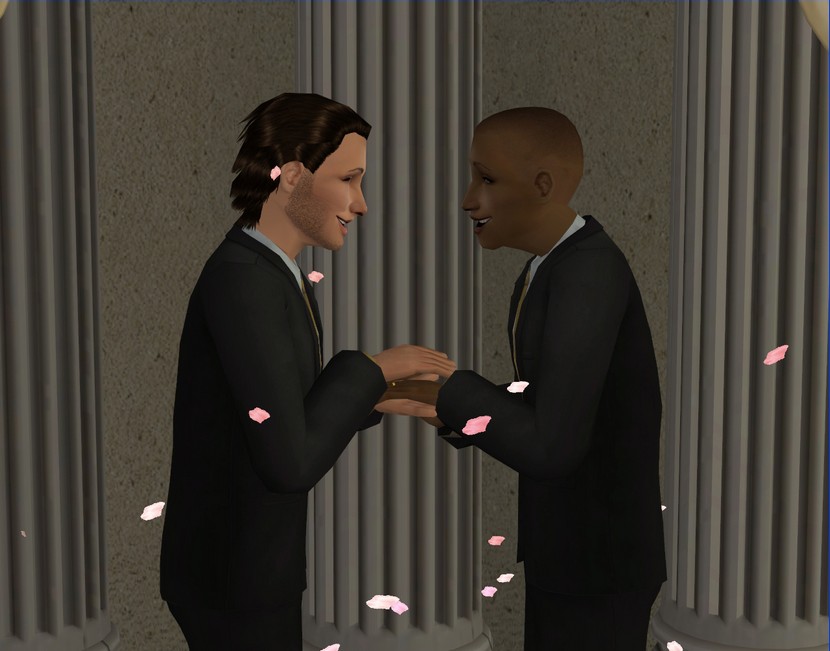 Right up until he proposed, I'd all but given up hope it would ever happen for us.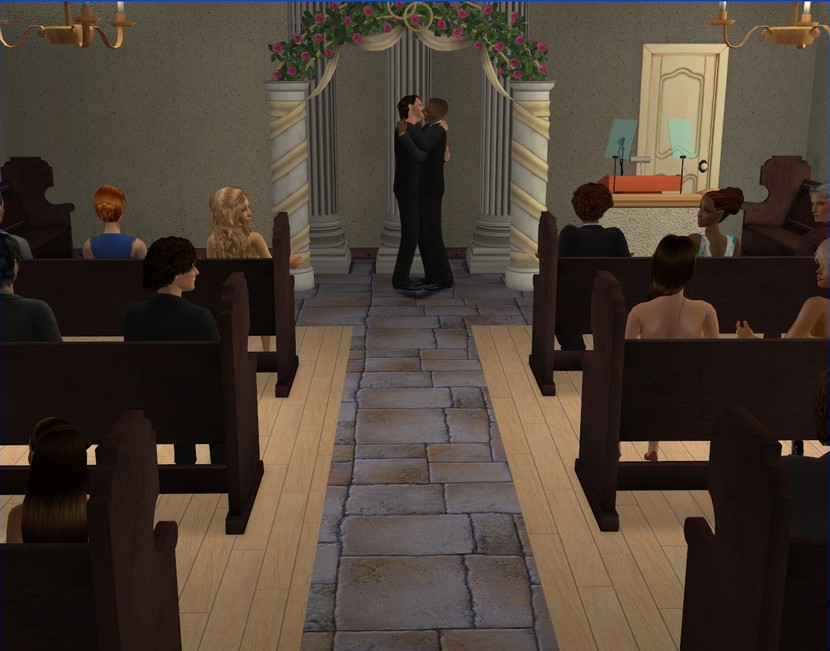 I'm just so glad Calvin changed his mind. It felt good to make it official.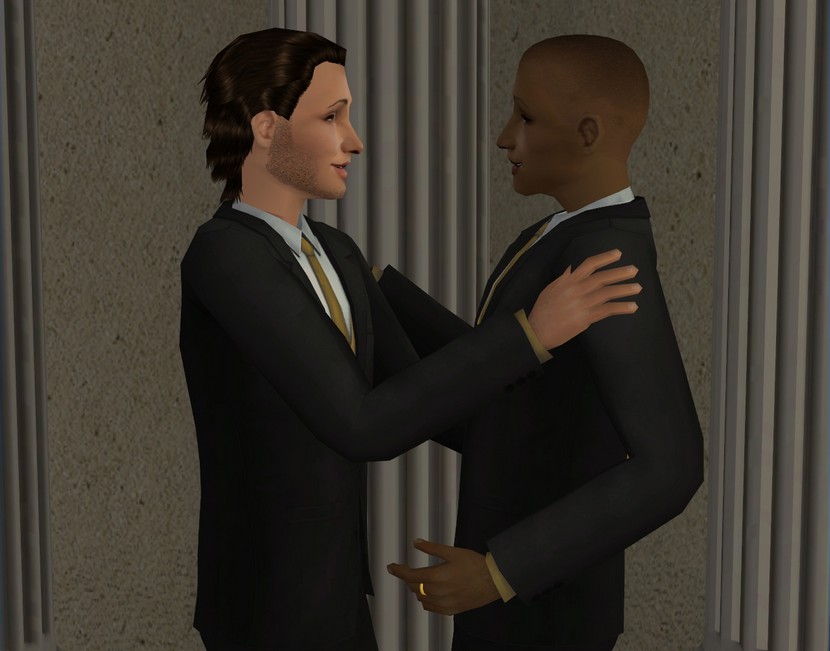 As excited as I was about getting married, I was relieved to have the ceremony over with. Even though our guests were just family and friends, it was still nerve-wracking for me.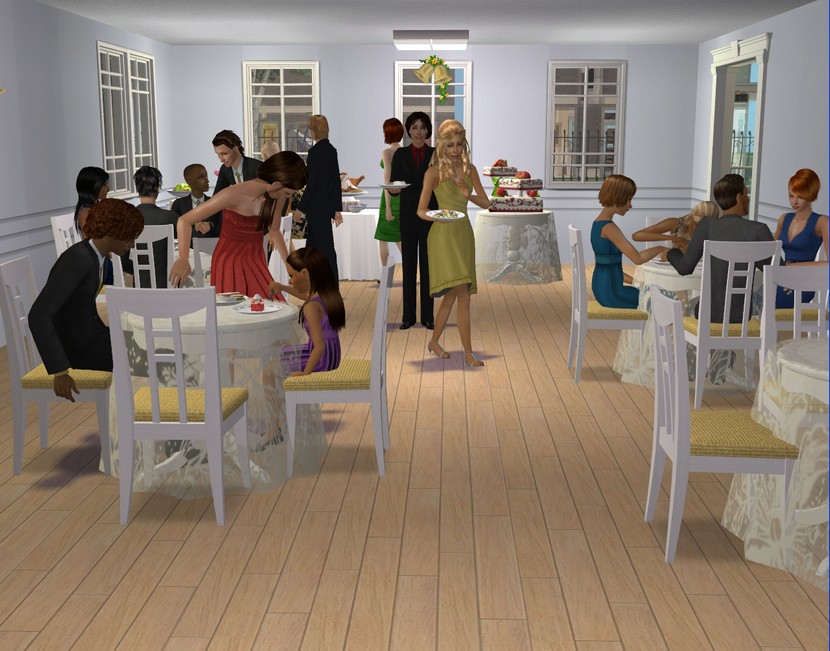 Calvin and I held our reception in the church's attached hall. We chose it because we really don't have much money and it's a really nice place.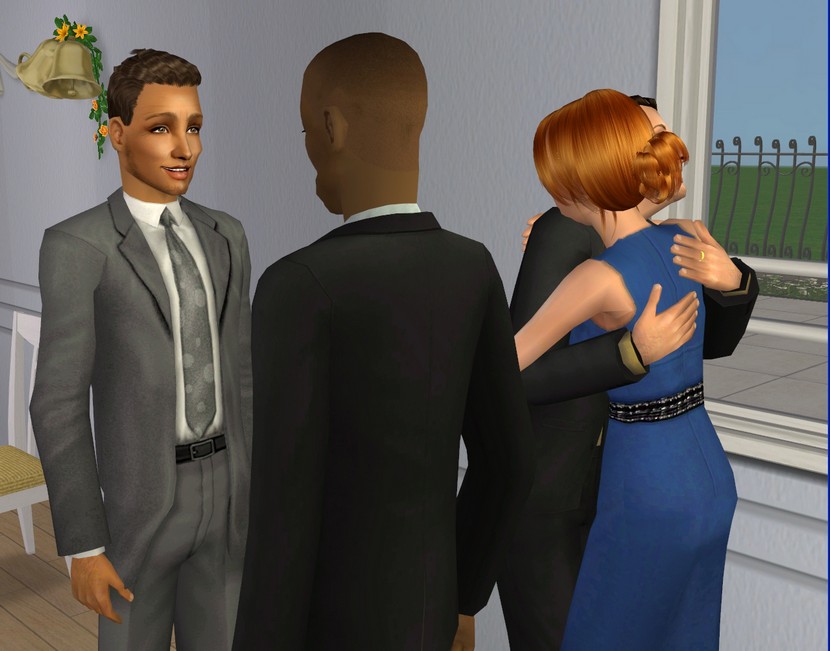 We didn't realise my parents were planning on paying for the venue anyway. That was welcome. It let us pay for catering and all sorts of other expenses that cropped up.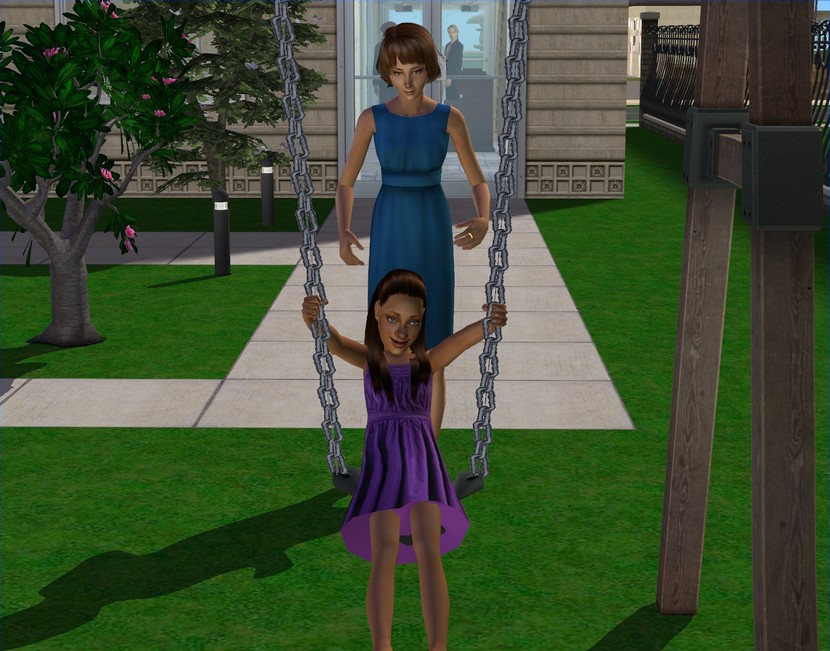 We also thought Calvin's niece,
Sylvia
, might enjoy the swing set outside, seeing there weren't going to be any other kids there.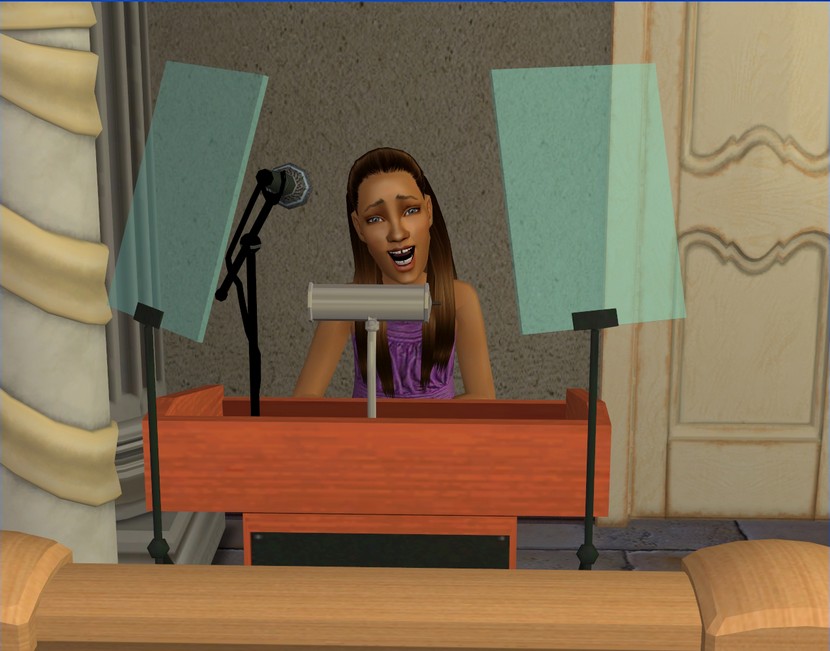 She did like the swing but she spent more time playing on the lectern inside the church.
Rose
and
Joanna
hauled her out of there so many times!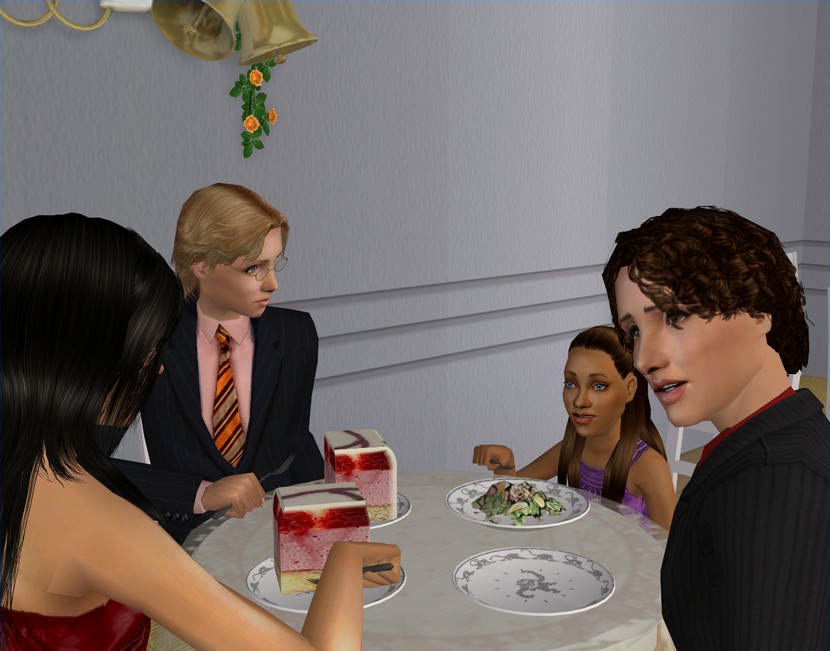 Sylvia did a lot of mingling as well. She's always like that at weddings. The kid is not shy.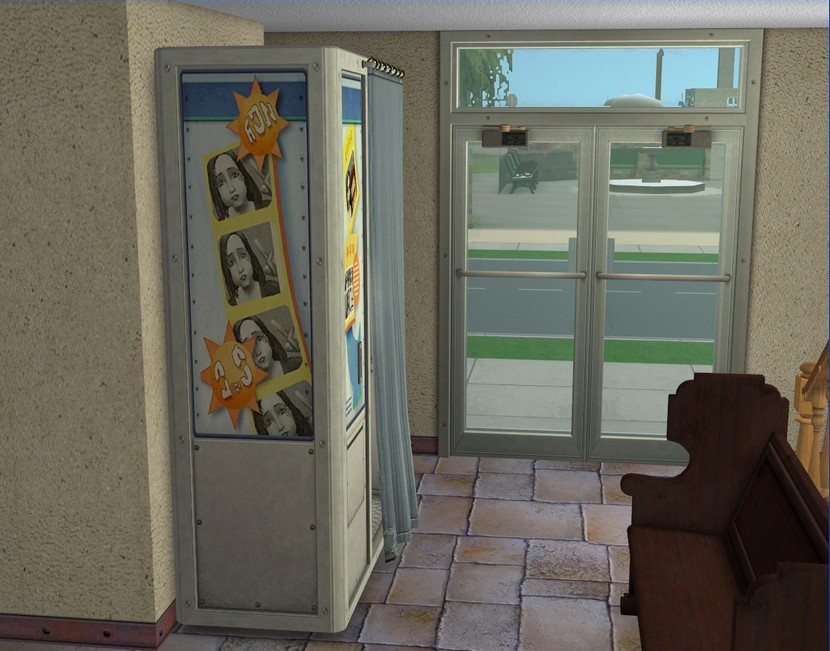 It was probably a good thing Sylvia kept herself busy because she might otherwise have seen something untoward going on. I don't know how many times I saw the curtain on the photo booth moving a little suspiciously.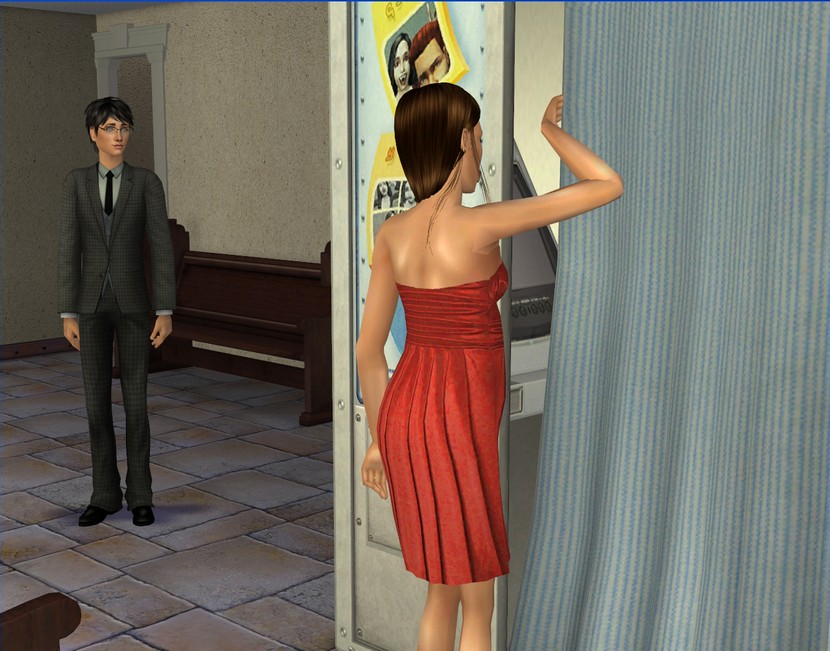 My brother,
Connor
spotted
Troy
and
Josie
heading in there but they definitely weren't the only ones.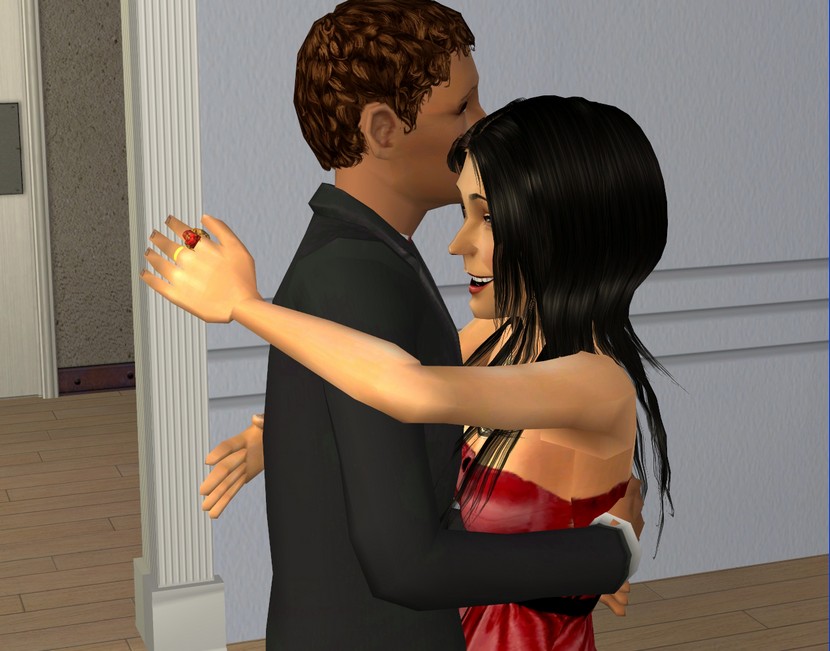 I guess weddings put people in a romantic kind of mood.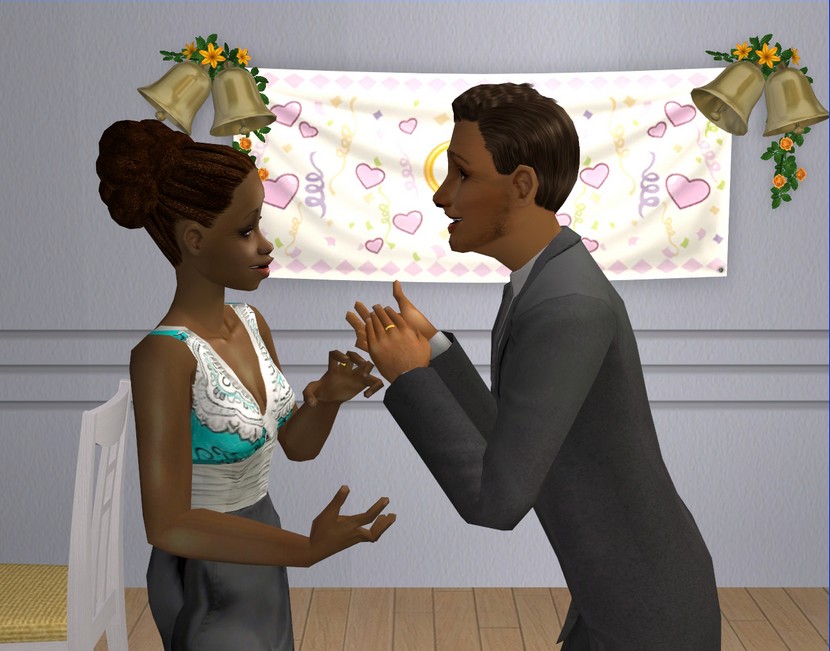 Calvin and I have been together for so long that most of our family members had met each other well before the wedding but since we got engaged though, both sides have been actively trying to get to know each other better.
Kendal
was already friends with
Mum
but
Dad
and Kendal become closer now too, since they both joined the hood council.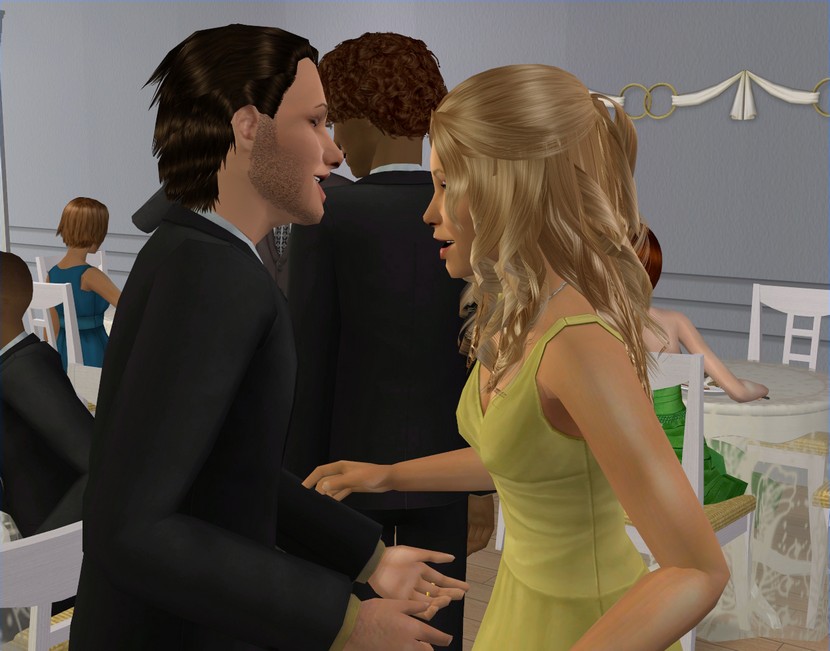 Maia
was my "best girl" at the wedding and she was one of the first to congratulate us afterwards.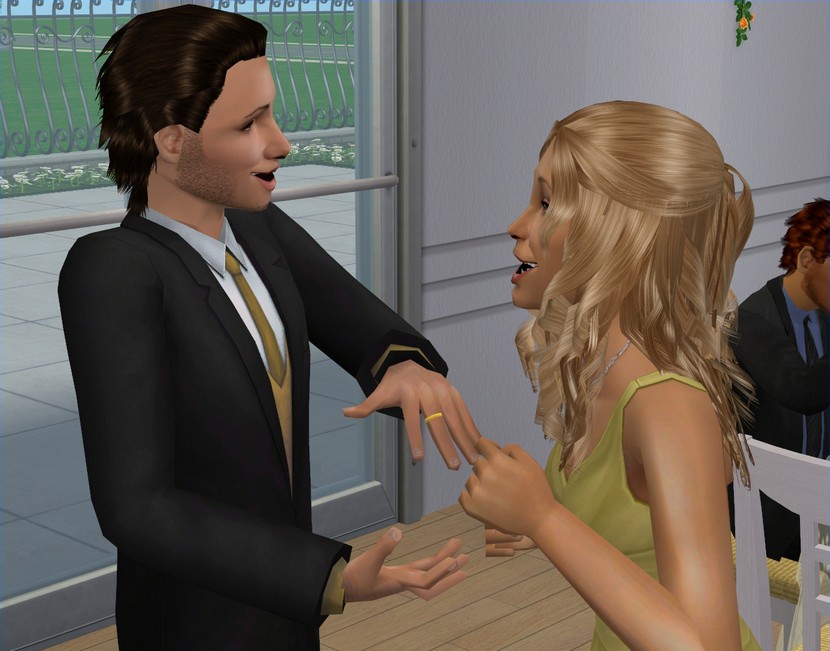 Even though Calvin and I have enjoyed having the flat to ourselves, it's felt a bit strange without Maia there so I was so happy she could be there with us.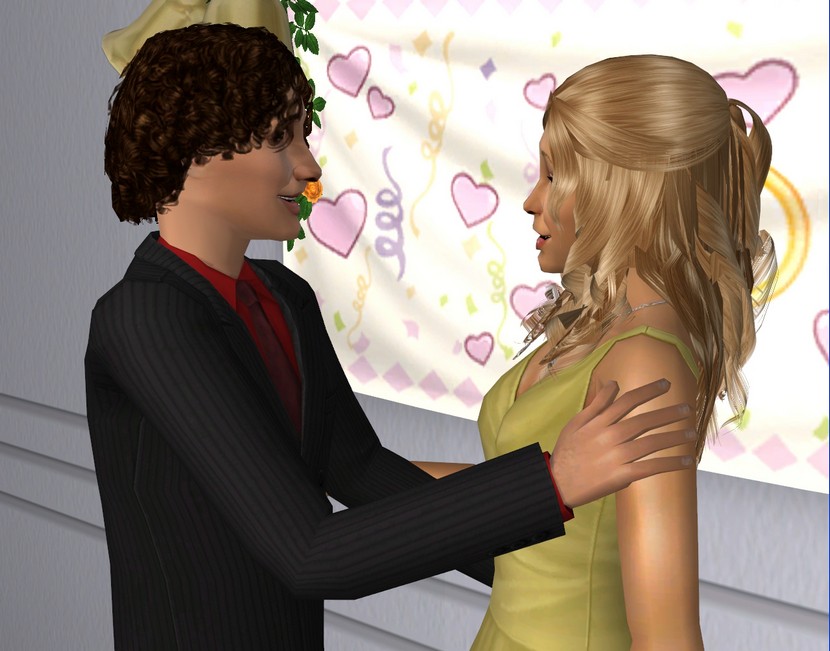 She moved in with Ethan about six months ago and it all seems to be going well. I have to admit that I was a bit worried that Ethan would want to get serious, Maia wouldn't and he'd get his heart broken. But moving in together is pretty serious, so I was worried about nothing.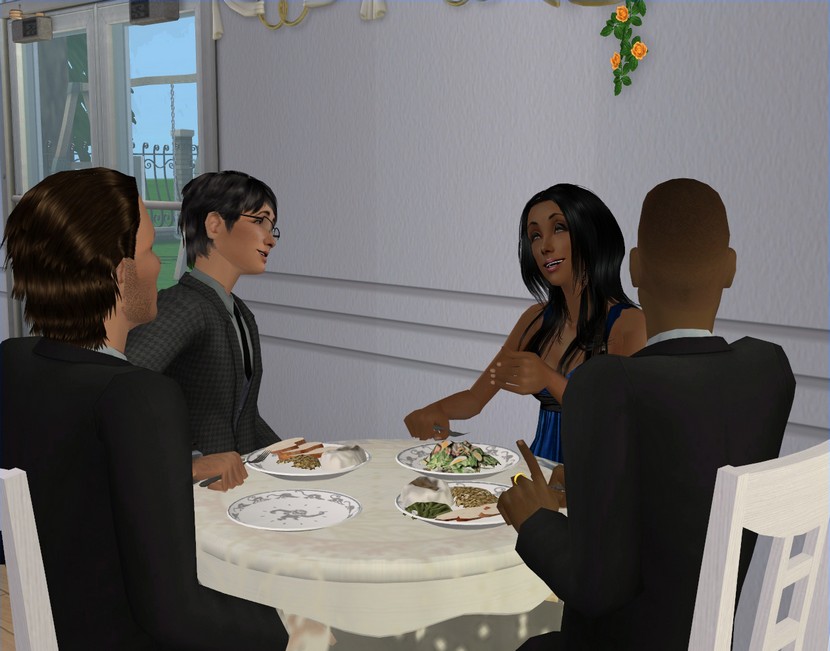 I haven't seen Connor as much since he went off to college, so the reception was the first opportunity I've had to meet his girlfriend,
Audrey
. She seems like a sweet girl. Though anyone would seem sweet after
his last girlfriend
, I guess!
We had quite a traditional reception. We did the cake...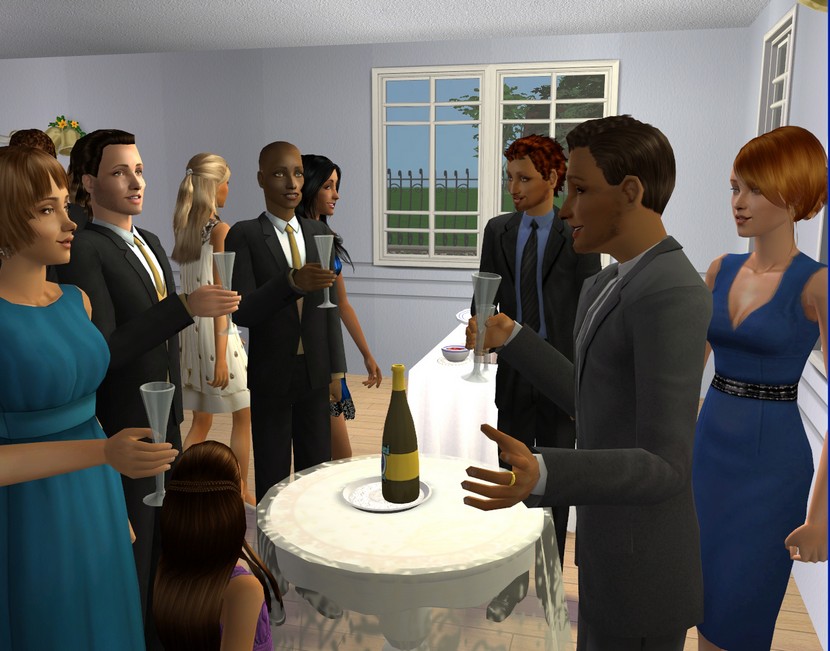 Dad gave a great toast to us. It meant a lot, because things haven't always been so easy with us and Dad.
He's pretty comfortable with the idea of Calvin and me now but he had some trouble accepting it when I first came out to him.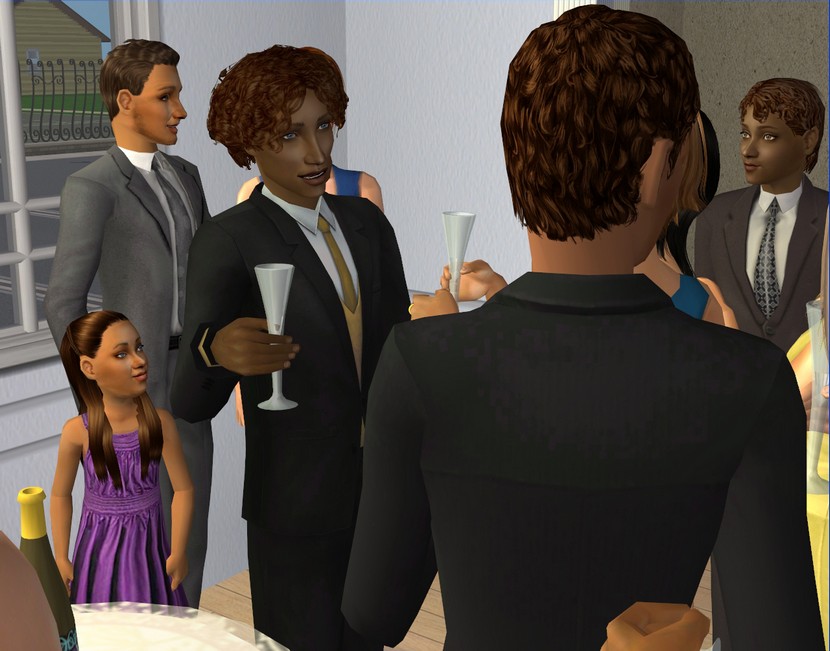 Troy gave a good speech too, though his was more in the vein of saying as many embarrassing things about Calvin as he could.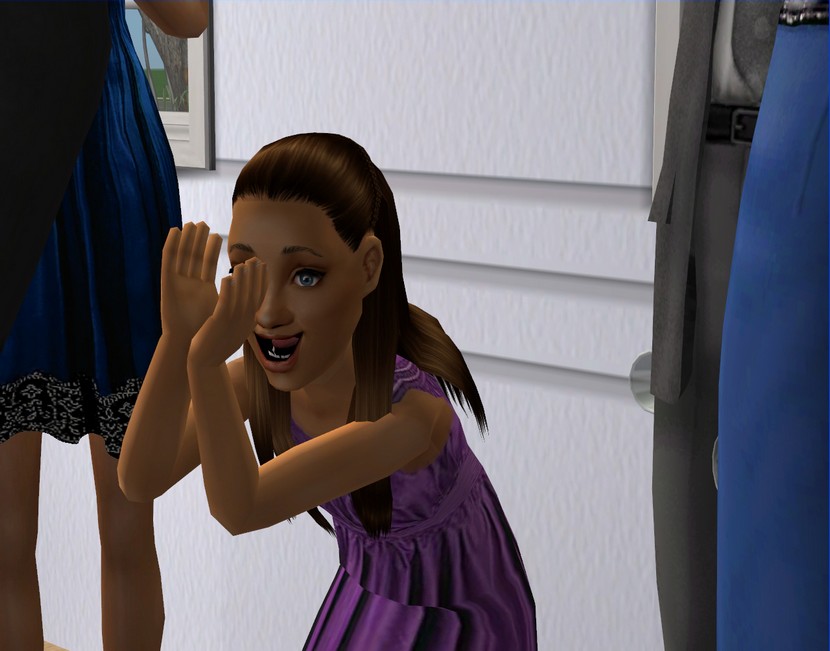 Sylvia really liked it anyway!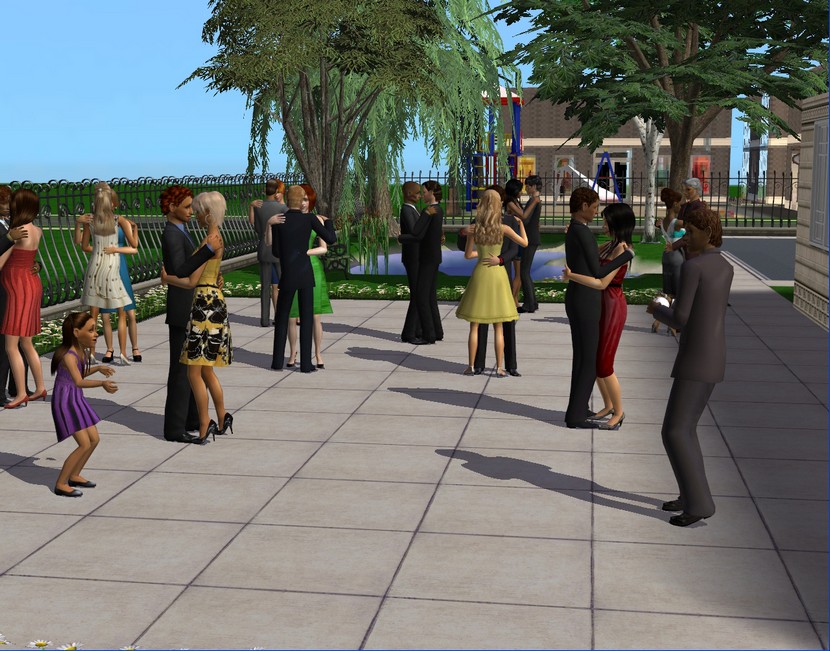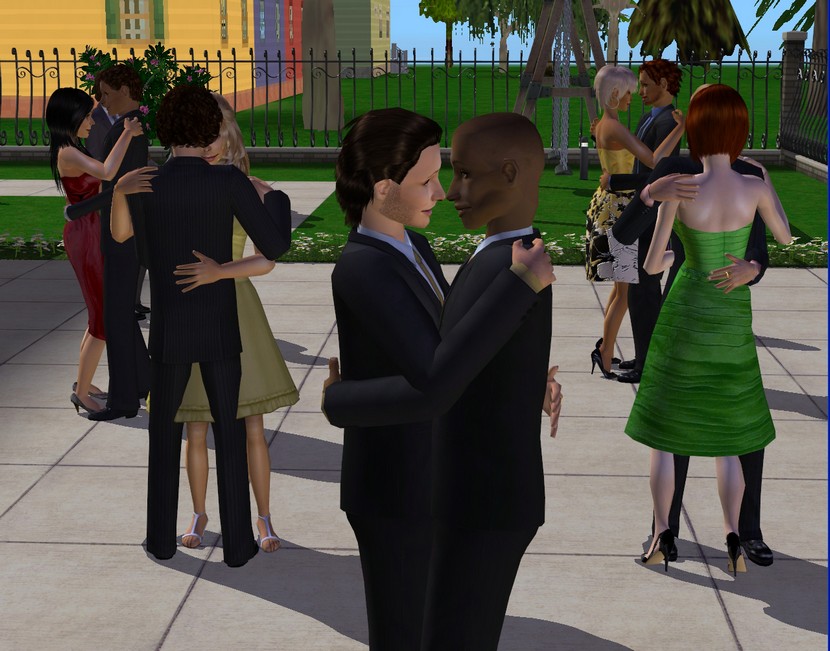 There wasn't much room inside and for much of the day, it was a little hot outside for dancing. It cooled down towards the afternoon though and we all headed outside.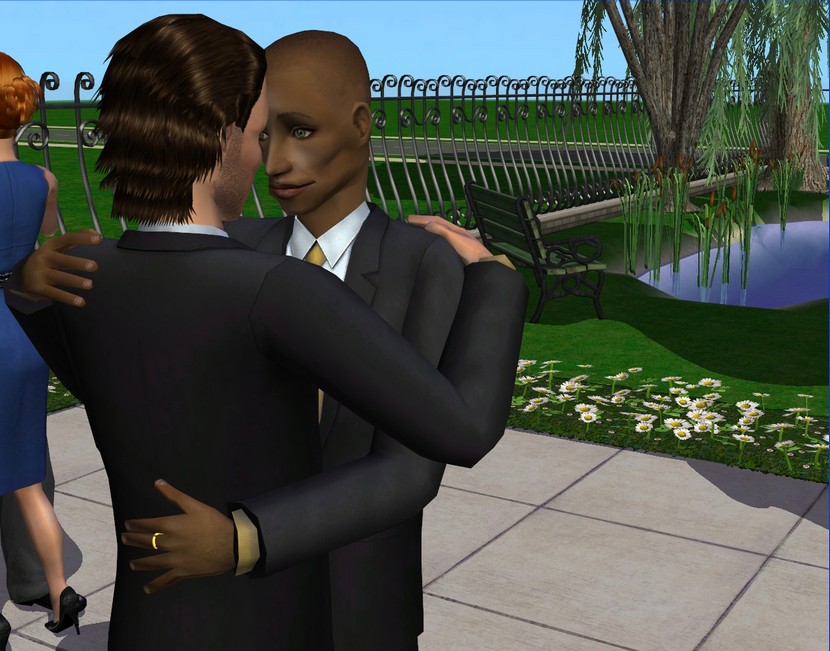 It was really beautiful actually, with the pond. It was just my kind of thing.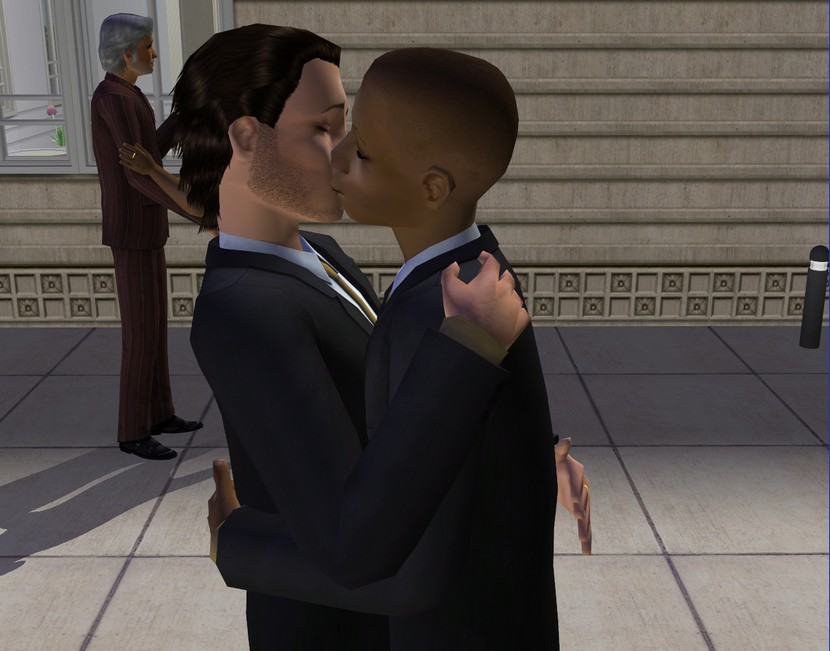 It was all perfect.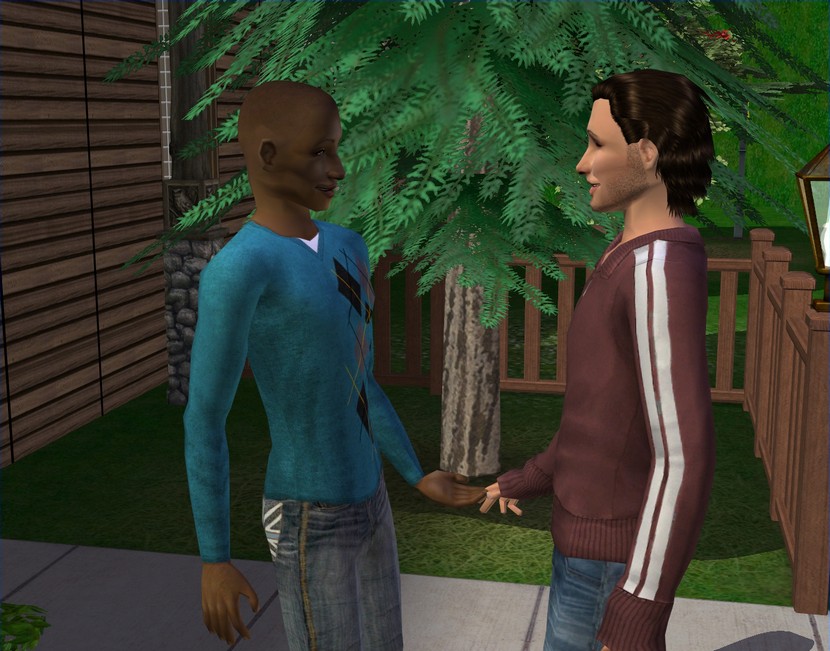 Kendal and
Lake
paid for the honeymoons of their other kids and now that we're married, they've been kind enough to give us the same gift. We decided to go to Three Lakes. We've been there before, but never just the two of us.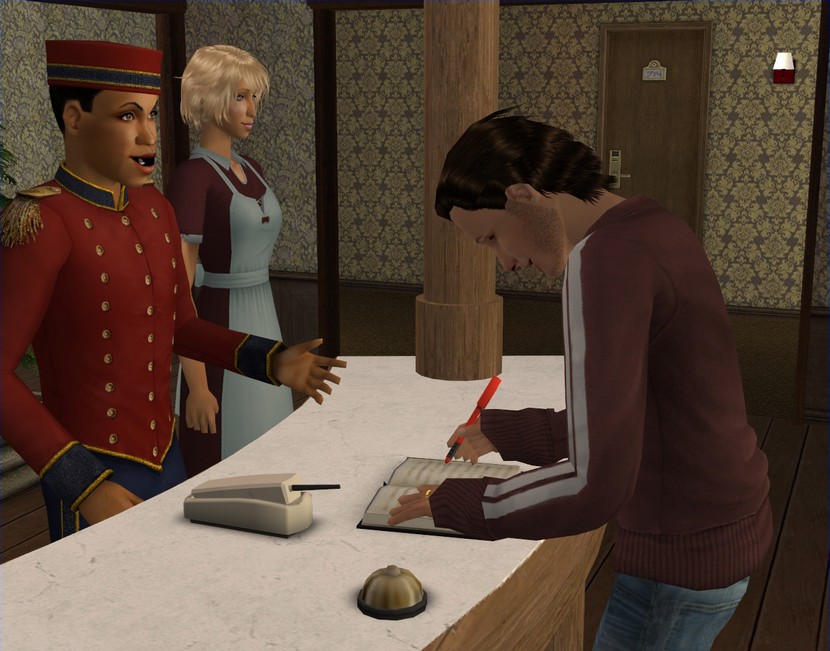 We stayed at the same hotel Troy and Josie and Patience and Rob stayed in for their honeymoons. Walking into the lobby, the place had obviously changed a lot in the last year! They weren't particularly impressed by it but we thought it was amazing.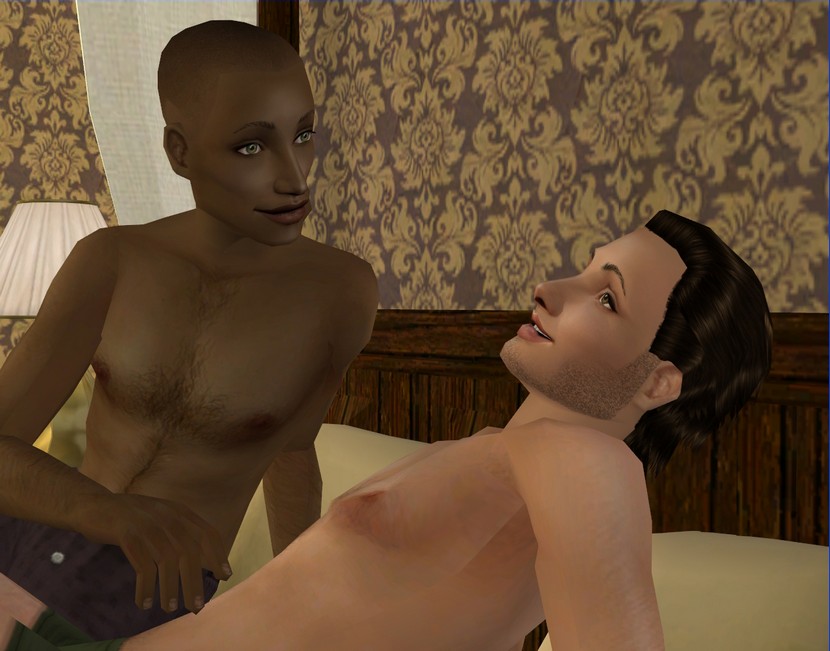 Seeing Calvin's parents were paying, he insisted on splashing out and getting the best room in the hotel. We spent a lot of time in there, so I think it was worth it.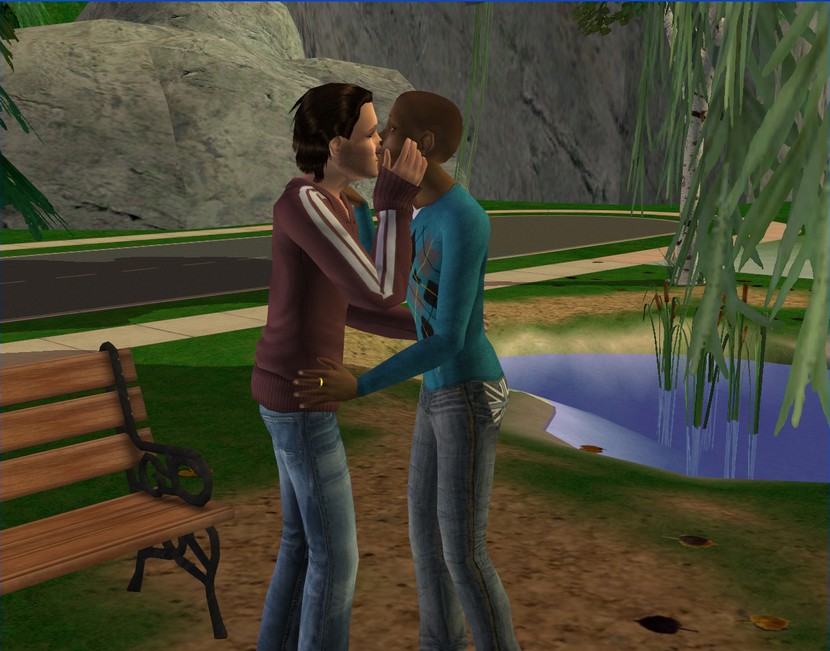 We did get out and enjoy the great outdoors a few times as well though.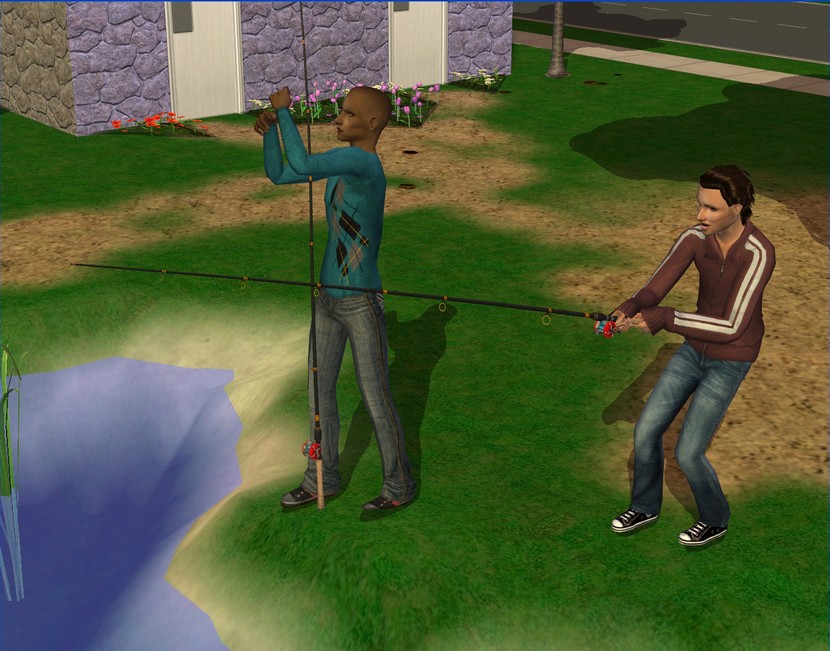 Calvin is not really an outdoorsman though. He likes his creature comforts and he was glad we had a nice comfy hotel room to go back to.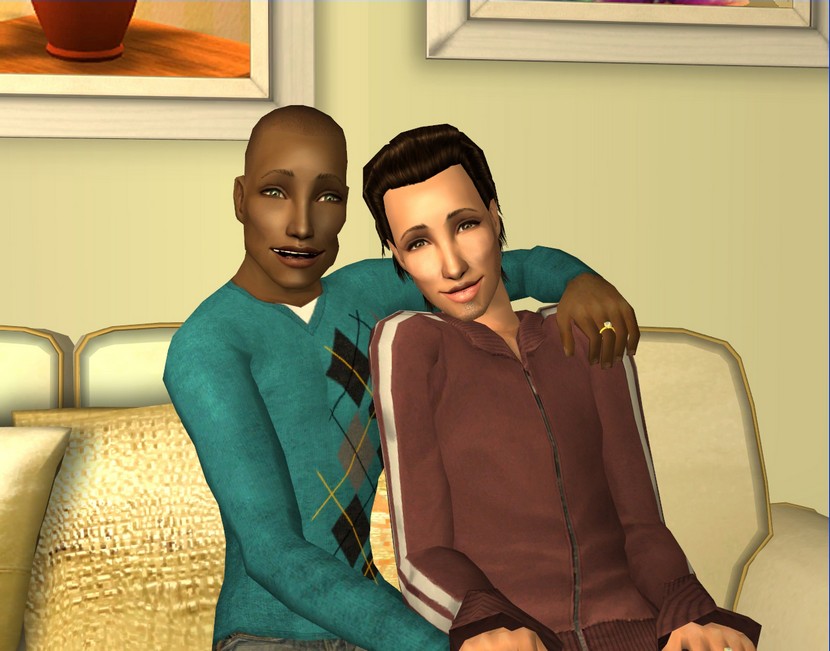 We're back at home now, though still feeling quite relaxed post-honeymoon. We're expecting Kendal to start asking us about starting a family any day now.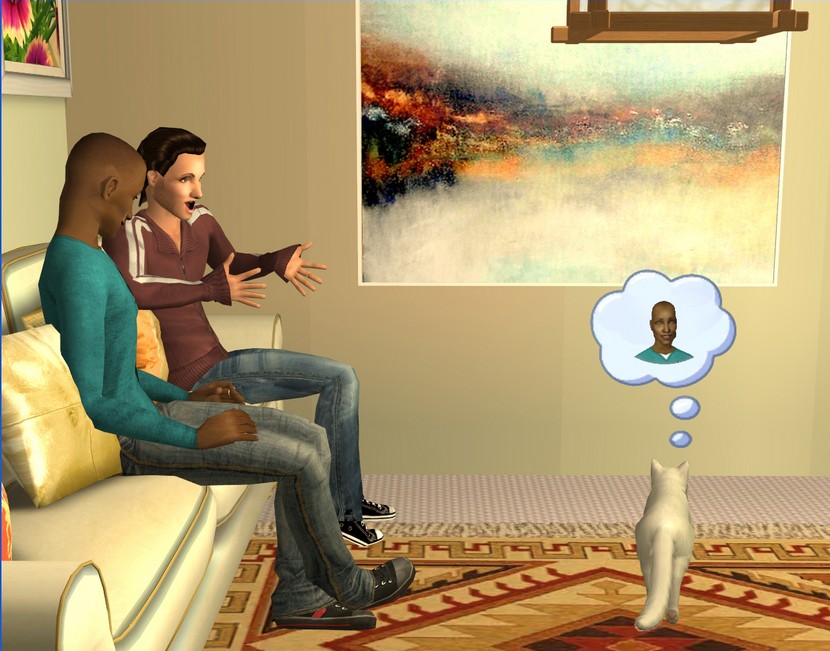 For the moment, we're content as we are - just us and the cat. We might start talking about having kids in a year or two.
Extras: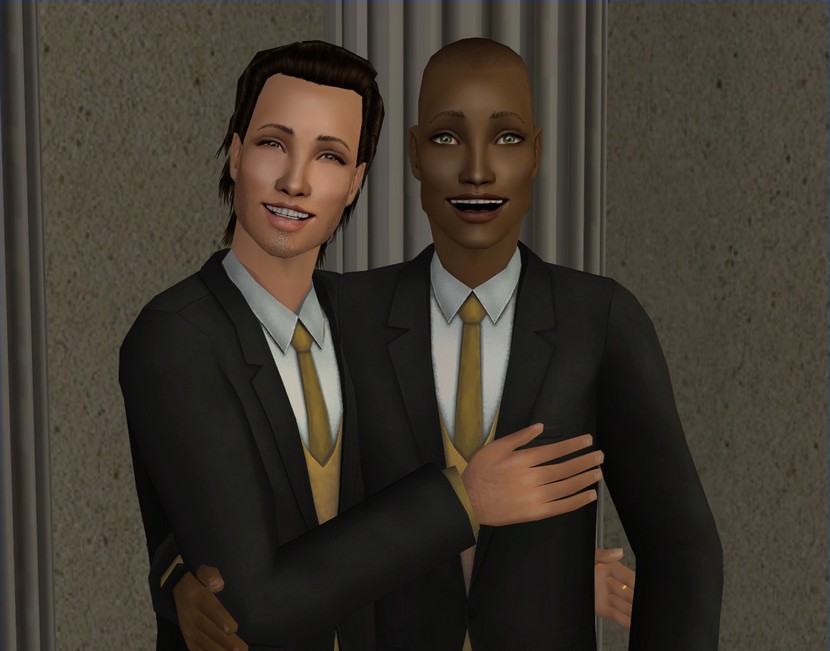 I've been using Apple Valley's
design preferences post
as inspiration for any new places I decorate lately, which has meant that I've assigned favourite colours to all my Sims. Seeing Aaron's is white and Calvin's is yellow, I decided that those would be their wedding colours.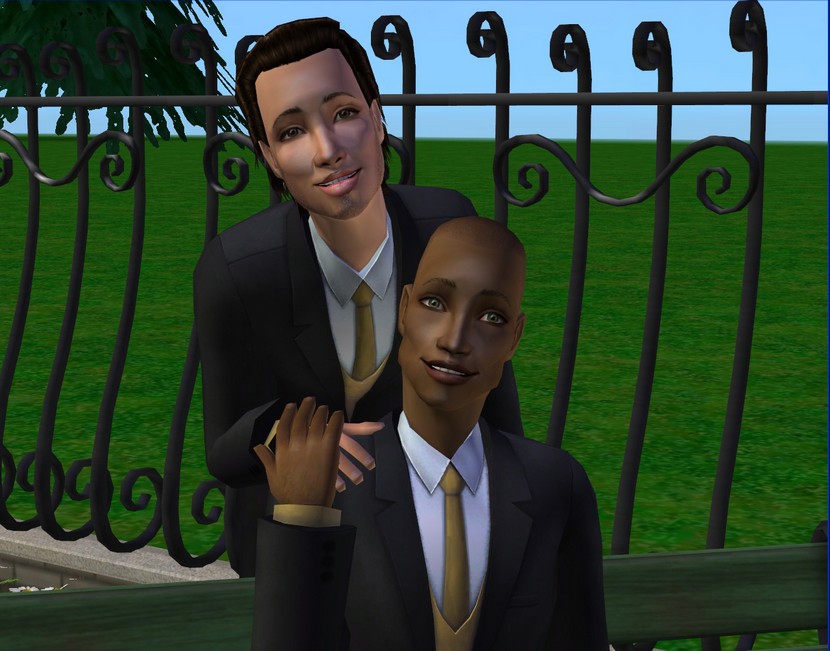 I didn't like this one when I first took it but I think I might like it a little more now.
I think this is my favourite one though.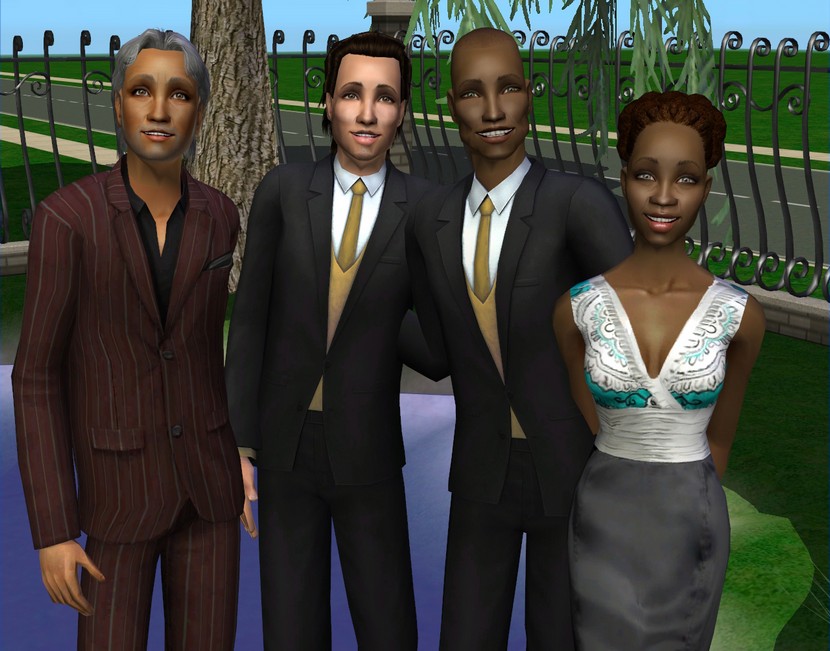 Aaron and Calvin with Calvin's mother Kendal and his stepfather, Lake. Kendal finally has both her big boys married off! She's just waiting to be a grandma now. ;)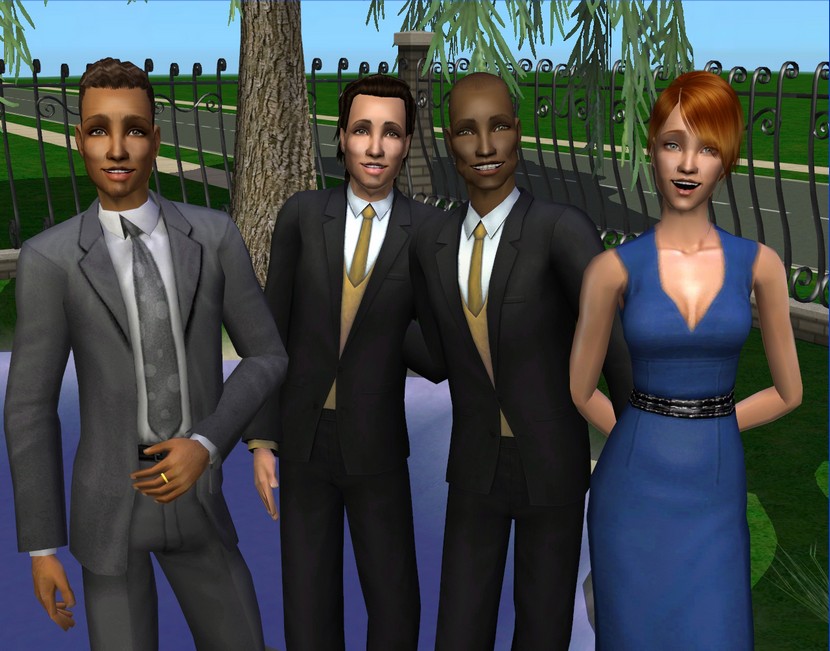 The boys with Aaron's parents, James and Madelyn.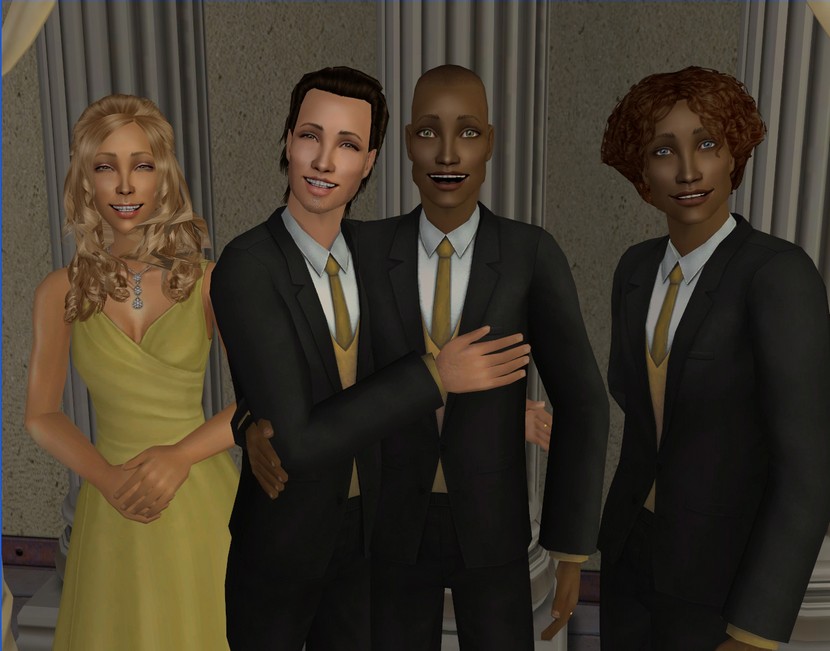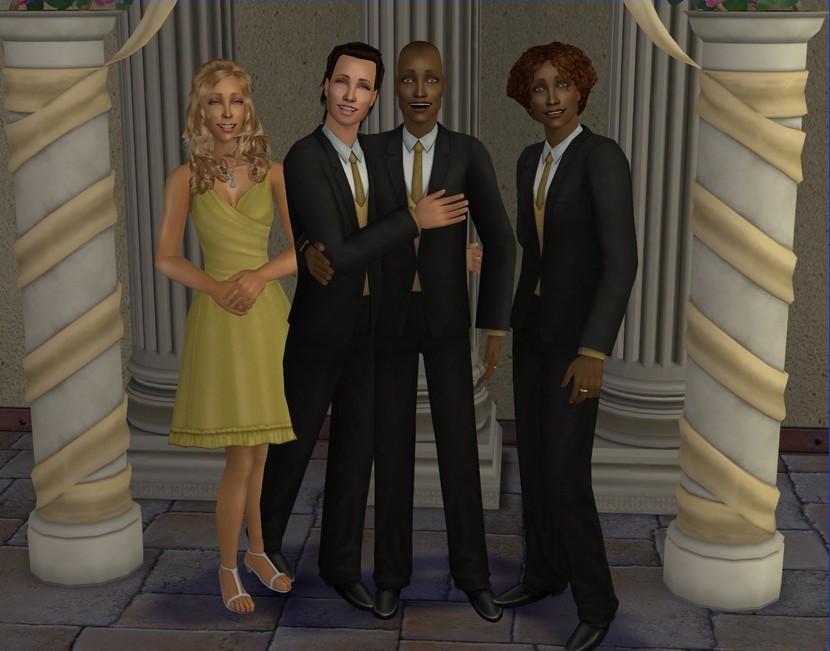 The very small bridal party: Maia, Aaron, Calvin and Troy.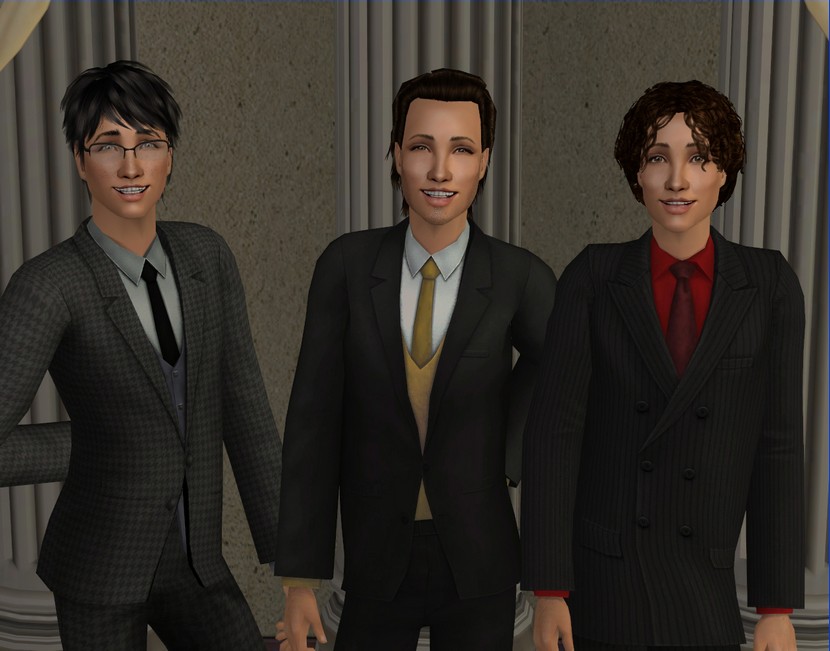 Aaron and his brothers, Connor and Ethan.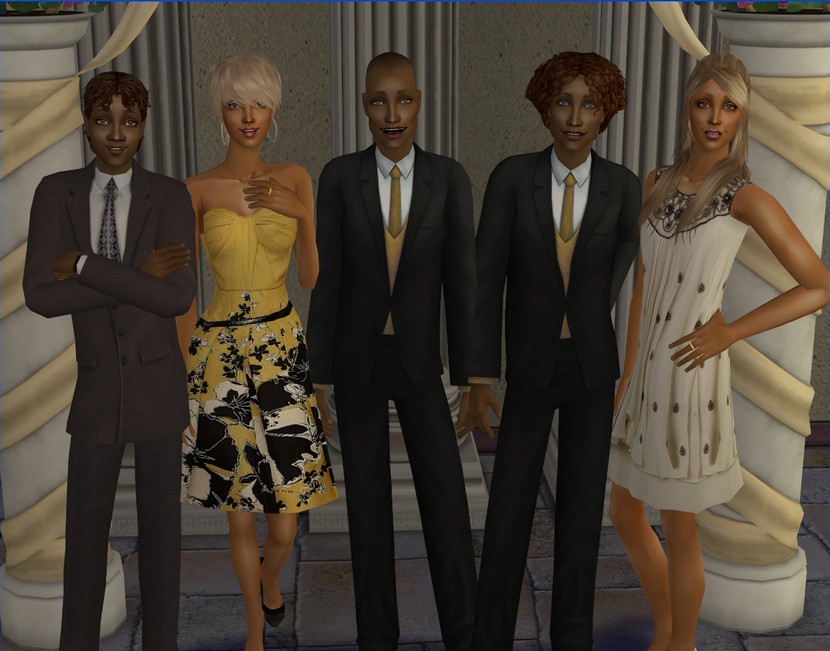 Calvin and his brothers, Chris and Troy and his stepsisters, Patience and Rose.
Outtakes: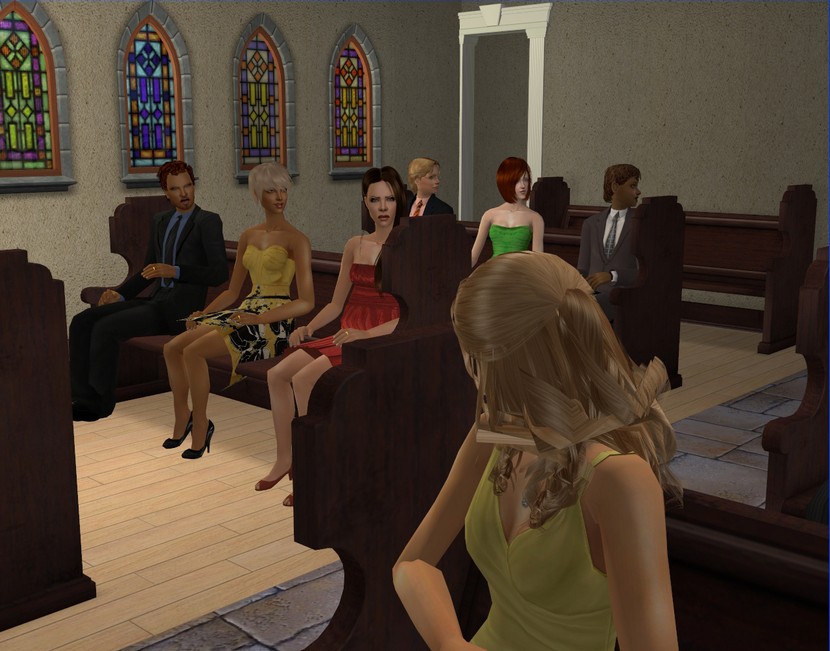 Josie apparently still doesn't like Maia. Or maybe she's just bitchy from hormones (or just from being Josie).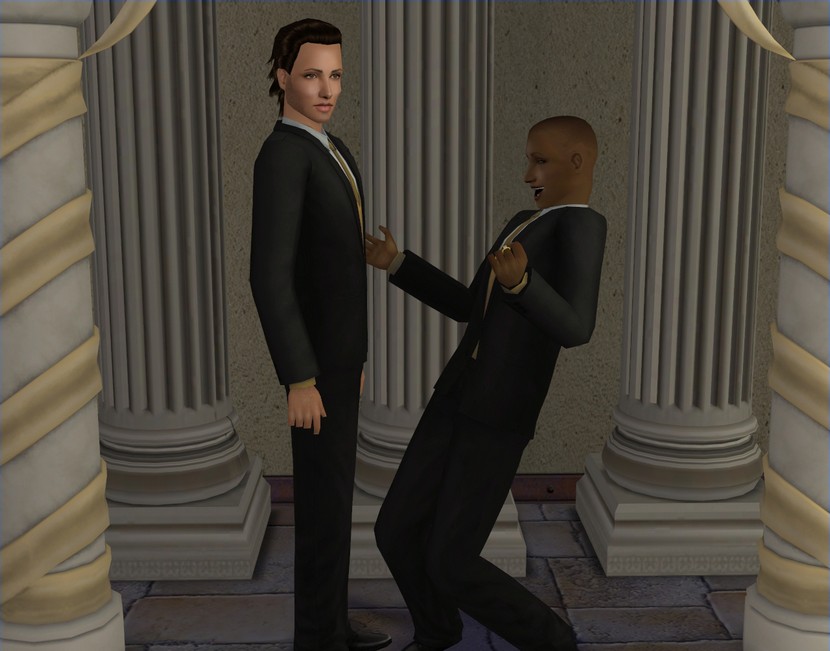 Yeah, I don't know. Is this even a thing? I don't think I've seen a Sim do this before.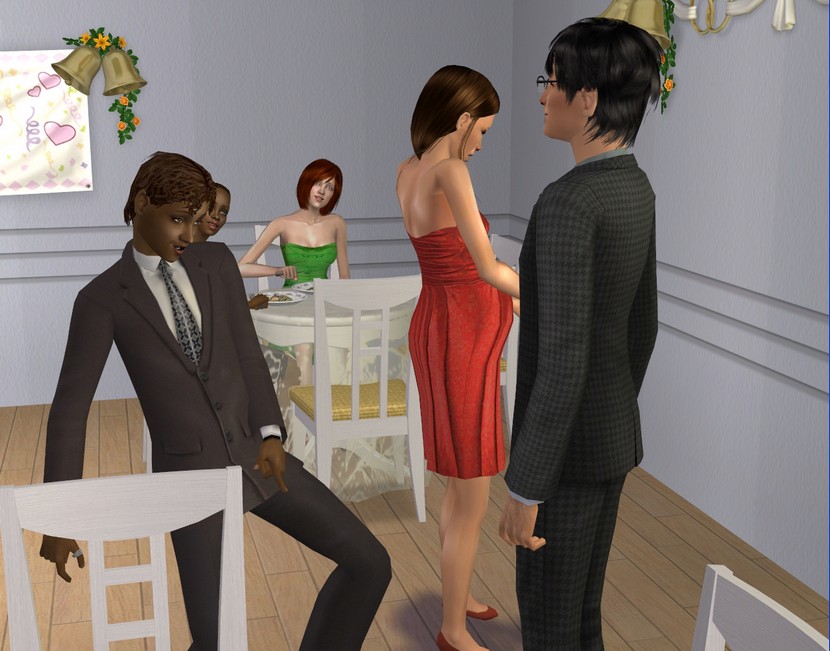 The icon in Chris's queue had Connor's face on it and was labelled "Greet". What the hell kind of greeting is that?!?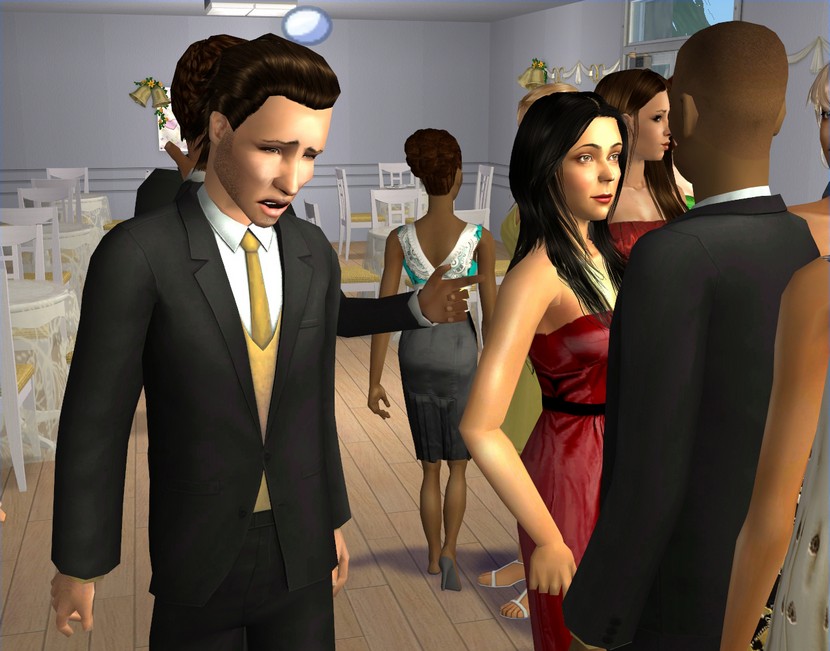 I never noticed this before but shy Sims hate that glass-clinking that Sims do after the toast at weddings!
Aaron was traumatised at the idea of making out with Calvin on cue!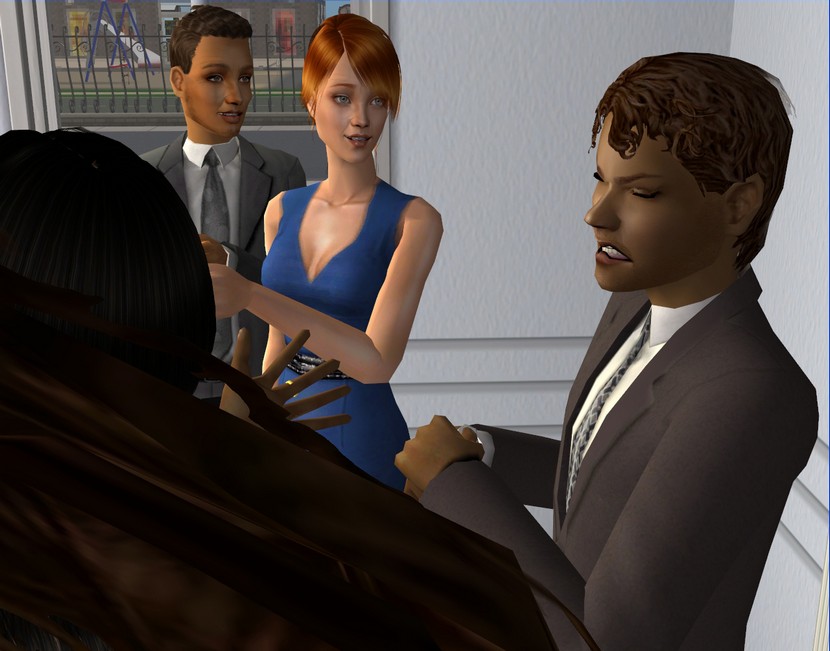 I don't know what Chris's problem is here (one year under the drinking age, maybe?) but I like how James and Madelyn are looking at him like "what the hell is this kid's problem?"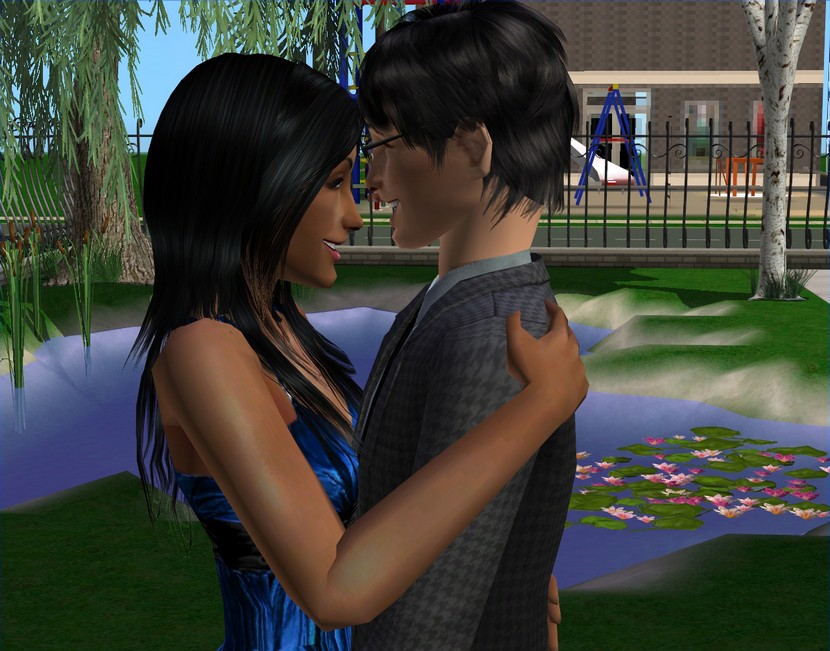 I basically just think everything Audrey does is adorable. I love her!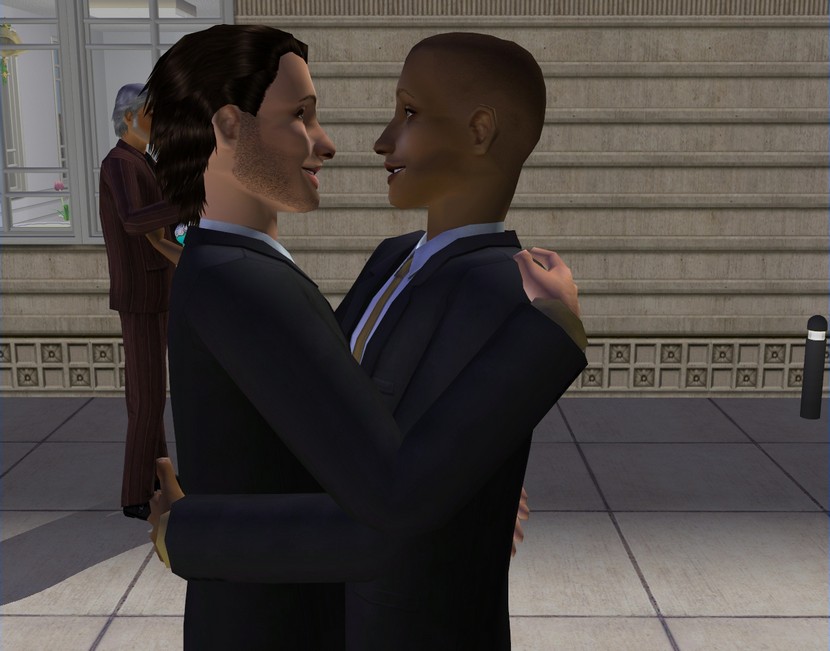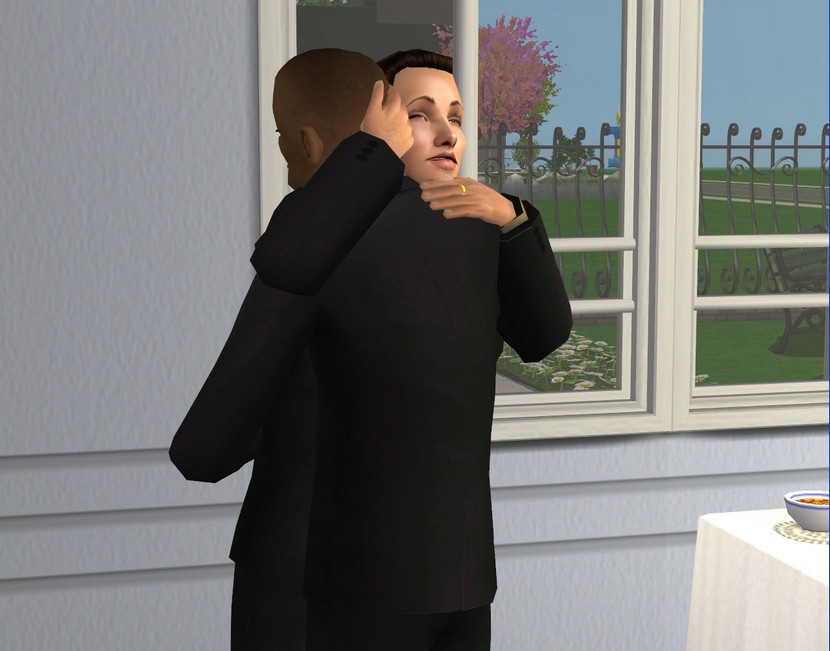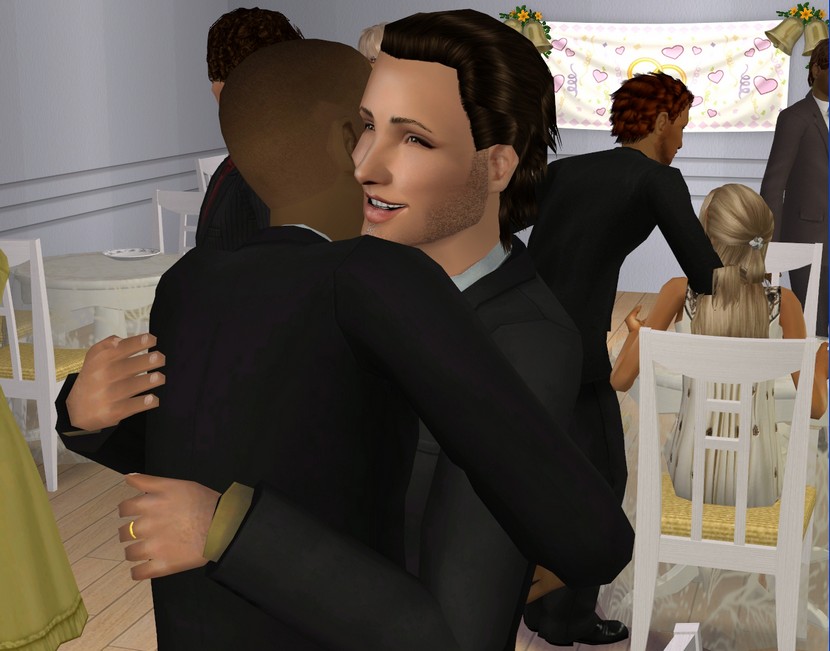 And the grooms were pretty cute themselves!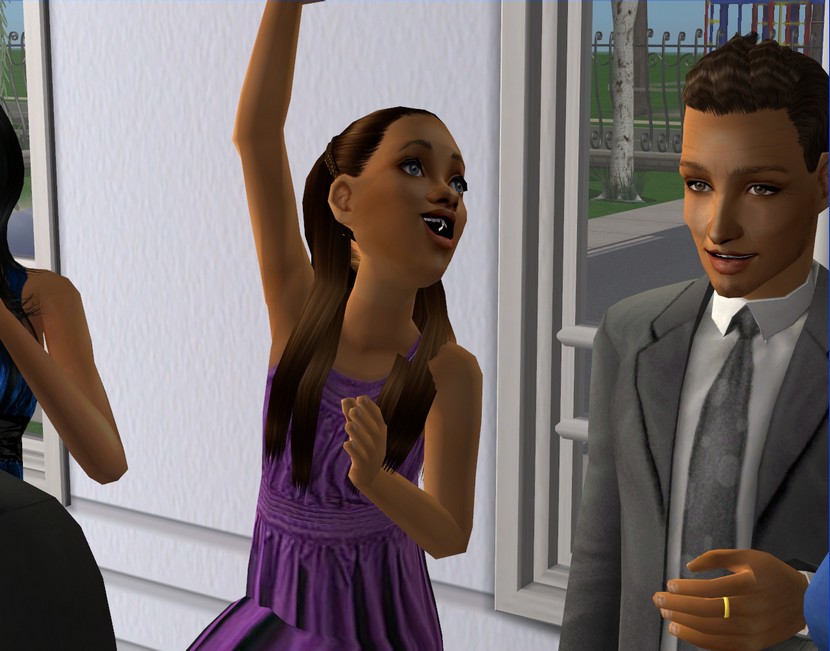 Children jump way high during toasts!
She's all the way up near James!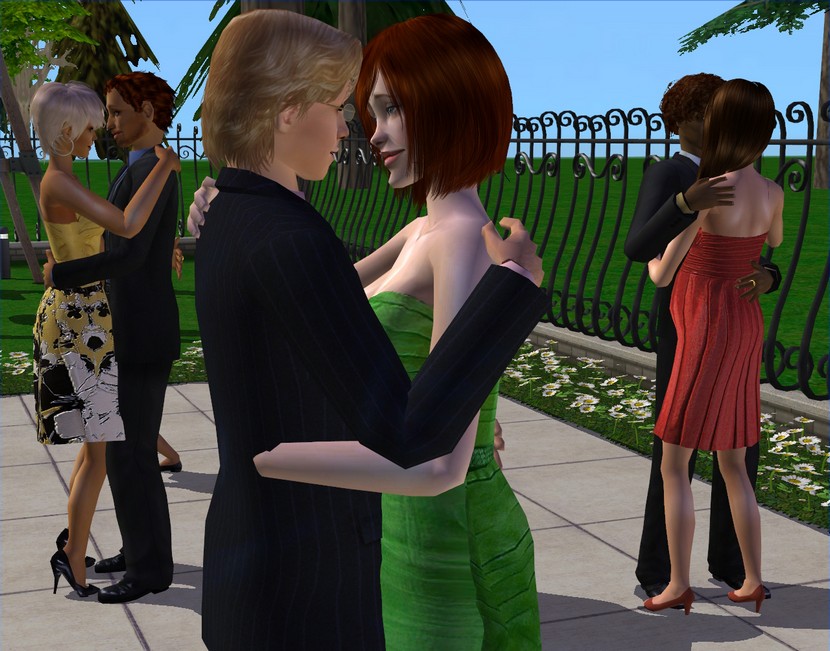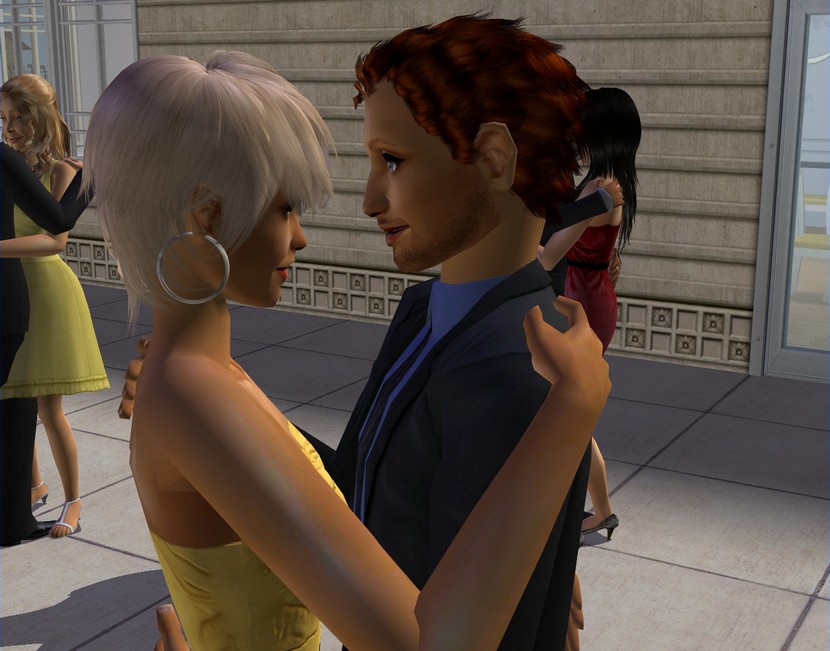 Just a couple of extra dancing pics! I always take too many of that!
Notes:
This lot is Laura's First Grace Church. I've had it sitting in the hood for ages but I will definitely be using it again. I have made some minor changes but the lot is very, very playable and handled my enormous wedding just fine!


Aaron is a Clarke now. I'm kind of excited about getting that name going again and there are so many Novaks already! Besides that, I kind of like alliterative names for Sims, so I didn't want Calvin to change his name.




The photo booth was very, very active during this wedding! ACR was working overtime! I spotted Troy and Josie in there (twice, which was weird) but I think just about every couple at the wedding might have had a go!

One of the couples will have a lasting reminder of their photo booth encounter, because somebody got knocked up! It will be written in but I'm not ready to reveal who it is yet. If anyone wants to make a guess in Comments though, have at it!

I had a really awesome photo of Calvin and Aaron in their hotel room but I can't find it now. I hate when that happens. :( But Calvin and Aaron stayed at the newly refurbished Sky Vista Hotel. I finally got sick of looking at that ugly Maxis thing!