Round 29: September 2030 (Spring)
Nick Moretti is 27 and Sarah Carmody is 25
Narrated by Sarah Carmody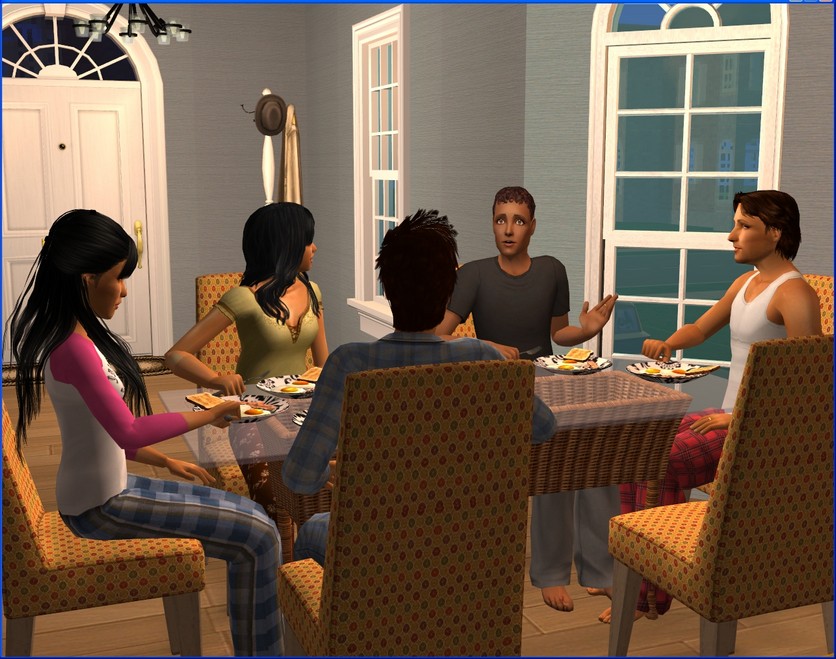 On the night before our wedding, Nick stayed at
his dad
's place, so we spent our mornings apart. Nick had a big breakfast with Caleb,
his stepmother
and siblings.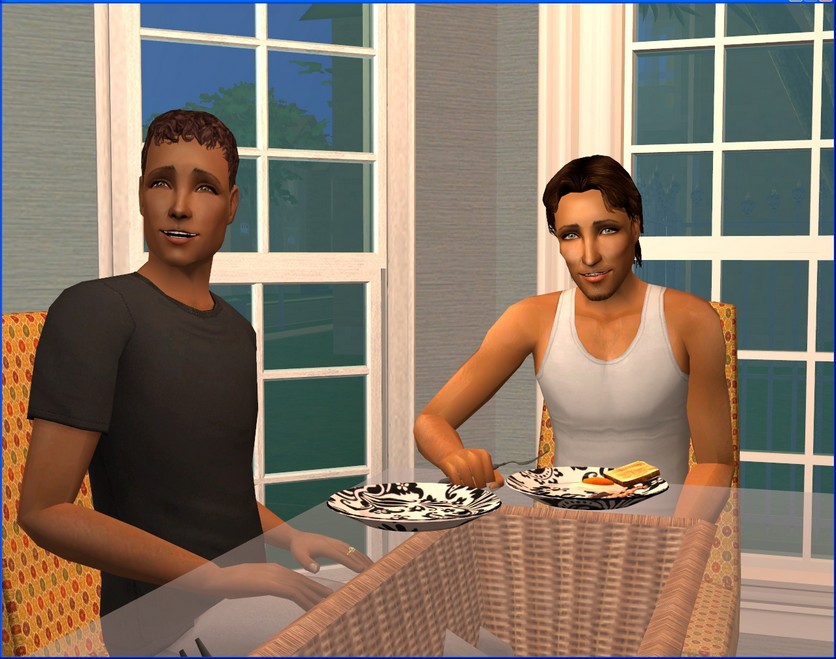 Nick moved in with me and
Mama
a couple of months ago, so the tradition of not seeing each other before the wedding seemed a little pointless. But Nick and his dad are so close, so I was glad they had that time together anyway.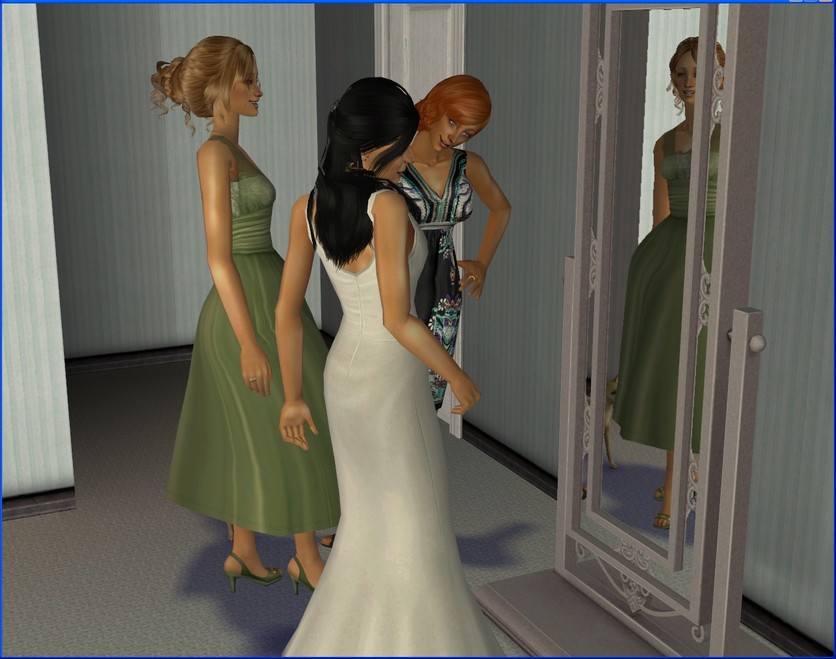 Meanwhile, I got ready at home, with Mama and
Susannah
. I never really wanted a huge bridal party, so I just had my sister as bridesmaid.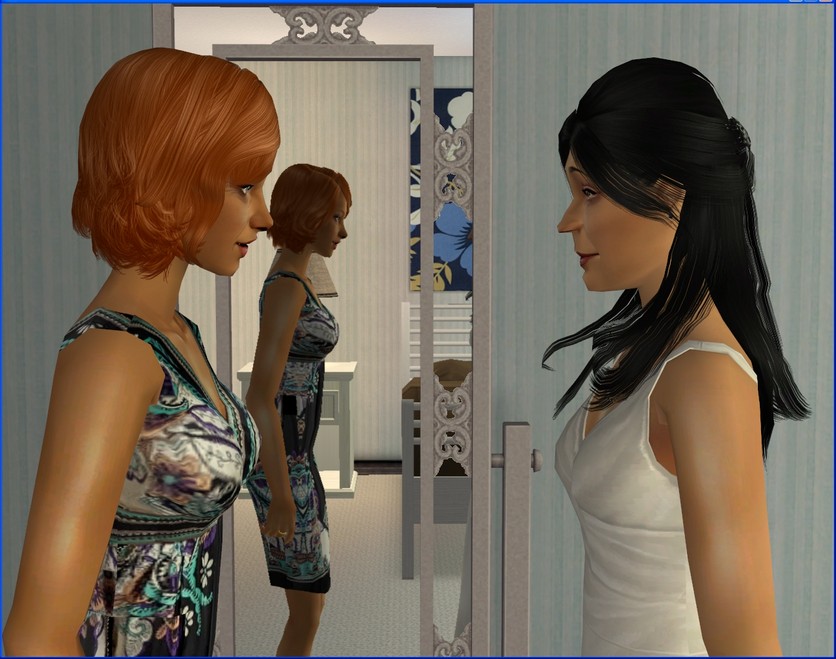 I always thought I'd feel a little sad when this day finally came and I was right.
Mum has been gone over a year now
but it often doesn't seem like it's been that long.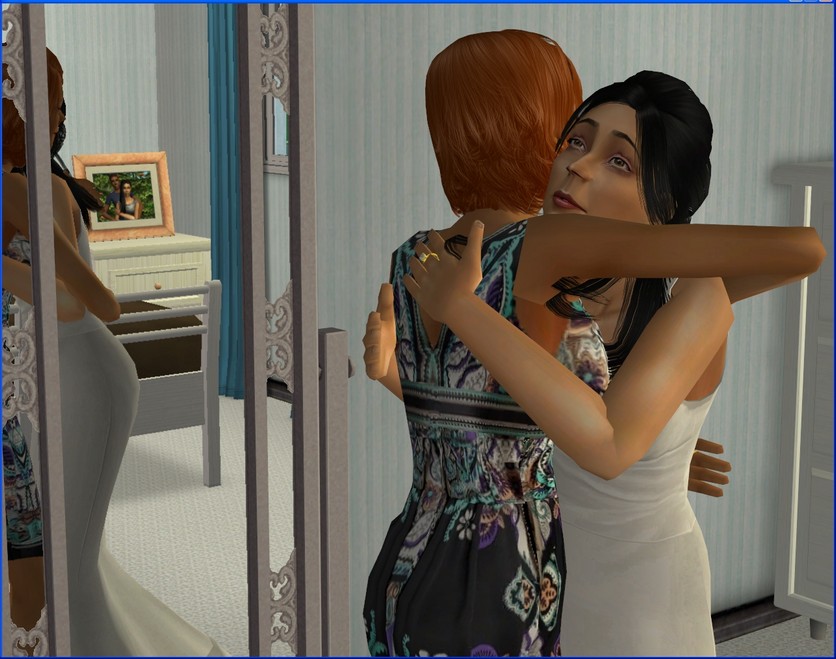 Especially at times like these, when I would have liked to have both my parents with me. It's bittersweet.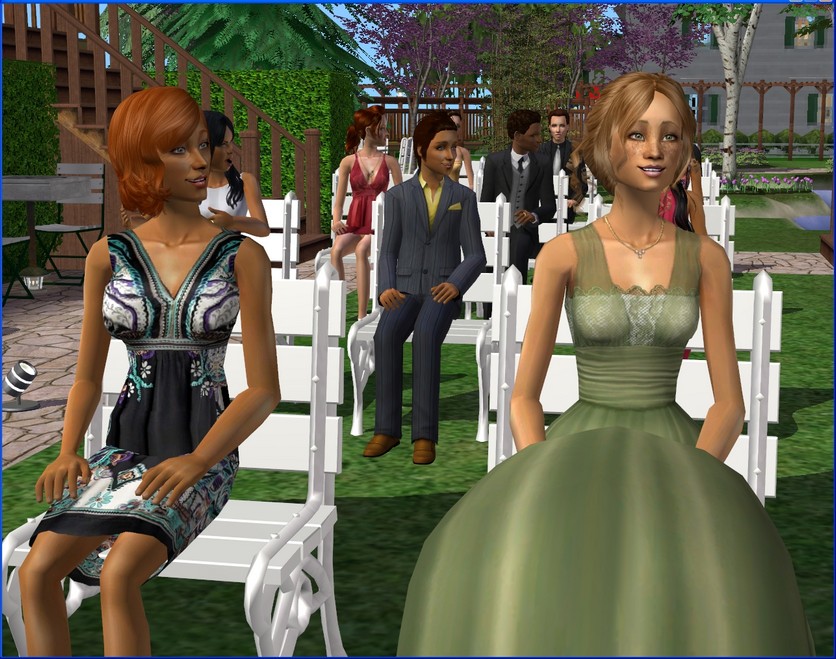 I know that Mama and Susannah were feeling the same way but it was still an exciting morning.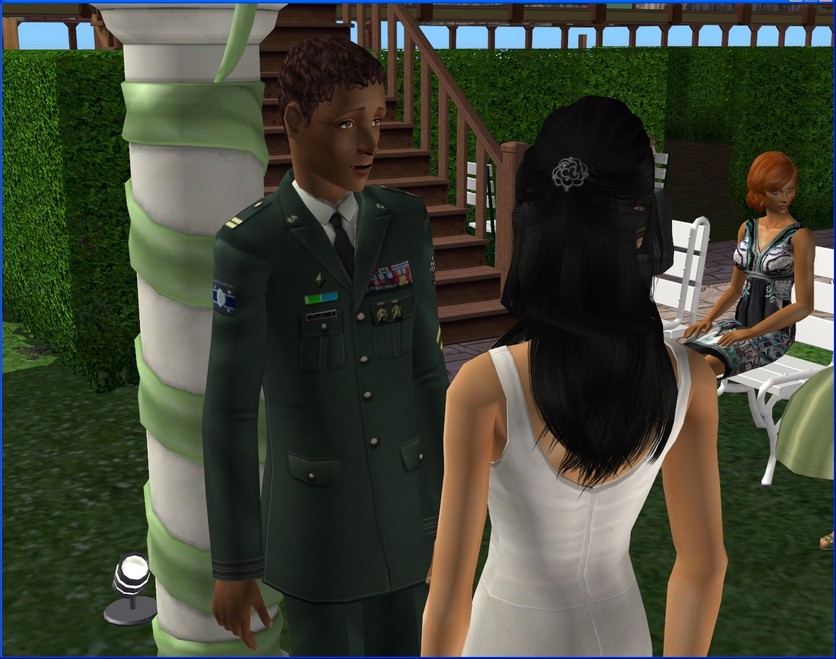 I could tell Nick was a bit nervous. Not about being married but more about getting married. He's so shy, so standing up in front of so many people is a big deal to him.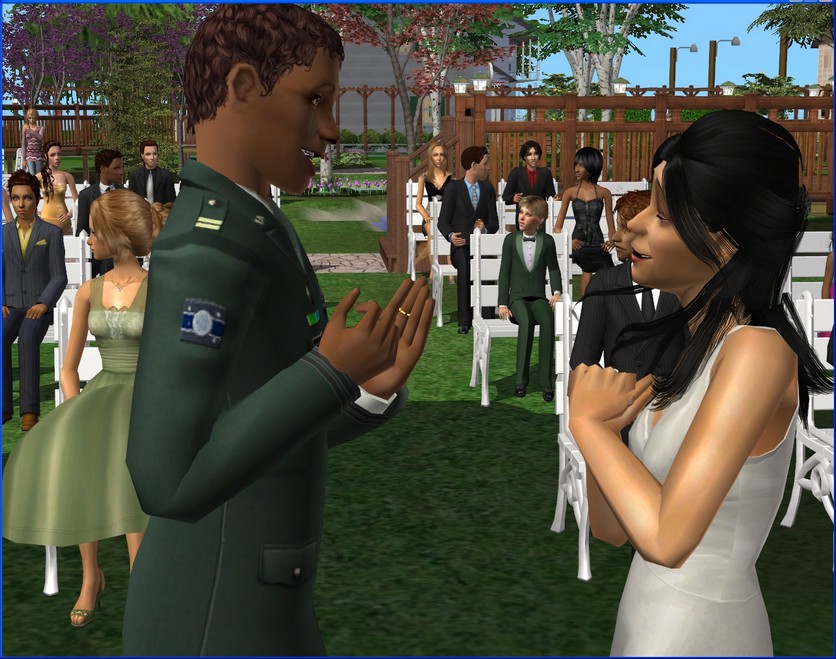 He was worried he'd flub his vows, or fall over or something.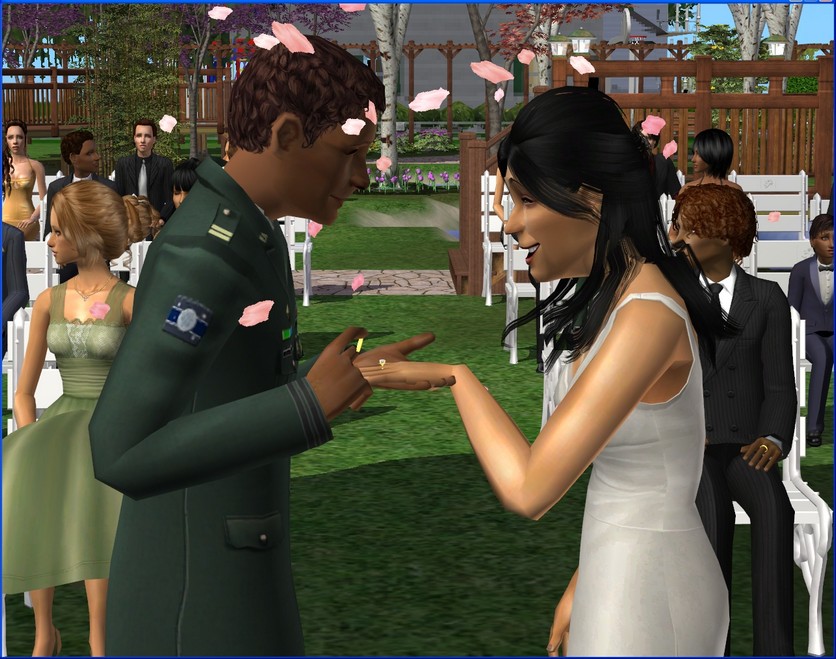 But he didn't. He said remembered everything perfectly, and said it beautifully at that.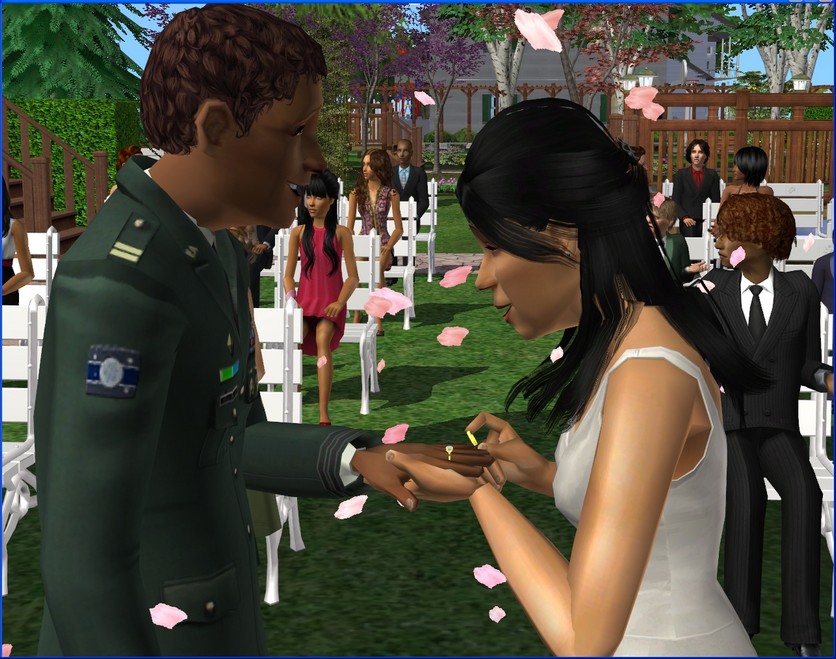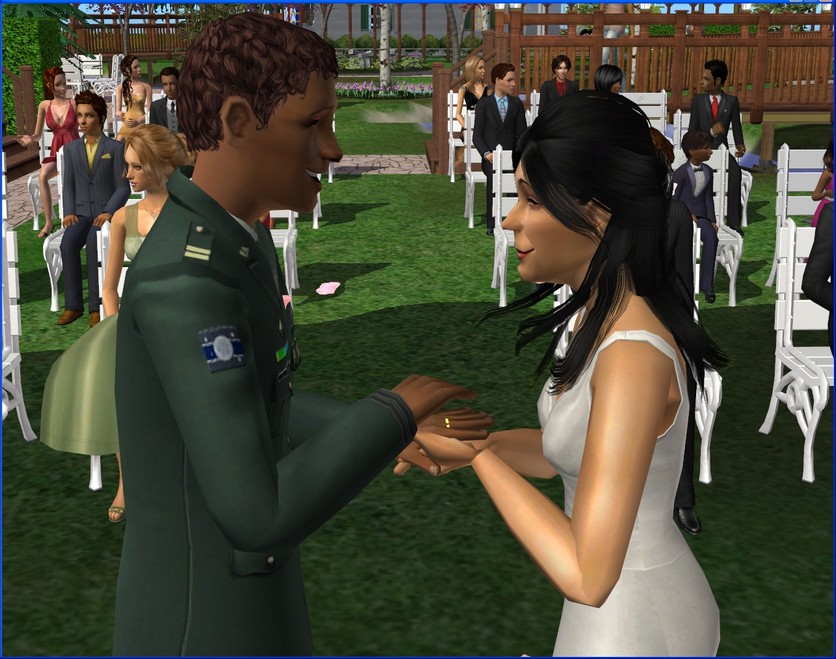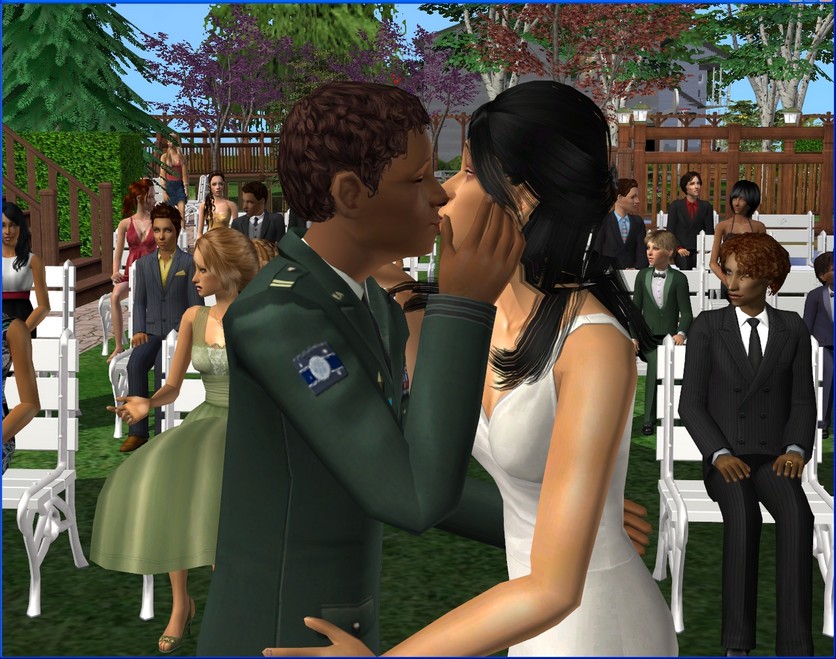 It was all perfect.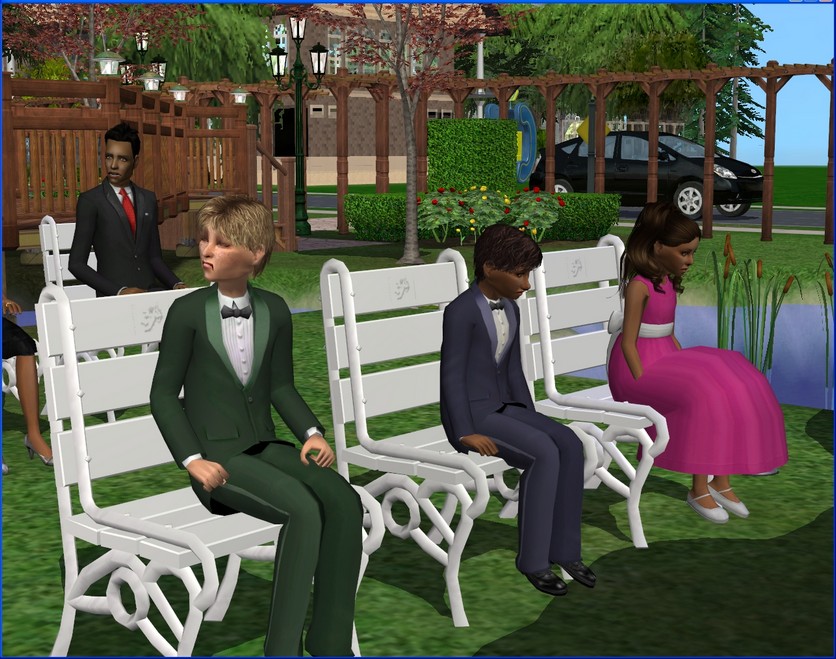 I don't think
Mitchell
,
Austin
or
Lauren
were too invested in the whole thing though. I guess weddings are sort of boring for children.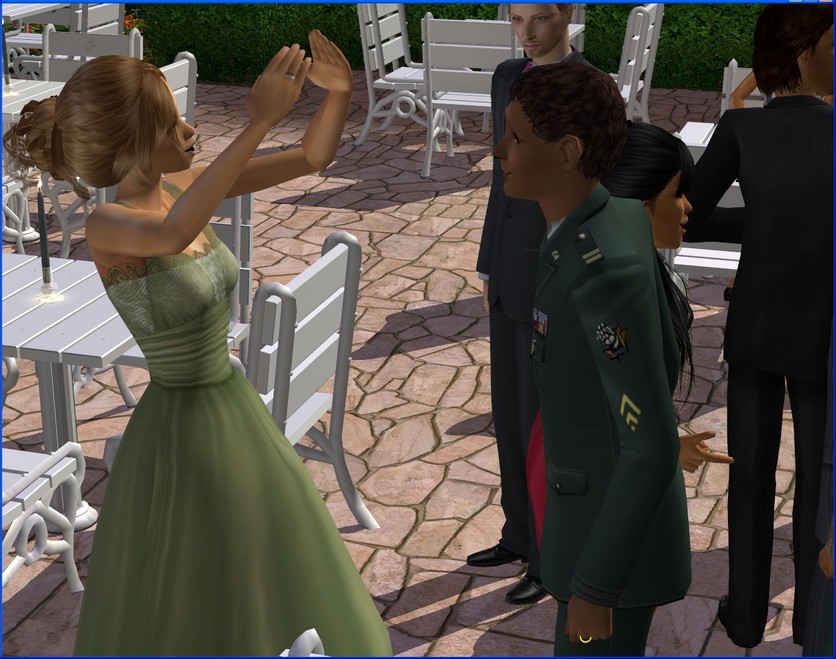 We have been so lucky with the way our two families have mixed together so seamlessly. Everyone in my family was eager to welcome Nick and his family have been just as warm towards me.
Mama and Nick's stepmother Cara are actually very good friends now.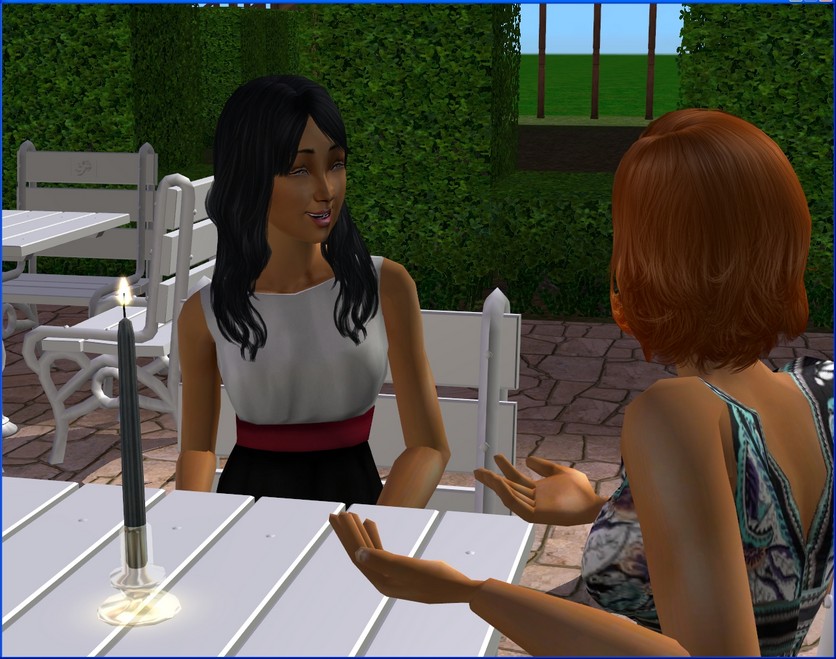 Cara took care of Mum and Mama when they were in the hospital after their accident and Mama really appreciated her bedside manner. Then it just kept going from there.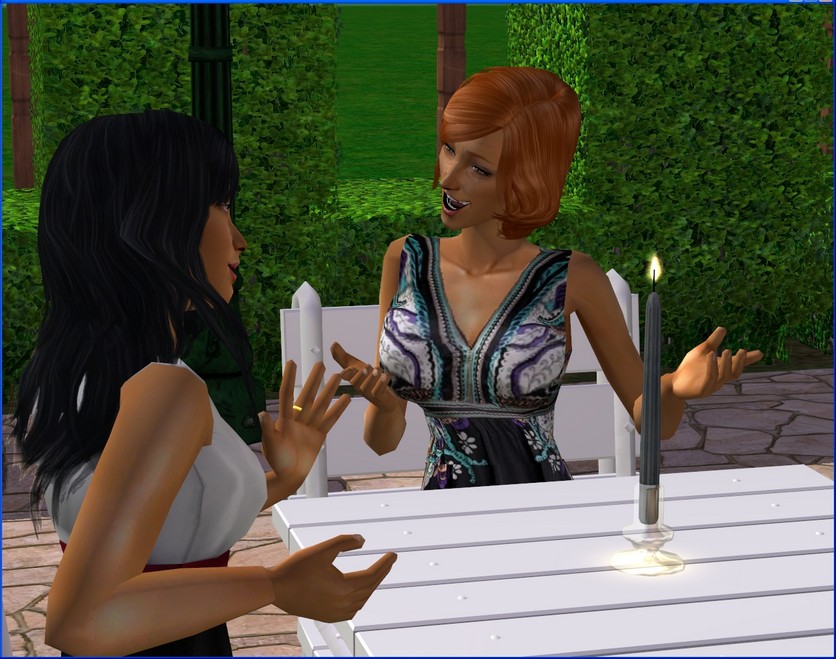 Mama can be very standoffish at times, even with people she knows, so I'm happy she's been putting herself out there with Nick's family.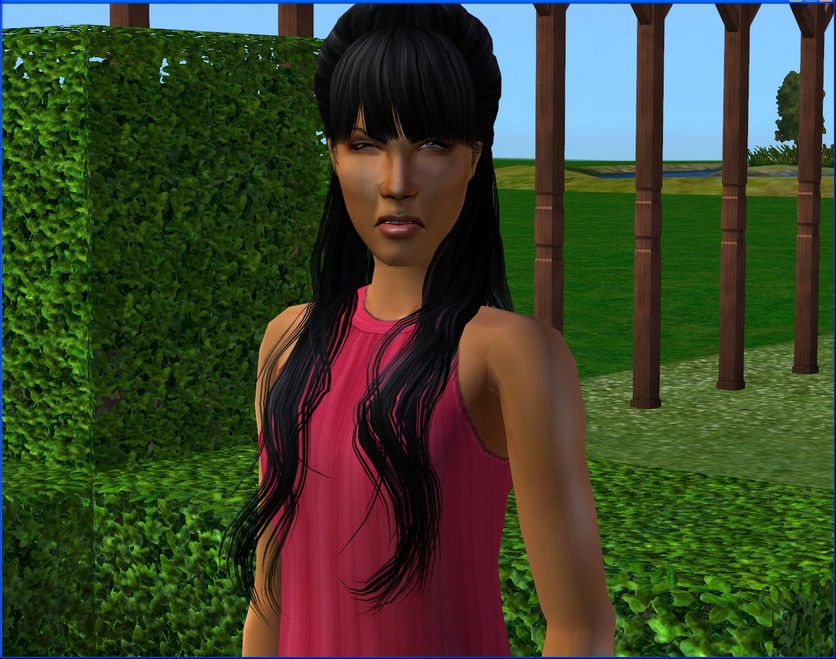 Nick's family are all really sweet. Except maybe
Veronica
. She always seems so angry at the world, or something.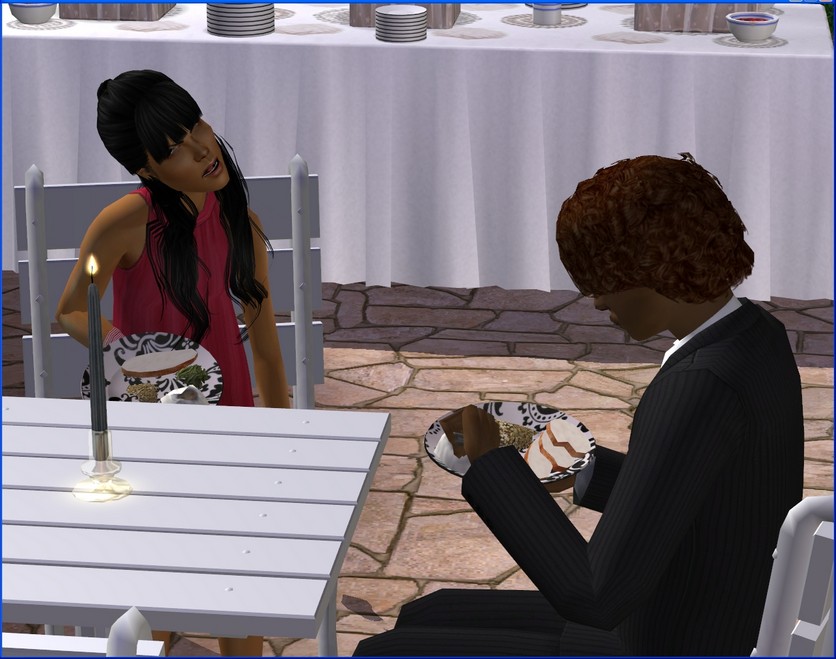 Nick says she's just being 13 though. I guess it's kind of an angsty age.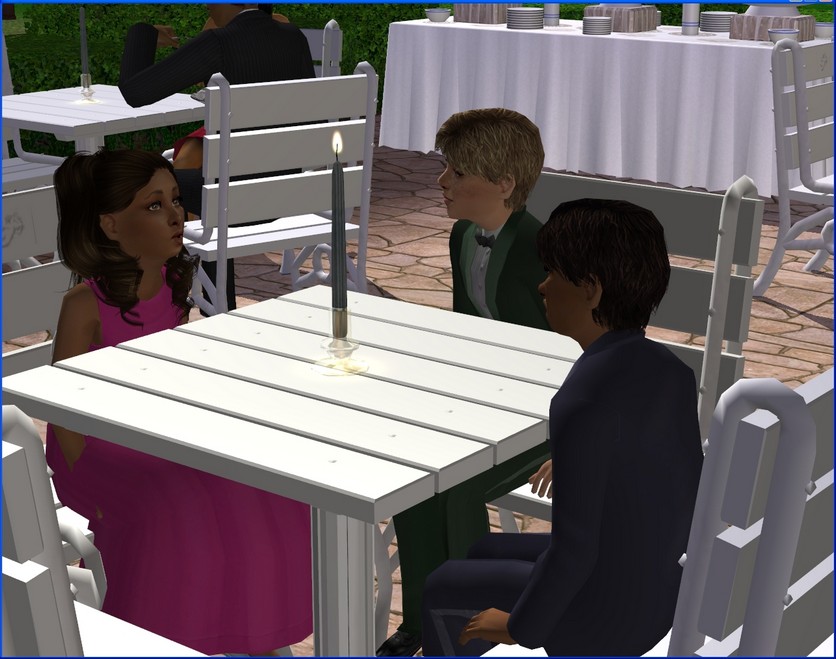 Nick's family is so huge and absolutely full of kids!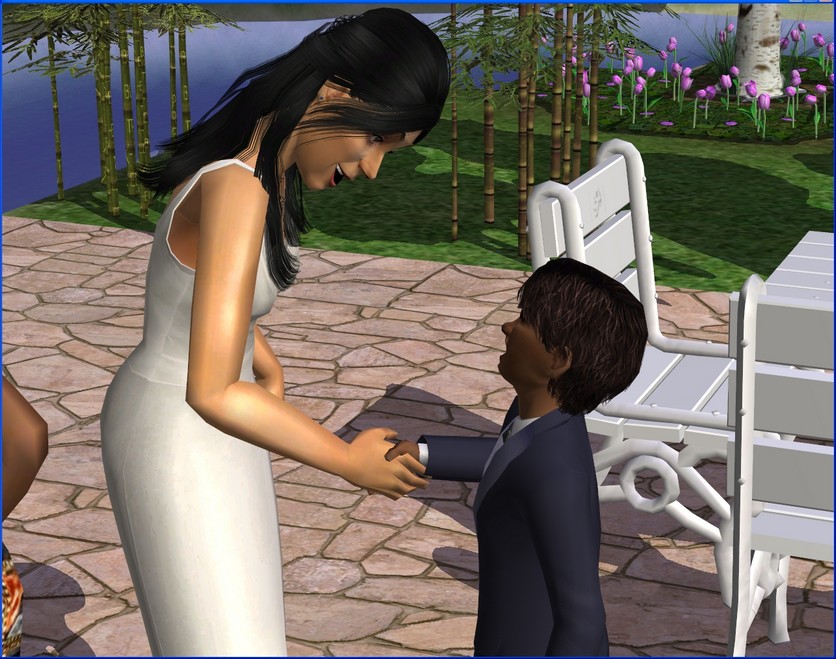 It's taken a little getting used to, seeing our family is tiny and right now, there are no kids at all.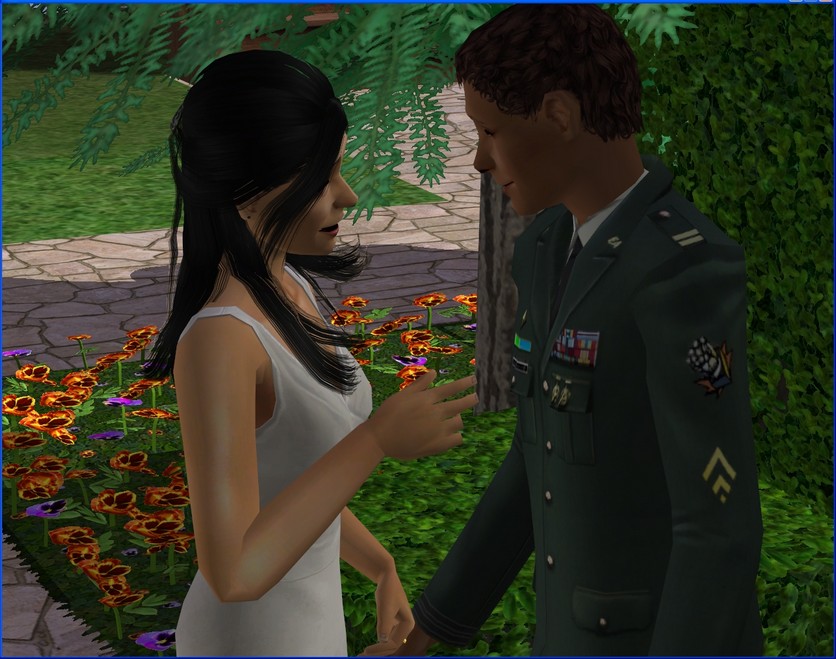 But Nick and I are hoping to change that very, very shortly. We want to start trying for a baby right away.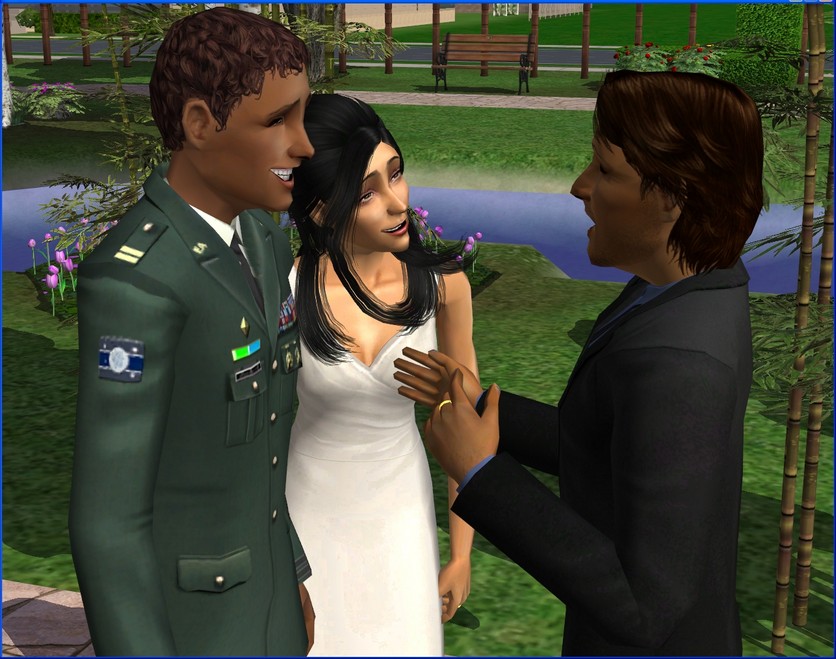 Caleb is a little dazed at the idea of becoming a grandfather before the age of 50 - he tells us we're making him feel really old!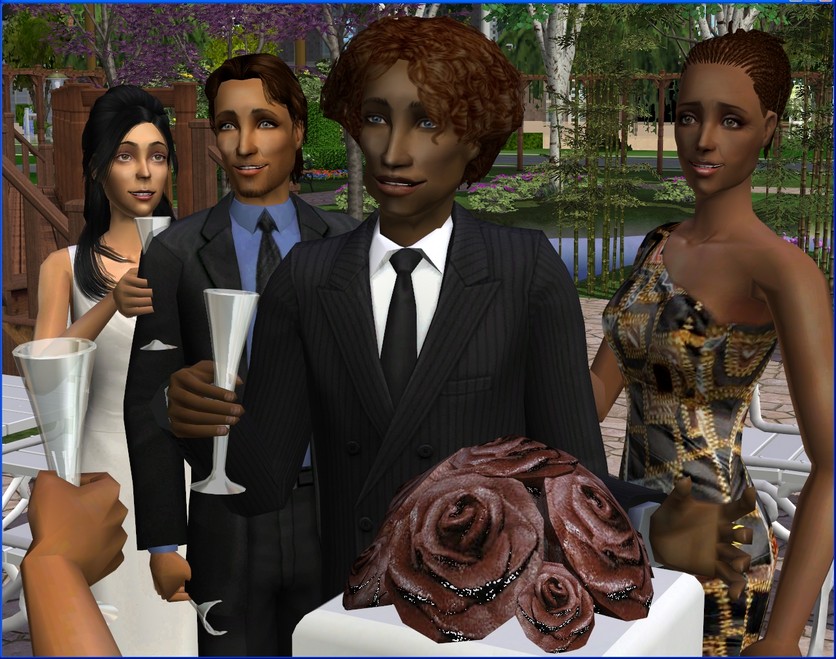 Instead of having everyone sit through dozens of toasts, we tried to keep it short. Seeing
Troy
is a close friend of both of us, we had him do just the one toast. He knows us both so well, so he was a natural choice.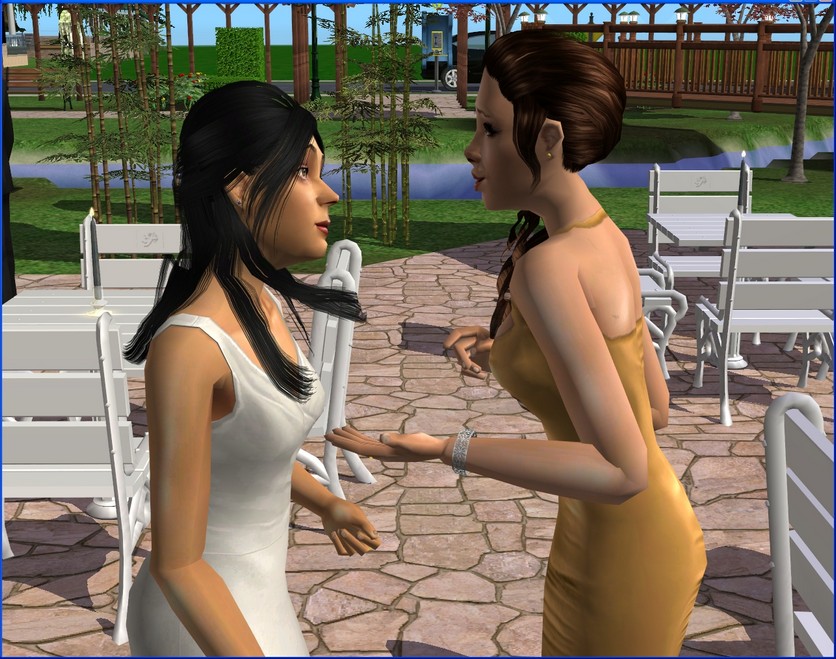 As for Troy's wife,
Josie
, well...I'm trying my best with her. At the very least, I think she's finally accepted that I'm not after Troy, like she assumed I was when we were in college.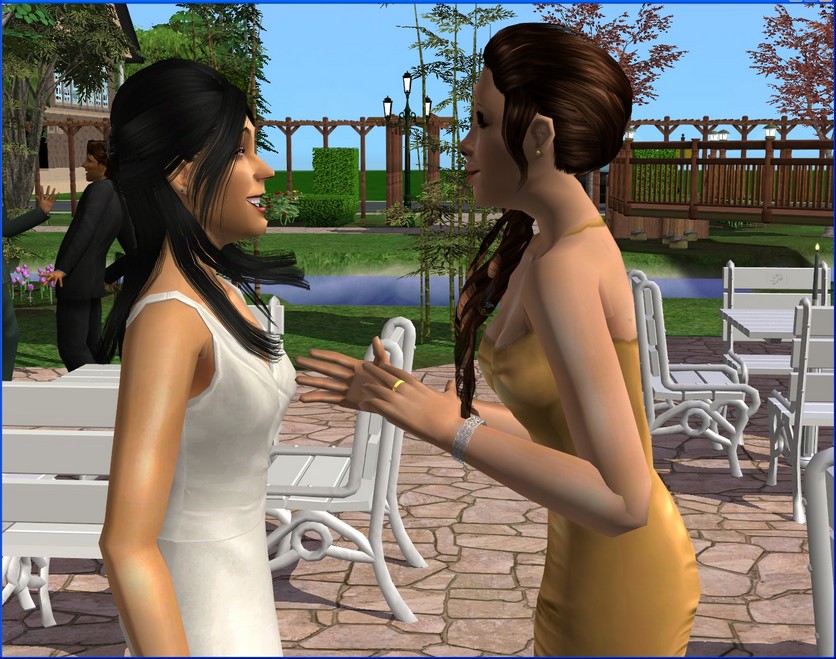 We don't have a lot in common but we're going to be seeing each other a lot, so we might as well get on.
Nick is still very close friends with his ex,
Maia
, who is now dating
my
ex,
Ethan
.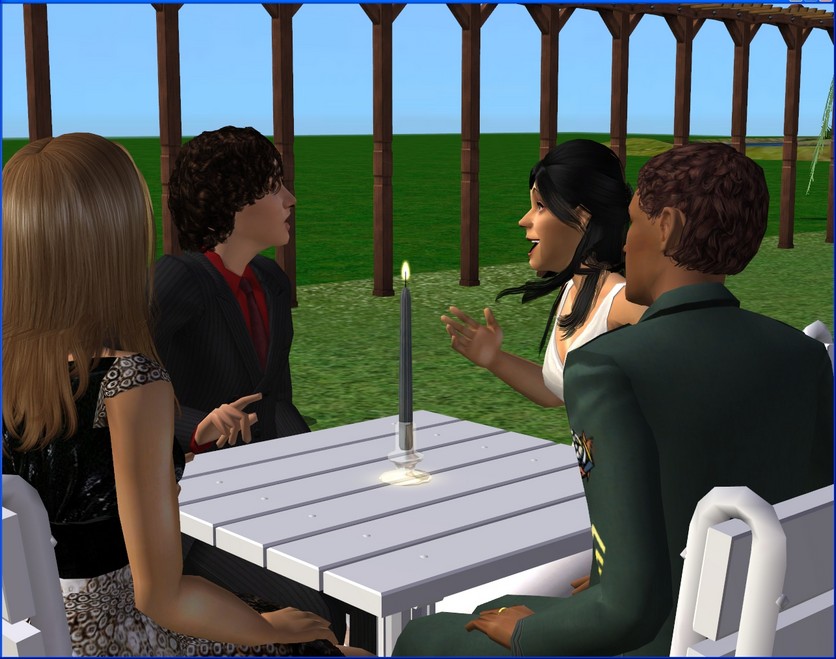 I thought it would be a little strange having Ethan at our wedding but it wasn't thankfully. That was all the way back in high school and I like to think we've put that behind us now.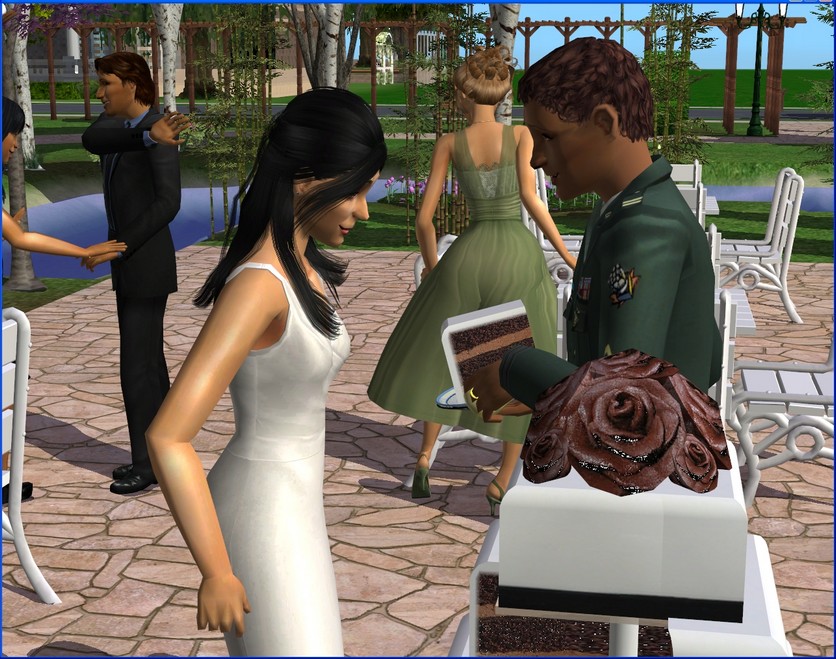 Caleb says elaborately decorated cakes are slightly out of his range of ability but he did manage to score us a really great one, at a lower price. It pays to have connections in the restaurant industry!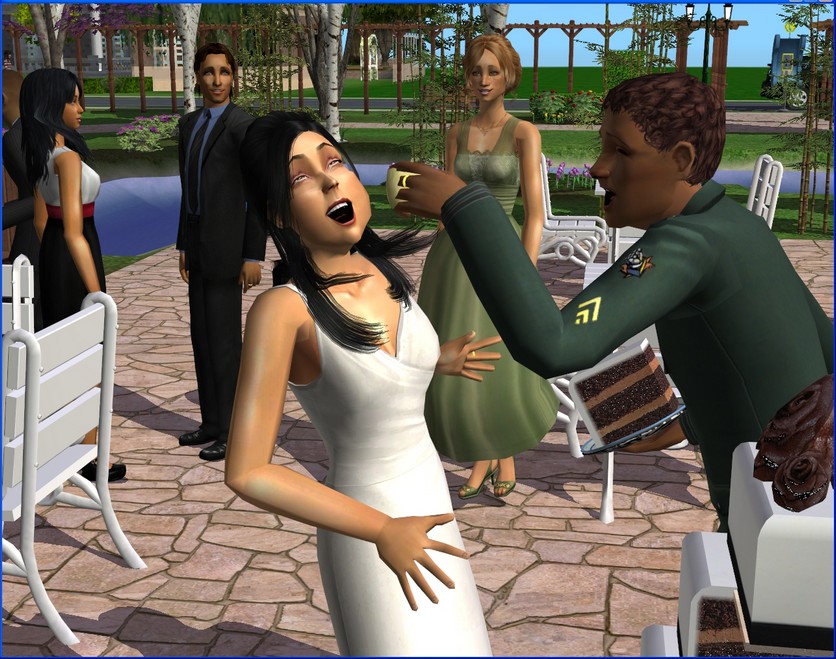 It was delicious but I don't know that Nick needed to smush so much of it my face. Nick's always kidding around like that.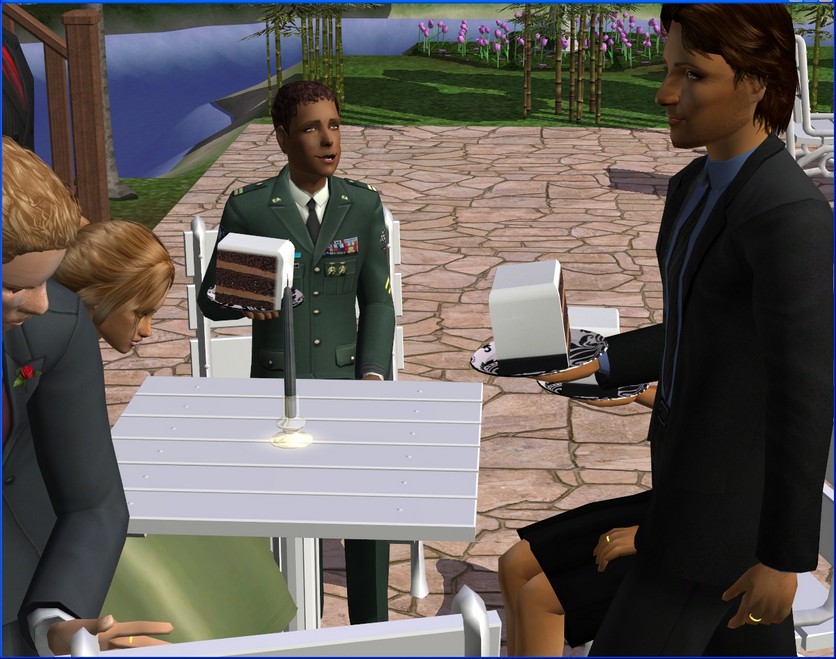 I guess the cake looked good because there was a mad rush for it as soon as we cut it. Nick and I got separated and we ended up eating at separate tables!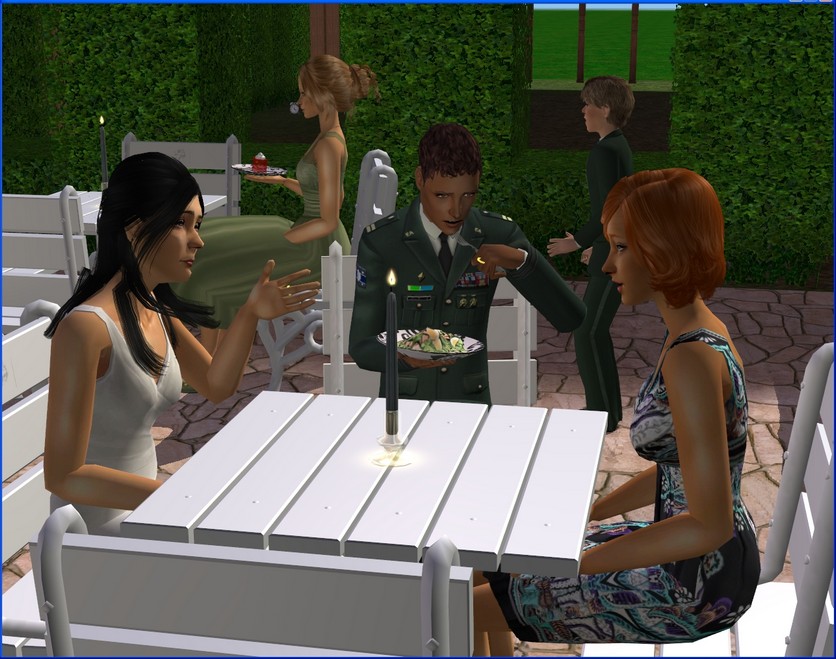 But Nick came and joined us later when he had seconds on lunch. We sat down with Mama, which was actually the first time I'd really had the chance to talk to her since that morning.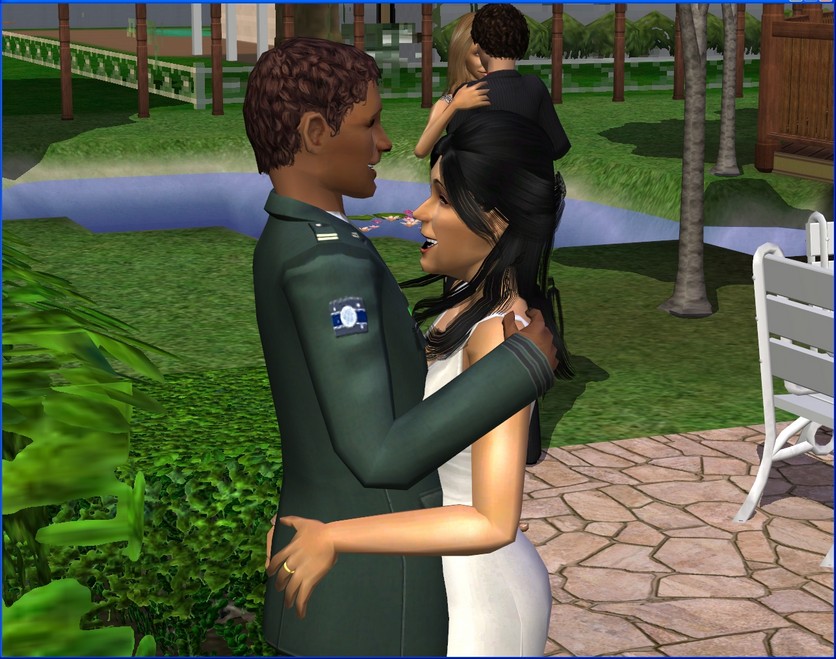 The whole day went by so fast! We were at the park for about 5 hours all up but it almost felt like 10 minutes. Nick and I had such a fantastic time.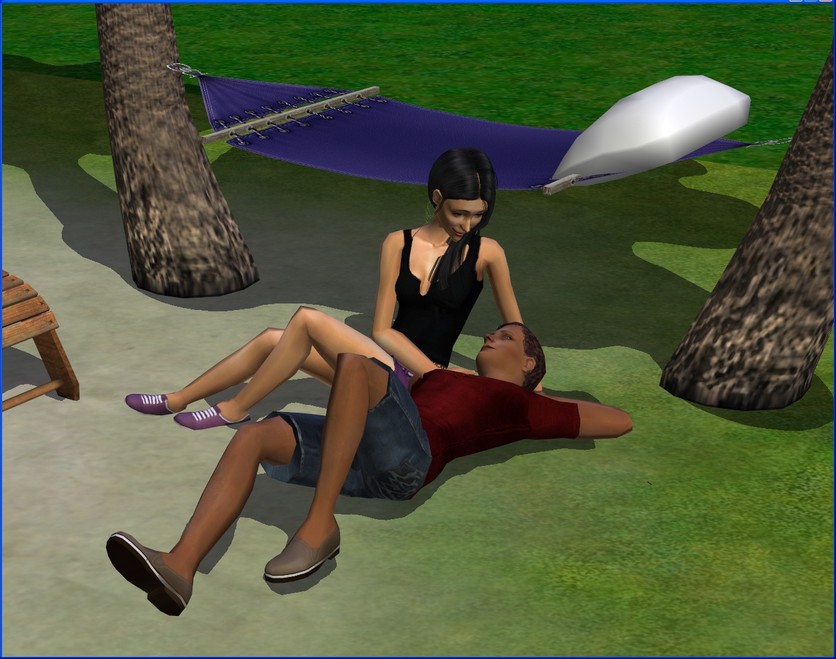 We considered honeymooning in Takemizu Village but went to Cape Elizabeth instead. Mama owns a holiday house there and I'd never been. We were so glad we did, because we had so much privacy!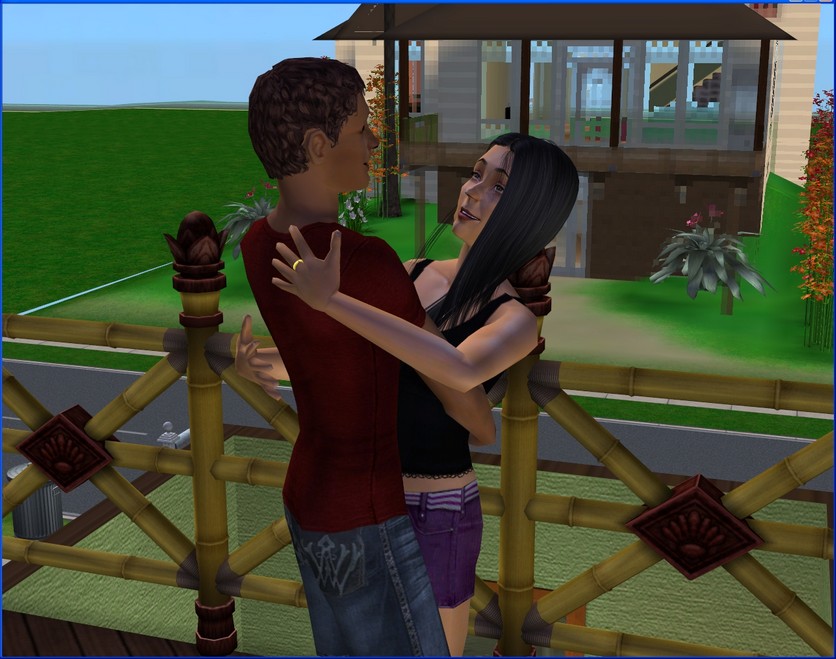 There was a house across the road but the owners weren't there, so we were completely alone.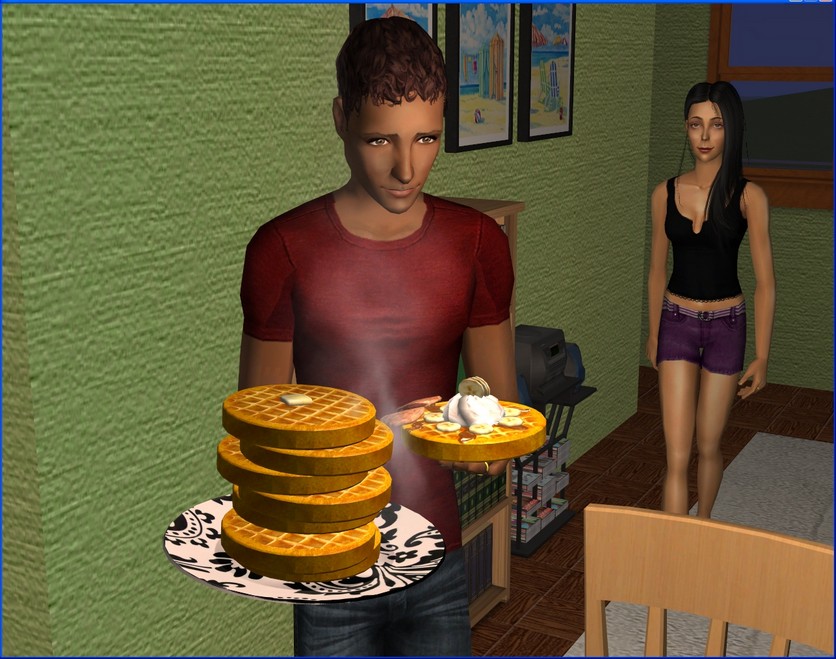 The plan was that we'd cook at home, so we didn't have to go out too much and we could maximise our privacy.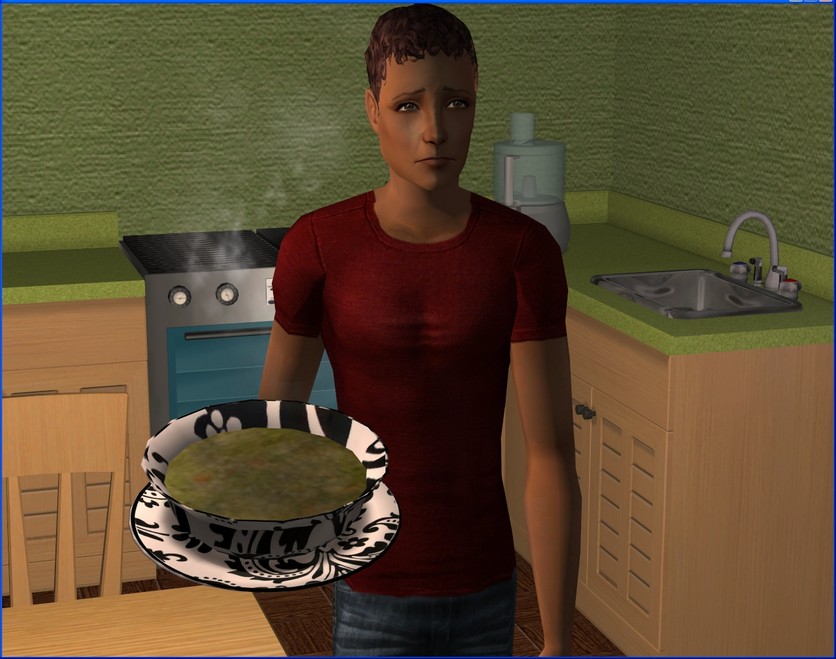 That didn't always go so well, so we ended up having to venture out a few times.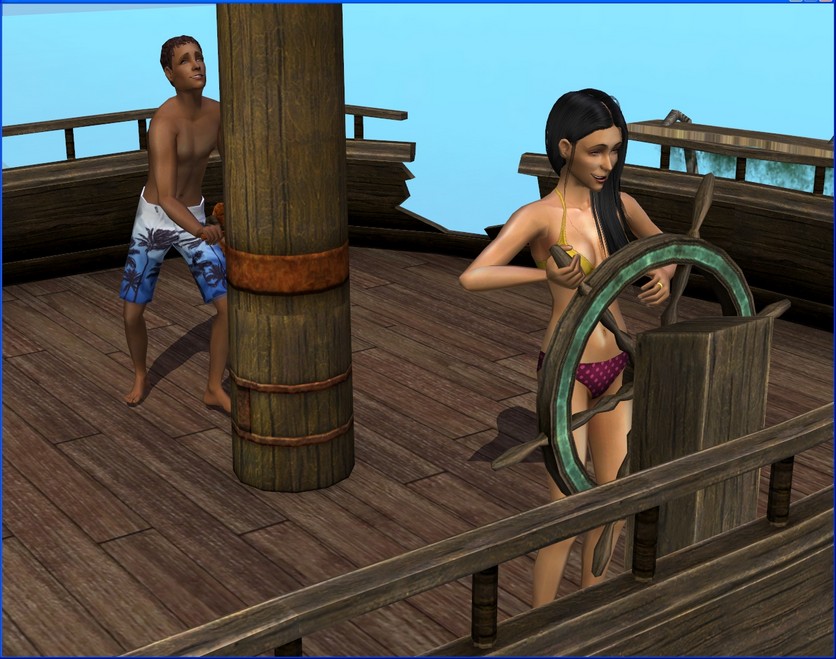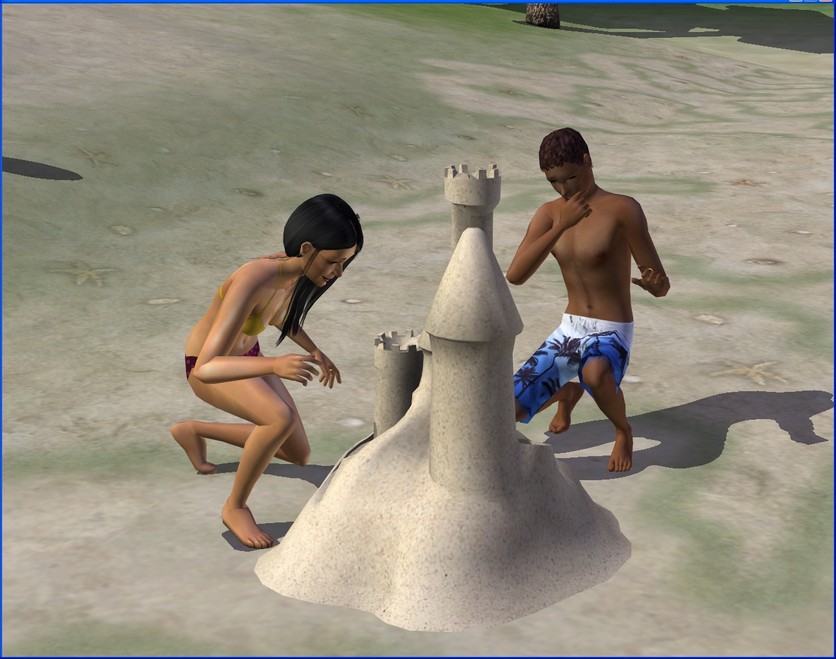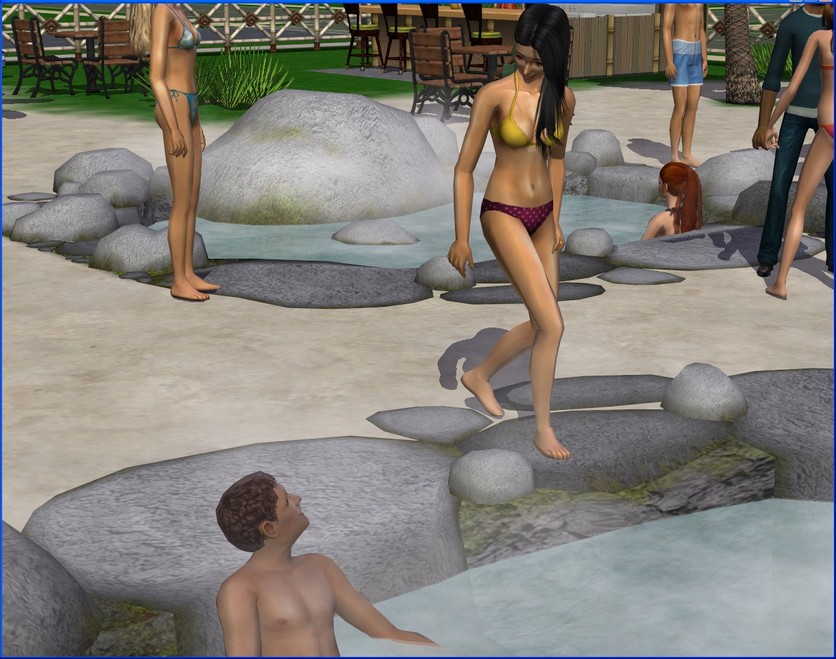 There was a ton of stuff to do there and we really enjoyed ourselves.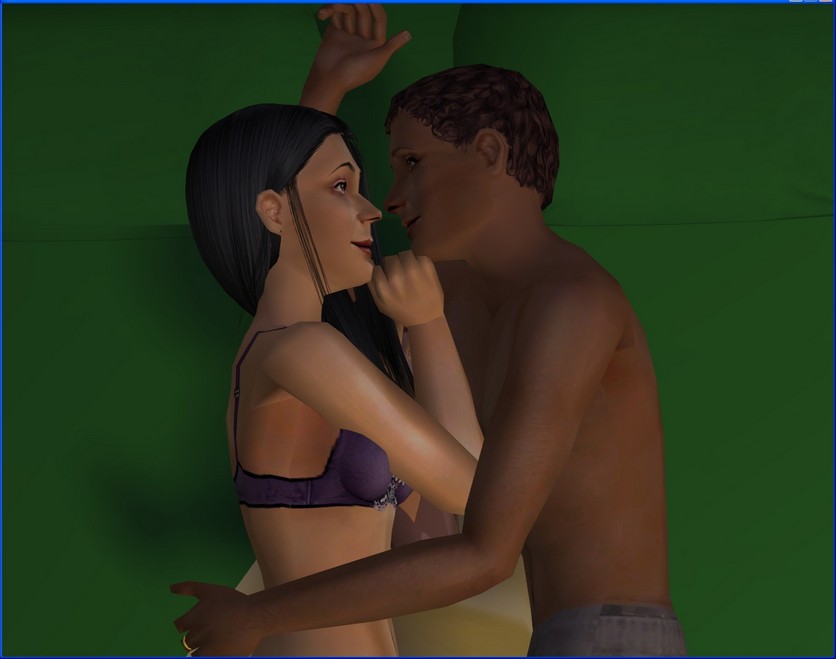 But it's not like we were in any danger of getting bored.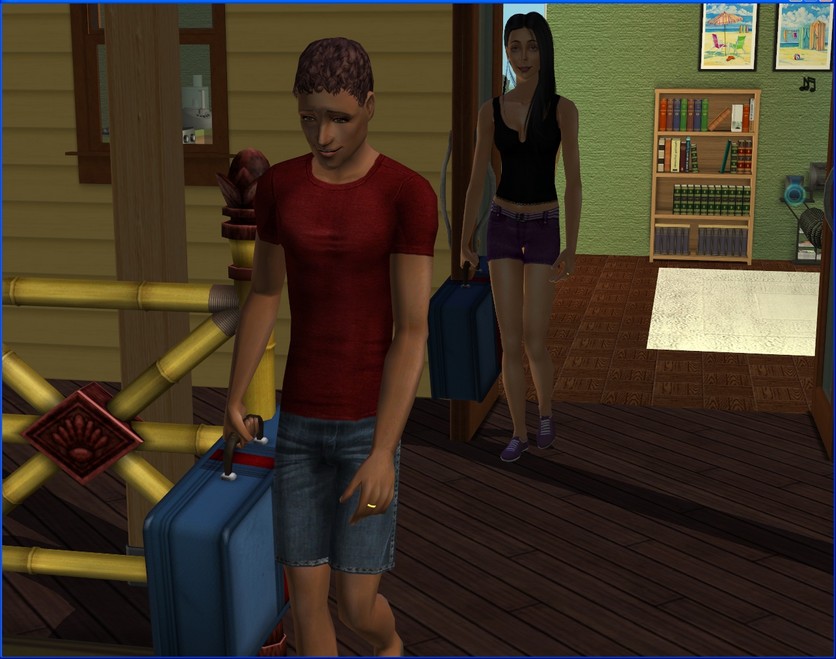 Sadly, all good things must come to an end and after a week, Nick and I had to head home.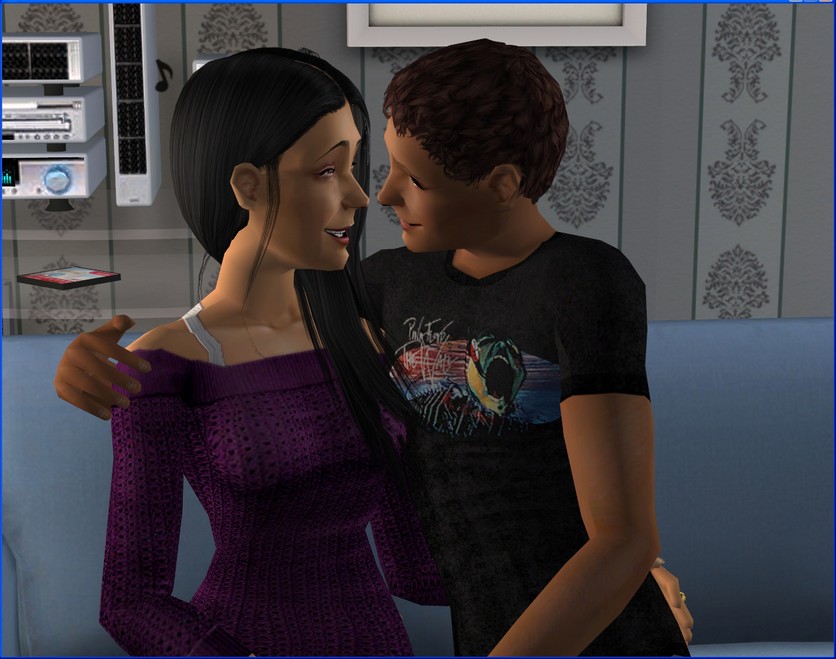 Once we did get back home though, we got some awesome news - I'm pregnant! We weren't expecting it to happen so soon, but I know we were both hoping it would.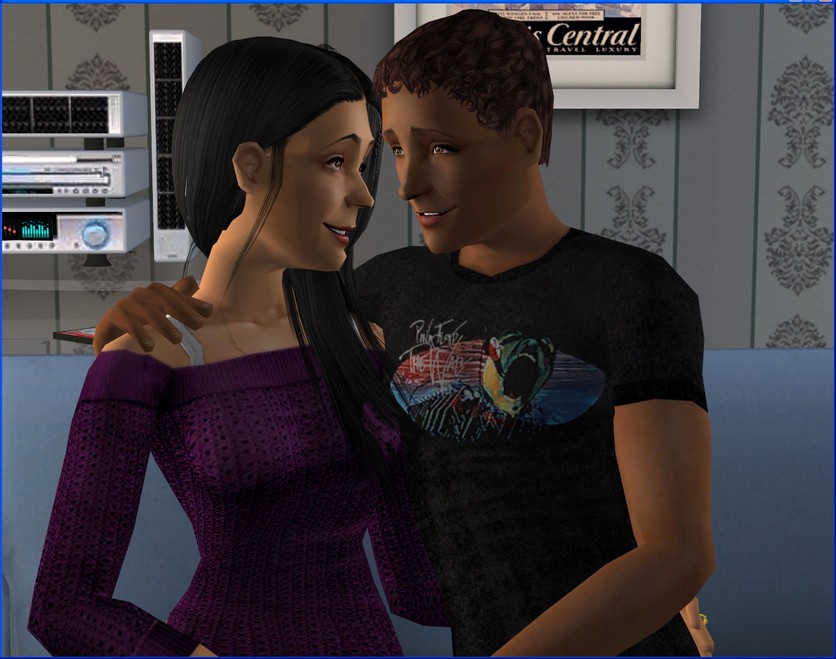 We are
so
excited! Neither of us have stopped smiling since we found out!

Outtakes: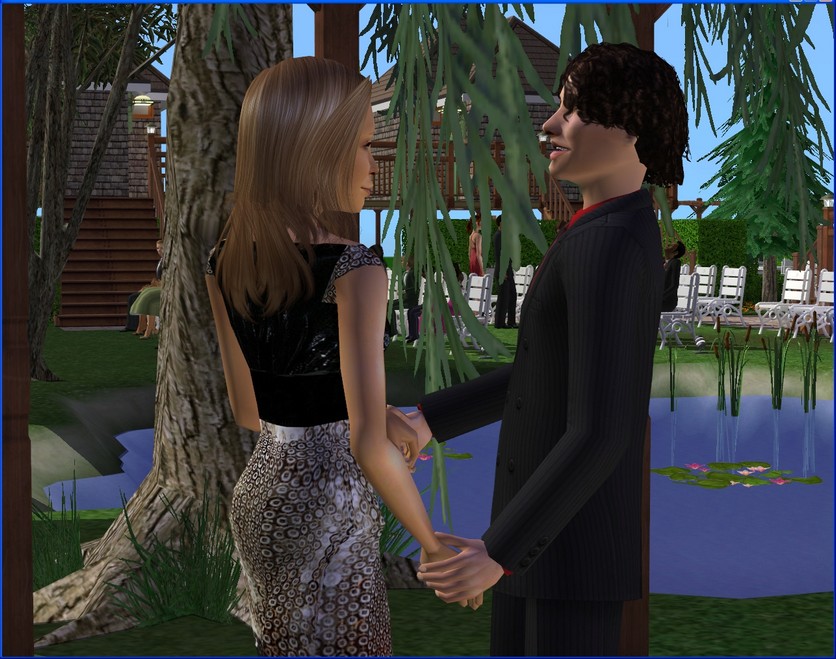 Ethan and Maia were making out or flirting every time I had the camera on them. They were the last ones to move to the main area once everyone arrived on the lot, because they were too busy being adorable.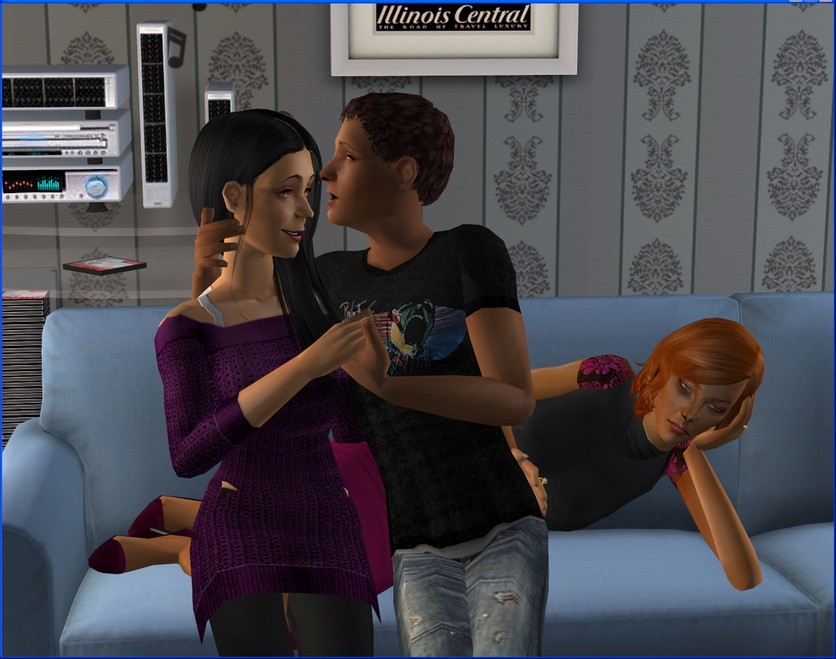 I use an invisible recolour of the dining booth when I want the Love Talk/Hot Smooch animations, so Sarah and Nick were not really sitting on the couch. This leads to silliness like this.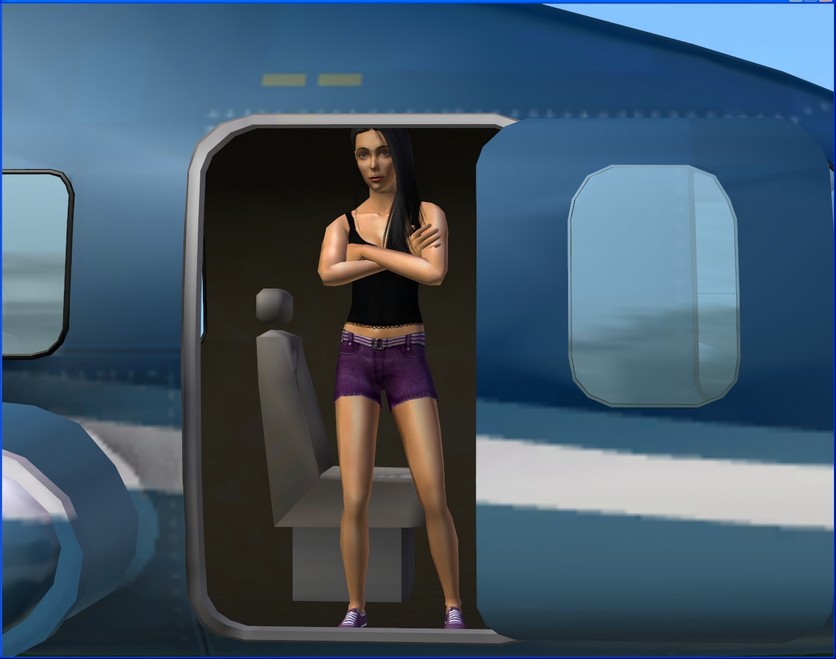 Sarah looked kind of bad-ass getting off the helicopter.
It was an interesting stance for someone who stepped off and then proceeded to vomit all over the road (which motion sickness-related, not pregnancy-related, by the way - Nick did it too).
I don't know...do Sims always do this?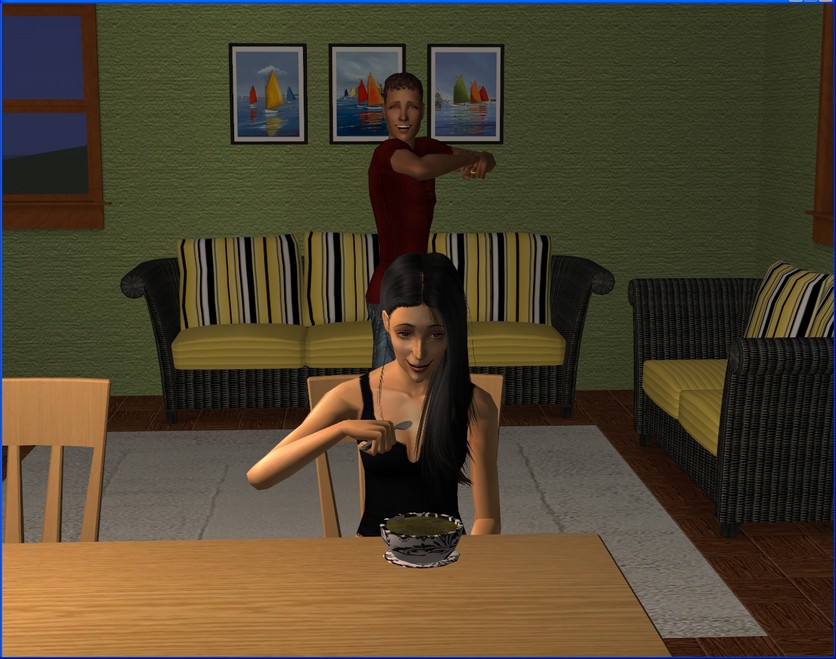 And this just cracks me up in general!
I also took a ton of pics of Nick and Sarah that I didn't get to use but still adore, so I'm lumping them all together at the end here.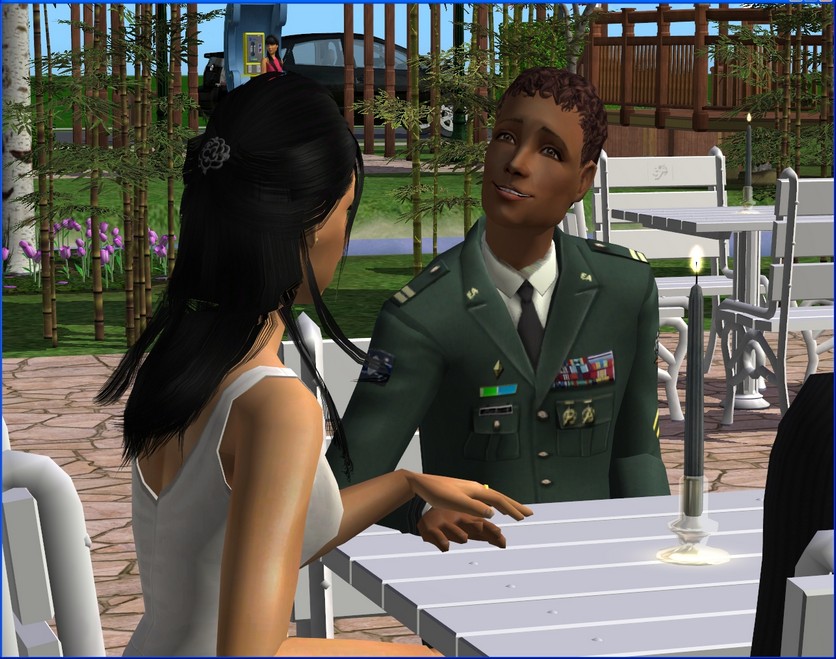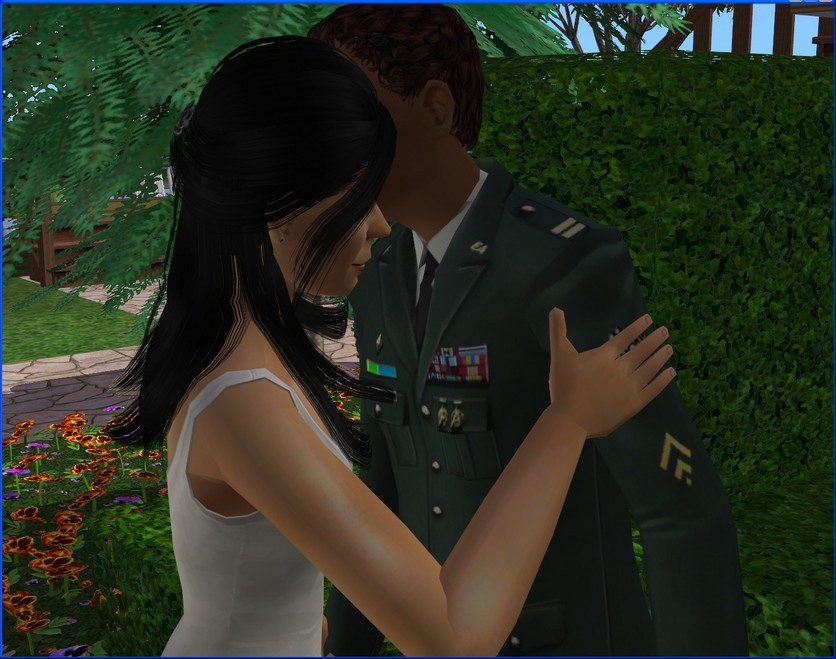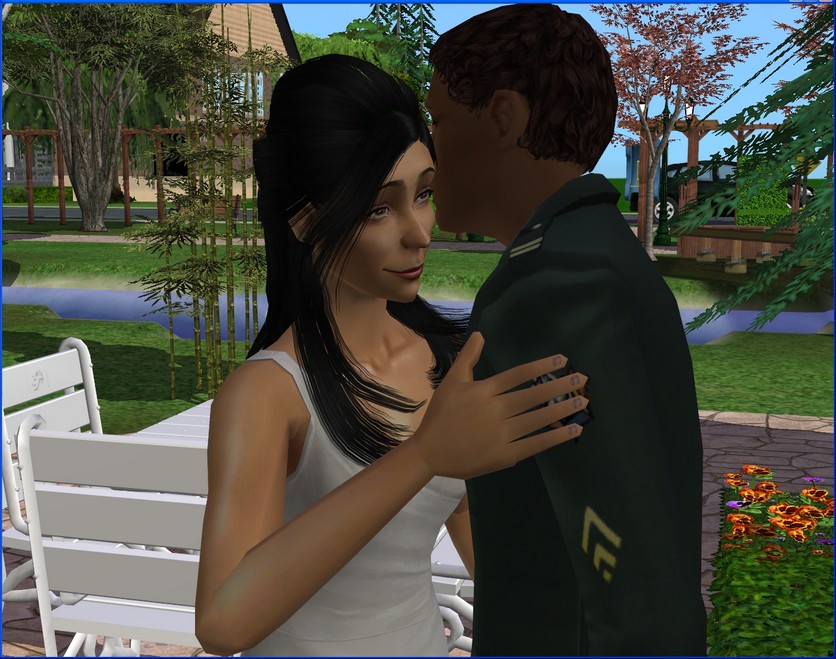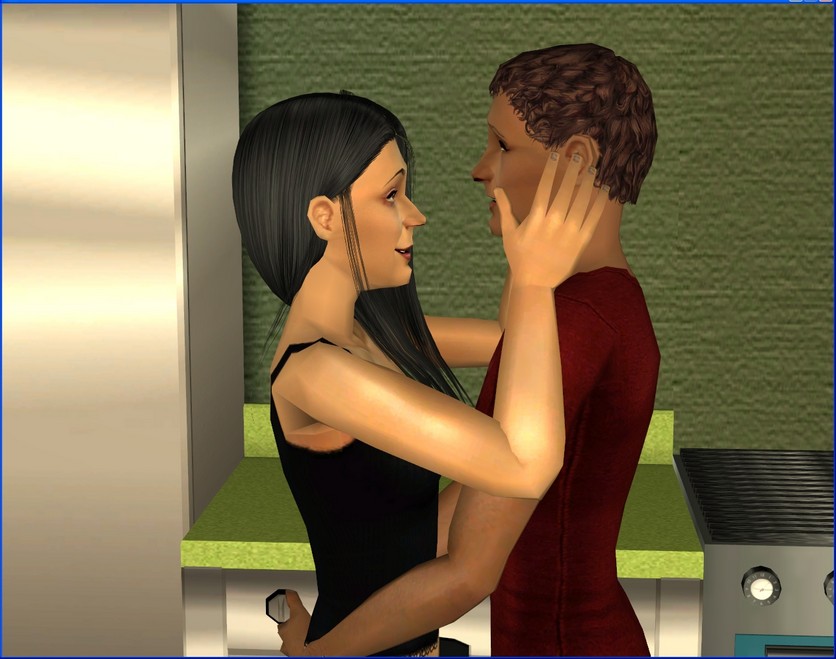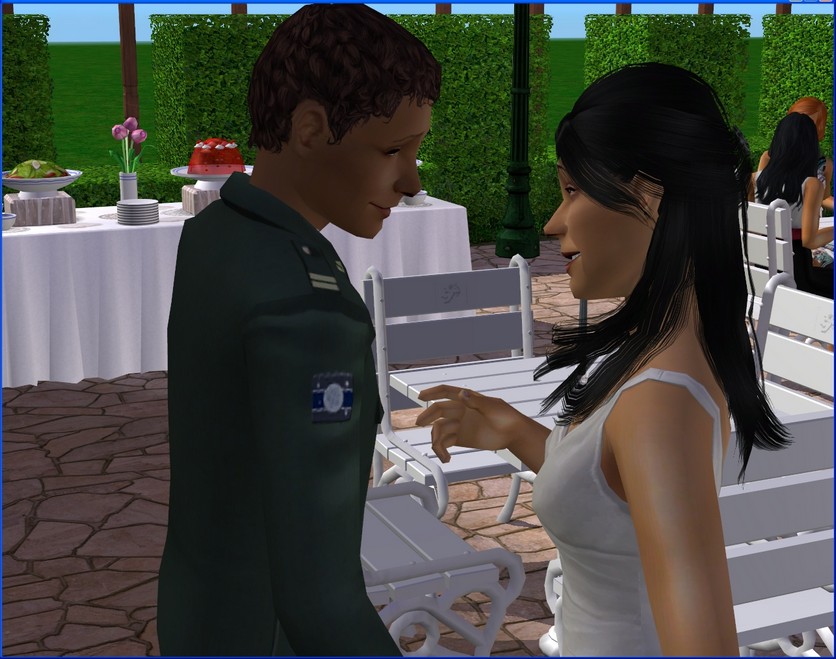 Extras: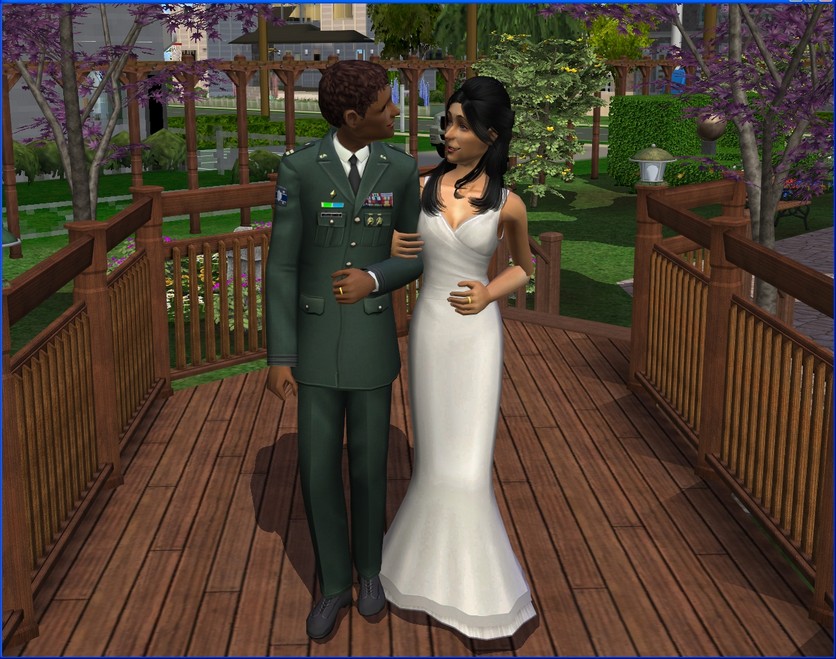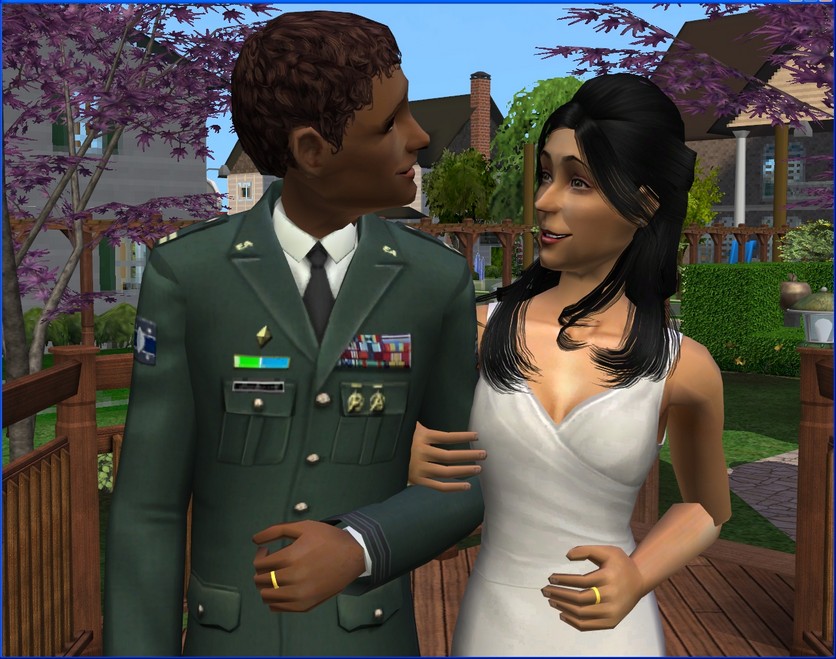 I might be a little bit in love with this pose. It's from Ang's Wedding Posebox.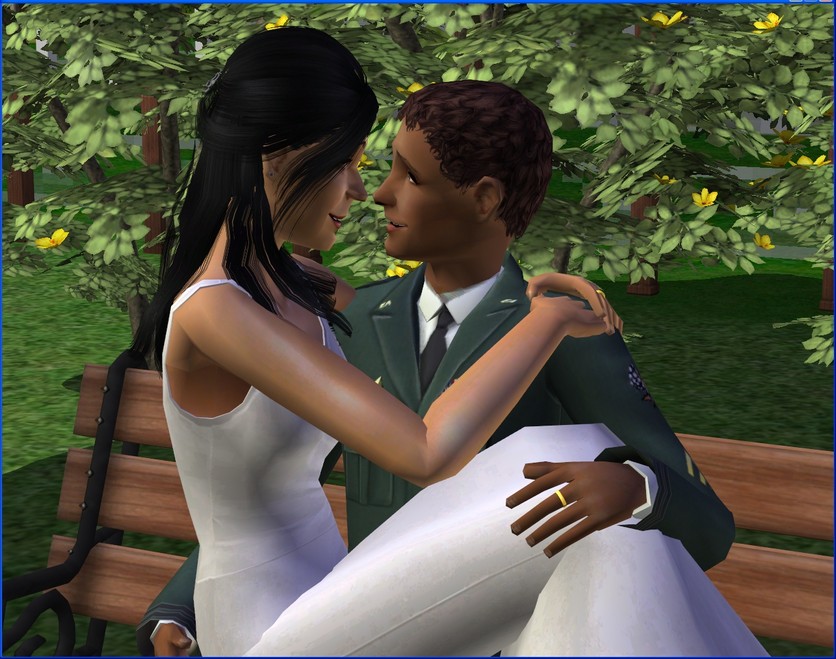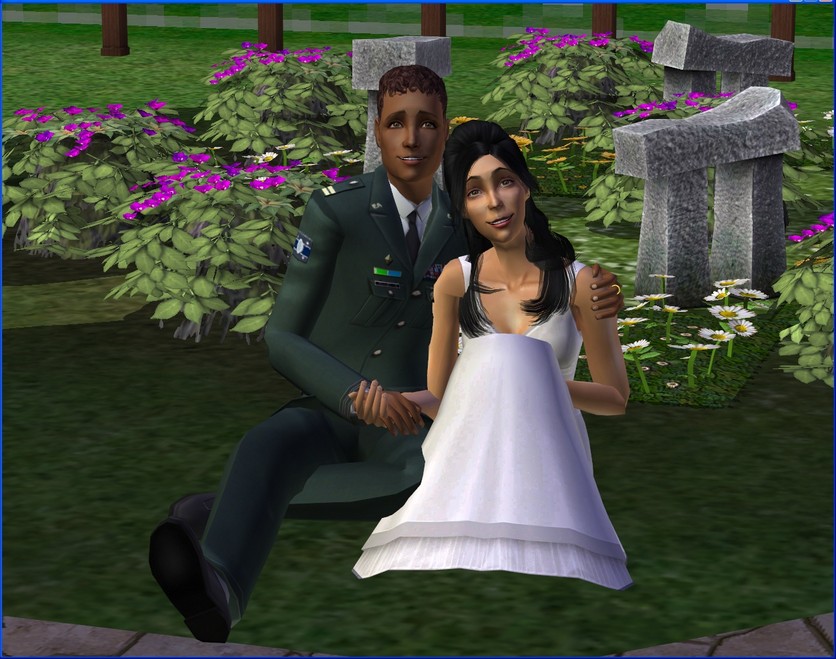 I went a little nuts with the photos this time, because there were so many nice photo places at the park (because I didn't decorate it, lol!)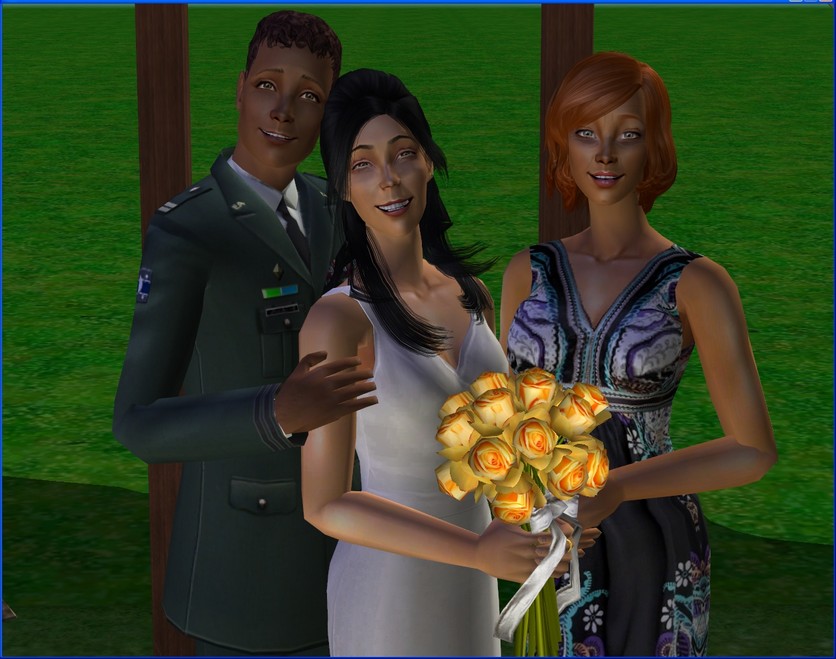 Nick, Sarah and Sarah's mother Kimberly.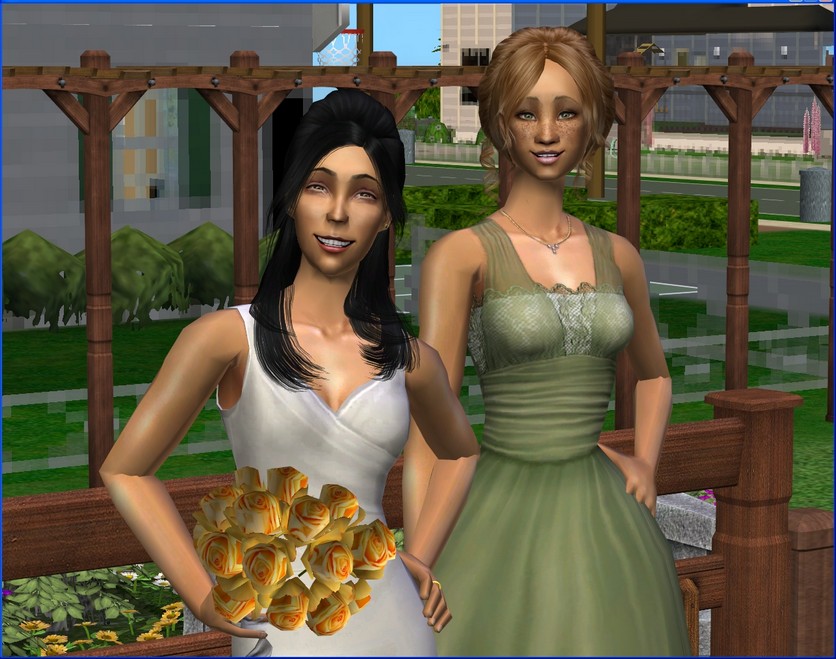 Sarah and her sister Susannah. Both were adopted, for new readers. I have had a few people think Susannah is Betsy and Kimberly's biological daughter, because she does look like a Carmody.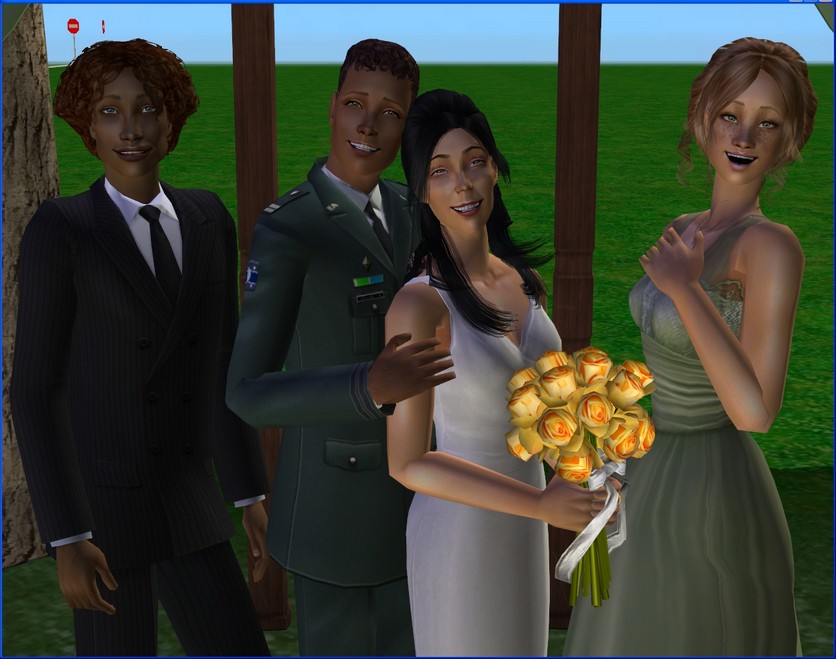 The happy couple, with their entire bridal party: bridesmaid Susannah and best man Troy.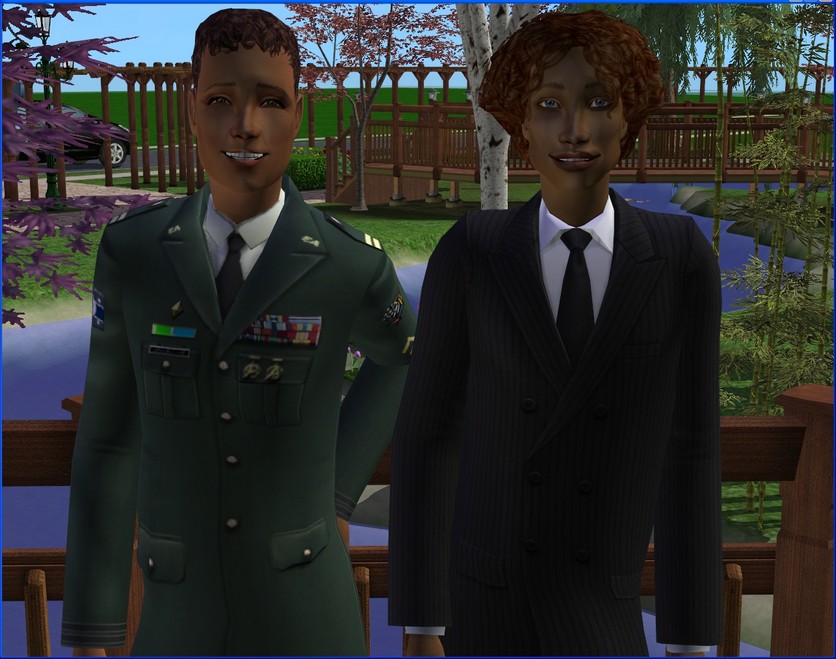 Both married off now! I'll miss playing these two as roommates, I think!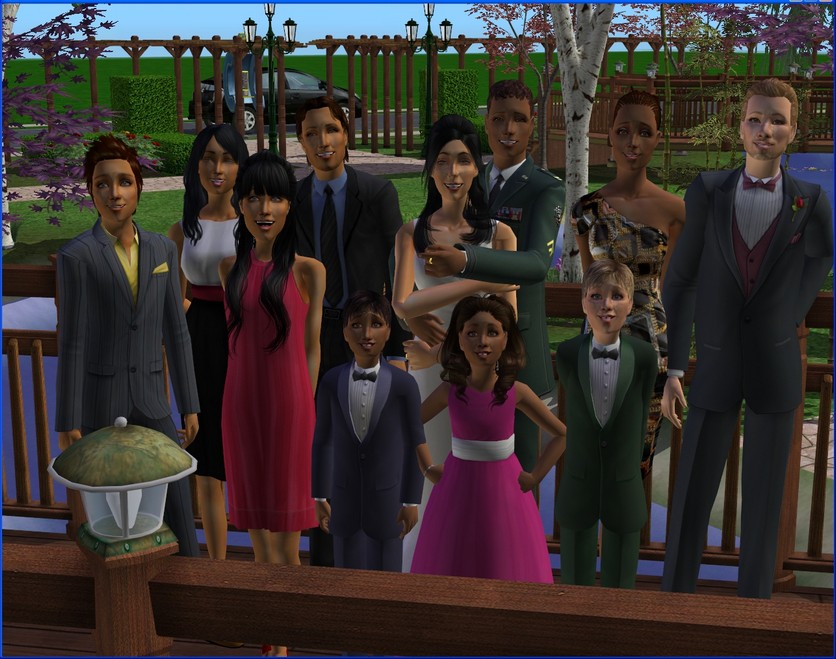 I forgot to do one with Nick and Sarah and just his parents, so I'll have to duck back in and do that at some point. But in its place, here is Sarah and Nick and Nick's whole crazy big family! Caleb and Abigail are his parents, who had him very young and never married. Abigail had an affair with Jesse and she and Caleb broke up. Caleb moved on and married Cara and had twins Anthony and Veronica. Two years later, Abigail married Jesse and had Mitchell, followed by twins Austin and Lauren. I think that's it!
Notes:
My good luck with weddings didn't continue with this one, unfortunately. I did crash, right after the ceremony and I lost a few pictures (they were blank once I looked at them later on). But I don't even remember what they were, so I guess they can't have been that good anyway!

All in all, it wasn't too bad, especially compared to Troy and Josie's wedding which was a nightmare.

I mentioned in comments the other day that I was a total nerd about this wedding. I knew Troy would be the best man and that I wanted Nick in uniform, but I hadn't ever seen a wedding with mixed military/civilian dress. From my Googling, a lot of people haven't, including people who are actually

in

the military. But the consensus seemed to be that it's fine to do, as long as you use suits and not tuxedos. Apparently, that's a big no no!

The first pregnancy update for Sarah will be in January. I'm trying to clump the pregnancy updates together, so while there will still be a second and third trimester update for each woman, they may not always come at 3 months and 6 months any more. I've been thinking about it and that's how it seems to work best for me.

Baby Moretti is due in June. What is that now? Five pregnant women? Wow!