Round 28: Summer 2028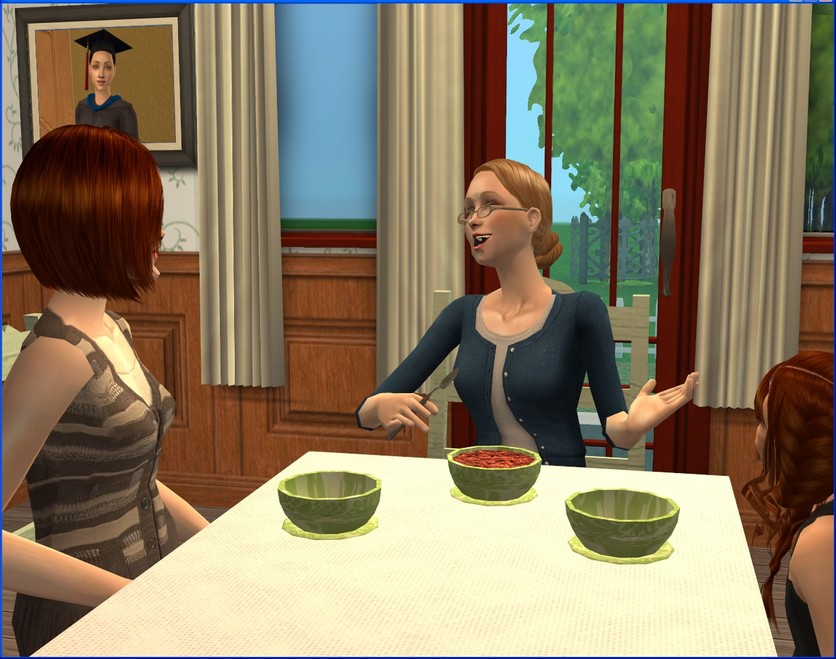 Over lunch at my parents house, Mum invited me, Finn and the kids for a weekend away at their holiday house in Three Lakes.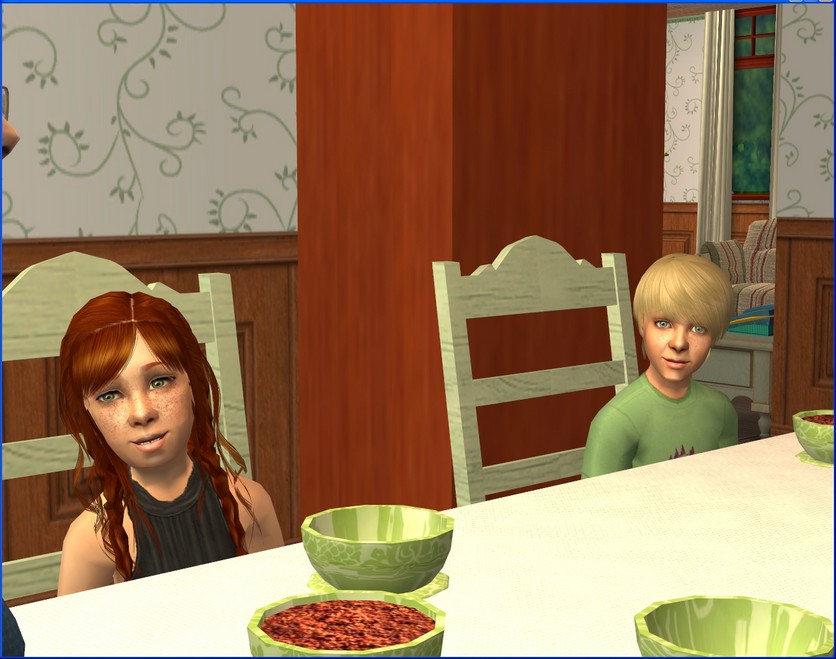 I'm pretty sure she asked in front of the kids on purpose, so I'd find it harder to say no. It worked too, because Declan and Caitlin's eyes lit up.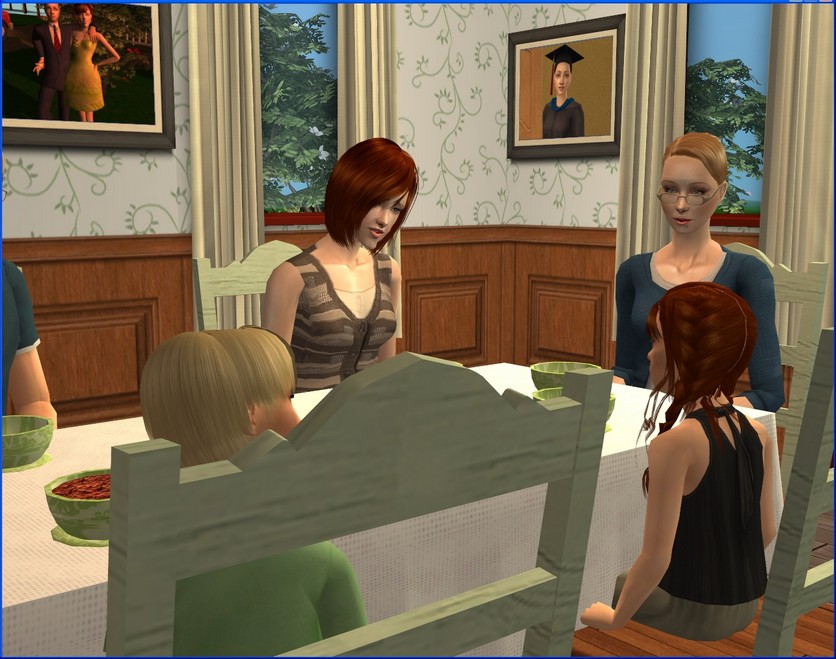 They both love outdoorsy stuff and they love seeing their grandparents, so they started begging me to say "yes" straight away.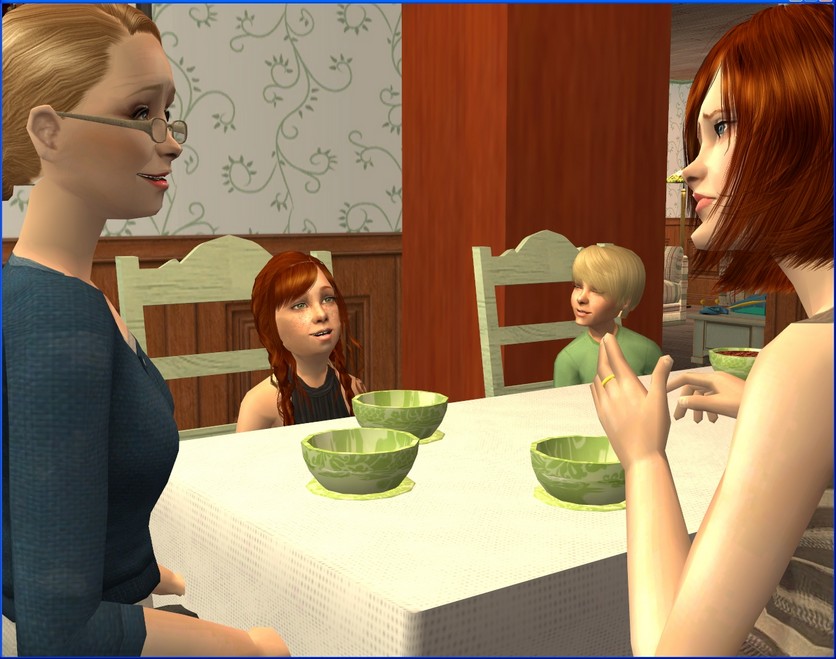 A whole weekend away with my mother isn't exactly my idea of a holiday. It's been much better between us recently but I still wasn't sure about spending so much time together in close quarters. Things could go pear-shaped.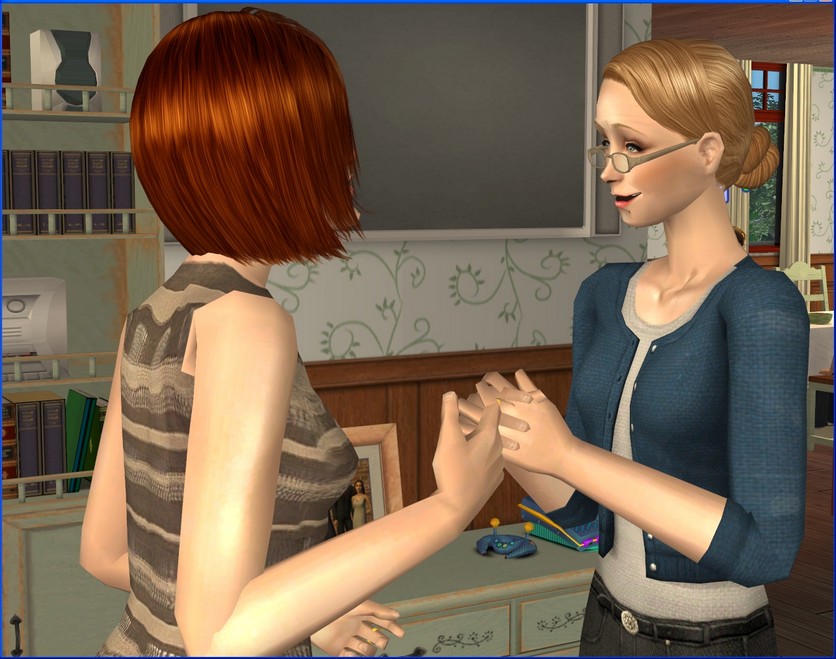 Mum was so keen for us to come though and I try to take any olive branches that she's willing to offer, so I agreed.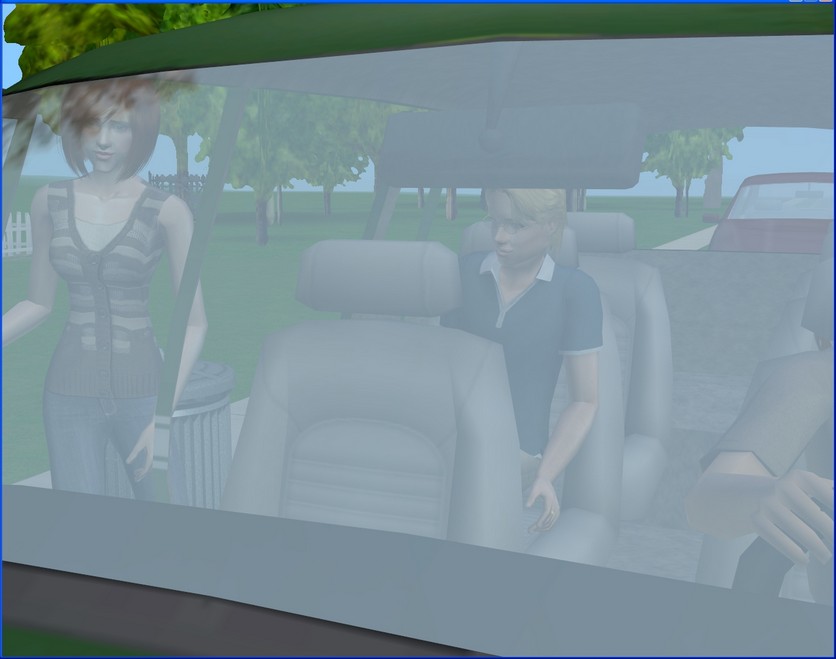 So on Saturday, we all piled into the shuttle and headed for the airport.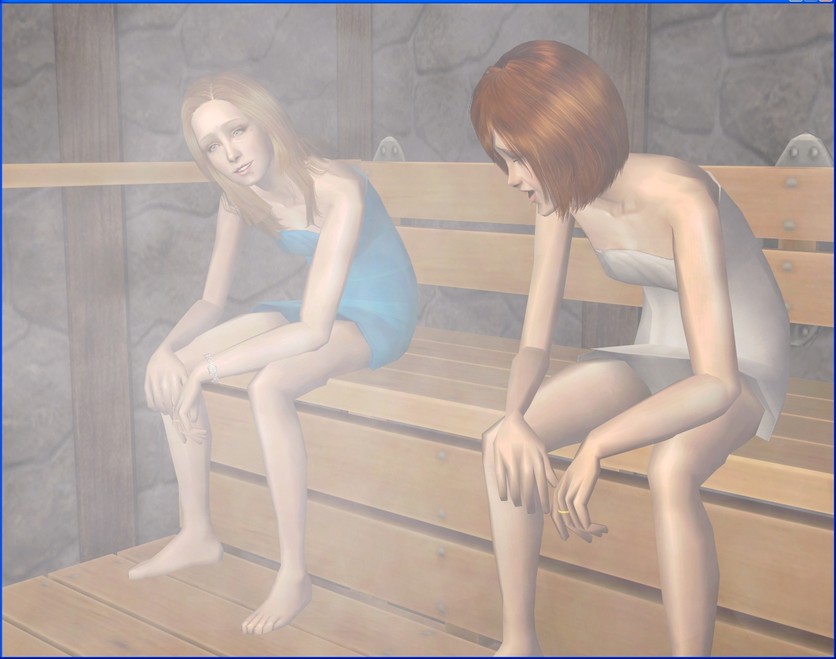 I think it actually went pretty well, all things considered. Mum and I had some stress-free mother-daughter bonding time, which was nice. And sort of rare, with my mother.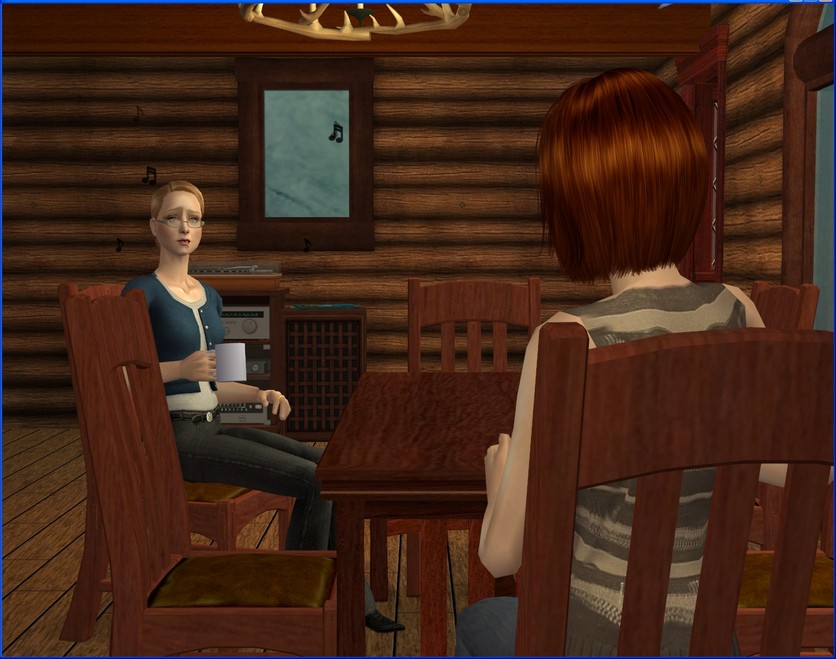 Mum definitely still had her moments, when she'd start to nag or complain about something or another. I think she'll always be kind of like that. It's just the way she is.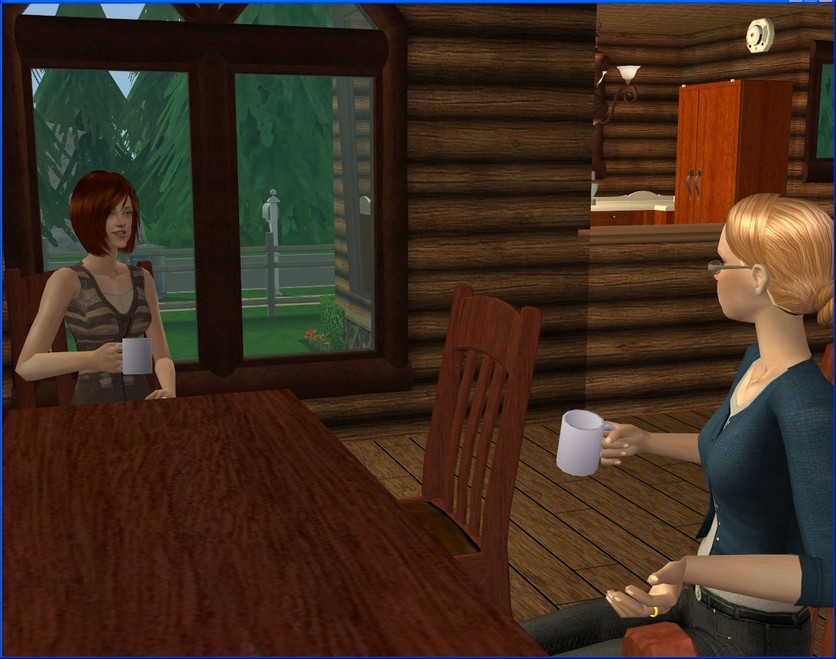 As long as she's not criticising me, or Finn, I can live with that. She's much better with Finn now, thankfully.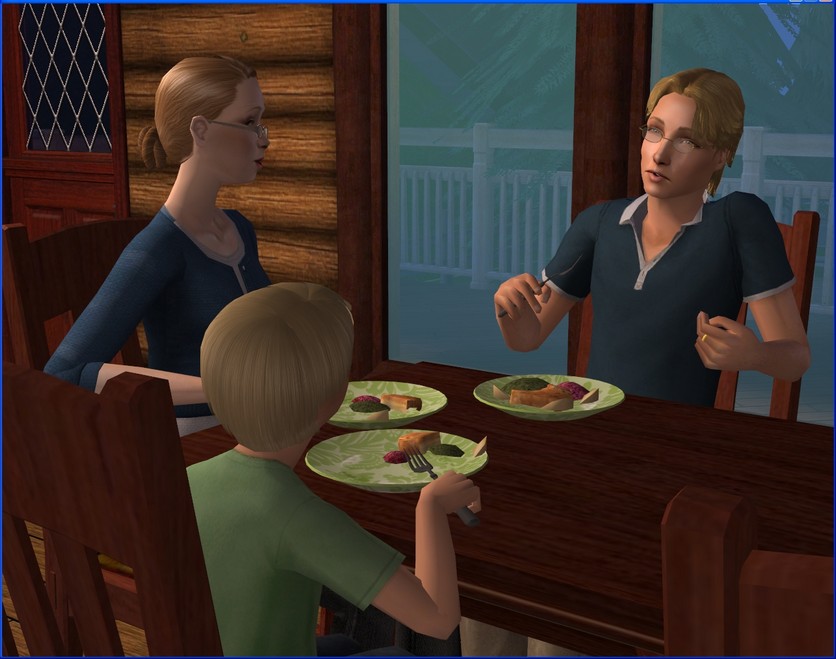 It's been a long time since Mum has said anything bad about Finn and she actually listens to him when he talks now. Finn has always tried so hard with her and I'm so relieved that she's finally giving a little.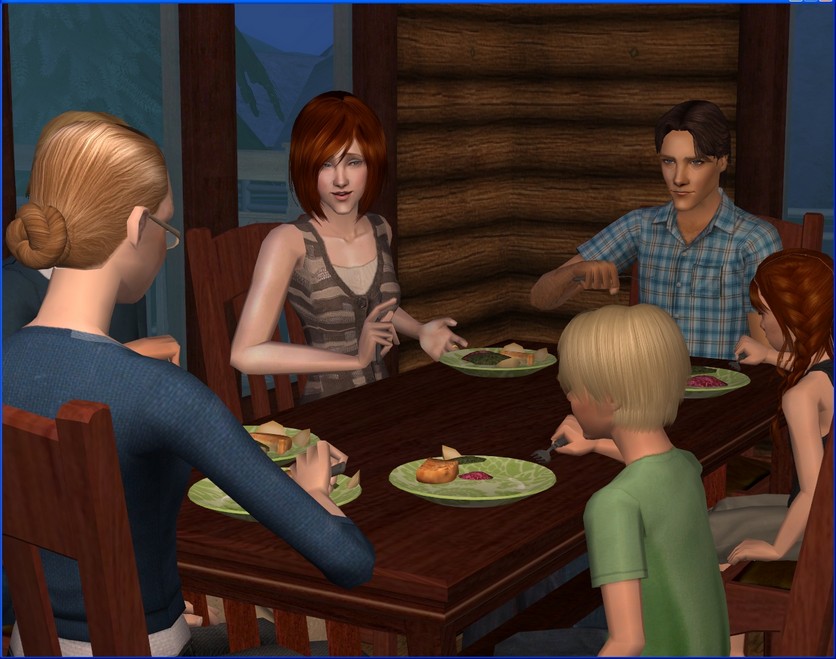 Finn and I have only been together 14 years. It's about time we were all able to sit down to a peaceful meal together.
The kids loved the whole weekend. Just the fact that they could play outside is a novelty for them, seeing our apartment building doesn't really have an area suitable for that.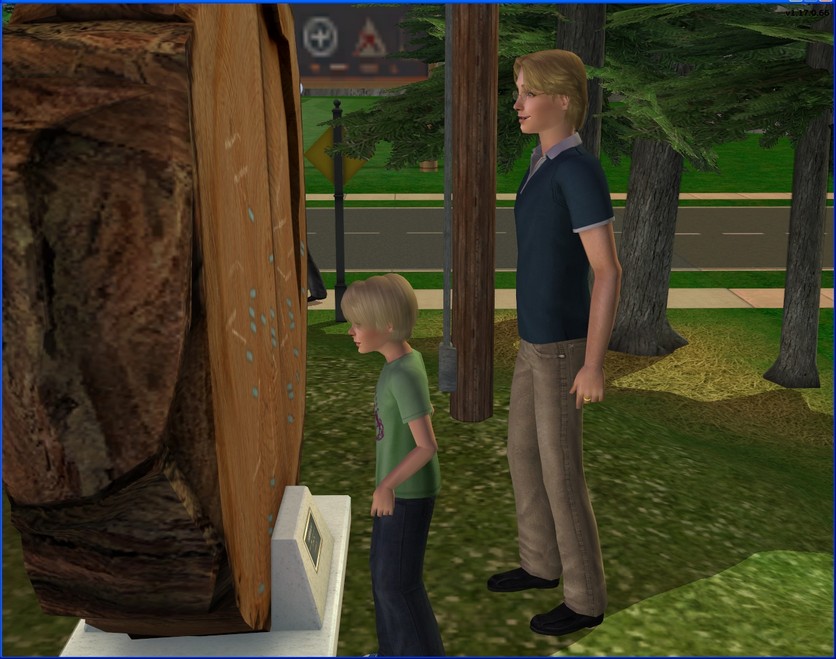 There was plenty there for everyone to do. Finn and Declan spent forever looking at these tree rings.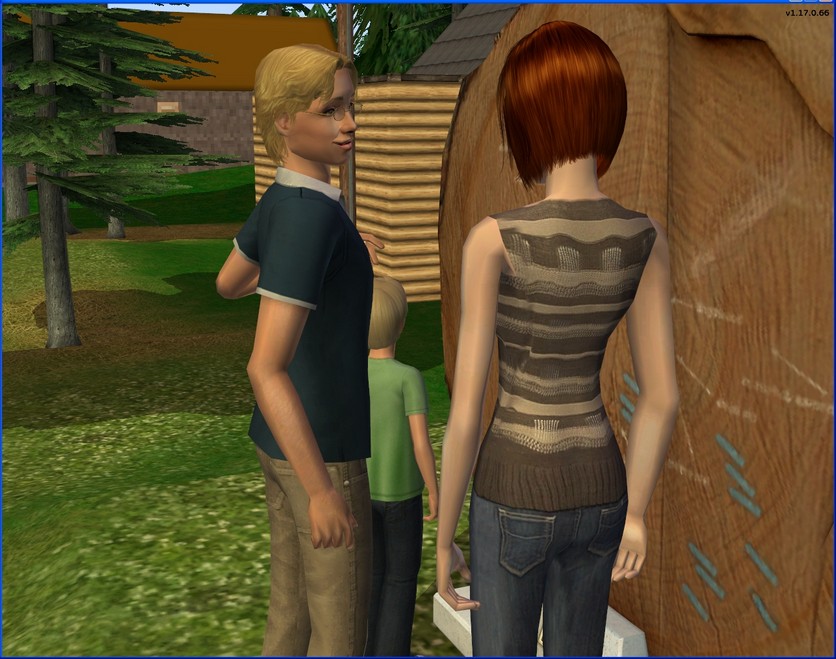 Finn tried to explain to me exactly why they were so interesting but I'll leave that kind of thing to him!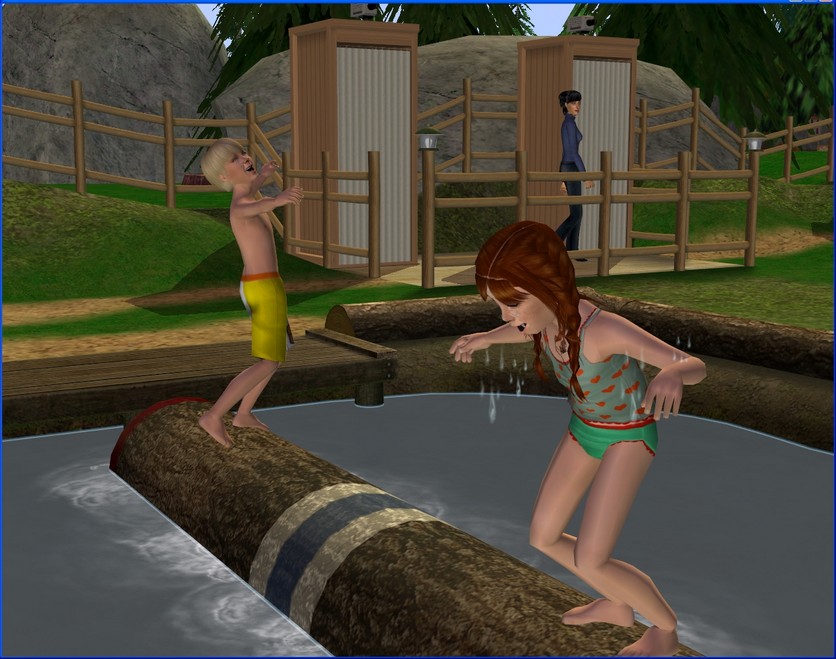 The kids loved the log roll. We could hardly keep them off it.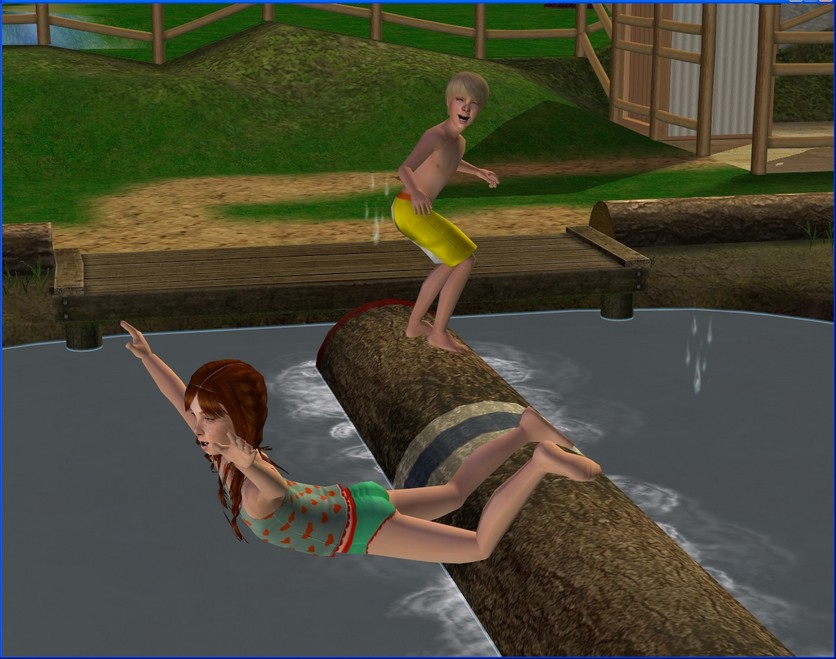 Caitlin got a little discouraged, because Declan kept winning. He's just a little bit more co-ordinated than she is.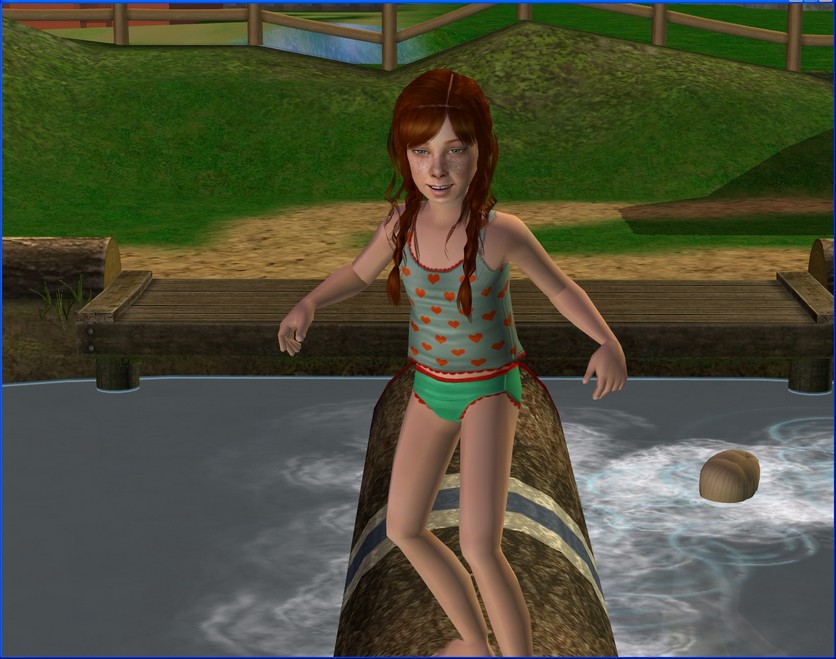 Caitlin is very determined though and eventually, she got one over her brother. She was so proud of herself.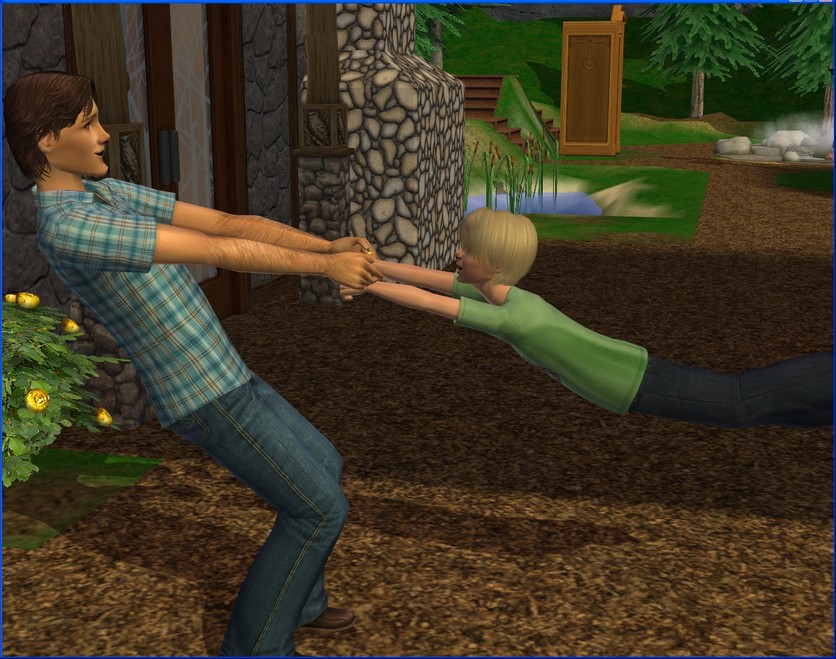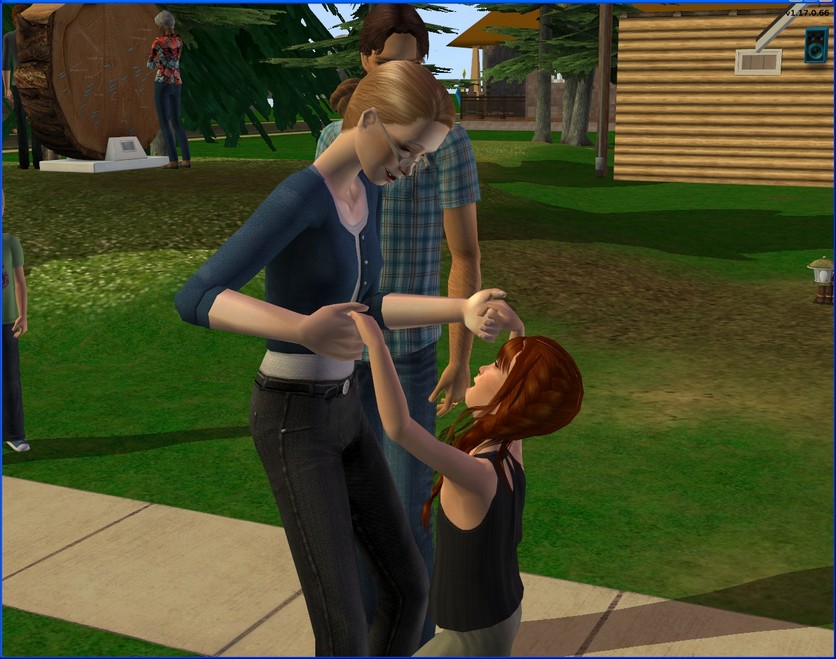 They were both just happy to hang out with Mum and Dad though.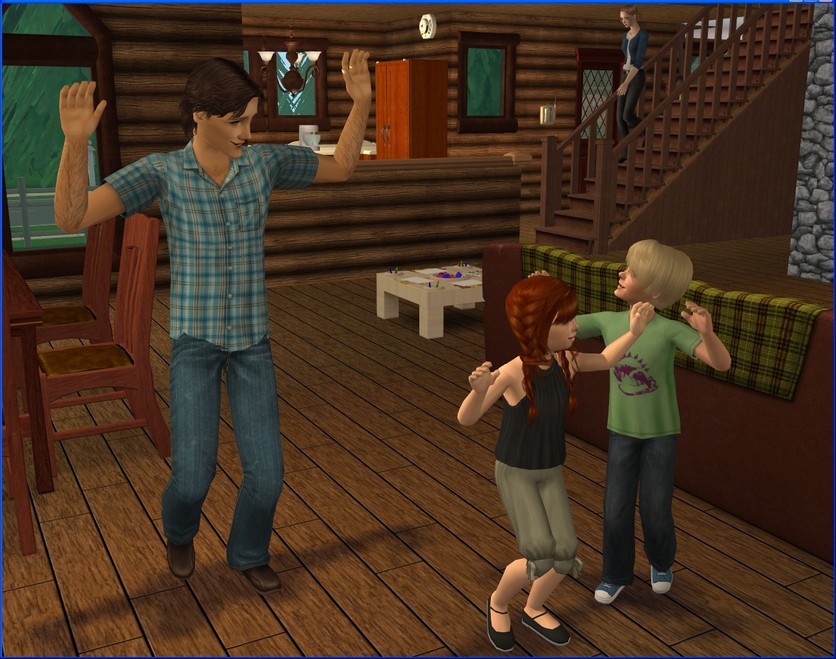 I think the most fun they had all weekend was when Dad taught them that silly slap dance that's native to this area.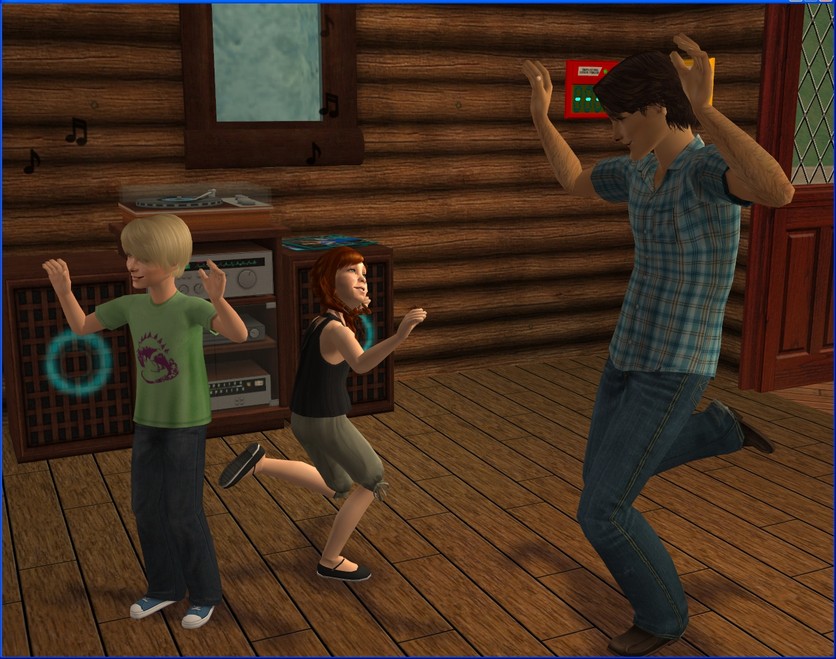 The giggling from that went on for quite some time.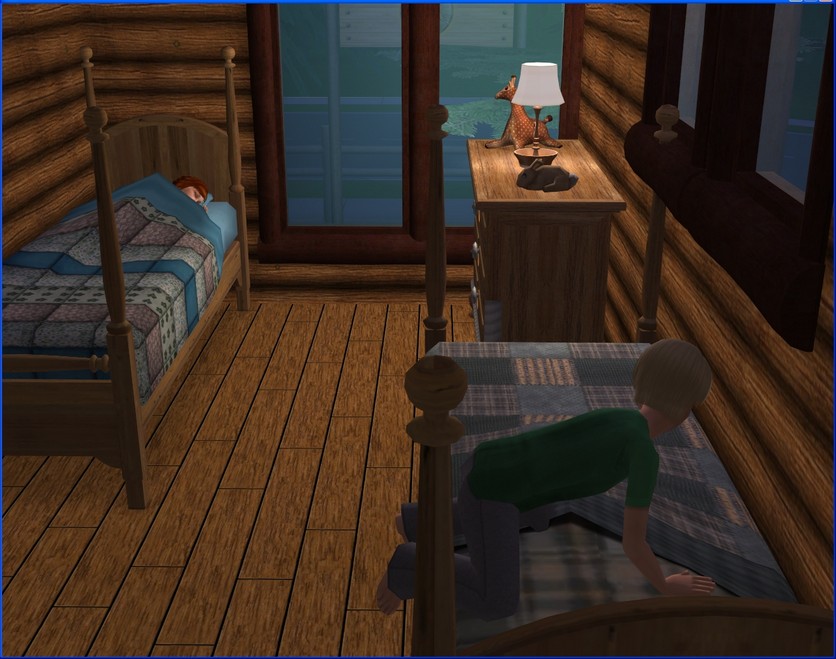 They wore themselves out completely and put themselves to bed right after dinner.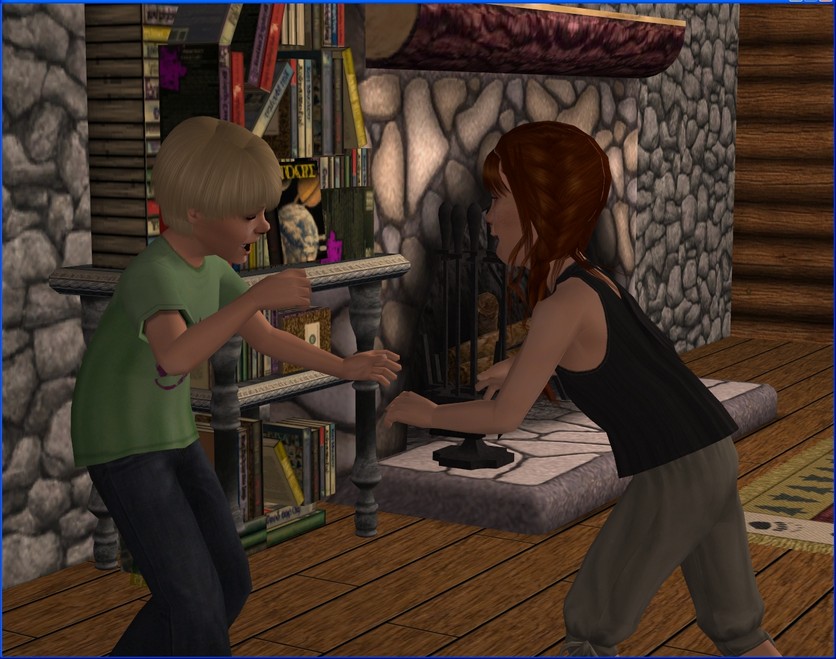 Then they woke up at 5am the next morning.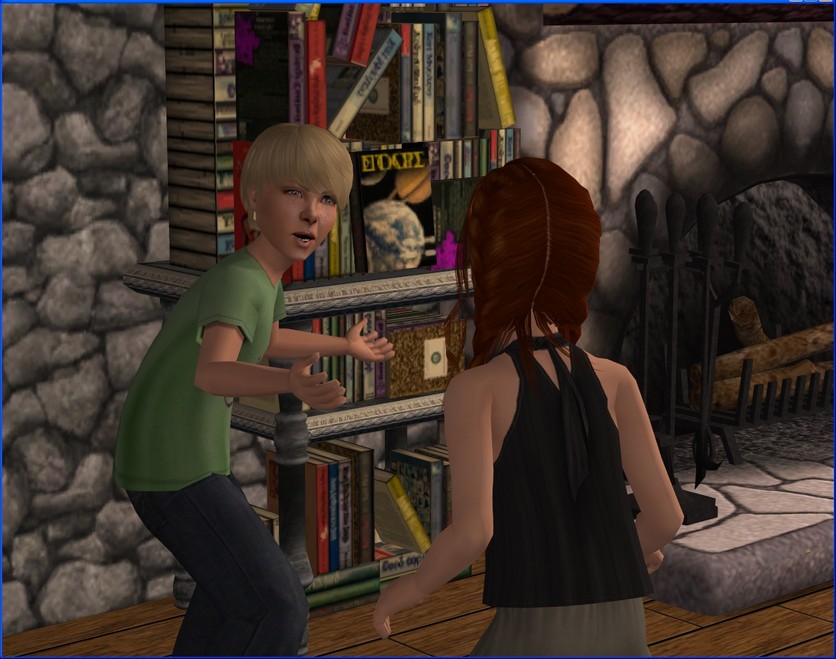 If Caitlin's shrieking didn't wake us up, Declan's loud shushing sure did!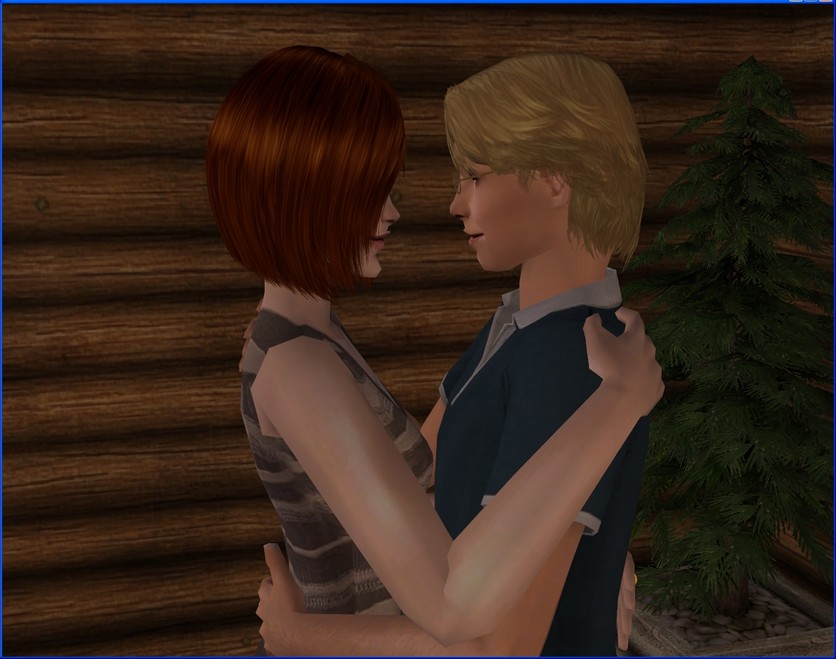 We got up but we decided to sneak in a few more minutes of peace in our room, instead of going out to face the day.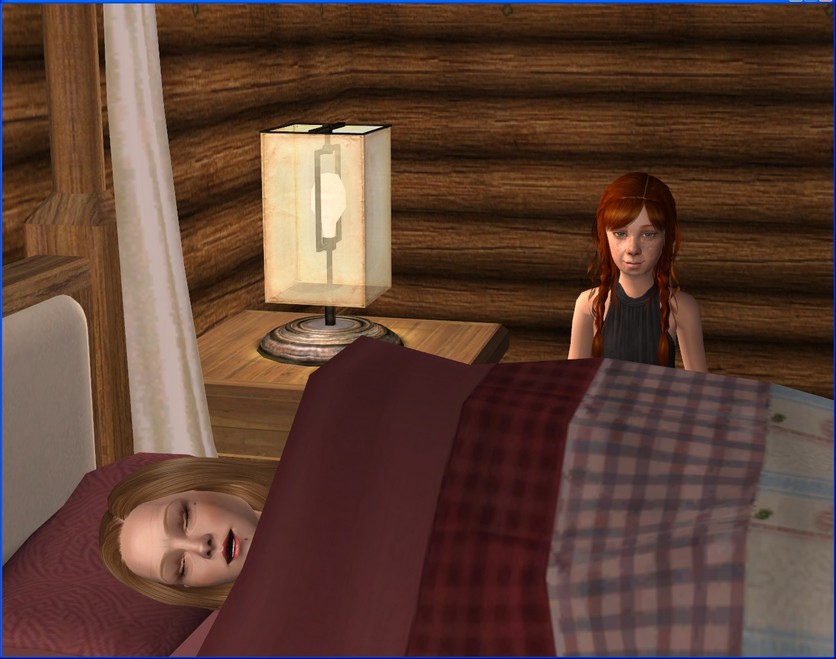 Mum and Dad were sleeping upstairs and they didn't hear the kids, so Caitlin went upstairs to remedy that.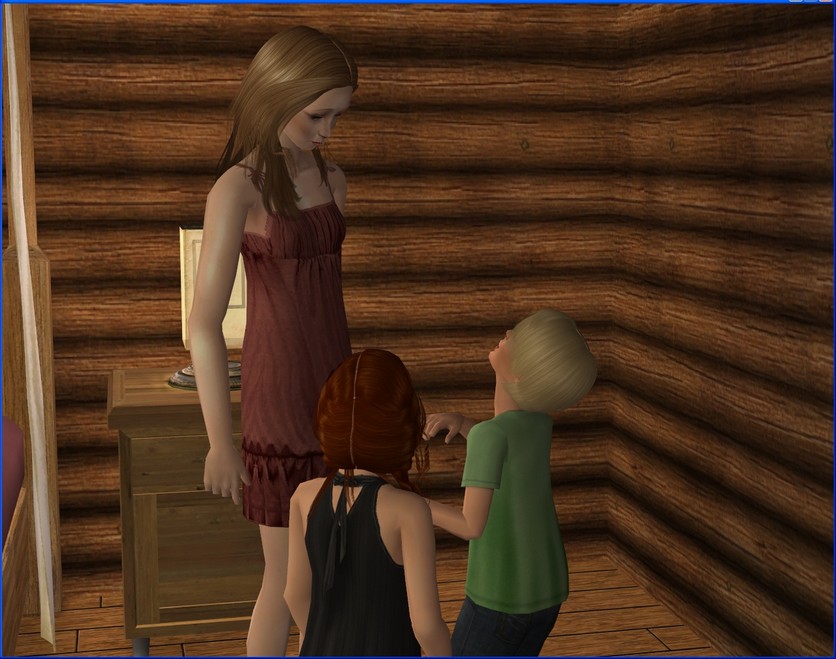 She and Declan just
had
to have pancakes!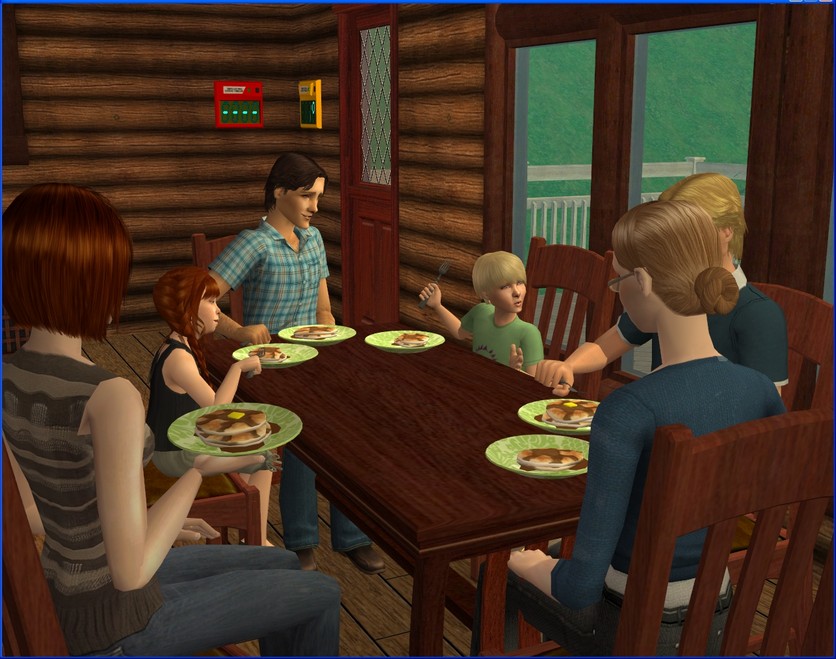 And they got them too, because Mum and Dad both tend to indulge Declan and Caitlin's every whim, when we let them.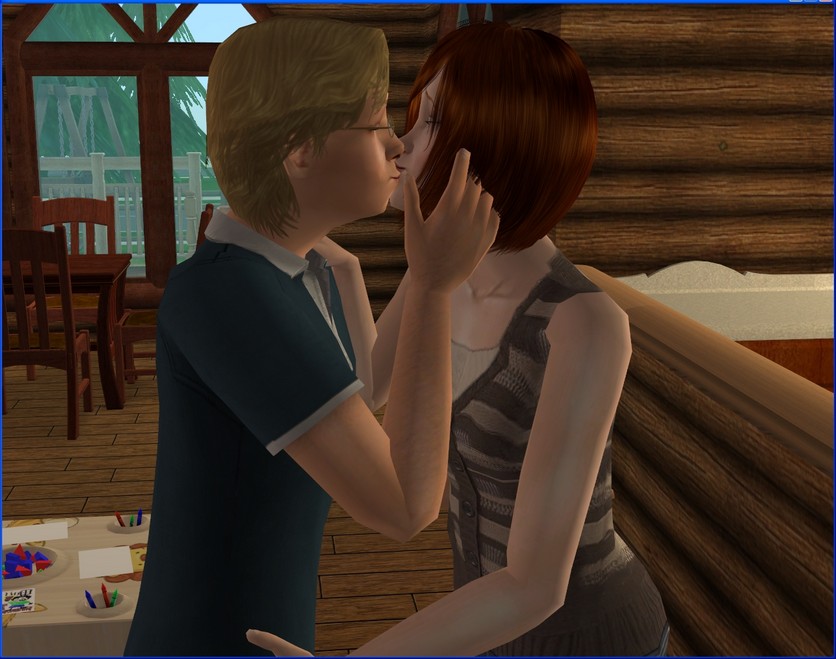 We were quite happy to let the kids be spoiled a little. It kept them occupied while Finn and I got some time alone. Mum and Dad took the kids out to sight see and we got the house to ourselves.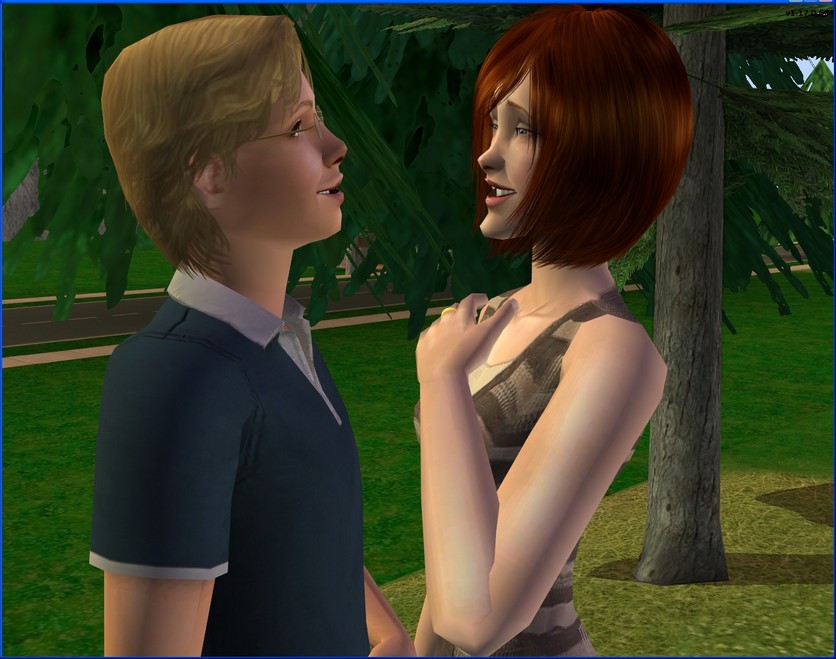 Or we got to go out and Mum and Dad watched Declan and Caitlin back at home. We don't get to do anything together without the kids that often. So despite my initial misgivings about the trip, I'm really glad we went.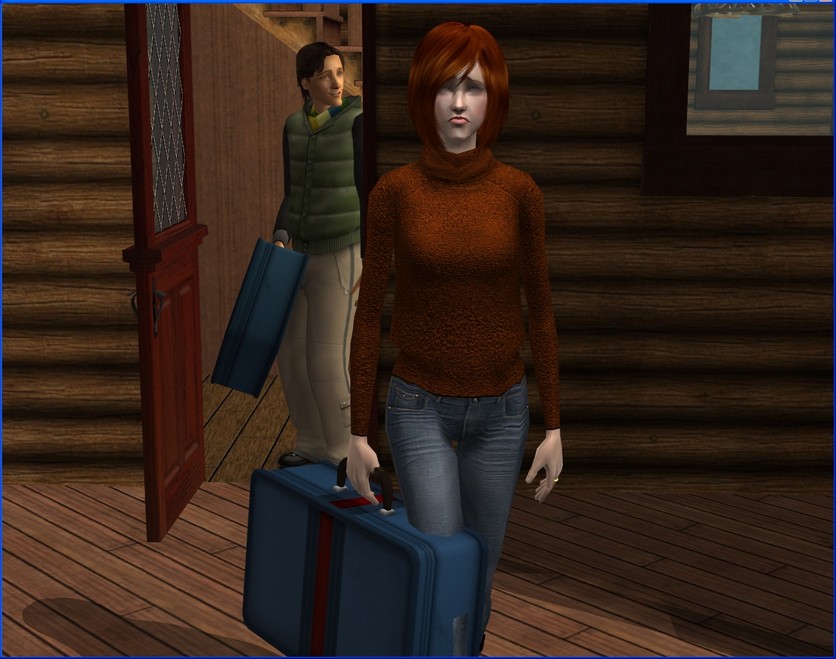 I ended up being sad to leave on Sunday afternoon. We really had a great time.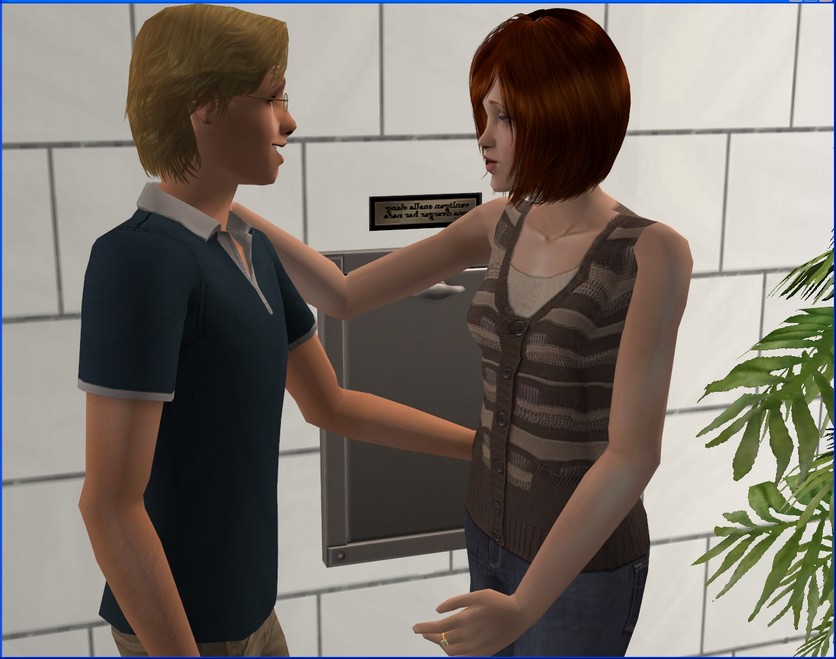 I wasn't too pleased when I noticed the extra kilos I put on either. Must have been all those pancakes.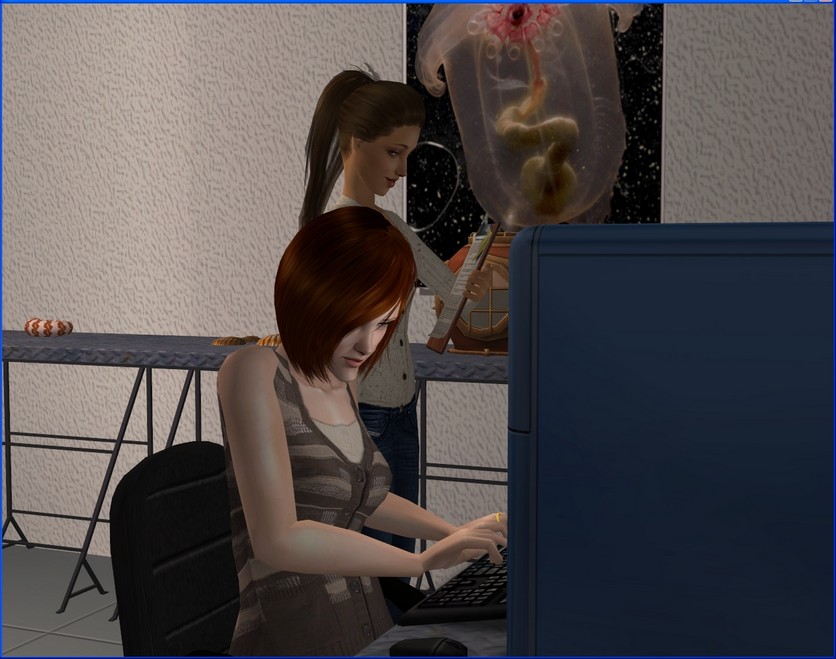 I went straight back to work on Monday. It almost felt like I'd never had a break at all.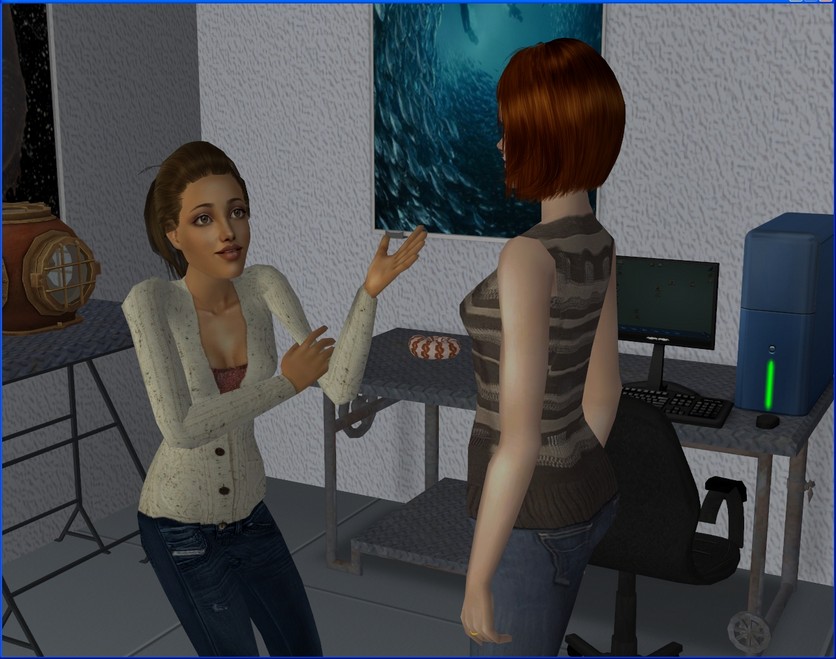 Especially being that I had to work with my assistant-who-never-really-assists, Lila. Occasionally, she'll make herself useful but she seems to have a problem with authority.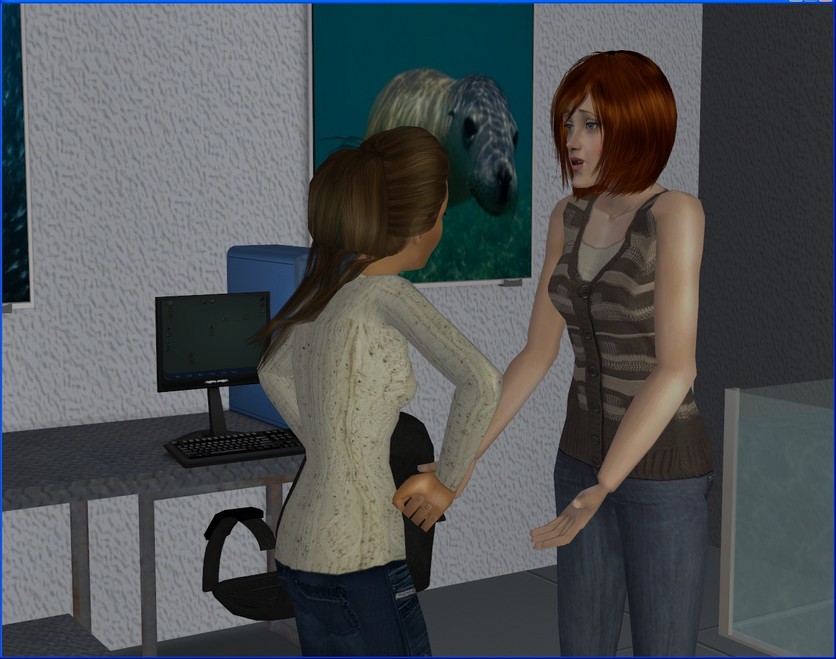 My authority, anyway. Maybe it's because I'm young or not scary enough.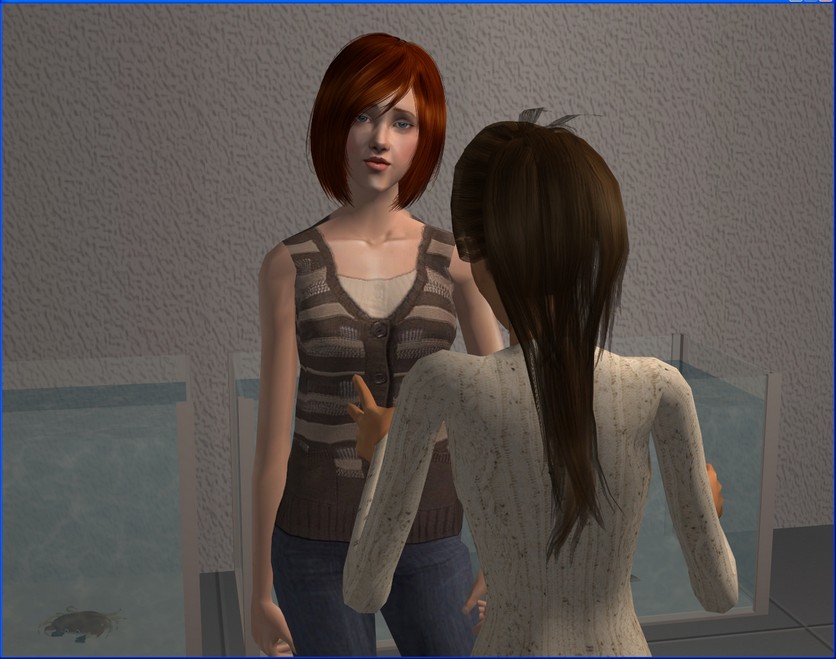 I'm just glad I only have to put up with her for a few hours a day.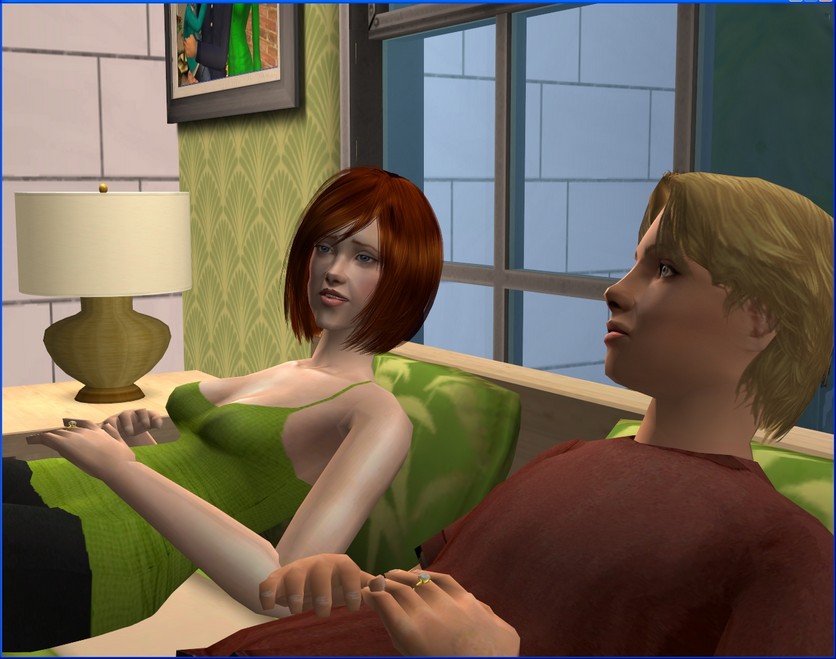 Finn must be sick of hearing about Lila but she really gets to me some days and I have to get it all out or I can't sleep.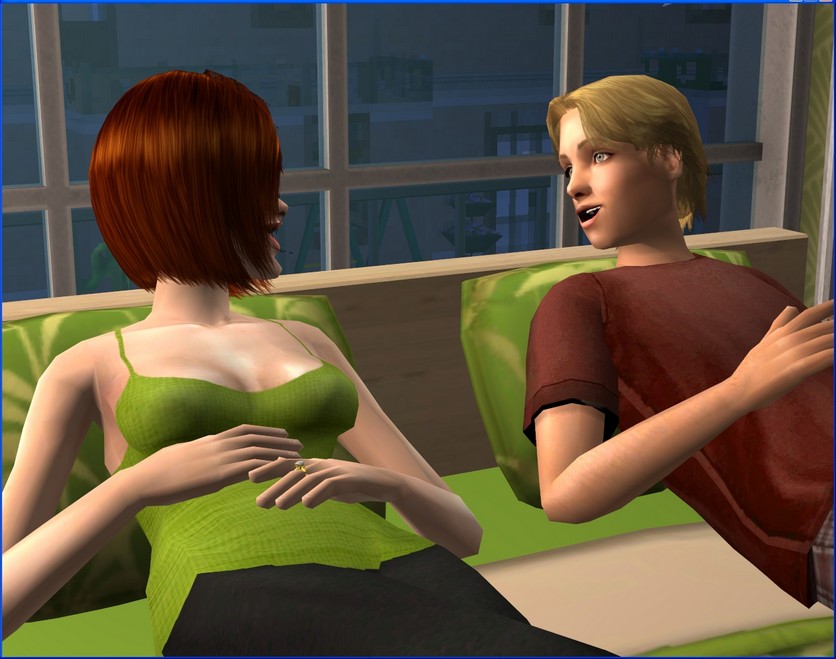 Finn knows all too well what Lila is like. He taught her
for two years
in when she was in primary school and it doesn't sound like she's changed much.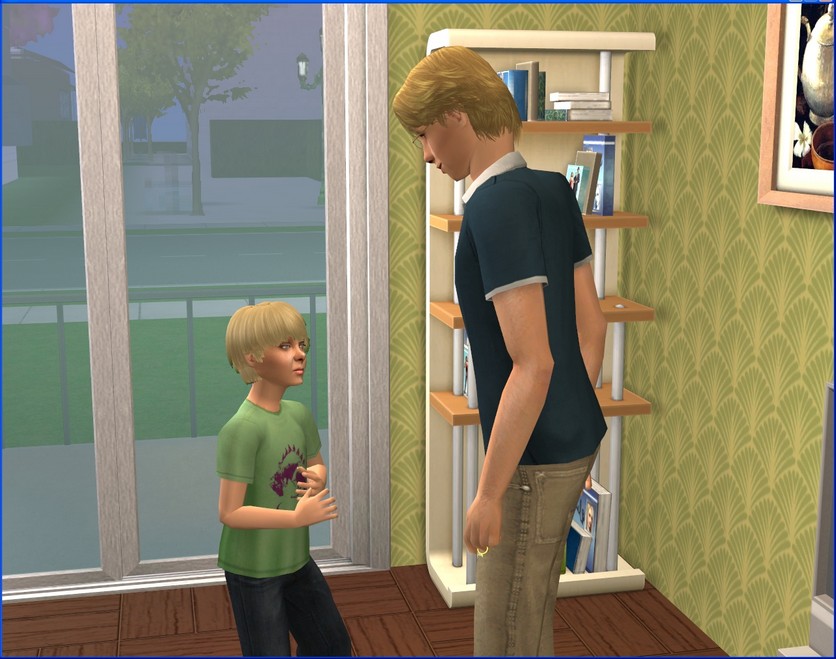 Most people have their parents pestering them for more grandkids and Finn's parents are already at us about that but we have Declan on our backs too!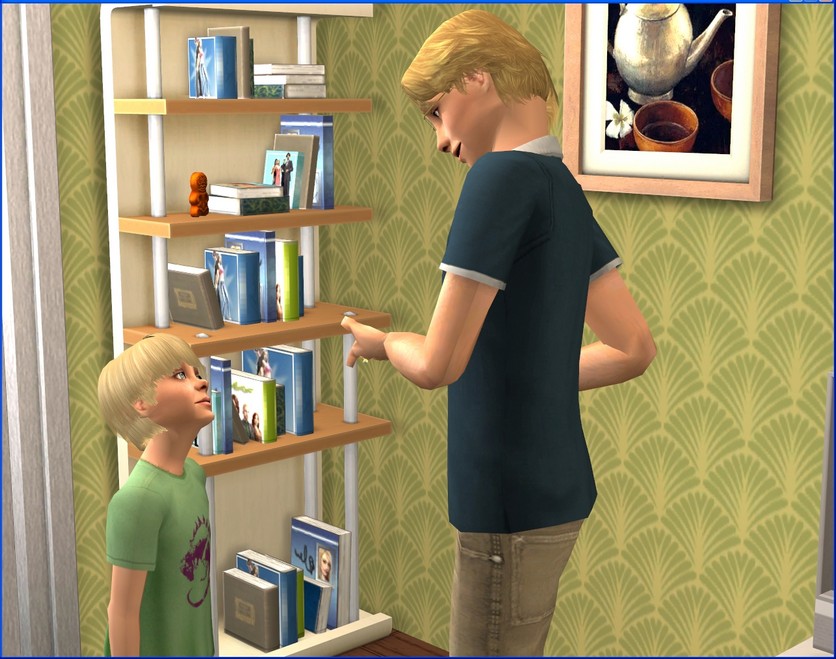 He is
desperate
for a little brother or sister and he asks about it all the time. Finn has explained to Declan that a little brother or sister might be something we'll consider a few years down the track.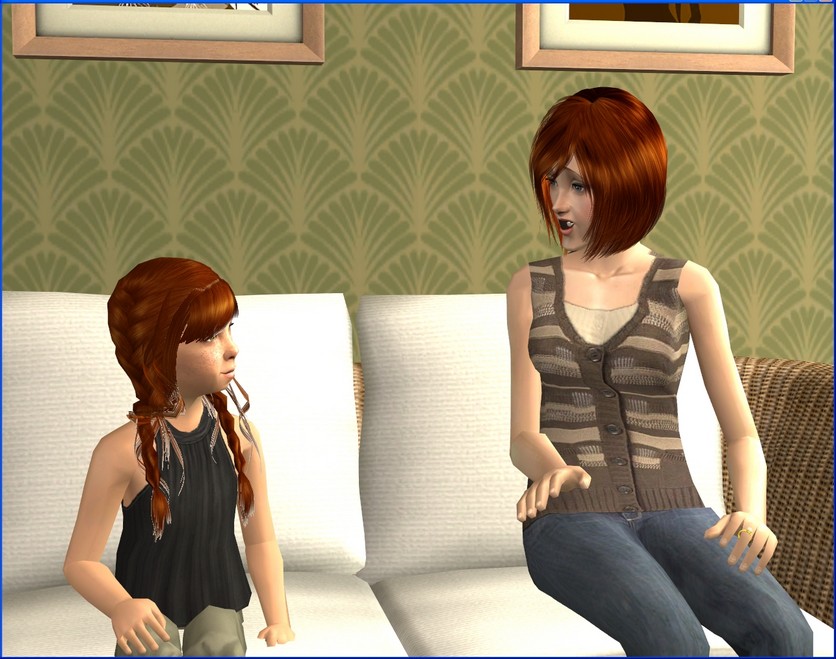 Caitlin has started to ask about another baby as well, so I've had the same conversation with her.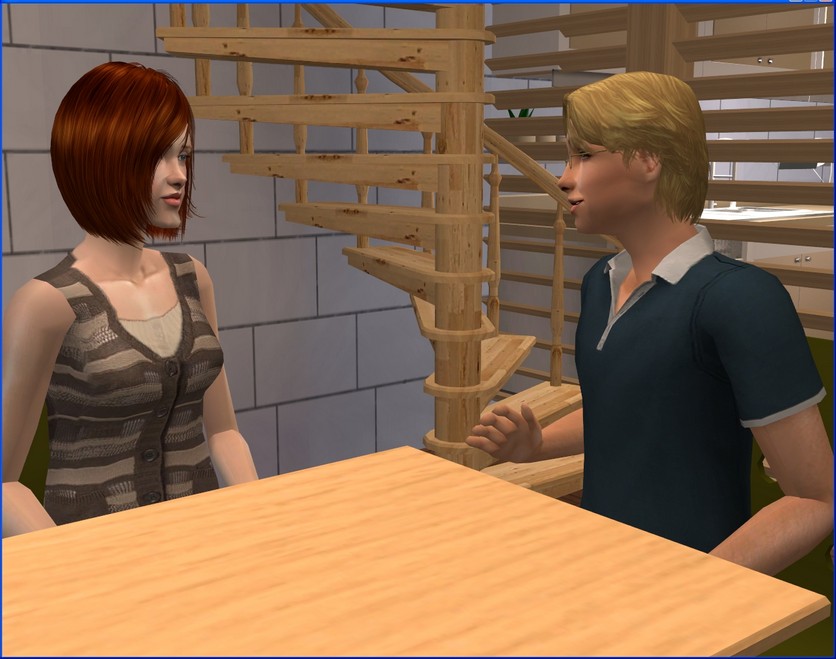 Finn has finished his master's now, so we have that out of the way, with the possibility of a raise for him pretty soon. But we're still a long way from being able to afford another kid.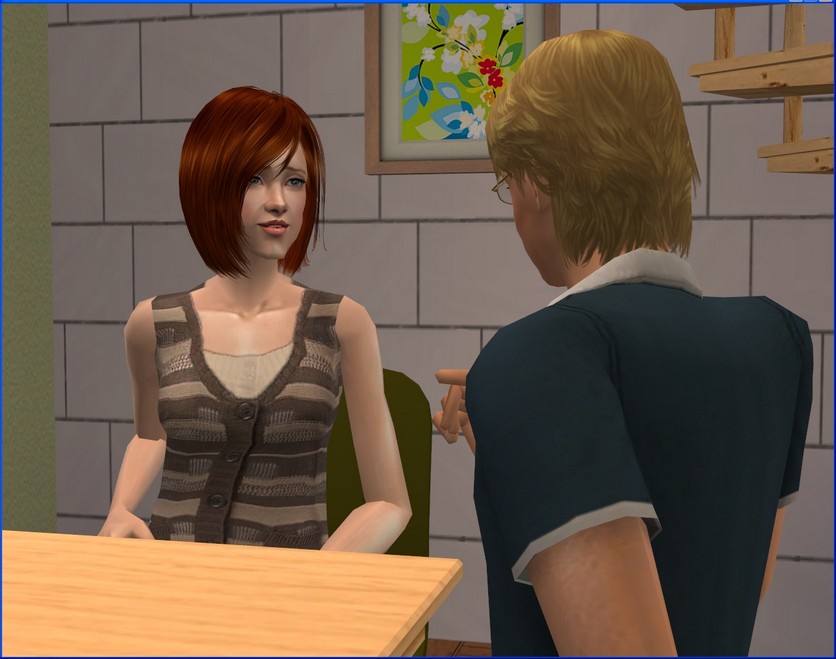 I'm dying to start trying and it's so frustrating to have no idea when it'll be a possibility, if ever.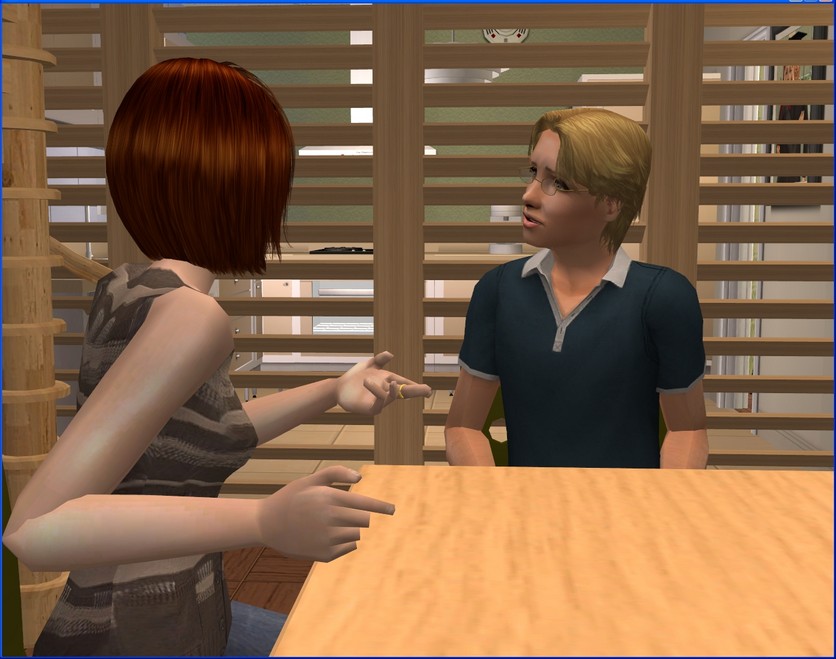 Finn wants a third child too but he's more optimistic than me. He keeps trying to assure me that we'll be okay and we'll be in our own house within five years.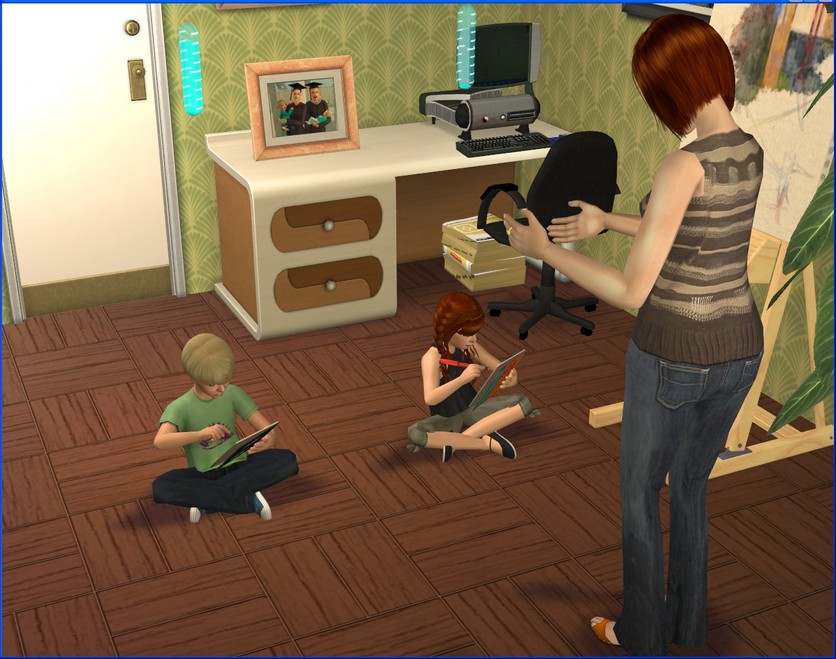 I hope he's right! We really need more space around here. The kids have to do their homework on the floor because we've got no room for a desk in their bedroom, let alone two desks.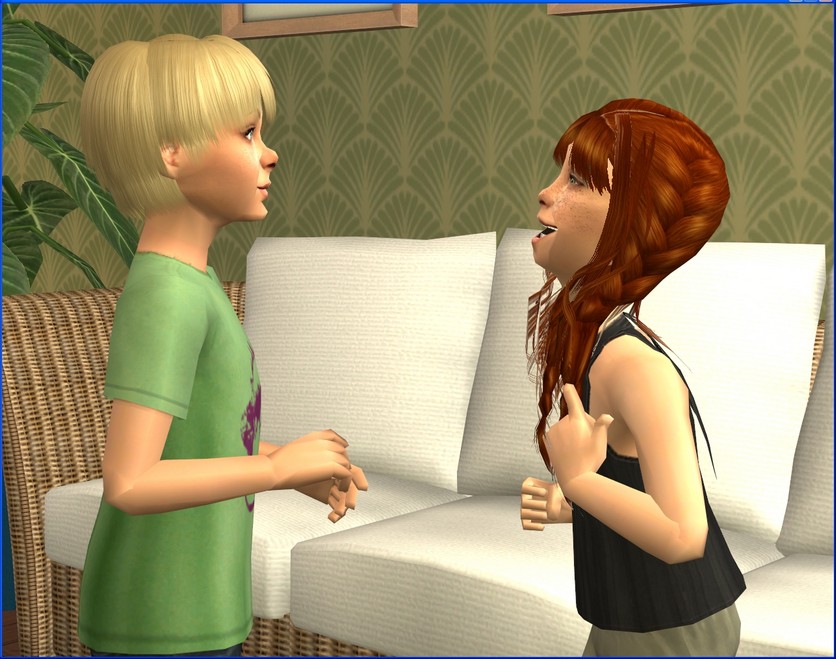 They don't really mind...for now. But there's going to come a time when they want their own bedrooms.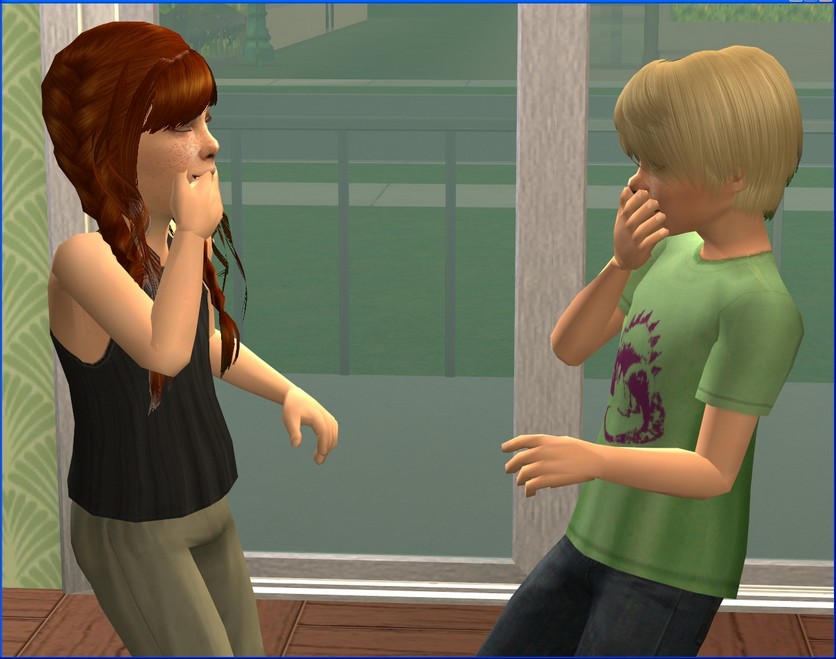 They're both such great kids and they're so close. It would be hard
not
to want another one!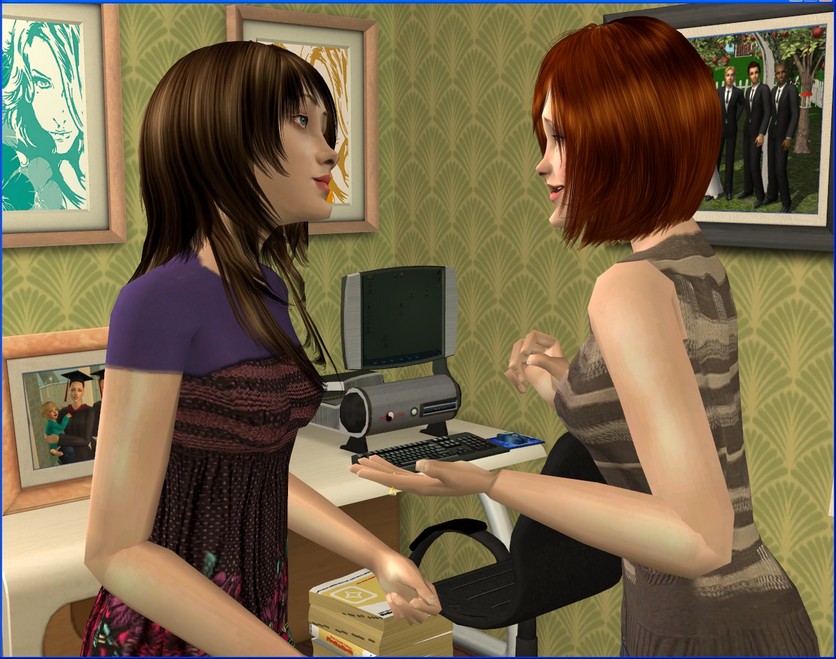 I hope Declan and Caitlin stay close as they grow up. Claudia and I did, but we're twins so we have that extra bond between us.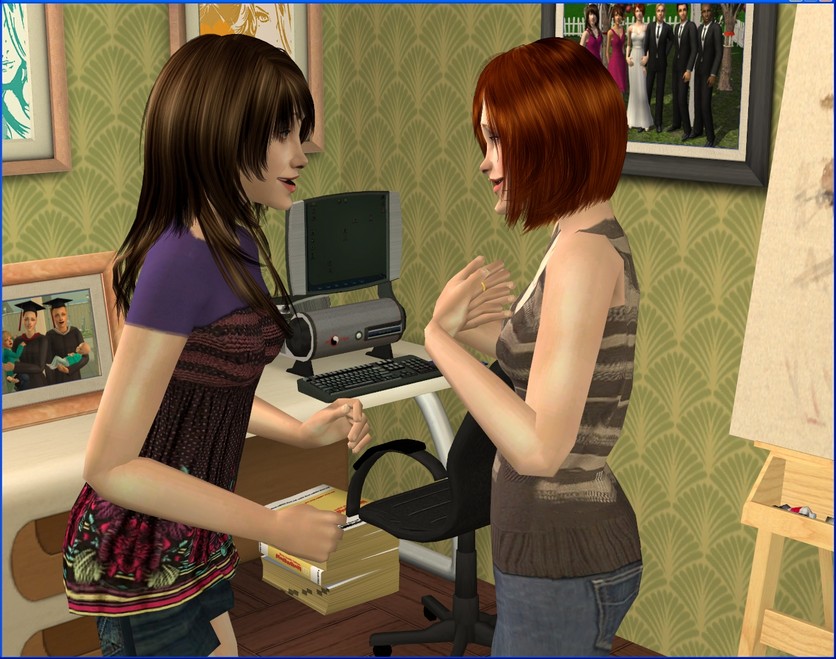 Since I had Declan, Claudia and I have been in pretty different places in our lives but I think she might be starting to catch up.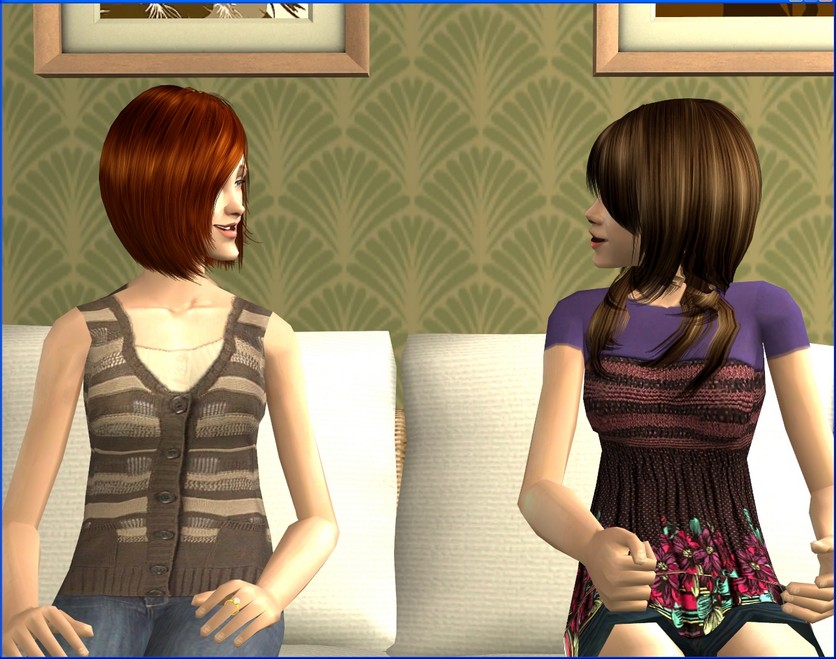 Claudia put marriage out of her mind after getting a little obsessed with it for a while but she's just starting to think about it again.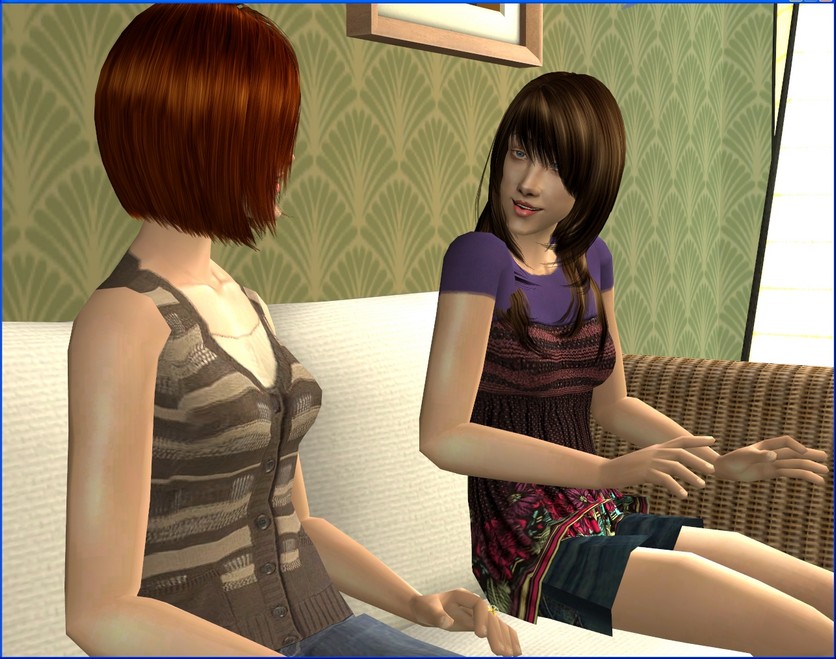 I think she's trying to stay cool about it but I can tell she's getting excited again.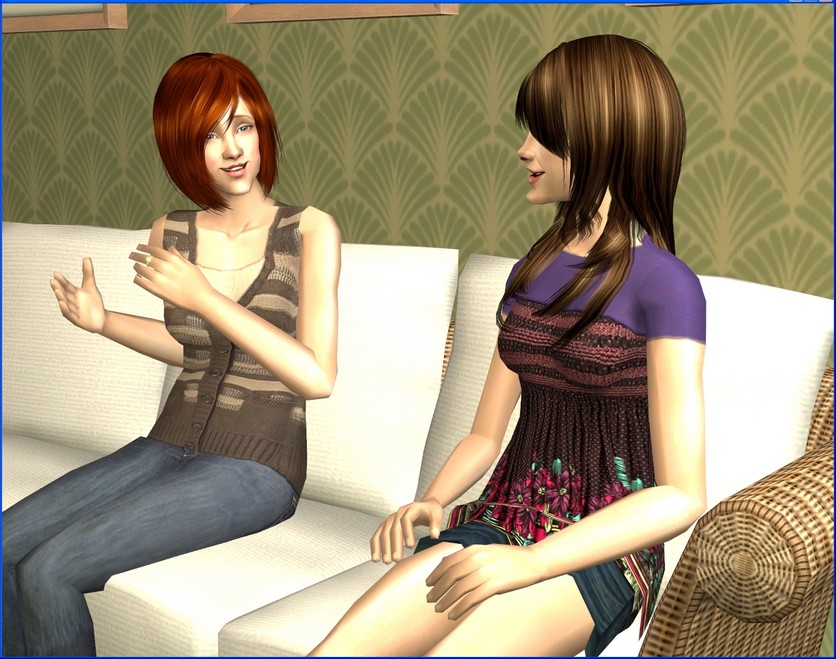 I'm kind of excited for her; I've been wondering when Jacob's going to propose!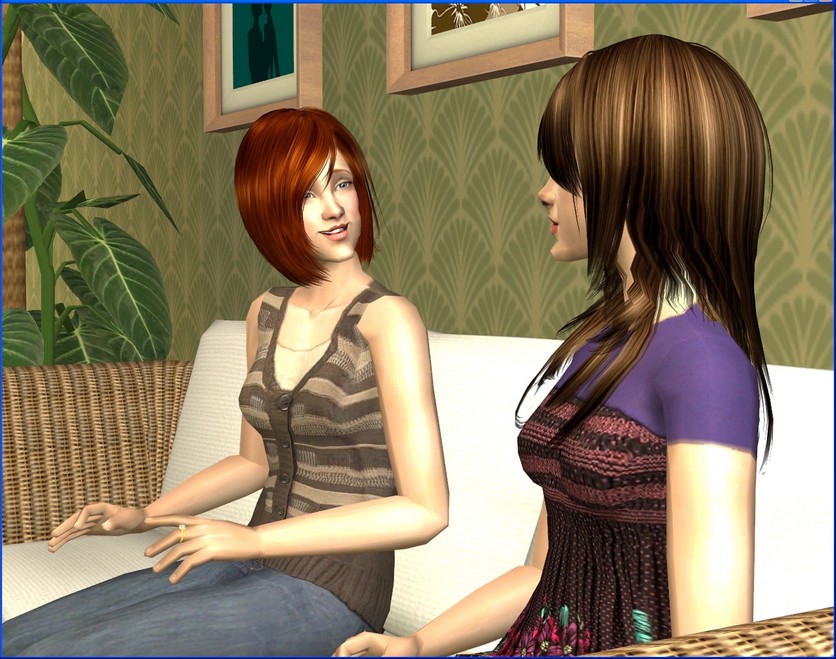 Sometimes I imagine how nice it would be if they got married and then we ended up pregnant at the same time!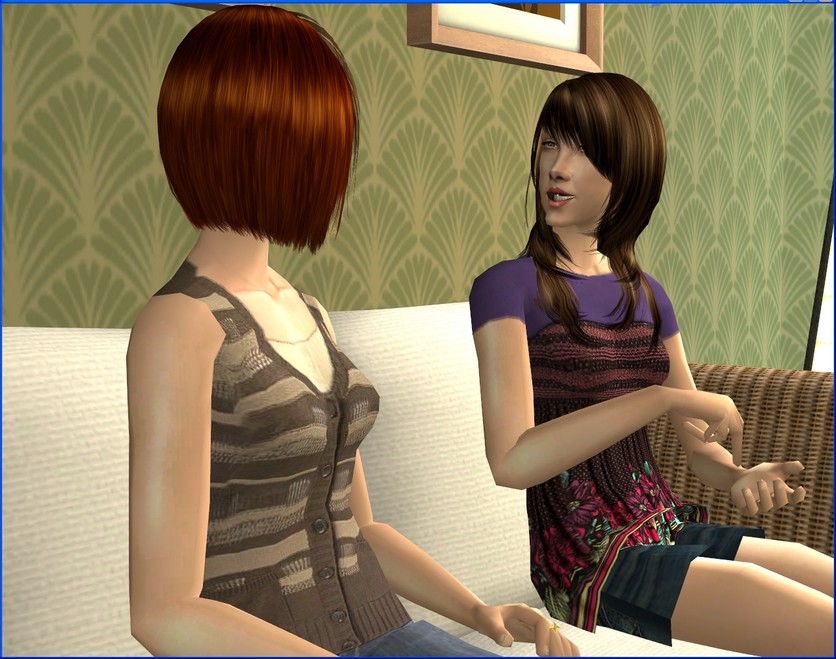 Claudia has to keep reminding me not to jump the gun, because they're not even engaged yet. I know that but I still can't help getting a little excited!

Outtakes: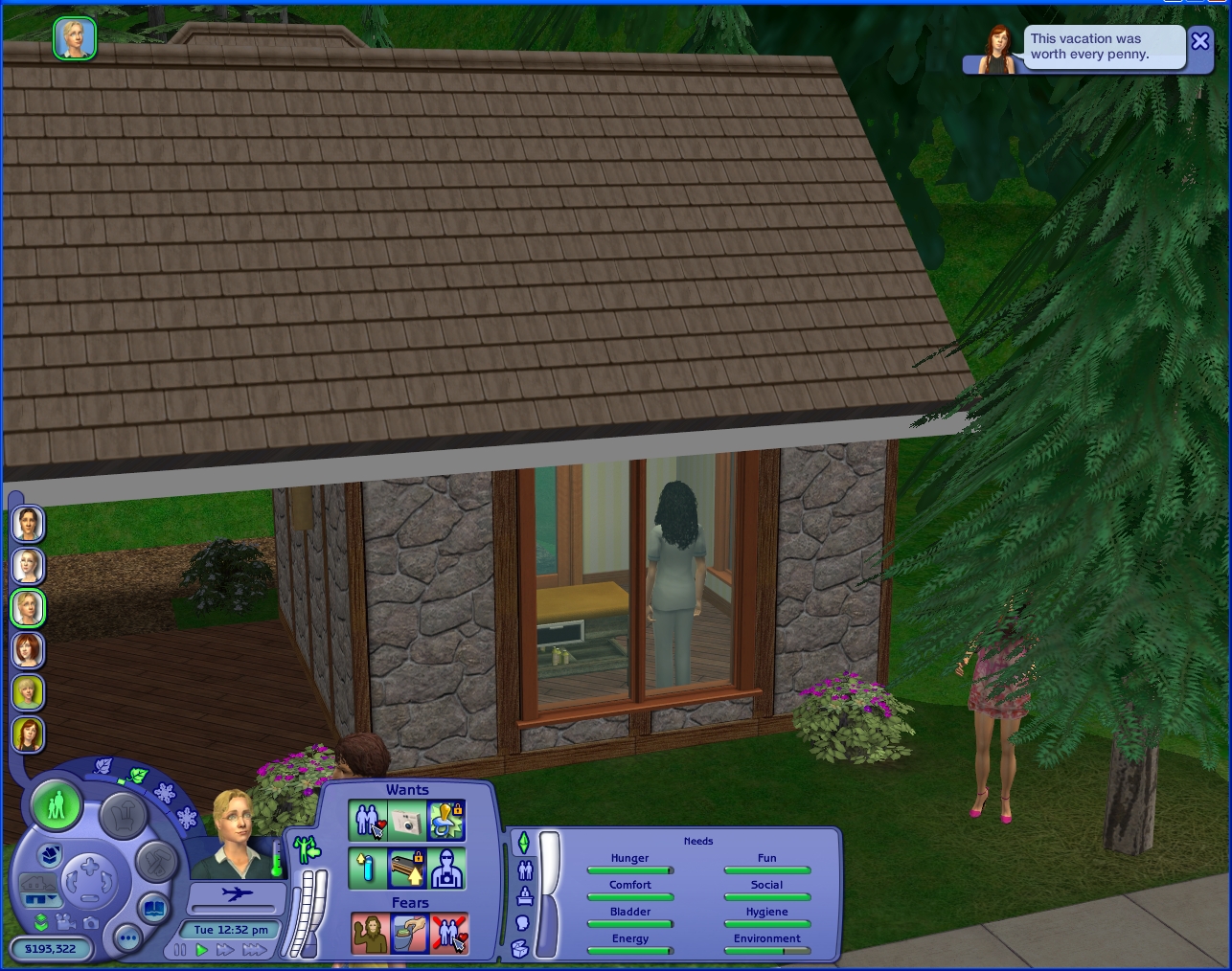 (click to enlarge)
Oh, I'm glad you think so, Caitlin! I love when the pop-ups give kids such adult things to say!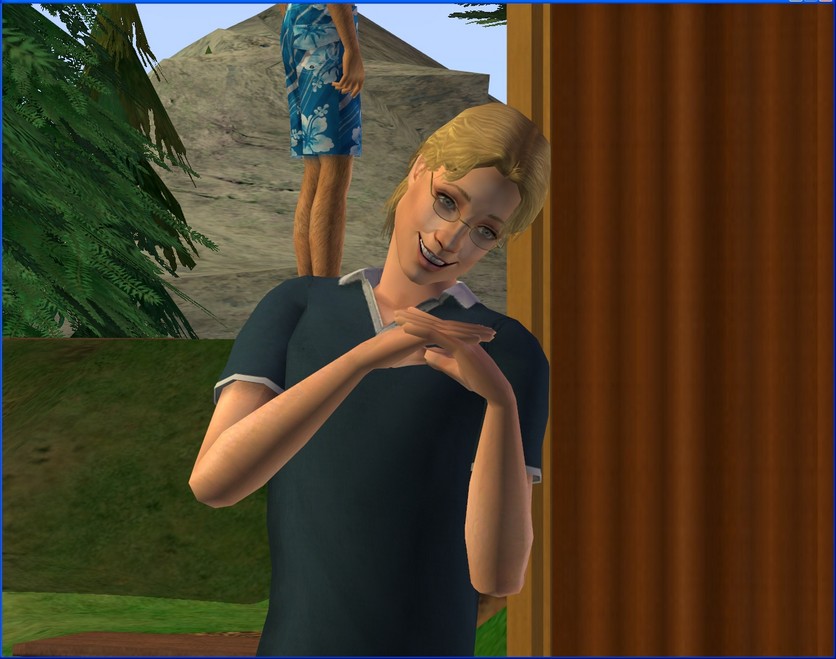 I'm sorry, this is the last picture I'll post of my Sims doing this. Maybe...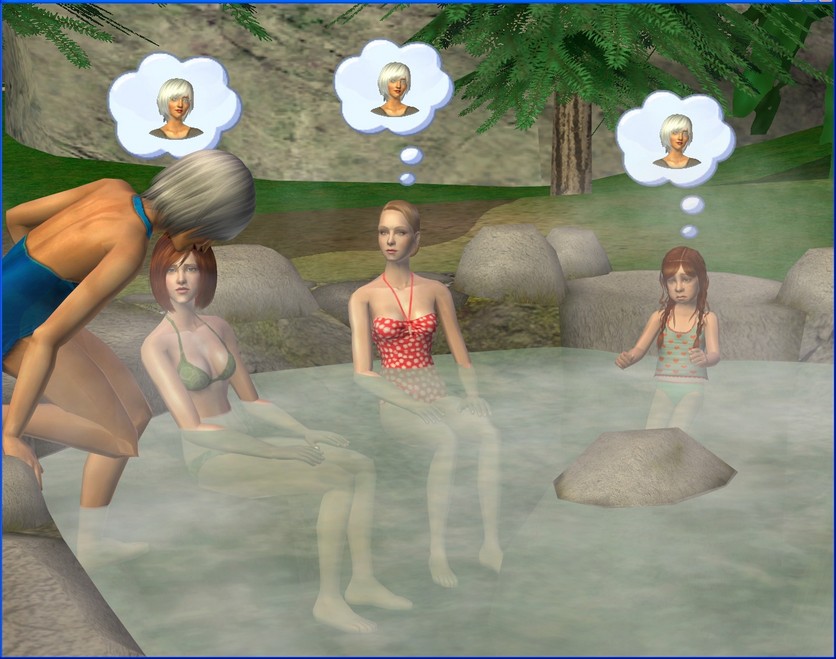 At one point, Athena joined the girls in the hot springs. Megan and Victoria were rather unperturbed about it but Caitlin seemed quite distressed! She doesn't like seeing old ladies in their swimsuits, maybe? LOL.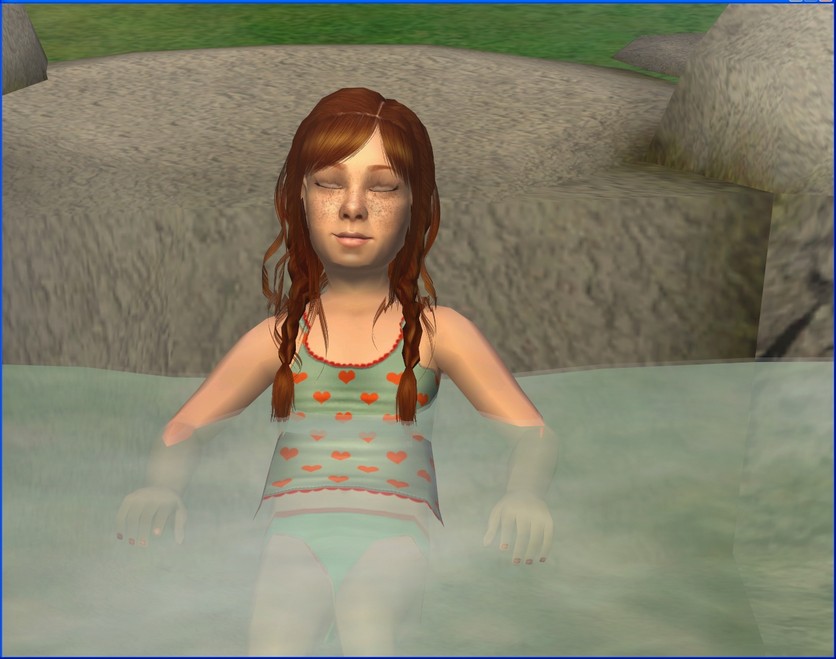 Just chillin' out. Kindergarten is so tough, so Caitlin needed to get away!
I just like this picture because it makes the house look way cooler than it actually looks in game! The house is Copper Ranch Retreat by EA (comes with BV, already placed in Three Lakes) but I extended it so I could have two storeys. Trent and Megan have a ton of money, so it didn't cost much.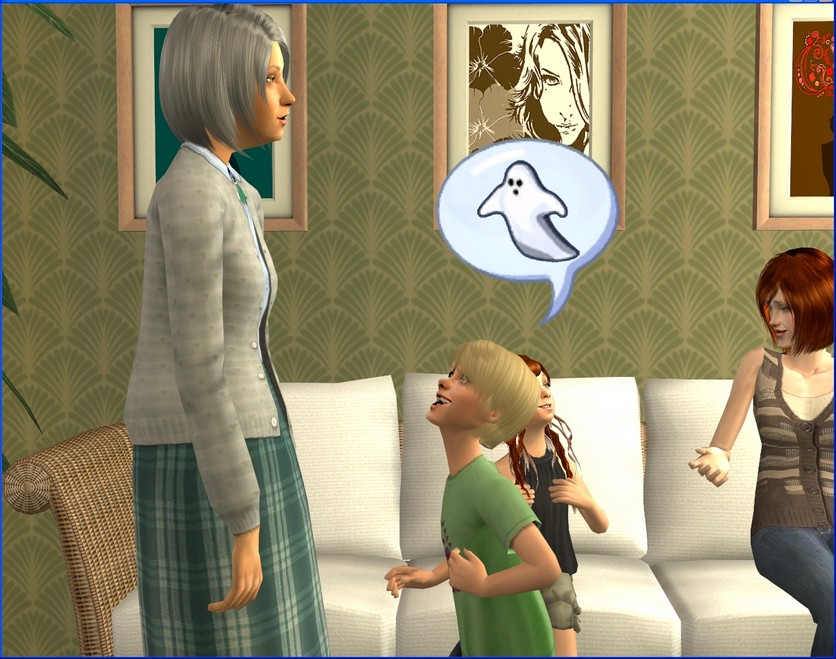 I don't know what Declan is talking about here (it's Caitlin behind him talking about ghosts) but he is
so
excited about it and the nanny looks like she's ready for someone to shoot her.
Notes:
Title is from Love is All by The Rapture, which is a really adorable song.

Please ignore any discrepancies with Victoria's weight in this update! She gained weight on vacation, which is fine but I took some of the pics at the beginning after they got back but forgot to bump her weight back to normal!

Additionally, sorry about the numbers in the corner of a few of these pics. I had testingcheats on at one stage and forgot to turn it off before loading the next lot.

Finn was the Sim who rolled the Family Vacation ROS this round. Finn and Victoria are trying to save for a house though, so I temporarily moved them in with Victoria's parents (again) and had them go to the Kirby vacation house instead. I don't consider it cheating because real families do stuff like this all the time. I didn't want to muck around with that "guest" thing either - that's annoying.

Caitlin and Declan woke up every morning with the want to eat pancakes, which was cute to me, so I had to write it in.

They also

both

have the want for a new family member, which is quite rare, at least in my game. The last Sims I remember rolling that want were James and Naomi, right before their parents got married. So that was about 45 years ago, Sim time! Finn and Victoria also both want a baby and Henry and Araminta are after another grandchild. So the whole Romilly clan is fairly keen! And I am too, because Declan and Caitlin are so adorable and I'm dying to know what a third would look like.

This was my first session with Community Lot Time and I loved it! I don't think I'll go back to playing without it. It makes going to community lots just that little bit more realistic. I liked rushing back home so I could get the kids to bed at a decent hour and I imagine I'll find even more I like about it as I go on.