I haven't played out my next update yet, so instead you're getting another nerdy gameplay post from me.
Anyone who uses ACR in their games will be aware of the havoc it can wreak on your hood's population. Fortunately, ACR also includes a birth control option, which tempers that quite a bit!
For a long time in my game, I've allowed any sim with five or more neat points to use birth control. I snagged that idea from
Laura
, though I think her sims needed seven neat points. The thinking is that if a sim is neat, they would be organised enough to keep track of their birth control and remember to use it. However, ever since reading
this post at Riverdale
, I've been pondering how I could use the other personality traits to help me decide who would and wouldn't use birth control.
I found the post really inspiring and I decided I wanted to come up with a little formula to figure out whether or not a sim in my game would use BC. If I don't put down clear rules for myself, I tend to let myself wriggle out of them! And I don't want to do that, because the whole reason I make these rules for myself is to keep gameplay (and by extension, the blog) more interesting.
I used a lot of ideas from Riverdale's post about what the different personality traits might suggest about a sim's attitude towards BC, as well as adding a few of my own. I decided that to use BC, a sim would need to have a score of zero or higher. They start at zero and depending on their personality traits, they can lose or gain points. This is how I calculate it:
Neatness (5 or more neat points) adds one point. A neat sim would keep track of their BC and make sure they remembered to use it.
Sloppiness takes away one point from the score. A sloppy sim would probably lose their BC or forget to take it.
Outgoingness (is too a word! 5 or more outgoing points) adds one point. An outgoing sim would have no qualms about talking to their partner/their doctor/their pharmacists about BC, so would be more likely to use it.
Shyness takes away one point. A shy sim may be too shy to ask their partner to use BC or to go and obtain it for themselves.
Activeness (5 or more active points) adds one point. Maybe we could call this "pro-active". They're motivated enough to do what they have to do to prevent any unwanted babies being conceived!
Laziness takes away one point. A lazy sim just can't be bothered with BC. No way are they trekking all the way over to the other side of the room to get it!
Playfulness (5 or more playful points) takes away one point. A playful sim might be too caught up in having fun in the moment to think about birth control.
Seriousness adds one point. A serious sim wouldn't let a little thing like fun get in the way of being responsible. They would be much more likely to use BC.
I did consider using Niceness as well but after canvassing for opinions on it at N99, I couldn't really think of any good way to work it in. I can see both niceness and grouchiness making a sim both more and less likely to use birth control, so I'm just ignoring that trait, for simplicity's sake. If you adapt this for your game and decide to use niceness/grouchiness, I would love to know what you come up with!
I'll share a couple of examples, just so you can see how it all works out. Let's start by looking at Connor Novak.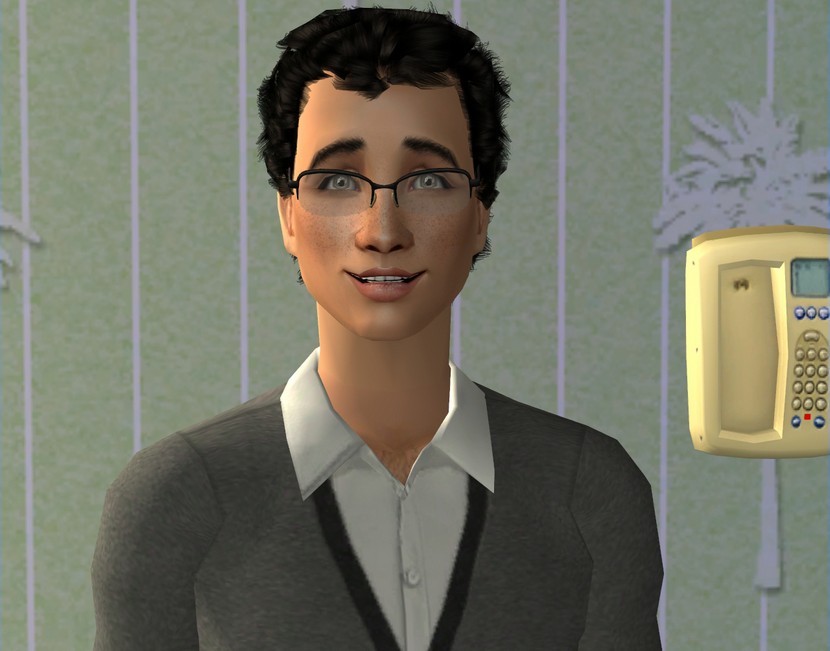 It's always bothered me that under my old system, Connor wouldn't use birth control because he's a little sloppy. I mean, can you really picture Connor not taking care of things in that department? I definitely couldn't! So I was pleased to see that under this system, Connor would be allowed to use birth control.
His personality is 4-7-8-3-3 (Neat-Outgoing-Active-Playful-Nice, just to refresh your memory). He's not neat enough to keep track of BC, so he loses a point on that, bringing him down to -1. But he is outgoing enough to bring up the topic with his partners or to buy it himself (+1), active enough to take the initiative to actually use it (+1) and serious enough that he wouldn't get too carried away having fun to forget something as vital as birth control (+1). That brings his total score to 2.
Let's have a look at a sim who doesn't fare so well, Claudia Kirby.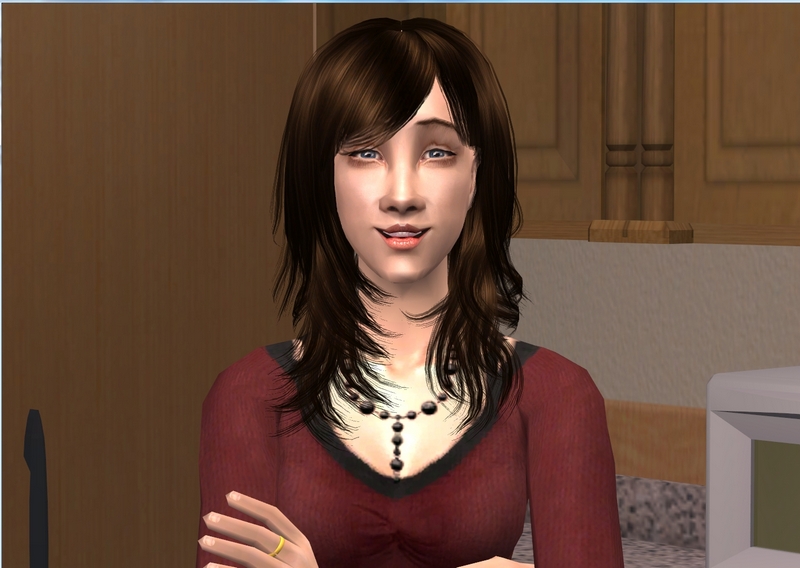 Her personality is 5-4-4-8-5. So Claudia is just barely organised enough to keep track of her BC (+1) but too reserved to really discuss it (-1), too lazy to actually use it (-1) and playful enough (-1) to get caught up in the heat of the moment and "forget" her BC. That brings her to a -2. Fortunately for her, her husband Jacob scores a 3, so he makes up for her slack in this area!
There are things about this that don't really fit perfectly. Like even a moderately shy sim like Claudia would probably be okay discussing BC with her husband of of nine years! I might consider factoring in long-term relationships with the outgoingness/shyness trait later on but for now, I'm going to keep it simple and leave it as is.
Danielle
had the great idea of including TS3-style traits with this, which I'm also going to implement in my game. I'm not going to go into detail about that, as I'm sure we all have different traits we apply to our sims and you can decide for yourselves what traits might fit into this and if you're going to take them into account at all. As a guideline though, some traits I have in my list that might apply to this are careless/careful, domineering/submissive and patient/impatient. If a sim has one of these traits, I'd add or subtract a point, depending on what the trait is.
You guys, of course, are free to adapt this however you like and if you make any changes that really work for you, I would love to hear about them!