Round 30: September 2032 (Spring)
Principal: Tatiana Lachance is
49
.
Teachers: Pamela Gray is 47, Finn Romilly is 31 and Julia Gray is 21 (student teacher).
Students: Declan Romilly, Lauren and Austin Carmody and Justin and Xavier Moretti are all 11, Brendan Lachance and Caitlin Romilly are both 9, Annabel and Georgina Nott are both 8, Matthew and Simon Lane are both 7, Alice Jacobson, Sylvia Draper and Aurora and Bianca Moretti are all 6 and Gabriel Nott, Ruby Lane and Ramona Nihill are all 5.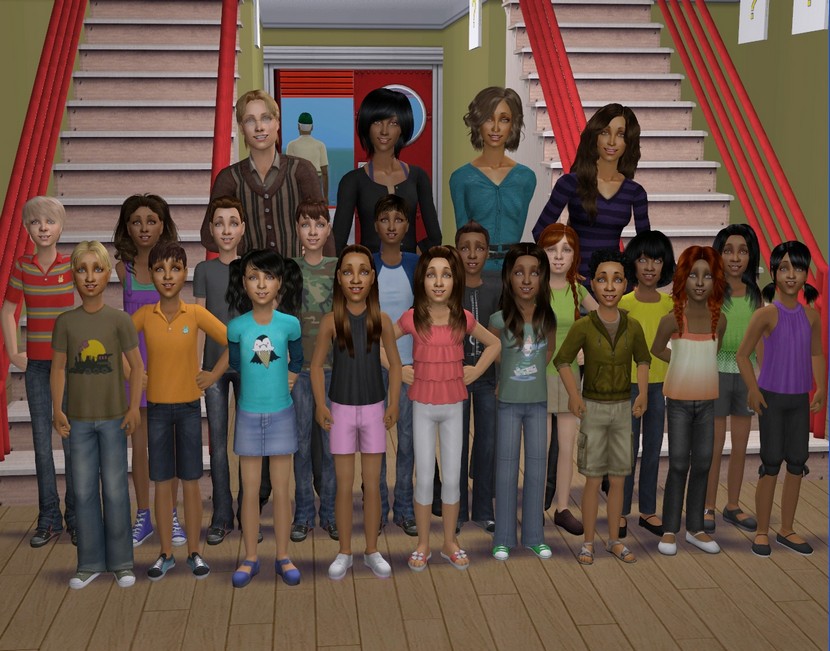 Narrated by Finn Romilly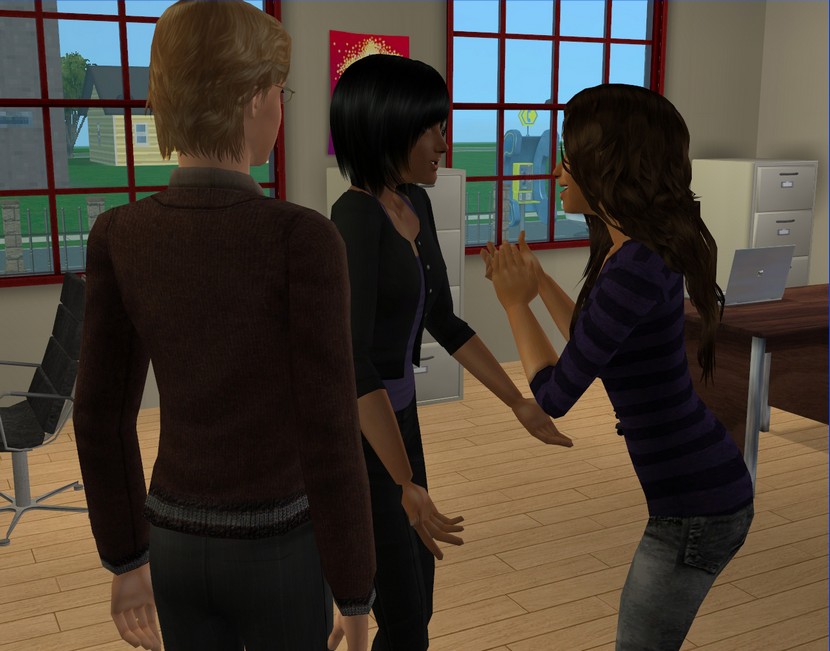 This term, we have Pamela's daughter Julia with us as a student teacher. It doesn't seem like so long ago that I was a student teacher but I just realised it was actually 10 years ago!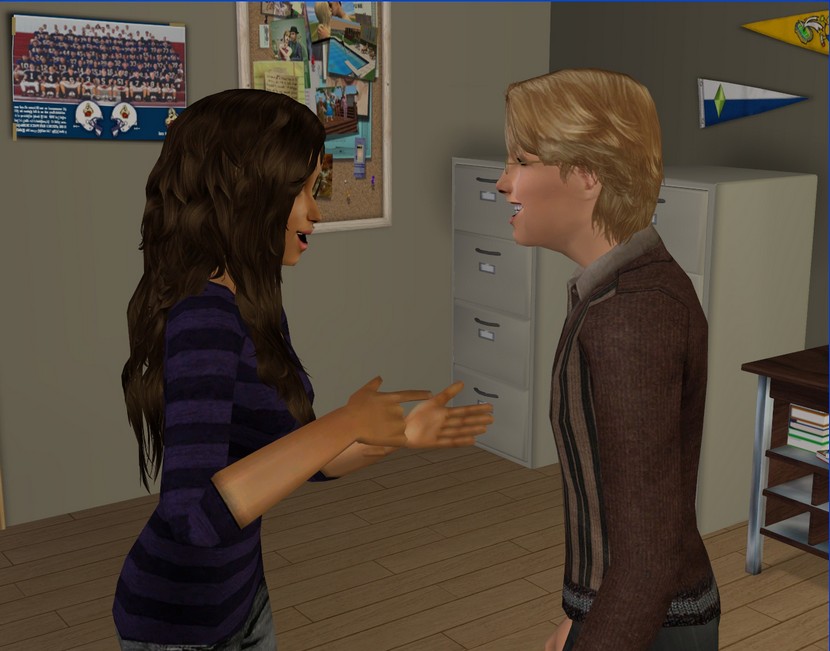 Tatiana remembers Julia from when she was a student here and warned me she could be a little abrasive. I can definitely see that but personally, I get along quite well with her.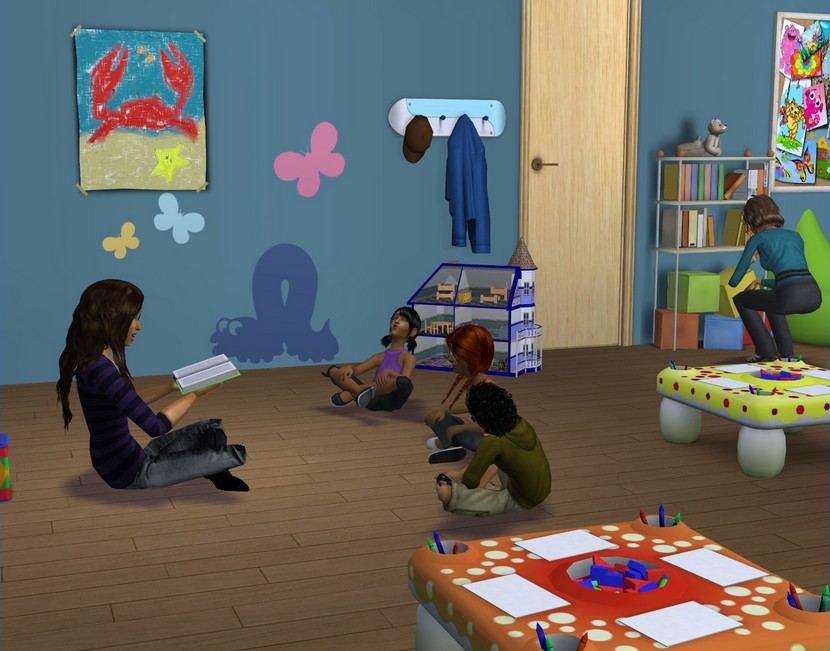 Student teaching is bit different now from when I was studying though. The university now expects student teachers to gain experience with all age groups, so Julia has to spread her time evenly among the classes.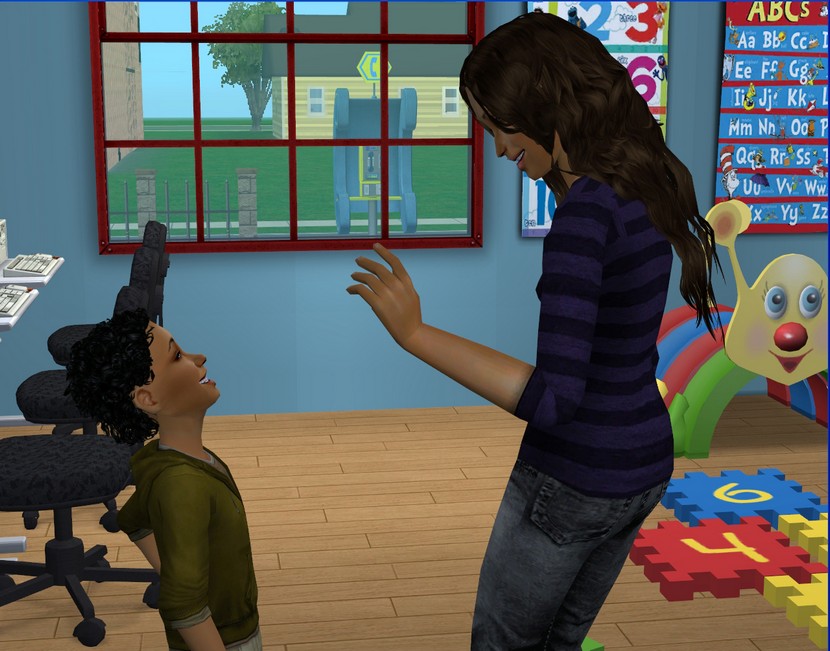 Pamela teaches kindergarten this year and Julia has been down with her mother to do some lessons. She likes the little kids but it takes a special kind of person to do that all day every day and Julia is not that person.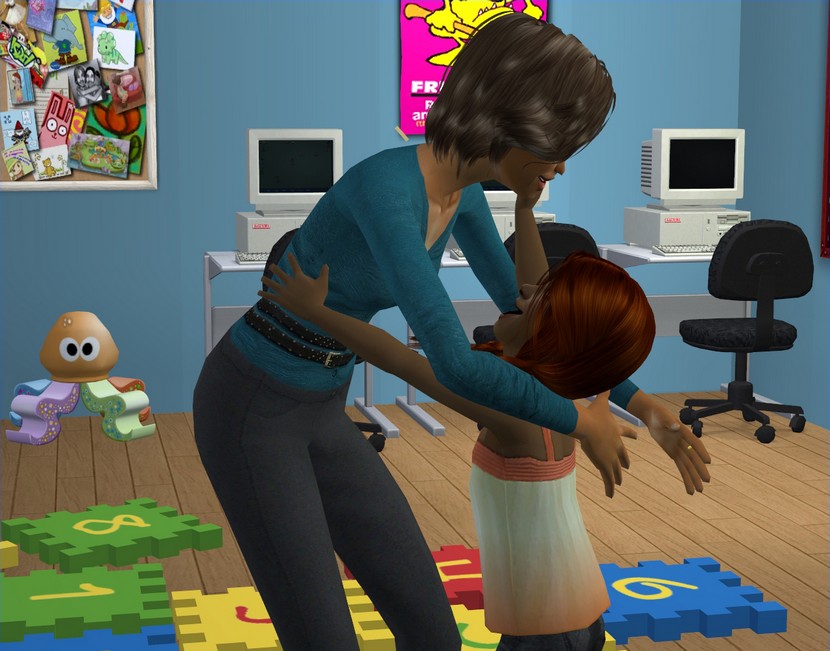 Julia is quite different from her mother. Pamela loves the very youngest children and they love her too.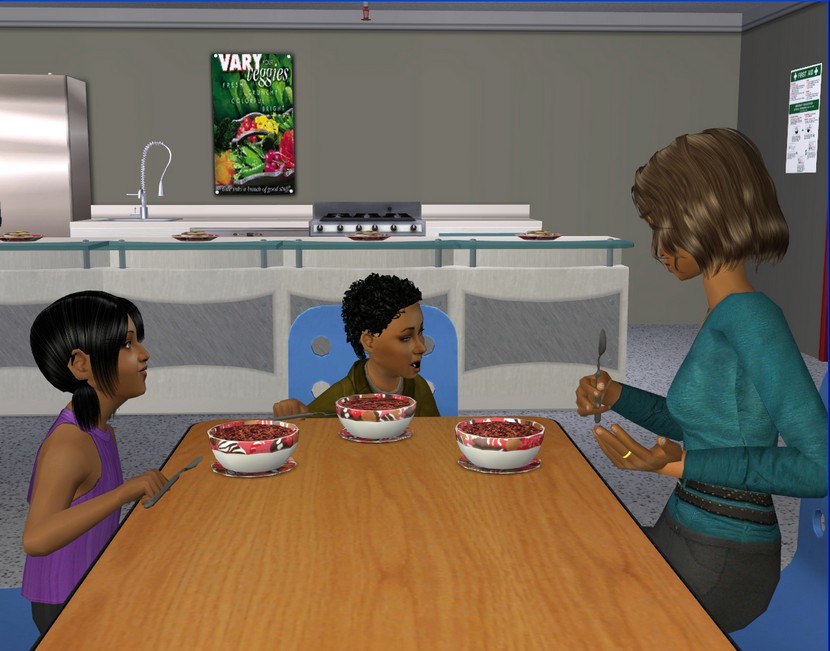 They get in Pamela's classroom and they never want to leave. Even at lunch time, Pamela is surrounded by them. I remember Caitlin and Declan really liked her when they were that age too.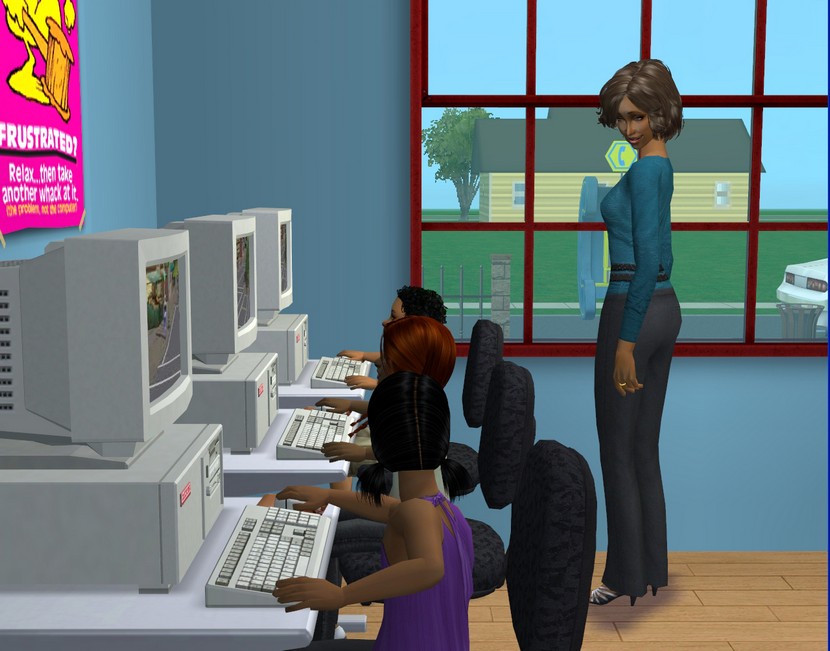 There were no pre-schoolers this year, so the kids got her for a year longer, which they were all happy about.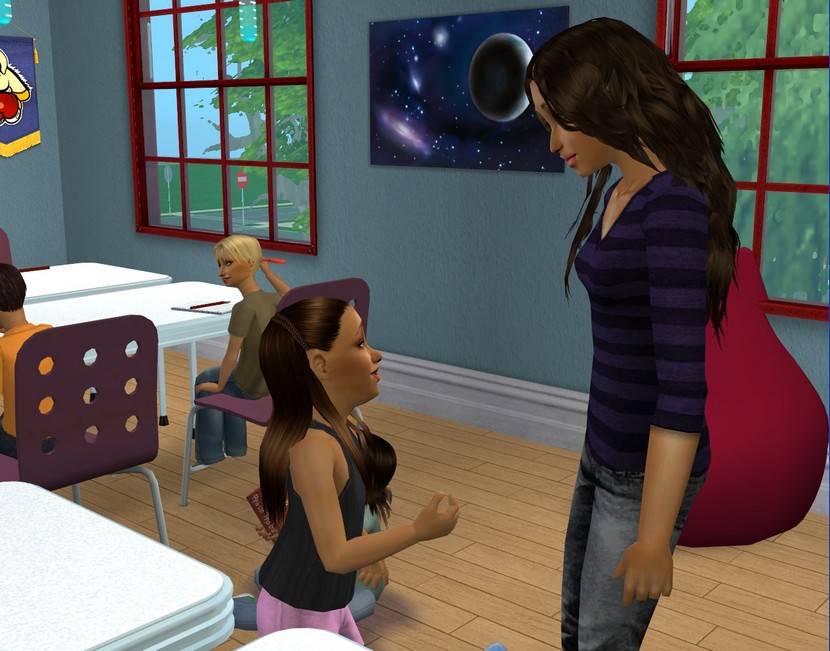 She can't stand Tatiana's class. At that age, they're just moving into a formal classroom structure so they're still in and out of their seats all the time.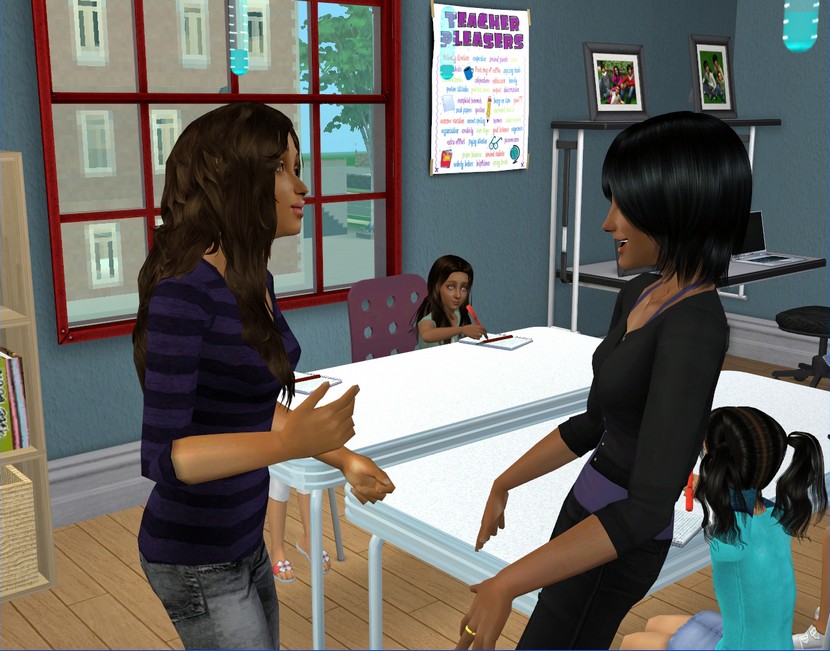 Tatiana's tried to tell her that even the high schoolers Julia wants to teach will do that sometimes but she didn't seem too convinced.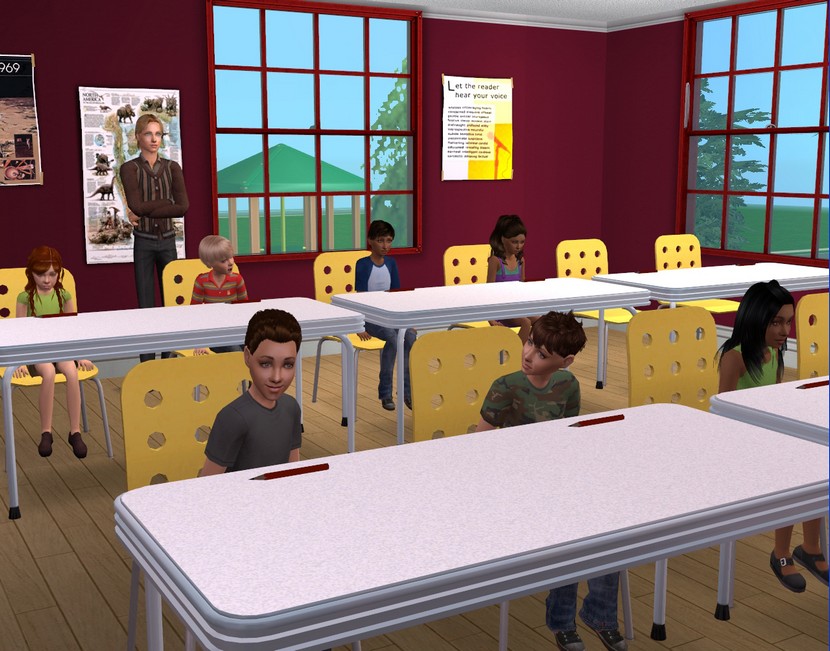 When Julia's in my class, I generally stand up the back and observe just to make sure everything goes smoothly.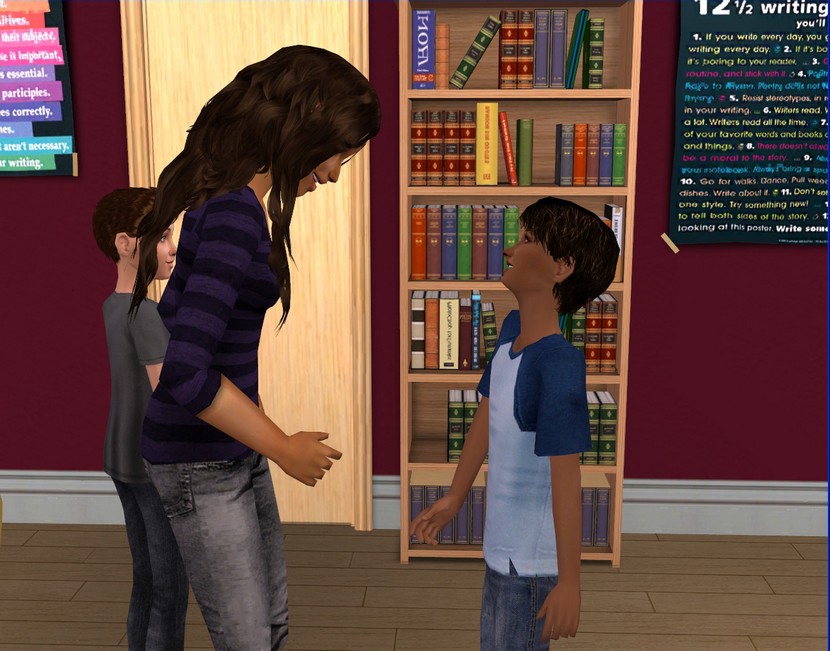 I think she'll make a good teacher, even if primary school isn't quite the right setting for her.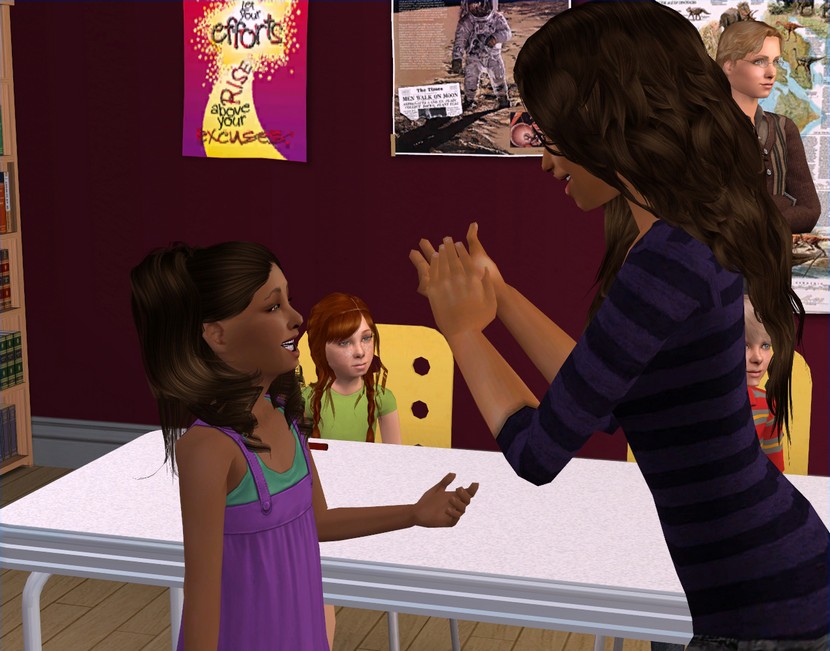 She'll eventually teach all these kids once they start high school, so it's good that she's built up somewhat of a rapport with them already.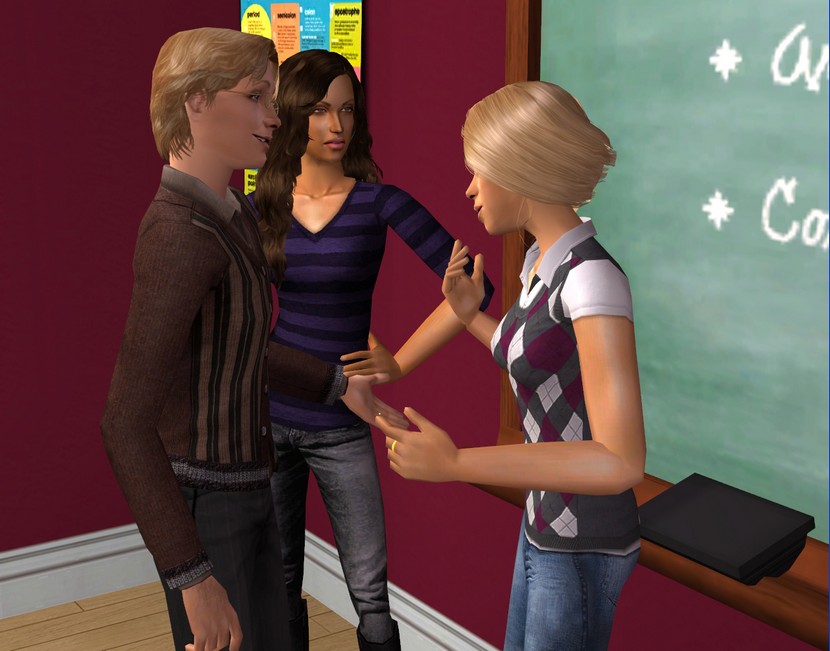 She'll definitely need to work on her people skills though. She sat in on a parent/teacher conference I held the other day and she didn't do a great job disguising the contempt on her face.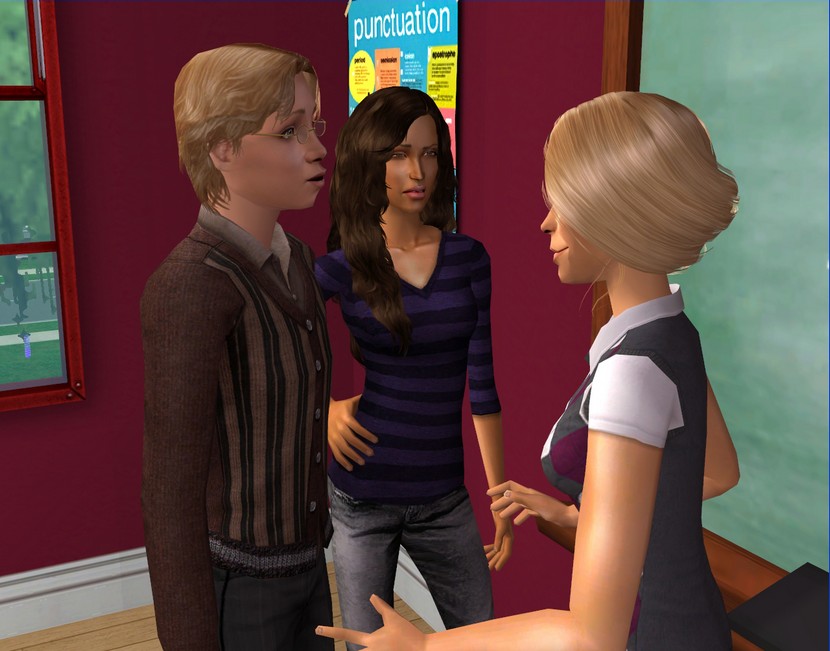 That particular mother
does sometimes fret over nothing, I admit. But a teacher needs to be diplomatic with that sort of thing and I don't mind taking the time to allay any concerns a parent might have. Parents can make your job very difficult for you if they want to.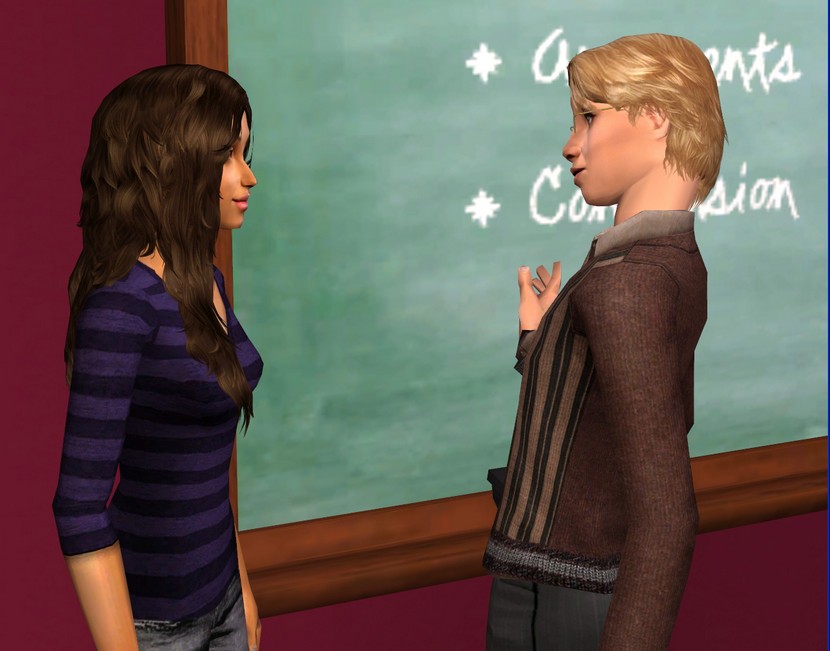 We had a little discussion about that after school one day, so hopefully Julia will take it on board.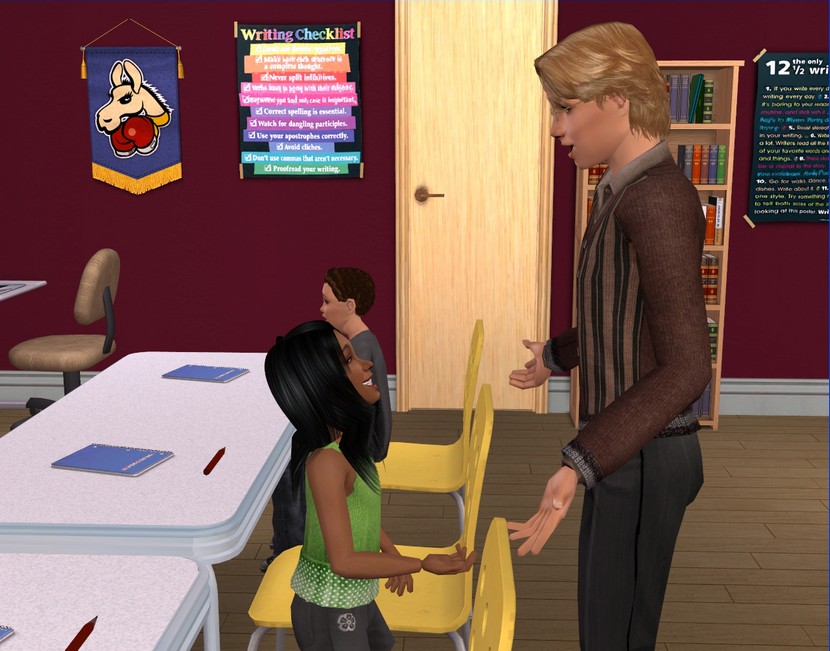 Two new students joined the class this year; twin sisters named Annabel and Georgina. Georgina is a very bright and enthusiastic student.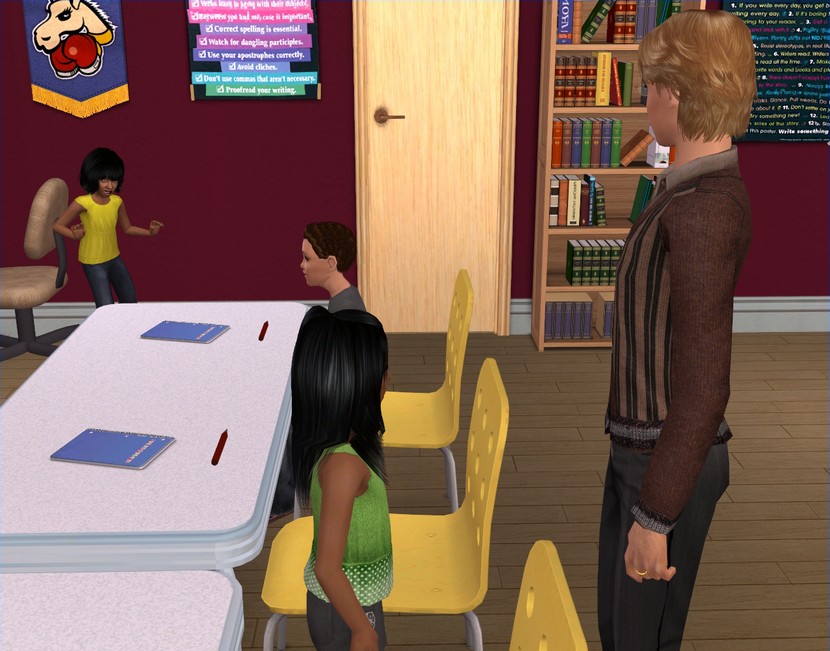 Annabel is a very sweet girl but I'm not sure what's going through her mind half the time.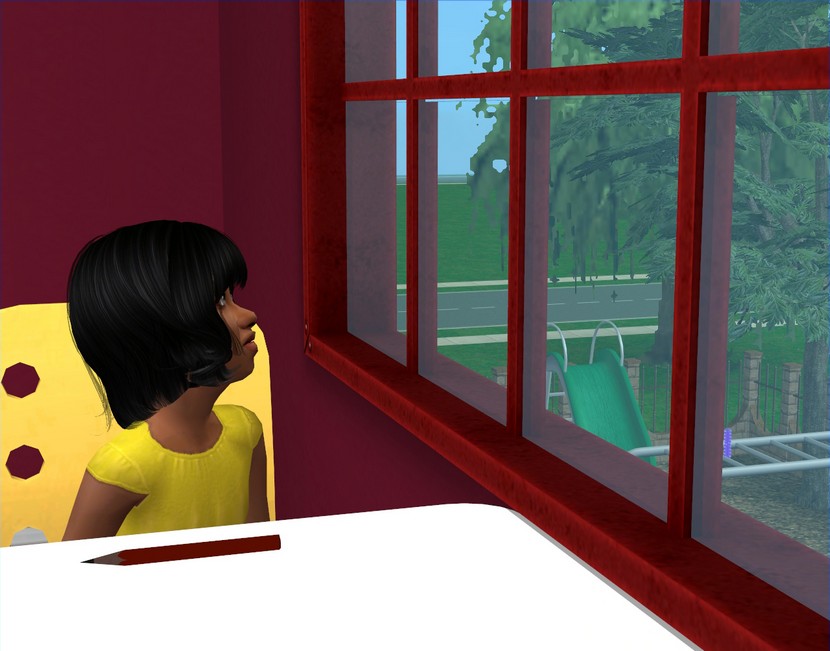 It's difficult to get her to concentrate on anything; she always seems to have her head in the clouds. Her mother told me she's the same at home, so it's not just here at school at least.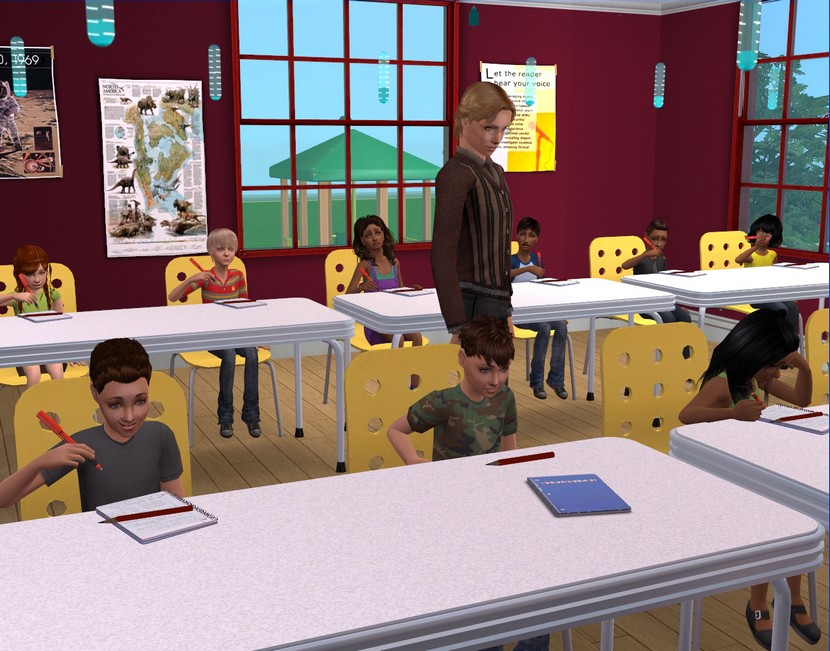 I do have a really nice bunch of kids this year. I really enjoy this age group.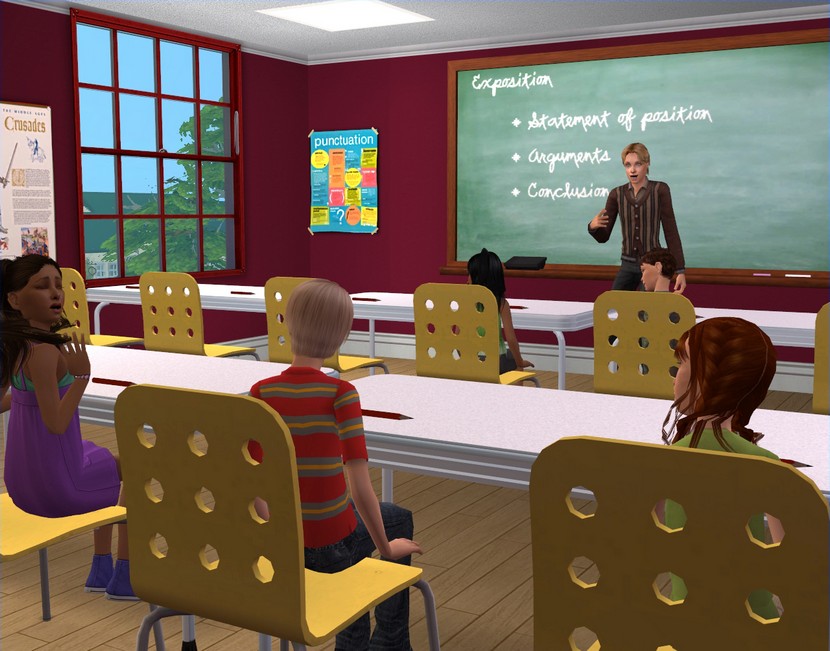 I think people would be surprised at some of the interesting discussions we've had in this classroom.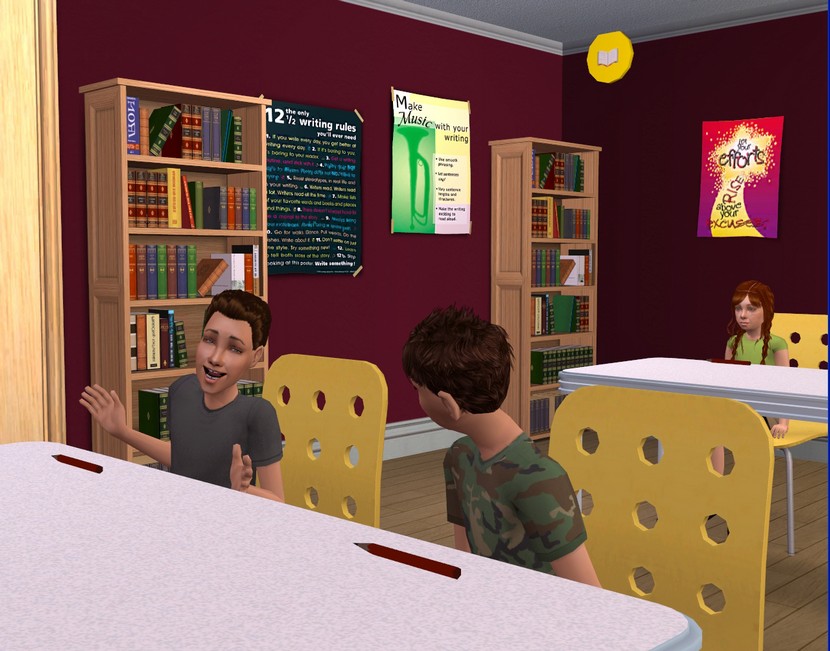 I have some very opinionated students, so it's never boring around here.
Declan and Caitlin are both in my class at the moment, so of course I think they're great (even if their attitudes to school are completely different) but it's really a wonderful group overall.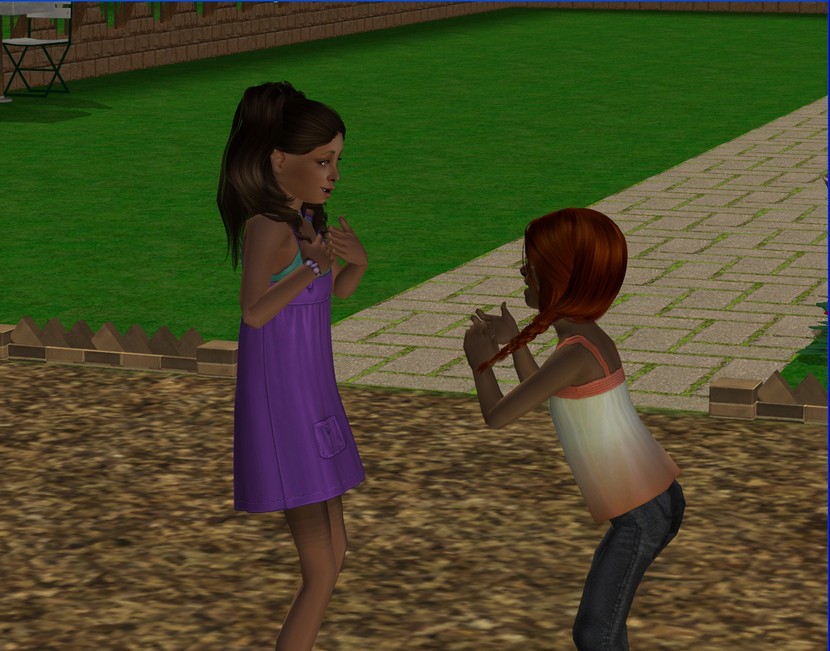 I pay particular attention to the kids from my class on the playground too and I've seen some of them go out of their way to be friendly to the littler kids. It's good to see.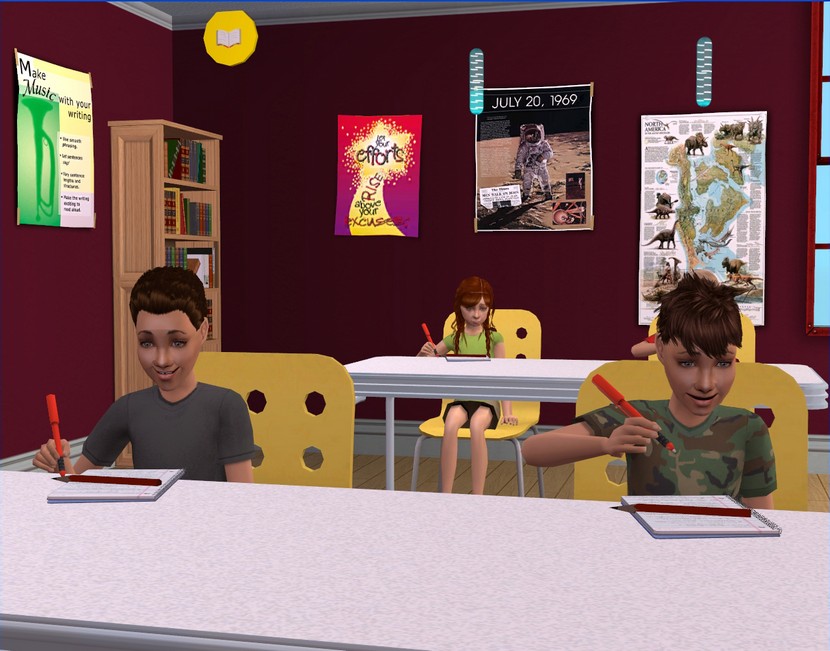 Next year, five of my students will move on to high school; my nephews Justin and Xavier...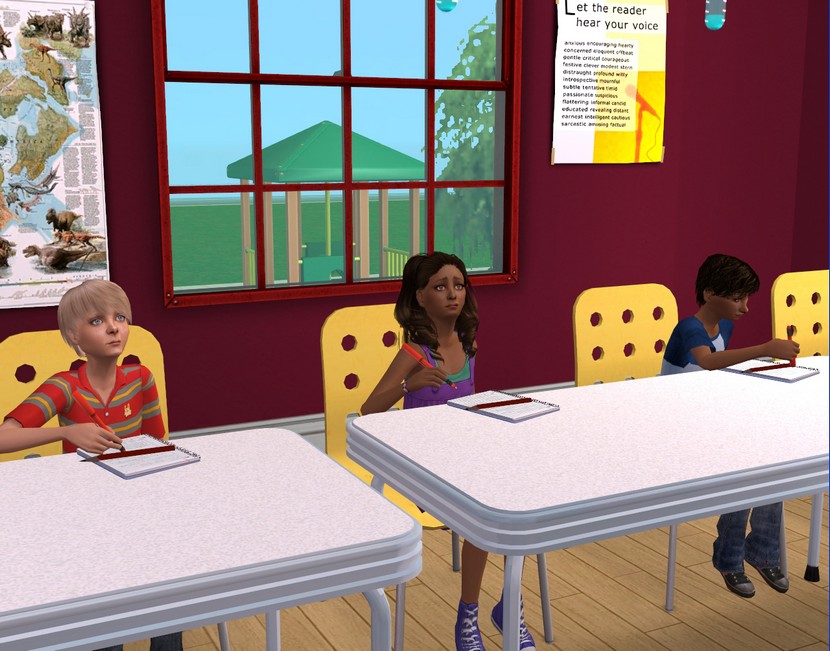 ...Austin, Lauren and of course, Declan.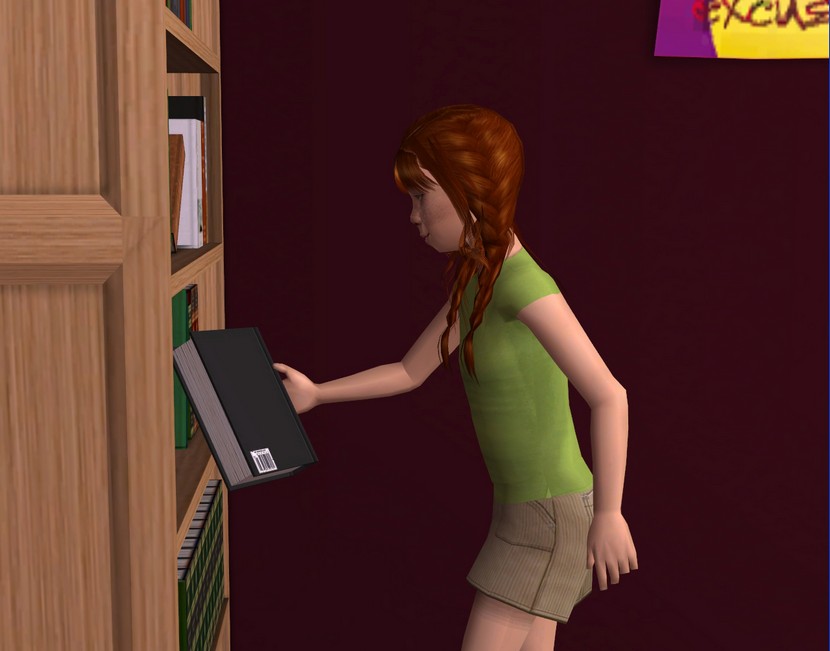 And then once Declan is off to Grade 7, Caitlin won't be too far behind. Neither of them have ever attended school without me being in the same building, so I think it will be good for them to get some more independence.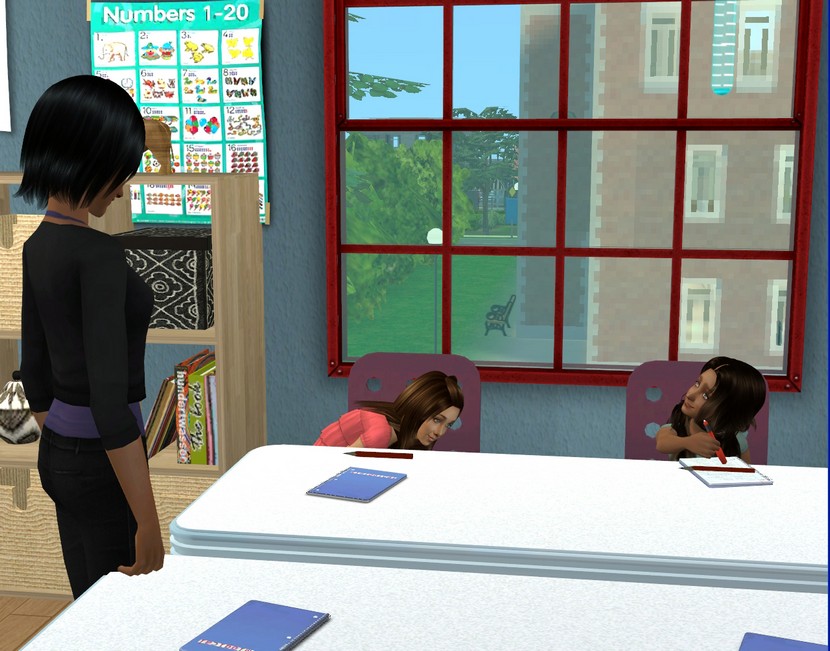 Tatiana has some interesting ones who will be entering my class over the next couple of years. My nieces, Aurora and Bianca are apparently not much trouble, apart from going off task quite a bit.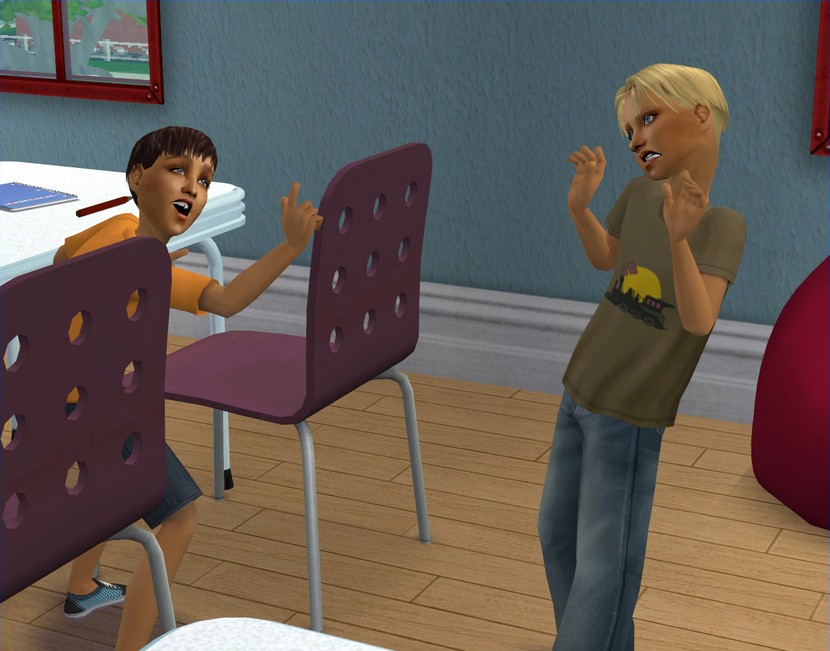 Matthew and Simon are a different story. They're both very active kids, who can get a little aggressive at times as well.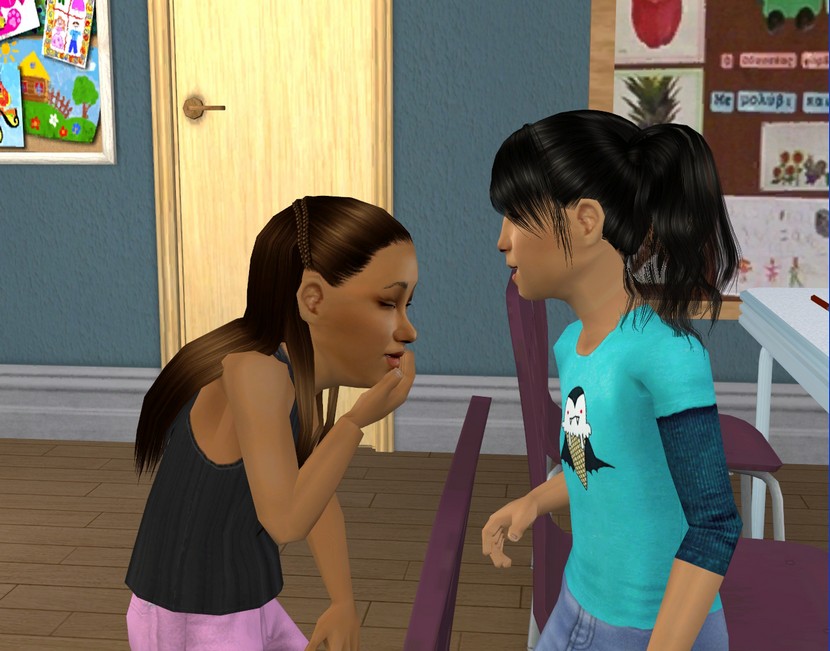 And then there's Sylvia and Alice, who are supposedly real little schemers. I hope it's just an immaturity thing in their cases. If not, I'm confident I can shape them up before they leave my class.
Extras: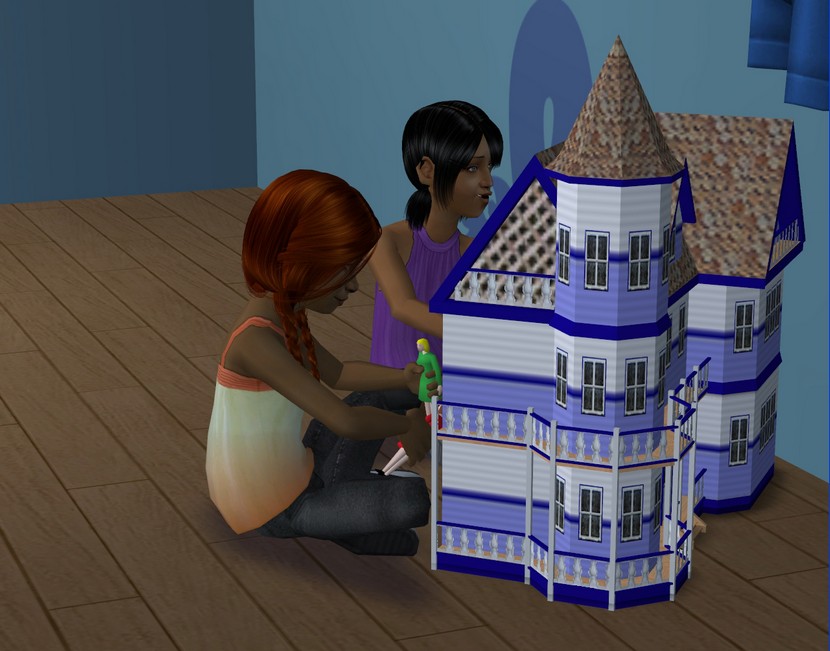 Ruby and Ramona are inseparable at school. Every time I looked at them, they were together!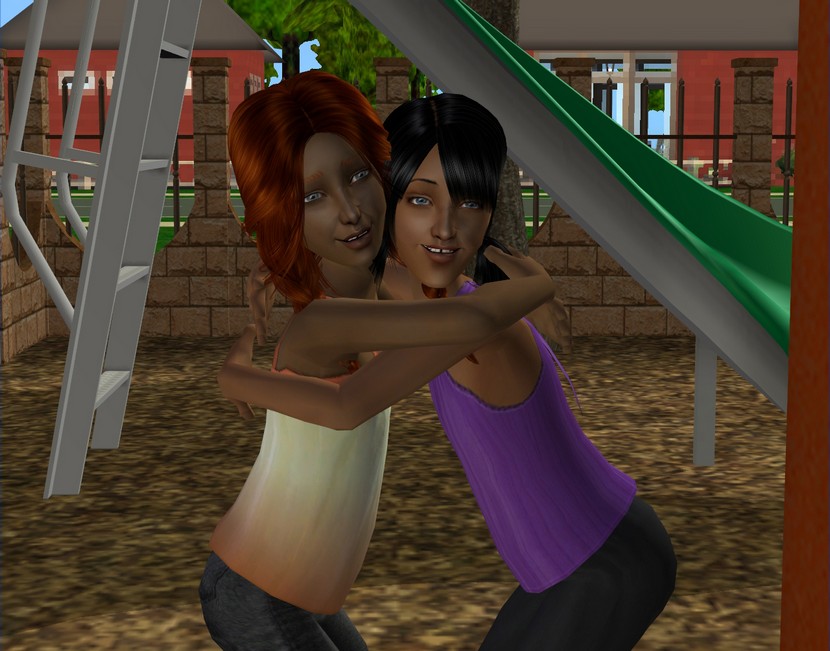 It was pretty adorable.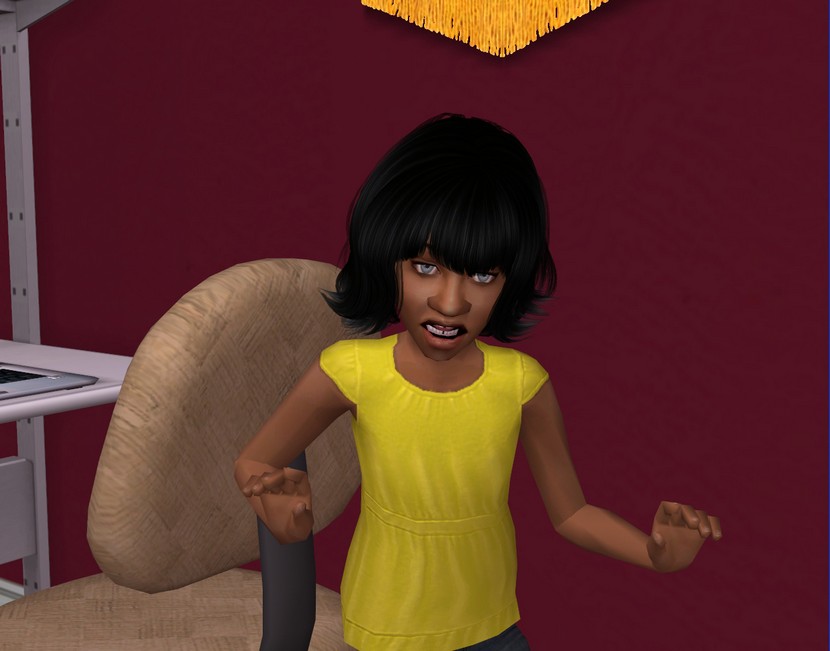 This is a close up of Annabel from the shot where Finn was staring at her from over the room. I still don't know what she was doing. It was like she was play cops and robbers but everyone else except Justin was in their seat. And he definitely wasn't playing cops and robbers with her!
Overactive imagination, maybe?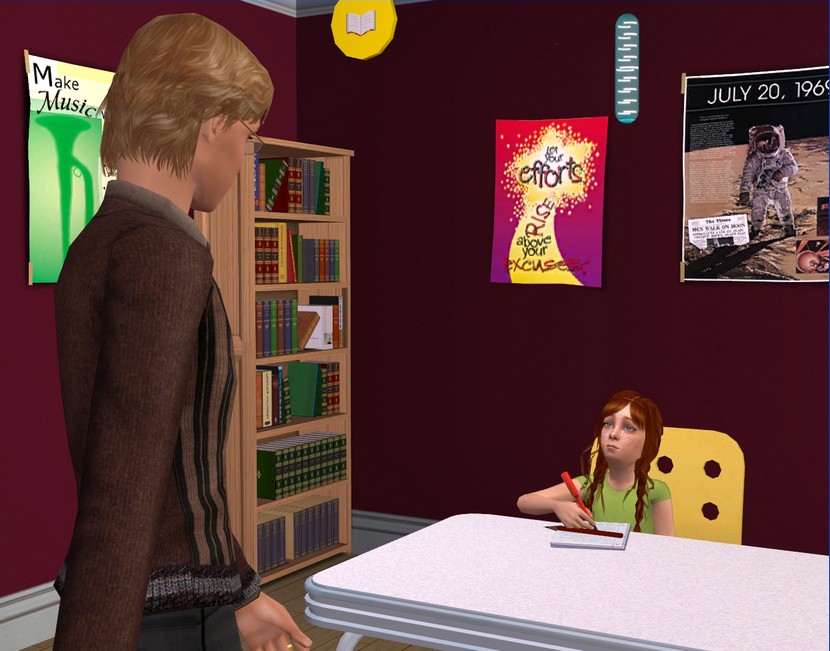 Finn keeps a very close eye on Caitlin the classroom, a fact she is more than aware of.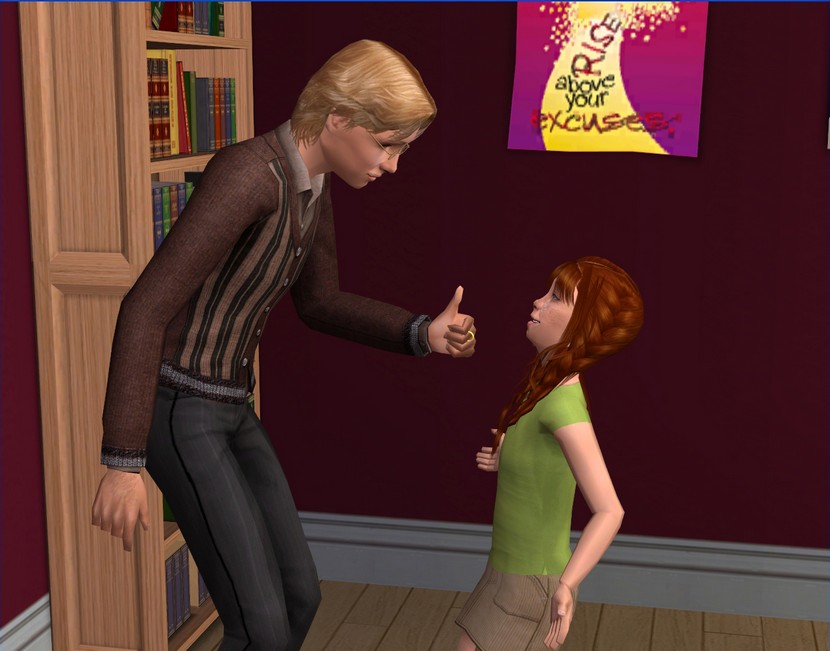 But hey, look! He's really happy with all her hard work lately!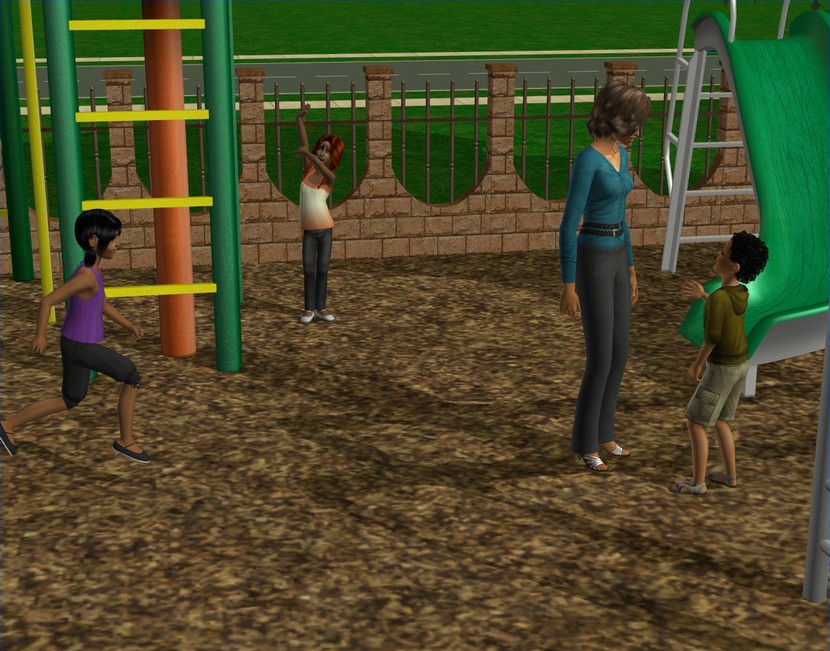 While I'm working with one class, I let the other kids run rampant around the school. They usually end up all over the place but Pamela had all three of her kindergartners with her in the playground, while everyone else was inside.
This was at lunchtime and I have no idea what's going on. Xavier and Bianca were just chatting, which Caitlin apparently finds hilarious (and there was no one else in the room, by the way!)
Drama queen!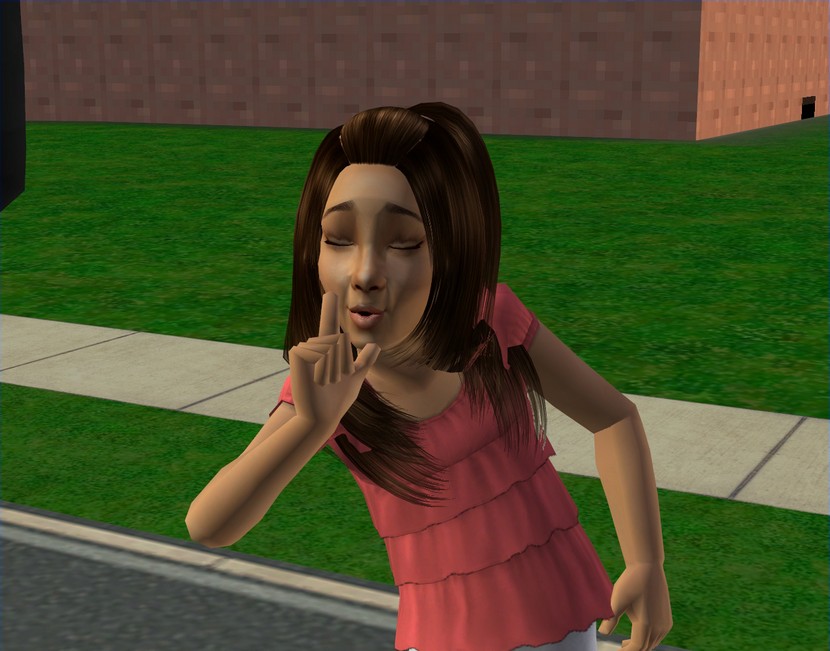 I never noticed that the kids blow their finger-guns before!
That sounds really dirty...but these are kids and I assure you I'm not trying to make a double entendre here!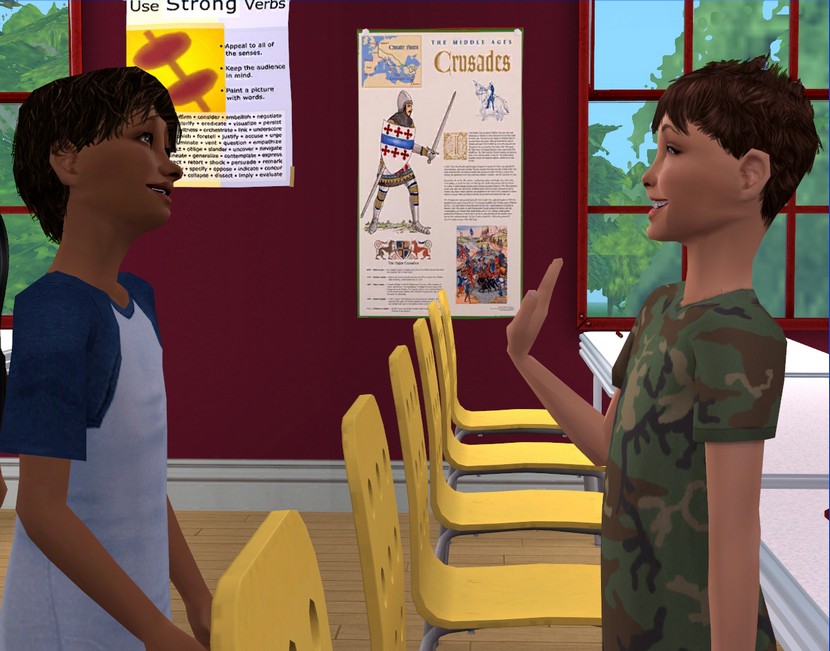 Austin and Justin are just talking here but I think they look really cute. Perhaps I'm just nostalgic, as this is (almost definitely) the very last time I'll see them as children.
Notes:
Thought I'd try something different and have one of the teachers narrate. It saves me having to do commentary, which I find really difficult but it's often hard to write the primary school updates. Kids do not usually bring the drama!




Finn really does have a nice class; he hasn't got a single kid who's even close to mean. Surely a first for me, in any age group!

It'll all turn around next round, unfortunately for him.

After graduation, Julia will work at Sullivan High School, which is in bad need of a third teacher. Right now, I don't have any plans to have her do her Master's, like Finn did. I don't think her LTW is to reach the top of the career, so I probably won't bother doing that with her.