Round 35: March 2042 (Autumn)
Louisa Gentry is 22, Lauren Carmody is 21, Caitlin Romilly is 19 and Annabel and Georgina Nott are 18.
(Brendan is 19)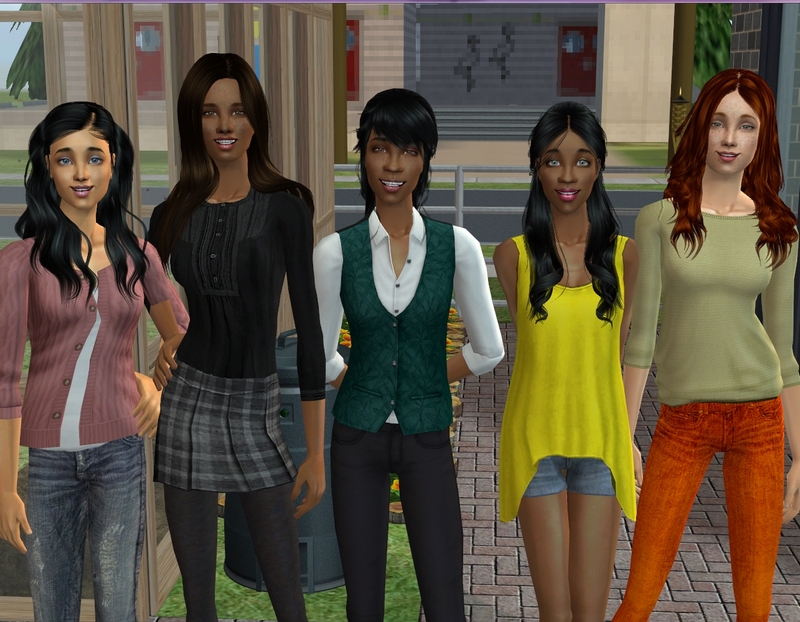 Narrated by Georgina Nott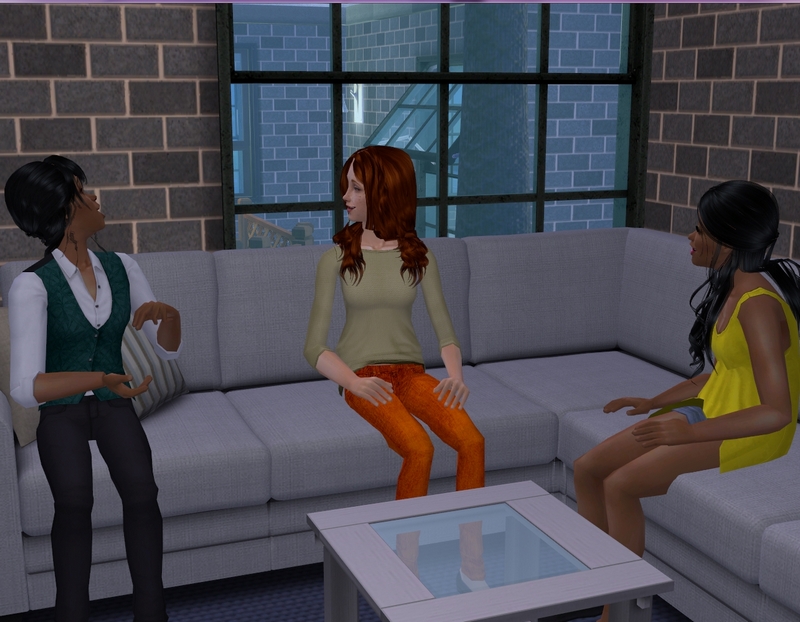 I was very nervous about moving into the dorms but knowing Caitlin and Annabel would also be there made things a little easier for me.
Louisa and Lauren are the other two residents - both seniors - and they're also really nice.
Lauren in particular has gone out of her way to get to know me, which has made me feel really welcome.
I don't have a lot in common with Lauren but I really like her regardless.
I haven't got much in common with Annabel either but I've managed to live pretty harmoniously with her for my whole life, so I guess I'm used to it.
Annabel has really hit it off with Lauren since we moved in. Annabel really wanted to start meeting some guys and Lauren was more than happy to show her around.
They're out most weekend nights - and sometimes weeknights too - usually at the campus bar.
Lauren has been dating a guy named Dane, who introduced Annabel to his friend, Landon.
Annabel clicked with Landon right away, so now they're dating.
Annabel seems pretty fond of him, seeing she talks about him all the time now. Which I don't mind. I'm happy she's happy.
But she has her heart set on getting me out to the uni bar with her now, to find me my own guy.
I do want to meet somebody again someday but I don't think I'll meet him in a bar. That's not really my thing.
Besides, I don't really feel ready to start dating again. I'm still not totally over Brendan.
I went out with Caitlin the other day and spotted him with his new girlfriend, Amanda, which wasn't the most fun thing in the world to see.
Caitlin had told me about it before I arrived at Suffolk, so it wasn't a shock but it was still a little hard to watch.
They didn't see us but Caitlin thought we should go up and say hi, just to get it over with. No, thanks! I'm sure I'll have to talk to him and meet his girlfriend at some point in the future but I was glad Caitlin dropped it.
Instead, I went with Caitlin to meet Eddie, who she started dating a couple of months ago.
He was interested in her last year but Caitlin had said no then. He'd just split up with Lauren and Caitlin didn't want to be his rebound girl.
As it turned out he was still interested when they ran into each other over the summer break, so they decided to give it a shot.
I was at Sullivan High School with Eddie for a little while but being 4 years apart, we didn't ever interact. Now that I've met him, I can say he seems like a really good guy.
He joined the fire brigade right after graduation, after not really knowing what to do for most of the time he was at university.
Eddie is pretty happy with his choice now, which gives me some hope that my sister might eventually find something she's happy with too.
I've always wanted to be a teacher and I'm an artistic person, so I'm majoring in Fine Arts/Education. There's a ton of reading about educational theories and art history to do…
…but I also paint a lot, for my more practical classes. I was lucky enough to get a room with a little balcony, so I can paint out there without ruining the carpet inside. I couldn't be happier with my classes. For me, they're perfect.
Annabel is a different story. I don't know why but she randomly decided not long after we got to campus that she wanted to be a vet, so she's majoring in Biology.
We're three weeks into the semester and she's already wondering if she made the right decision.
I'm not sure if she thought she'd be playing with kittens all day or something but it's not what she was expecting.
I'm trying to be supportive but I'm not sure if I should be encouraging her to stick with it or try something else. The classes aren't going to get any easier and then she'd have vet school on top of that.
She should probably be studying way harder than she is but she avoids it whenever she can.
Louisa is graduating a semester behind after getting on academic probation in her freshman year. She says Annabel will probably sort herself out once her grades turn out to be less than stellar, like she did.
I'm not so sure. Annabel has never been that interested in grades.
Lauren rolled a want to become friends with Georgina right away, which was sweet. Lauren is maxed out in niceness, so I can see her wanting to take people under her wing like that.
Poor Georgina is still rolling romantic wants for Brendan! I think meeting someone new might help with that but apart from the Brendan wants, her wants were very Knowledge-sim like this session. So I just let her be. I had enough new romance fun with Eddie and Caitlin and with Annabel and Lauren and their dormie boys.
Annabel! I did the careers criteria on her and she scored really highly for Veterinarian. At first, I thought "no way". Vet school is often more competitive than med school (due to fewer places, as I understand) and it's an incredible amount of work that I wasn't sure Annabel would be up for. But I decided to let her try anyway. She is a nature sim, so I see her as an animal lover and she's also impulsive. I could see her choosing a major on a whim and then wondering if she should regret it later on! So I'm going to let her go and see what happens. Maybe she'll prove me wrong. If not, I have some other ideas for her anyway. :)
Lauren and Louisa both graduated in this session. Louisa's grad post will go up early, in June, because she only had one semester to go. She earned a 3.6 overall. Lauren's grad post will go up in January as normal - she got a 3.9 GPA. Caitlin's GPA is 3.3, Annabel's is 3.0 and Georgina's is 4.0.