Round 35: April 2042 (Autumn)
Charlie Benton is 30, Camilla is 29 and Everett and Grace are 12.
(Jack and Audrey are 30, Eddie is 22, Jacinta is 12 and Zoe is 3 weeks old)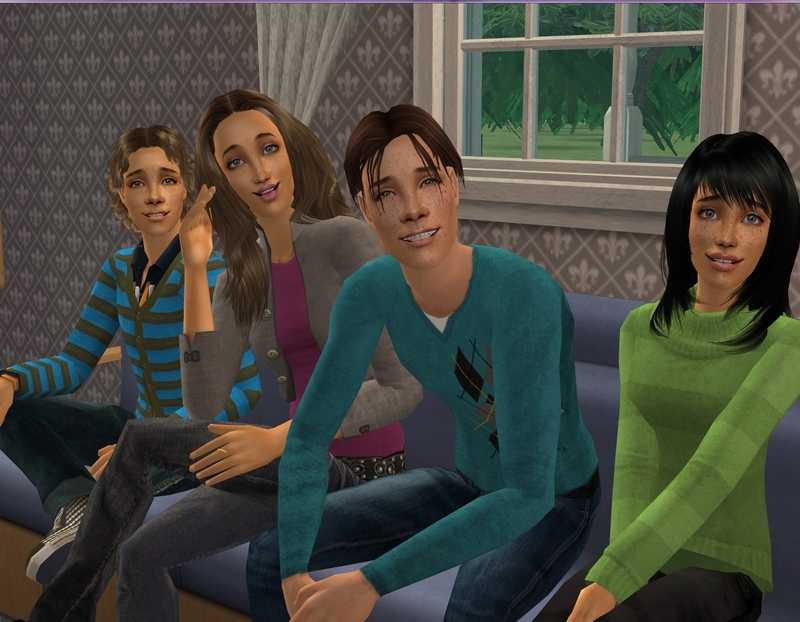 Narrated by Charlie Benton
Grace and Everett turned 12 last month and are both pretty happily settled into high school.
They started with all the same kids they went to primary school with, so the adjustment has been minimal.
I think Camilla and I have had more trouble adjusting. We're 29 and 30 and we have two kids in high school? I know we had them young but it still seems insane to me.
It's also a little scary. Camilla and I weren't much older than Grace and Everett are now when they were born.
We figured it was time for "The Talk", as much as we didn't really want to do it. It wasn't something we felt we should avoid.
Grace and Everett didn't really want to listen and were pretty embarrassed about the whole thing.
That was about what I was expecting. Hopefully something sunk in, despite the twins' reluctance to listen.
So far, Grace and Everett haven't shown any real interest in dating and I'm definitely not going to rush to encourage it.
Everett is totally oblivious to girls. He's very much still a kid at heart.
He spends most of his free time collecting bugs outside, like always.
Just this year, he's developed a sudden interest in marine life. He's saying he wants to be a marine biologist or an oceanographer now, which he's never spoken about before.
I don't know if it's something he's been learning about at school but he is very into it now. It's all he talks about these days.
For his birthday, he wanted a gigantic aquarium, like one he saw in a restaurant one time. The thing wouldn't have even fit in our house.
Everett had to settle for a much more modest aquarium. He seems happy enough with it.
He has full responsibility for it and the fish seem to be doing well, so I guess he's doing all right with it.
Grace's friend Jacinta seems to have a crush on Everett. Whenever she comes over, there's always much giggling and whispering coming from the girls.
He's started avoiding Jacinta when she comes over. Not that it takes much for Everett to hole himself up in his room.
According to Grace, Jacinta likes a lot of boys at school. She's not actually allowed to date yet but it's her favourite topic of conversation anyway.
I have to wonder if Jacinta will have an influence on Grace at all. I hope she doesn't get quite that far, though I can see Grace is starting to notice boys these days.
Or men, apparently. I had a couple of work mates over one weekend and Grace went all starry-eyed over the new guy, Eddie.
She didn't actually say anything to him but she definitely checked him out as many times as she could, any time she could find an excuse to walk by.
I admit, I was a tiny bit alarmed at first but once I thought about it later, I don't think I have much to be concerned about yet.
From what Grace has said to Camilla, she's not really interested in dating yet. I think she's just looking. Hopefully when she does want to date, she finds someone a little closer to her own age.
My brother Jack became a dad just a few weeks ago, when Audrey gave birth to little Zoe.
Zoe is my first niece and the first girl born into the family since Grace.
Grace has really taken to the idea of having a female cousin and loves snuggling the baby.
Camilla and I have offered to babysit when Jack and Audrey feel like some time to themselves. I know Grace would be more than happy to lend a hand.
As long as there are no nappy changes involved. Grace is pretty quick to hand Zoe over if she needs changing!
When they were babies, I didn't get to spend as much time with Grace and Everett as I would have liked to. I'm really enjoying having a newborn in the family again.
Since Camilla and I got married, I've been really eager to have a third child. I missed out on so much with Grace and Everett in their first year. I can't change that but I'd still really like to have that experience.
Camilla wasn't sure she really wanted to start all over and for a long time, she was sure we were done with kids.
We kept talking about it though and she started to come around to the idea. She was still a bit apprehensive but we did finally agree to try.
We weren't sure how long it would take us, given we've never actually tried to conceive before. Grace and Everett just kind of happened.
We started in January and just a few weeks ago, Camilla got a positive when she took a pregnancy test.
We decided to tell the twins about the baby now. We want them to have all the time they need to get used to the idea of a younger sibling. Grace is excited; Everett's main concern is that he doesn't want to share his room with anyone.
There's no need for him to worry about that. The baby will sleep in Camilla's sewing room for a while but eventually, we'll move to a bigger place. We don't want either of the kids to share their bedrooms.
Camilla thinks we should move as soon as possible but I think we should just take it easy. The baby won't mind not having its own room for a while, so I think we can just keep our eyes open and not stress out too much about moving for the meantime.
We've never had the experience of a planned pregnancy before. I just want us to enjoy it and figure everything else out when the baby actually gets here.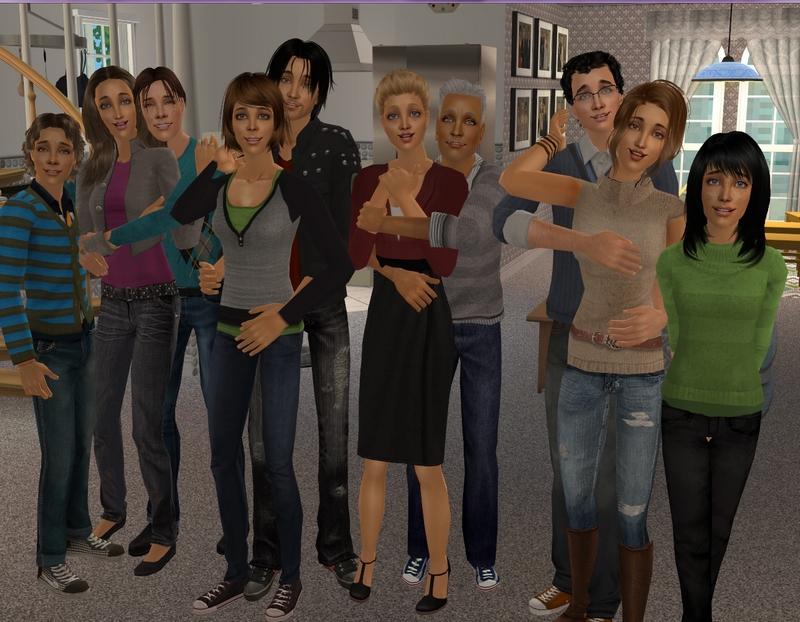 Inspired by Maisie, I'm doing my big family portraits again! I've only done a few so far, one of them being David and Kirstin and their kids and grandkids. They need some more babies in this family, right? ;)
Notes:
Title is from Sheets by Stephen Malkmus.
I've been running the careers criteria on all my teens, no matter their age. For the really young ones, I'm less definite about what career they'll eventually go into but Everett was a special case. He had only one career - Oceanography - that he got a perfect score for. Usually, my sims will have 4 or 5 jobs that suit them that well. So I have him pegged as a single-minded sort of kid. Grace is a little more wishy-washy and a bit more typical for a 12-year-old. She could go a few ways.
I find it funny that Jacinta actually had her first kiss with Everett in her update earlier this year, he accepted it but he is still just not having it. She tries romantic interactions with him every time she's over (he really has thwarted them all so far, just by remaining occupied while she's waiting for him, lol) and he never rolls romantic wants, for her or anyone else. He's just not into girls yet, I guess!
Grace was very cute with Eddie. She didn't try to flirt with him or anything (and with ACR, you can get teens trying to flirt with adults or vice versa, which can be creepy!) She just stood around looking at him with that goofy grin on her face.
And yeah...baby for Charlie and Camilla! Charlie actually doesn't have the want in this version of the hood but he had it in Sullivan 1.0 consistently for years, so I'm obliging him. Camilla is due in November. :)
I was going to include Tate and Zelda in this, seeing they visited twice of their own accord. But then I realised their update is coming up pretty soon anyway, so I'll save their shenanigans for then. Elder updates are hard enough to write without me using up all the material in their kids' updates!