Round 36: July 2043 (Winter)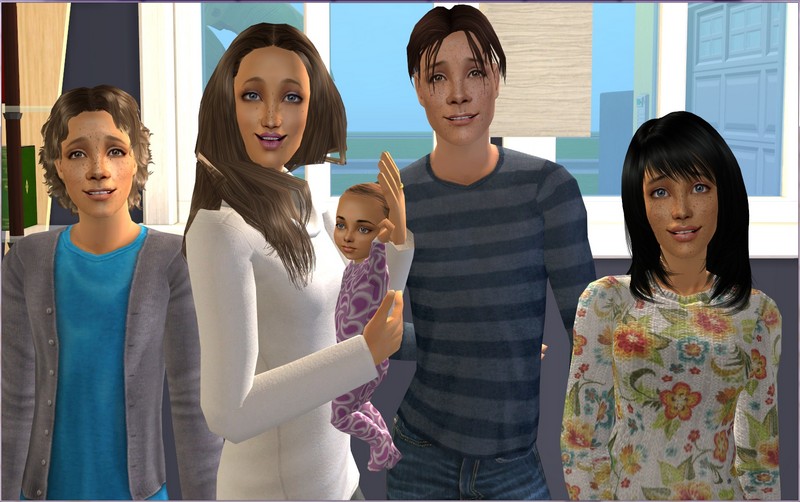 Narrated by Everett Benton
Dad wasn't really around much when Grace and I were babies - he had just started uni classes when we were born and was living on campus - but he's really loving having Eliza now.
While Mum was pregnant, Dad went out and bought all these baby books and he reads them constantly.
Mum thinks it's pretty funny. She never read any books when she had us and just picked it all up as she went along.
Dad's faith in those books is totally unshakable though, so she hasn't said anything.
Grace and I have to pitch in with Eliza every now and then too, so we've been getting some experience dealing with infants.
Somehow, Grace is always the one who ends up changing nappies, when that needs to be done.
She complains about it but she'll just have to get better at disappearing when that smells starts wafting over, like I do.
I haven't been able to avoid all the grossness though. Note to self: don't play with Eliza right after she's eaten.
I thought our cousin Zoe was kind of boring as a baby so it's sort of surprising to me that I'm having fun with Eliza around.
She's pretty cute sometimes and she's not too annoying, which I have to admit I was worried about.
And I still have my own room, which was my main concern before Eliza was born!
I've been trying to show Eliza my fish, just to see if I can build some early interest. No one else in the family is all that interested, so I figured I'd try brainwashing.
I'm used to doing most of my nature stuff on my own though, so it won't be so bad if she's never into it either.
I actually enjoy it sometimes. I like setting off on hikes on my own and knowing I don't have to worry about anyone getting bored and complaining.
I would rather have been doing that last weekend but instead, I had to go shopping with Mum for a new suit for Aunt Lila's wedding.
I tried to shorten the trip by saying I didn't need to try anything on but Mum insisted. She said she wouldn't have her son wearing an ill-fitting suit at her sister's wedding.
I wished Mum could have just made me a suit to avoid a shopping trip but she said doesn't make men's wear.
That was annoying. How hard could it possibly be?
Grace is a little irritated with me, because her friend Jacinta has a crush on me and she wants me to go out with her. But I really only like Daphne.
Daphne isn't nasty to me or anything - I've never seen her be nasty to anyone. But at the same time, she's made it pretty clear she's not interested in me that way.
I would say she's friendly with me but we're probably not quite friends.
My friend Marcus thinks I should give up because she's obviously not into me.
He thinks he knows everything about girls because he's a year older. He hasn't got any more experience than I do.
I just don't pay much attention to him when he starts getting all smug with me.
Grace absolutely loathes him. She's always talking about boys with Jacinta but I doubt Marcus is ever included in that, unless Jacinta brings him up.
Not that I blame her. He thinks there's nothing more hilarious than surprising her with a noogie whenever he comes over to hang out.
When he gives me a hard time, I don't bother saying anything but I really hate it when he picks on Grace. Maybe if I pull him up on it enough, he'll lay off one of these days.
Title is from Survival Car by Fountains of Wayne.
Kind of bummed I didn't schedule these guys for after Eliza's birthday, but oh well. I got to try out the baby pose box I downloaded, so it wasn't a total loss.
Grace and Marcus absolutely loathe each other. Negative bolts in my game actually seem really rare, at least among sims who are likely to interact with each other. But Grace and Marcus have a very low score indeed and it shows!
Everett has two bolts with Daphne though, so he might be right not to give up just yet. He might want to wait a little; most of my 12-year-olds aren't allowed to date, unless their parents are pretty lax (which is not how I see Jacob and Claudia).