Round 36: July 2043 (Winter)
Malcolm Novak is 33, Hope is 32 and Mason is 1.
(Emil is 71, Anna is 65, Rebecca is 34, Nathan is 33, Julia is 32)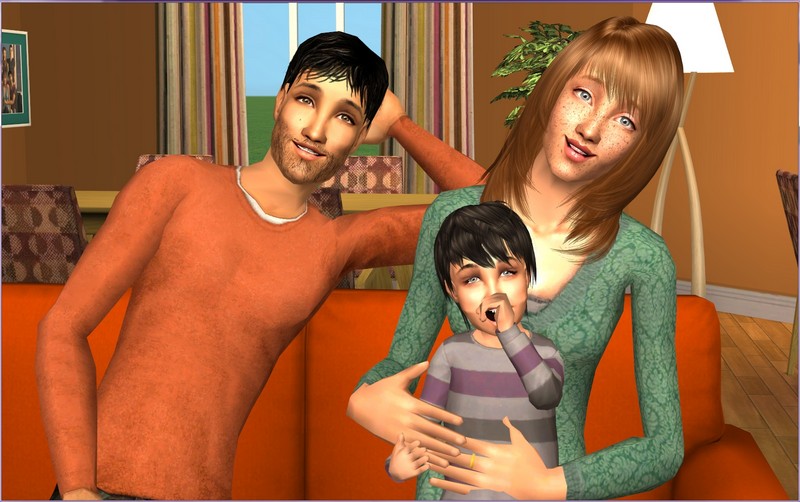 Narrated by Hope Novak
For me and Malcolm, the last year has been almost entirely about Mason.
Losing our first baby so late into my pregnancy only made us want to be parents even more. So now that we finally are, we've really thrown ourselves into it.
We take Mason with us everywhere we can and until recently, if Mason couldn't come, we didn't go, except to work.
I have to admit that we were both craving some grown-up time and I thought Malcolm's birthday might be a good opportunity for our first date night since Mason arrived.
So we left Mason with my parents and went out to dinner.
We ended up talking about him for a good amount of time. I missed him and worried about him, even knowing he was safe with his grandparents.
That's not enough to stop us from planning even more date nights in the future though. It was really refreshing to have some time to ourselves for a change.
We had so much fun together, almost like our pre-kid days.
It had been a while since we had some time together, just the two of us.
And Mason got to have some fun with Mum and Dad while we were gone. Apparently, he was no trouble at all.
That's not generally how I'd describe Mason at home, so I'm guessing Dad just wants us to let them babysit more often.
Mason is the first grandchild for my parents and Dad is so into being a grandpa.
Mum is still a bit weird about anything that makes her look or feel old but a year later, I think she might finally be used to being a grandmother.
Probably just in time too, seeing Nathan and Rebecca are expecting a baby now.
They're both very excited, though Rebecca isn't looking forward to being super-pregnant in the middle of summer.
It stings a little bit when I hear people complaining about their pregnancies, when my first one ended so horrifically.
I just inwardly roll my eyes and move past it though. In another world, I'd probably be complaining myself.
I have to admit to being secretly grateful that Mason was a winter baby.
Julia is due around the same time as Rebecca and I'm thrilled for her. She's wanted to have a baby since even before she got together with Sam and she can't wait.
She and Sam just moved into this huge house after spending the first year of their marriage in a tiny apartment.
The huge house happens to be right next door to ours, so we see each other at least a couple of times a day now, even if it's just when we're leaving or coming home from work.
I'm kind of jealous of the house. You could fit the entire bottom level of our house just in Julia and Sam's living room.
Needless to say, our house is pretty small and probably not suitable if we have a second kid.
We have what is technically a third bedroom, but it's really not big enough. Malcolm and I keep our fitness equipment in there.
This house is fine for the three of us but we'll need to expand if we want a second child. Mason's room is too small to share comfortable.
When a third will happen is still up for debate, though we do both want another kid one day.
Malcolm is happy to wait until Mason is a bit older.
He's not the easiest kid in the world and dealing with Mason plus an infant would be a challenge.
Part of me agrees. Mason can be a real little firecracker and we have to watch him like hawks right now.
Plus, I was so anxious throughout my pregnancy with him and I'm not sure I'm ready to go through that again just yet.
But on the other hand, I worry about leaving it too late as well.
I know I'm not old yet but I'm also not getting any younger. With my history, I wonder if sooner rather than later would be the best idea.
For now, the more practical side of me is winning out and I agree with Malcolm that we should wait a while.
I do really want at least one more child though, preferably close in age to Mason, so I'm not sure how long I can keep being practical!
Title is from Little Acorns by White Stripes.
Happy holidays to all of you lovely readers! Please stay safe if you're travelling and enjoy your time with your friends and family. :)
Yay, got an update in before Christmas! I won't get much of a chance to play again before Christmas but I have some lot tour pics ready and I've just finished taking the pics for August birthdays. That should mean at least two more updates before the end of the year. I'm hoping to squeeze another story update in too but we'll see how I go.
No baby wants from either Hope or Malcolm yet but I know they want another based on their IFS (3 for Malcolm, 6 for Hope) and the fact that they tried for a baby each and every time they woohooed. It's unlikely they'll get pregnant, as I have them both on Inteen BC. But I just love being able to see that they want to try, while still keeping them on BC. Baby wants for my non-Family sims like Malcolm seem to be really, really rare, so I can't always rely on those to plan my sims' families.
I'm either going to wait until next round to let them try or pop in at some point next game year and let them try then. I hope Hope's pregnancy is a successful one next time. I always worry about my sim pregnancies, especially for sims who've miscarried before.
I often don't pay attention to where my sims live in relation to other sims but I was really glad I noticed Julia and Sam are right next door! She and Hope would love that. :) And Hope's parents are also across the road, so they're surrounded by people who can lend a hand if necessary.