Round 35: May 2042 (Autumn)
Chris Draper and Edward and Lucy Lachance are 27.
(Jonas is 64, Tatiana is 59, Julia and Hope are 31, Audrey is 30, Veronica is 25 and Zoe is 5 weeks old)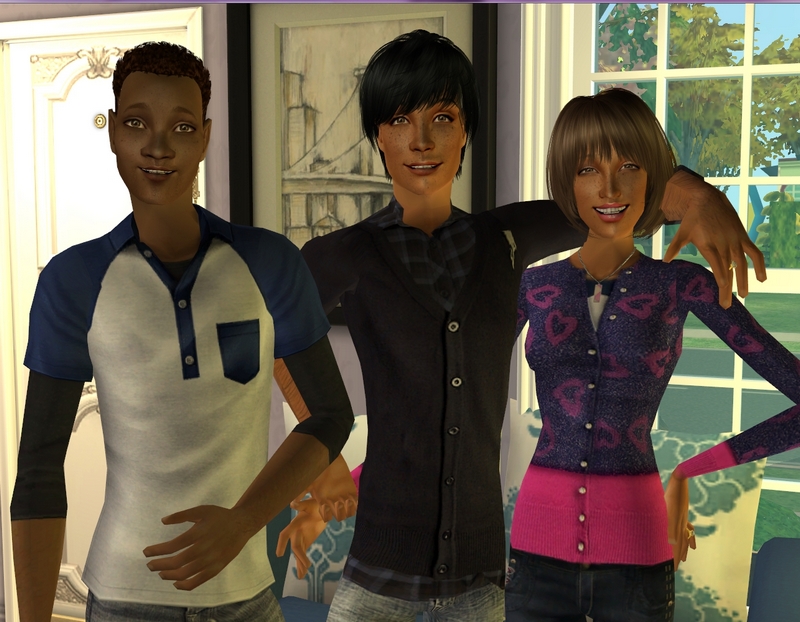 Narrated by Lucy Lachance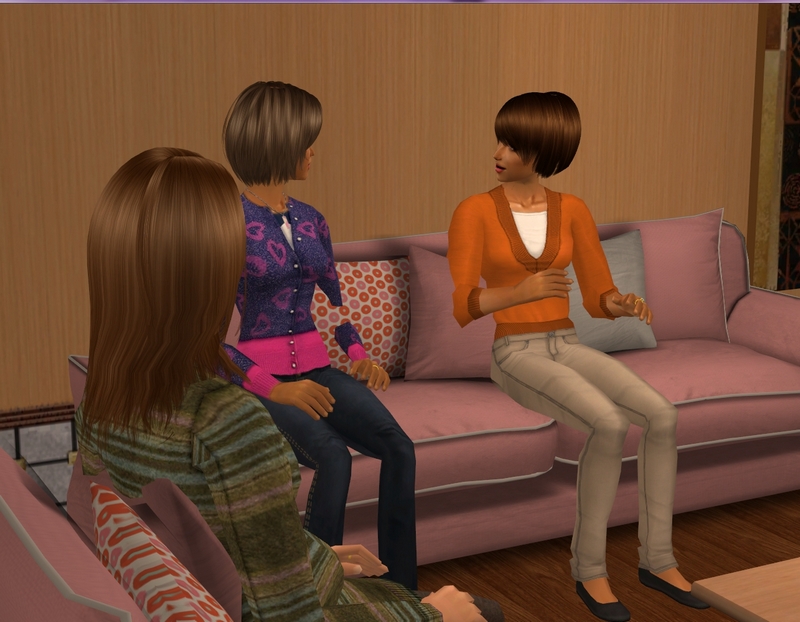 Julia is getting married in November, so lately, my weekends have been taken up shopping for bridesmaid dresses with her and Hope, the other bridesmaid.
It seems to be taking forever. I chose my dresses fairly quickly, even considering I had a pregnant bridesmaid to contend with but Julia is so picky!
She can't use Hope as an excuse either. By the time the wedding comes around, Hope will have had her baby, so she doesn't need something that comes in a maternity version. It's just Julia.
There's no point in Hope trying anything on right now, so lucky me, I get to be the model for every dress.
Every dress is subject to a good half hour of discussion between Hope and Julia, before being discarded.
Most of the time, I don't even see anything wrong with these dresses. I'm avoiding adding my two cents' worth though. I don't mind much what Julia has me wear, so whatever they agree on will be fine.
If that ends up being fluoro orange spandex, then fine. It's one day, it's her wedding and I'm just not that fussed.
Apart from the dress shopping, Julia's wedding planning is going really well. She's getting excited and I'm excited for her.
Edward and I have been married for over a year now, which I can hardly believe.
Things are going beautifully for us. We're definitely still in our honeymoon phase, which I can see lasting a little while longer.
Not that we really had an actual honeymoon, unless you count holing up in our bedroom for a good while post-wedding.
We would have liked to go away somewhere but we're saving for a house and we really couldn't afford it.
We'd love our own place too but it doesn't look like we'll have enough money for that for a good while yet. We're still living with Chris.
It's not so bad. I mean, the whole reason we all started living together in the first place is because we got along so well and it was cheap and that's all still true.
But this place is just really tiny. We're basically living on top of each other.
Chris goes next door to Veronica's place a fair bit, partly to give us privacy and partly because he also needs his own.
But that's not an ideal solution. Chris shouldn't have to leave his own home on our account.
Edward likes to tease Chris that he might be finding his own place with Veronica soon enough anyway.
Chris doesn't find it terribly amusing. Veronica would probably jump at the chance but Chris is a little more non-committal about it.
He probably overreacts just a tad. Edward's not putting any real pressure on Chris. He's just ribbing him a bit.
Honestly though, I think it'll probably happen for them eventually. Chris has stopped wincing when Veronica refers to herself as his girlfriend, so that's progress for him.
It was definitely mostly hooking up for Chris in the beginning but I think he and Veronica really click now.
They're out together most nights and they even have a regular restaurant they like to go on their dates.
When they're not out, Veronica is either here or he's at her place.
I think Chris is probably pretty into her but he's just not quite ready to admit it yet.
It's so lovely having a baby around to snuggle. There are no babies on my side of the family, so I'm deprived in that way!
Edward is especially taken with Zoe. I mean, he really loves Oscar and Stella too but he's so into being an uncle this time around.
A part of me was wondering if it would make him want us to start our own family but I didn't want to get my hopes up too much.
As it turned out, Zoe's birth really triggered something in Edward and he's now quite keen for us to have a baby too.
I couldn't be more thrilled…but of course, we're in no position to have a baby right now. We don't have the space or the money.
We went to see Edward's parents over the weekend and they made us what I think is a really promising offer. They've suggested we move into their house with them, rather than continuing to scrimp and save on our own (which we haven't been too successful with, truth be told).
It could be temporary or permanent. That would be totally up to us.
It wouldn't be true privacy but definitely much better than we have now. We'd have the whole second storey of the house to ourselves. Jonas and Tatiana don't use it at all - it's not even decorated and we could go nuts with it if we wanted to.
We weren't ready to answer right then and there, so we thanked them and told them we'd talk about it privately and get back to them when we'd decided.
I was all for it right away. Moving in with Edward's parents would mean we could start a family sooner rather than later.
Money problems would be a thing of the past. No rent or mortgage - Tatiana and Jonas own their house outright - so we'd only need to contribute for bills and house maintenance. It would much less money than we're spending now, that's for sure.
Edward was less enthusiastic. I guess he didn't really picture himself moving back in with his parents.
It wouldn't have to be forever though. If we hate it, we can keep saving up for our own house, which will be a lot easier if we're at his parents' place.
The more we talk about it, the more it makes perfect sense. We've decided we're going to think about it for a month or so and if neither of us can think of any major issues, we'll take Jonas and Tatiana up on their offer.
Title is from Don't Look Back by She & Him.
None of those dresses are ones I'll use for Julia's wedding, in case you're wondering. ;) I am actually considering an EA dress among some custom ones though!
Chris was fairly blase about Veronica in the last update but my gosh, he is so into her now! Specific romantic wants and all! :o I was very surprised but I'm sure Veronica is pleased, lol.
I am pretty much decided that I'll move Edward and Lucy in with Jonas and Tatiana before their play session next round. I was watching their finances pretty closely this time round and they ended with roughly the same amount of money they started with. :\ And that was factoring in two promotions (one for Edward and one for Chris). Their total was still under $20,000 and part of that money is Chris's. So this way, Lucy can get knocked up faster. And we all know that is my ultimate goal for all of my sims. ;)
I haven't yet decided what I'll do with Chris, assuming Edward and Lucy do move out. He will still get an update, of course; I'm just not entirely sure who he'll be living with, if anyone. But I'll figure that out later on.