Round 36: June 2044
Jonas Lachance is 66, Tatiana is 61 and Edward and Lucy are 29.
(Corbin and Pamela are 59, Dominic and Sam are 34, Leslie and Julia is 33, Chris is 29, Veronica is 27 and Penny is 3 months old)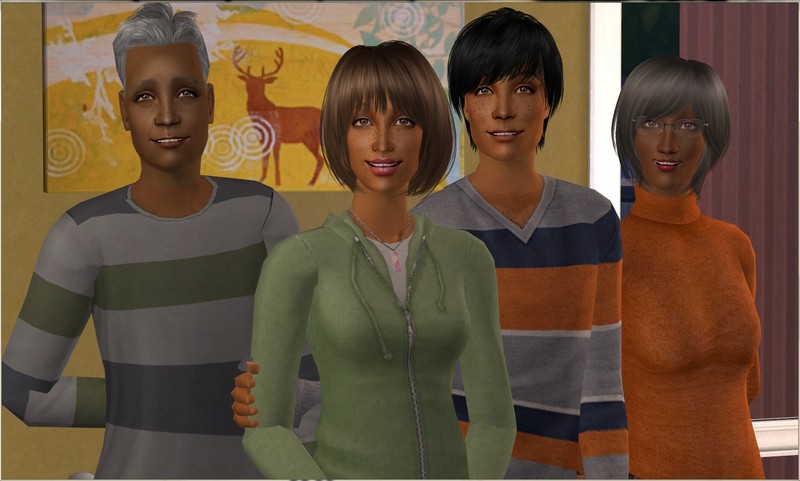 Narrated by Lucy Lachance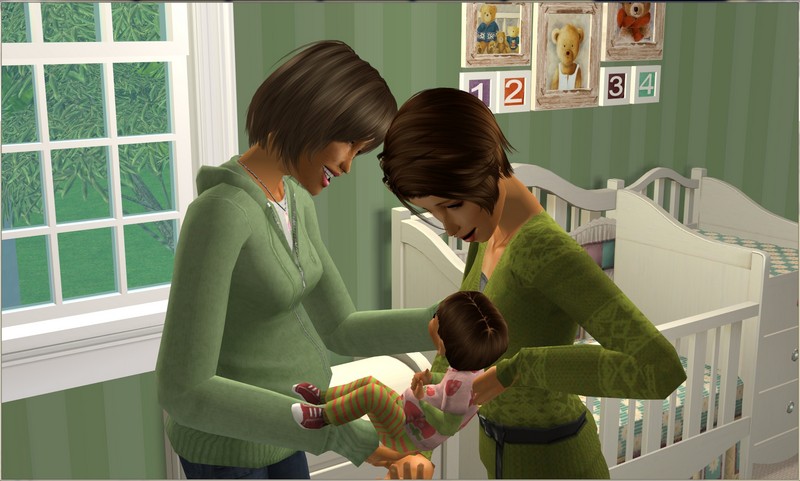 I was already an aunty a few times over to Edward's siblings' kids but it seems a little bit more special to finally be an aunty on my side of the family.
I go over and see Julia and Penny as much as I can. She's still on maternity leave, so whenever I have a day off during the week, that's where I am. It's really brought us closer together.
Julia has adjusted really well to motherhood, though she gives some of the credit for that to Sam. Having someone around who already knew what to do with a baby has been a definite advantage!
Hopefully Sam and Julia can give me and Edward some tips once our two arrive.
Julia's not so sure she'll be very helpful with twins but she is really excited for us.
And for herself. Sam has no siblings and I'm her only, so she's never done the aunty thing before.
Every time I see her, she's bought me more gifts for the twins. Last time it was crib bedding.
Edward and I have just got the nurseries ready for the babies.
At first, I thought it might be easier to have them both in the same room but seeing we've got the space, we might as well use it. We can always move them in together if it seems like a better idea.
Since moving in with Jonas and Tatiana, we really haven't had any complaints.
It's nice to have the financial security of sharing Edward's parents' place, while still having our own area to retreat to.
We can have our own guests over, without bothering anybody else. We don't have a lot of guests generally but we do have Chris and Veronica over a fair bit.
We never got to know her that well when we were living with Chris but they're a lot more serious now.
Our floor is almost like having our own apartment anyway. It's definitely much bigger than the apartment we shared with Chris.
The only thing we're missing is a kitchen. We have to share the kitchen with Jonas and Tatiana, so we we end up eating dinner together most nights.
But once a week or so, Edward and I will order pizza or Chinese and take it up to our living area to eat it.
Normally, we'd go out on a date instead but this pregnancy is really taking it out of me! I need to be within range of a bed or a couch I can nap on.
That's making work pretty hard at the moment, though I am still working my regular hours at the salon.
I'm the manager now, so it's a big job to hand on to someone else.
Edward pointed out that I'm eventually going to have to find someone anyway, once the twins get here, so I might as well start looking.
My parents are on my back about it too and I have a big problem saying no to them.
I'm not mad though. I know they're all right and I need to slow down. It's definitely getting too much for me.
So I've put up an ad to find somebody to replace me. I need to take care of myself and the babies.
Our family is feeling a bit cautious about pregnancy now, after Leslie and Dominic lost their baby a few months back.
It was such a shock for us all, no one more than Leslie and Dominic.
The whole family has rallied around them and offered any support we could.
Leslie was being pretty careful - she was still at work but with a student teacher handling the class most of the time - and the worst still happened, so it's really shown us all how scary pregnancy can be.
Edward and I are so excited to meet our twins…but we also feel a little guilty if we show too much excitement around Leslie or Dominic.
They've both told us we can talk about anything we want to talk about but it's hard to gush about our babies in front of people who've just lost one. We don't avoid the topic entirely but we're very careful about what we say and how we say it.
It's difficult, because really, the twins are the main thing we think about and talk about these days.
Even so many weeks in, I don't think we've quite accepted the fact that we're about to be parents to two babies!
I'm not sure if we'll ever be 100% ready for what's to come but we're excited to start this new phase in our lives.
Notes:
Title is from Porcelain by Moby.
This house is so weirdly dark, during the day and at night! I think I need to add more ceiling lights (though I don't know why this place seems to need so many more than my other houses). I added some more and then ended up taking them out, because they all hang down so damn low that my sims' heads go through them when they walk under. :\
Leslie's student teacher would have been Georgina. She's at that point in her program - I just haven't done school updates lately to show it off!
There was hardly any Jonas and Tatiana in this, because I was watching Lucy like a hawk! I was so worried about her and the twins that I didn't even make her selectable at work, just in case miscarriages were possible on community lots! But she and the babies made it through the session unscathed, so mission accomplished!