Round 36: January 2044 (Summer)
Chris Draper is 29 and Anthony Moretti is 27.
(Caleb is 62, Cara is 55, Edward and Lucy are 29)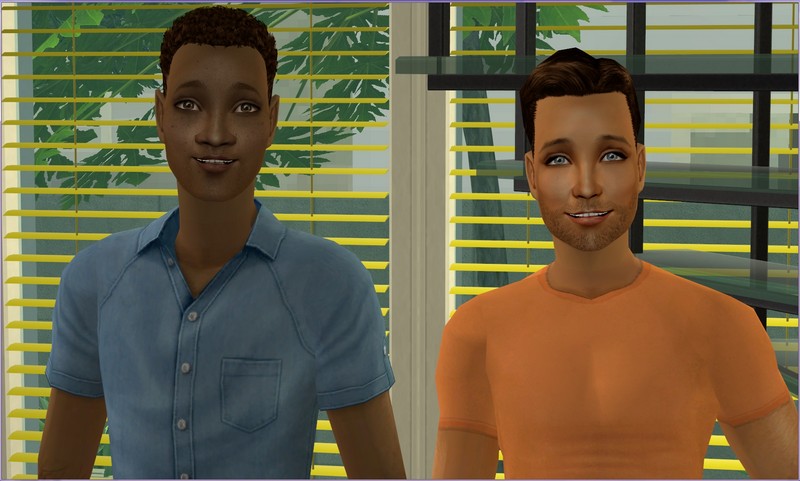 Narrated by Chris Draper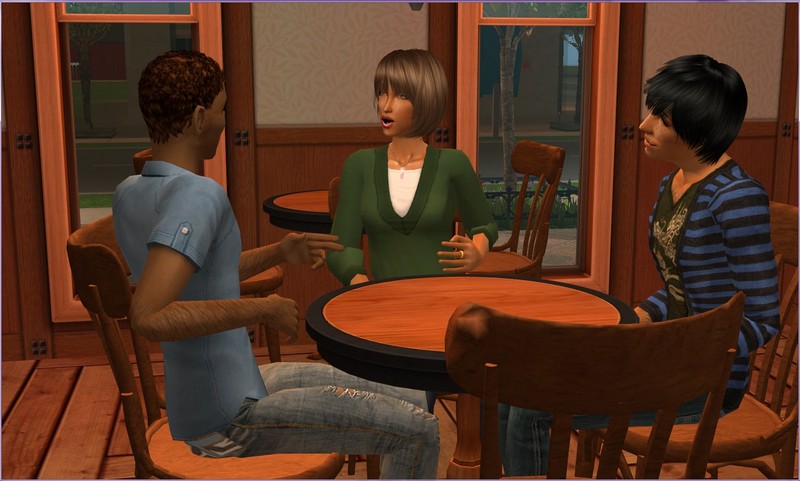 Not seeing Edward and Lucy every day any more is a little strange, I have to admit.
We still get together when we can and we pick up right where we left off but I do miss those days.
Even if I'd wanted to keep living with a married couple though and even if they'd wanted to keep living with me, it was never going to happen in that tiny unit.
Seeing they wanted to have a kid in the near future, it just made sense for us to part ways and get our own places. So I ended up moving in with Anthony.
I thought it might be a little weird living with my girlfriend's brother but things with Anthony have been all right so far.
He does have this really irritating habit of trying to talk to me while I'm watching football though.
He gets the message after I ignore him for a bit but he still tries again next game. He's got no interest in sports at all and he doesn't really understand my obsession with it.
That's my only real complaint, to be honest. He's an insane neat freak, which I assumed would make him really difficult to live with but it hasn't worked out that way.
As it turns out though, I don't really have to do anything to keep stuff clean. When I first moved in, I tried, only to have Anthony redo it all because I'd done it "wrong". I don't know how you clean "wrong" but I had managed it, according to him. He just likes things done his way, so I just let him do them.
The fact that we barely see each other some days really cuts down on opportunities for us to annoy each other. I get home from work when Anthony is often still in his pyjamas ready for "breakfast", which he eats at about 6pm.
He's a projectionist on the night shift, so he's living a nocturnal lifestyle at the moment.
Anthony likes the job but the hours are getting tough. He gets home at 1am, when everyone else is sleeping, so he misses out on most social things going on.
It's better than his DJ gig that didn't end up until 4 but it still makes me really appreciate my 9-4 job.
Anthony's looking around for something else, hopefully with better hours. Still not anything his mother would consider a real career, unfortunately for her.
Cara has stopped nagging Anthony about his career, realising he was just digging his heels in out of spite every time she did.
Great for him but now Veronica and I have to hear it when we visit.
It's worse now that I've moved in with Anthony, because Cara assumes I've got some sort of inside scoop on what his plans are.
I don't know much more than she does and I think Anthony would murder me if I was running back and reporting everything to his mummy anyway, so I never say much.
Caleb isn't as fussed about Anthony's job, as long as he's happy, though he has occasionally asked about Anthony's girlfriend.
Until I moved in, I'd assumed Anthony didn't have a girlfriend. Veronica never mentioned one, so I figured that was because she didn't exist.
As it happens though, he does have a girlfriend. Her name is Connie, she's a junior at Suffolk and they've been together for about two years.
They want to keep things casual though, so they haven't bothered with family introductions or double dating with friends. They just don't want to make a big deal out of anything.
It wasn't so long ago that I was in that same position with Veronica, so I get it. At least Anthony and Connie are on the same page with it - Veronica and I were not.
I got past all that though and made things official with Veronica and we've been happy with that for a good while now.
The tables have turned a bit these days, with me being the one who wants to get more serious and Veronica wanting to wait a while.
I'm really and truly ready to move forward. Get our own place together and then maybe even think about getting married.
Veronica thinks my change in attitude was sort of sudden and wants to be sure I really know what I want before we make any moves to change our current situation.