First off, I want to apologise for my extended absence from the blog! I was hoping to get back into it regularly after Dad got out of hospital but it hasn't happened that way. It's just been one thing after another, unfortunately. This has been a really crappy year for me and my sims are suffering for it too. :( Poor Chris and Anthony are still waiting to be played! I'm going to try to at least get a vague outline of the update written today or tomorrow - that always helps me when I have a play session to finish. :)
In place of an actual update, I thought I would offer a little gift. This was my Day 1 contribution to N99's third annual August Goodies Giveaway. I'll post my other goodies over the coming weeks.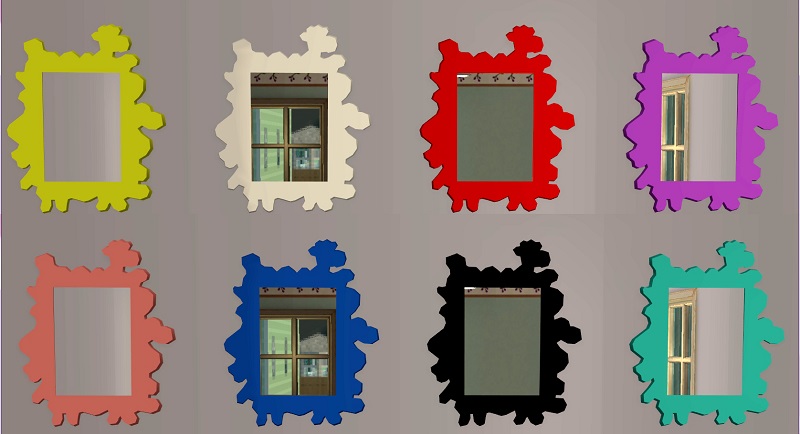 I've had this mirror by
Nanashi
for ages but don't think I've ever used it. By default, it only came in green and I could just never find the right place for it in any of my sims' homes. So I made some recolours of it.
In the zip, you'll find the colours pictured here, plus three bonus colours I made at the last minute. The pink and yellow ones in the pic didn't turn out quite as I wanted them to, so I fired up SimPE again and did a brighter pink, a less greenish-yellow and an orange for good measure. File names are pretty clear, so it should be easy for you to delete any you don't want.
Download them
here
! Mesh is included, as per Nanashi's very convenient policy.
You should definitely check out
Nanashi's original post
anyway though. Nanashi did a ton of mirrors for this set and a lot of them have become favourites of mine.