Round 35: July 2041 (Winter)
Sophie Gottlieb is 28 and Josh Royce-Nihill and Elspeth Romilly are 27.
(Amelia is 52, Wade is 51, Camilla is 28 and Oliver is 25)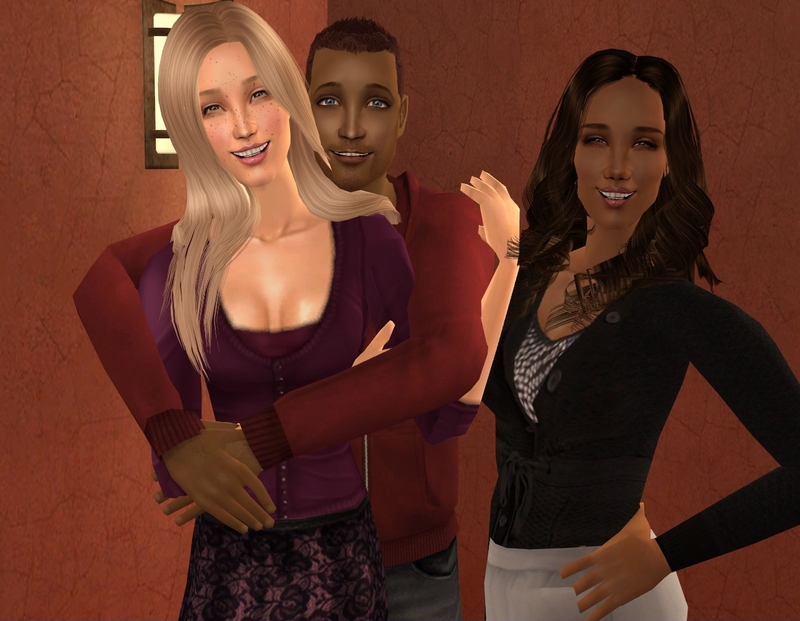 Narrated by Sophie Gottlieb
I don't know how I feel about him considering me his personal chef but it's nice to know my food is appreciated!
I think having Elspeth around all the time is what he likes most though.
They might have started a little controversially, given he was still with Lila at the time, but they make a good match.
I wasn't sure what it would be like living with a couple but it's been fine, really. There's the occasional PDA but that kind of thing doesn't bother me much.
Oliver and I are probably worse anyway, when I have him over. So even if it did bug me, I couldn't complain too much.
Still, we do crave a little more privacy than is possible with roommates sometimes, so when Oliver asked if I wanted to go away somewhere with him, I jumped at the chance.
I wasn't too fussed about where we went, so I let Oliver pick and he picked Takemizu Village. I was secretly thrilled he didn't pick Cape Elizabeth. I've been there before, during college, and it's more exciting to go somewhere new.
Neither of us are flush with cash, so we had to stay in a pretty cheap place. The cheapest place there was, actually.
But it was actually really nice, especially considering how little we paid for our room.
And it was so quiet there sometimes that it was like there was no one else around at all.
We only stayed three days but we packed a lot into that short time.
We had very relaxing breakfasts in our room in our PJs each morning.
We did a helicopter tour, which was incredibly loud but a lot of fun.
We each got an amazing massage and actually learnt how to give them as well!
Oh, and we also got engaged!
Oliver got down on one knee in a beautiful park we stumbled across (or that he pretended we stumbled across!) and asked me to marry him.
He said he knew he wanted to ask me from pretty much our first date but it wasn't until now that he thought I might be ready too.
I didn't have to think about it at all. I'm definitely ready to marry Oliver! I almost knocked him over in my enthusiasm but he didn't mind. He was just relieved I'd said yes.
I wasn't expecting to come back home engaged but it was a very happy surprise.
I was planning on keeping it a secret from Elspeth and Josh until I'd told my parents but she's got an eagle-eye and spotted the ring right away.
Not that I told my mother about that. I didn't want Mum to take offense that she wasn't the very first to know, so I just let her think she was.
Mum and Dad are both very excited for us, naturally.
Mum is a little too excited! She's already asking about venues and flowers and dresses and hairstylists.
I've been engaged for about two days! I've barely even begun to think about any of that yet.
She is also hinting about me wearing her dress, which was Grandma Athena and my great-grandmother also wore. I'm bigger than any of them were when they got married though and I'm not sure it'll fit.
I'll try it on but if it doesn't fit or look right, I won't be dieting to fit into it.
Thank God Dad is completely laid back about the whole thing!
Camilla thinks Dad will probably be my saving grace with Mum and keep her from going too insane.
I feel like Mum wears the pants in their relationship most of the time but I hope Camilla is right, at least in this particular instance.
Neither Camilla or I can see Mum going that far, fortunately. I'm the eldest and it's a big deal, so she's just excited.
Oliver and I have only talked about our wedding in the vaguest of ways. We've decided we won't decide on anything for another couple of months.
I know that's the sensible thing to do, because we don't want to jump right in and have nothing but stress right up until the wedding. Waiting a bit seems like a good decision.
On the other hand, I'm so happy and I kind of just want to get everything started, just so our wedding day will arrive sooner!
Title is from Magic by Ben Kweller.
So this ended up feeling kind of short to me. It's about 200 words shorter than my updates have been lately. But I was so determined to finish it and it was already 1:30, so I ended it and said "good enough!"
I was initially going to write from Elspeth's perspective, just because we haven't heard from her in a while. But then when I was playing Oliver and his brother, he rolled the want to go to the Far East. On a date in the same play session, Sophie rolled the want to get married. And you all know where my priorities lie! It didn't make sense to write from Elspeth's perspective any more.
I was very surprised Sophie rolled a marriage want! I'm not sure if Oliver rolled his on their first date, like I said in the update, but if it wasn't the first, it was the second. When I remade everyone for the hood, Oliver rolled an engagement want as soon as I set up his relationship with Sophie again. But Sophie never did, until now.
I want Sophie to wear Amelia's dress, because I love that family tradition. But there's the possibility it doesn't have a fat morph or it has a fat morph but it's one of those terrible ones where it makes the boobs look really weird and floppy. And I won't do that to Sophie. ;) If that happens, I'll save the dress for whoever Noah ends up marrying or maybe for Emma.
Pressure is on for Elspeth and Josh now. ;) Neither have rolled a marriage or engagement want though, if you were wondering!