Round 36: October 2043 (Spring)
Sophie Gottlieb is 30 and Elspeth Romilly and Josh Royce-Nihill are 29.
(Lila and Camilla are 30 and Emma is 23)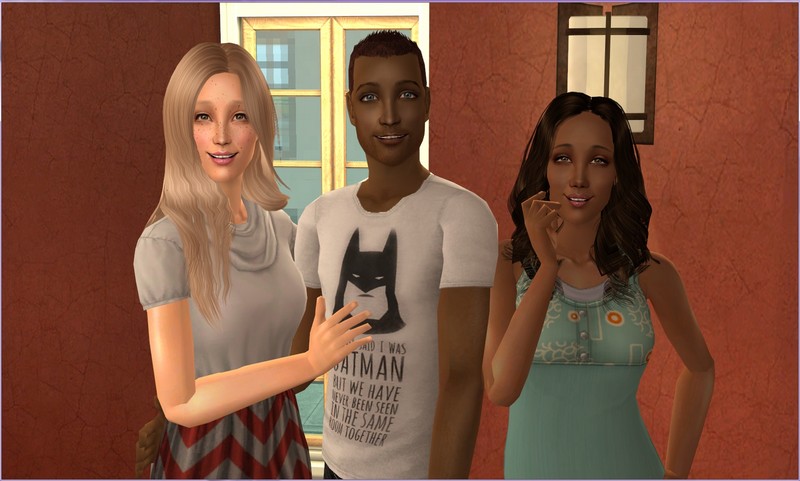 Narrated by Elspeth Romilly
It's been almost a month since Mum died now and though I'm coping a little better, it's still really tough sometimes.
I took about a week off work but ended up feeling more like myself once I went in again. It was nice to have something to do again.
That's been my strategy since not long after the funeral. Just keeping myself busy and not giving myself too much opportunity to think about it.
I earned a big promotion not long before Mum died. Learning the ropes in my new position has been difficult but at the same time, I've appreciated having something new to throw myself into.
It's when I have time to myself that my mind wanders to Mum again.
I've had a couple of dreams where she's been alive again and it's always hard to wake up from those.
Josh has been really great about everything.
I wouldn't say he's the most fantastic listener in the world but he has other strengths.
He's pretty good at recognising when I need to get away from my thoughts for a while.
I don't know if distraction is really helping me move forward or anything but I'm not too concerned with that right now.
Sometimes it's just what I need at that moment though. I'm trying to take things one day at a time, so that's enough for me.
Things are going well with Josh in general now. At one time, we were both a little nervous about Sophie moving out and it being just the two of us.
Then we'd be a proper grown-up couple, with our own household, which seemed like a scary thing back then.
Now though, I'm actually looking forward to it and Josh is too. It's quite exciting.
Even so, I will still kind of miss Sophie when she moves out. It'll be the end of an era, now that Lila has gone as well.
Sophie's been a great roomie and we've had a lot of fun together.
Josh and I are going to have to learn to cook properly for ourselves once Sophie is gone. She's going to leave us some recipes that are hopefully easy enough for us to follow!
Sophie is a totally different kind of bride to the kind of bride Lila was. I would probably be much more like Lila myself and watching Sophie plan her wedding has been a bit cringeworthy for me at times! She's so laid back about everything.
I'm a bridesmaid this time, along with Lila, Sophie's sister Emma and Camilla as matron of honour. Sophie let us pick the dress and the colours. She just let us loose in the store!
Letting other people make a decision like that for me is unthinkable but I think we'll all look pretty harmonious on the day anyway. It'll be the same dress, in two different colours.
Despite Sophie's tendency towards procrastination, the wedding is going to be amazing.
I don't know how she's managed to get everything to fall into place so perfectly but she has.
With about 6 weeks to go until the wedding, we decided to steal Sophie away for an evening, so we could do a little bachelorette party for her.
We had a very leisurely and probably kind of loud dinner at a Chinese restaurant…
…and then we went out for some drinks and a little dancing.
It had been a long long time since we'd done anything like that together and what better occasion than one of us getting married?
During our night out, there was some good-natured ribbing about me being the last single girl in the group, once Sophie and Oliver tie the knot.
I have to admit I never thought I'd be the last one getting married. I always thought that would be Sophie.
That's not a slight against Sophie at all. She says herself she wasn't even sure she'd ever get married. And then Oliver asked, and it felt right, and so here they are.
I'm not quite to that point yet, though Josh definitely is. He hasn't proposed but the topic has been raised.
I'm not in the frame of mind to think about it too deeply at the moment. Once this wedding is over and done with, I've told Josh we can talk about it more seriously.
Title is from Fall Away by Stephen Malkmus and the Jicks.
Elspeth's aspiration was in the red when I loaded this lot. :( She also had the want to resurrect her mum, which was pretty sad. But she got to do a fair amount of fun things during this update, which really lifted her spirits.
Josh and Elspeth were one of those couples who already had marriage wants in Sullivan 1.0, but hadn't yet rerolled them in 2.0. Josh rolled a marriage want this round but Elspeth didn't. I don't think she'd get engaged so soon after her mother's death, so I'm fine with that. Seeing she'd already rolled a marriage want previously, I'm basically doing whatever I want with her in that vein anyway. ;)
Three more updates (including birthdays, which won't take long for me to get out) until Sophie's wedding! I have almost everything ready! I've never done differing colours for bridesmaid dresses before but it seemed like something Sophie would do, so hopefully it looks okay in the pictures.
Next time I play this household, I'm hoping to have a workplace for the gaming career. I have some fairly specific ideas for it (I want to base it on the Lifeinvader office from GTAV, if anyone knows that game), so I don't think I'll be forever with it. LOL, famous last words!