Round 36: October 2043 (Spring)
(Josie is 41, Troy is 40, Adrienne is 36, Charlie is 31, Elisa is 17 months and Eliza is 11 months)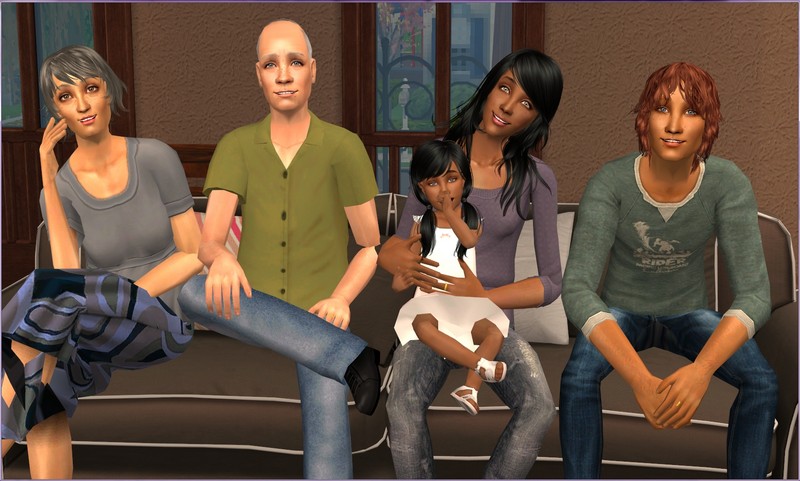 Narrated by Jack Benton.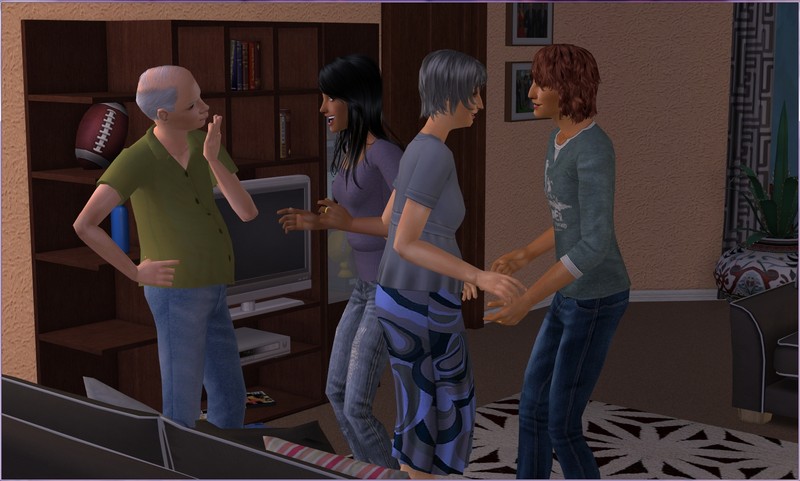 Audrey and I now have my mum and dad living with us here at our house. We had the space, Mum and Dad were keen to spend more time with Zoe, so we went ahead and moved them in.
Mum and Dad are both still very able-bodied but a day might come when they won't be.
I feel better knowing they'll have support if that day does ever come and not have to worry about keeping up with their own household.
Zoe's enjoying spending more time with her grandma and grandpa and I know Mum and Dad are thrilled too.
However, I think Zoe is way more excited to have Mum and Dad's dog living with us now. We'd been wanting a dog anyway, so Buster was a nice little bonus, especially for Zoe!
We just have to watch her with him, as she can be a little bit too enthusiastic in expressing her affection for him!
Now that Mum and Dad are here, Audrey and I have reduced the nanny's hours to three days a week.
Mum keeps insisting we can just get rid of the nanny entirely but if we did that, she would have no time to herself at all.
Zoe's a really beautifully-behaved kid but she's still a toddler. That alone means she can be demanding at times.
When her grief eases though, she's going to want to start writing more again and without a nanny around sometimes, that's going to be difficult.
Audrey likes to entertain, so as long as we've been here, our house has always been the default location for family get-togethers.
With my parents here too now, that's even more true, if that was possible.
Not many weekends go by without either Charlie or Josie or both coming by with their families.
It's a little much sometimes. I often end up playing video games with Troy, just to get a bit of a break from socialising.
You don't really get a chance to catch up with anyone properly anyway, though I try.
But my parents love it, Audrey loves it and Zoe really loves seeing her cousins, so it's not all bad.
I was always looking forward to becoming a dad but I've enjoyed it even more than I imagined I would.
I love the weekends even more intensely now, because I can spend more time with Zoe.
Audrey works from 5-11pm Thursday through Sunday, so the dinner and bed routine usually falls to me.
I can see a lot of Audrey in Zoe too but being adopted, it's been pretty amazing having a little person around who looks and even acts like me.
No one in my family has ever treated me any differently for being adopted or not looking like anyone else, so it's not something I ever missed. But having a little mini-me is a fun experience nonetheless.
When we had Zoe, everyone told us to enjoy every minute with her because it all goes by so fast. It sounds like a cliche but it really does.
Zoe is 18 months old now, walking and even talking a little. She seems to pick up new words every day.
Her latest word is "book". Zoe cannot get enough of books! I hope that continues when she starts school.
Zoe had another milestone this month, when she had her first non-family play date. It was with Elisa Hamilton and it seemed to go well.
Audrey was the one who set it up. She and Adrienne ran into each other in the waiting room at the doctor, and they decided to meet up again.
Elisa and Zoe had a lot of fun together though, so I guess we might be seeing Adrienne and Amar a bit more often.
Zoe loves playing with Oscar and Stella but it's nice for her to have a little friend her own age too. We want to have her cousin Eliza over to play too, when she gets a little bit older.
Eventually, we want to give Zoe a baby brother or sister but we haven't started trying just yet.
If Audrey got pregnant today, the baby would be born a few months after Zoe's second birthday. That seems like slightly too small a gap for us.
My parents adopted me and then had Charlie six months later, so it would be doable but not necessarily ideal. It sounds like it was a bit nuts at times.
We both have siblings relatively close in age who we're tight with though, so we don't want to leave it too long. Right now, we're looking at trying time it so that Zoe is about three when our next one is born.
Until then, we're just going to make the most of our time with Zoe and dote on her as much as we can.
Title is from Last Light by Matt Pond PA.
Sorry that this is so, so late! I wanted to get this out about two weeks ago but wasn't able to finish my session until yesterday. I won't bore you with the details, so let's just say the stars didn't really align until now!
I have been slacking even more on my posing blog but for those of you following that one, I promise I haven't abandoned it. I'm hoping to do a couple more boxes soon. :)
Jack and Audrey are on InTeen BC, so ACR was able to tell me that they're trying for a baby. I'll probably pop in and visit them some time next game year, so they may be expecting again before next round.
Adrienne and Audrey are actually first cousins, not distant cousins. Adrienne's dad and Audrey's mum are half-siblings. Owen and Tatiana's dad Galen had basically nothing to do with them growing up though, so Adrienne and Audrey never really knew each other as cousins.
Elisa and Zoe were pretty adorable together, right? I'm looking forward to aging up Eliza (man, I really did not think those names through!), which will be right after my next session. More play dates!
I didn't write about it, because it didn't occur to me until I was done playing but I'm considering having Jack quit his job. He's in Business right now but it's not something I feel suits him. I put him in that career because he happened to roll up the LTW to reach the top of it but these days, I don't pay as much attention to LTWs as I once did. I'm pondering if he should ditch the corporate world and take an active role in his dad's restaurant when he takes it over. He wouldn't cook but I can see him maybe serving as the host? I'll have to think about it some more but the more I think about it, the more I like the idea. :)