Round 34: November 2040 (Spring)
(Athena is 80, Luc is 47, Tim is 20, Annabel is 16 and Aurora is 14)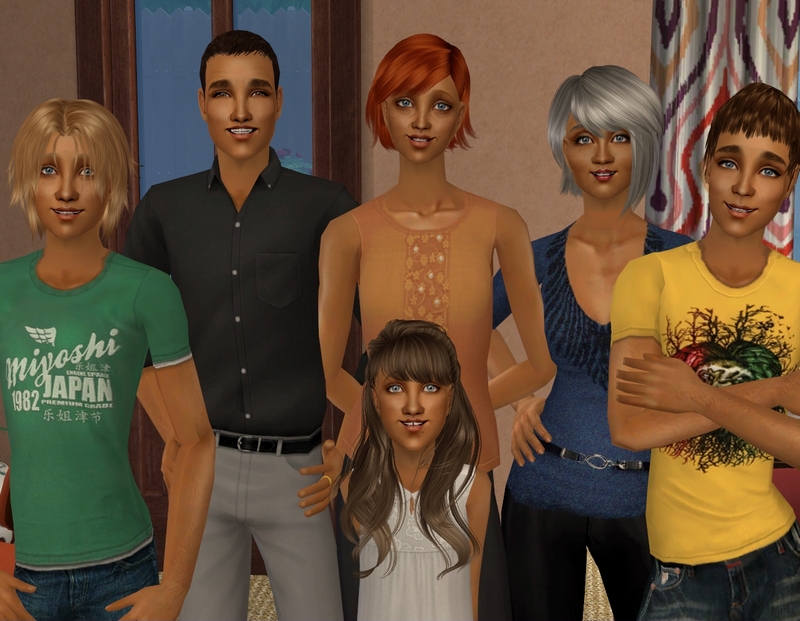 Narrated by Matthew Lane
A few months back, we had my grandma Linnea move in with us.
She's 80 now and she can't really afford to keep living on her own. Mum and Uncle Luc also thought there probably wasn't much time before she couldn't really handle it physically either.
It's a bit strange having her around all the time now, as we didn't see her that often previously.
But I actually like Grandma, so it's a good change, as far as I'm concerned.
Mum hasn't really got along very well with Grandma since she was a teenager, so she's been struggling a bit.
They disagree fairly often and there's a lot of sighing and eye rolling going on.
She's always had a better relationship with Uncle Luc and it probably would have made more sense for her to live with his family.
There's no room at his place though. Marcus and Felix are already sharing a room, Ruby won't want to share with her grandmother and the spare bedroom has already been converted into a recording studio.
Mum thinks that's all just a bit too convenient but she hasn't said anything else to him.
Honestly, Grandma doesn't get in anyone's way too much. She's home a lot but she lives a pretty quiet life these days, watching TV or hanging out with her sister.
Dad thinks a lot of it is just left over from when Mum was much younger.
He says they're much better than they used to be, so he's hopeful that it will blow over once everyone gets used to the new living situation.
Mum is very concerned about his future job prospects, assuming this "rock star" thing doesn't work out.
That always leads to Simon bringing up the fact that Dad flunked out of college and has done all right for himself.
Simon is pretty confident that his future is as a rock god and he spends most of his time practising his guitar
When he's not playing, he's usually with Annabel. Annabel's mother is pretty strict and I'm not entirely sure she knows about Simon.
If she does, I would bet money she's not too keen on him.
To my eyes though, they seem like a pretty good match. She's willing to listen to Simon's music ad nauseam, which always wins people points with him.
They're also similarly disinclined towards study, which works for them.
Simon is like Tim's complete opposite.
Mum never hesitates to remind Simon of this but Simon just doesn't care.
I can't really see Simon following in Tim's footsteps and going to medical school anyway.
Even though Simon is my twin, I'm more like Tim in most ways, even appearance. We're both shy and very, very studious.
We're both pretty hard workers too. I manage to drag my butt out of bed for work before sunrise almost every morning.
I have a paper route, which isn't what I'd call a fun job but it brings in some money and leaves my afternoons completely free.
Simon claims I waste my afternoons, seeing I spend most of them doing homework.
It's okay for him. He slacks with school and still gets straight As.
If I slack even a little, my grades go down. I have to work to keep up.
Homework has to be done, so I just get in and do it.
Aurora and I often do our homework together. It makes it go faster.
Aurora is a year behind me at school, so we're never doing the same assignments. But I did a lot of the work she's doing now last year, so I can often help her out with it.
She's also much better at me at maths, so she helps me out in that area too.
I'm always so relieved to be done with that part of my homework. I actually like school but I hate maths.
Aurora and I aren't really very similar. She's much more organised than I am and she's way nicer than I could ever be.
She even talks to Charlotte voluntarily. She's my sister and I avoid doing that a lot of the time.
We're compatible where it counts though. We play a lot of basketball in my backyard. She's the only one willing to play with me. She beats me the vast majority of the time too.
I love that my girlfriend likes hanging out at home with me. Staying in beats going out any day!
Title is from Nighttiming by Coconut Records.
Cordy's top kind of blends into her skin, which I didn't really notice until I looked at my pics later! But I went into SimPE just a while ago, extracted the texture and changed it to a much darker orange. It's going to work a lot better for my medium-toned sims now and as a bonus, I prefer the new colour anyway. I really love orange in general.
Initially, I decided to move Linnea in because I didn't feel like decorating a house for her on her own. And she's 80 now, so it made sense too. But I went to grab her from my Saved Sims folder and she wasn't there! Opened up Sullivan 1.0 and tried to extract her with SimPE and couldn't. A ton of my sims are now "uneditable", which is strange, because last time I checked it, they were fine. Last time I checked it was when I extracted them all to start Sullivan 2.0. So if Linnea looks a little different, that's why. I used Athena to make her and changed her a little bit to hopefully make her look fairly close to her old self. She's definitely not exact. I decided I didn't want to kill her off though, so it was all I could do. :\
New Cordy and New Linnea still don't get along. Their relationship is positive and they may even be friends but they argue a TON! I was a little worried my sims wouldn't act the same when I rebuilt but so far, so good.
I really love Matthew and Aurora together. I can't even remember if it was something I initiated or something they did but I'm quite happy with them regardless, at least for now. :)