Round 32: November 2035 (Spring)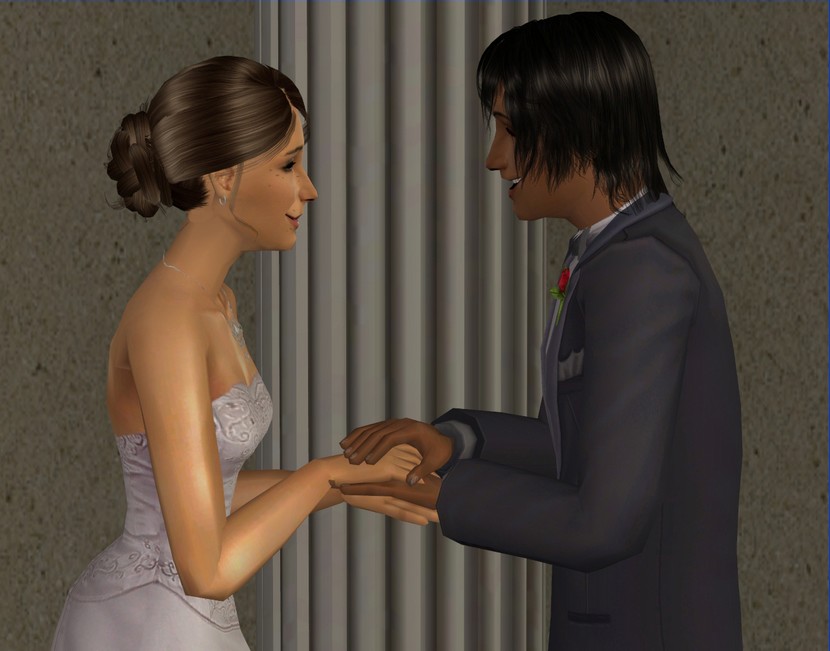 When Leslie and I were planning our wedding, my parents offered to pay to hold it at one of the more expensive venues.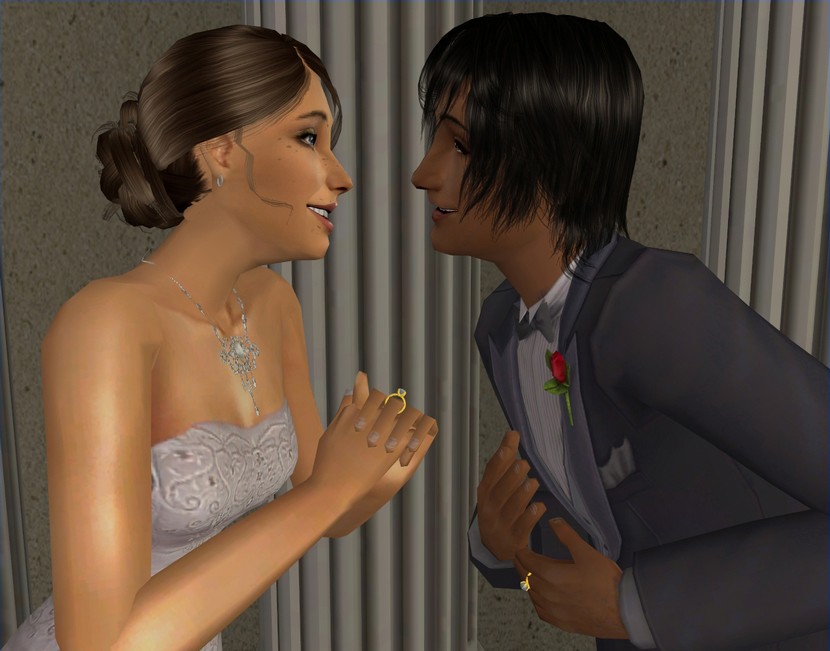 It was important to us that we could pay for it ourselves though, so we decided on a church with an attached hall. It was perfect for us anyway.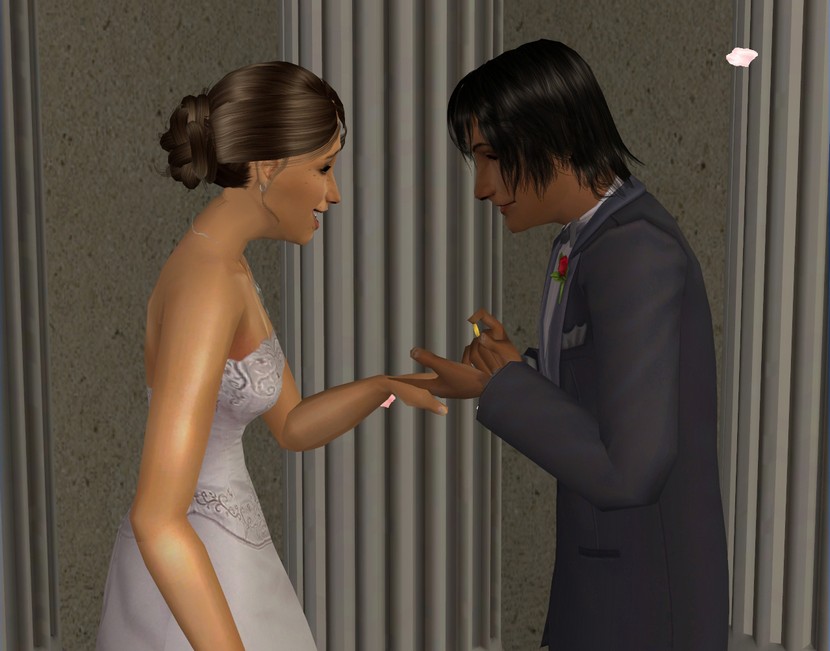 I wasn't even as nervous as I thought I'd be. I actually felt pretty relaxed.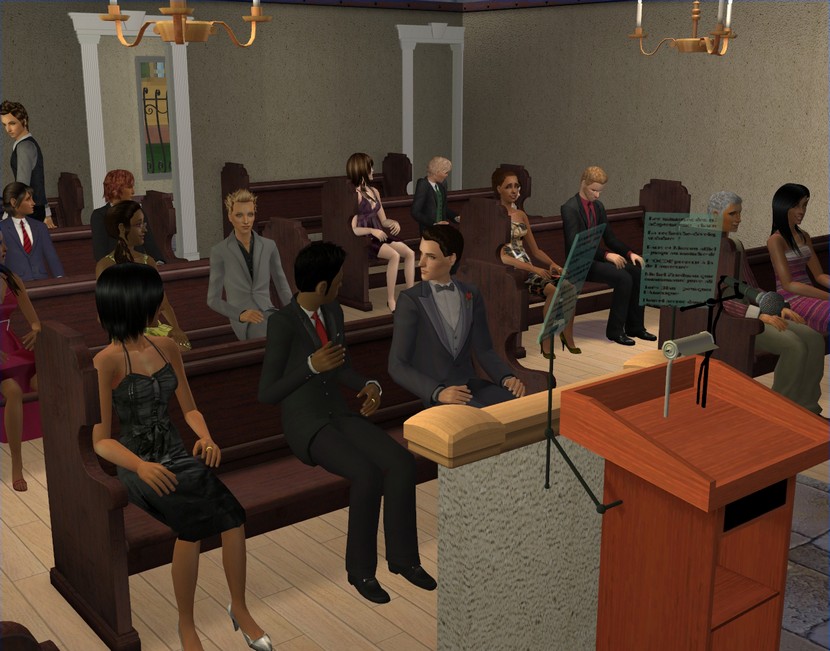 Every single person in the church was a family member or close friend.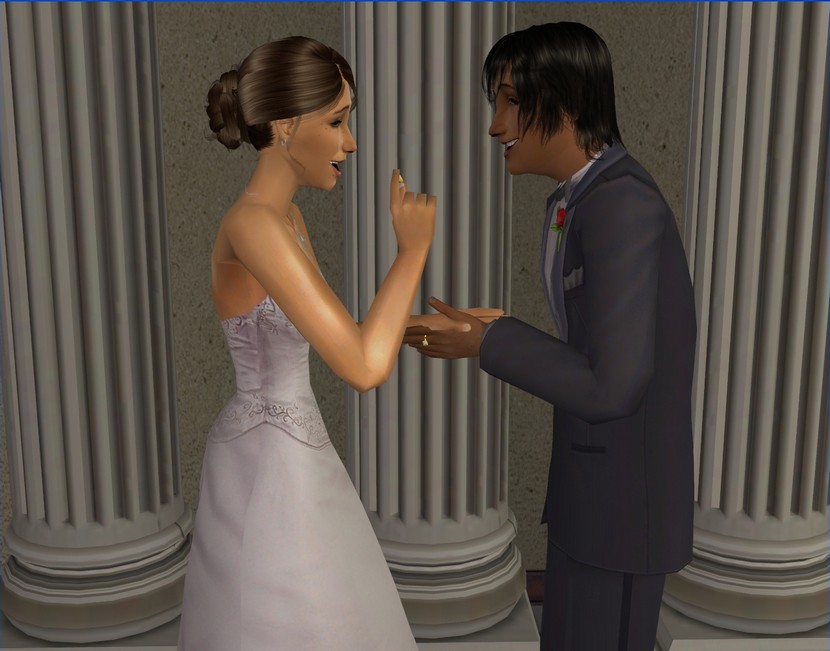 It was a bigger deal for Leslie. She knows all my friends but there were family members she would be meeting for the first time at the reception.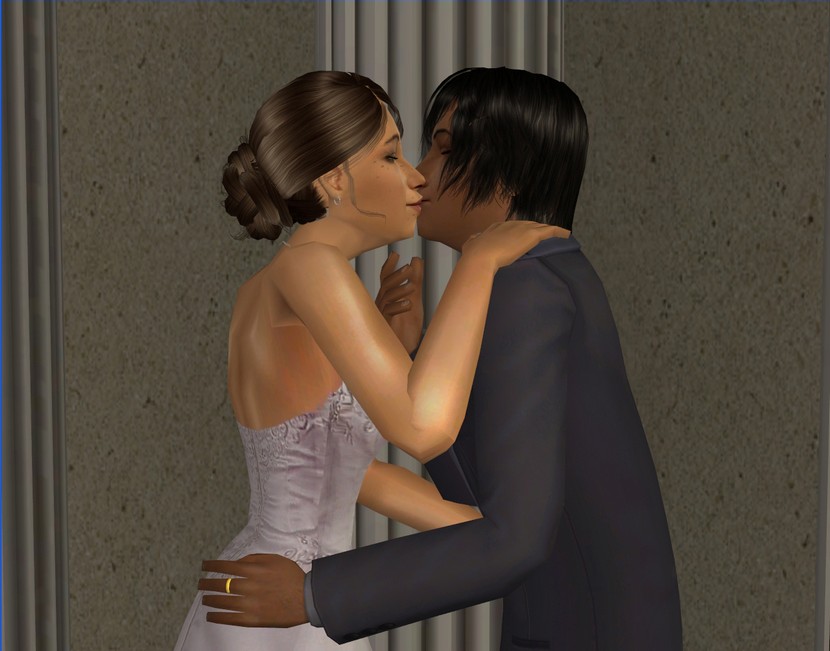 I'd been so excited for this day since before I even proposed and I was so happy we were finally marrying.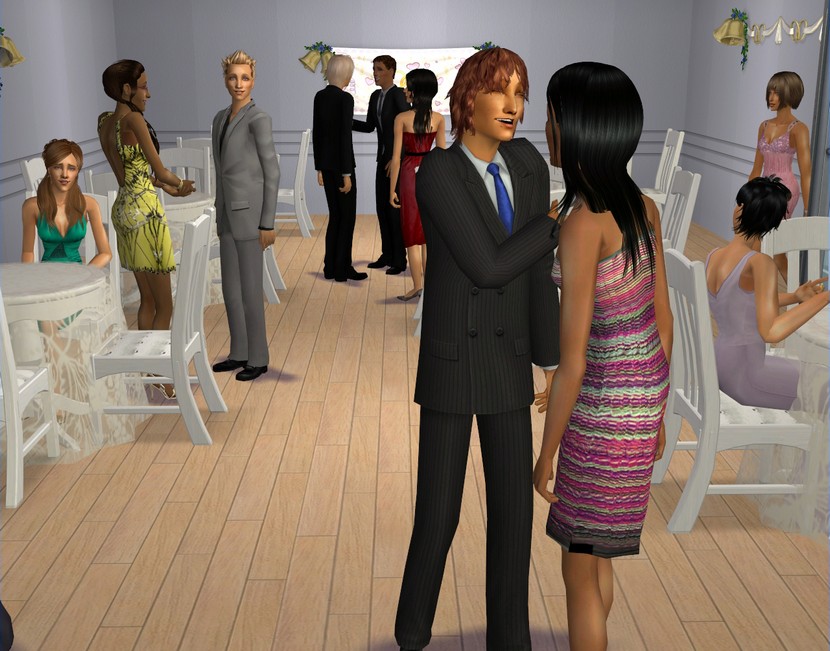 The reception was definitely a family affair.
It's hard to find someone willing to do speeches in our fairly shy family but we had a few volunteers for the toast, at least. Along with my dad and grandpa, Chloe also said a few words.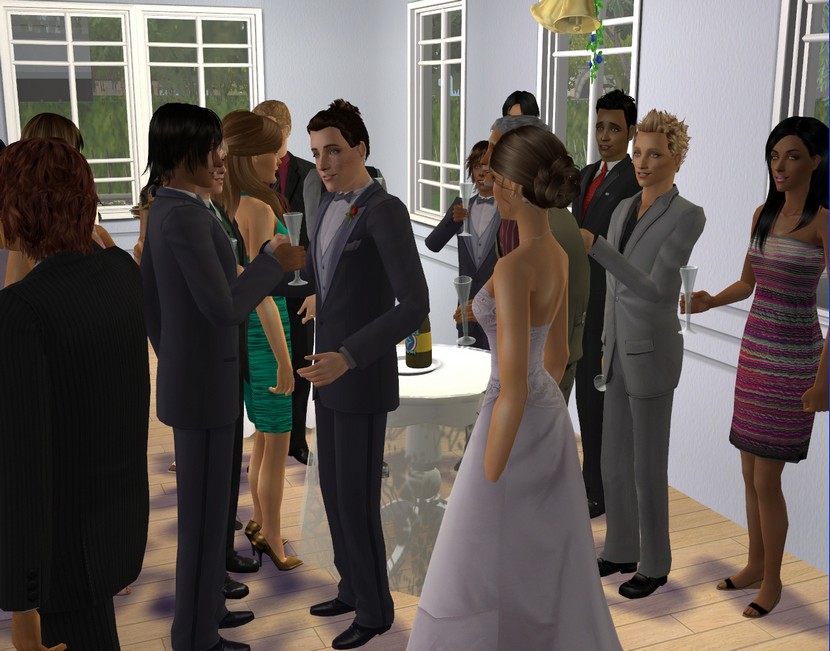 As did my best man and best friend,
Nathan
.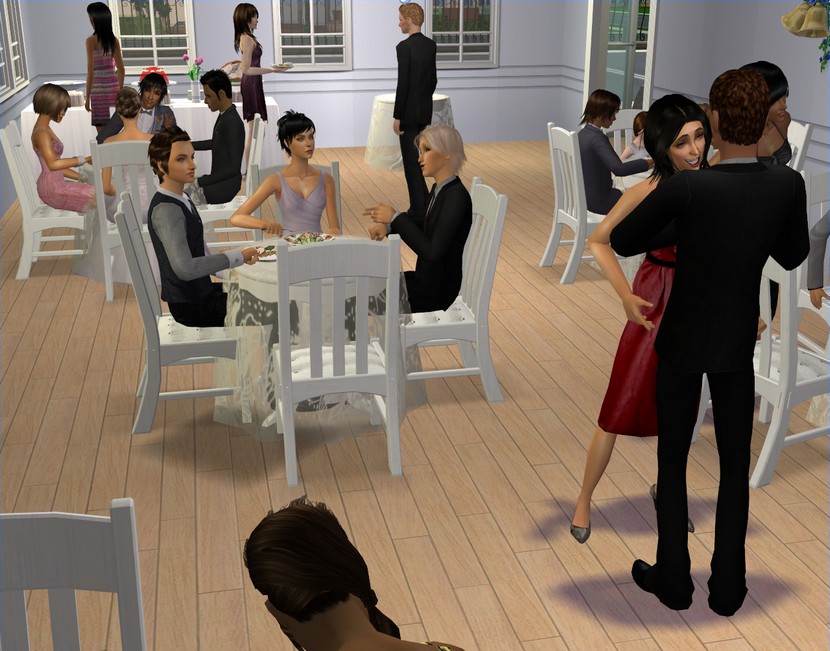 Lunch was served almost straight and it was a great opportunity for everyone to relax and chat.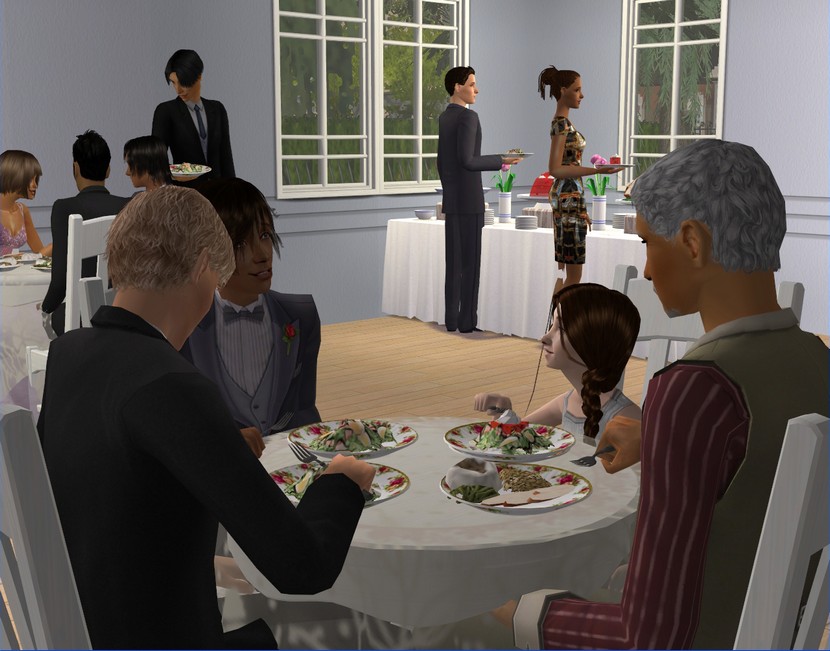 Everyone seemed to be really enjoying themselves, despite the fact that it was bucketing down with rain outside.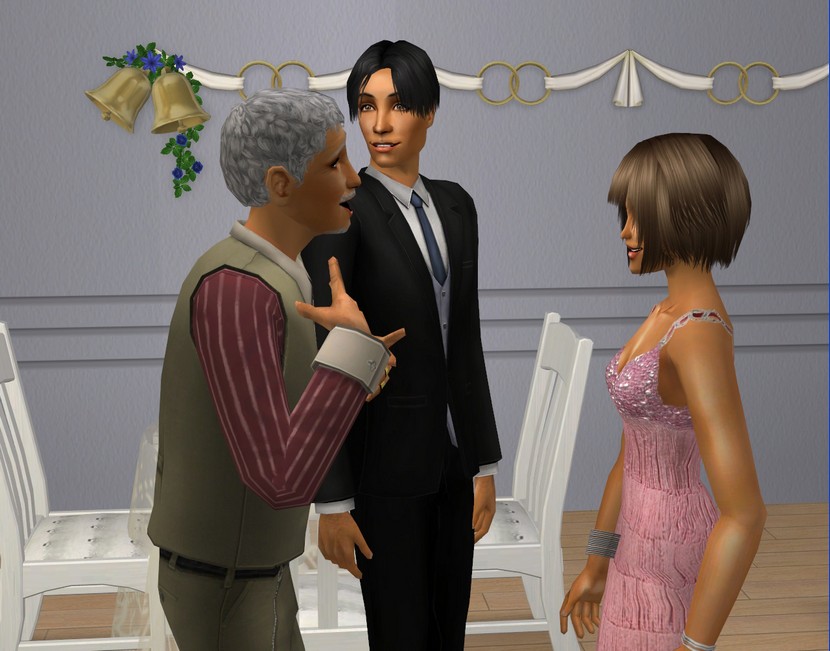 We had guests of all ages, the oldest being my grandfather.
Grandpa
was so keen to catch up with
Edward
and Lucy. He really loves Lucy but since Edward went off to college, she doesn't come by as often.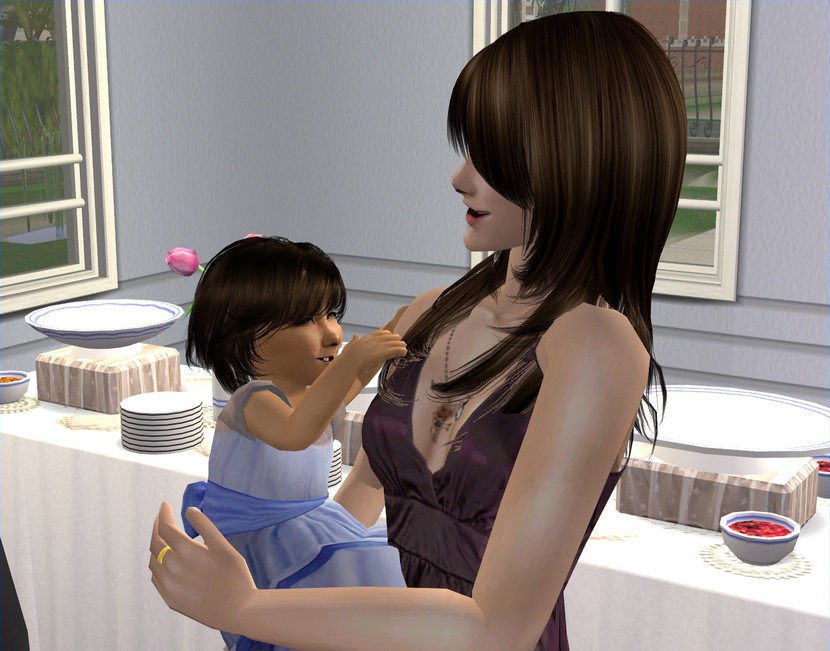 The youngest guest was
Iris
, who just turned 1 earlier this year.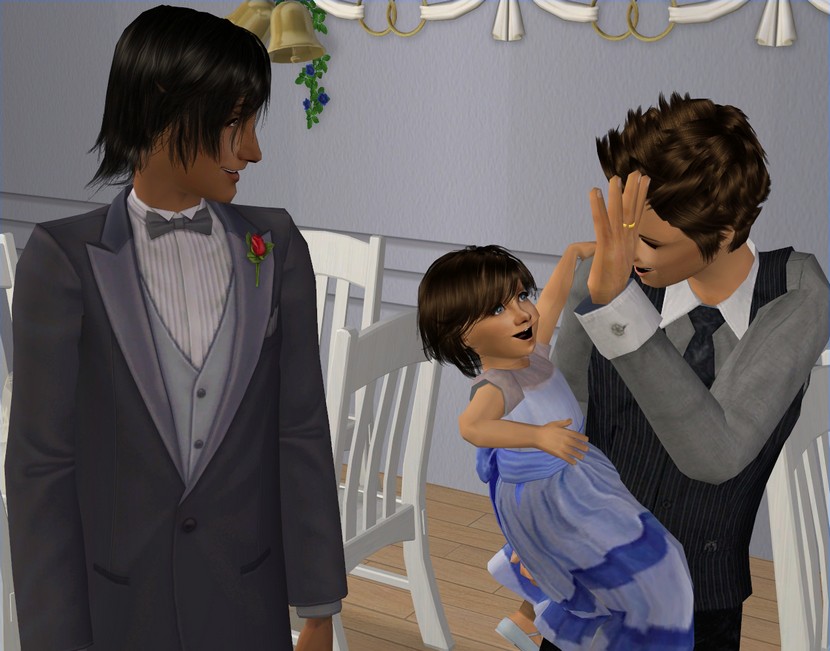 Iris is my cousin but because there are only 9 years between me and
Jacob
, he's more like my brother than my uncle. And Iris she feels more like my niece.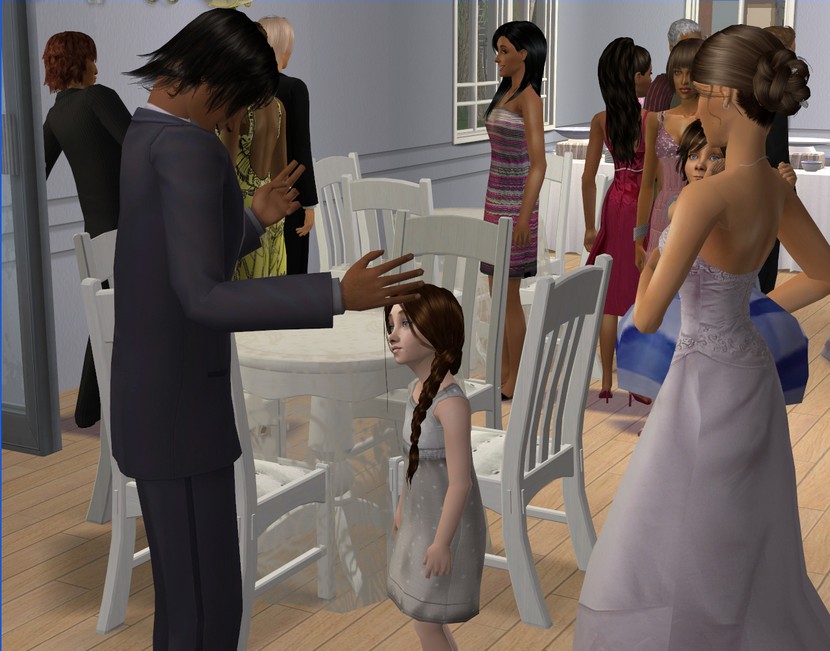 She and her sister
Daphne
are just too cute.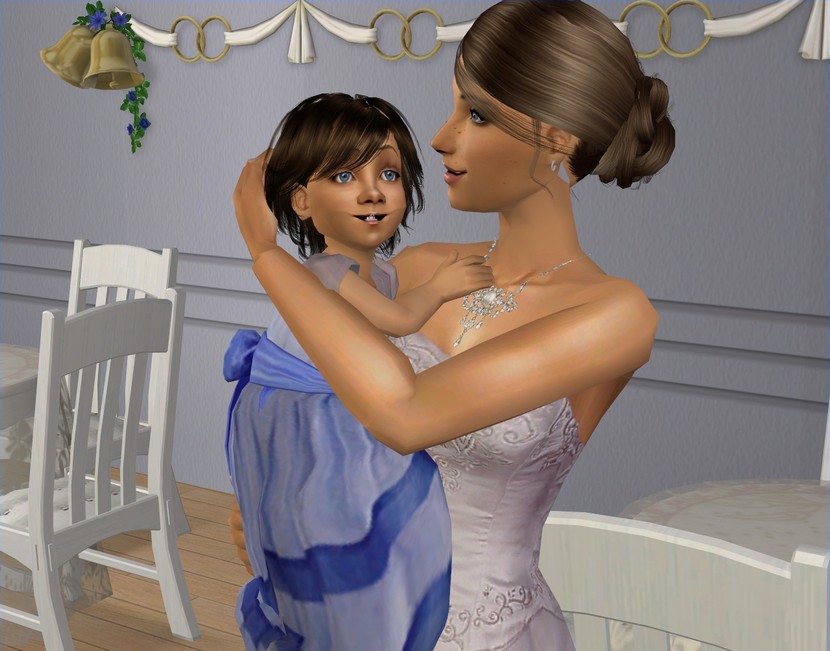 Leslie and I both love kids but we've decided to wait a couple of years before we start a family. Spending time with other people's children makes us both a little more eager for our own though.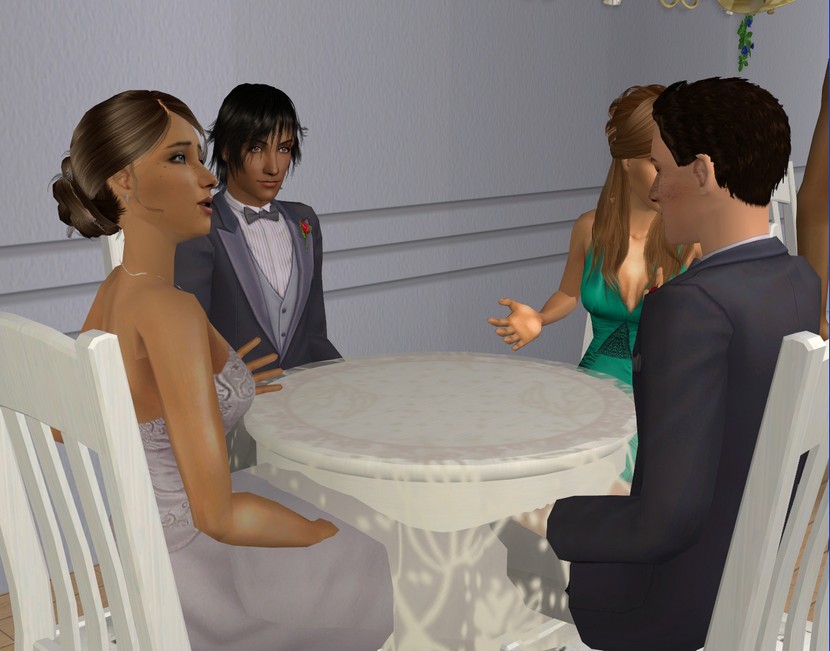 We're both young and none of our friends are even close to having children yet, so we're not in any real rush.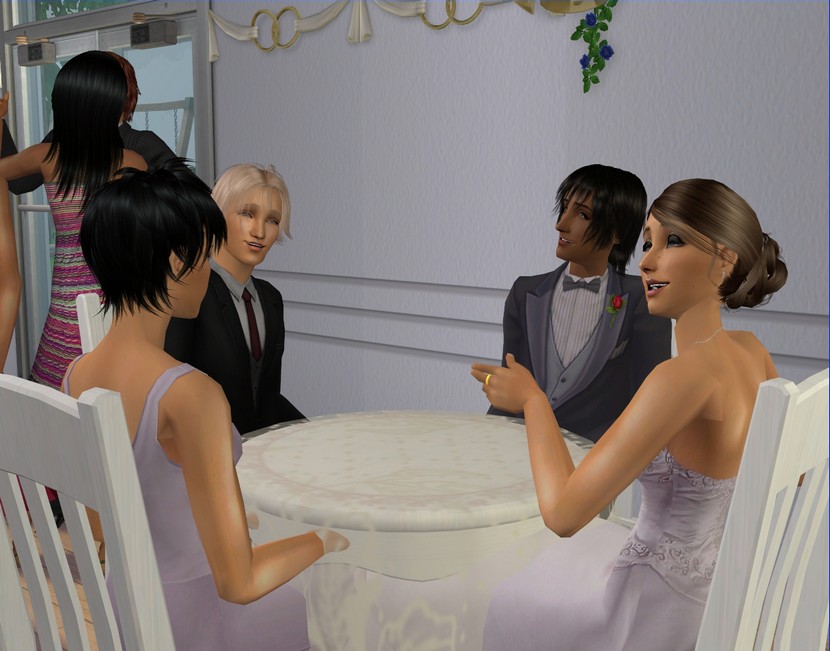 Although Chloe and Zane just got engaged a couple of months ago. Who knows if they'll want to have kids right away or not?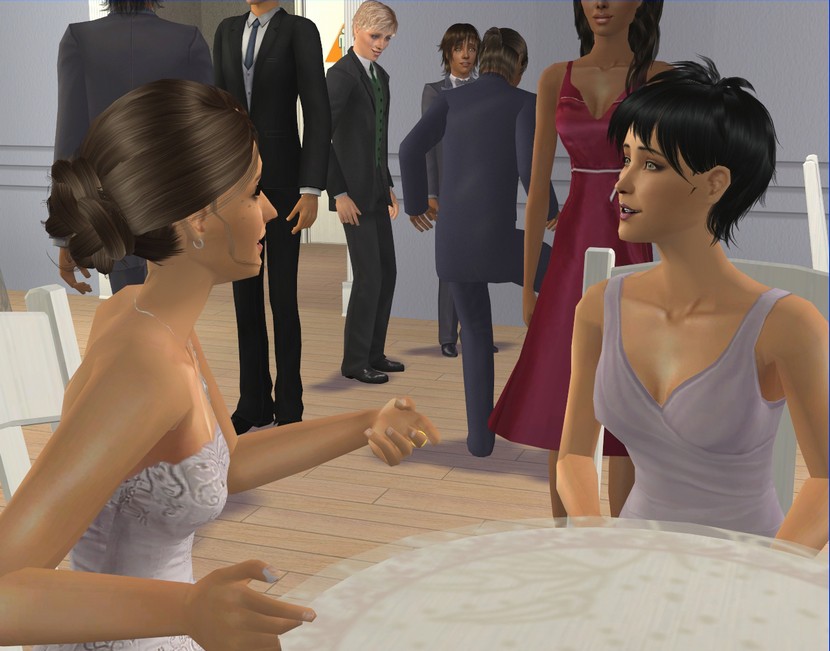 Chloe served as maid of honour for Leslie and Leslie will be the matron of honour for Chloe when she gets married, on a yet-to-be-determined date.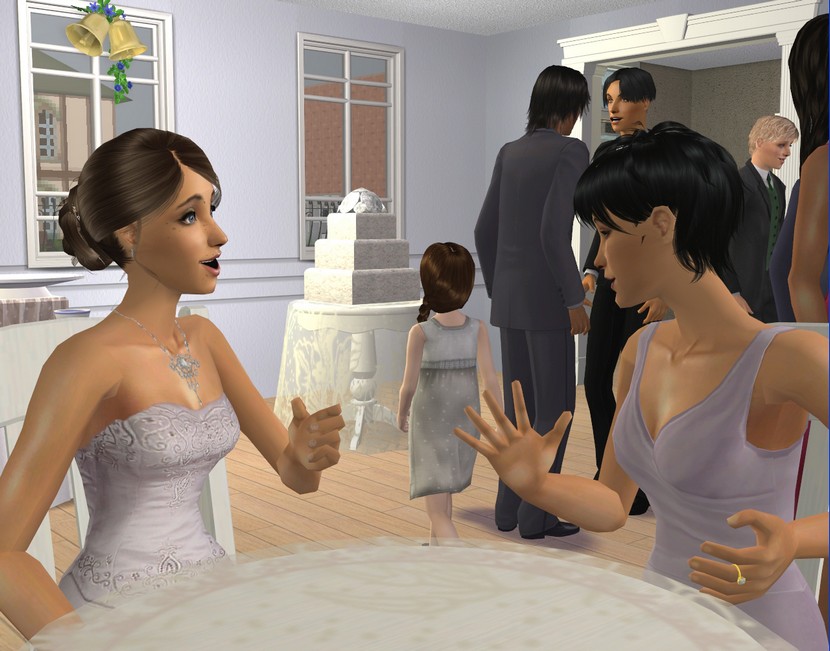 They're already talking incessantly about it though. Having just gone through all that stuff, Leslie has plenty of advice, tips and websites for Chloe.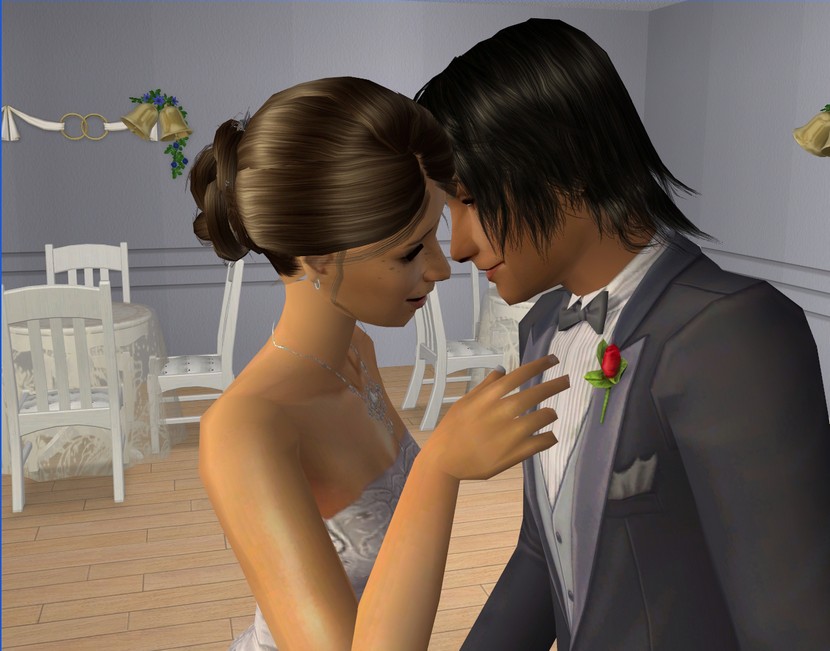 We did manage to sneak away a few times during the afternoon, fortunately.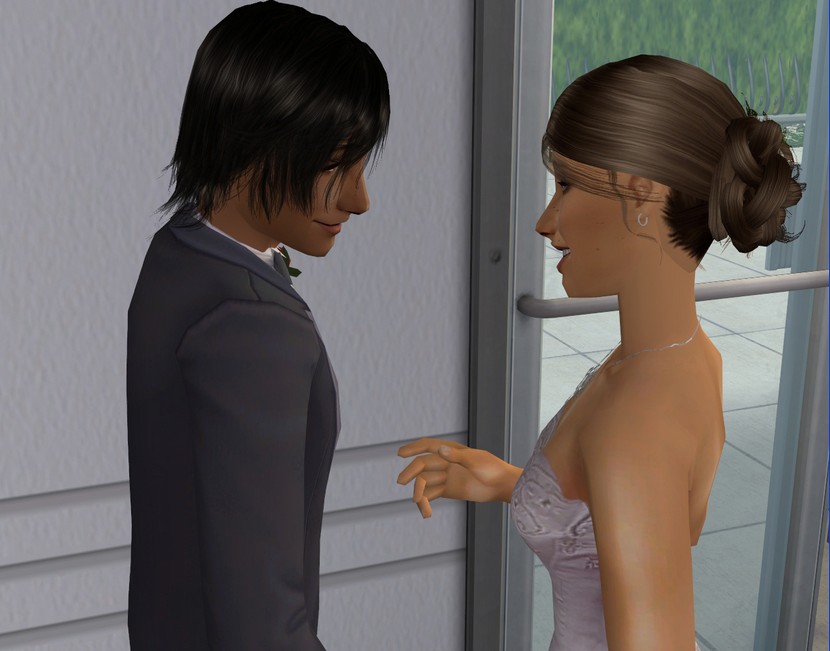 As the bride and groom, we had an obligation to try to speak to all of our guests at some point during the reception, so any private moments were fleeting.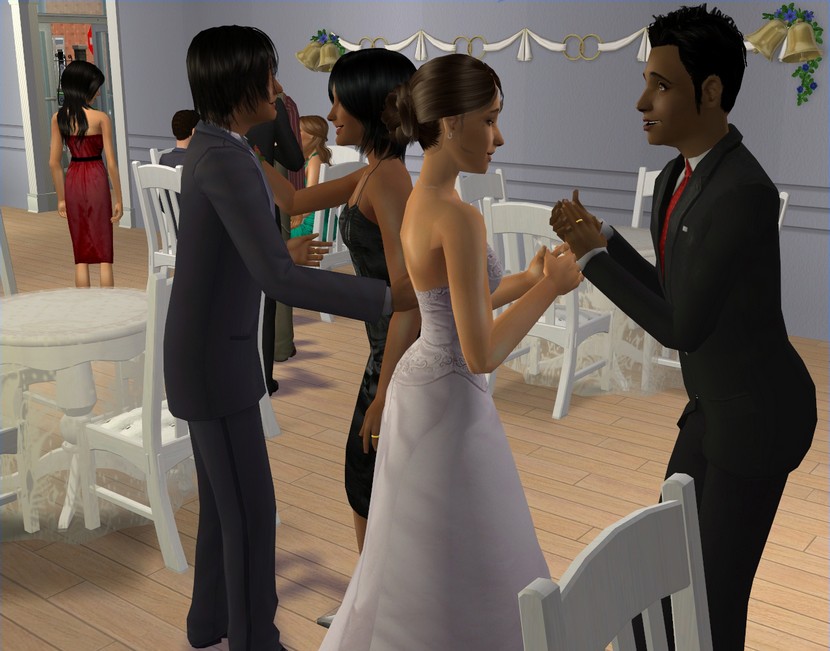 Mum
and
Dad
have both always liked Leslie and they were excited for her to meet everyone else.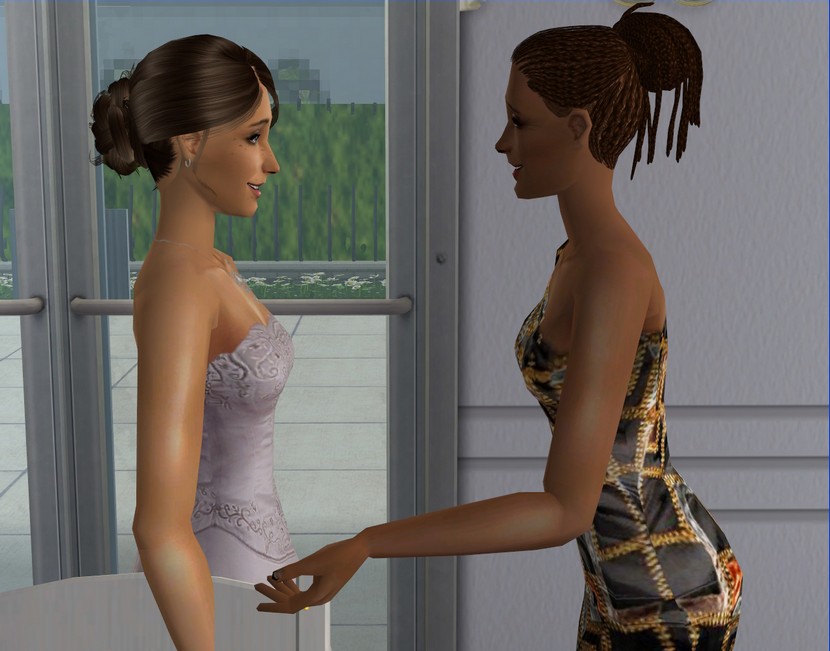 Leslie is even more shy than I am but
Aunt Abigail
isn't, so I'm quite sure she would have taken care of most of the conversation they had.
When we chose the cake, Leslie was very particular about what she wanted: all white and lacy looking.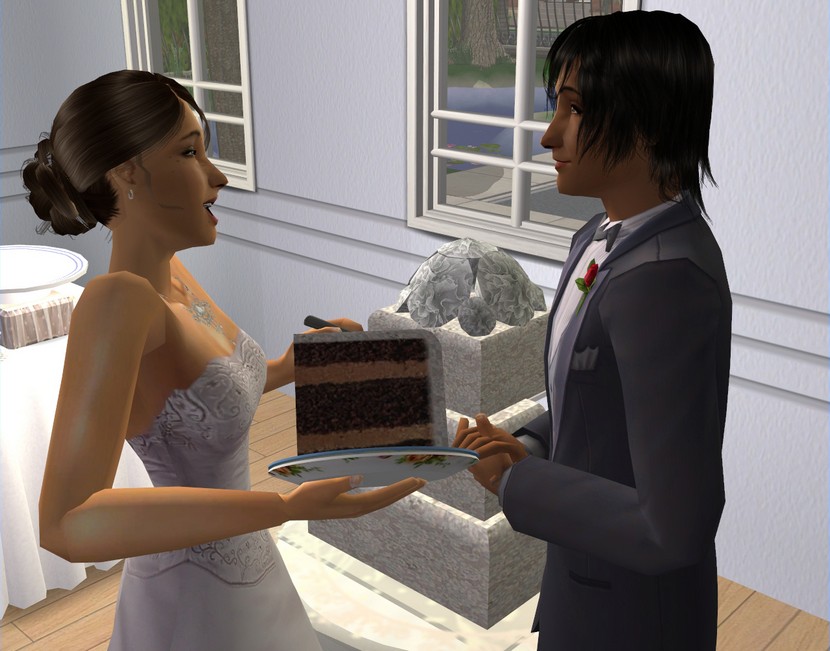 I wasn't too fussed, so I let her go for it. Having tasted it, I have to say it was a good choice.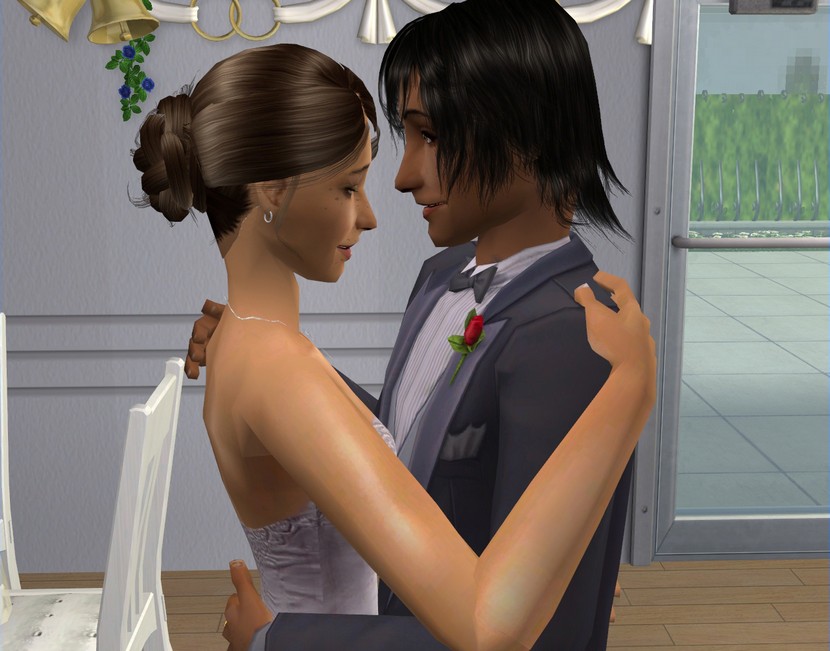 We had planned on dancing outside after lunch but the heavy rain made that not such an attractive option. There was no dance floor inside but Leslie and I danced where we could anyway.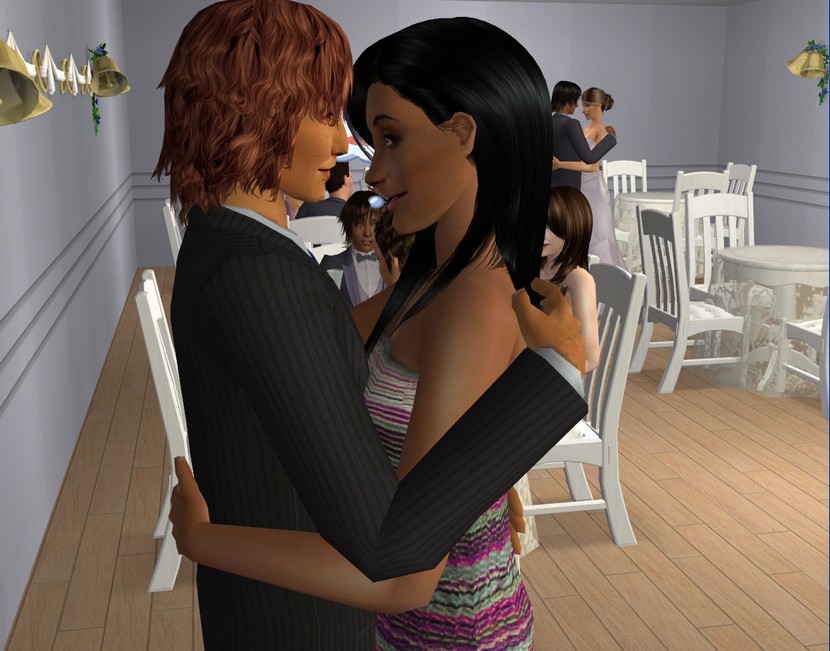 Only a few other couples followed our lead.
Audrey
doesn't usually miss an opportunity to dance.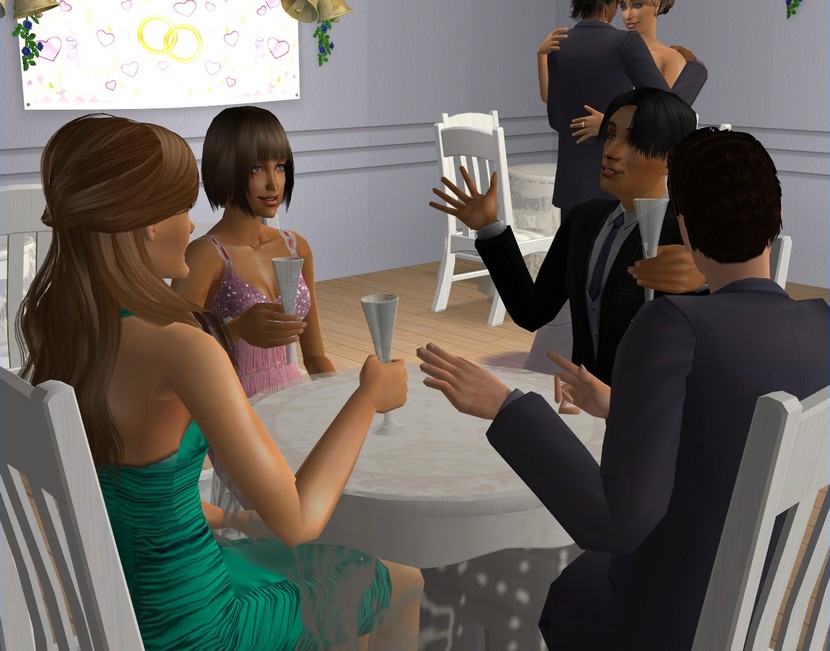 Most of our guests, however, stayed at the tables and enjoyed a little more champagne.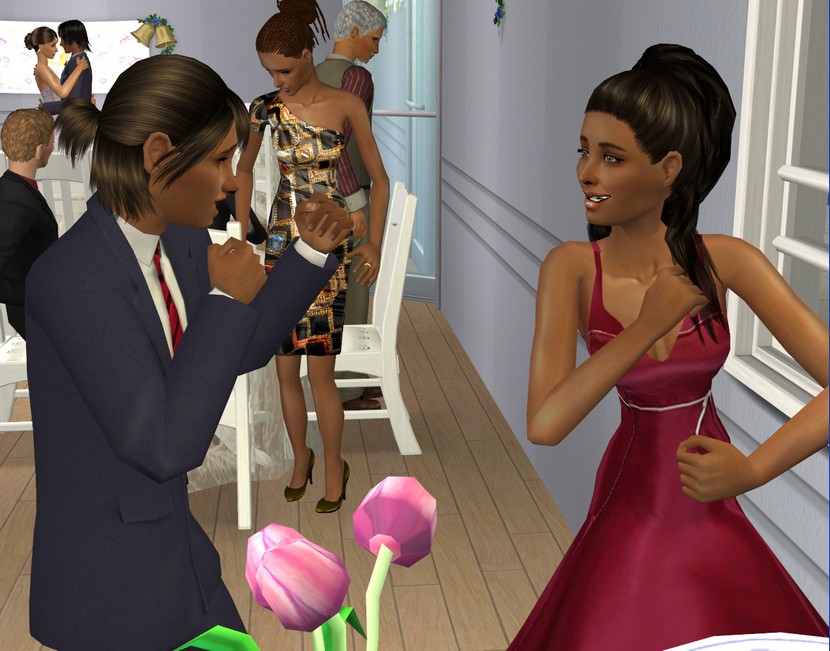 Except those too young for alcohol, of course.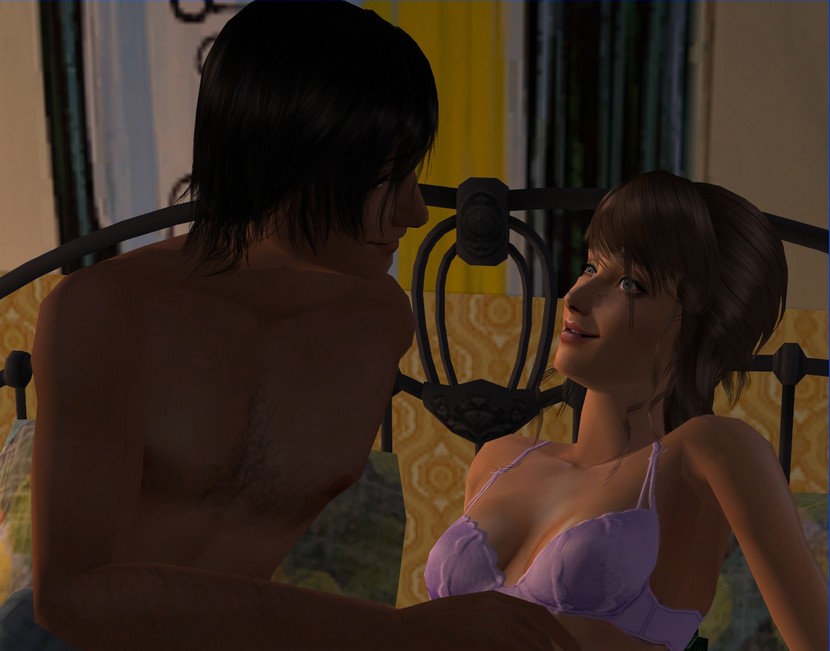 We don't have the money for a honeymoon yet, so we spent our wedding night in our brand new house.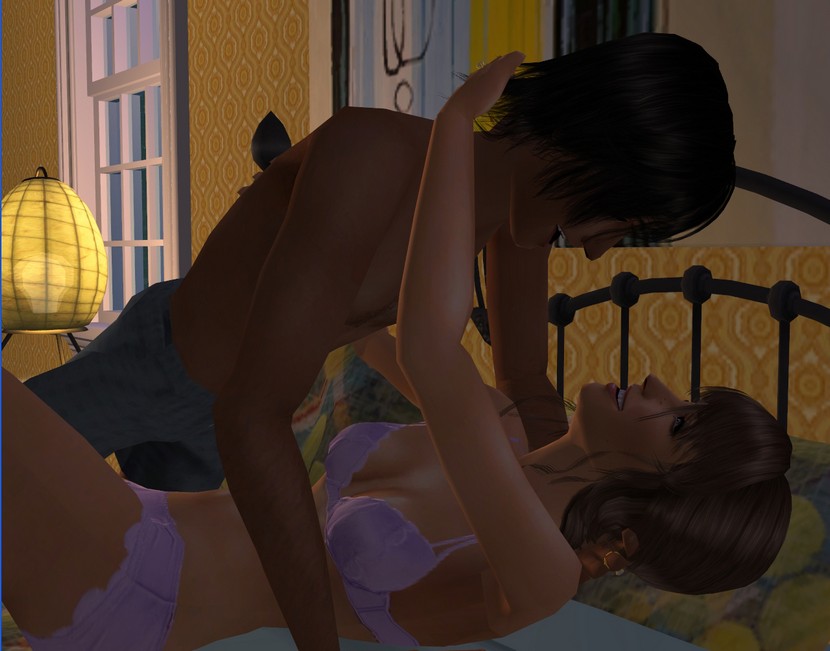 Leslie and I have never had our own place before, so we didn't even really miss a honeymoon. We were just enjoying being together in a space that belonged only to us.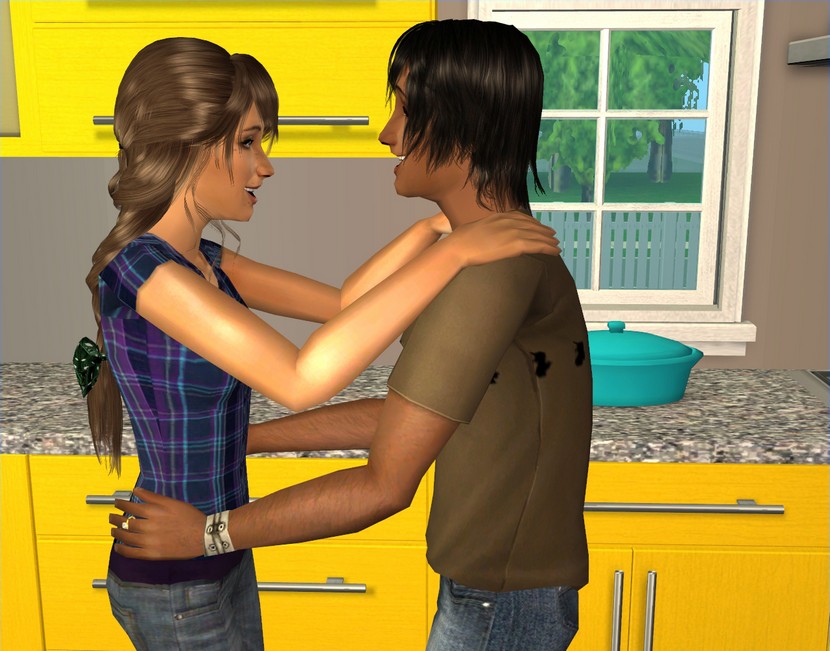 Parts of the house are still a total mess but we're in no hurry to get things in order just yet. We have everything we need for now, so we're just going to relax.
Extras: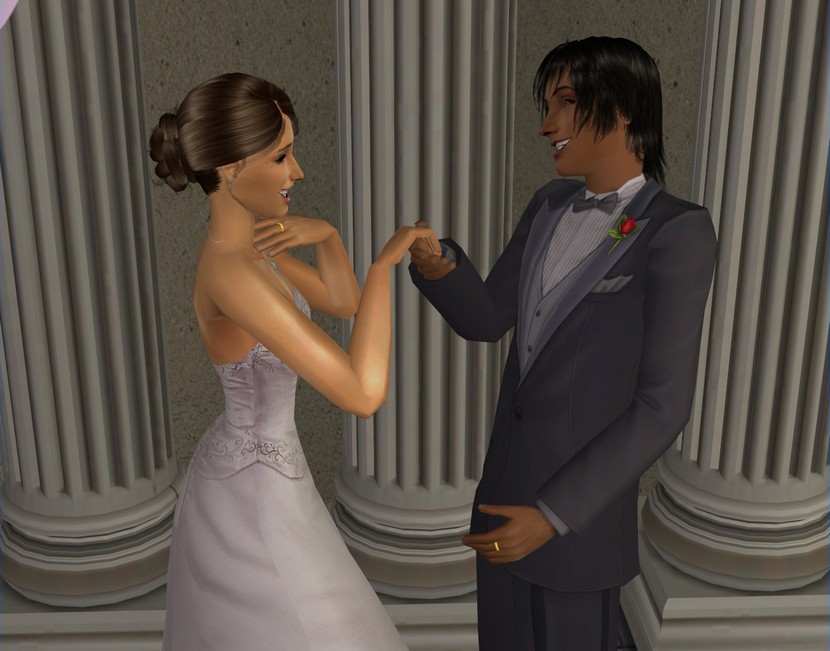 Dominic and Leslie did this autonomously right after they got married and I thought it was adorable.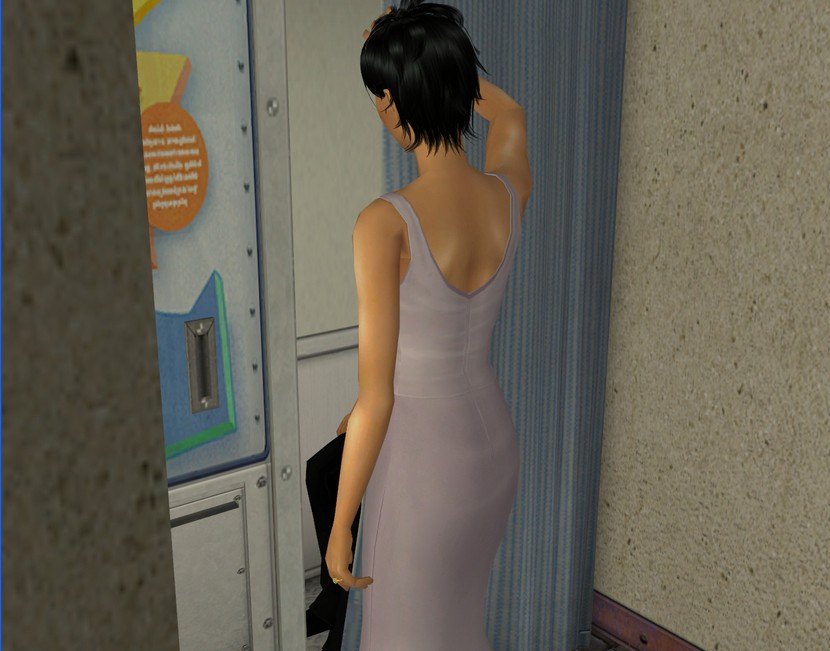 The photo booth was not as active as it was at Aaron and Calvin's wedding but it certainly got a good workout. It was funny to me that it was the more reserved couples using it though - Chloe and Zane are both quite shy.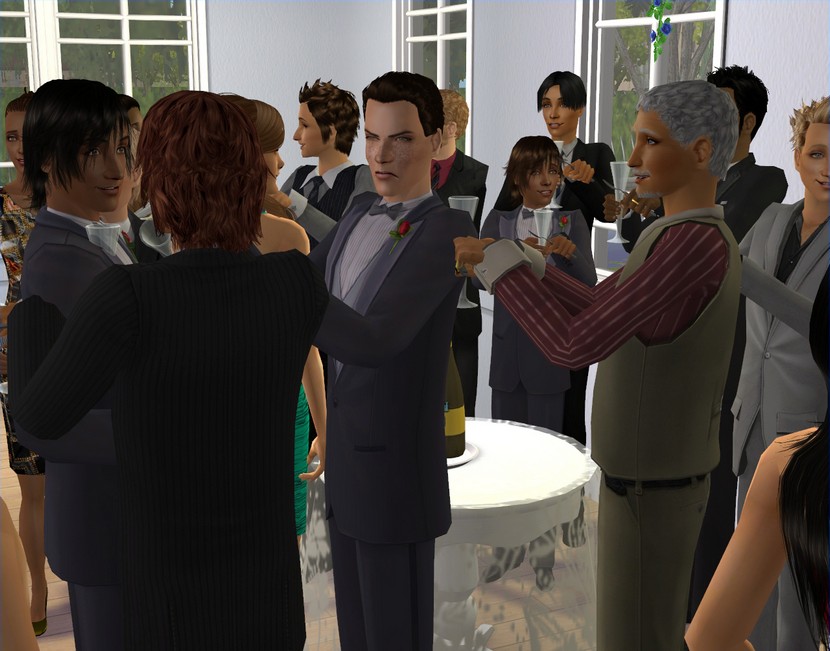 It was so hard to get a shot of Nathan doing the toast! Right before he started, Audrey told him a dirty joke, which offended his delicate sensibilities. And because he's Nathan, he was pissed off about it for much longer than was necessary.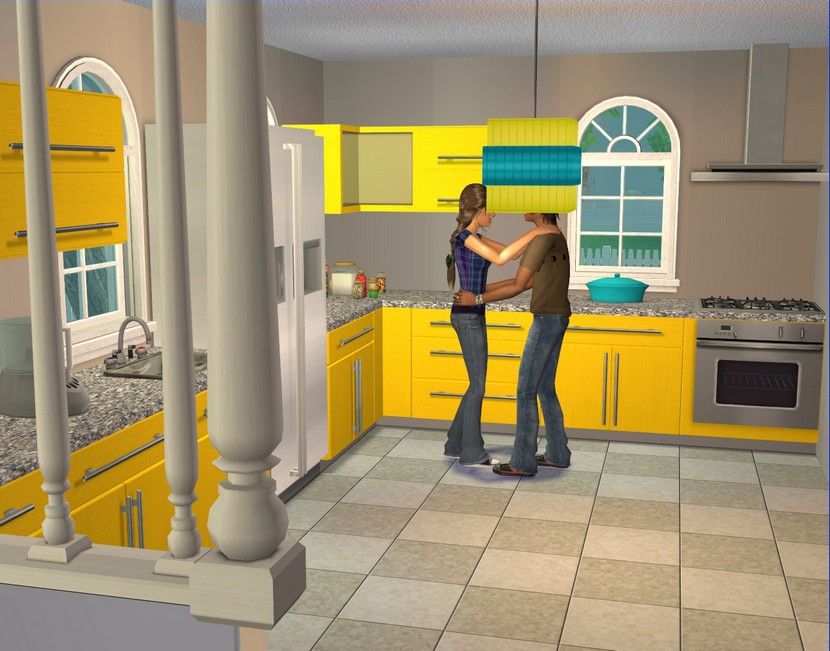 A wider view of Dominic and Leslie's kitchen, which I really love. The ceiling lamp that perfectly matched the kitchen was a lucky find!
And of course, I did plenty of posed shots. ;)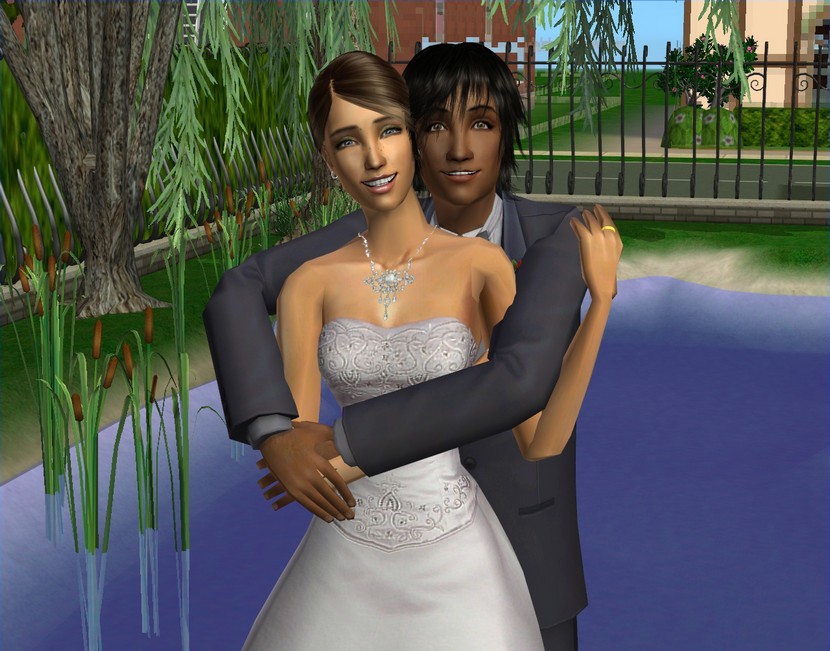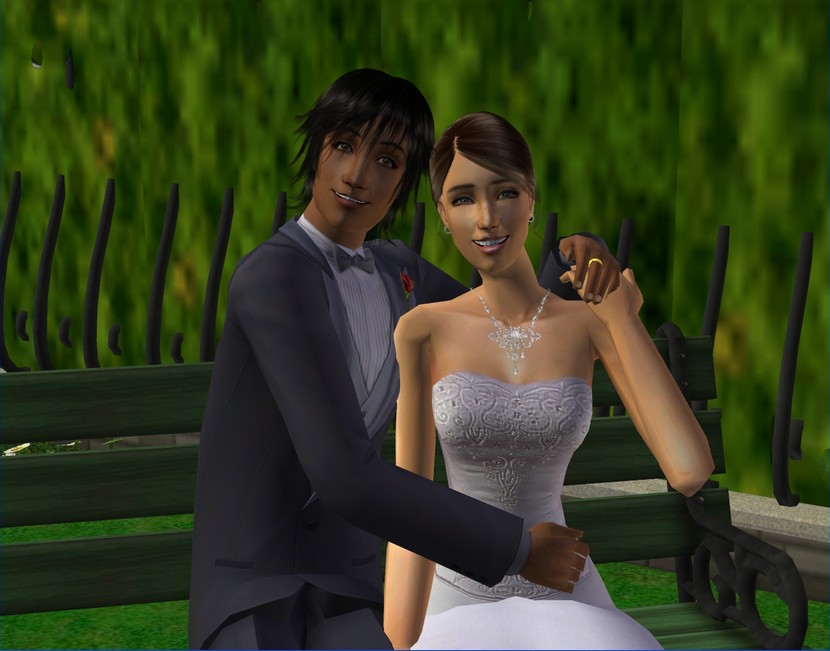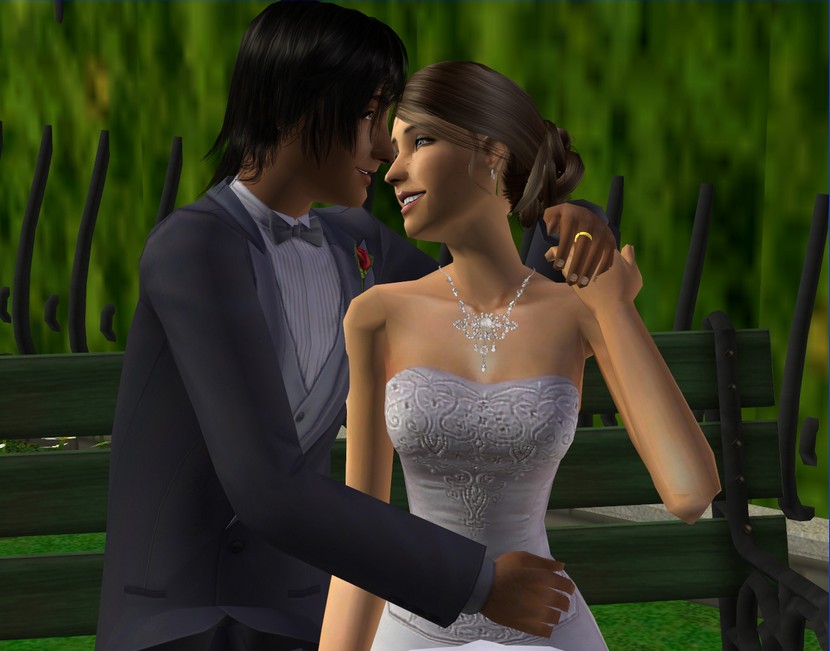 I couldn't decide which of these last two I liked better.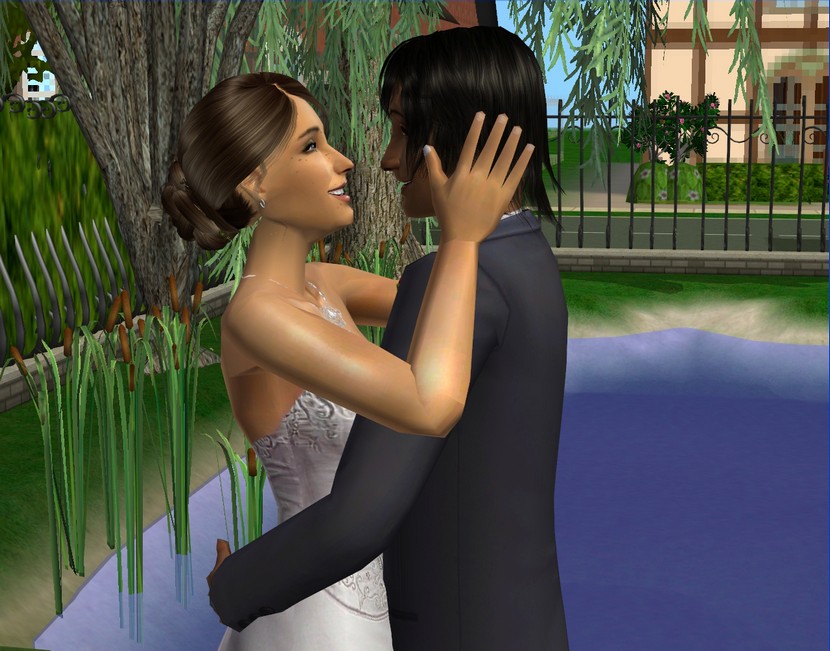 Before the wedding started, Leslie headed for the swing set outside and I made a note to do some test shots using the swing as a prop.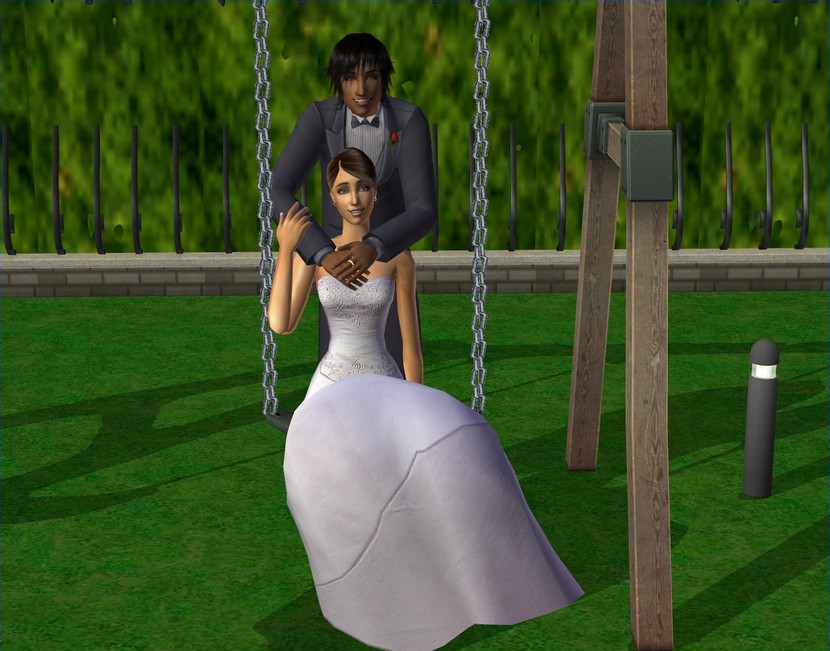 I will probably crop this one much closer and frame it.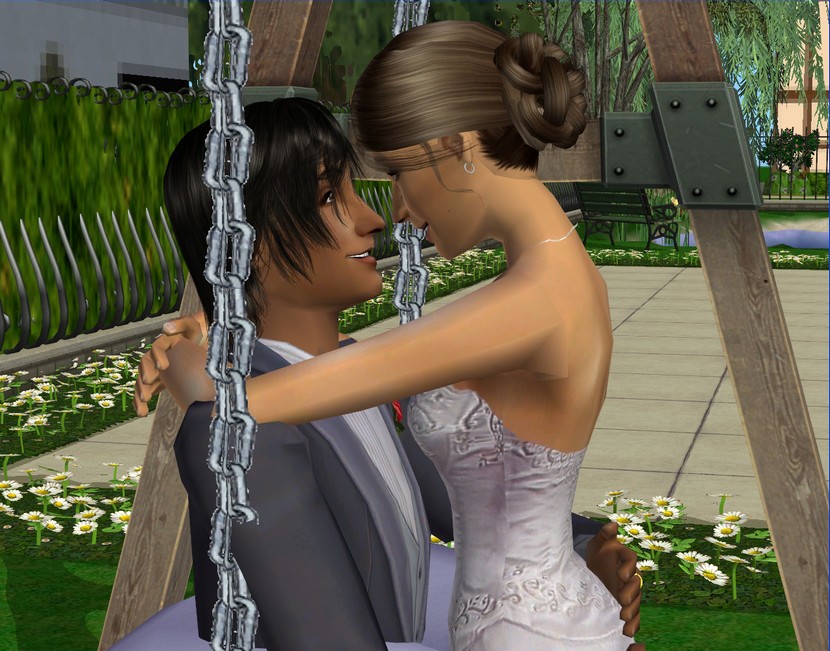 This one turned out a little weird, because of how huge Leslie's skirt is.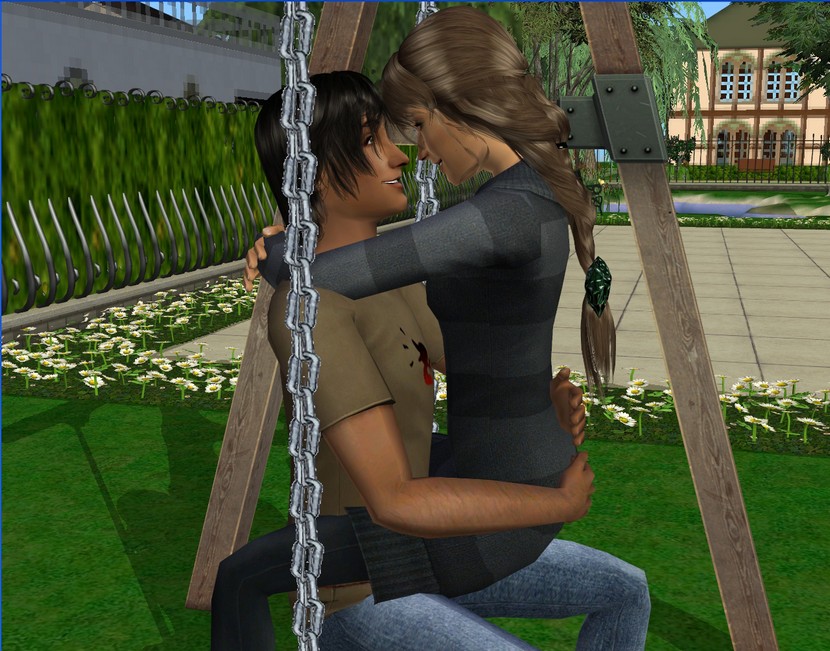 So I switched them to casual clothes instead. We'll call it an engagement shot. ;)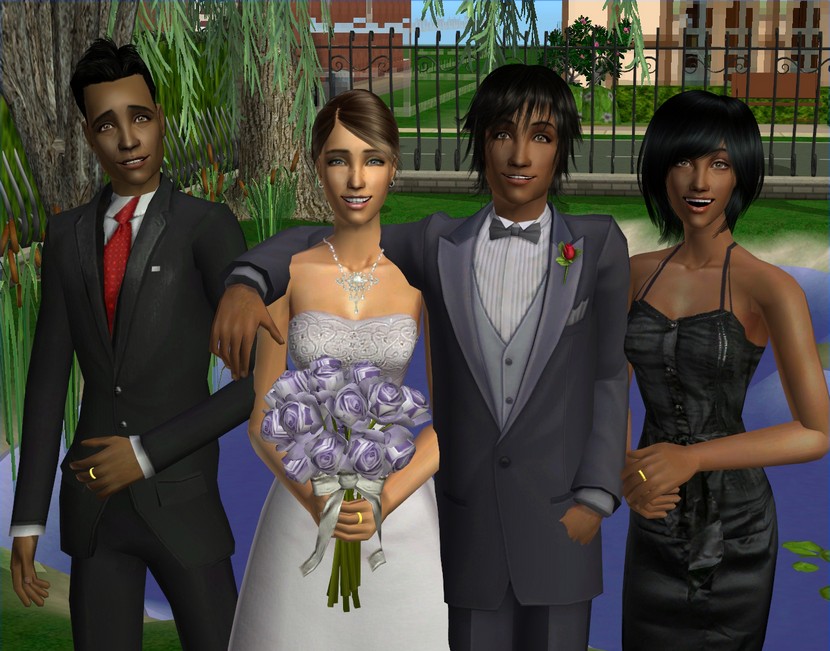 Leslie and Dominic and his parents. Tatiana wants another baby. She needs a grandchild, stat!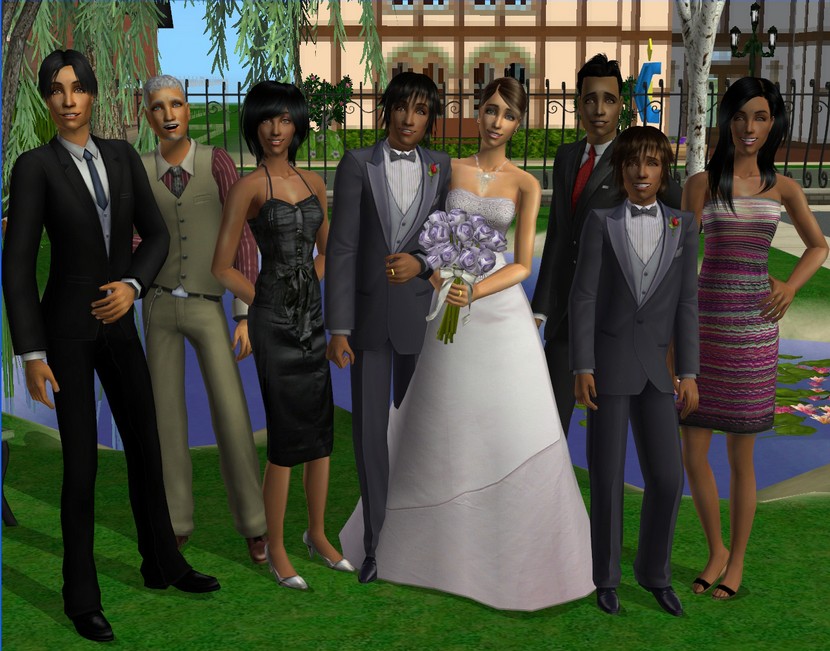 The whole family!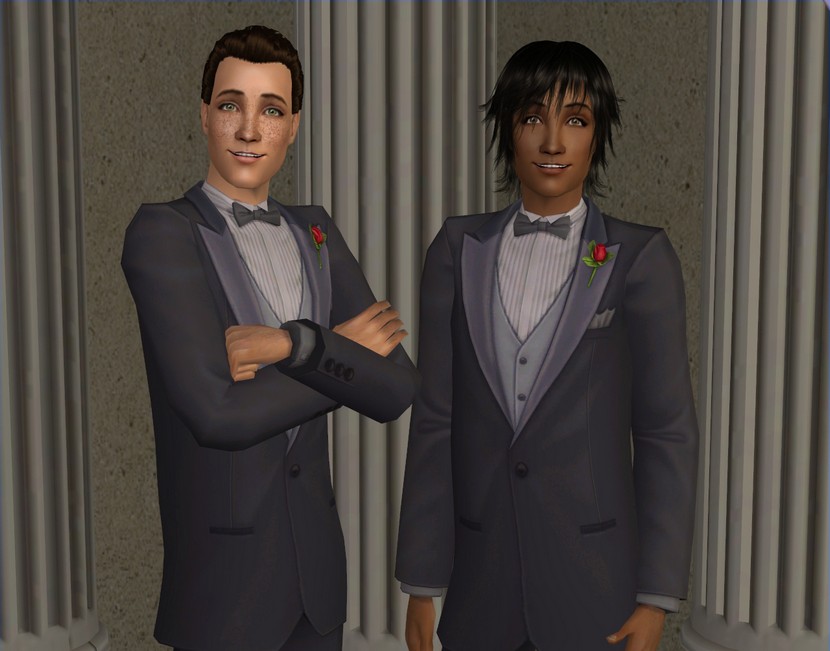 Dominic and his best man, Nathan.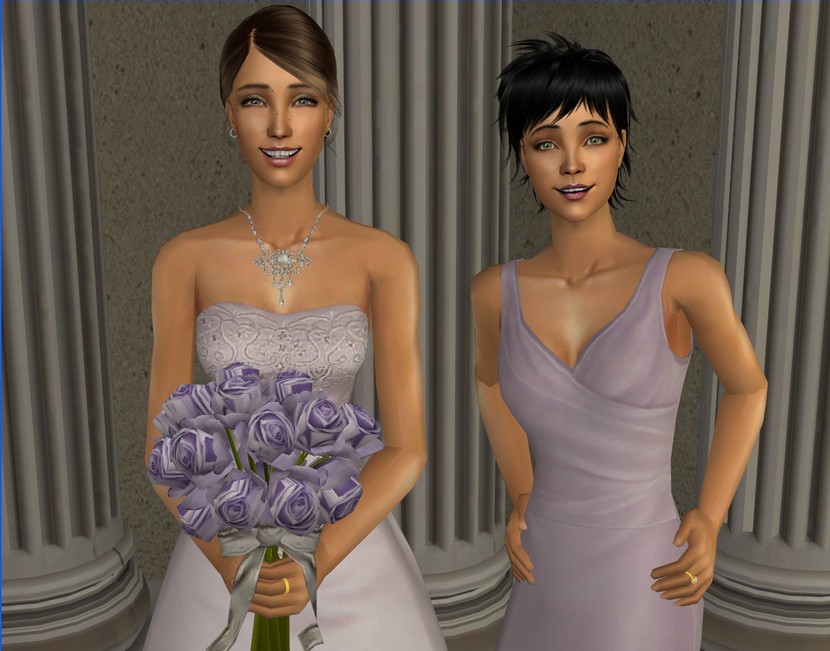 Leslie and her maid of honour, Chloe.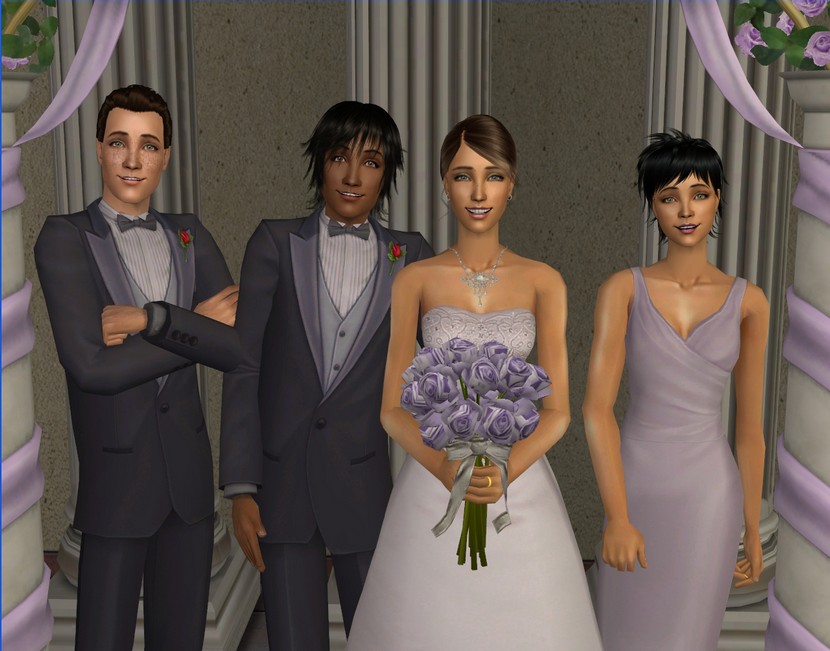 The bridal party. I was going to have a larger bridal party and have Dominic's brothers be groomsmen as well but given Leslie's former playable NPC status, she wouldn't have had enough people to balance out her side. I must have got further in planning for that than I thought though, because I've just realised Brendan is wearing the same suit as Dominic and Nathan! Oops!
Notes:
So this was a fun wedding for me! They're not always fun to actually play out - I get most of the satisfaction afterwards, when I look at the pictures - but this one was.

Dominic is quite keen for a baby but Leslie hasn't rolled the want yet. I don't see him as the type to push about it so soon, so they're waiting. If Leslie wants a baby next round, I'll take her off BC but if not, I'll just see how I feel about it then.

Leslie is also one of the only Sims I've ever had who did not roll a want to go on vacation immediately after getting married. I guess she's a homebody, which seems to fit her anyway.

I won't be doing a special post for Zane and Chloe's wedding but I'll probably work a few pictures in somewhere.

I haven't finished decorating Dominic and Leslie's place yet but they have way more money to do it than I thought they would. They bought the house for about $16,000 and with the decorating I've already done, they had almost $7000 left to do the rest. Until I checked Dominic's inventory and found a DJ booth, a treasure chest and one of those $4000 vases! So they have about $18,000 left now. I might send them on a little vacation next time - Miss Homebody can deal. ;)