Round 36: March 2044 (Autumn)
Brendan Lachance is 21, Matthew and Simon Lane are 19 and Aurora and Bianca Moretti are 18.
(Alice is 18 and Gabriel is 17)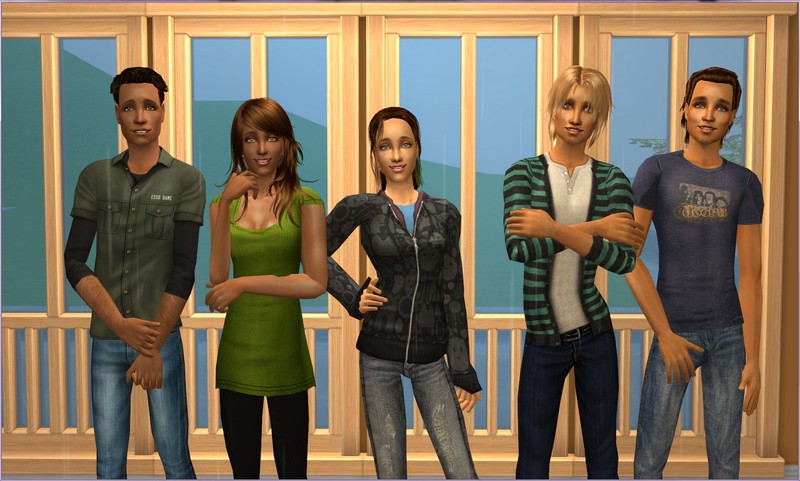 Narrated by Aurora Moretti
Moving into the dorms together has meant Bianca and I are now sharing a room again. It's been several years since we've done that, so that's been different.
Fortunately, we're very alike, even for twins, so it hasn't been too difficult an adjustment for us.
It's actually really nice to have this little space here that's just ours. The dorms can be a bit overwhelming at times but we've made our room feel a bit like home.
I'm studying economics, in the hope that one day I can either own a garage, or manage one owned by someone else.
It's…well, it's not the most exciting major in the world. It's not something that really interests me.
But on the other hand, I'm on track for some decent grades this semester, so I'm going to stick it out at least a little while longer and see how I go. I can always change majors if I end up absolutely hating it.
Bianca has her ear almost constantly glued to her phone. When she's not on the phone, she's on the computer, skyping with Gabriel.
She's missing him something awful and can't wait until he starts here at Suffolk himself.
He's definitely coming - he did really well in his preliminary SAS and he'll only improve when he does it again this year - but it's still quite a long time away.
They're still managing to see each other. Sometimes he'll come here and sometimes Bianca will go back home. It's hard though and very different to living in the same town. They're both keen to be done with this long distance thing and be together again properly.
Bianca is studying fashion design, which has strangely meant that she's been spending a fair bit of time around Simon.
He's actually a music major but all their classes are in the arts faculty building, so they often walk to class together and hang out.
Gabriel has absolutely nothing to worry about on that front though. I was joking with Bianca about Simon having a crush on her and she was so horrified. He's not interested in her and even if he was, he'd have no chance. Bianca's not attracted to him at all.
I never seriously thought anything was going on. I know full well Simon isn't Bianca's type!
I used to go out with Simon's twin brother Matthew and unfortunately for me, he lives in the same dorm as us.
He supposedly has a girlfriend, Alice, who lives in another dorm, but you wouldn't know it by the way he carries on here at home.
I actually assumed they'd broken up and that Matthew had got together with this Lexie girl but no, he's apparently trying to keep them both.
He's such a jerk. I've never been gladder that I broke up with him.
I almost think I should tell Alice what's going on but at the same time, I don't know if it's my place.
We were in the same grade at school but I really don't know her all that well. She knows we used to go out though, so I would worry she'd just think I was trying to break them up or something.
At least there's one really nice guy in our dorm. Since I got here, I've made friends with Brendan. I remembered him from high school but seeing he was a few years ahead of me, I don't think I ever really spoke to him.
He just happened to sit down across from me at breakfast one morning and we started talking.
We soon found we had a ton in common and it wasn't long until we were good friends.
Lately though, I've felt like we could be more than that.
Brendan is obviously very, very cute but more importantly, I've never clicked with a guy the way I have with Brendan.
I was trying to subtly figure out if he felt the same way but I wasn't having any luck with that.
So I decided to pluck up all my courage and just ask him out and it went pretty badly. As it turns out, Brendan has a girlfriend.
He's never mentioned her to me and I don't think I've seen her around but the fact remains that she exists and Brendan's not available.
I was pretty embarrassed about the whole thing, which Brendan realised and, to his credit, apologised for. He said he should have told me about Amanda but things are "weird" between them at the moment.
Now I'm going over the conversation in my head, trying to figure out what he meant by "weird". Weird as in they're struggling but working it out? Weird as in they're drifting apart?
I'm too nervous to ask him about it again and I'm not even sure that would be the right course of action anyway. I think I'll just have to wait and see how everything shakes out.
Aurora is a little bit more serious and outgoing than Bianca but other than that, their personalities are identical. They're not the most identical looking twins but temperament wise, they are.
Things are indeed "weird" with Brendan and his girlfriend. Last round, they were lukewarm in the first semester but seemed pretty into each other in the second. This time, I really only played the first semester (kind of just sped through the second) and Brendan wasn't interested in Amanda in terms of wants but all his fears were related to her. Fear of being rejected for a kiss or fear of being caught cheating (pretty common Family sim fears, in my experience).
I want to update on this at some point and that will most likely be in September birthdays, when Aurora (and Bianca, of course) turns 18.
You will see more on the Matthew/Alice/Lexie situation in the next uni update though, as Alice lives in that dorm.
Simon didn't get much time this update, apart from his burgeoning friendship with Bianca (which was all driven by their wants, by the way - surprising!) but he's probably the one in the dorm with the least drama going on! He seems to have a little friends with benefits thing going on with Annabel, as she came over at least twice during the session. She's single, so I guess there's no harm there but I can't see them getting back together for real.
Matthew, Brendan and Bianca all have 4.0 GPAs. Aurora is at 3.6 and Simon has raised his from a 3.3 to a 3.4.