Round 36: November 2043 (Spring)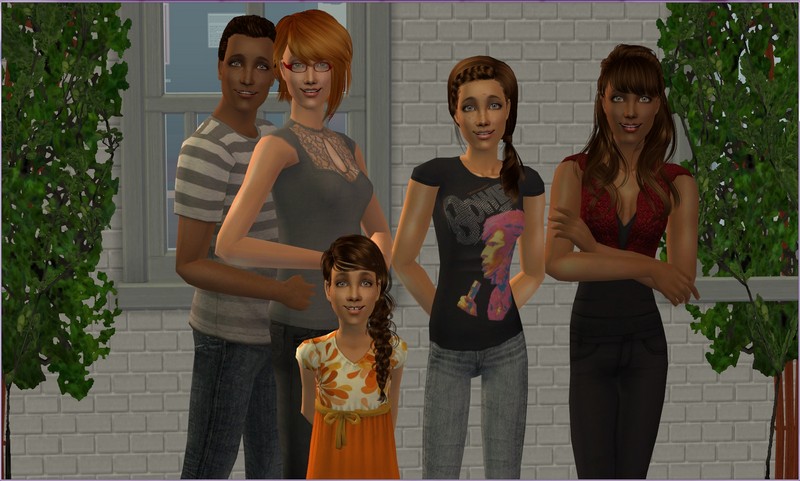 Narrated by Bianca Moretti.
We've been pestering Mum and Dad for a pet for just about forever and they finally relent, just when Aurora and I are headed off to college.
I wouldn't say Coco is the cleanest dog in the world but it's a lot of fun having her around anyway.
She's pretty smart, so I'm sure her annoying habits will be history in no time at all.
Justin and Xavier don't even live here any more but they've claimed Coco as their dog as well.
Xavier is super-busy with law school these days but he and Justin still drop by regularly.
They even lent a hand at Mum's toy store last weekend.
Mum has had a dream of opening her own store for years now and next year, with the help of a small loan, she's finally made it happen.
Toys & Tales is a bit of a mess at the moment though and she's not quite ready for opening day yet.
Being able to open in time for the Christmas rush would have been ideal but it unfortunately didn't work out that way.
We've all been down at the store a lot lately, helping to get Mum set up. She's hoping to open in a few months and she's so excited about it.
Well, most of us help. Francesca gets distracted and ends up playing with the toys.
Aurora and I will be heading off to college next year, so we probably won't be around when the store finally opens. Mum is saying the store will keep her mind off how strange it will feel to have only one kid left at home.
Mum and Dad were both pretty low-pressure about college; Dad didn't go and has been successful, so our parents know it's possible.
Aurora and I both really wanted to go though, so we've been working hard to make sure that we get to.
Aurora wants to be a mechanic but she's going to study business, so she can maybe run her own place one day. Or maybe manage a place for someone else. She just knows she wants to work with cars.
She just finished fixing up her own car, which was an old wreck Dad found for her.
He helped her a little in parts but 99% of the work was all her own.
It's not the prettiest thing in the world but the important thing is that it works!
It's Aurora's car but I have twin privilege and can use it whenever she's not.
Cars have never been an interest of mine. I got right into sewing a few years ago and I want to go into fashion design.
We don't really have the space for my own machine at home but I work at a fashion design house part-time after school and I sew there.
My boss is kind enough to let me use one their machines for my own projects during my downtime. It helps that she's a good friend of Mum's.
But she also just likes to encourage young designers. She calls me her protégé.
I used to think I'd want to design women's clothing but I've been rethinking that lately. The women's clothing market is oversaturated around here, so I want to focus on kids instead.
It started out as more of a convenience thing, making things for Francesca, just for practice and because she's an ever-present (and willing!) model.
But I found that I really like making kids' clothes. I love using really quirky patterns and people are more willing to buy those for their kids than for themselves.
I can't wait to get to uni and start learning more about the craft and the industry. Normally, I'd be really nervous about such a big change but having Aurora with me is going to make it a lot easier.
The one person I'm really going to miss is Gabriel. He's a year younger, so he still has one more year of high school left.
He's going to visit - he's already made his dad promise he can use the car on weekends - and I'll come back home when I can.
But going from having him right across the street to having to wait all week to see him is still going to suck.
We want to stay together and I'm confident that we can. That doesn't mean it'll be easy or fun though.
Title is from I'm Amazed by the Pixies.
I decided that story-wise, it was time Ione had her toy shop but I had no motivation to actually decorate it! So I threw some boxes and duct tape in and pretended she was still setting up. ;) For those curious, she took out a $20,000 loan and paid back $7,000 immediately, as she didn't need that much. The family is about $10,000 in debt now, which I imagine they'll be able to pay back fairly quickly.
Both girls made it into Suffolk easily! My sims need an SAS of 40 to get in and Aurora got a 62 and Bianca got a 66. Bianca has the highest score in the family now, beating Justin's SAS by two points. :)