Round 35: May 2041 (Autumn)
Lake Draper is 84 and Kendal is 65.
(Tatiana is 58, Rob and Finn are 40, Julia is 30, Chris is 26, Curtis is 2 and Gemma is 3 weeks old)
Narrated by Kendal Draper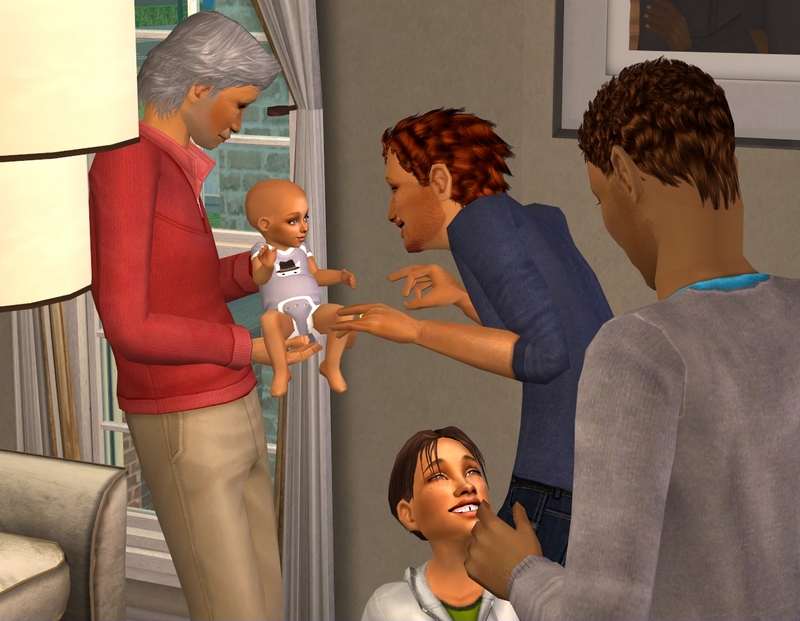 Since Gemma was born a few weeks ago, Lake and I (along with the rest of the family) have been lapping up all the time with her that we can.
We've already had a couple of huge gatherings, with everyone in attendance.
It would be overwhelming for some babies, I'd imagine, but it doesn't seem to bother Gemma in the slightest. She seems quite content among the chaos.
She's quite different to Curtis, who still prefers Aaron or Calvin to almost anyone else.
He does seem to really like Rob a lot though and he will regularly approach him for cuddles.
Rob is only too happy to give him back when he starts getting grizzly though. Only one of his dads can help then.
When Gemma's old enough, I think she and Curtis might be good playmates.
He shows a lot of interest in her but he's already getting a little frustrated that she can't play with him already.
Chris came along too - alone, as always.
He knows I know but he doesn't see what the big deal is.
It's not a big deal at all. I just don't see why he can't bring her over to meet Lake, given it's all out in the open now anyway.
Much as I'd like to see Chris get married, I'm wise enough to not expect it any time soon. Bringing a girl home for dinner doesn't mean the next step is engagement, for goodness' sake!
I would think Lake would be dying of curiosity but he's quite content to wait until Chris is ready. His nonchalance drives me a bit crazy, to be quite honest!
I think I drive him just as crazy though. He thinks I'm a little obsessed.
I can't obsess about Chris and Veronica all day though, now that I have someone else keeping me busy. Lake and I recently decided to adopt a dog, Rudy.
Or, I should say, Lake and I discussed whether or not we'd get a dog and then Lake just went out and adopted one! I wasn't expecting to come home from work and find a Doberman in my house.
Lake is such an animal lover and he saw Rudy's picture online and just had to go out and get him that day.
I'd be more annoyed if Rudy hadn't turned out to be such a sweet dog.
He was already housebroken, he doesn't chew everything and he's not at all aggressive, like I feared a Doberman would be.
Lake and I have both fallen in love with him.
He's good company for Lake while I'm at work too.
Lake would like some human company during the day though, especially mine. He's been at me to retire for a little while now.
I would like to retire at the end of the year but I do need to make sure the right person will replace me as principal before I leave.
The final decision will actually be Tatiana's, seeing she's the education rep for the hood council but she wanted to consult with me about it as well.
For the last few years, it's been assumed that Julia Gray will replace me once I retire. She's the most senior at the school, so she seemed like a natural choice.
I've been doubting whether Julia is really the best choice though and talking to Tatiana really strengthened those doubts for me.
It was nothing Tatiana said about Julia specifically. She doesn't know her all that well. We just got to talk about various situations that have cropped up during our principalships, with parents, teachers and students and how they all needed some degree of diplomacy to solve.
The problem with Julia is that she's not great with diplomacy. She knows her stuff and she gets good results from her students but her people skills leave a lot to be desired.
And honestly, she's just not that experienced yet. She's been teaching for 8 years, which is a long time but not a long time at all to go from teacher to principal.
Tatiana has decided to look around at other possibilities and her top choice right now is Finn Romilly.
He teaches the older grades at the primary school right now but Tatiana thinks he might be willing to make the switch to high school, if it would further his career like this would.
We decided to meet with him in my office, mostly so I could get to know him a little.
I was very impressed. He's been teaching 10 years longer than Julia, so the experience factor is not an issue.
I think Finn would be an honest and fair principal. He seems very even-tempered, he's a great teacher and he's well-liked by students and staff.
So of course, we asked him if he would consider interviewing for the top job at the high school, once I retire.
He didn't say no but he didn't immediately say yes either.
Finn is happy where he is but he said he isn't necessarily opposed to advancing his career either. He asked us for some time to think it over. We're not in any rush, so of course, we were both happy to wait for his response.
I feel really good about the possibility of Finn replacing me. I truly think he'd be perfect for the role.
I'm a tad nervous about Julia's reaction, when she learns she's not the shoe-in she thought she was.
We have to think about what's best for the school and the students though, not just what Julia wants. I'm just glad I won't be the one to tell her!
I do really hope it works out with Finn. Until Tatiana hears from him, Lake will just have to put up with all my fretting about it!
Title is from Tribulations by LCD Soundsystem.
I can never resist those damn family gatherings! I went into this session fully intending not to have one...and then I had to give in.
I'm not even making up Kendal's obsession with Chris's love life! She rolls all these wants to talk to Veronica and her speech bubbles are almost always about marriage or engagement. It's pretty funny!
N99ers may have seen me alluding to some work drama for Kendal and this would be it. I've been thinking about Julia as principal and I'm just not sure about it. She was the easy choice, rather than the best choice. Julia is nowhere near as crazy as she once was but she's still not the most cool-headed sim out there. So I thought of Finn moving over (there are enough teachers at the primary school to cope if he left and I think Georgina will end up there when she's done with uni as well) and it seemed like a good idea. I can totally see him as a principal and I don't think switching from primary to secondary would ruffle his feathers too much. I'm still thinking about whether it's something he'd want to do but I'm leaning towards yes so far.