Round 35: June 2041 (Winter)
Dominic Lachance is 31, Leslie is 30 and Oscar and Stella are 16 months.
(Chloe is 30 and Cole is 17 months)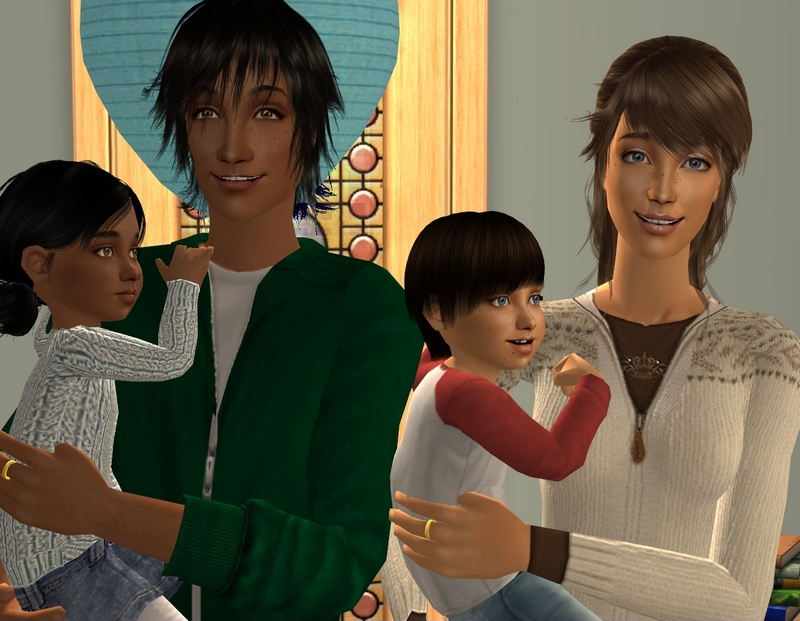 Narrated by Leslie Lachance
Becoming parents, especially to twins, has changed our lives in just about every way imaginable.
I miss sleeping in, because the kids don't let us do much of that any more.
I won't miss waiting around for Oscar to go in the potty when he's done with that but most everything else has been wonderful.
Oscar and Stella are 16 months now and it's so much fun watching their personalities develop.
Oscar has a very curious mind and he's the one we have to watch to make sure he's not pulling things apart, just to see what will happen!
That was easier when he wasn't so mobile but he's walking around pretty steadily now. He is very occupied with his shape box lately, which is a relief!
Stella is a little easier to handle. She's more cautious and is happy to sit and occupy herself with whatever we give her.
She's a bit too young to tell for sure yet but we think she might end up being a bit sporty. Dominic had the TV tuned to the sports channel the other day and Stella was transfixed.
She's not usually interested in the TV and would rather be playing, so there must have been something about it that appealed.
As tough as it is to have two toddlers at once, Dominic and I love watching them together. They both have very sweet natures and it's so nice to watch them interacting.
They have a play table they like to use together, which is currently taking up valuable real estate near the front door.
We normally keep it outside but it's way too cold for it right now. It'll be moving back out as soon as it's warm enough.
As you might have guessed, there's not a lot of space in our house for indoor activities, so Dominic and I have been taking the kids to the play room at the mall this winter.
It can get a bit noisy, as you'd imagine a room full of kids and toys might be, but Oscar and Stella have a great time.
They get to play with new kids who they don't normally play with. Seeing they're both on the shy side, I think that's good for them.
And as a bonus, we get to talk to some other parents too. It's nice to talk to more experienced parents especially.
Dominic and I both want to have more children one day but we're pretty busy with Oscar and Stella and we'll be putting it off for a bit.
It was all well and good for his parents to do that, because they didn't have twins! That complicates things, in my view. What if we have twins again?
Dominic still thinks we should go for it but seeing I'm the one that has to be pregnant, he's deferring to me to decide when we can start trying again.
I started back at work at the beginning of the school year and it's been hard leaving the kids every day.
They have a really fantastic nanny, fortunately.
Oscar and Stella took to her right away and they're always so contented when Dominic and I get home from work.
My job is really important to me but damn, I really miss those little munchkins when I'm at school!
In a few years time, they'll be off to school themselves, which I can't quite believe. The last 16 months have gone by so fast already.
Since I went back to work, I've been really missing having Chloe over. When we were both on maternity leave, we'd visit each other three times a week, sometimes more.
We have to squeeze them in on weekends now, when neither of us have anything else on.
She brings Cole along too and he plays with Oscar and Stella while we catch up nearby.
She and Zane have started trying for their second and she's been asking when Dominic and I are going to have another.
Chloe thinks it would be fun if we were both on maternity leave together again and had our next babies around the same time too.
It would be fun and I know Dominic would agree but I'm not ready for another baby just yet!
Since I've been back at work, I've been thinking about my Master's again but I've put it off indefinitely. I can't imagine working, having two toddlers and trying to finish this degree. I think I'll wait until we're done with kids.
Dominic is happy to support me whatever way I want to go and even suggested we take out a little loan if I want to do it now.
It's mostly the workload I don't want to take on though. I'm not quite as concerned about the money.
We don't really have money issues anyway. I'm still on a fairly pathetic teacher's salary but Dominic's current salary lets us live very comfortably.
He's working further away - all the way out at the airport in Exeter - but he has shorter hours and the pay more than makes up for it.
Dominic loves his new job but he does miss working with cars. Planes are a new challenge for him but cars are his true passion.
Over dinner the other night, he asked me what I'd think about him opening his own place one day. Not soon but maybe 5 or even 10 years down the track.
He's thinking he'd like to have his own repair shop or maybe buy wrecks, strip them for parts and resell them.
I have no idea what Dominic would enjoy more or what would be easier to set up as a business but it all sounds pretty reasonable to me.
We'd definitely have the money for something like that, if everything continues to go well. I would love to see Dominic give this a shot one day.
Title is from Full Circle by Ben Kweller.
I had already started thinking of Oscar as the more mischievous twin and like he could read my mind, he really acted that way! He escaped his crib early in the morning to whine to his parents about his dirty nappy (pictured early on in the update) and engaged in some toilet splashing.
I do plan to do this shop for Dominic one day, though he would definitely keep his day job. I normally have sims do that anyway (I get sick of having them hanging around the house all day!) but Dominic's job would be directly related to his business, so it would make sense in this case.
As you probably already figured out, Dominic has rolled the want for another baby and Leslie isn't quite on board yet. I expect she'll want one eventually but she's obviously a bit more sensible than Dominic and wants to wait a little while. ;)