Round 36: September 2043 (Spring)
Dominic Lachance is 33, Leslie is 32 and Oscar and Stella are 3.
(Jonas is 65, Tatiana is 60, Rebecca is 34, Nathan is 33, Chloe is 32, Audrey and Jack are 31, Edward and Lucy are 28, Zoe is 1 and Cary is 8 weeks old)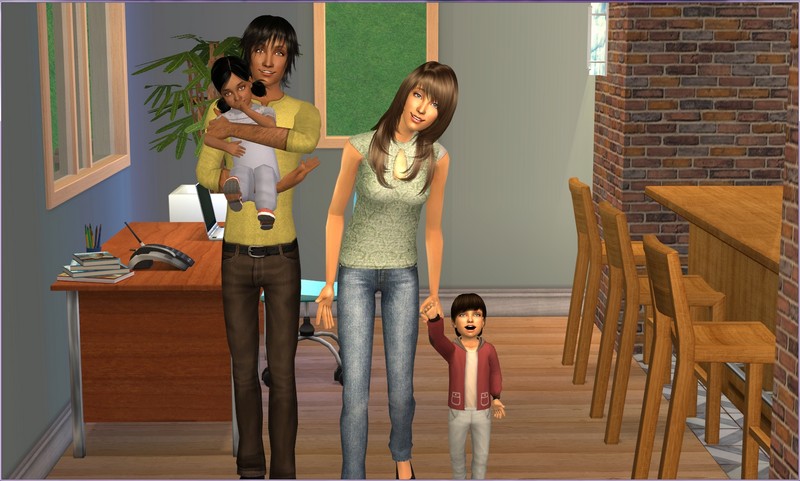 Narrated by Dominic Lachance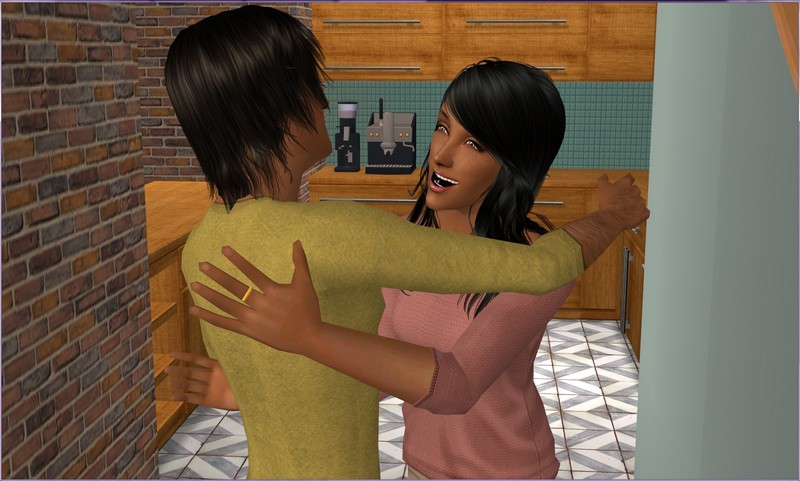 Audrey and I have always been close but now that she and Jack have Zoe, we see each other even more often.
We really want to encourage that cousin relationship. It's adorable watching them interact.
Zoe's two years younger and not nearly as verbal as Oscar and Stella but they play prettily happily together anyway.
We've got the activity table in a very convenient place, so we can all catch up while keeping an eye on the kids.
Tate and Zelda are both relatively fit now but things might change in the future, so they'll have some support at home if there's ever a need too.
Edward and Lucy did the opposite and moved in with Mum and Dad. They've settled in pretty well and have been very happy there.
They've got a ton more privacy than they had living with Chris and they have two rooms they're not even using yet.
They're talking about starting a family soon too, so that's a huge plus for them. They don't want to wait much longer for a baby.
Edward's a fair way away from a promotion and Lucy's not likely to ever make much more than she does now, unless she buys her own place, which of course, would take even more money.
They haven't decided for sure yet but they may end up living with Mum and Dad permanently. It's working out pretty well for all of them.
Our parents certainly don't mind. If it were at all practical, they would have us all living at home with them forever.
They never seem to get enough of us or of the grandkids, now that they have them.
And they're the only grandparents Oscar and Stella will ever have too, so thank goodness they're such good ones.
As good as they are though, I'm glad Leslie and I have our own place. The space Edward and Lucy have is enviable but I like our little house.
We have enough for now but we might soon be a little more cramped around here, if all goes well.
Leslie and I decided to start trying for our third child and after a few months, she fell pregnant!
We weren't expecting things to happen that quickly but sure enough, Leslie started experiencing that familiar nausea and we confirmed with a test.
I was ready for more basically as soon as we had the twins but at the time, Leslie (understandably) wanted to wait.
We'd talked about maybe trying when the twins went off to pre-school. That's happening in February, so we're basically sticking to our original plan.
We have our fingers crossed that it's just one baby this time! We might have a fourth one day but we're not quite ready for that yet.
We're not even sure we're ready for 3. Oscar has calmed down a little with his sleep and has stopped breaking out of his crib, only for Stella to start doing it! Twins again would be twice the insanity.
It's too early to find out but it's been on our minds anyway, because my friend Nathan and his wife Rebecca are expecting twins in February.
They're ready with everything practical - compact double crib squeezed into the nursery, clothing, toys, various baby supplies, et cetera.
They're both still a little shell-shocked, though less so than a few months ago. Neither of them feel quite ready to actually bring two babies home in just a few months' time!
I remember that feeling pretty well. We were excited but pretty lost at the same time!
It really did all work out though. You get used to the chaos and we've had so much fun with the twins to make up for the not-so-great parts.
Nathan and Rebecca think they'll probably be done after the twins. Neither of them want a big family and two seems like a good place to stop.
Who knows though? They could have a really easy time with their twins and be ready for another even sooner than Leslie and I were.
We didn't share our own news with Nathan and Rebecca but I like the idea of their twins and our new baby starting school together. It'd be great if they ended up becoming lifelong friends, like Nathan and I have been.
It's way too early to tell anyone yet but I can't wait to see Oscar and Stella's reactions when we do. I think they're going to be really excited.
When Chloe and Zane had Cary, they brought him over to meet us and both the twins were extremely interested.
They haven't asked anything else about babies since then but I'm hoping their new sibling will be as exciting to them as Cary was!
Title is from The Mercy Wheel by AA Bondy.
I can't remember if I mentioned in an update that Tate and Zelda had moved in with Audrey and Jack, so I worked it in here! They're coming up next after Connor and Lila's wedding.
Leslie hadn't rolled a baby want but now that I'm using InTeen BC with ACR, I could see they were trying for a baby. So I took them off BC, they tried a few more times and then conceived. Baby is due in May. :)
Rebecca's belly has popped to third trimester already but she still has a while until she actually gets there. Seeing it's twins and she'd be bigger faster anyway, I'm not too annoyed.