Round 34: January 2040 (Summer)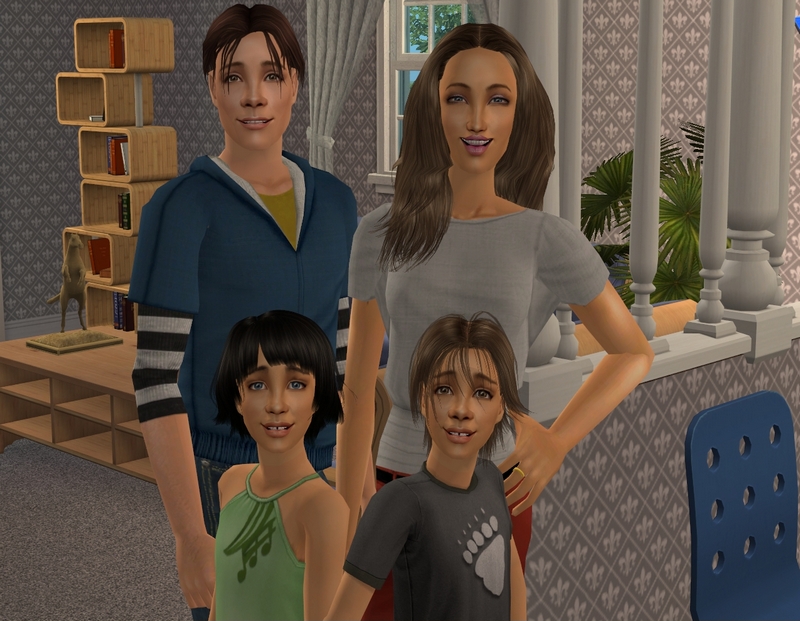 Narrated by Camilla Benton
Last year, Charlie and I moved into our very first house. We were happy in our apartment but there's something special about living somewhere that's all your own.
We have so much more space and I love knowing we can redesign without asking permission. We're actually planning on that eventually. The place isn't quite how we want it yet.
I have a sewing room now, instead of a little corner of the bedroom like at our old flat. It's awesome to have an area to myself.
I don't have to be in to work until 11am these days, so I can be home with Charlie and the kids when they leave for work or school. It makes for a more relaxed start to the morning.
Charlie learnt to sleep over the whirring of my machine but I know he's enjoying sleeping without it, now that I have my own room!
Everett is such an outdoorsy kid and it always made me a little sad that he didn't have much opportunity to play outside before now.
Since we moved here, he's started his bug collection up again. I'm not particularly thrilled about him bringing insects into the house but he has so much fun with it. I can't be too annoyed.
Grace and Everett are really enjoying having so much space outside. We thought they might be getting a little old for a swing set but you're never too old for a swing set apparently.
Or at least, that's what Charlie says!
The kids aren't back at school yet, so we've had to hire a nanny for them while Charlie and I are at work.
She's new to them but they seem to really like her. Her name is Vivian. We were lucky to have found her.
Vivian is the one who taught Grace and Everett their favourite new game, Don't Wake The Llama. She brought them over a set her kids used to play and we now have it permanently set up in the living room.
Charlie found out about a new museum that just opened up in Exeter. He thought the kids might like it, so we all went on a family outing there a little while ago.
It's exactly the kind of thing Everett is all over, so he was in his element.
Grace is so close with her brother that she's got really into natural science as well.
My uncle Wade normally works on campus at the university but he does a little work at the museum as well. He happened to be on site when we visited and he let Grace and Everett in to check out some of the rooms that are normally closed to the public.
Everett had tons of questions for Wade! I hope we didn't keep him away from his work for too long.
Everett wants to be a scientist when he grows up. He was telling Charlie all about the different trees and plants in the terrarium.
I have no idea where he learns all this stuff but he's very passionate about it.
Charlie and I don't go out without the kids often enough but we do occasionally treat ourselves.
Whenever we go, we have an awesome time and say we should make the time more often.
Inevitably, things crop up and it doesn't happen nearly as often as we'd like.
This last time we went out, Adelaide came over with Sebastian to babysit for us and she said she'd be happy to do it again.
Until she graduated, Adelaide didn't have much to do with Grace and Everett. She was pretty young when they were born and then I took them away to college with me. By the time I graduated, it was just about time for Adelaide to go off herself.
Since she's been back in Sullivan though, she's been making up for lost time and really getting to know the kids.
Her boyfriend Sebastian was really great with the kids too. If they ever want to take the twins off our hands again for another night, we'll be happy to take them up on it.
We can entertain now, so we often have my parents over for dinner.
Mum and Dad have never really spent a lot of time at home with us before, so it's a nice change.
Mum and Dad have done it in the past and it's a task that Mum is more than happy to pass on.
Dad is the one who does most of the work but hosting social events of any kind is not something Mum enjoys at all. She's always just relieved when everyone goes home.
I can't imagine Connor being happy about people in his space and potentially touching his things! Lila says he'd probably have a heart attack at the very thought of it.
Right now, they'd be happy just to find somewhere to live. They're working with a considerably smaller budget than Charlie and I had, so they're having a tougher time of it.
Every time they find something they like, it's more than they can afford. Most of the houses they've seen in their price range are not ones they'd want to live in.
I wish I had advice for them but the only reason Charlie and I found the process so easy was because of his trust fund. We didn't have to be nearly so choosy.
Lila and Connor are looking for places here in Sullivan, as well as in Exeter. Things are a bit cheaper here, so I think they're likely to end up here.
I'd be so happy if they moved back to the suburbs. I'd love to have my sister so close by again.
Title is from Change by the Lightning Seeds.
It's so weird to be playing my sims and having them miss out on promotions not due to a lack of skills but a lack of friends. It has been literally years since that happened in my game! In Sullivan 1.0, most of my households probably had at least 15 friends and some of the larger ones had up to 40!
Anyway, this is the same house Camilla and Charlie had moved into in the old hood. I'd furnished it (and it was really amazing, if I do say so myself) but then the crashing/pink flashing got to be too much and I started this whole rebuild. :( I still prefer the first version I did of this house but for limited CC, I like this one quite a bit. It's probably my favourite of the houses I've done so far.
Wade is Camilla's uncle by marriage; her father David is Wade's wife Amelia's brother. Easy to forget but Sophie and Camilla are cousins as well as best friends.
It's a bit weird mentioning sims in the updates and knowing they don't actually exist yet in the hood, like I did with Connor! He'll go in soon, seeing it's not terribly long until I'm due to play him and Josh.
The hood is still running well, by the way. I added my first non-build objects, which you saw here - Sandy's Fashion Studio set. Fingers crossed that it all continues to go well!
This was the last update for Grace and Everett as children! Camilla's going to have two teenagers before she's even 30. Eek!