Round 36: June 2043 (Winter)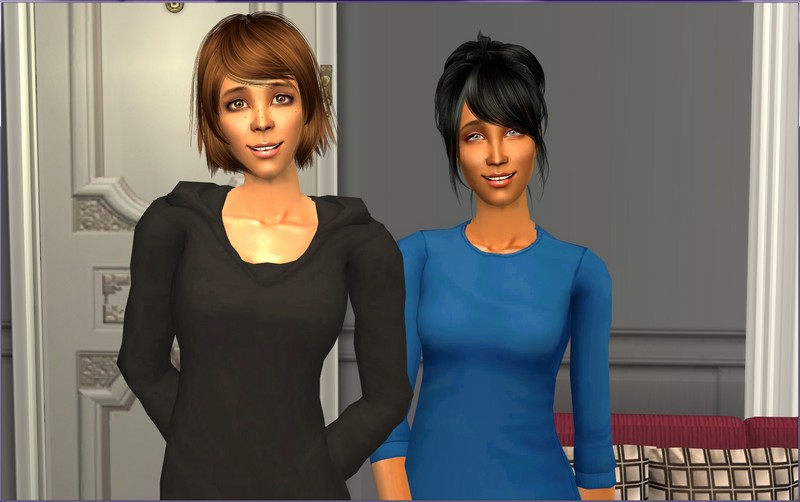 Narrated by Adelaide Sitko
I like my job now but I still have the occasional day where I just can't face it.
It's nothing specific about the job; I don't think I could face any job when I'm having one of those days. So I call in sick.
As long as I don't do it too often, my boss doesn't seem to mind much.
That kind of day just calls for time spent doing nothing but watching TV and eating chips.
Veronica leaves before me and comes home after but she still never believes me when I say I've been to work that day.
She's known me too long, I guess. I can lie to my boss but I can't lie to Veronica!
She doesn't really care, as long as I keep paying my half of the rent.
I think Veronica basically knew what she was in for when we moved in together, so nothing I do is any surprise to her.
Because Anthony works nights, Veronica often stays the night over at Chris's place, seeing they usually have the whole place to themselves.
Chris was very commitment-shy when they first got together and cringed at even calling her his girlfriend but he seems to be moving past that now. He's met her parents, she's met his and they are officially a couple.
Veronica was worried about whether that would ever happen for them, so she's thrilled, obviously.
Even with all that though, she was not expecting Chris to bring up marriage on one of their recent nights together. He wasn't proposing, exactly. He just said he wanted to bring up the idea and see what Veronica thought about it.
Veronica was surprised, to say the least. It wasn't so long ago that he'd refused to meet her parents and now he's apparently thinking about a lifelong commitment.
She's not sure he's really serious about it yet. She wants to know he is before they talk about it any more.
It makes me wonder if Sebastian and I are kind of weird. We haven't really discussed marriage at all. I don't even know what his thoughts are about the whole thing.
There's no one else I'd rather be with and I do see us together for the long haul but I just haven't spent much time thinking about it beyond that.
I guess Sebastian hasn't either, seeing he's never brought up the topic.
Chris and Veronica do have me wondering though, so I think I'd like to bring it up with him, though maybe not just yet.
Sebastian's work is pretty insane right now. He has a regular gig but it's really late. He doesn't leave the house until after most people are in bed and gets back before most people are awake.
Things might settle down in a few months or so, which might be a better time to ask him.
He's really excited about some new opportunity that's in the pipeline, so I'm going to see how that pans out for him.
Pressure about getting married, anyway. Camilla and I are going to be Lila's bridesmaids and there is plenty of pressure coming from Lila about that.
Lila thinks she's being super-chill because she's not screaming at anyone but she is obsessed right now and it's almost as bad.
I thought it would be a couple of shopping trips, like it was when Camilla got married. Not so. We did four or five day-long expeditions for Lila's dress and have so far done three of the same for our dresses.
We've been trying on seemingly endless dresses in various shades of pink and I always end up modelling the one I hate the most.
And that's only the dresses. She's also been dragging us along to catering companies and florists and I'm just so over it.
Lila doesn't even seem interested in our opinions on anything, so I'm not sure why we can't just stay home and let her do her thing.
I'm honestly really happy for Lila but I can't wait till she is totally done with planning her wedding and we all get to relax again!
Title is from When Doves Cry by Prince.
Adelaide makes me laugh. This session, she rolled simultaneous wants to Stay Home from Work and Go to Work. Pleasure/Fortune sims are a bit nuts. Didn't realise calling in sick didn't count as staying home though, which is silly. Apparently, you have to use a vacation day or forfeit some of your job performance.
I'm really liking using Inteen BC with ACR but I'd forgotten that ACR can still think your sim has become pregnant from risky woohoo when they actually haven't! I had a small moment of panic with Adelaide and Sebastian because of it. She's not pregnant but that was a long trip back home until I could check for sure. I think there would have been chimes if she'd actually got pregnant and there weren't.
I was once a bridesmaid for a bride like Lila. It was not fun at all. Lila is better organised than this bride was though, so the day will actually go smoothly, at least! Not that it makes this any more fun for Adelaide. ;) I did have fun putting Adelaide in those super-girly, poufy dresses though. They're so not her style!
As for Chris...he rolled a marriage want? Which I was not expecting at all. Veronica still hasn't rolled one, though she does roll romantic wants exclusively for Chris. So she's definitely into Chris but not quite ready to take that step at the moment.