Round 34: April 2040 (Autumn)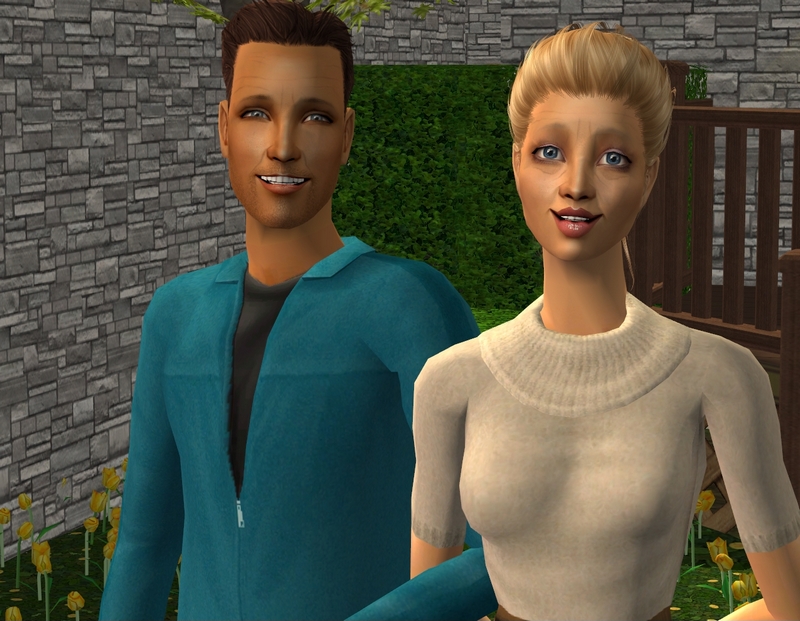 Narrated by David Sitko
Kirstin and I are really pleased with the neighbourhood we live in these days. Anyone would say it's a lovely place to live and it's close to so many things we like to do as well.
Our favourite place is probably the new restaurant/pub that opened a few months ago.
Kirstin and I aren't big drinkers, so the bar doesn't hold too much appeal but we've grown to really like the restaurant.
It's just a friendly place to go to unwind after work. Kirstin and I both have fairly stressful jobs, so we need that.
Especially Kirstin, who tends to bring it all home with her sometimes.
I still feel a bit young to be a grandfather to such big kids sometimes but ten years later, I think Kirstin and I are mostly used to it.
When Camilla and Charlie bought a house, it ended up being very close to ours! The kids can walk over here on their own and they take full advantage of that.
You'd think they'd be more interested in their own house, where all their toys are, but I guess we do have that pool!
Kirstin almost refused to buy this place because of the pool and she still complains about how dirty it gets sometimes. But personally, I'm glad we have it, even if just for Grace and Everett.
They're the only ones crazy enough to swim in it at the moment, though they do try to get Camilla and Charlie in when they come over together.
I know I shouldn't but I've asked Camilla a couple of times when we can expect another baby.
She just smiles and says she's not sure. She used to say there wouldn't ever be one, so I'm hoping she's changing her mind a bit.
I know Charlie would really like another, so I guess we'll wait and see what they decide.
Our other daughters are not thinking about children yet. Adelaide is, for the first time, very focused on her career. She's going to start work at the governor's office next week and she's so excited about it.
Until now, she's been working with Lila but it didn't take her long to start to loathe the business world. She's thrilled to finally be getting out of there.
It was Kirstin who helped Adelaide get her foot in the door. She had a word with Zaria and was able to set up an interview.
It's a pretty lowly position but hopefully Adelaide can make a good impression and get either a promotion or a good reference in order to find a better job elsewhere.
Adelaide and Kirstin have clashed a few times since Adelaide left home but they're getting along better than ever these days.
Adelaide is so thankful for Kirstin's help with the job thing, so they're not snapping at each other lately.
Kirstin is just grateful Adelaide has some direction finally. We were both worried about that.
For a while in college, her only career aspiration, if you could call it that, was to follow Sebastian around the world once he became a rock star. So far, Sebastian isn't even close to a rock star, so I'm happy Adelaide has her own goals now.
Not that I don't like Sebastian, because I do.
We don't have all that much in common but he makes Adelaide happy, so that's enough for me.
Kirstin and Sebastian are a different story. They mostly just tolerate each other.
He's been around for 10 years now though, so she's resigned herself to the fact that he's the one Adelaide wants.
After months of searching, Lila and Connor have finally bought their first home. To my delight, it's here in the suburbs, near me and Kirstin.
They're not quite as close to us as Camilla and Charlie but close enough to hopefully make visits much more frequent.
Right now, they're living with little more than the bare essentials. They just moved in a few days ago and aren't all set up yet.
Lila is very excited about the potential for improvement. They're planning on changing pretty much everything, all as cheaply as they can.
They're beginning in the bedroom, because Lila wants to go to bed and wake up in a room she really loves.
The rest of the house is secondary to her. Neither she or Connor are very social types, so they're not planning on having huge parties or anything.
I was glad to note that they have a decent sized backyard. They're not thinking about kids there but I like knowing they're in a good house for it, when they do take that step.
Mostly though, I'm relieved to see Lila and Connor settled. It took quite a while for them to find something they liked that was in their price range but they're so happy with this place.
It's nice to go to sleep at night knowing I don't need to worry about any of our daughters. They're all doing very well.
Title is from Amity by Elliott Smith.
Don't mind that blank frame in the living room - it's for Adelaide's graduation portrait, which I haven't done yet!
Lila and Connor are living in a cute little house by Starr, the Yellow Provencal. I downloaded it when she shared it at N99 a little while ago. It's not decorated yet but I plan to make it awesome. :)
I'm considering letting Camilla have another baby. Charlie wants one so much and I feel too sad for him, lol. Such a softy, I am!
I still haven't actually made my "behind the scenes" politics career for Adelaide but I think I'm just going to get down to it and at least put the titles in. I got that far with it, at least!
Also, I know it's been over two weeks since my last update. I'm trying to get these out as fast as I can but decorating a house for every damn family is taking a LONG time, especially working it around that pesky job of mine. On the bright side, Victoria and Finn (who are up next) are already moved into their house and I'm quite excited to decorate it. So I'm hopeful about getting that update done a little faster than this one.