Round 34: May 2040 (Autumn)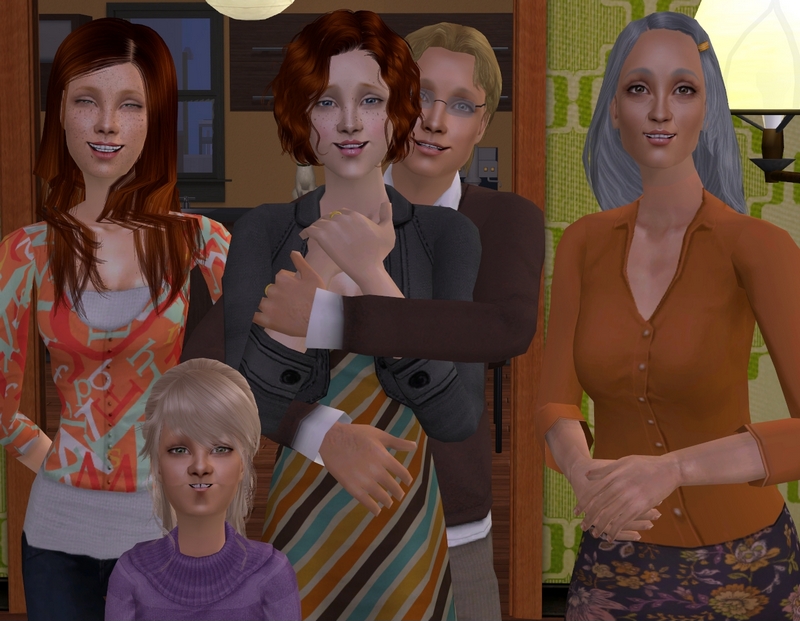 Narrated by Caitlin Romilly
For Mother's Day this year, Keira and I took Mum to a day spa that just opened not far from our house.
Mum wanted to go for a massage first, which I wasn't really interested in doing, so Keira and I went exploring instead.
We ended up hanging out in the hot tub for a bit…
…and then checking out the zen garden out front.
We also bought Mum a little bottle of perfume from the gift shop, which Keira picked out.
I did try the sauna too but honestly, it was just uncomfortable. I have no idea how people find that a relaxing thing to do!
We joined up with Mum again to head to the salon. She was very chilled out after her massage.
Keira had some pretty grand designs for herself at the salon but Mum made short work of that.
She had her hair done and was allowed some clear polish and sheer lip gloss and that was it.
I could get whatever I wanted done but I'm not into wearing a lot of heavy make-up anyway (nor is Mum), so it was still pretty subtle.
It was just fun to be pampered a little, really.
Declan went in on the spa day with us, though he elected not to join us. We met up with him back at home for a family lunch, along with Grandma and Dad.
Much of the lunchtime conversation centred on Declan's studies and my upcoming ones. I've been accepted into Suffolk but have no idea what I want to study yet.
Dad isn't thrilled about that but Mum is a little more understanding. She nailed down a major pretty quickly but didn't know what she wanted to do with it until after graduation.
If Dad ever starts nagging me about figuring out what I want to do with my life, Mum can usually put him back in his place.
Dad's very excited for me; he just doesn't quite understand how I can have no clue what I want to major in. He knew before he started, as did Declan.
I'm not too stressed about it. I'll sort it out eventually.
Keira is very much looking forward to me going to college because she'll have the house to herself.
She always has loved attention, so I'm never really surprised when she comes out with that.
I like to respond by telling her that she'll probably have to do all my chores on top of her own.
I actually get along with Keira pretty well but ribbing her is a little too tempting sometimes. She's kind of gullible.
Brendan found out that he got into Suffolk as well but unlike me, he has everything all sorted out.
He wants to study political science and eventually get into the SCIA. I'm a little jealous he's so sure.
I was pretty glad when he told me what dorm he was going to be in and it wasn't mine. He's going to be at Novak and I'll be at Moretti.
Annabel is sad that I'm going off to college and leaving her behind next year. She still has another year of high school left.
She actually does want to go to college - more for the experience than anything else - but she's not sure she'll even get in.
I totally think she could. My SAS score was 51 but you only need 40 for admission.
She says her mum is certainly doing her best to make sure she gets her score to at least that level. She is very keen for Annabel to get a degree.
Annabel and I are similar in that neither of us have decided what we want to do with our lives yet. It's nice to know that if Annabel does join me on campus in '42, I won't be the only one without a major decided!
My main problem is that there are just too many things I'm interested in! Grandma used to be in events planning and I've talked to her a bit about that.
I think I could enjoy that kind of work. Helping people plan parties and other kinds of lavish events. It sounds like a lot of fun to me.
Grandma says it's not quite as glamorous as I probably think but she did love the work when she did it.
But then my aunt Rebecca talks a lot about her job in psychology when she comes over and that sounds like it would be really interesting as well.
Meeting all those different people and dealing with something new every day. That's what I really want out of a job.
But Aunt Rebecca advised me not to rush into picking something if I'm not sure and to just take my time.
That sounds like sensible advice to me, so that's exactly what I'm going to do.
Hopefully, Mum and I can keep Dad off my back until I get it all sorted out!
Notes:
Title is from Future Reflections by MGMT.
The day spa is a lot makeover I did for N99. The challenge was to turn the Veronaville Villa into a community lot. I'll stick the tour up here eventually, so you guys can see it too. :) This was its very first play test, which I didn't really think through. There was basically nothing for poor Keira to do there, because I forgot kids can't go in hot tubs or saunas. They can't even rake the sand with the zen garden. So she was a little bored, I imagine!
Caitlin's SAS, as mentioned in the update, is 51. That easily gets her into college but doesn't qualify her for any discounts on tuition. For comparison, Declan scored a 58 - that got him half-price tuition.
Caitlin's personality is suited to an absurd amount of jobs! She scores 5/5 for at least 6 or 7 jobs and 4/5 for many, many more. She has some big decisions ahead of her!
Can you guys believe it's time for Caitlin to go to college?!