Round 35: July 2042 (Winter)
Araminta Romilly is 79, Finn and Victoria are 41 and Keira is 11.
(Claudia is 41, Eddie and Jessica are 22, Declan is 21, Caitlin is 19 and Daphne is 11)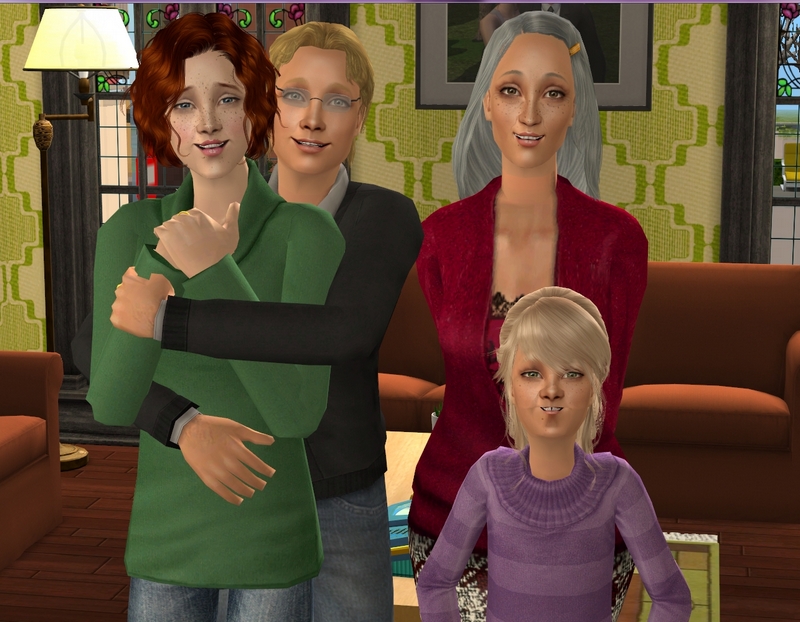 Narrated by Victoria Romilly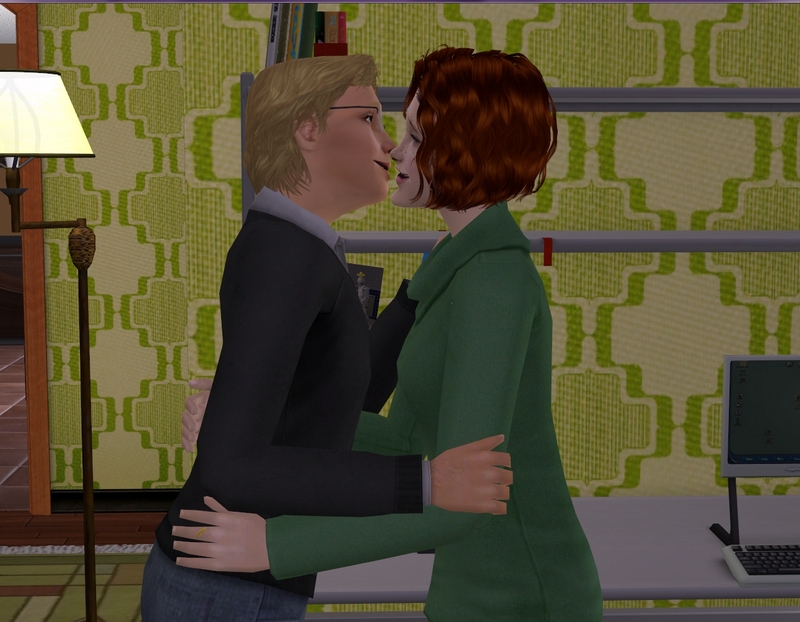 At the beginning of the year, Finn started his position as principal of the high school and it's been going really well.
He used to rely on the carpool to get him to work at the primary school but now he can just walk. The school is only a couple of blocks away from our house.
It's not as if we were destitute before but the pay bump he received has been really nice.
We've been using some of that money to go out on more dates, seeing we haven't done a ton of that for most of our marriage.
Having Declan and Caitlin so young kind of put a dampener on our prime dating time, so we try to make up for it when we can.
Finn is really happy at the high school level. He was slightly concerned about stagnating at the primary school. Finn is someone who has a lot of drive to advance, so moving up to principal was a good move for him.
He also remembers most of the kids from when he taught them in primary school, so he has a built-in rapport already.
He's tough on them but he really believes students respect that and I think he's right.
Keira will be one of his students next year, which is hard to imagine.
She's 11, as is Daphne, so Claudia and I get to quietly freak out together about how old our kids are getting.
It's the first time for Claudia, so she's freaking out just a little more than I am!
We're glad they're starting together though and that Finn will be there and able to keep a close eye on them.
They're both pretty good kids though and I don't see either of them getting into any serious trouble.
Claudia and her family still live in the farmhouse we grew up in, which is quite a way to travel on a weeknight, so if Daphne comes over after school (which happens once a week or so), we end up with an overnight guest.
The girls sleep in Caitlin's old room, in the big bed. They used to stay up too late giggling but they're pretty sensible now, once they know it's bed time.
Being so much younger than Declan and Caitlin, I love that Keira and Daphne are so close in age. It's worked out so well.
They're close enough that it's almost like they're sisters anyway. They hang out together as often as we let them.
Keira is about as close as she can be with Declan and Caitlin too, considering the age gap and the fact that they're both living away from home now. She likes being the only kid at home but she's always really excited when the older kids come home for a visit too.
Declan will be graduating at the end of the year and Finn and I are so excited for him.
He's going to be rooming with Austin and Xavier. I'm guessing the boys will be looking around for somewhere in Exeter, so they'll hopefully be pretty close to home when they finally get settled.
I'm sure the fact that Jessica lives in Exeter with her roomies will make it a slightly more appealing location for Declan.
Declan is so busy right now. They're heading into the final semester at uni now and he has a ton of work to do.
He's also going to do his Master's next year, so he's not looking to stop studying any time soon.
Caitlin has two years to go at uni but she is already certain that will be it for her. She's a psych major and she wants to go into social work once she graduates, which she won't need extra study for.
She has friends planning to do post-graduate study once they finish and she thinks they're all insane.
I think Araminta was a tiny bit disappointed in that. Before Caitlin went away to school, she was tossing up a few different career options, one of them being events planning, Araminta's old line of work.
Araminta was a little thrilled at the prospect of her granddaughter following in her footsteps, which is now not going to happen.
Of course, she's proud of Caitlin anyway, as we all are.
I think Finn is just relieved she's settled on something. The uncertainty was frustrating for him and the fact that it didn't seem to worry Caitlin at all stressed him out.
I knew she'd figure it out eventually but Finn is the kind of person who likes to have all his ducks in a row as soon as he can. He really doesn't understand people who aren't like that.
Caitlin started dating a new guy over the summer, who she brought around to meet us last week.
Eddie seems like a really sweet guy. He's older than Caitlin and is already working as a firefighter, though they did originally meet on campus last year, when he was a senior.
He was very friendly and I can tell he's really fond of Caitlin, so that's basically all I can ask for.
Finn made a concerted effort to not be too much of a scary dad, because he always hated how hard my mum was on him when we were younger. Caitlin looked mortified most of the time anyway!
Finn did really like Eddie though, so she doesn't have too much to worry about there.
Caitlin and Eddie seem very happy together, though I'm hoping they're not getting too serious just yet. She's still only 19 and she has plenty of time for all that.
Title is from One By One by Wilco.
There are two pictures in the second half of this that aren't showing up for me. They show up when I go to the direct link, so I'm hoping it's just a temporary thing. Apologies if they're still not showing up for you!
I think that's the first I've shown of the high school on the blog. On the outside, it looks very similar to the high school I'd started building before I embarked on my rebuild but the inside is mostly empty. I tried to shoot around that but I think you can kind of tell there's nothing inside if you look closely enough!
The next update will be Eddie, Mitchell and Tim, so there'll be a bit more Caitlin then. We'll see what happens with them. So far, there's no sign either of them wants to run off and get married, so Victoria can relax. ;)