Round 35: June 2042 (Winter)
Rose and Joanna Draper are 47, Sylvia is 16 and Levi and Will are 10.
(Adam is 87, Athena is 82, Amelia is 53, Wade is 52, Matthew is 17 and Alice is 16)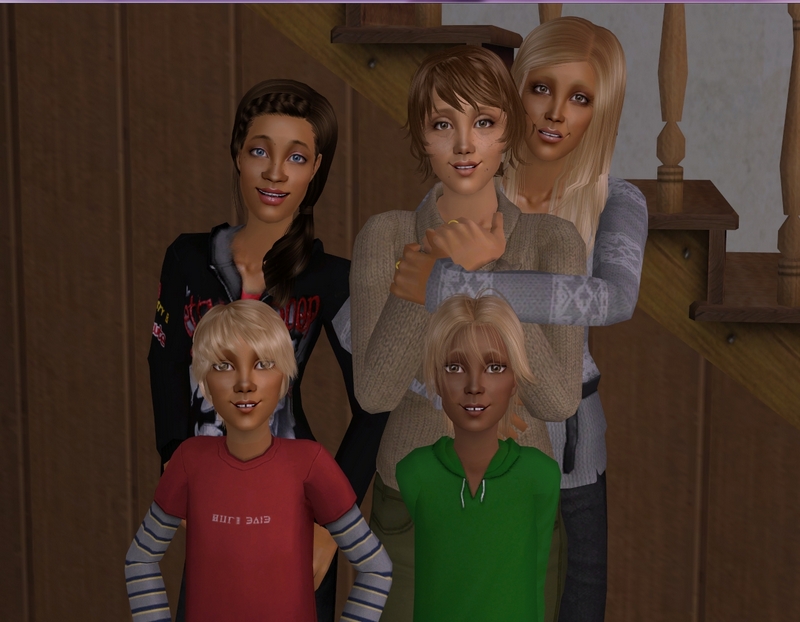 Narrated by Joanna Draper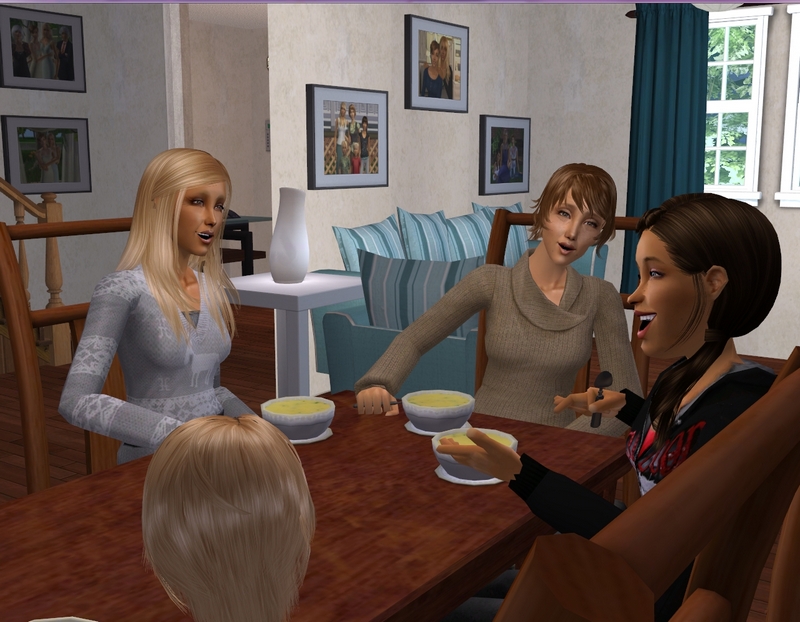 Rose and I are so proud of Sylvia. She did her SAS this year and she scored a 65, which entitles her to half-price tuition at Suffolk University.
Of course, I'm an employee at the university and children of the faculty get free tuition anyway but it's still an amazing achievement. She's worked really hard for this and it's paid off.
I wish she was planning on majoring in something a little more practical than Literature but I'm biting my tongue on that, as she's proven me wrong before.
I used to get on Sylvia's case about spending so much time watching movies, insisting that her grades would suffer. I definitely had to eat my words there. She can obviously regulate herself pretty well.
I wish Levi and William were as conscientious as their older sister. They're both champions at "forgetting" to do their homework and then doing a rush job on it in the morning before school.
They both would prefer goofing off to doing anything else, really. It's a bit of a worry. They don't get the grades Sylvia does.
Levi is constantly active. Thank goodness we're having pretty mild weather right now and it's not too cold to be outside, because he's the kind of kid who really needs that time.
Will is all about anything mechanical, which right now means multiple remote control toys. I feel like he'll probably be a gearhead when he gets older.
Rose isn't worried about them at all. She says they're still young and we really have no idea how they'll handle high school. They could turn around completely.
I don't think Rose would be that concerned if they never do though, whereas that's a big fear of mine. I want them to be successful people.
Will and Levi are going into their last year of primary school next year and I'm hoping Sylvia's influence starts rubbing off on them. Sylvia did manage to at least get the boys a little more interested in reading, so I have hope!
Sylvia has been writing a lot lately too. She was very secretive about it for a long time but she's finally allowed us to read some of it.
She's almost finished her first novel right now and we've read bits and pieces of it. We're biased but it's really good!
Rose is trying to convince her to submit some of her writing to the Young Writers' section in the magazine she edits but so far, she hasn't been successful.
She's better than she used to be but Sylvia is still a little shy about her writing.
She does want to do it professionally one day (along with acting and directing), so I suppose it's something she'll have to push past eventually.
She's not shy about acting. She's been rehearsing monologues in the upstairs landing for years now and has performed in a couple of school plays. I'd be okay with community theatre, if we had it here, but I don't want her doing anything else until she's 18 and can decide for herself.
She has plenty of other things to keep her busy. I think she'd miss hanging out with Alice if she did anything more.
They've been friends for years now and until recently, neither of them were dating, so they were real partners in crime, so to speak.
Earlier this year though, Matthew Lane got dumped and Alice swooped right in to make her move. She had had a crush on him for a long time and didn't want to miss her chance.
Sylvia thinks Matthew is a jerk and hasn't been too impressed by Alice bringing him along almost every time they meet up lately.
Sylvia and Matthew have never fought or anything. She just doesn't like him and feels like a bit of a third wheel when Alice insists on toting him around with them.
She's complained about it all too often at home and I'm not sure what to tell her. Hopefully, it's just because it's new and it'll peter out once the novelty wears off for them.
I'm always a bit stumped with Sylvia asks me for advice. Rose is really better at all that interpersonal stuff.
I'm a bit anti-social, I guess, but I was born into a very social family. Rose had to almost drag me out to meet up with Wade, Amelia and my parents the other night.
I see Wade at work every day so there was not much catching up to do on that end but I hadn't seen Mum and Dad or Amelia for a couple of weeks or so, so it was due.
She and Oliver are saying it'll be in December next year but haven't actually booked anything yet.
Sophie has promised that she'll wear the dress my grandmother, my mum and Amelia all wore and that's basically that's settled at this point.
This hasn't stopped anyone from talking about it like it's happening next week, for some reason.
I can't say I'm on the edge of my seat about this wedding like everybody else but it is pretty crazy to think I have a niece old enough to get married and a daughter so close to heading off to college.
I've never really felt middle-aged before now but I guess there's no more denying it now.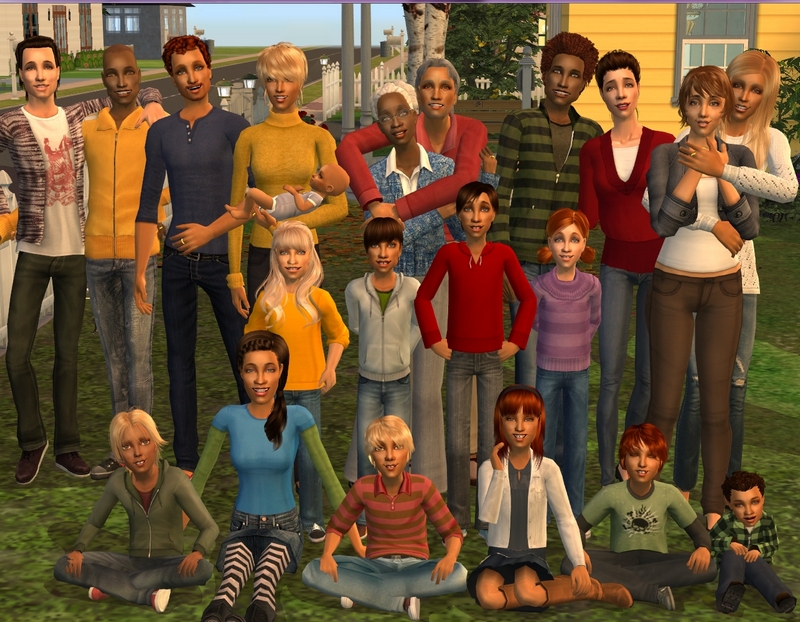 The Draper family portrait! Lake and Kendal and all their kids, kids-in-law and grandchildren. This was before Gemma aged up, obviously, so she's still a babe in arms here.
Notes:
Title is from My Vien Ilin by Ted Leo and the Pharmacists.
So happy about Sylvia's SAS! I always knew she'd get in but I think 65 is my highest score yet. I'm going to have to start noting the SAS in my profiles somewhere, so I can keep track.
I have to get a no slapping mod for the telescope. The sim who comes to slap your sims when they use it during the day is always the first sim created (earliest character file number), which is why it's always Mortimer Goth in Pleasantview. In Sullivan, it's Lake. It doesn't seem right to have him coming in slapping his daughter! Apart from the horrifying nature of that scenario, he wouldn't even know. He lives on the other side of the map.
This is Sylvia's last round as a teen but also Will and Levi's last round as kids. I'm looking forward to aging them and finally being able to tell them apart. I almost always struggle with my twins until they're teens. They don't even have to look alike. I remember mixing up Claudia and Victoria when they were kids too and they don't even share a hair colour.
I don't think I've mentioned it here before but I have started to build my high school! I haven't got very far yet but I'll get there. Of course, there will be a lot tour when it's done, which won't be for a few months, I'd say!