Round 36: March 2044 (Autumn)
Caitlin Romilly is 21, Georgina and Annabel Nott are 20 and Sylvia Draper and Alice Jacobson are 18.
(Eddie is 24, Brendan is 21, Simon and Matthew are 19, Aurora and Bianca are 18)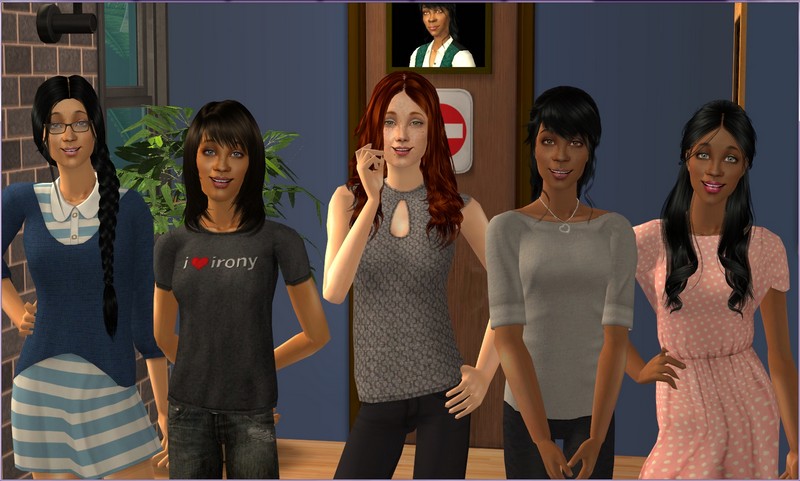 Narrated by Caitlin Romilly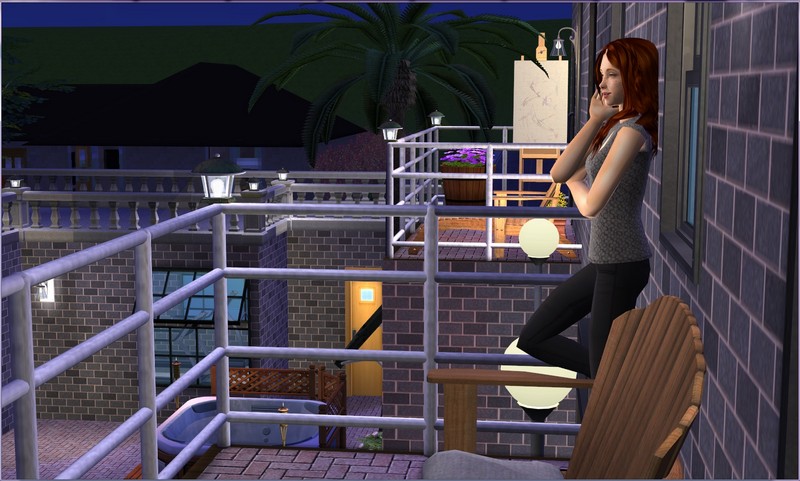 It's my final year here and I'm starting to think about where I'm actually going to live once I graduate.
I definitely won't be able to live on my own on a new graduate's salary (not that I'd want to anyway), so I'm looking at doing the share house thing for a while. Brendan is in, and so are Georgina and Annabel.
I thought maybe Georgina would want to get a place with Adrian after graduation but apparently not.
As well as everything is going with them at the moment though, Georgina doesn't want to do the cohabitation thing right out of college.
She's really looking forward to having the whole roomie experience with all of us.
If anything further is going to happen with her and Adrian, she wants to date him for a while as a proper, out-of-university adult first.
I think that sounds like a pretty sensible plan. Georgina and Adrian are a great couple but being out in the real world, who knows what might happen?
And selfishly, I just really want Georgina living with us too. It wouldn't be the same without her.
But Georgina and Annabel are a year behind me and Brendan, so it won't happen right away anyway.
Brendan and I will probably back home for a year, rather than finding a small place and then finding a larger one once Georgina and Annabel are ready. We couldn't manage the rent on a huge place with just the two of us anyway.
But thinking about all that is just a fun little distraction from my workload, which seems to be ten times what it was last year!
I don't know how Declan ended up with a 3.9 GPA. Well, I do know but it's not a sacrifice I'm willing to make. Declan spent way more time studying than I ever planned to.
I always wanted to have fun here on campus too though, so I've tried to balance things out a little more and study while still giving myself plenty of leisure time.
A fair bit of that time has been spent with Eddie. I even went home to stay with my parents for the whole summer, so it'd be easier to see each other.
He'd been seeming a little bit distant lately and I thought being only a few streets away might bring us closer together again.
We spent a lot of time together and we did have fun but I couldn't shake the feeling that something wasn't right.
Eddie kept insisting everything was fine, so there wasn't even anything I felt like I could do to fix it.
I wasn't prepared to just keep waiting for things to go back to the way they used to be though, so I broke up with him.
Eddie is a great guy and I still care about him but whoever I'm dating, I want to feel like they're as into me as I am into them. I just didn't feel like Eddie felt the same way any more.
Georgina has been very supportive but Annabel doesn't really get why I'd break up with someone I still like.
I guess Annabel and I aren't really looking for the same things in a relationship at the moment though.
Annabel has had this on-again, off-again thing going with Simon for several months now and I don't know what's going on.
She slept with him once last year and they both decided it was a mistake…and then they ended up getting back together anyway.
Annabel and Simon are not serious but I don't understand why they're together at all, intermittently or not.
They seem so incompatible to me. They'll be hanging out, then they'll have a huge argument and stop talking to each other.
Then they start the cycle all over again a few weeks later.
I think they'll get bored of this dance soon enough, probably as soon as one of them meets someone they like better, which shouldn't be too difficult.
There are two freshmen in our dorm this year - Sylvia and Alice. I was planning on showing them the ropes around here but they've been a little bit standoffish.
Neither are the overly friendly type but I've managed to worm my way in with them a little bit anyway.
Sylvia is a Literature major, with the ultimate plan of earning a living as a playwright, or maybe a screenwriter. She's open to both.
She's pretty serious but she's admitted to taking her own personal writing a bit more seriously than anything for class. She has the big room on the top floor, which she likes because there's no reason for anyone else to ever go up there, so it's always very quiet.
We've invited Sylvia to come to the uni bar with us but so far, she hasn't been interested. She spends most of her evenings writing.
Alice is a regular there but she usually goes with her boyfriend, Matthew.
She's been even less interested in socialising with us than Sylvia has been.
Really, she and Sylvia both just prefer to keep to themselves. I love making new friends, so it's not an attitude I understand but there's not a lot I can do about it.
So instead, Aurora and Bianca have been enjoying the company of their older and wiser cousin! I haven't seen them that much since I was in high school, so it's been fun.
I mean, I'm at their dorm all the time anyway. I like to visit Brendan but I'm also just nosy and like checking out what's going on.
Bianca is totally fine. She's set to ace all her classes and she's adjusting to dorm life.
She's staying very positive about the whole thing but still counting down the days until Gabriel moves to Suffolk.
Aurora is enjoying everything here on campus too, though she's currently hung up on Brendan.
They started hanging out, Aurora developed a little crush, made her move and then got shot down.
He was nice about it but apparently neglected to mention his girlfriend for the entire time they'd been hanging out. Then he told her things were "weird" between him and his girlfriend and failed to elaborate. So now she's all confused.
I said I'd go talk to him on Aurora's behalf but she made me swear I wouldn't mention her name.
I thought it would be pretty obvious anyway but it's Brendan, so who knows? He can be a bit oblivious a lot of the time.
I was super casual and just asked him how things were going with Amanda.
Brendan sort of groaned and told me they weren't going particularly well.
He hasn't had the same feelings for her for the past few months and has been putting off breaking up with her.
That made me feel terrible for Amanda, because I think I would have been in exactly that situation with Eddie, had I not taken things into my own hands.
I resisted the urge to really ream him out about it and instead gently suggested that he's only prolonging the misery for himself and for Amanda.
He reluctantly agreed and promised me he'd talk to Amanda soon.
I reported back to Aurora and she's feeling a little better about things. She's not going to make another move; Brendan knows she's interested now, so she's planning on leaving it up to him this time.
Title is from Standing On My Own Again by Graham Coxon.
I'm actually still deciding on living arrangements for next year. I was thinking of leaving Georgina and Annabel on campus and moving them into their own place to make room in this dorm for the younger students coming in...but with a base hood uni like I have, I could also just move them back to Sullivan with Caitlin and Brendan and have them commute to their classes. That's looking more and more appealing to me as I puzzle it out in my head.
So Caitlin and Eddie broke up for the same reason most of my sims break up - lack of interest. He wasn't rolling any wants at all for her and I think she was losing interest too, as she wasn't rolling too many herself. Post break-up, she hasn't rolled any wants for him but she did roll this towards the end of the play session.