Round 35: August 2042 (Winter)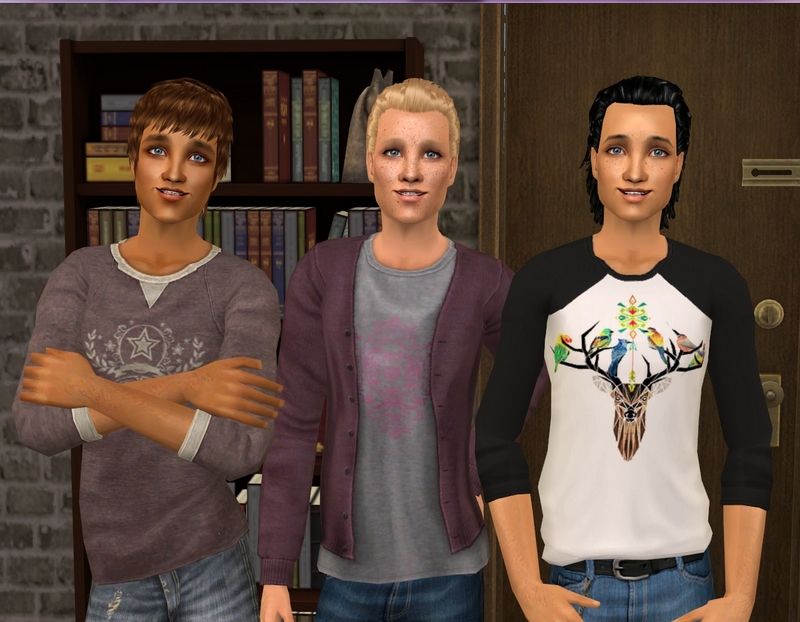 Narrated by Mitchell Carmody
Not too long ago, I was promoted to executive chef at the restaurant. It basically means I'm in charge of everything to do with the kitchen.
It's a big achievement for someone my age but our staff is really small and there really weren't that many people ahead of me.
Still, I am getting paid more now, which is really nice. Living at home last year, I was able to put away a fair bit of cash as well, so now that I'm living with Eddie and Tim, I have no problems paying the rent.
Even though I have repeatedly insisted that I'm fine, Mum will still drop in just to make sure.
We sometimes don't lock the front door when we're at home and she just wanders right in and starts calling out for me. She says she's my mum and she's allowed.
She's really not the smothering type, normally, but me living away from home for the first time has her a bit worried.
But things here in our apartment truly are working out pretty well, even though Tim nags me and Eddie about housework from time to time.
Eddie and I are not particularly inclined to be tidy but Tim is a neat freak. He's always seeing messes around that to us are just not there!
Eddie and I are kind of lazy with housework, I admit. It's very much a "I'll get to it later" attitude when it comes to cleaning, which drives Tim a bit nuts.
I do do almost all the cooking but Eddie…well, Eddie doesn't do much at all. We probably do need to up our game a little bit.
But that's really the only disagreement we've had the whole time we've been living together, so I'd say we're doing okay.
Tim is way busier than either of us. He started med school in March and he's really thrown himself into it.
He and Marius are still together and going strong.
Most of the "dates" they go on these days are right here at home. Tim doesn't really get out too much any more.
Marius is studying too though - a Master's in Architecture - so he gets it. They often end up studying together.
Marius will be finished his degree way before Tim is finally out of med school but for the next two years at least, they're in the same situation.
Eddie and I are both done with college forever and couldn't be happier about it.
Eddie's really not sure why he even went. He had a good time but he had no clue what he wanted to do until senior year and probably could have saved his parents several thousand dollars!
He works for the fire department now and he's really enjoying it.
The other guys are older than him but they're good guys. They have hung out outside of work a few times.
He's glad he's found something he can be happy doing, because for a while, he wasn't sure he would.
Eddie and Caitlin have been together for about six months now and things seem to be going well for them.
He's brought her over a few times, he's met her parents, she's met his, so they're officially a thing now.
It was a bit weird seeing Caitlin again. She had kind of a crush on me for a few months several years ago, when she was 12 or 13. She seems to be well and truly over that, fortunately for Eddie!
She's not over here too often though, as she's still studying but Eddie tries to go out and see her a couple of times a week.
His work schedule is sort of irregular but seeing Caitlin is a student who is only in class for a few hours a day, it works out all right for them anyway.
I don't know if they're thinking long-term yet. I'm just glad to see him happy again, as he was pretty upset after he and Lauren broke up.
I know what that's like. I found it really hard to move on after Dixie but I finally have.
I started dating Christina a little while ago and I really like her. She's a bartender and I actually met her when I was one of her customers.
I would probably not have gone to talk to her of my own accord - too worried about seeming creepy - but Eddie wouldn't let it go, so I did.
I still thought she might be a little freaked out but fortunately, I talked to her on her break and it was fine. She said she'd was hoping I'd talk to her anyway.
My brother Austin is the only one of my family members who knows about her and he still doesn't know much, though he's dying to.
I'm taking things pretty slowly with Christina. My experience with Dixie has made me much more cautious.
I really did think Dixie and I would end up settling down together, so I'm being a little more guarded with Christina.
Still, I do like her a lot. She's incredibly smart and I can always count on having an interesting discussion with her, on just about anything.
We don't always agree but it's never boring, that's for sure.
She and Tim met recently though, when I brought her back to the apartment after a date, and it didn't go too well.
It was a very icy reaction from both of them and I just wasn't expecting it at all.
I just figured that Christina and I get along, Tim and I get along, so why wouldn't they get along with each other?
I approached Tim about it to try to get a bit of an idea of what the problem was but he wasn't very forthcoming, other than to say he didn't like her.
He said he'd try to be more open-minded about Christina in the future but I have to admit that I'm feeling a bit uncertain about things now.
I really like Christina and was starting to think I could possibly get serious with her one day.
I'm just scared Tim is seeing something in her than I don't and I'm not sure what to think any more.
Title is from Do It Anyway by Ben Folds Five.
Mitchell makes more than twice what Tim and Eddie make. Financially, he's doing incredibly well.
Abigail's visit was autonomous. I was doing something with one of the boys, swung the camera around and there was Abigail, just strolling in like she owned the place!
The last time Caitlin and Mitchell were in the same update, I think, was probably the winter formal. She had quite the little crush on him back then!
So, Christina. Yikes. I forget how she and Mitchell met. She probably served him a drink at some point, as she really is the bartender. But anyway, I noticed they had two bolts, so I let them go on a date. It went well. Then she gets back to his place and meets Tim and all hell breaks loose. They hate each other. I check her personality and the girl has ZERO nice points! She also only has two playful points - quite different to Mitchell. I do think he'd be the type of guy to put a lot of stock in what his friends think, especially an old, close friend like Tim. So, uh...not sure how this is going to go, lol! I don't think wedding bells will be ringing any time soon though.