Round 36: September 2043 (Spring)
Araminta Romilly is 80, Finn and Victoria are 42 and Keira is 12.
(Magdalena is 79, Ione is 47, Elspeth is 29, Declan is 22, Caitlin is 20 and Daphne is 12)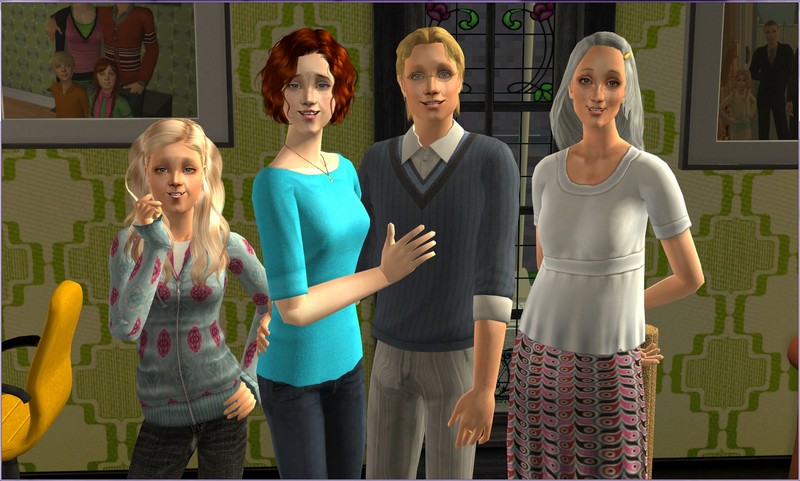 Narrated by Finn Romilly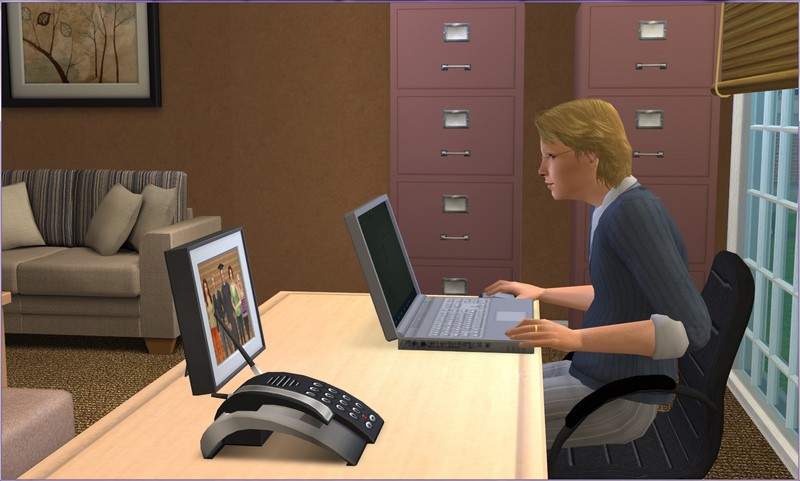 This is my second year as principal of the local high school. I was happy enough at the primary school but I've always wanted to advance. So when the opportunity came up, I had to take it.
So far, so good. I think I've settled in really well. I remember most of the kids from when I taught them in primary school.
I taught upper primary and there's not a whole lot of difference between that and the younger kids here at the high school.
Keira is one of my students, which she isn't too thrilled about. I taught both Declan and Caitlin too but it's different for primary kids.
She does her best to pretend I'm not her dad while she's at school but she's a good student. That's all I expect from her.
Teaching the older classes is definitely a big change though! They're so close to being adults and it's interesting watching them make that transition.
Compared to the younger kids, they are much more motivated and very focused on university and their future careers.
I'm told we just have a good group at the moment though. In previous years, there have been some more lacklustre students in the upper grades too.
I have had a bit of trouble with Julia but nothing I can't handle. I took "her" job and she's made it quite clear she doesn't like me.
That's fine. As long as she does her job well, I'm not that bothered that she dislikes me.
When she started high school, Keira decided to take up guitar. She's having lessons and practising all the time.
She's got a talent for it and she's very dedicated. As long as she keeps her grades up, I'm happy for her to continue.
Keira is the most reserved of our kids and it has let her break out of her shell a little bit more. That's been good to see.
She's mentioned to both Victoria and Mum that she wants to make a career out of music, which I'm not nearly so keen on.
They're encouraging it but I'm sort of hoping she's decided on something a bit more stable by the time she has to start thinking about her future.
I'm keeping quiet about it and just leaving her be for now.
Keira is very headstrong and she'll only dig her heels in further if she gets any opposition. I'll pick my battles with her.
She's currently trying to get Daphne to start a band with her, even though Daphne doesn't really have an interest in music, or any sort of performance.
She'll happily listen to Keira play but has yet to join her on vocals, despite Keira's urging.
It feels strange that all our kids are so old now, considering Victoria and I still don't feel too old ourselves.
Keira starting high school has been a huge shock to the system. She seems so grown up now.
She's not quite as grown up as she thinks she is though; she's started asking if she can go out with her friends at night, which isn't happening yet!
Mum has been unwell quite a lot lately. It's easy for her to become short of breath and she gets very tired as a result.
She insists she's fine and that we can do what we like but I'm really not willing to risk it. Her episodes have been getting more and more frequent and we've all been worried.
It got quite bad one afternoon when Victoria was home from work and she ended up calling an ambulance to take Mum to emergency.
I was able to leave school early with Keira and met them at the hospital.
Elspeth and Declan joined us a little later. Ione drove to campus and brought Caitlin down as well.
Over the next few days, Mum had lots of visitors: us, all of Ione's kids, my aunt Zelda, Mum's best friend Magdalena.
She was barely conscious through most of it and she ended up slipping away after almost a week in hospital.
I think Elspeth is taking it the hardest. Mum was a lot younger when Ione and I were born and she was around for all of our adult milestones - getting married, establishing our careers, having kids of our own.
Mum won't see any of that with Elspeth and she's struggling with it a lot.
It's more than we can eat, honestly, even with Caitlin added in. She's staying at home with us until at least the funeral.
None of us have much of an appetite anyway, especially not poor Keira.
We're enjoying having Caitlin here with us for a while but it would be nice if it were for a happier reason.
It's going to be that little bit sadder and quieter once she goes back to campus and it's just the three of us again.
Araminta Romilly
Title is from Silver String by James Iha.
Already sort of dealt with Finn's new position in the last update but seeing my high school is actually finished now, I couldn't resist another look from Finn's perspective. :)
Keira matches up with literally over a dozen careers. Music is one of them but there's a good chance she'll pick something else too, which should please Finn. He'd support her if she decided on Music but would be relieved if she went a different way. ;)
I was actually pretty excited to play this update until I remembered I had to kill off Araminta. Oh well...she had a good run, I guess?
If any of the hospital pictures look a bit incongruous, I had to go in and retake a couple after I'd already killed off Araminta, when I realised I hadn't actually taken them. I think there might still be one missing too, so..oops!
I hope no one minds the lack of an obituary. They're kind of annoying to write and a bit samey most of the time, so I just went with a photo collection instead and will probably do the same in the future. :)