Round 37: November 2045 (Spring)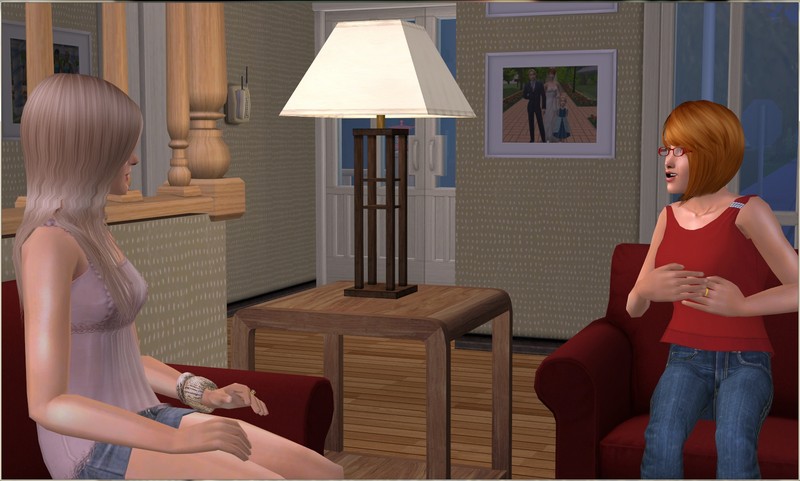 I didn't really care to follow the tradition of the groom not seeing the bride before the wedding but
Ione
was quite insistent. So the night before, I bunked down in
Aurora
's old bedroom.
I wasn't especially thrilled but Ione has been a big help in planning this wedding, so I figured I could do one thing for her.
She ended up taking care of a lot of the annoying stuff for me. It made up for Mum not being around to step in, at least a little bit.
While we were planning, I was thinking about Mum a lot and wondering what kinds of things she would have liked to see. It was probably the best I could do to make it seem like she was there.
Josh and I wanted a small wedding but even inviting just family and close friends, it blew out pretty quickly!
It was mostly my family, which is huge, mostly due to Ione and her five kids!
I couldn't have excluded anyone though, so I was fine that the wedding didn't turn out exactly as I imagined when I first got engaged.
I really just wanted to move forward and be married anyway. The wedding was mostly just a way to get there.
Not that I didn't get a little Bridezilla-ish a few times (maybe more than a few, if you ask Ione!) but I tried to keep the main goal in mind.
She kept herself busy talking to all of the guests. And I thought this kid was shy!
They're only a couple of years apart but Keira is in high school now and I thought she might be too cool for her baby cousin. I probably would have been, if I'd had any younger cousins!
Josh and I haven't planned our honeymoon yet but we are intending to go on one. Everyone had advice on the best places to go.
I thought it sounded interesting but Josh didn't. There's nothing really active to do there, apart from walking everywhere, so he won't go.
More than likely, we'll end up at Cape Elizabeth. Josh's parents have very kindly offered us the use of their holiday house, which I'm more than okay with anyway. It's hard to say no to free accommodation!
She's very keen for a great-grandchild before she dies and Josh and I are the most likely candidates to give her one.
If she sticks around a few more years, then we might do that but we have no immediate plans to have kids.
We'll be the only ones in our social circle to not have kids soon. Sophie is about halfway through her pregnancy.
She's pretty open about the fact that she wasn't quite ready for kids yet - she was hoping for a dog first!
But she's also a very positive person and seeing Oliver was so excited, it wasn't too difficult for her to start looking forward to it too.
She's very tired of being pregnant though. She feels massive and can't imagine getting any bigger than she already is.
I don't know if any of my friends have enjoyed pregnancy very much, which really doesn't make me particularly eager to go through it myself.
But lately, she gets a little twinge every time she sees a baby and wants one of her own.
I made her promise she'd at least wait for me to have a baby first. I can't cope with my niece having a kid before I do!
When it came time to cut the cake, Josh decided it would be hilarious to smoosh it in my face, rather than use a damn fork.
He was lucky I didn't ask for a divorce right then and there. I'm not the kind of woman who would find that funny and I thought he knew that!
Maybe he had more champagne than I thought he did. Anyway, I decided to pretend I thought it was funny anyway, so I didn't ruin the afternoon.
I guess if that was the very worst part, then it had to have been a pretty excellent reception, overall.
Once we got home after the reception, I did sort of wish we'd finished planning our honeymoon in time. We'll have to get on that now.
Despite spending our wedding night here at home, rather than in some exotic locale, we were still both absolutely thrilled to finally be married!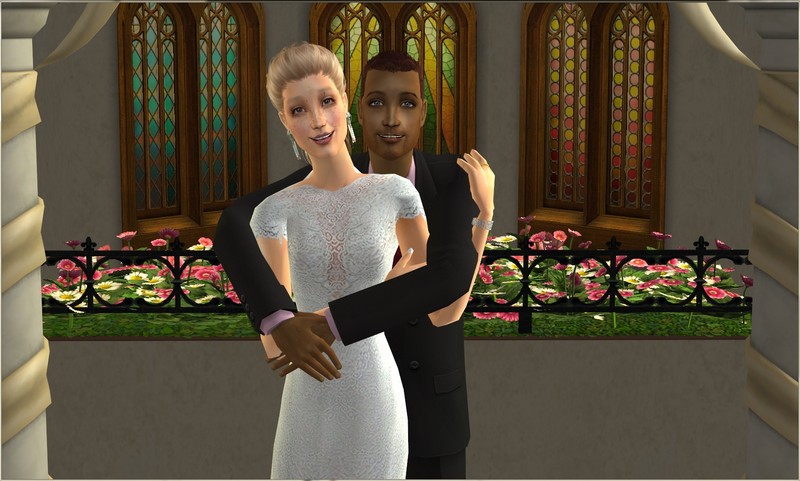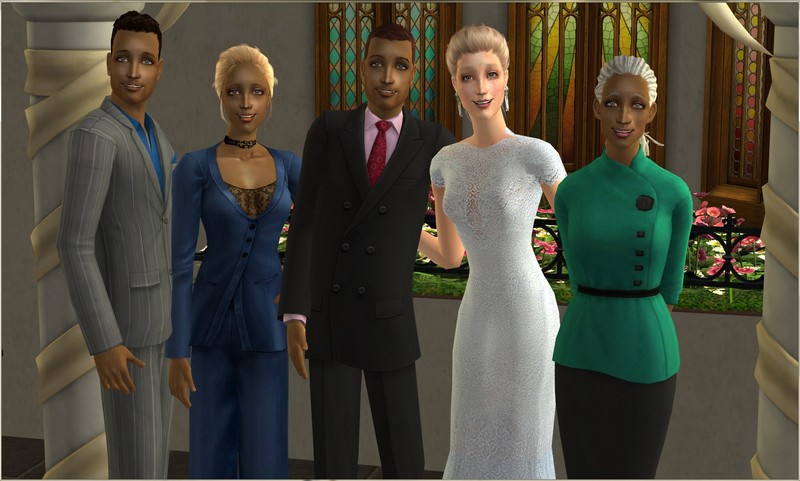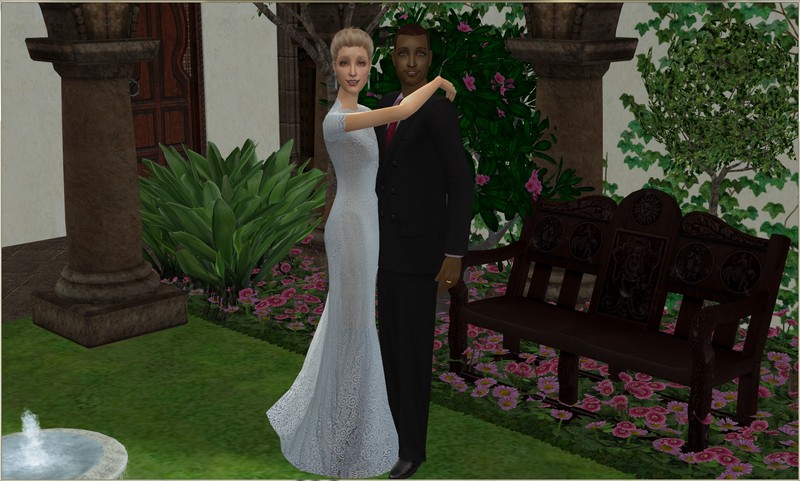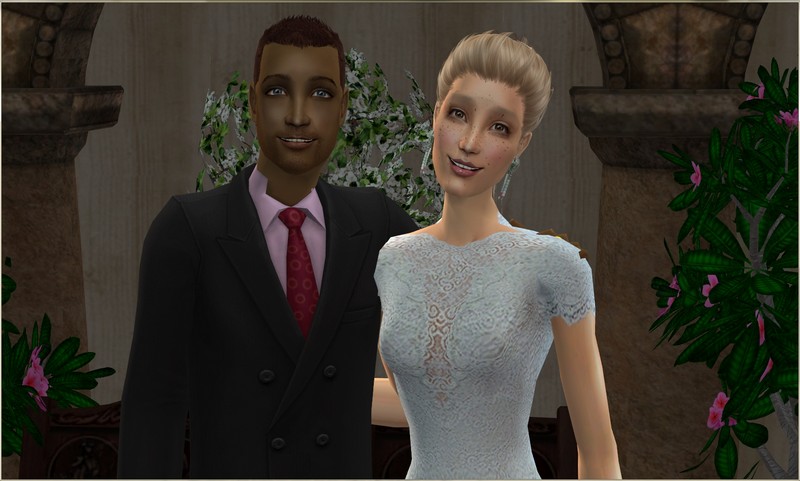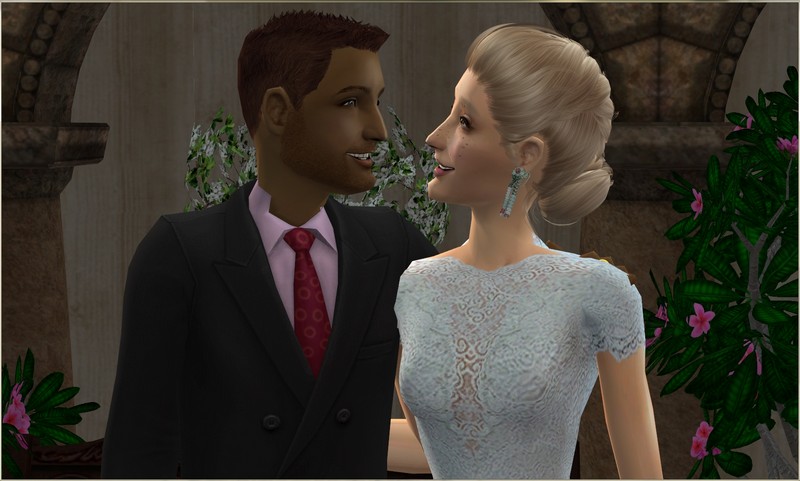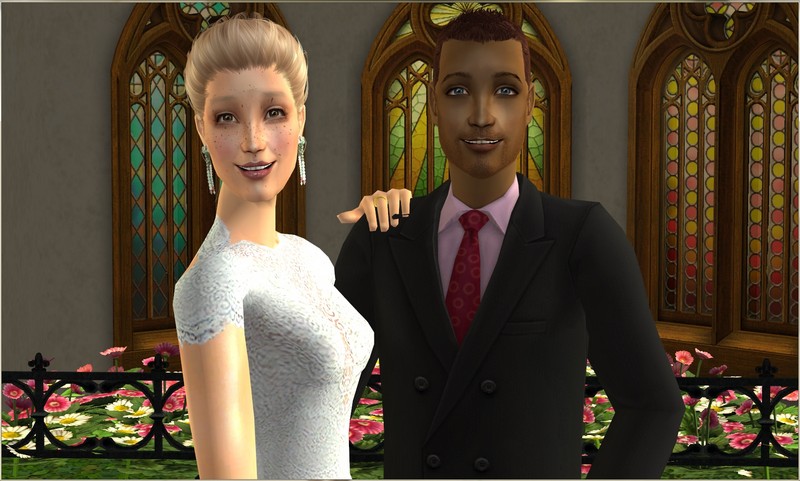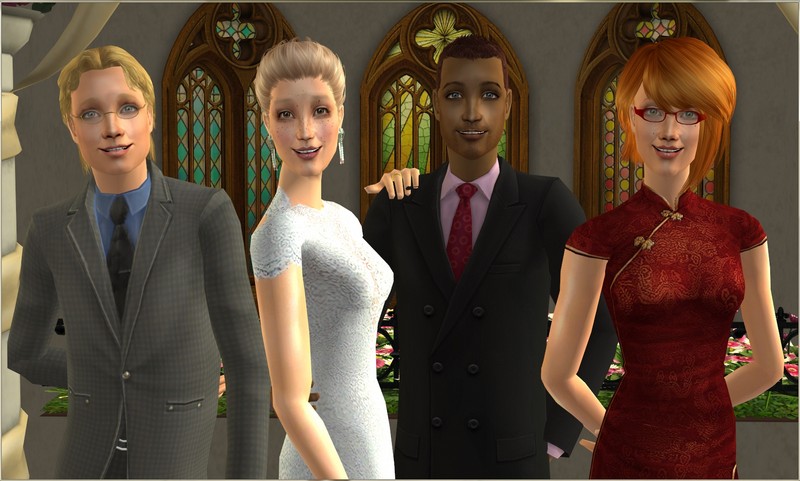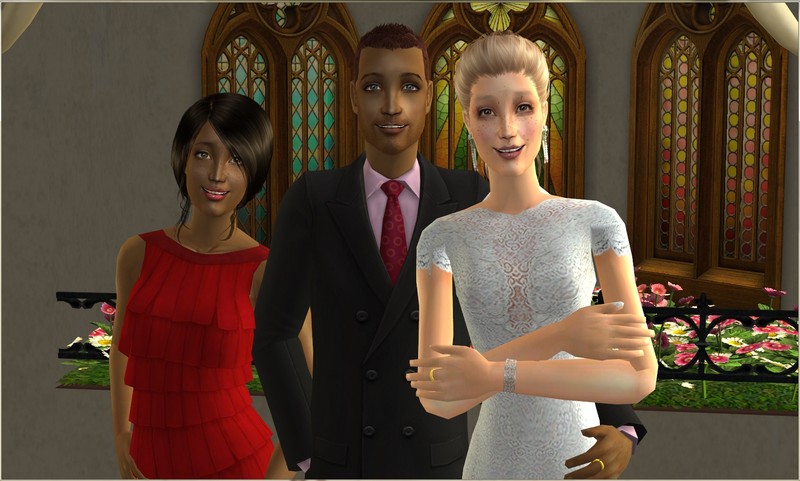 Honeymoon will be off camera but I'll probably put some pics up on Tumblr, which I'm trying to use more. I fell out of the habit during my unintended hiatus.
I can't remember if I've said here on the blog but Caitlin really does have a baby want. She may have even had it before Mitchell. He doesn't have one, so she's going to have to wait (bar an oops, which I don't want for her!), which is probably a good idea anyway.
Kit's want for a relative to get married came back around again once it was fulfilled. She's also got the want for another grandchild, which isn't going to happen, seeing both of her daughters would be at least perimenopausal by now! So I'm interpreting that as a want for a great-grandchild, even though a great-grandchild wouldn't fulfill the want and the game wouldn't even recognise the baby as related to Kit, sadly.