Round 37: June 2045 (Winter)
Athena Gottlieb is 85, Amelia is 56, Wade is 55 and Michael is 14.
(Sophie is 32, Oliver is 28, Noah is 27, Brigit is 26)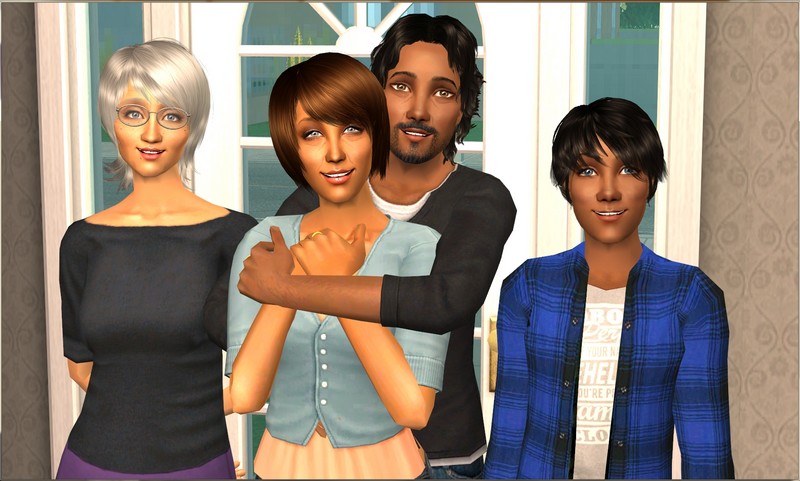 Narrated by Amelia Gottlieb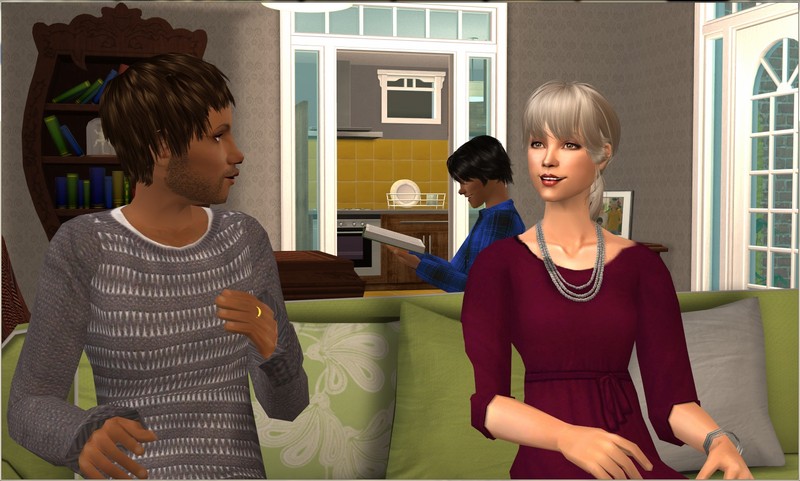 I think Noah and Brigit might give us a grandchild sooner rather than later.
It's definitely not just wishful thinking on my part, because I'm not at a point yet where I'm desperate for grandkids. I just can't see them taking much longer to get going.
She's only halfway through her second year and they're already pretty keen. They talk about what they'll do when they start a family all the time.
They're both saying they're going to wait until Brigit is done with her undergrad but Wade and I aren't so sure they will.
Brigit is also always asking me about pregnancy and about how I fit motherhood in around having a full-time job and a life in general.
I'm not sure I'm the best one to ask. Wade and I were always lucky enough to live with Adam and Athena and they helped out a lot when our kids were small.
Honestly though, I keep telling her if they did want a baby sooner rather than later, they'd find a way to cope. We don't live with them but we're close enough and would help wherever we could.
I probably shouldn't encourage her, because money is pretty tight for them at the moment. Noah is pretty sensible with money though, so I think they'd be all right. People have definitely had babies in worse situations, my own brother being one of them.
I'm working a day shift now, seeing Sophie currently prefers working nights. I think she's a little crazy but she's still young and can handle hours like that more easily than I can.
Oliver works nights, so they get to see each other more often if she's also home during the day.
I'm not sure how that will work once they have kids though, which they do plan to do eventually.
Hopefully they'll work something out that doesn't involve asking me to do nights instead. I've done enough of that in my life.
It's hard to feel like you're up to date with everything happening at home when you're home when everyone else is out and at work when everyone else is home.
It's nice to be able to come home and have dinner with the family, rather than running out the door just as Michael is coming home from school.
Michael used one recent family dinner as an opportunity to come out to us.
It wasn't a huge surprise and it's definitely not a big deal in our family. Emma is also gay, plus Wade's sister and Athena's sister are also gay.
Michael says he's not interested in anyone yet but he thought it was important to tell us now. Who knows though? He might have someone in mind.
Thinking back to when I was his age, I wouldn't have shared anything about my crushes with either of my parents.
I guess that's why I was so surprised that Emma actually told me about someone she's interested in.
It's been a long time for her since she's met anyone who has sparked her interest. It's been a whole lot of one off dates that have gone nowhere for her. So I think she's just excited to have something that might be going somewhere. She wouldn't say much, because she said she didn't want to jinx it. She said she'll share more when she's ready.
I'm sworn not to say anything at all to Athena, because she'll get way too excited. Athena was never so obsessed with Wade and Joanna getting married or giving her more grandkids but since her retirement and even more so since Adam died, it's become more of a focus for her.
Seeing Michael is too young and Sophie and Noah are already married, she's set her sights on poor Emma. She's been a bit relentless about it since Noah's wedding.
So I'll keep the secret. I'm just going to let Emma see if anything develops with this girl and let her tell her grandmother in her own time!
Title is from Hit the Sky by Screamfeeder.
One month later, here's another update! Christmas and New Year's was much busier than expected. My sister got engaged between the two holidays and started wedding planning much earlier than I thought she would (though I should have known), so I've been helping her out with some of that. Then I was a little uninspired with the Gottliebs. I'm hoping to get back into the swing of playing and blogging now!
I did have to go ahead and just make someone for poor Emma. There is hardly anyone in the hood she has any chemistry at all with and I just couldn't see her with any of them. So I made someone. You'll see her in Emma's next update, which is not terribly far away.
Hopefully Michael will not have the issues Emma has in finding someone to date. He's not old enough to be really worried about that just yet though.
I'm undecided about Brigit and Noah having a baby just yet but they're raring to go. They try for a baby every single time and they both have a baby want.