Round 35: October 2042 (Spring)
Miles Jacobson is 39, Matilda is 36 and Phoebe is 5.
(Claudio is 61, Virginia is 50, Amar is 41, Aaron is 39, Adrienne is 35, Alice is 16, Natalie is 5, Beau is 4 and Elisa is 5 months)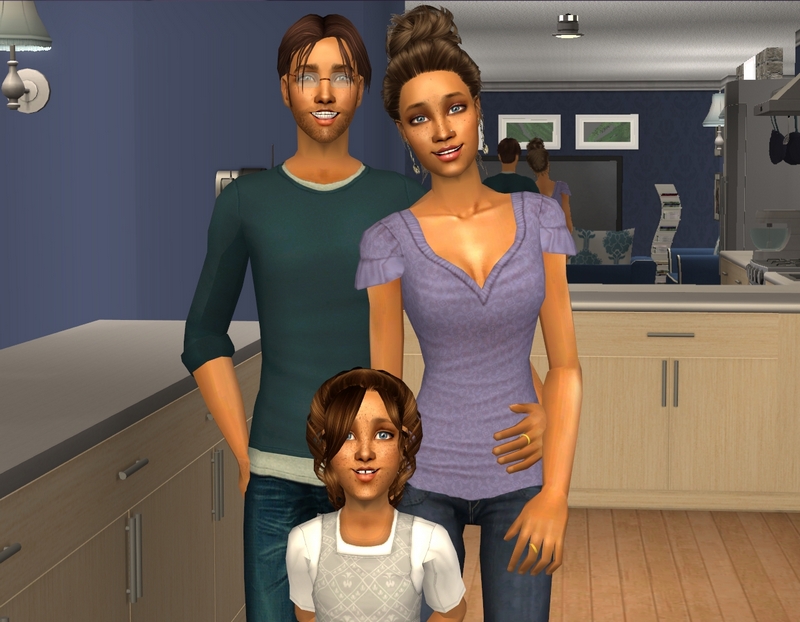 Narrated by Miles Jacobson
Phoebe started piano lessons this year, so we now have a grand piano taking up space in the living room. I'm happy Phoebe has picked up something creative - we're an artsy kind of family - but it seems a bit much.
I don't really see why a 5-year-old needs a grand piano to practise on but Matilda insisted, because it matched our decor. She's a little more extravagant than I am.
I worry that being around all these expensive things all the time is making Phoebe a bit spoiled. She can be very demanding sometimes.
She really doesn't like hearing "no" but sometimes, we just have to say it! She wasn't happy about not getting her pool birthday party (in August, at the tail end of winter). She sulked over that for a couple of days.
She is making up for lost time now and swimming in the pool is her favourite weekend activity.
Now that Phoebe is at school, she's made a couple of new friends, the closest being Natalie Clarke.
Our friends with kids Phoebe's age have boys, so Natalie is Phoebe's first true female friend and they're great buddies.
Natalie is very shy and quiet, so Phoebe usually takes the lead with whatever game they play.
Natalie's dad Aaron says she's like that at home too, with her older sister.
I guess she's just an easygoing kid, which works out well for Phoebe, who is anything but.
It would probably be a good thing for her to get her way a little less often. Being an only child, she's not really used to it.
She usually has no one to compete with for attention, seeing it's just her at home with us.
When Phoebe was younger, Matilda and I talked about having another but there are more cons than pros for us, so we've decided against it. For now, at least.
We still have one child, obviously, so we can't go out at the drop of a hat. Even when we can't though, it's nice to put her to bed and just have the evening to ourselves.
We prefer staying in a lot of the time. It cuts down on the amount of photographers trying to get our picture!
Sometimes we'll go out anyway but it really is nice to avoid all that hassle.
Matilda's film career is going from strength to strength and it's so much easier for me to get work done here at home without an infant.
I've now stopped teaching and apart from a little freelance restoration work, I make my living off my art now. It's what I've always wanted and it's fantastic.
Of course, I couldn't do that if Matilda didn't make six times what I do. And she wouldn't be so well-paid if we had another baby. Stopping at one is just a good decision for us.
We're just really happy with our family the way it is and don't feel like we need to expand it at all.
Any baby urges either of us have are more than satisfied by spending time with our friends' babies. Adrienne and Amar live very close and they come by with Beau and their new baby girl, Elisa, often enough to scratch that itch.
Elisa isn't quite as easy a baby as Beau was. She's 5 months old and she's apparently a cranky little thing.
Elisa is cute but hearing that doesn't make another baby very appealing to either of us!
The only person we ever get any grief from about our decision to stop at one is Claudio, Matilda's dad.
He's pretty desperate for another grandchild. He knows it will (hopefully) be years before Alice is ready, so he's pinning all his hopes on us.
Claudio is very keen on Phoebe not being an only child, which drives Matilda up the wall, seeing she was basically raised an only child and turned out just fine.
She has Alice, of course, but Alice wasn't born until Matilda was already away at college, so they weren't raised together. They've always been at completely different places in their lives.
They get along and care about each other but Matilda's almost like an aunt to Alice, rather than a sister.
I think Claudio will let up, eventually, once he realises we've made our minds up.
We'll just probably just have to put up with the occasional nagging in the mean time.
Title is from Looking at the Sun by Matthew Sweet.
Matilda reached the top of her career this session! I think she's the first sim to do that in this hood, at least since I started actually paying attention to careers. She has had significantly less time off than Patience, so she's ahead of her even though Patience is a few years older.
I'm pretty sure these two are just going to stick with one kid. It's been a long time since I've had an only child in Sullivan! The last one I remember is Madelyn Novak. She might even be the only other one, actually.