Round 35: January 2042 (Summer)
Nihill 1 household profile
Steve Nihill is 47, Olivia is 45, Ramona is 15, Jacinta is 12 and Theo is 7.
(Ruby is 15, Marcus is 13 and Everett is 12)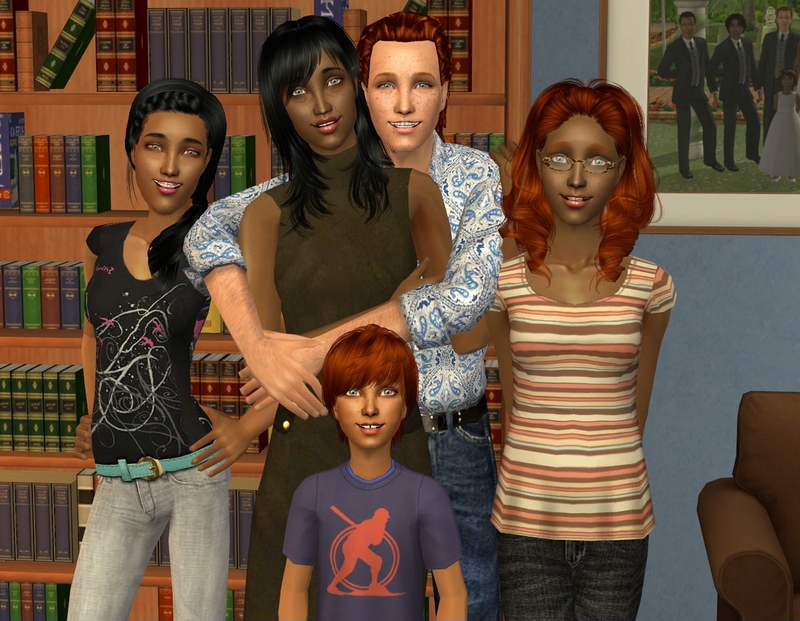 Narrated by Ramona Nihill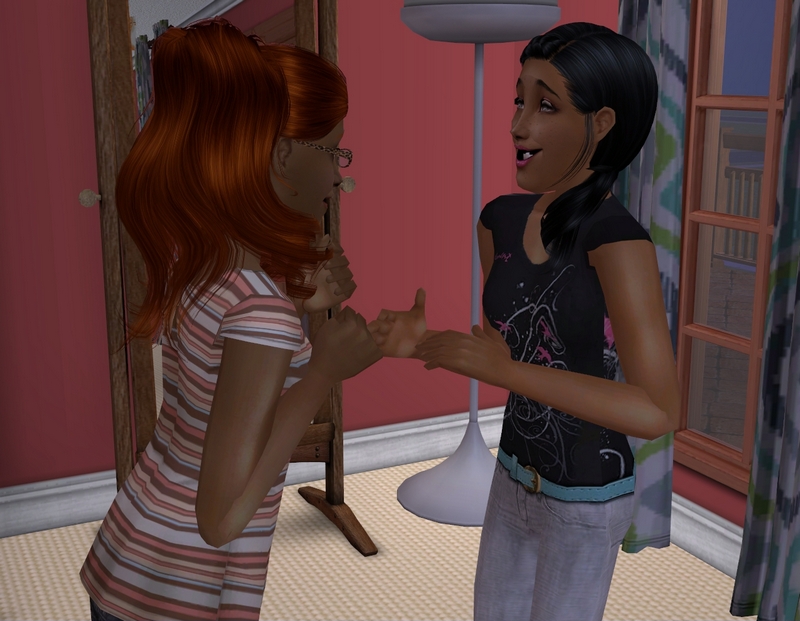 Jacinta will be attending Sullivan High with me this year and she's pretty excited about it.
When I was about to start high school, I couldn't wait to have the opportunity to take all these new and exciting classes but Jacinta couldn't care less about classes. Jacinta barely cares about anything at all, except for boys.
She's often pretty flirty with Everett Benton, when he comes over.
Over the summer, she's been tagging along with me when I go to Ruby's place, just for "something to do".
She rarely hangs out with us for more than 15 minutes before rushing off to find Marcus, yet another crush of hers.
I don't know if they have all that much in common or if Marcus is interested in her but he doesn't fob her off.
I think he enjoys the attention, at the very least.
I asked Ruby if it annoys her to have Jacinta mooning over her brother all the time but Ruby doesn't give a crap.
As far as she's concerned, Jacinta being busy with her brother just means she'll stay out the way of the boys Ruby can actually date.
I don't know who all these boys are. They definitely don't go to our school. The boys at our school are either taken, too young or related to Ruby.
I never would have thought it before now but Ruby and Jacinta actually have a lot in common!
Mum and Dad are a little terrified, especially Dad. I was never very boy crazy.
Jacinta's ready to start dating now, so I think they're a bit worried about what she'll decide she's ready for by the time she's my age.
I've had a boyfriend for a little over a year now and it's going pretty well.
We're allowed out on solo dates now though, which is nicer than having our friends tag along!
Jonathan is very into nature and the great outdoors, so we end up spending a lot of time outside.
My idea of fun outdoors is hanging out in the pool and Jonathan is more about hiking but we find time for both.
Mum and Dad have met him more than once and they like him a lot.
He comes over for dinner every now and then, or they'll see him when we're hanging out here at home.
I've had lectures from both of them about not getting too serious too young, which I roll my eyes at.
I know they're right though and they really don't have anything to worry about with me.
Jonathan and I have a lot of fun together but I just don't want to get too focused on any one thing right now either.
I have a lot on my plate already. I kind of like keeping myself busy with lots of different things.
This summer, I took a cooking class, just because I was bored and wanted something extra to do.
I really like to cook and it was nice to be able to add a few more dishes and techniques to my repertoire.
I cook most of our dinners at home. Mum and Dad don't get home until 6 and Dad is hopeless in the kitchen anyway, so it just makes sense for me to do it.
Theo likes to complain about what I make sometimes, just because he's 7 and going through a picky stage.
Mum told me I should just serve him what everyone else gets and if he doesn't like it, he can deal and make himself a sandwich or a bowl of cereal afterwards.
I'm way too nice sometimes though and agree to make him whatever he wants.
Occasionally, I'll go help Mum out at her work. I don't do anything too glamorous - I mostly just get coffee for people and other kinds of errands like that - but it's fun.
I don't think it's anything I'd want to do when I get older but I like seeing how Mum spends her days.
This year, I'm going to be getting an actual paying job after school or on weekends, though I haven't found one yet. Most of my friends have the same plan.
They're looking for someone to help clean up the science lab after school and I was thinking of putting my hand up for that.
Ruby thinks that would be the nerdiest job ever! She could be right but I could deal with that if I got paid for it!
Ruby's parents are making her get a job this year too and she's not too thrilled about the prospect.
She says she'd be okay with working if she could do something exciting but none of the jobs they hire 15-year-olds for are all that thrilling.
Ruby is still insisting she's going to hold out for something more exciting than fast food.
I think she's going to find herself disappointed but I know her well enough to know that you can't tell Ruby anything!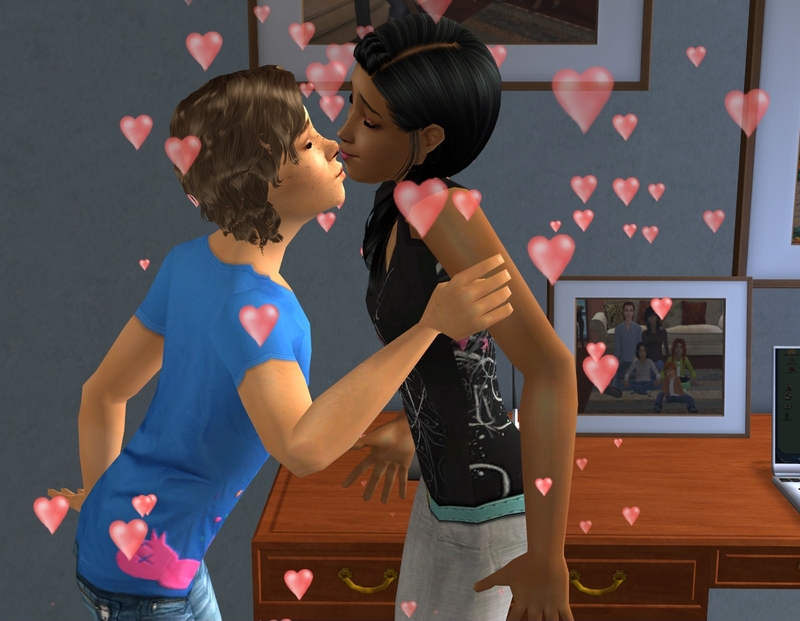 Title is from Open Mind by Wilco.
Ramona is pretty much the opposite of her sister. She has a boyfriend but rarely rolls wants for him, unless they're on a date. I'm pretty sure this will just be a high school thing for her, as I don't think she's very attached to Jonathan at all!
So there's Vestiti in action, albeit a pretty small glimpse of it! I know Maisie was asking, either here or at N99, how it was all going to work. Naomi showed up on the lot (as the owner) and I also teleported Camilla and Adrienne in (who didn't appear in the pics, in the end). I took control of them and they were able to use the sewing machine with no issue, which was also the case for Olivia. I did not get the option to choose textures for what they were making and I think the creations might have gone into Naomi's inventory. But for photos, it'll work fine. :)
I did Ramona's career criteria, seeing this is her second-last update as a teen! Can you believe it? But anyway, she scored 5/5 for Political Strategist, Journalism and Business, so she's got some thinking to do.