Round 35: January 2042 (Summer)
Novak 2 household profile
Augustin Novak is 87, Naomi is 67 and Owen is 65.
(
Amar is 41, Matilda is 36, Adrienne is 35 Malcolm is 32, Hope is 31 and Beau is 4)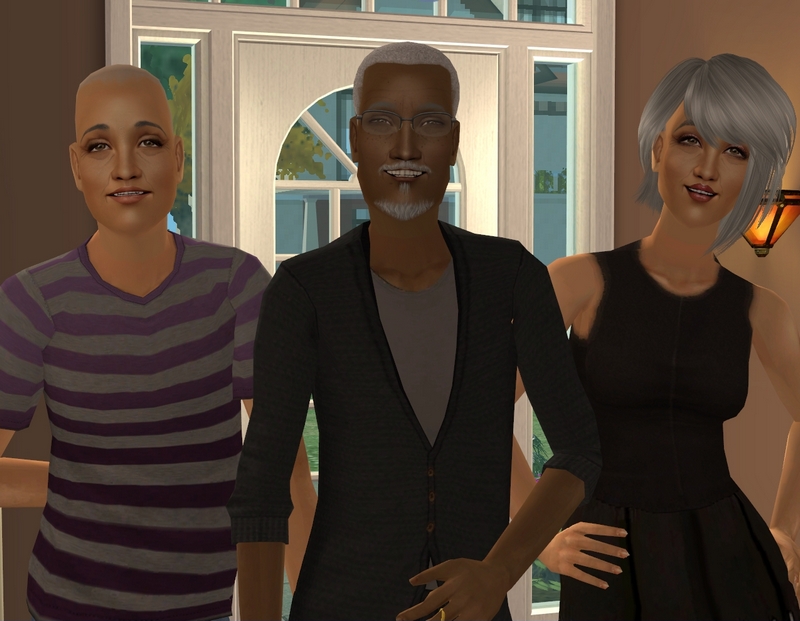 Narrated by Naomi Novak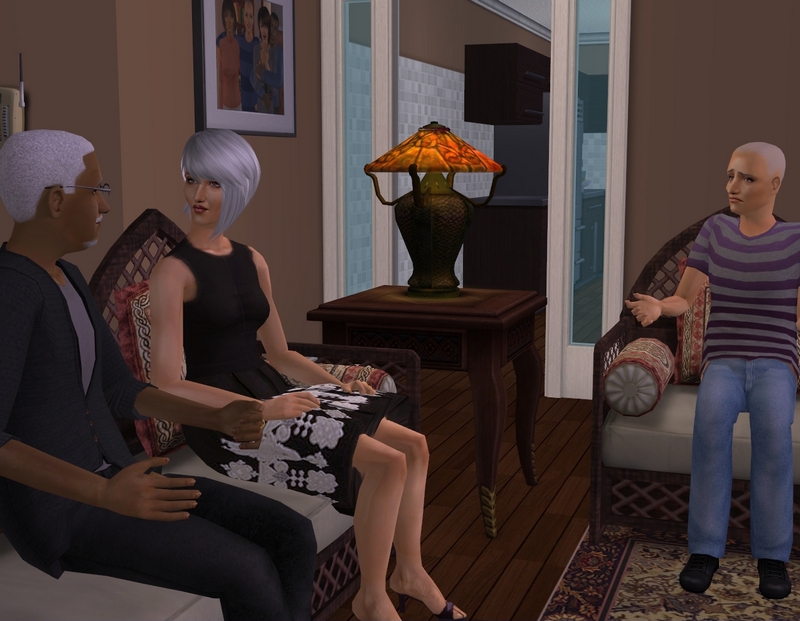 Dad was especially distraught though and was in quite the funk about it for a while.
He and Mum were together since they were teenagers - over 60 years, all up. To have her suddenly not there was difficult.
Then last year, Malcolm and Hope lost their baby. It was quite late in the pregnancy, so it was a massive shock and of course, especially devastating to Malcolm and Hope.
Finally though, it feels like we have something to look forward to again. Several things, which is even better. It's nice to have something to smile about.
Hope is pregnant again, so come June, if all continues to go well, Malcolm and Hope will at last be parents.
It's a little bittersweet, as the baby is due in the same month their first baby was due but they are still over the moon about it.
Hope is staying off her feet as much as possible, so if we want to see her, we go to them.
I don't mind too much. Hope is very neat, while Malcolm is not, so I take the opportunity to do some cleaning.
Malcolm has been trying to keep up with it all but if it's not to my standards, I know it's not up to Hope's standards either. We're quite similar in that way.
He knows it's my way of helping, so he doesn't complain too much about me butting in.
Malcolm and Hope are both very nervous that this pregnancy will end the same way the last one did. It happened so far into the pregnancy, so there's not really going to be a time when they'll really feel "safe", like past the first trimester or when they reach viability, at 24 weeks.
All we can really do is pray and wait and offer as much practical help as we can in the meantime.
Well, I'm trying to help anyway. This will be Dad's ninth great-grandchild and he's absolutely thrilled about it. His "help" has been mainly in the form of pestering Malcolm with name suggestions.
Malcolm being Malcolm, the suggestions are not particularly appreciated!
If they have a girl, they'll use Hanna in there somewhere, after Mum. Beyond that, they're not discussing name choices with anybody until the baby actually arrives.
Before this baby arrives, Dad will become a great-granddad for the eighth time. Our daughter Adrienne is pregnant as well right now.
We all have so much fun with Beau at the age he is now but it will be nice to have a couple of babies in the family as well.
Beau can't wait. He's got one cousin on Amar's side but that's it. He's really looking forward to being a big brother.
Adrienne is the polar opposite of Hope at the moment. Hope stopped working as soon as she entered her second trimester and Adrienne is about to enter her third and is still going.
She's even talking about going back to work within a couple of months of the birth, rather than taking the six months to a year that most women around here take.
Adrienne is very laid back about the whole thing but she can afford to be. She's had two healthy pregnancies before this one, so she's willing to take risks that Hope just isn't.
Amar is a little more on edge than Adrienne is. He wouldn't mind a bit if Adrienne decided to slow down but she's very stubborn. If he tries to say anything, she usually tells him she's fine and that pregnancy hasn't turned her into an an invalid.
No one can tell Adrienne anything.
Adrienne is currently rushing around, trying to complete her new autumn collection. She's hoping to have it ready before the baby arrives.
She's also been busy with her wedding dress, along with the bridesmaid dress for Matilda.
She's agreed to let me help out with the wedding attire at least, just to take some of the load off.
I don't know why she doesn't palm off some of the easier tasks to her intern. I keep telling her that's what interns are for!
Adrienne is such a control freak though. I don't think her interns do much more than get coffee and answer the phone!
I could really use an intern or two at the moment. I'm trying to get my own collection done, while also looking for a new place to set up my store.
The lease on my old place ran out and the owner decided to sell, so I was forced out as a result.
Dad has been coming around looking at places with me. He says he just wants something to do during the day but I'm pretty sure he's mostly just being nosy!
Fortunately, I think I have found just the right place for my store. It's bigger than my old store but I'm quite excited by the prospect of expanding.
It's in a great location, near a lot of other successful businesses, so I'm hopeful that we'll get some more regular customers in. The current lease still has a while before it ends, so it's not ready for me to move in just yet.
This place's lease would be quite a bit more expensive than the old, so I've been talking it over with Owen. We're doing well financially, so Owen is quite happy for me to go ahead with it.
I already have ideas for all the extra space I'll have. I can't wait to finally reopen!
Title is from Underneath the Sky by Oasis.
I have picked out everything for Adrienne's wedding...except her dress! It's driving me nuts that I can't find the perfect one. I don't have a whole lot of time either.
Naomi's new shop is one of the EA H&M stores from the H&M pack but I plan to completely overhaul it before she opens. I'm almost contemplating turning the upstairs into a career lot for the fashion career but I'm not sure yet. I might want more space than I'd have there. Ooooh...or I could add another storey? I'm kind of excited now!
Sorry this update took so long! I've been very busy and tired. The one week I wasn't that busy, I was sick. Gah. The next update might take me a bit longer to get out too but hopefully not as long as this one.