Round 35: January 2041
last update/next update
Moretti 1 household profile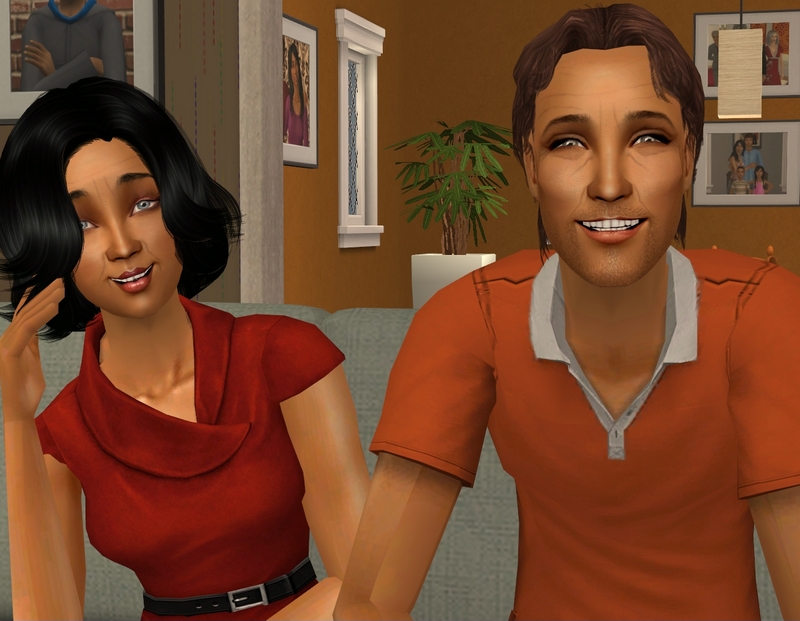 Narrated by Caleb Moretti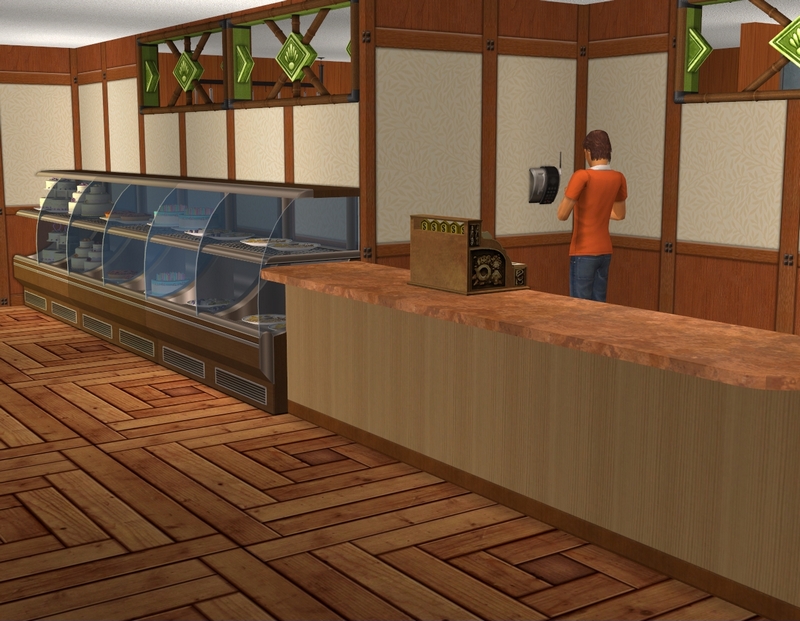 I'm so happy with how my catering business is going. I was able to expand it recently and it's been great.
We moved to a new site - much larger than the old one - and I have a proper-sized kitchen now, unlike the shoebox I had before.
It took some work to get it like we have it now. It was overrun with cockroaches when we moved in.
But with a bit of time and not a small amount of money, we were ready to go.
I've also hired someone - Amber - to run the register for me, which is such a load off.
I can spend time doing what I love instead, which is cooking and baking.
I like to meet the customers as well, so I occasionally come out and do a few sales pitches too.
Speaking of customers, they were very happy to have us open again. We're the only catering business in town, so some were lost without us.
I work pretty hard at Delizioso, which makes me feel like I'm neglecting Cara sometimes. I try to make it up to her with semi-regular date nights.
It's a nice opportunity to relax and talk about our weeks. As a doctor, Cara keeps herself pretty busy at work as well.
Last time, we ended up talking about babies, of all things. Out of the blue, Cara asked me if I'd ever regretted not having more children.
Seeing Cara was the one who wanted to stop with Anthony and Veronica, I was pretty surprised!
She remembered that all too well but admitted that lately, she's wondered if we should have had a third together.
I wanted another when the twins were still small but I think we made the right decision. Our house was tiny and we were in no position to move.
Still, I've been missing having someone to care for here at home lately and thought maybe Cara was too. So I adopted us a puppy.
I thought for a moment Cara might actually be angry, seeing I didn't really discuss it with her first. But fortunately, she was taken with little Jessie right away.
She won't be little for long; her parents are both larger dogs, so she'll be a decent size one day. Right now though, she's tiny.
We love Jessie but neither of us are really loving the puddles we find in the kitchen every morning.
She's a smart dog though and we're hoping she's housebroken soon.
The grandkids adore the puppy. Nick and Sarah have a dog at home but she's pretty big.
Being able to pick Jessie up and carry her around is a novelty for the kids.
Even Alex is being very gentle and careful with her. She's probably the only creature he's come across smaller than himself.
The kids are all off school right now, so they're full of stories of how they've been spending their time.
Thomas is already keen to go back to school, with about three weeks left of the holidays!
Nick has promised him he can join the school soccer team this year and he can't wait to start.
Ryan's going to join as well but he didn't seem nearly so desperate for the holidays to end!
Our place is too small to have everyone over at once, so Anthony and Veronica usually don't visit with Nick and his family. I don't mind having a bit more one-on-one time with them, without the chaos of four little kids running around.
Anthony is still working at the video game store and Cara is still valiantly holding her tongue about it.
She wants him to get something with a bit more opportunity for advancement but she's hoping backing off a bit will encourage him more than nagging has.
He doesn't seem to be making any moves yet but he doesn't seem quite as adamant about never needing a real job.
I think he's starting to realise that although he got off to a very good start financially, that money has mostly been sunk into the house now. Eventually, he's going to need more.
I think he'll probably get bored eventually as well, but I'm not saying anything. He'll work it all out for himself in time, like I did.
Veronica has finished her Masters and is still teaching. She's put a lot of time and effort into it, so she's not likely to move on any time soon.
She wants to make herself known at the high school, with the hope of becoming principal one day. She's the most junior there so she has a long way to go, but that's her dream.
Veronica loves telling me about her job but she clams right up when it comes to her personal life.
That's a domain only for her mother, apparently. She's never liked talking to me about guys; she thinks I'm over-protective.
She said neither of them wanted to label things or get too serious but Cara seemed to think it sounded like that was coming more from Chris's side than Veronica's.
On Veronica's end, she was quite enthusiastic about this guy. He's handsome, he's smart, he's interesting, he's so much fun. She says she wants to keep things casual but everything else she was saying indicated otherwise.
Cara gently suggested Veronica might feel more than she was letting on but of course, Veronica dismissed that immediately.
I don't like this guy already, personally. I don't like the idea of someone stringing my daughter along and to me, it sounds like that's what's happening.
Cara thinks I should be more laid back about it. If Chris and Veronica do end up making something of this, she doesn't want there to be any bad blood between us.
And if they don't, she's confident Veronica is intelligent enough to make her own decisions about what to do.
I know she's right but I still can't say I'm too keen on this Chris guy at the moment.
Title is from Don't Steal Our Sun by The Thrills.
So I'm loving that my sims talk about memories/wants/gossip in speech bubbles. These are a few shots from Cara and Veronica's chat in the kitchen.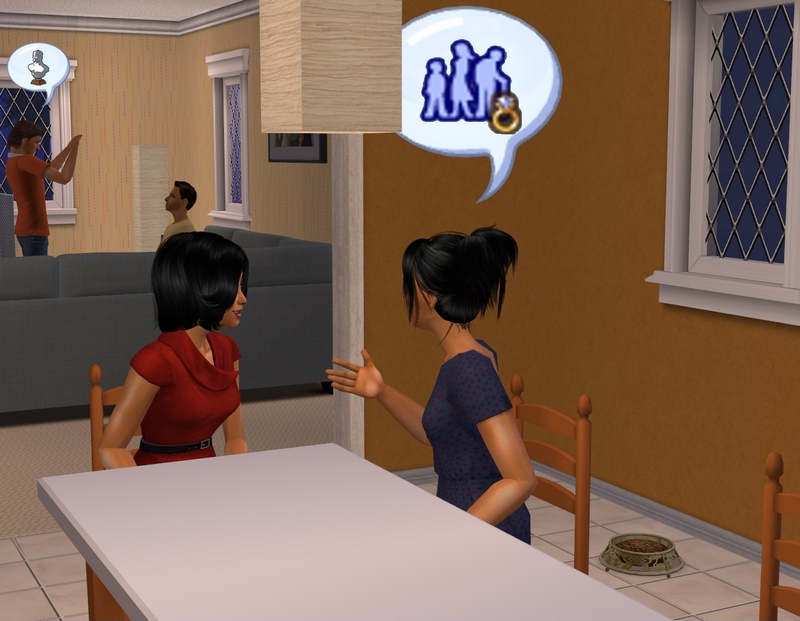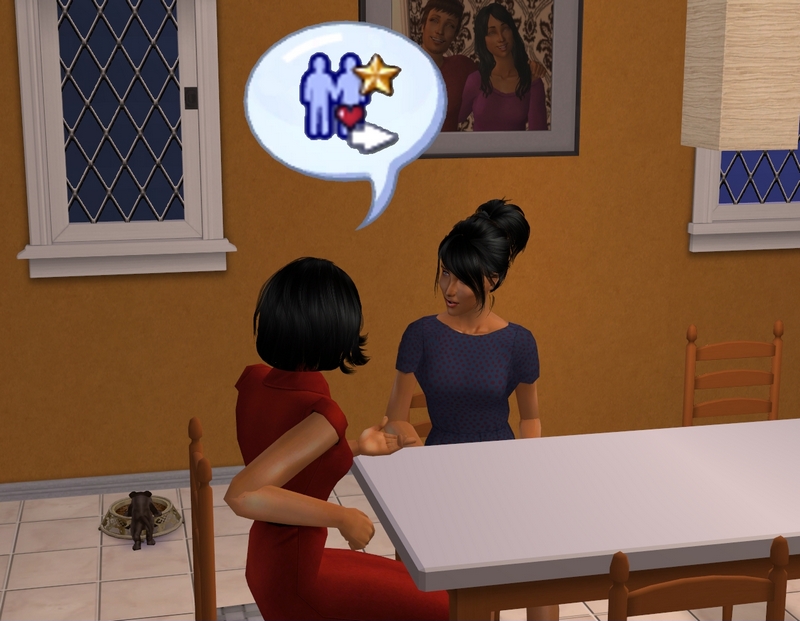 I did the career criteria thing on Anthony and he actually doesn't fit into a whole lot. He's even a fairly poor fit for Slacker, which is the career he wants to reach the top of for his LTW. He is a perfect fit for one career though, so I think I might let him do his LTW and then I'll let him move into this other career.
When I loaded up this lot, Cara and Caleb had rolled the want for a baby. Not unusual for Caleb - he's a Family sim, after all - but fairly significant for Cara, who is Knowledge/Popularity. I often ignore the baby wants from my empty nesters but seeing Cara didn't even roll one when she was in her childbearing years (remember that my non-Family sims in Sullivan 1.0 never rolled baby wants), I thought I'd write a little something in. Caleb wanted a puppy, so I tied it into that.
Trivia Tidbit #1: Jessie was the name of my childhood dog, who we had to put down when I was 20.
Trivia Tidbit #2: Sim Jessie is the offspring of Nick's dog Christy and Veronica's dog Clancy. So she's going to look like a chocolate lab like Christy, a collie-type thing like Clancy or an unholy mix of the two!
Max and Zaria are next up!