Round 34: June 2040 (Winter)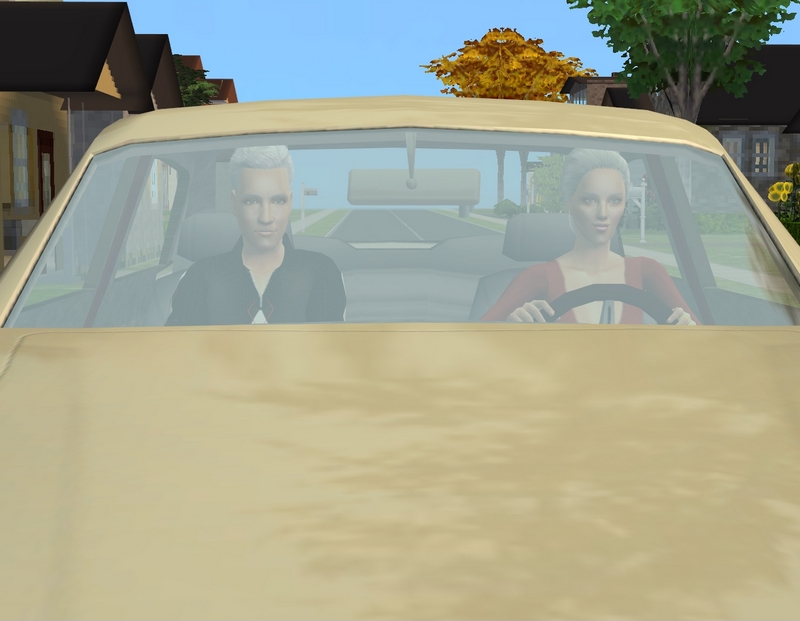 Anna has mostly stopped sniping at me about my drink driving conviction, though she starts it up again every time she has to drive me somewhere.
There's a lot of talk about how she's not a taxi driver, I'm wasting her time and if I had just had more sense, I'd still be driving.
I know all that and maybe I deserve it but I'm still counting down the months until I get my license back. That's not until April 2042 though, so it's a while away.
Fortunately, I don't need her to drive me around too much. I haven't worked in years now, so I don't need to go anywhere most days. I usually walk, if I do.
When it first happened, we fought constantly. Now, as long as we're not talking about it, we get along as well as we ever did.
It's much more peaceful around here now, compared to a couple of years ago.
We even had some good news recently. Nathan and Rebecca have finally chosen a wedding date.
They've decided to get married in February next year. They like the idea of a late summer wedding.
Seeing Anna never got any say in Hope's wedding preparations, it didn't take her long to try to put across her opinions to Rebecca and Nathan.
Rebecca just told her everything has been decided and they won't be changing their minds about anything.
Anna didn't look especially thrilled about that but I think Rebecca was firm enough that Anna knew she meant business.
She's probably learnt somewhat of a lesson from our experiences with Hope and is now worried Nathan will run off and get married without us too.
I know Nathan wouldn't elope though. He's always been much more "by the book" than Hope and it's not an idea that would appeal to him at all.
Family is very important to him. He even convinced Rebecca to compromise with her mother and hold their ceremony at the farm. The reception will be at Starry Nights, in Exeter. Quite a drive but it was the only way Rebecca would agree to it.
Starry Nights happens to also be the place Hope and Malcolm chose to hold their long-delayed and long-awaited wedding reception.
It's taken them so long to organise, in fact, that they're coming up on their first anniversary next month. So the party served a dual purpose.
They've had a lot going on, with Malcolm's work and trying to furnish their house (which was quite bare bones for a while) and it wasn't until now that they felt up for a party.
Susannah is Anna's niece but she had still never met her boyfriend Daniel, who will be moving in with her soon enough.
I thought he was a decent guy. Anna was polite but she told me later she thought he was dreadfully boring.
That's quite typical of Anna though. We joined Owen and Naomi, Malcolm's parents, at the bar for a drink at one point. Just to chat and get to know each other a bit.
I enjoyed it but Anna seemed to find the whole experience quite painful. She doesn't really enjoy socialising unless she's handpicked all the people there.
Hope's best friend of many years, Julia, was also at the party. Anna and I have known her since she was 4 years old.
I was glad to see Julia and Rebecca just steer clear of each other all night. Things got a bit ridiculous for a while there, when Rebecca and Nathan first got together.
I don't know if they'll ever actually like each other but I think this level of civility is bearable for everyone.
There weren't an enormous amount of guests but the hall still provided two buffet tables full of food. There was no chance anyone would go hungry.
Hope knew she was going to have to mingle but she still spent a good portion of the party chatting with Julia.
Even at 29, it's hard to separate those two once they get going. But being that it was their party, everyone wanted to talk to Hope and Malcolm, so eventually, she had to attend to her duties.
Now that they've been married a year, people are wondering when they'll start a family. Especially Malcolm's grandparents, who are keen to meet their eight great-grandchild.
Neither of them are saying much to Hanna or Augustin but it hasn't stopped the questions.
They knew we wouldn't put too much pressure on them though, so Anna and I know that Hope has been trying to get pregnant for a couple of months now.
Anna is happy for Hope but she's struggling with the idea of being a grandmother.
She doesn't like to think of herself as being old enough for grandchildren, though of course, we're both more than old enough.
I'm a bit sorry I didn't get to make a toast to Hope and Malcolm at their real wedding, so I decided to say a few words at the party instead.
I resisted the urge to mention anything about grandchildren, even though I'm happy to know there might be one on the way soon.
I still wish Anna and I had been there to see Hope get married but I'm glad that we've finally at least had the chance to officially celebrate with her.
Title is from Carry That Weight by the Beatles.
I'm so excited - Malcolm rolled the want for a baby! In Sullivan 1.0, I think I had one non-Family sim roll a baby want, so I'm hoping this is the start of more. Hope had the want already, so now they're on the same page with it. :) So with any luck, we'll see a baby from these two next round.
Nathan and Rebecca's ceremony will be on the farm mostly out of necessity. I don't want to use the church I used for Audrey and Jack again (at least not yet) and there's no ceremony space at Starry Nights. I never saw her getting married there but I'm having to comprimise a bit as I rebuild, just so I can get things done faster. I can see Nathan trying to convince Rebecca to give in to her mother a bit, so I'm not too bothered by it.
Anna really doesn't like Daniel! He seems quite popular with other sims he meet, so I can fairly confidently say Anna is the problem here. ;)
Next update will be Miles and Matilda! I haven't added them back in yet but I'm quite excited to. I haven't really played Phoebe as a toddler yet, so I'm looking forward to that.