Round 37: September 2045 (Spring)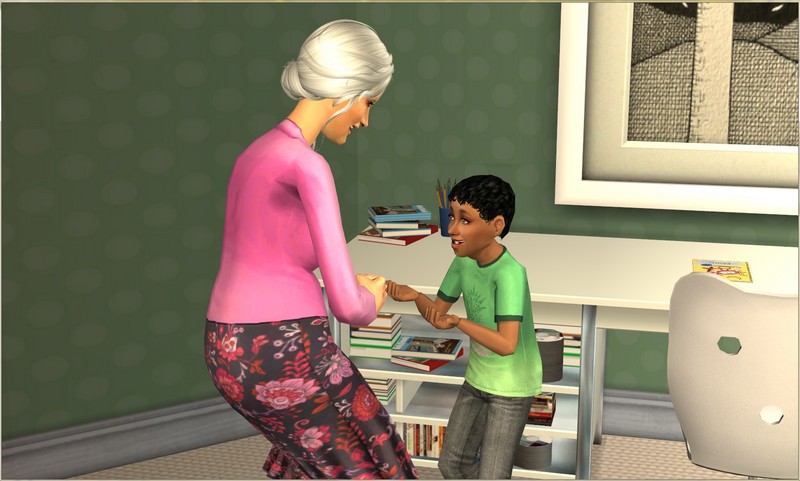 All adult attention is focused on him, so he has his grandparents and his parents to himself, whenever he wants them.
She'd been hoping one of the girls would decide to move back home but they've both decided to move into a share house instead.
Rather than have his siblings move home, Peter wants to turn the house into a cat menagerie.
He really, really waned a kitten but after finding none for sale in all of Sullivan, he decided he'd rather get some adult cats and breed his own.
No one else in the house is on board with this idea but Peter is persistent.
Peter's obsession with cats is a recent one and no one is sure where it started!
**********
It's not entirely due to Oliver's little brother Eddie's atrocious poker skills…but it can't be said that Eddie has had nothing to do with it either!
They still have quite a while until the baby arrives and Sophie still hasn't figured out exactly what she'll do with her restaurant while she recovers from giving birth but things are looking up for them now. Hiring someone to take over for a while is looking like a distinct possibility!
Sophie is thrilled to spend her 32nd birthday in significantly less distress than she was imagining!
They're putting away as much money as they can for the baby, so no extravagant gifts this year but Oliver does try his hand at cooking for the evening.
Sophie and Oliver are having the house renovated in order to add a nursery and still keep their home office. It should be finished well before April, when Baby Gentry makes his/her debut!
**********
Jack and Audrey are fortunate enough to have never had to worry about money during their marriage. Unfortunately, it only makes moving a little less stressful.
They currently live in a very big house but with the third bedroom now occupied by Jack's parents, Tate and Zelda, there's nowhere to put the new baby except Zoe's room.
Seeing neither Jack or Audrey are keen on making Zoe share a room with a newborn, they'll be moving house.
Peter had to go and specifically want a kitten, of course! I hate that you can't just buy them, like you can with adult cats. So I guess I'm going to have to do some breeding. I cannot imagine Lia especially getting on board with this though, so someone else's cats will be the parents!
I only just realised Audrey and Jack will have to move! Argh! Their house is huge but I'm very reluctant to remodel, because then I'll have to fiddle with the roof. This will almost definitely result in me ruining the roof. I haven't picked a new house yet but I should have something suitable in the bin. Their budget may as well be limitless, seeing they have $1.8 million! I think I should be able to find something in their price range. ;)
I'm not too fussed about remodelling Oliver and Sophie's place (which is basically already done, though the room isn't decorated yet), because I built it in literally 10 minutes and my roofs are never very complicated!