Round 37: February 2045 (Summer)
Dominic Lachance is 35, Leslie is 34 and Stella and Oscar are 5.
(Tatiana is 62 and Chloe is 34)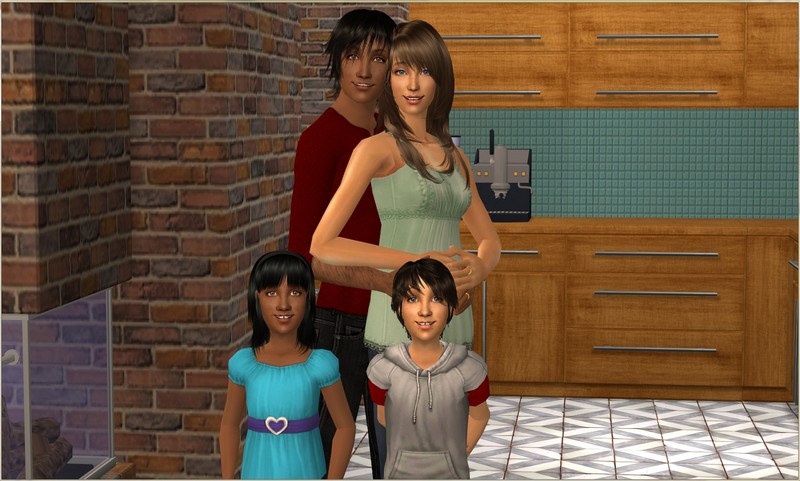 Narrated by Leslie Lachance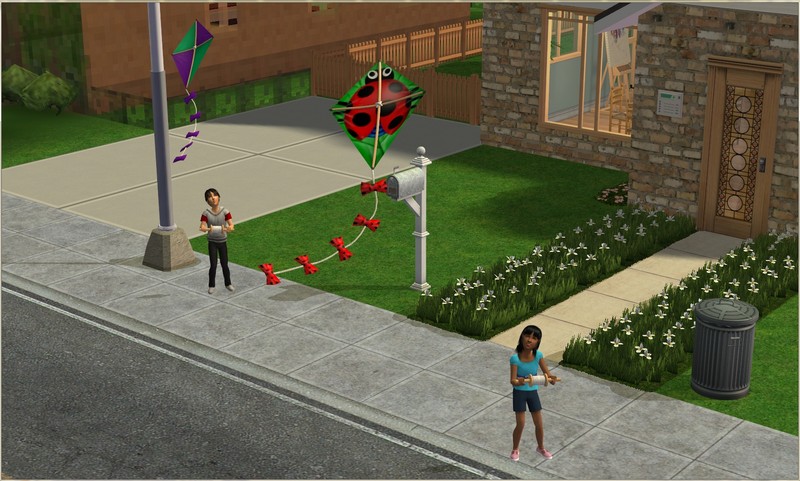 February has been a big month for our family, with Oscar and Stella starting kindergarten and celebrating their fifth birthdays!
Both the twins are on the shy side and didn't want a party, so we just had some celebratory cake at home.
Oscar is really into all things space at the moment, so we got him a telescope.
He needs my or Dominic's help to use it but he absolutely loves it.
Oscar is constantly coming up with questions about space that neither of us can answer. We do a lot of web searches in this house!
We tried to suggest similarly expensive gifts like Oscar's telescope for Stella, to keep things even but all she wanted was books.
So we got her lots and she was ecstatic.
Stella is a really active little girl but since she started learning to read, it's all she wants to do.
Being a teacher, I'm glad Oscar and Stella are so interested in learning. They're really excited to go to school every day and I hope that continues all through their school years.
A few months back, Dominic and I decided to add a pet to our family and decided on a lovely cat from a local shelter.
We wanted the kids to share the responsibility in caring for him, so we let them name him too. We now have a cat named Kit-Kat.
So far, so good. Oscar and Stella have both been very diligent about making sure Kit-Kat has food in his bowl and that he gets brushed regularly.
As well as thrilling the kids, Kit-Kat has served as a nice little distraction for me and Dominic.
Losing our baby so soon before we were supposed to meet her was the hardest thing we've been through as a couple, so it was nice to have something positive to focus on as well.
We had the go-ahead to start trying for a baby again two or three months later but we waited a while longer, to make sure we were emotionally ready as well.
We've been trying since November and just this month found out that I'm six weeks along.
I had no idea how long it would take this time but we were very lucky that it didn't take us too long.
We're very excited but very cautiously so. It's so early, so some caution is definitely warranted. Though considering how late our loss was last time, I'm not sure I'll get to a point where I feel totally confident of a happy ending.
I'm trying to stay relaxed and not put myself through any unnecessary stress.
I've already talked to Tatiana about finishing up at school a little early, probably at the end of Term 2 in July.
It would mean I'd have to go back to work before the new baby turns 1 but I'd put up with that just to get through this pregnancy.
Tatiana obviously knows all about our history, so she's going to make it all happen for me.
That's one definite advantage of having a boss who is also your mother-in-law!
I couldn't help but tell Chloe too, seeing I tell her everything. I'd want her to know if the worst happens again anyway.
She's always a good source of support for me, like I try to be for her.
We're trying to put off telling the kids for as long as we can but I think we might have to do it soon.
I'm experiencing a lot of morning sickness and they've both already noticed that Mummy is sick a lot lately.
I've been sick much more frequently this time around than I was with the baby we lost.
Dominic thinks maybe it's a good sign and I really want to agree.
I might ask Dr. Moretti about it at my next appointment. I'm happy to put up with all this sickness if it means a healthy baby at the end!
Title is from Sentinel by Pavement.
I love having Ione's toy store up and running now. The two kites Stella and Oscar are flying were purchased by Dominic when I wasn't playing him. I love that he has twins so he bought two kites!
There are apparently some studies that link increased morning sickness to a lower chance of early miscarriage but nothing is certain at the moment. But for Leslie's sake, I hope it's true. Of course, I doubt the mod programming is really that complicated but let's just pretend for a bit!
I didn't mention in the update but Leslie is due in November.
I've been thinking about the way I set up my updates since I started this new birthdays system. I'm wondering if the "last update/next update" thing is still as useful as it once might have been, now that families so often get mini-updates in birthdays between regular ones. Some of you may have no opinion at all on this, which is fine, but if you do have something to say about it, I'd love to hear your opinion.